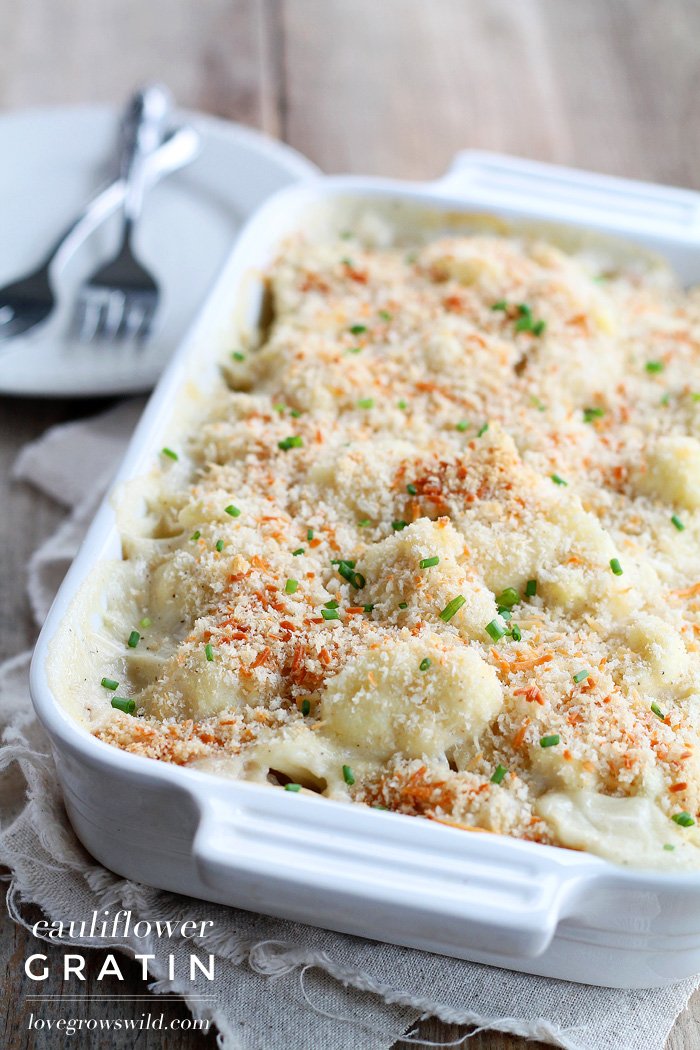 I don't know about you, but I'm always looking for new side dishes to add to my repertoire. It's easy to come up with the main course, but then my mind blanks when it comes to the side items. For some reason, my brain goes straight to dessert.
Hmm… what goes well with pork chops… apple pie!
What should I make to go with meatloaf… brownies!
Those sound like good pairings, right? 😉 Well today I'm sharing a new side dish idea that I think you're going to love: Cauliflower Gratin. This easy recipe swaps out the traditional potato with cauliflower that is baked in a creamy cheese sauce and topped with a delicious crunchy breadcrumb topping. If I have to be a grown-up and eat my vegetables like a good girl, I definitely prefer them to be smothered in a creamy, flavorful cheese sauce! Give me a big high five if you agree.
It's no secret that the biggest food holiday of the year is quickly approaching, and I've been doing my best to pump out some fabulous recipes for you to enjoy… butter and herb turkey, roasted vegetables, cranberry sauce, green bean casserole (the really good kind!), smashed potatoes, brie biscuits, and of course banana cream pie. I'd say that's a pretty good start to a delicious Thanksgiving dinner!
But because I want to make sure you're 100% prepared for the big day, I've teamed up with some of my blog buddies to bring you 25+ new Thanksgiving recipes, complete with main dishes, sides, drinks, desserts, and more! Everything you need, all in one place. Just scroll down past my cauliflower gratin recipe to see the full list of our Thanksgiving dishes!

Okay, so back to cauliflower. I absolutely LOVE roasted cauliflower, but this gratin is a very close second. Here's how I make it:
First, I chop up one head of cauliflower into small florets. Then I make a quick roux with butter and flour, which is what thickens the milk into a creamy sauce. I pour in some milk, season it with salt and pepper, and bring it to a boil. The sauce thickens up as it heats, and I toss in the cauliflower pieces, completely coating them in the sauce. I pop on a lid and let it simmer for a few minutes to start cooking the cauliflower.
Then comes the good stuff… cheese! I usually use Gruyere, but I've subbed it with Jarlsberg before as well. It's pretty similar in flavor and tends to be a little less pricy at my grocery store.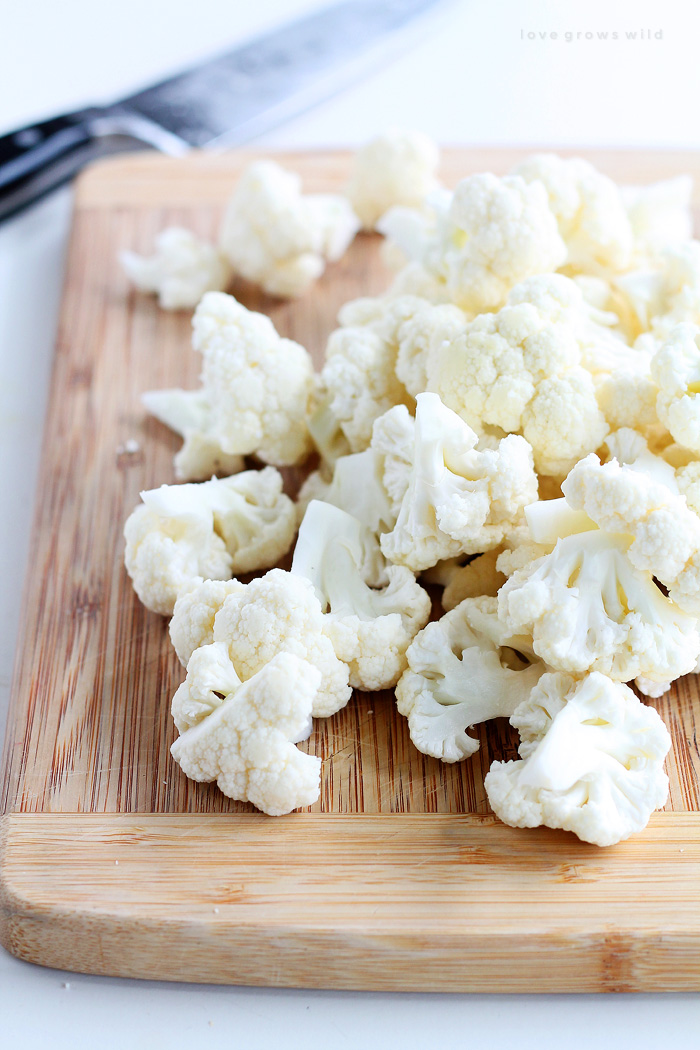 Then the cauliflower goes into a baking dish, gets topped with a mixture of panko breadcrumbs and Parmesan, and heads to the oven. Just look at the creaminess of that sauce!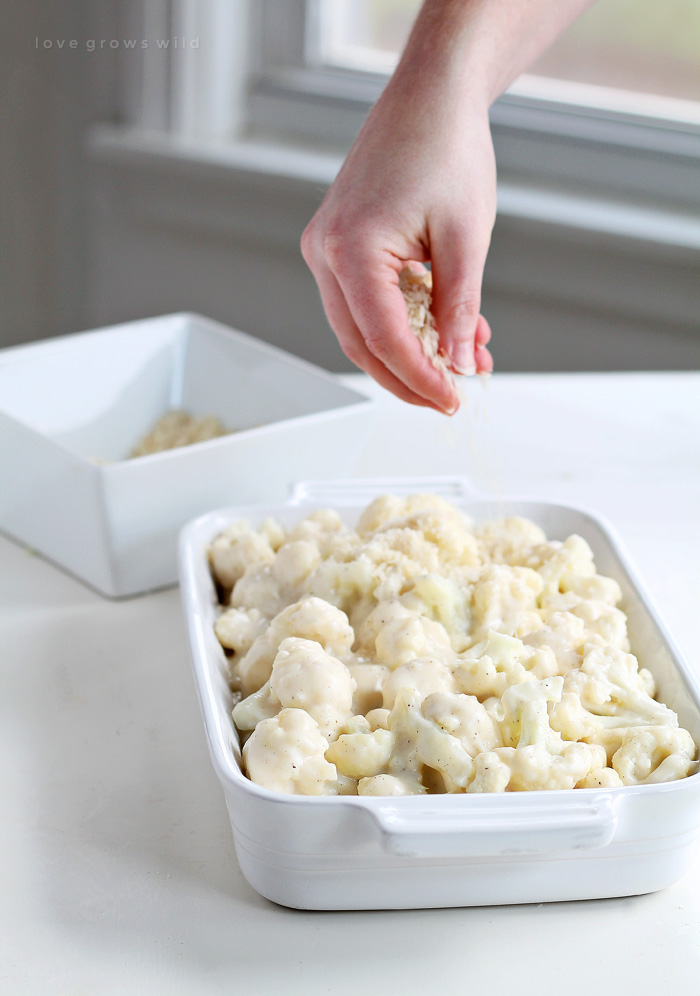 After about 35-40 minutes, a gorgeous gratin comes out of the oven with perfectly tender cauliflower, a thick, creamy, cheesy sauce, and tons of crunchy, golden breadcrumbs on top. This, my friends, is one veggie dish I actually get excited about eating!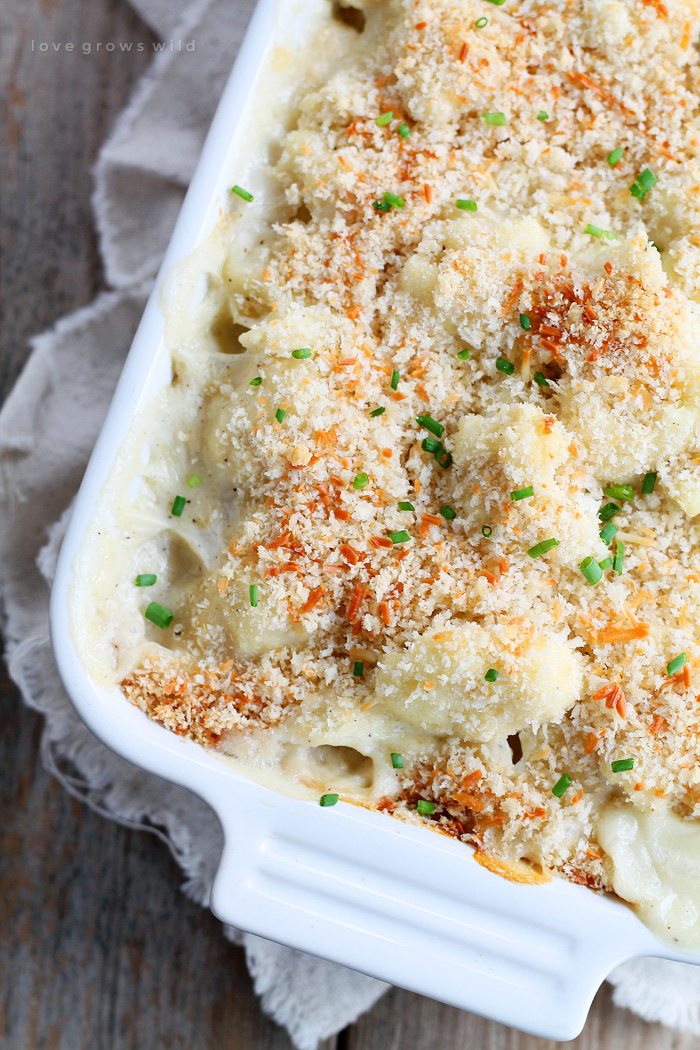 It goes great with just about any meal and can easily be doubled when you have extra mouths to feed. I hope you try these easy, cheesy veggies soon!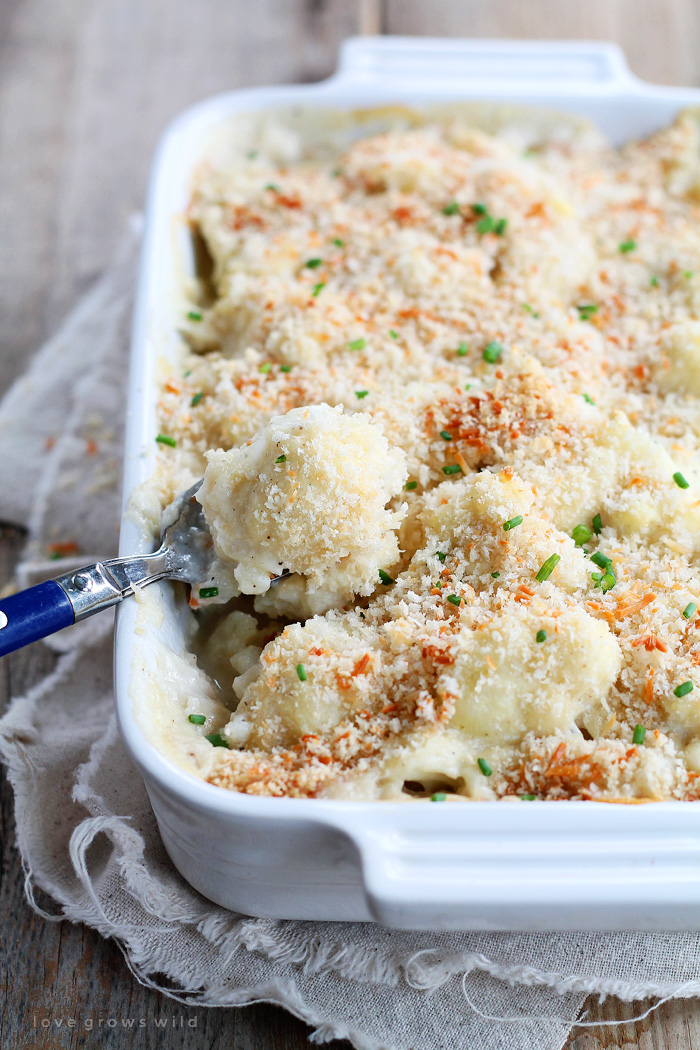 Like what you see? Subscribe to Love Grows Wild so you'll never miss a post!
Follow along on Pinterest, Google+, Instagram, and Facebook for more fun!
Cauliflower Gratin
Cauliflower baked in a creamy cheese sauce with a crunchy breadcrumb topping! This Cauliflower Gratin is a delicious and easy side dish for any meal!
INGREDIENTS
3 tablespoons unsalted butter
⅓ cup all-purpose flour
2 cups 2% milk
1 head cauliflower, cut into small florets
1 teaspoon salt
½ teaspoon pepper
4 ounces Gruyere cheese, shredded
½ cup panko bread crumbs
¼ cup Parmesan cheese, grated
INSTRUCTIONS
Preheat oven to 350ºF. Melt butter in a large saucepan over medium heat. Add flour and cook, stirring constantly for 1 minute. Whisk in the milk and season with salt and pepper. Bring to a boil and reduce heat to a simmer. Stir the cauliflower into the sauce. Cover with a lid and cook until the cauliflower starts to soften, about 5 minutes. Remove from heat and stir in the Gruyere cheese until melted.
Pour mixture into a 2 quart baking dish. Combine the panko bread crumbs and Parmesan and sprinkle over top. Cover with foil and bake until cauliflower is tender (can be easily pierced with a knifte), about 20 minutes. Remove foil and bake for another 15-20 minutes until breadcrumbs are golden.
NOTES
- I've also used Jarlsberg cheese in place of the Gruyere. It's similar in flavor and sometimes less expensive to buy than Gruyere.
– adapted from Martha Stewart
Are you making this recipe? I'd LOVE to see it! Post a photo of your creation on Instagram and use the hashtag #MyLGWRecipe. It may just get featured!
---
Now it's time for 25+ more Thanksgiving recipes to inspire your holiday cooking! There are so many delicious options to choose from…
---
Main Dishes
---

Maple – Glazed Turkey with Bacon and Sage | Five Heart Home
Turkey Tetrazzini w/ Mushrooms and Kale | The Fountain Ave Kitchen
Orange Balsamic Glazed Ham | Cherished Bliss
Turkey Soup | Carmel Moments
Cranberry Stuffed Turkey | Thoughts from Alice
---
Vegetables
---

Cauliflower Gratin | Love Grows Wild
Creamy Cheese Corn Casserole | Five Heart Home
Cranberry Citrus Salad with Goat Cheese and Pecans | Delightful E Made
Sautéed French Green Beans | Cherished Bliss
---
Potatoes
---

Potatoes Au Gratin | Yummy Healthy Eats
Mashed Sweet Potatoes | Live Laugh Rowe
Honey-Cinnamon Roasted Sweet Potatoes | Cooking with Ruthie
Cheesy Garlic & Herb Mashed Potatoes | Cherished Bliss
---
Sides & Breads
---

Harvest Grain Rolls | Heather's French Press
Jello Salad | Your Homebased Mom
Herb and Cheese Monkey Bread | Five Heart Home
Brown Rice | Uncommon Designs
---
Pies
---

Dairy Free Pumpkin Pie | Cooking with Curls
Apple Pie Waffles | Club Narwhal
Raspberry Pie | Dessert Now Dinner Later
Triple Layer Chocolate Pie | I Should be Mopping the Floor
Salted Caramel Pumpkin Pecan Pie | Lemon Tree Dwelling
---
Desserts
---

No Bake Brown Sugar Cheesecake w/ Spiced Pears | Baking a Moment
Nutella Kahlua Truffles | Kleinworth & Co
Pumpkin Cupcakes & Maple Cream Cheese Frosting | Cupcake Diaries
Cream Filled Coffee Cake | Tastes of Lizzy T
Cranberry Orange Mulled Wine | Wine and Glue
Praline Pumpkin Cheesecake | Maison De Pax
---
Still hungry? Try these tasty recipes: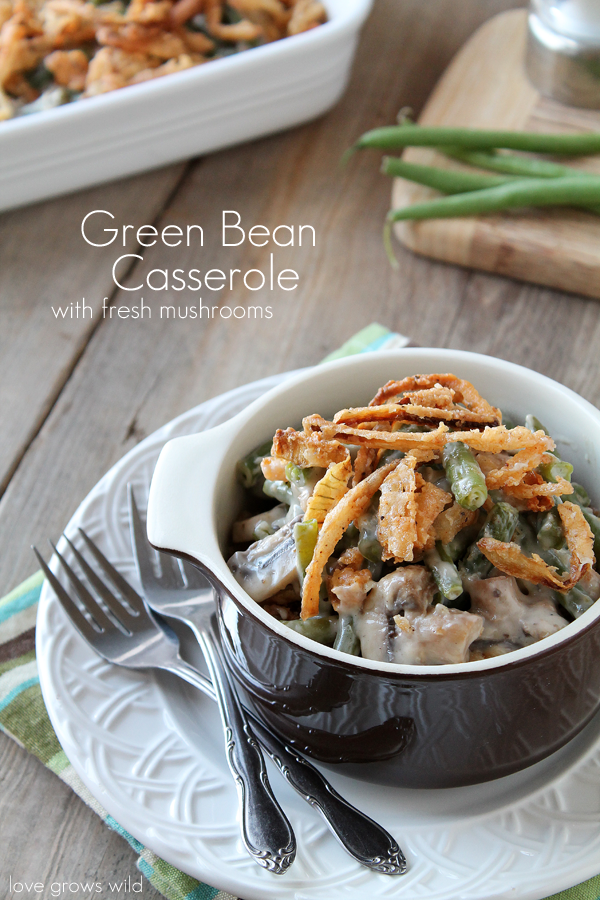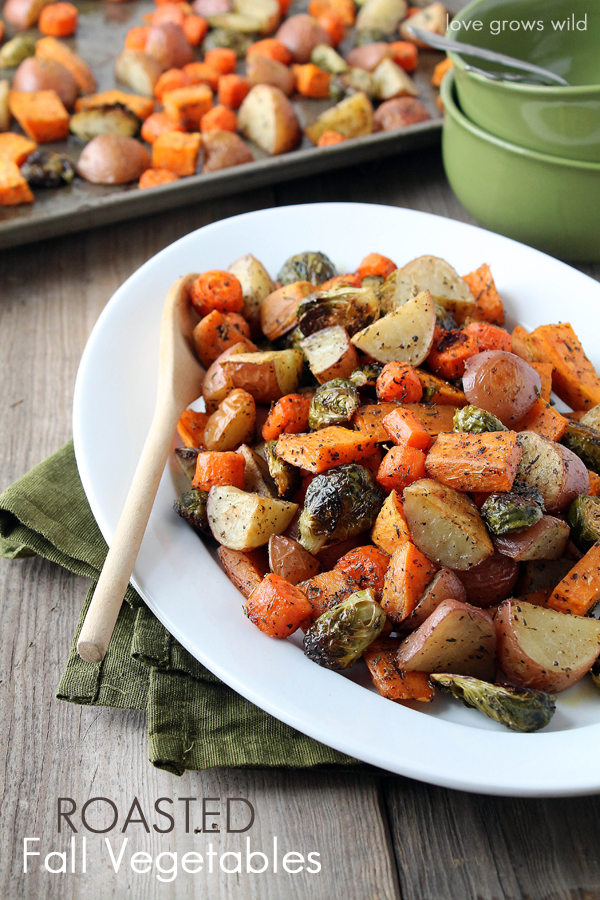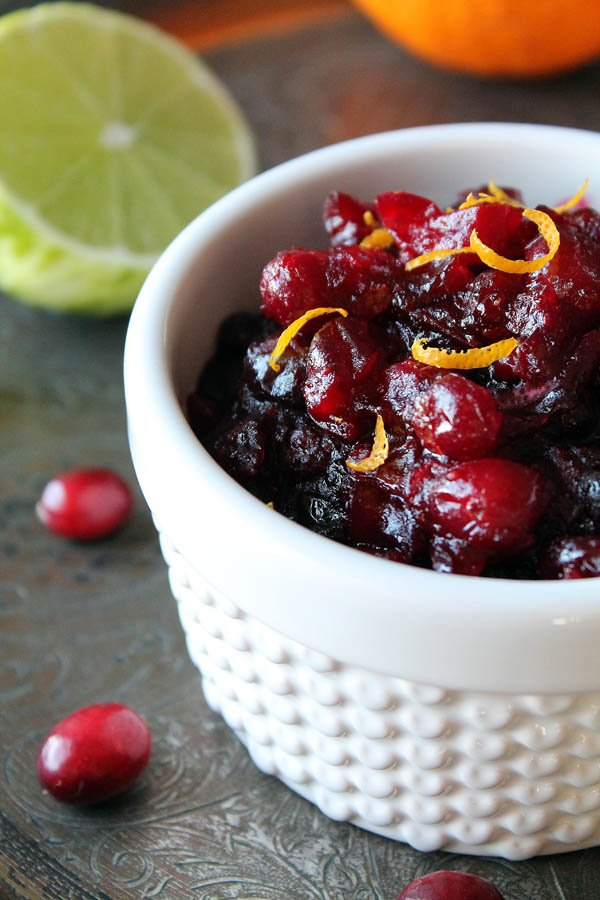 Orange and Lime Cranberry Sauce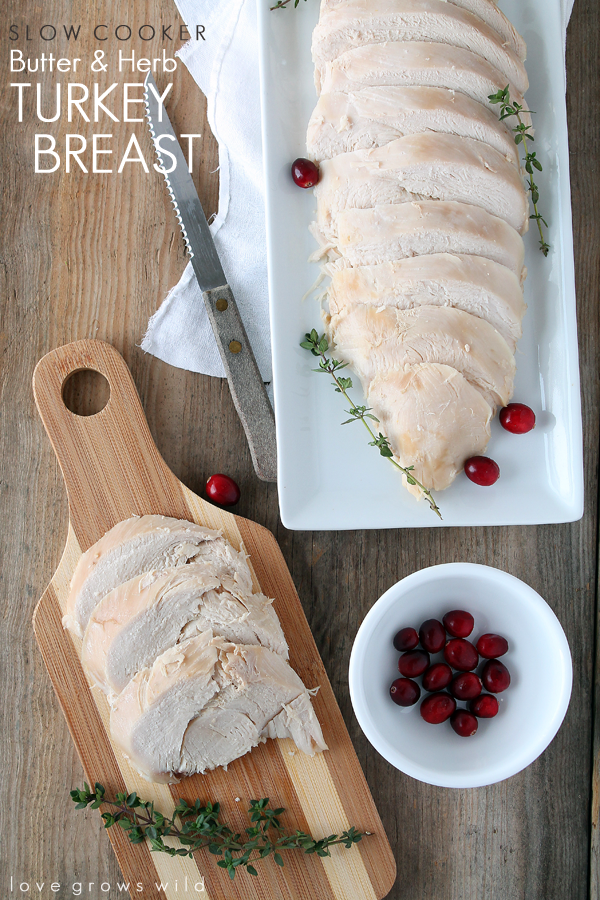 Slow Cooker Butter and Herb Turkey Breast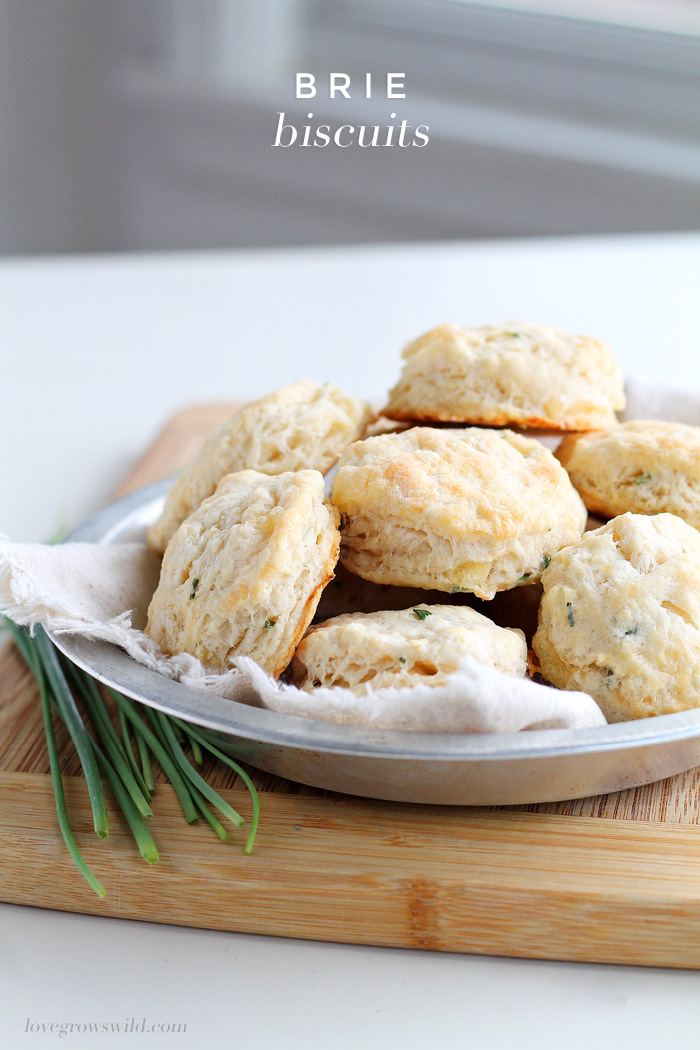 ---
LET'S KEEP IN TOUCH!
Subscribe to Blog | Browse my Shop | Follow on Facebook | Follow on Twitter
Follow on Google+ | Follow on Pinterest | Follow on Instagram