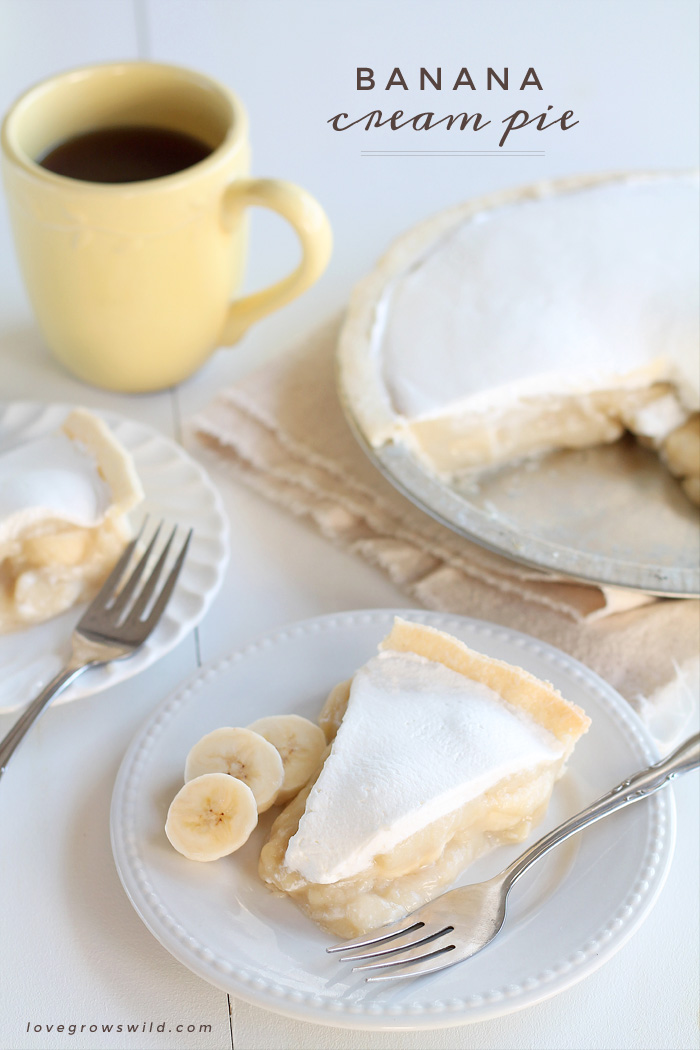 I couldn't think of a better way to kick off November than with a pie recipe! The holidays are slowly creeping up on us, and I've been in the kitchen A TON over the last week coming up with new recipes for the occasion. Of course we all love the glorious turkey and all the typical side dish suspects, but let's face it… what we're REALLY excited for is the dessert!
I won't even get started on my addiction to pumpkin pie… I like to think of it more as a love affair, really… But today I want to focus on one of my other pie favorites, Banana Cream Pie. Oh, how I love thee. This made-from-scratch recipe is light and luscious with a homemade cream filling, fresh whipped cream on top, and plenty of soft, sweet banana slices in between. I'm sharing my method for creating the perfect cream filling and some make-ahead tips that are perfect for the busy holiday season!
Let's talk pie, ya'll. Food is such a nostalgic thing, and I find that pie is especially so. I think we all have memories of diving into Grandma's pecan pie at Thanksgiving or patiently waiting for Aunt so-and-so's apple pie at Christmas. Pie just brings up so many wonderful memories of family and times shared together over the holidays.
My Dad's favorite pie happens to be banana cream, and I don't think I ever fully appreciated this wonderful dessert until I became an adult. It all started when I created a Banana Cream Pudding Parfait recipe for the blog and fell head-over-heels in LOVE with these flavors. A simple parfait layered with banana pudding, banana slices, vanilla wafers, chopped pecans, toffee, and fresh whipped cream… trust me when I say it is nothing short of magical!
So when I decided it was time to add a new pie recipe to the blog for the upcoming holidays, banana cream was the first thing that came to mind. I'll walk you through each step of making the homemade cream filling plus tips for making ahead so you can have a stress-free holiday!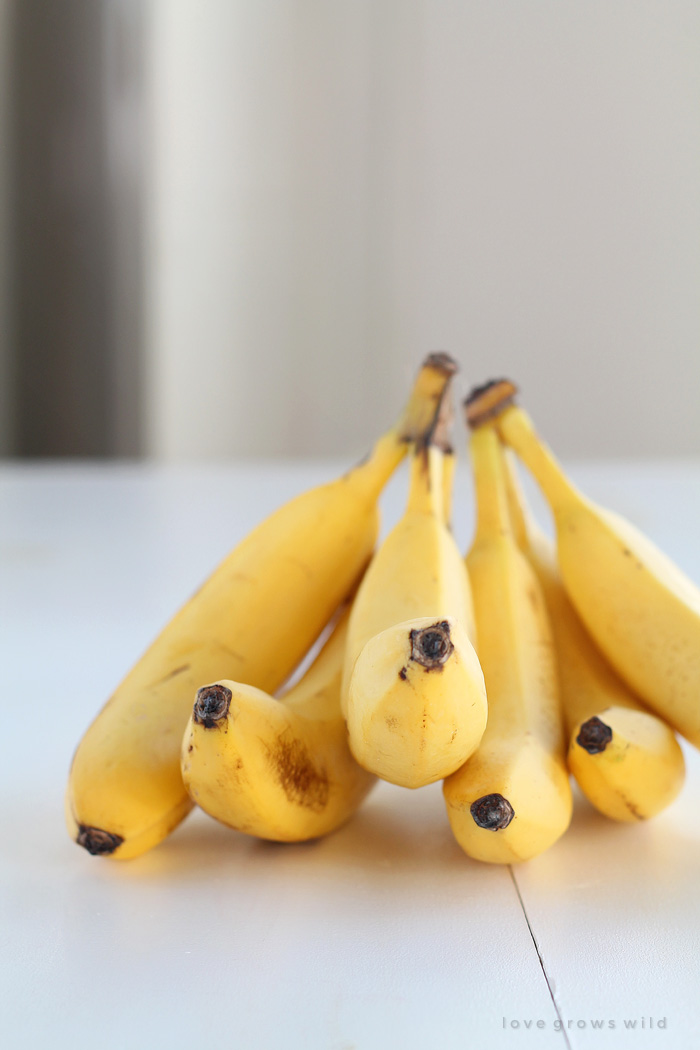 Let's start with the filling. Sugar, cornstarch, salt, and almond milk. Huh? Almond milk? If you've been reading my blog for awhile, you know that I love to sub almond milk into my favorite recipes, and this was a great place to do so. I know I'll get comments from you guys asking if regular milk can be substituted, and yes, it most definitely can. But anytime I can save a few calories AND get an amazingly delicious dessert, I'm there! I used the Silk Original Almond Milk for this recipe.
You're going to cook those filling ingredients in a saucepan until they get nice and thick from the cornstarch. Note: this WILL take some time. Just keep whisking and cooking until the mixture turns from a thin liquid to a thick, creamy filling, which takes about 7-8 minutes for me. For those of you who are as impatient as I am, it will feel like this stuff will neeeever thicken up, but then all the sudden… boom! It does. Just wait for the magic to happen!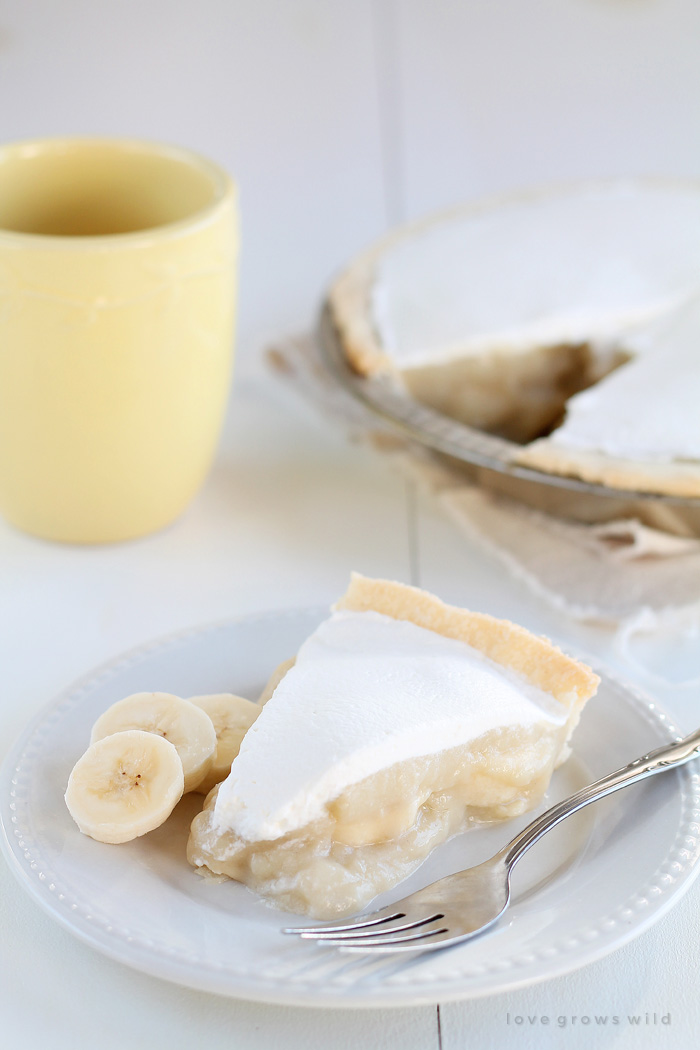 Now you're going to add some eggs to the filling. Slowly pour a little bit of the hot filling into a bowl with the beaten eggs and whisk constantly. This heats the eggs up a little so they don't end up scrambled when you pour them into filling. But don't worry… even I sometimes end up with a few scrambled bits no matter how hard I try to avoid it, so I like to pour the filling through a fine mesh strainer before chilling.
You'll want to cool the filling down in the fridge for AT LEAST 30 minutes, but you can chill it up to 24 hours if you want. That's a make-ahead tip right there!
Once the filling is cooled, it's time to assemble the pie. Some of you have your own pie crust recipe that you love and others are more of the store-bought type, and either is just fine for this recipe! Do whatever floats your banana cream boat. You'll want to bake the crust before adding the filling, so while the filling is chilling in the fridge, go ahead and do that step.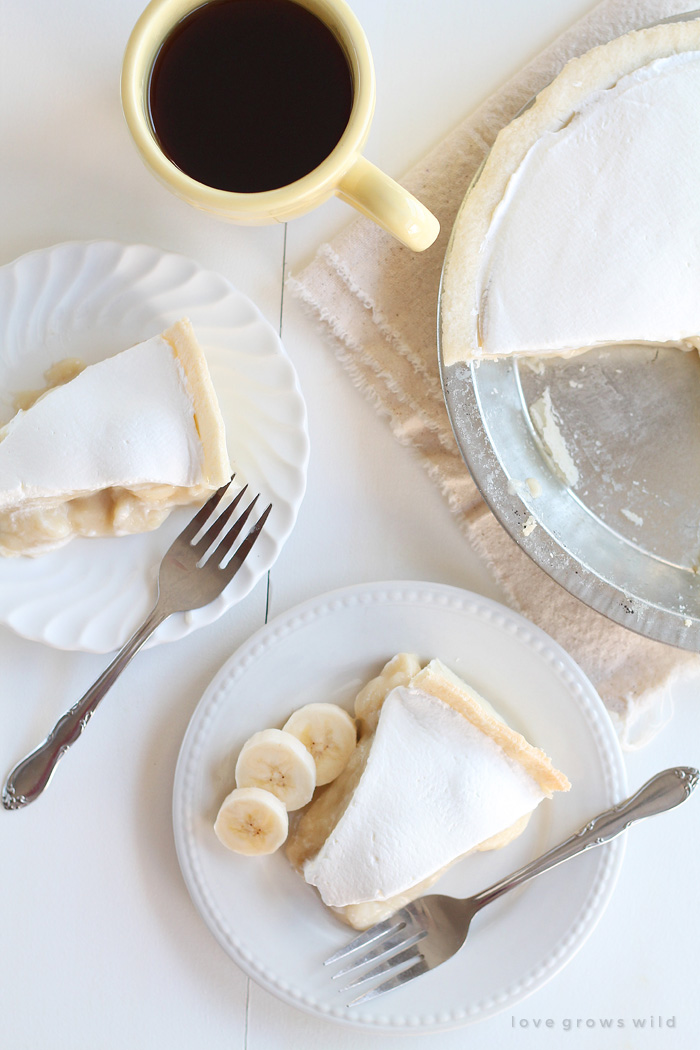 Here's the order of assembly: pie crust, half the cream filling, thick slices of banana, the other half of the cream filling, and fresh whipped cream on top. I've found that if you slice the bananas too thin, they seem to get lost in the pie and don't have much of a banana-y flavor, so try to slice them about 1/2″ thick. You want nice, big chunks of banana to bite into!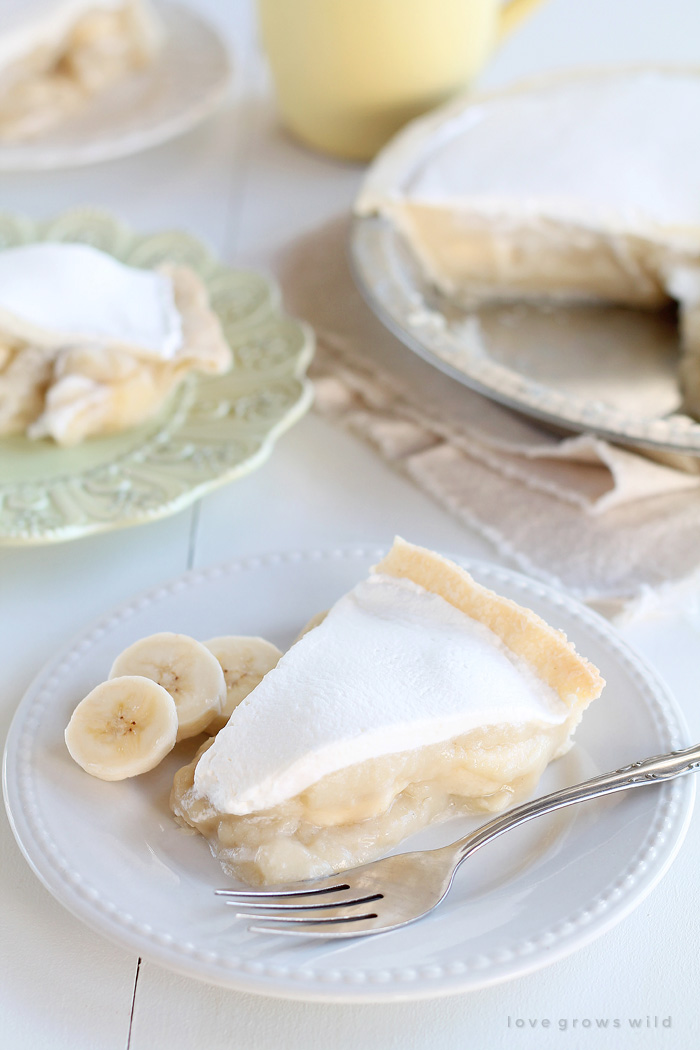 And that's my banana cream pie, folks! I think this light, fruity pie is a great contrast to all the heavier desserts served at the holidays (a.k.a. pecan pie), and with my make-ahead tips, this pie recipe is sure to become a new favorite of yours!
I'm dying to know… what's YOUR favorite pie? 🙂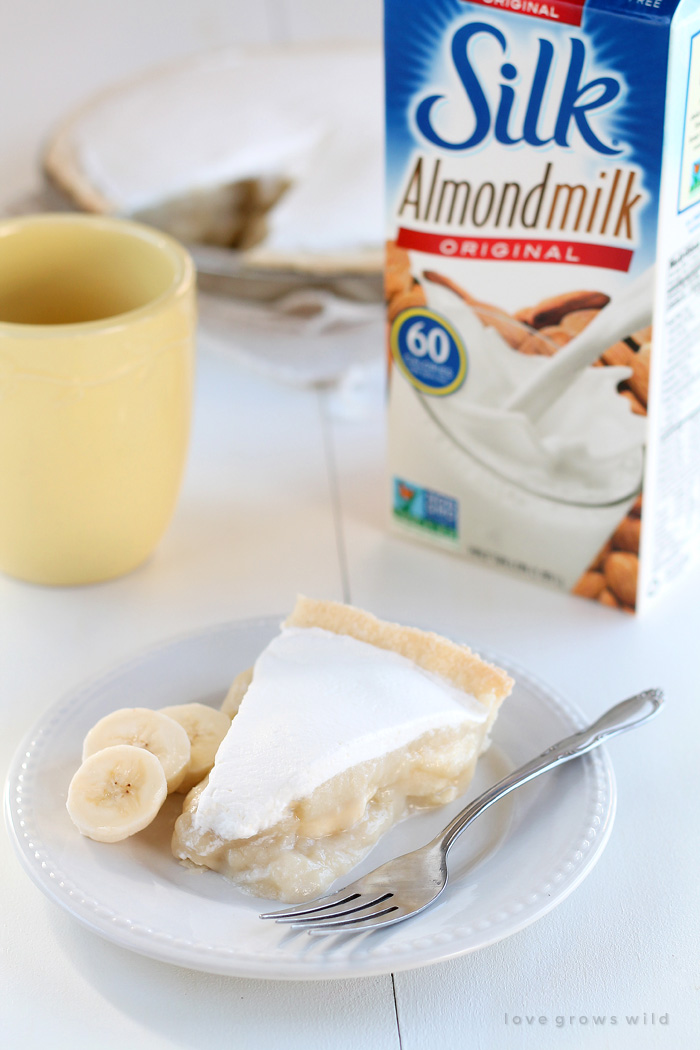 Like what you see? Subscribe to Love Grows Wild so you'll never miss a post!
Follow along on Pinterest, Google+, Instagram, and Facebook for more fun!
Banana Cream Pie
The perfect Banana Cream Pie made from scratch with a light, luscious filling and directions for prepping ahead!
INGREDIENTS
1 cup granulated sugar
¼ cup cornstarch
½ teaspoon salt
3 cups Silk original almond milk
2 eggs, lightly beaten
3 tablespoons unsalted butter
1½ teaspoons vanilla extract
1 pie crust, baked - either store-bought or homemade
3 large, firm bananas
1 cup heavy whipping cream
2 tablespoons confectioner's sugar
INSTRUCTIONS
In a large saucepan, combine the sugar, cornstarch, salt, and almond milk and whisk until smooth. Set the pan over medium-high heat and cook, whisking constantly, until thickened, about 7-8 minutes. Reduce heat to medium-low and continue to cook, whisking constantly, for 2-3 more minutes.
Pour ¼ cup of the hot milk mixture into a bowl with the lightly-beaten eggs, whisking as you slowly pour. This will temper the eggs and keep them from scrambling. Add eggs into the saucepan and continue to cook another 2-3 minutes, whisking constantly, until mixture is thickened. Remove pan from heat and stir in the butter and vanilla. Pour the mixture through a fine mesh strainer into a large bowl and cover with plastic wrap, pressing it directly onto the surface. Place in the refrigerator for 30 minutes.
Spread half the cream filling in the bottom of the baked pie shell. Slice the bananas into ½" thick pieces and arrange over the filling. Spread the remaining filling over the bananas. Pour the heavy whipping cream and confectioner's sugar into a bowl and beat on medium speed using a whisk attachment until soft peaks form, about 6-7 minutes. Spread the whipped cream over the filling and cover loosely with plastic wrap for at least 6 hours and up to 24.
NOTES
- Make ahead instructions: Prepare the filling as directed above and refrigerate for at least 30 minutes or up to 24 hours before putting the pie together.

- The cream filling does take about 7-8 minutes to thicken in the beginning, so be sure to gently whisk the mixture constantly to avoid scorching the bottom. Just be patient and wait for that magical thickening moment!

- By tempering the eggs before adding them to the filling, you won't get scrambled egg pieces in your pie, but I always strain the mixture before chilling to make sure any impurities are removed. This is the key to a perfectly smooth filling!

- I recommend slicing the bananas about ½" thick. Any smaller, and they seem to get lost in the pie.
– adapted from Martha Stewart and Taste of Home
Are you making this recipe? I'd LOVE to see it! Post a photo of your creation on Instagram and use the hashtag #MyLGWRecipe. It may just get featured!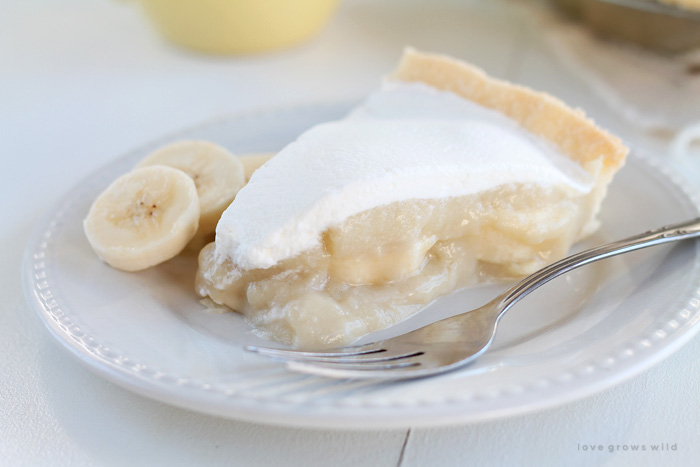 ---
Are you ready to try Silk? Sign up for a coupon! All new registrants will receive $0.75 off any Silk half gallon!
When you register, you can also look forward to:
– Additional coupons sent straight to your inbox, plus a special birthday offer
– New of Silk sweepstakes and promotions
– Monthly chances to win a year's supply of Silk!
You can also follow Silk on Facebook!
---
Still hungry? Try these tasty recipes: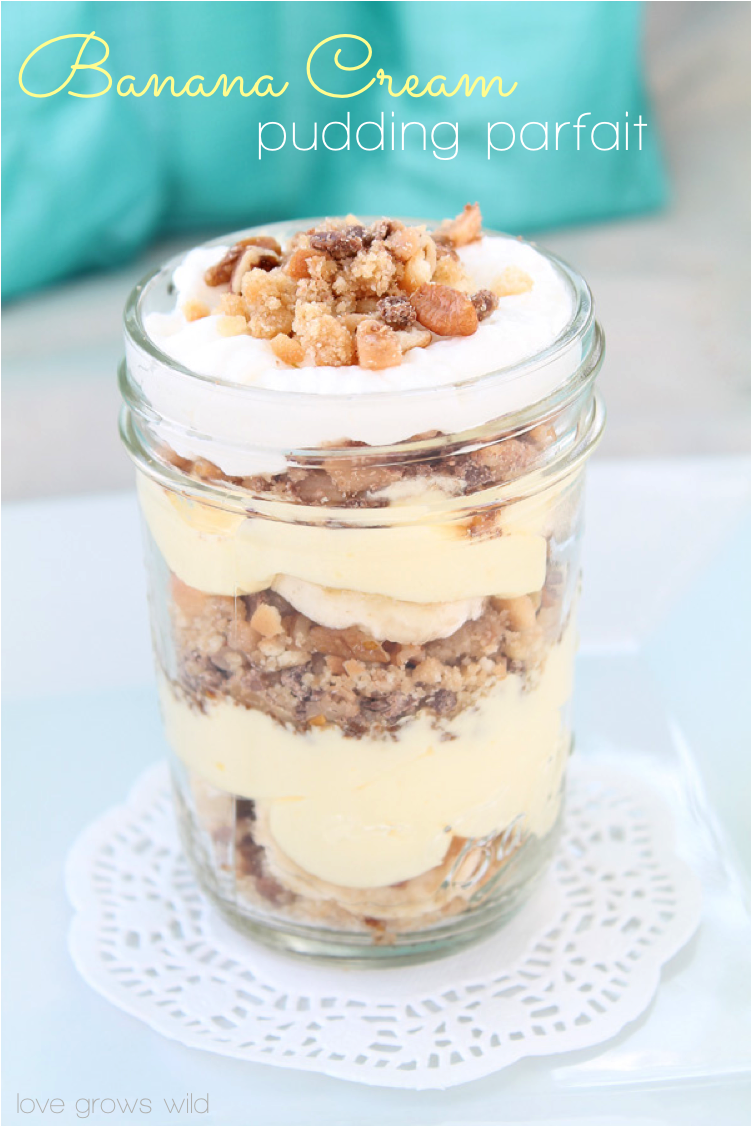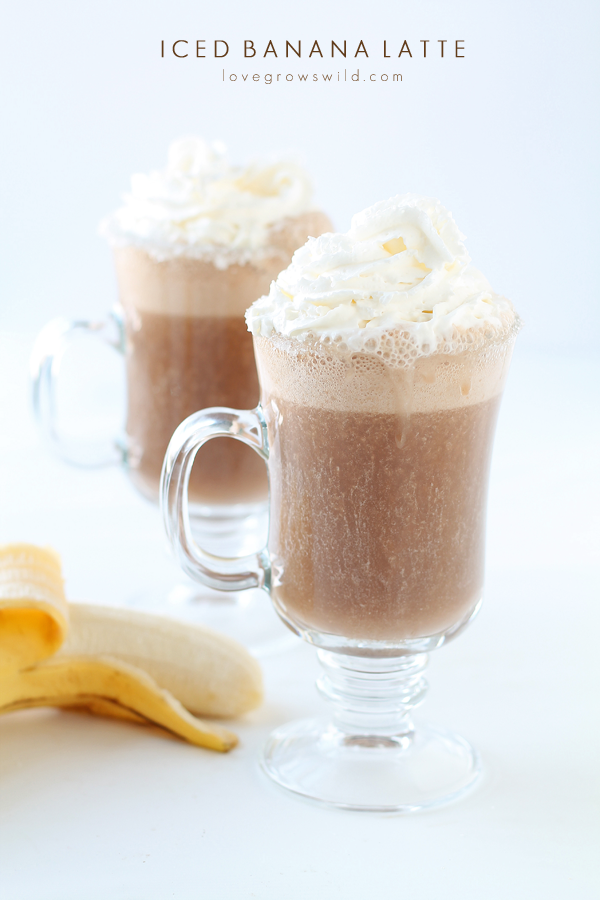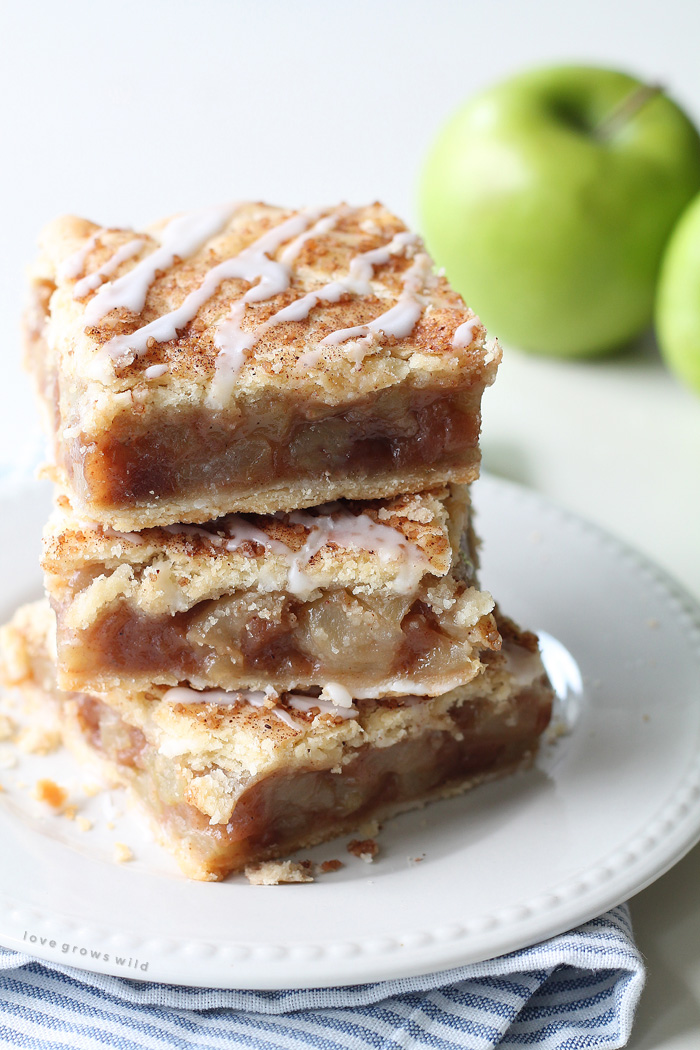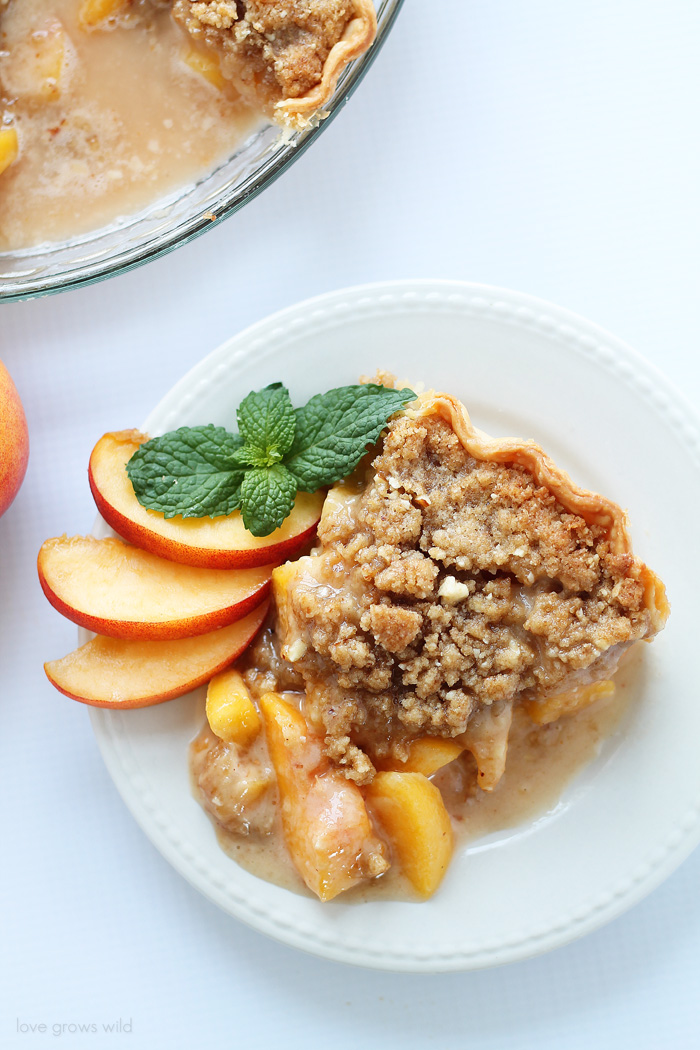 ---
LET'S KEEP IN TOUCH!
Subscribe to Blog | Browse my Shop | Follow on Facebook | Follow on Twitter
Follow on Google+ | Follow on Pinterest | Follow on Instagram
This conversation is sponsored by Silk. The opinions and text are all mine. Thank you for supporting the brands that make this blog possible!