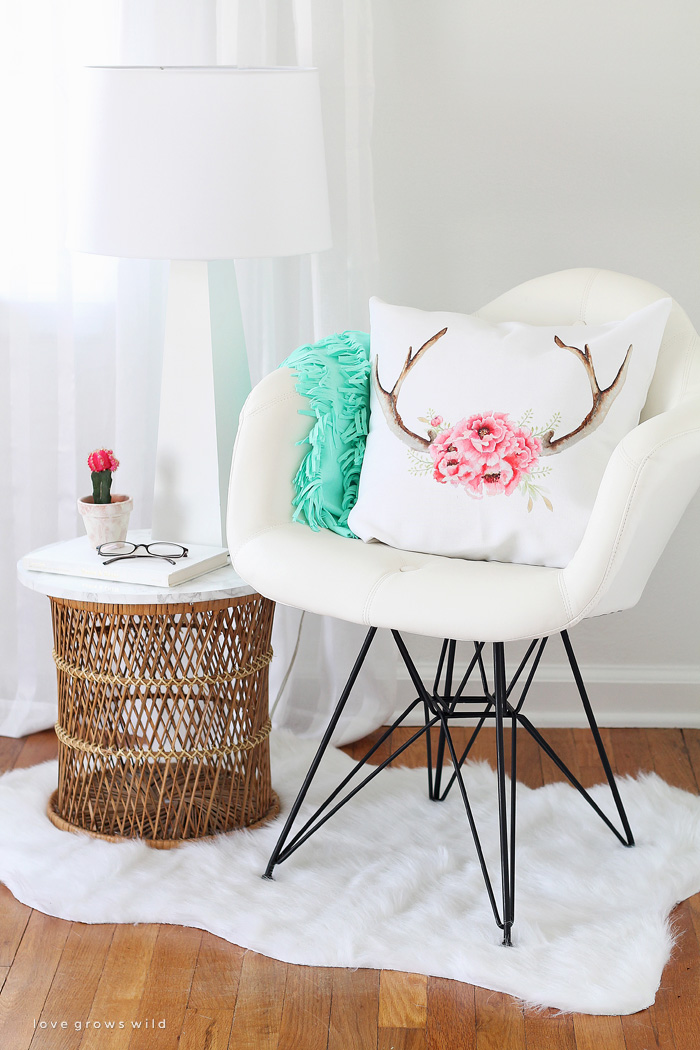 I've been working on this post for what feels like FOREVER. I knew from the beginning of the office makeover that I wanted a little reading nook. I needed somewhere to curl up with a cozy blanket and work on blog stuff when I don't feel like sitting at my desk. So I found the perfect spot in my office and started looking for the right chair to fit the small corner. Then I needed a small side table to fit the small chair. Then I need a big lamp to offset the small table. Then I needed the right rug to fit in the corner… yada, yada, yada. These things just take some time to get right.
I think I finally found the perfect combination and am ready to show everything off. Welcome to my little reading nook!
This office has taught me a very valuable lesson: Not EVERYTHING has to be DIY'd. I tend to get caught up in DIY mode and try to figure out ways to make everything myself. At times, it's totally worth saving some money and customizing a piece just for our home, but at other times I need to realize that I just don't have the time, patience, skill level, or sanity to tackle certain projects. For example, this chair.
My first idea was to find an old thrift store chair, rip off the dirty, gross fabric, and re-upholster it myself. I've never done a major re-upholstery project like that before and decided that spending weeks tearing apart and sewing back together fabric was not something I wanted to do. I almost break out in a cold sweat just thinking about it. So the next idea was just to purchase something new. I shopped around and finally settled on a white tufted faux leather chair from Overstock. More than I wanted to spend, but I decided to treat myself since my behind is going to spend many, many hours working in it. 🙂 The base was originally silver, but I spray painted it matte black for contrast.
Next up, a side table. I knew the chair was going to be on the smaller side when I ordered it, but I wasn't expecting it to be quite this small. I'm a petite gal, so it doesn't bother me to sit in it, but now I needed a shorter side table to go with it. I spotted this uh.. basket… garbage can… thingy at the thrift store awhile back and just knew it would come in handy eventually. It's makes a perfect little table for my little chair!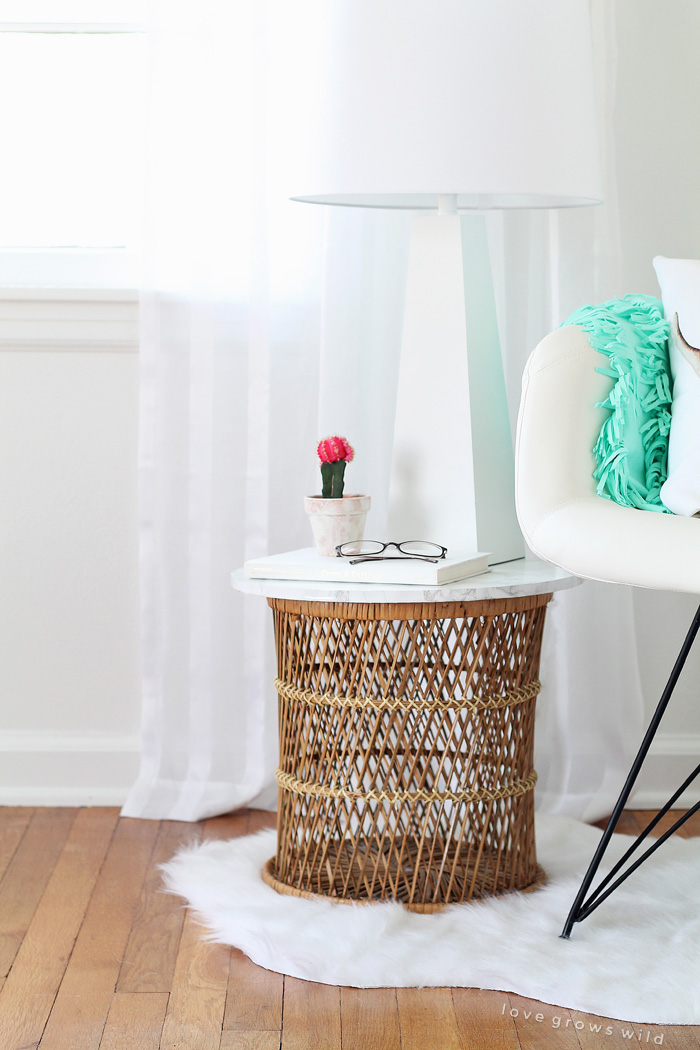 All it needed was a top. After seeing Sarah's awesome marble nesting tables recently, I've been having a major marble crush. But after splurging on the chair, marble was definitely not in my budget, so this time I went the DIY route. I grabbed a scrap piece of MDF from our garage and cut it into a circle using my jigsaw. Then to get the marble look, I covered the MDF in a gray marble contact paper I found on Amazon. Yep, marble contact paper! It obviously doesn't look exactly like a slab of real marble, but for just a couple bucks, this trick works for me!
I used one piece to cover the top of the MDF and cut thin strips (using a ruler as a guide) to wrap around the edge. I only used a small amount of the contact paper that came on the roll, so be prepared to see this marble look somewhere else soon!
It took me a couple tries to find the right pillow fabric (you may remember this photo on Instagram), but in the end I settled on this gorgeous floral antler pillow cover that my friend, Lucy, designed. She creates the most beautiful paintings and has them made into all kinds of products… my favorite obviously being her pillows!
The feminine flowers paired with the rustic antlers was exactly what I was looking for. And I added a mint-colored fringe blanket (which looks oddly blue in these photos) to coordinate with my mint desk that sits across the room.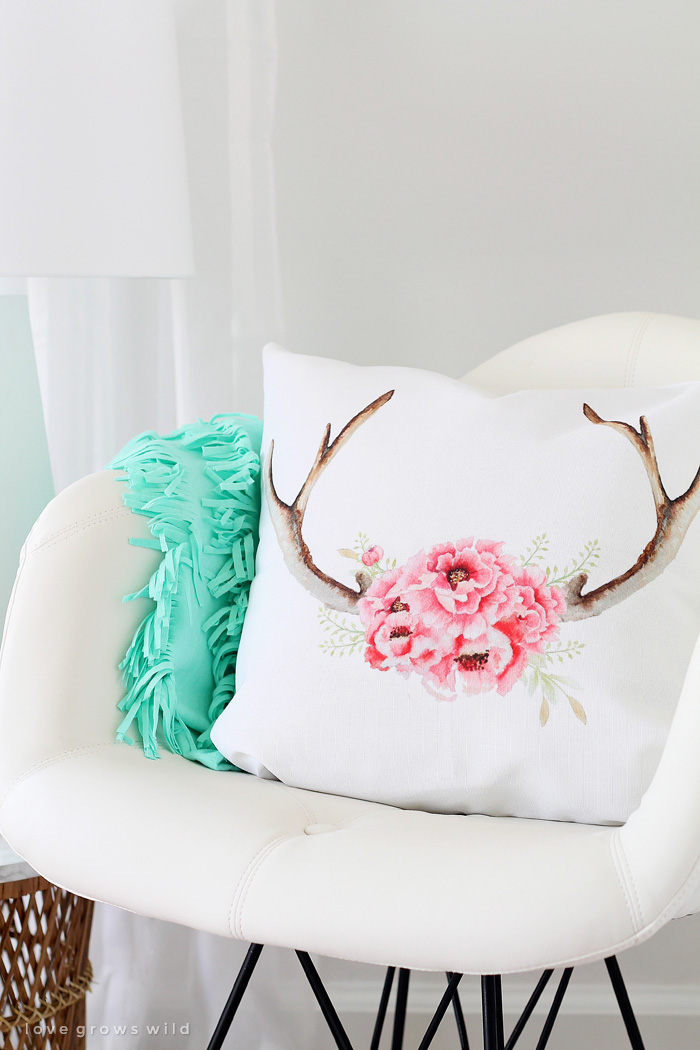 Want to know one of my design secrets? I have plenty of neutral colored blankets that I love, but anytime I'm craving a pop of color to decorate with, I use this trick. Instead of purchasing a brand new blanket in a color I might not use all that often (for example, a red blanket for Christmas… I have NO red in my house!), I buy a yard of felt from the fabric store. It's usually pretty cheap, maybe only $5/yard, and I just cut a little fringe with scissors for some detail.
No, it's not going to be a big, cozy blanket to snuggle up with on cold nights, but it gives you the same look for a lot less! I used this same trick here too. 🙂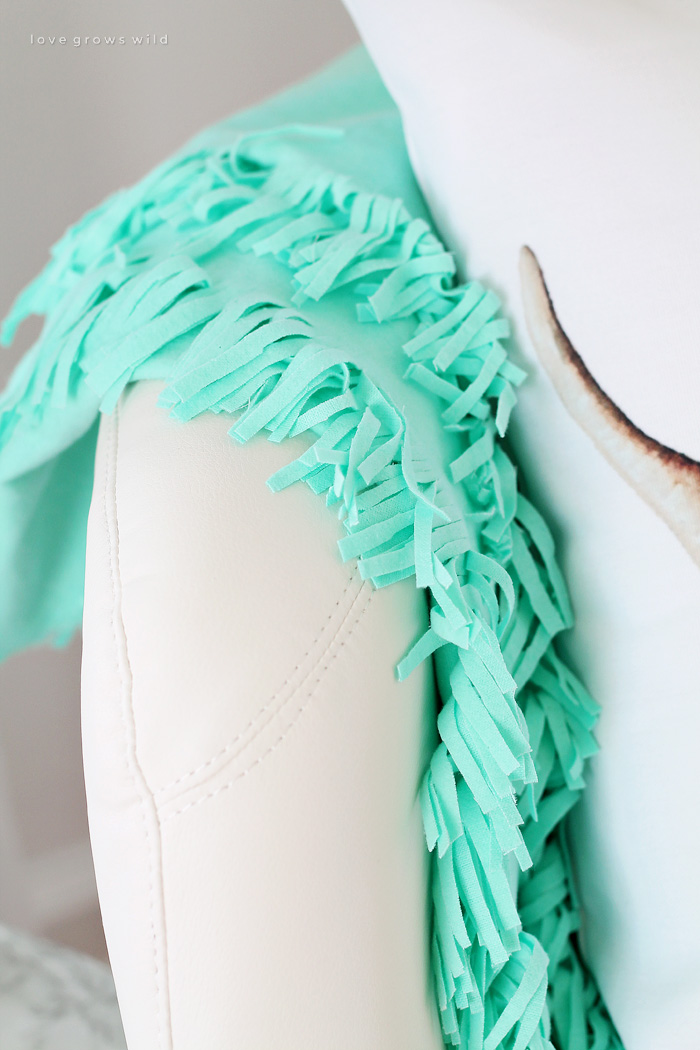 I debated whether to do a floor lamp or table lamp, because my shorty chair and shorty table DEFINITELY needed a little height. This tall drink of water from Target was the perfect compromise.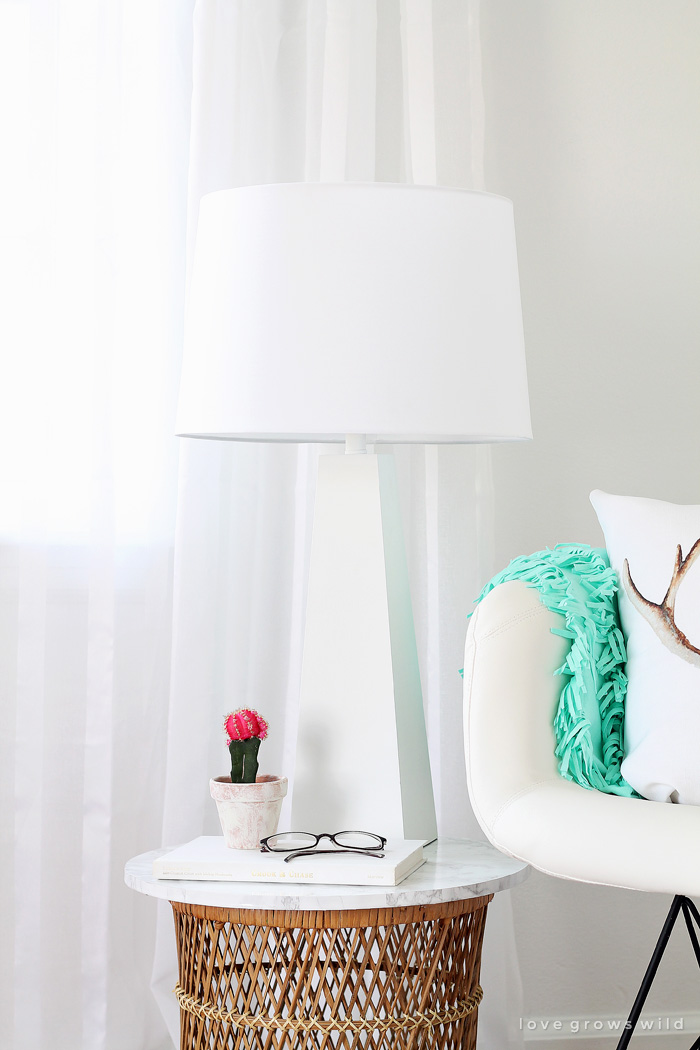 The last piece of the puzzle was finding a rug. I love the faux fur rug I used in my living room makeover, so I went back to Walmart and grabbed a second one for the office. Originally it was a normal rectangle, but I didn't look right shoved in the corner. So I flipped it upside down, drew an animal pelt shape on the back with a pencil, and used some heavy duty scissors to cut out the shape. My husband gave me a rather strange look when he walked in and saw me covered in fur hacking away at a brand new rug. What, that's not a normal thing to do?
The backing on the rug was only secured along the edges, so I used hot glue to re-attach it along the new edges I cut. Worked like a charm! A faux-fur pelt for less than $20. Don't worry animal lovers, no fur babies were harmed for this project. 😉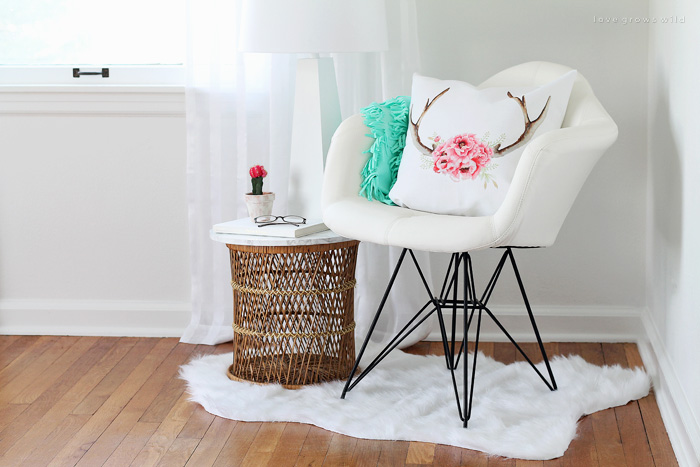 So that's the reading nook! I'm kind of thinking I want to add an ottoman here eventually, so keep your eyes peeled for cute ones while you're out holiday shopping, and let me know if you find something! I've been working on this office makeover little by little since July (has it really been that long already??), but I think I'm going to hit the pause button for a little while to focus on the holidays coming up. That Christmas tree isn't going to decorate itself! 😉
Here's all the projects we've worked on so far for the office:
The "Before"
Mint Desk Makeover
Office Chair Makeover
DIY Industrial Pipe Stools
Office Updates – new craft table & printer cart
Cabinet and Bookcase Makeover
DIY Marquee Letters
Hanging Macrame Fish Bowl
More things to come in 2015!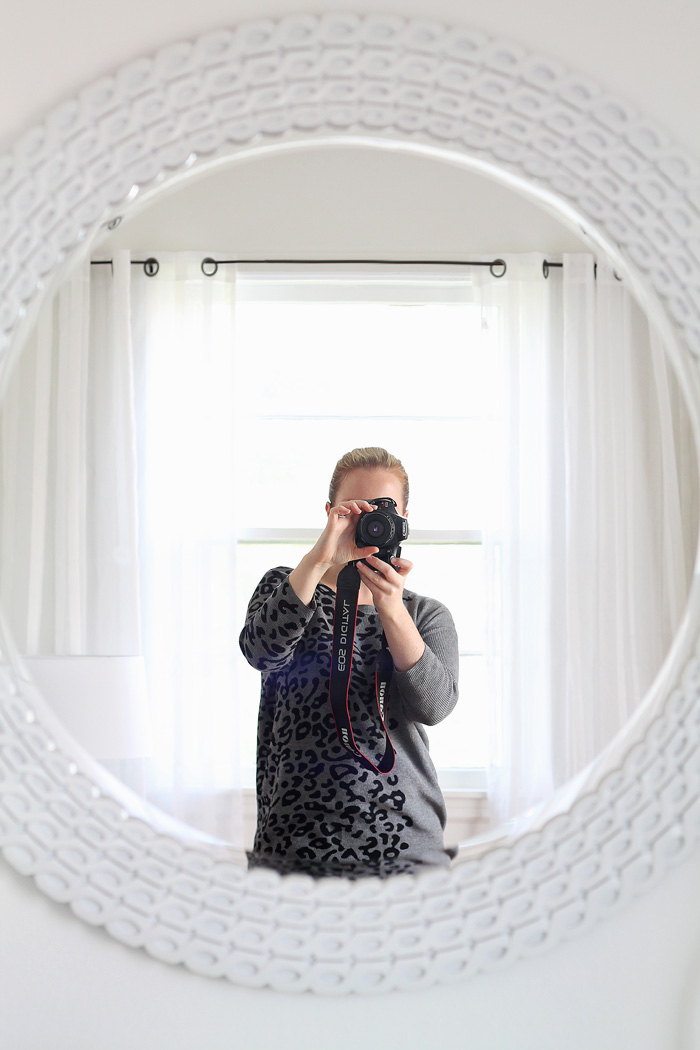 Like what you see? Subscribe to Love Grows Wild so you'll never miss a post!
Follow along on Pinterest, Google+, Instagram, and Facebook for more fun!
---
See more projects from Love Grows Wild: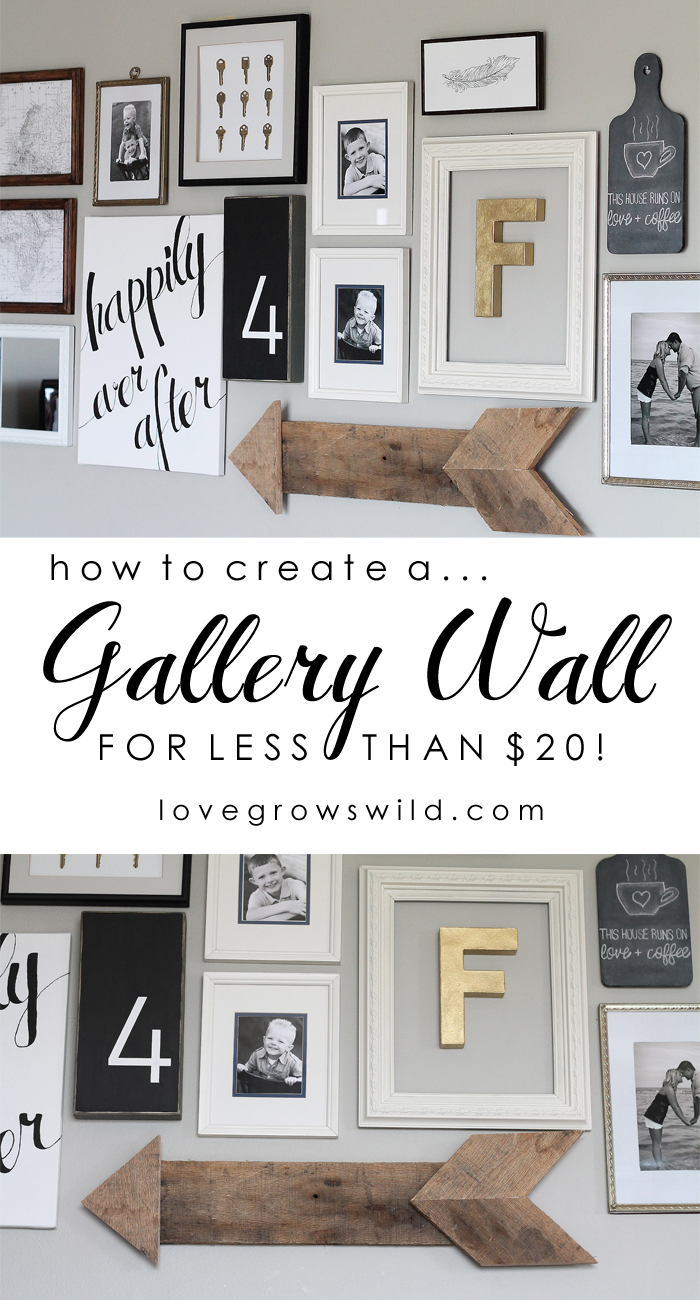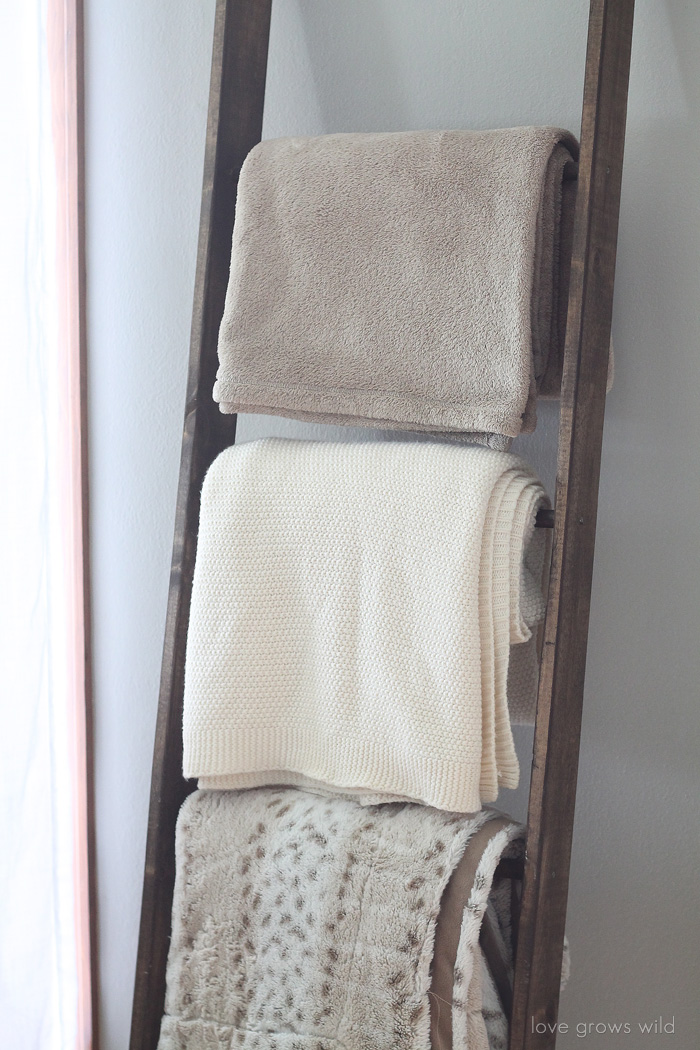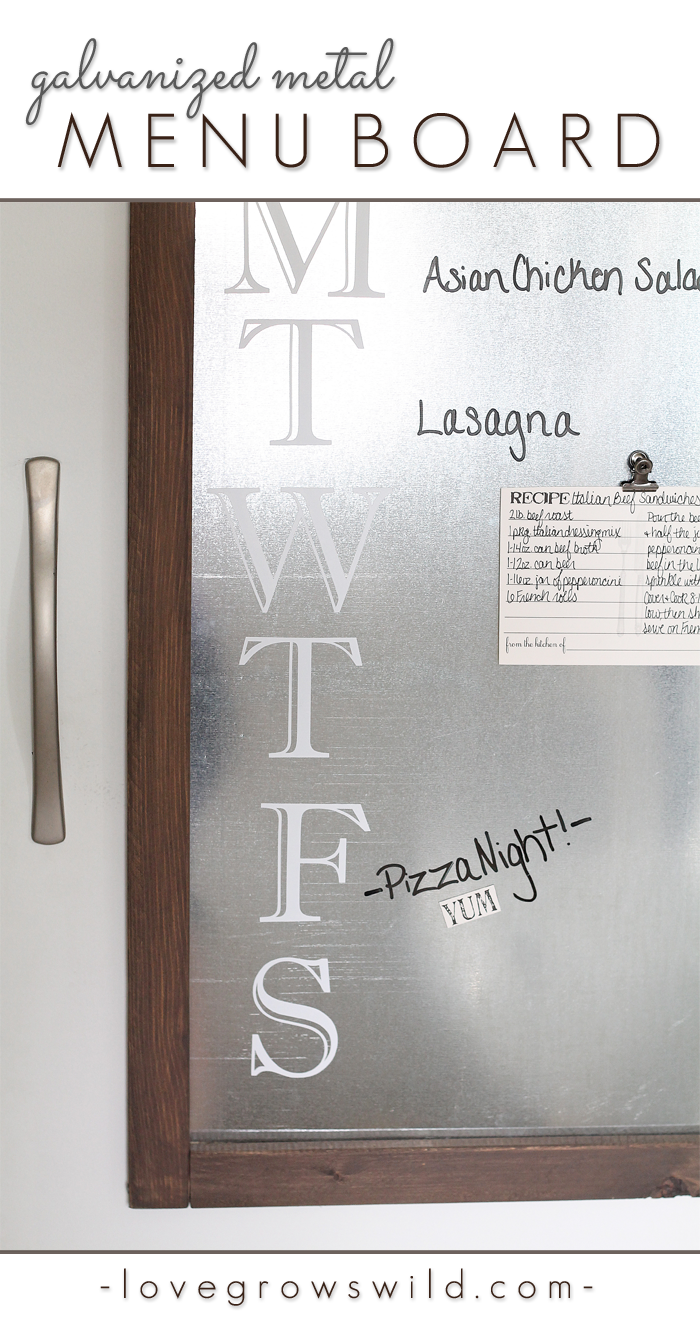 ---
LET'S KEEP IN TOUCH!
Subscribe to Blog | Browse my Shop | Follow on Facebook | Follow on Twitter
Follow on Google+ | Follow on Pinterest | Follow on Instagram