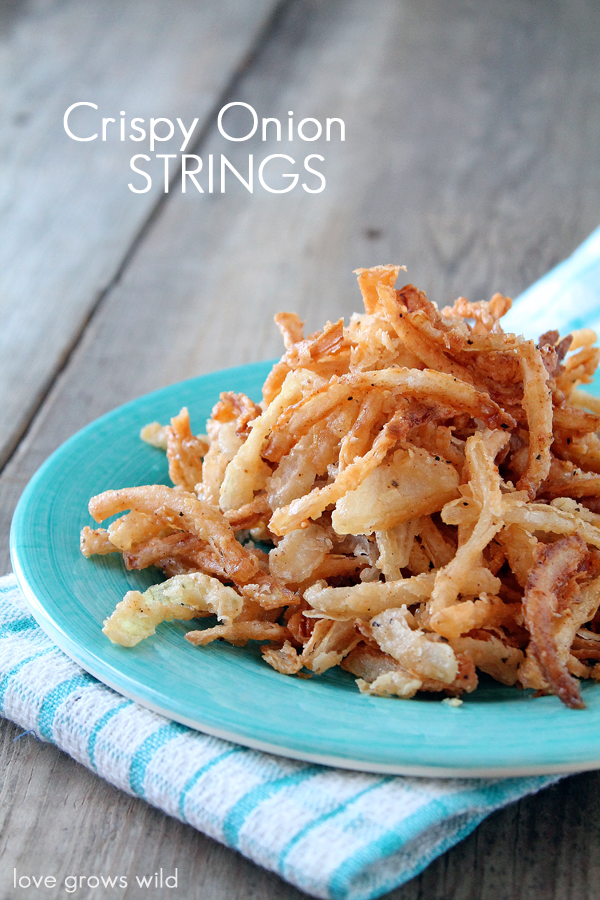 Oh boy, are you in for a treat today! November is just around the corner, which means that my favorite food holiday of the year is on its way too… Thanksgiving! Seriously, is there anything better than gathering with your friends and family, stuffing your face full of good food, and watching football while sleeping off your turkey-induced coma? I think not! Of all the yummy Thanksgiving dishes, I have to say that green bean casserole is one of my very favorites! I'm sharing my version of the
best green bean casserole
over at The Recipe Critic today, and these
Crispy Onion Strings
are simply a MUST to top the casserole with! Skip the store-bought can of fried onions and go for this easy homemade version to add to casseroles, burgers, salads, and more! You may even find yourself eating them by themselves… dipped in ketchup… by the handful! Yep, they're THAT good! So check out this recipe for the Crispy Onion Strings, then head over to Alyssa's blog to get the recipe for the best green bean casserole you'll ever eat!
I start with one large onion cut into quarters and very thinly sliced. If you have a mandoline, this is a great time to use it, but since I don't trust my fingers next to one, I just stick to a sharp knife! I drop the sliced onions into a shallow baking dish and let them soak in buttermilk for about an hour. It makes very yummy, magical things happen to the onions!
While the onions are in their buttermilk bath, I mix together some flour, salt, garlic powder, black pepper, and cayenne pepper. Then starts the assembly line process: dredge onions in flour mixture, cook in hot oil until deliciously golden brown and crispy, sprinkle with salt while still hot, and try not to devour the entire plate. It's just like cooking bacon… you can hardly get a few pieces finished before someone (cough, myself, cough) has eaten them already!
After you make a decently large mess of flour and oil in your kitchen (hey, I'm just being honest here!), you are left with a pile of perfectly crisp, golden brown, delicious little onion strings to enjoy! And trust me, you will enjoy them thoroughly! They are phenomenal stacked on top of a juicy burger and absolutely necessary when making my green bean casserole for Thanksgiving!
Crispy Onion Strings
INGREDIENTS
1 large onion, quartered and thinly sliced
2 cups buttermilk
2 cups all-purpose flour
1 tablespoon salt
1 tablespoon garlic powder
1 teaspoon black pepper
½ teaspoon cayenne pepper
canola oil, for frying
additional salt
INSTRUCTIONS
Place buttermilk and onions in a shallow dish and let soak for 1 hour.
Combine flour, salt, garlic powder, black pepper, and cayenne pepper in a bowl and set aside.
Heat about 2 inches of oil in a high-sided pot to 375 degrees. Working in batches, dredge a handful of the buttermilk-soaked onions in the flour mixture, shake off any excess flour, and carefully drop into the hot oil. Cook onions until golden brown, about 4-5 minutes, stirring occasionally. Remove onions onto paper towels to drain and sprinkle with a pinch of salt while onions are still hot. Repeat with remaining onions.
NOTES
- Serve crispy onion strings on casseroles, burgers, salads, or by themselves with a dipping sauce.
- Adapted from a
Pioneer Woman
recipe.
For the BEST green bean casserole recipe made with fresh green beans and mushrooms, garlic, Parmesan, and these amazing crispy onion strings,
CLICK HERE
to head on over to The Recipe Critic!
Let's Keep In Touch!