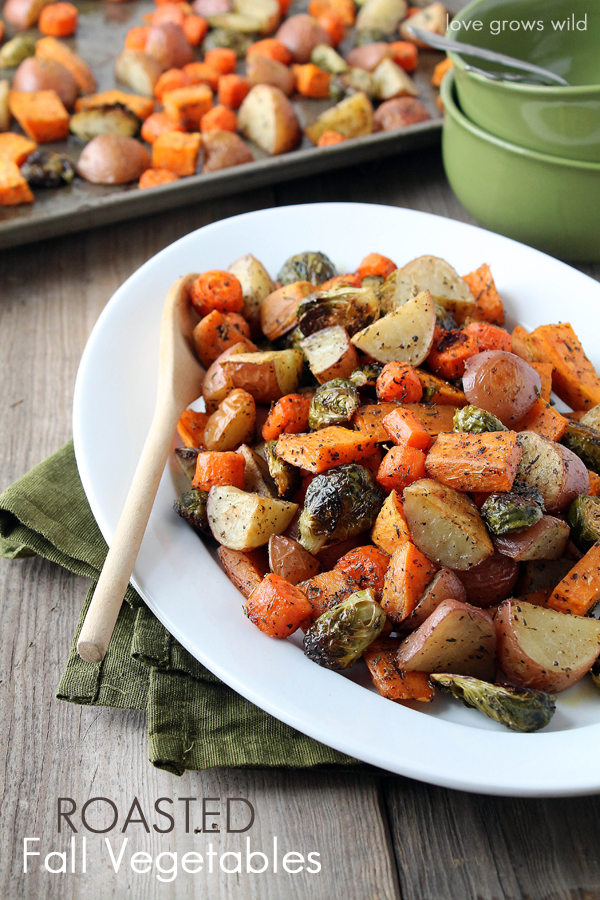 If you're in need of a fantastic side dish recipe for the upcoming holidays, I HIGHLY recommend you give this tasty dish a try! These Roasted Fall Vegetables feature four different delicious veggies that not only provide fantastic nutrition, but also make for a gorgeous table presentation! You'll love the bright colors and incredible taste this easy side dish has to offer!
When it comes to serving vegetables, roasting them is just about the easiest and most delicious way to do it. All you have to do is chop up some veggies, coat them in a bit of oil and some seasoning, and throw them in the oven until the vegetables are perfectly roasted with soft, tender insides and crispy, browned outsides. The flavor you get with roasting is unlike any other! The first vegetable I ever tried roasting was broccoli, and after discovering the incredibly flavorful magic that roasting can do, this is my favorite way to eat my veggies! Trust me, you'll love how easy and delicious this recipe is!
This particular recipe calls for a variety of fresh, seasonal vegetables including carrots, brussel sprouts, red new potatoes, and sweet potatoes. They give the dish a beautiful array of colors and taste amazing seasoned with the dried herbs. I find that in this case, dried herbs tend to work better than fresh so they don't burn in the oven.
This recipe comes in handy especially during the holidays when so much is going on all at once in the kitchen. Just stick these veggies in the oven while you're preparing the rest of the meal, and let your oven work its magic! You'll want to keep this easy side dish idea around for holidays for years to come!
Roasted Fall Vegetables
These Roasted Fall Vegetables are the perfect, easy side dish! Super flavorful and healthy too!
INGREDIENTS
⅓ cup olive oil
4 medium carrots, cut into 1-inch thick pieces
1½ cups brussel sprouts, halved
4 cups red new potatoes, cut into 1½-inch thick pieces
1 cup sweet potatoes, cut into 1½-inch thick pieces
2 teaspoons black pepper
1 teaspoon sea salt
1 teaspoon dried oregano
1 teaspoon dried thyme
1 teaspoon dried basil
INSTRUCTIONS
Preheat oven to 400 degrees.
Divide chopped vegetables onto 2 baking sheets and drizzle with olive oil.
Sprinkle vegetables with salt, pepper, and dried herbs and gently toss to coat.
Spread vegetables into an even layer on baking sheets and bake at 400 degrees for 45-50 minutes, flipping halfway through cooking time.