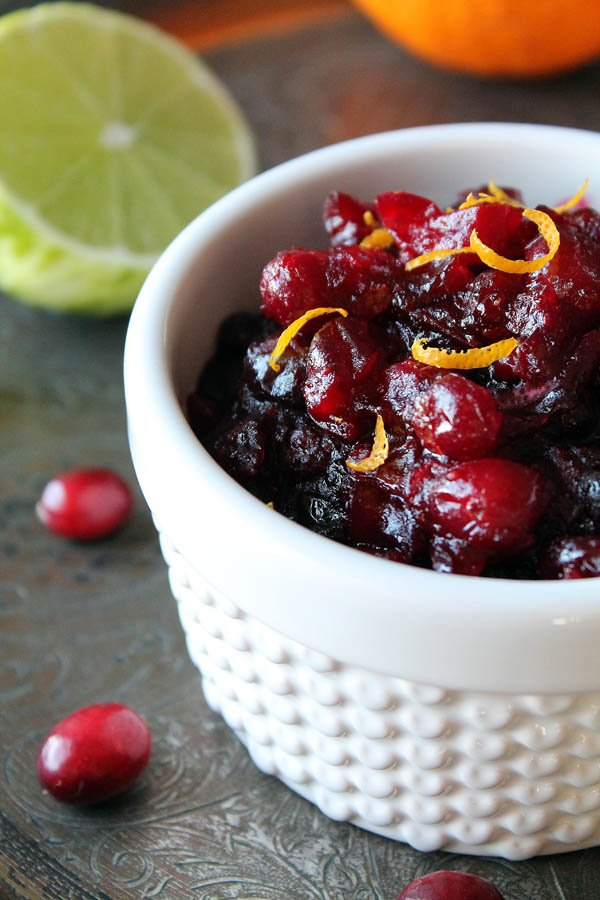 After all the yummy holiday recipes I've been posting lately, I think I need to just go ahead and purchase a gym membership for the beginning of the year. That way the treadmills will already be waiting for me after I've gained 20 pounds this holiday season! Seriously, the food we get to eat this time of year is awesome! I cannot wait to make some of my favorite Thanksgiving recipes, like slow cooker
butter and herb turkey
(yep, I cook my turkey in a slow cooker!)
,
roasted fall vegetables
, the BEST
green bean casserole
with fresh mushrooms and homemade crispy onion strings, and even
pecan pie muffins
! It's official, I vote turkey day the best holiday ever!
Of course Thanksgiving dinner would not be complete without a yummy cranberry sauce, and today I have a fresh, homemade recipe that will knock your socks off! This Orange and Lime Cranberry Sauce puts a fresh, citrusy twist on the classic recipe that tastes absolutely incredible. This cranberry sauce is so easy to make and can be prepped up to three days ahead of time, which is a huge help during the busy holidays! I love the fresh, bright combination of flavors in this fantastic side dish, and I hope you will too!
To view this tasty recipe, click here!
I'm sharing my Orange and Lime Cranberry Sauce over at The Recipe Critic today, and I invite you join me over there to grab the recipe!
Other holiday recipe ideas…
Let's Keep In Touch!