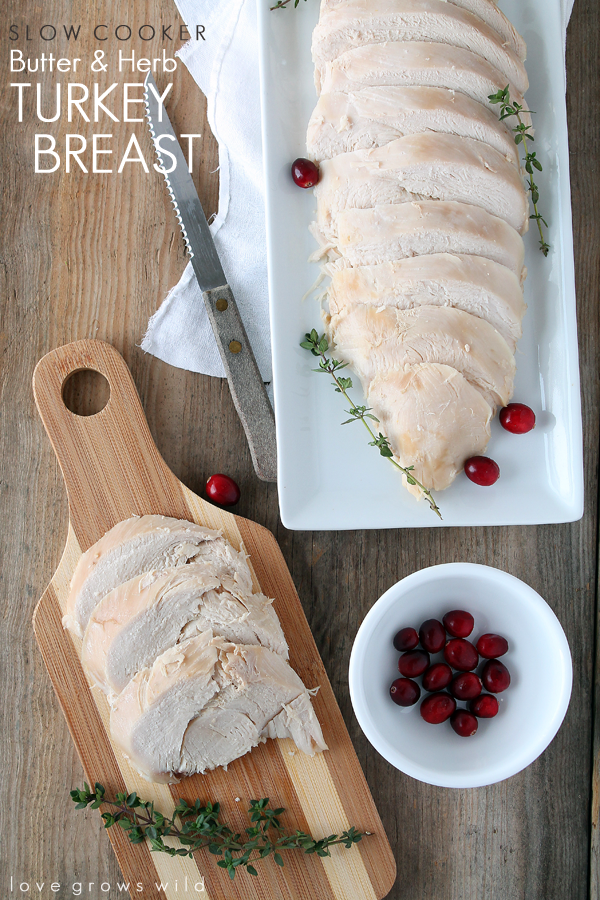 I have the solution to the easiest, most tender and delicious, cooked-to-perfection turkey you've ever eaten… and it's made in the slow cooker! Save your oven space for all the yummy Thanksgiving side dishes and let your slow cooker do all the hard work for you. This Slow Cooker Butter and Herb Turkey Breast is so simple to make and comes out perfectly tender, buttery, and deliciously flavorful every time! If you're having a smaller holiday gathering or wanting an easy turkey dinner any time of the year, you simply must try this recipe!
Thanksgiving is just around the corner, and my mind is swirling with food ideas for the holidays… I have literally been dreaming about it! Everything from
drinks
and
side dishes
, to
dessert
too… Can you tell how much I love this time of year? The food is the best! I've never had the honor of hosting our family's Thanksgiving dinner, which is quite frankly a HUGE relief. Trying to get my house in order and keep it clean with two little munchkins running around… not easy. Attempting to get all the food done on time at the SAME time… very tricky. And don't even get me started on the turkey! My fondest memories of my mother cooking the Thanksgiving turkey consist of her gaging endlessly while trying to prepare the bird for cooking or accidentally leaving the innards inside the turkey while it cooks! So needless to say, I'm not all that upset about not hosting the big day!
But every once in awhile, I get the urge to make a good turkey dinner for my family, and I've found the PERFECT way to cook it! Have you ever thought about making your turkey in the slow cooker? I think you know by now how much I LOVE my slow cooker… it's perfect for my
Italian beef
and
honey barbecue chicken
! Well I've tested it out, and you CAN put your turkey in there too!
Let me clarify… you're not putting a whole giant bird in your slow cooker, just a turkey breast. If you find a 6-7 lb. turkey breast, that will feed about 10-12 people, which is just perfect for smaller family gatherings. You don't have to mess with the whole turkey, and you don't even have to turn on your oven! Just put the turkey, some butter and seasonings, and a can of chicken broth into the slow cooker, and you will have the most moist, tender, perfectly cooked turkey you've ever eaten! The meat is so buttery and flavorful, you'll never want to do a traditional turkey again! This method is just so stinkin' easy!
I've also downsized this recipe using just a 2-3 lb. turkey breast before when I'm feeing just the four of us, and it still turns out absolutely perfect. Just reduce the cooking time about an hour or you'll have shredded turkey instead of nice, meaty slices!
You can also use the yummy cooking juices from the turkey to make a delicious gravy, which I highly recommend! Turkey and mashed potatoes just aren't complete without it. 🙂
So in conclusion, if you a) are having a smaller Thanksgiving and don't need a giant whole turkey, or b) are wanting to enjoy a good turkey dinner any time of the year, or c) are scared to death of tackling the whole big bird… this recipe is for YOU! Put that slow cooker to good use and save your oven space for the rest of the yummy side dishes!
Slow Cooker Butter and Herb Turkey Breast
This Slow Cooker Butter and Herb Turkey Breast is the easy, fool-proof way to cook the perfect moist and tender turkey every time!
INGREDIENTS
6-7 lb. bone-in turkey breast
2 tablespoons butter, softened
½ teaspoon dried rosemary
½ teaspoon dried thyme leaves
¼ teaspoon garlic powder
¼ teaspoon pepper
1 can (14.5 ounce) chicken broth
INSTRUCTIONS
Rub turkey with softened butter.
In a small bowl, combine the rosemary, thyme leaves, garlic powder, and pepper and sprinkle over the turkey.
Pour the chicken broth into a 6 quart slow cooker and place turkey in broth. Cover with lid and cook on low for 5-6 hours until turkey is cooked through and tender.
Remove turkey to a serving platter and allow to rest 10 minutes before slicing. Loosely cover turkey with foil to keep warm.
If desired, use cooking juices from the slow cooker to make a gravy.
Remove any bones from the turkey, slice, and serve along with gravy.
NOTES
Adapted from a Taste of Home recipe
Other holiday recipe ideas…
Let's Keep In Touch!