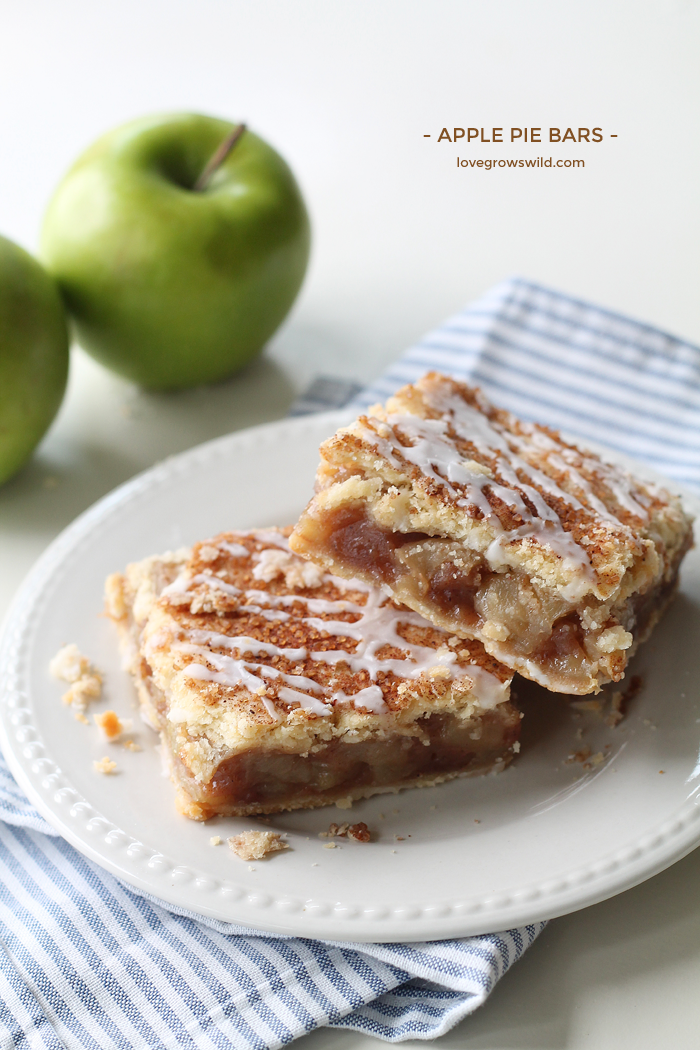 Reality just hit that we are officially four weeks away from the first day of school. Four weeks. Where the heck did summer go? I feel like I'm finally just getting a chance to slow down and enjoy the sunshine, but before you know it, the kids and I are going to be knee-deep in math homework, spelling quizzes, and sports equipment, so I guess I better enjoy these last few weeks while I can!
I was in the mood to do some baking the other day and found inspiration in a big, beautiful bag of Granny Smith apples that I had just picked up from the store. The boys and I love snacking on apple slices and peanut butter (creamy for them, chunky for me!), but I couldn't help but crave a giant slice of warm, fresh apple pie after spotting those apples in my fridge. I needed some apple pie. ASAP.
So I pulled out my baking ingredients and got to work. As I started chopping up those bright green apples, I started thinking… what if I turned my regular apple pie into bars? Little individual, handheld bars that you could easily pack up for a picnic or the school lunches that will soon need to be packed every morning. I loved the idea and loved the amazing results of this glorious baking creation even more! So today I'll show you how to make my Apple Pie Bars with a fresh apple filling, homemade double crust, and a sweet vanilla glaze drizzled on top!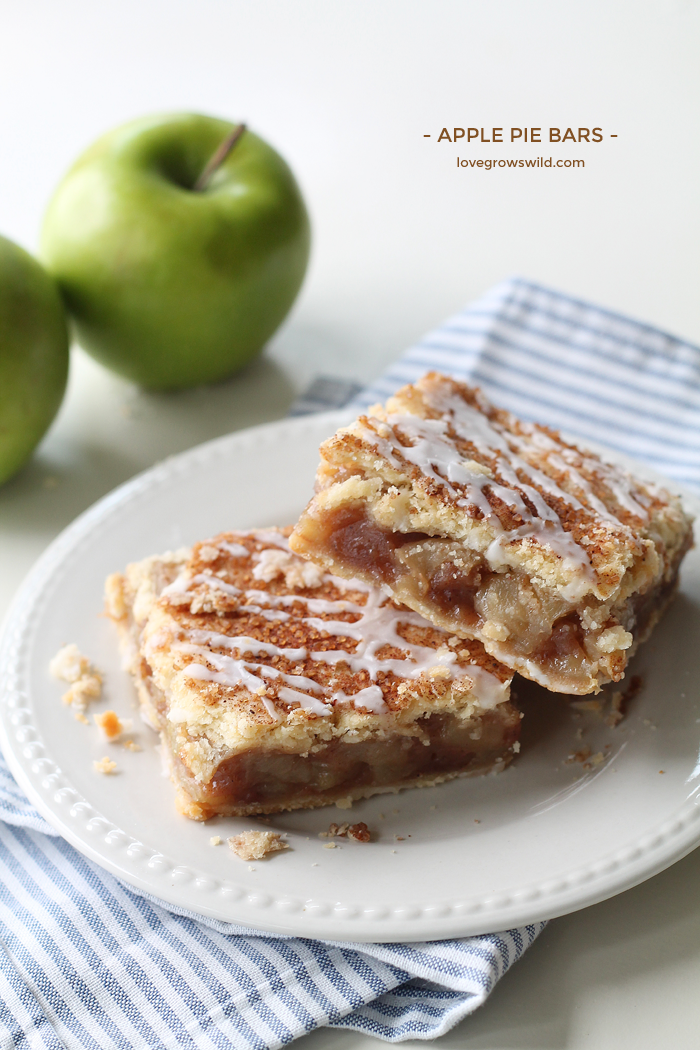 So the beginning of school also means the start of a new season of sports. My oldest is tackling his 4th year of football (pun intended) and my youngest is finally old enough to play his first year of soccer. I can't decide if I'm sad or excited about all of this…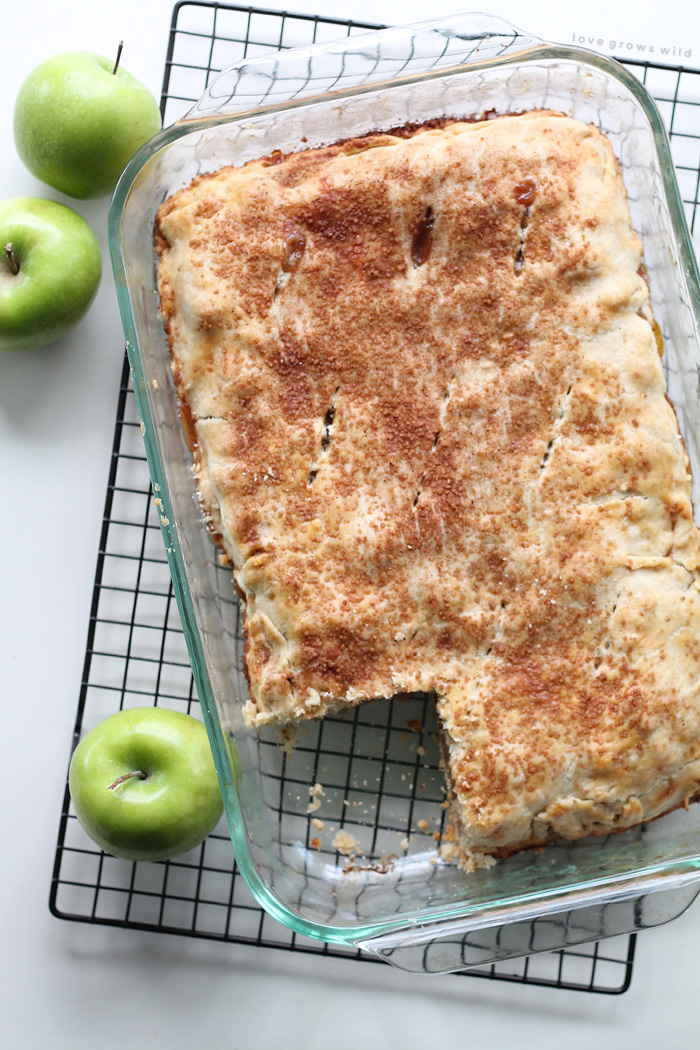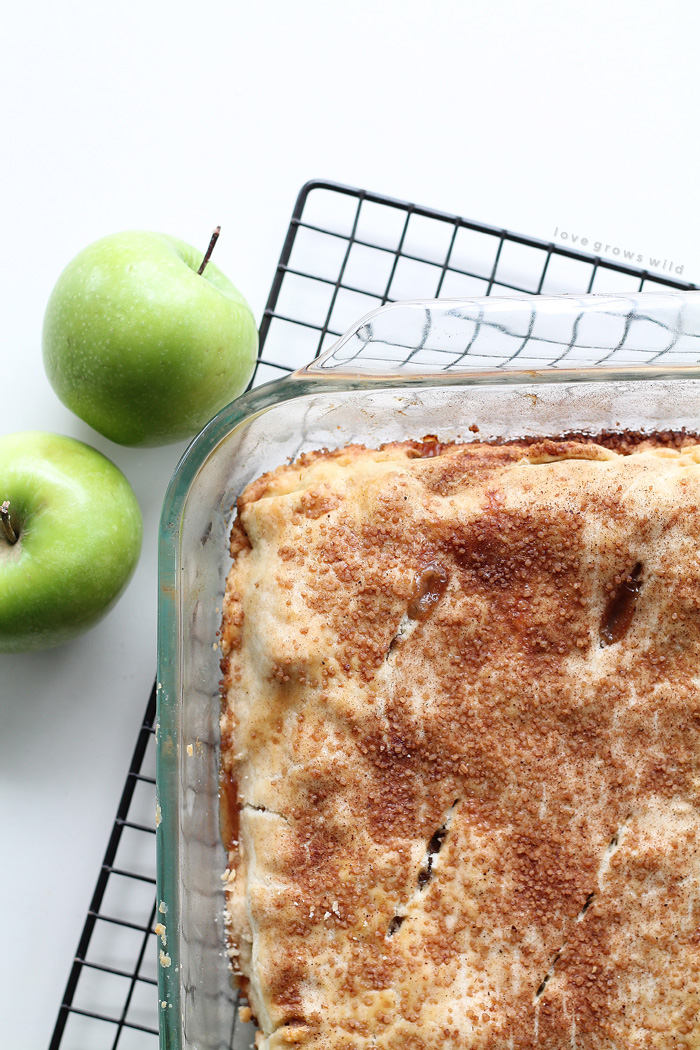 Sad because my baby is growing up and will be playing out on the field instead of sitting next to me slurping a Gatorade while cheering on his big brother. Sad because for the next 14 years of my life, I get to be a chauffeur for my little athletes, driving them to and from practices and games and making sure they have pads, helmets, cleats, water bottles, mouth guards, uniforms and whatever else comes with that particular sport. Sad because we'll most likely spend more time and money eating at a concession stand than around our dining room table at home, but you know what… I wouldn't have it any other way.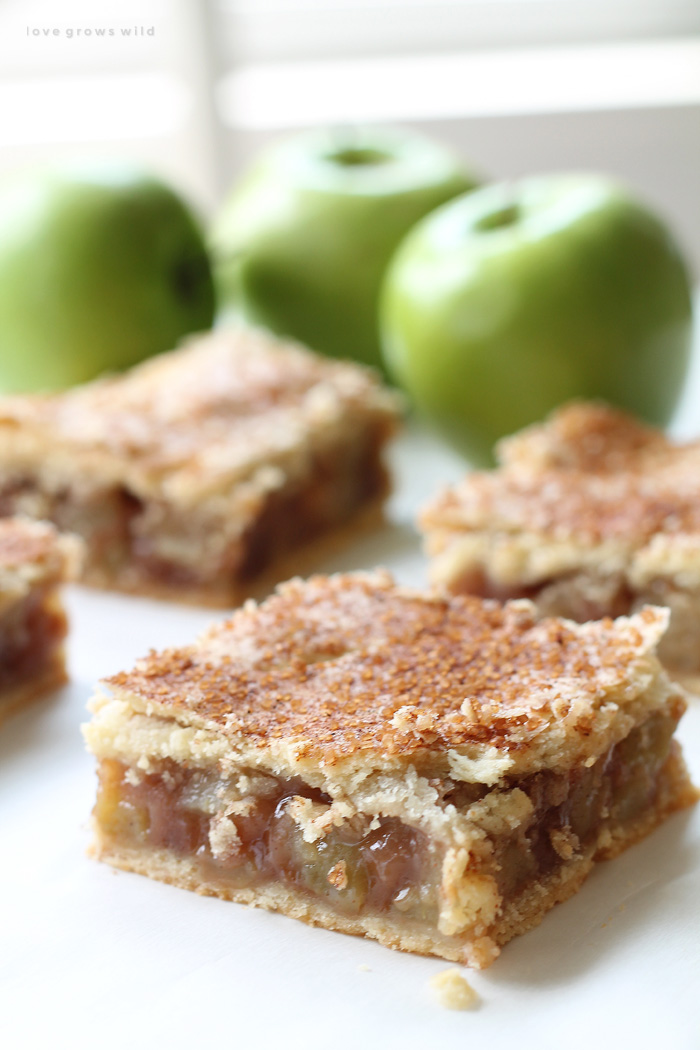 I'm beyond blessed to have two healthy boys that are able to run around and play their beloved sports. Blessed to have a husband that takes time to play catch with them and show them what a proper tackle looks like. (Although at 31 years old, it takes him a little longer to get off the ground than it used to at 18) Blessed to have a career that allows me the time and flexibility to be at every one of their games and practices, cheering them on like a lunatic. And blessed to create these memories with our little family that they will remember for a lifetime. Okay… I guess all those late nights spent at the ball field are totally, 100% worth it. Thanks for talking me through this one, guys.
So before life gets crazy again with back to school activities, I wanted to show you these amazing apple pie bars and why you need them in your life. Because you totally do.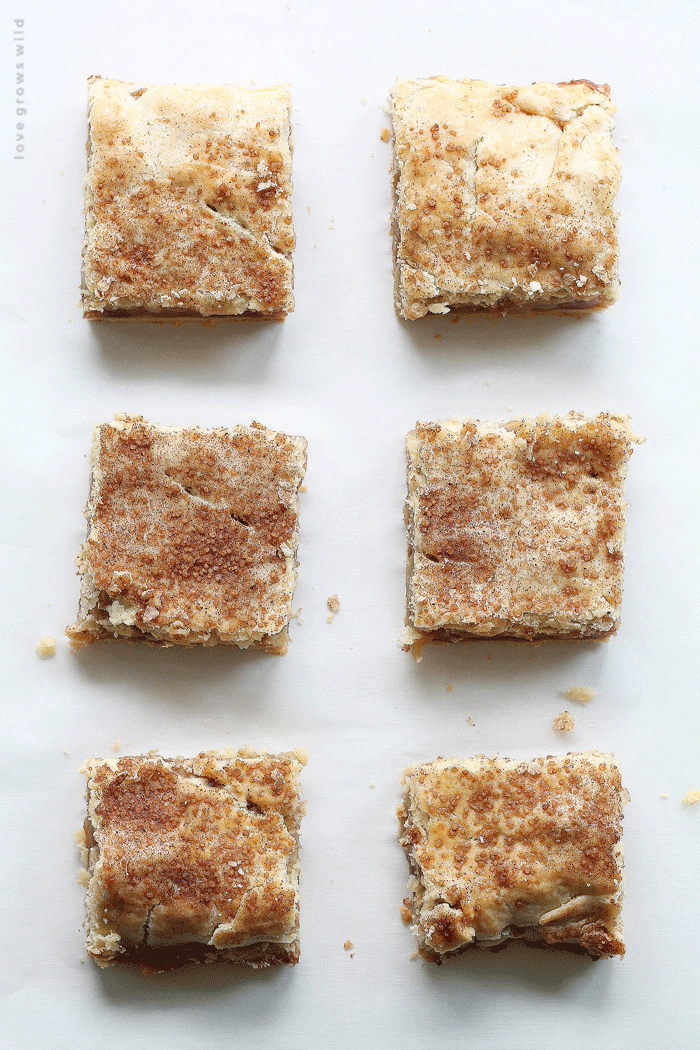 Here's why I love these bars: First, I think they're easier to make than pie. No fancy fluted edges to worry about. Just throw some ingredients together in a food processor and whip up a fast, easy pie crust dough. You can definitely do this crust by hand with the help of a pasty cutter, but it goes much faster in a food processor, and I'm all about fast and easy shortcuts in the kitchen.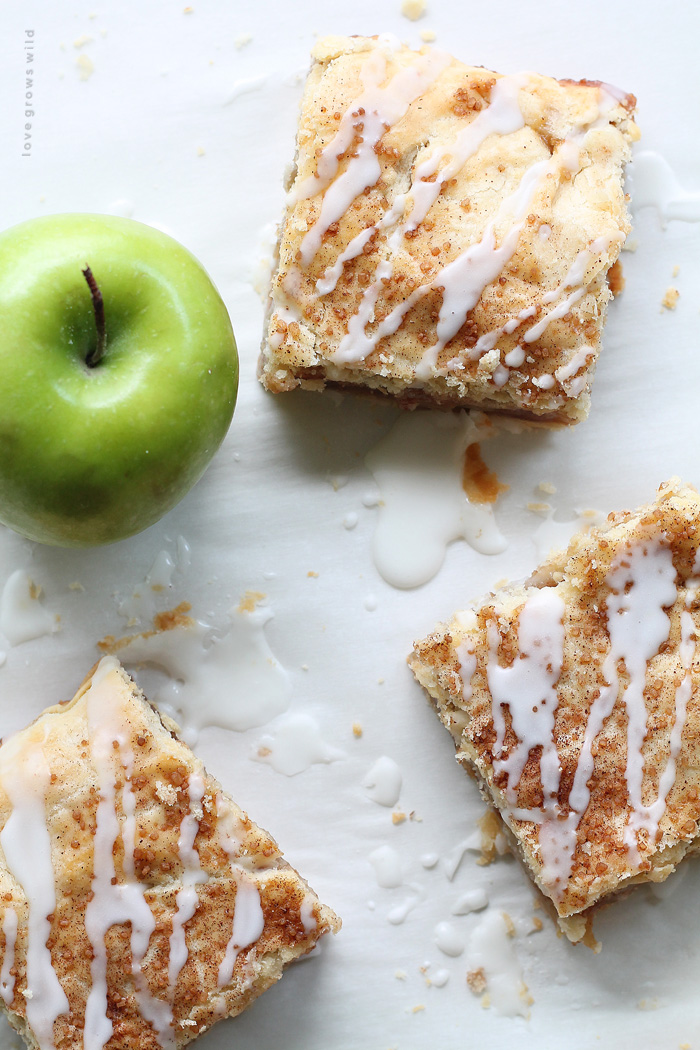 Divide the dough into two portions (a top and bottom crust) and roll them out to fit in a 13×9″ baking dish. Sandwiched in between the crust layers is a sweet, cinnamon-infused apple filling that is nice and thick. You can't have a sloppy, wet filling if you want these bars to be handheld and transportable. And a finishing touch of cinnamon and sugar goes on top before baking in the oven for about 50-60 minutes. Just watch for the crust to reach that perfect golden brown color and pull it out to cool for at least an hour before cutting. Go run some errands during this hour, because the sweet apple pie smell in your kitchen is going to be VERY hard to resist!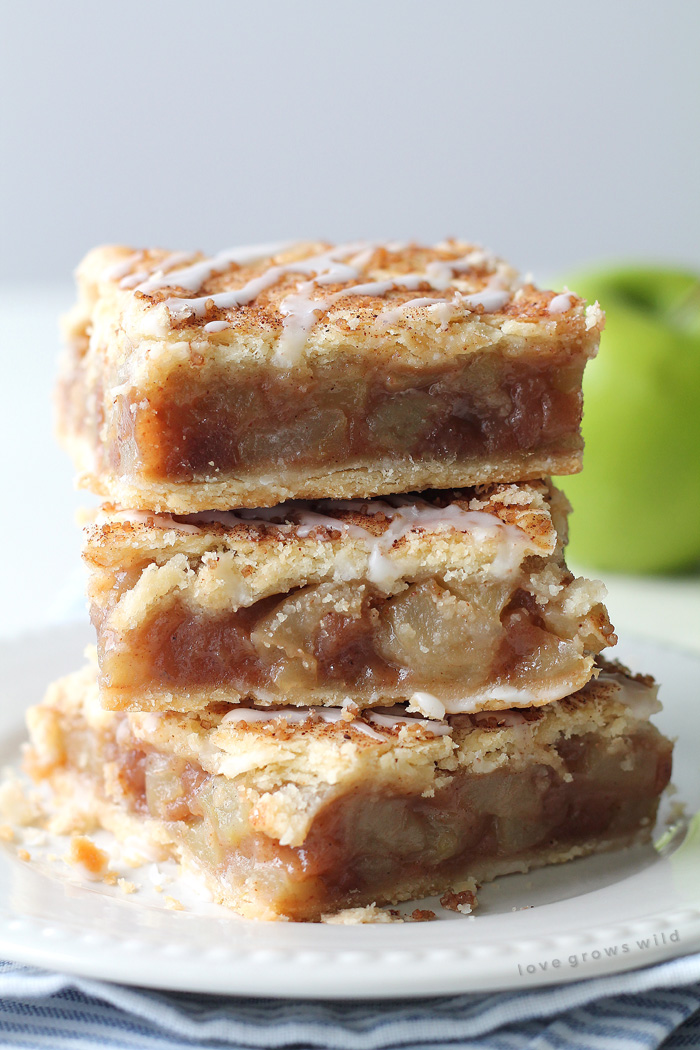 When I'm taking these bars to a party or a picnic or packing them in the kids' school lunch (all of which are perfect for this recipe!), I like to finish them with a drizzle of vanilla glaze on top. The glaze sets up nicely on the bars, so you don't have to worry about having a wet, sticky mess when packing them up to eat later.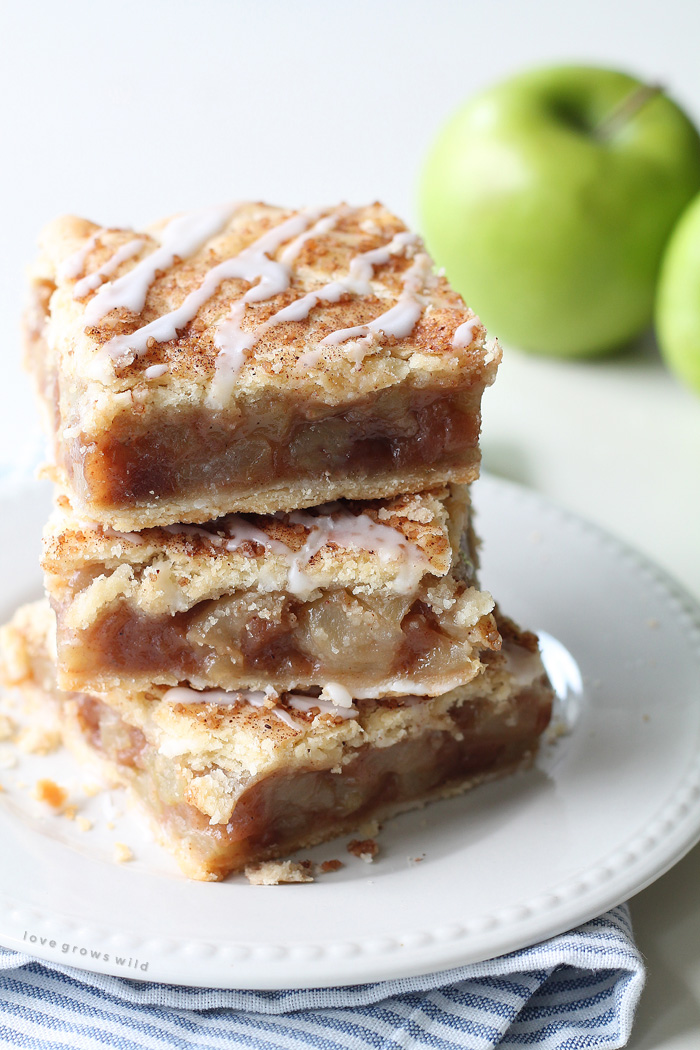 But if I'm at home and want to make these bars EXTRA delicious, there's nothing better than warm apple pie paired with a scoop of vanilla ice cream on top. Am I right? I store these bars in the refrigerator, but just a few seconds in the microwave, and your apple pie will be just as delicious as fresh out of the oven!
So next time you're in the mood for a sweet treat, bake up some of these scrumptious apple pie bars, and I promise you won't be disappointed! They're perfect for sharing too!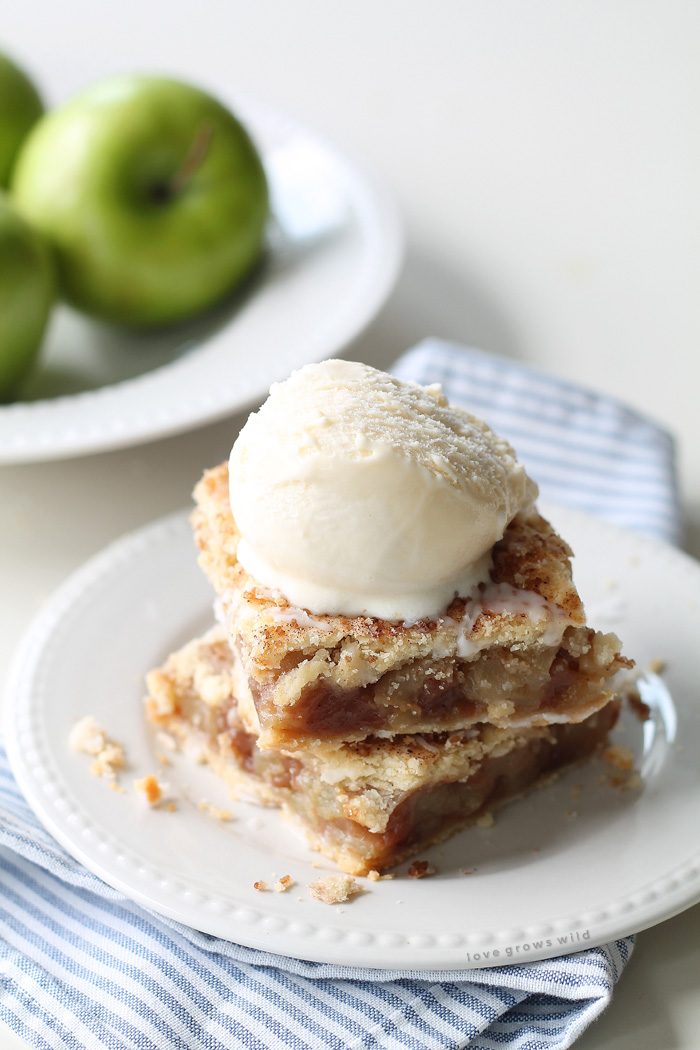 Like what you see? Subscribe to Love Grows Wild so you'll never miss a post!
Follow along on Pinterest, Google+, Instagram, and Facebook for more fun!
Apple Pie Bars
These Apple Pie Bars are the perfect handheld dessert and SO delicious! Made with fresh apples and topped with a sweet vanilla glaze.
INGREDIENTS
Crust:
2 cups all-purpose flour
½ teaspoon salt
12 tablespoons unsalted butter, cold and diced into cubes
¼ cup 2% milk
1 egg yolk

Filling:
5 cups Granny Smith apples, peeled, cored, and diced
1 teaspoon vanilla extract
½ cup all-purpose flour
½ cup granulated sugar
⅓ cup packed brown sugar
1½ teaspoon cinnamon
¼ teaspoon nutmeg

Topping:
1 egg white
1½ tablespoons Turbinado sugar (or granulated sugar)
¼ teaspoon cinnamon

Glaze:
1 cup powdered sugar
2 tablespoons 2% milk
½ teaspoon vanilla
INSTRUCTIONS
Preheat oven to 350ºF.
Pie crust: Add flour and salt to a food processor bowl and pulse ingredients together. Add cold, cubed butter and pulse until mixture resembles coarse crumbs. Add milk and egg yolk and pulse until mixture comes together and can be formed into a ball. Wrap dough in plastic wrap and refrigerate while preparing filling.
Filling: Place diced apples in a large mixing bowl. Add vanilla and toss to coat. In a separate bowl, whisk together flour, granulated sugar, brown sugar, cinnamon, and nutmeg. Pour flour mixture over apples and toss until evenly coated.
Assemble the pie: Divide pie crust dough into 2 equal portions. Roll first portion into a 13x9" rectangle on a lightly floured surface. Transfer dough into the bottom of an ungreased 13x9" baking dish by placing a rolling pin in the center of the dough, folding one side up over the pin, then folding the other side on top. Lift the rolling pin over the baking dish and unfold both sides into the dish. Carefully dump apples over the crust and spread them up to ½" around the edge of the crust. Roll out the 2nd dough portion i the same manner about ½" larger on each side. Transfer dough over apples and tuck sides of dough down into the baking dish, sealing the apples inside the crust. In a small bowl, whisk the egg white until foamy and brush over top of the pie. Combine the Turbinado sugar and cinnamon in another small bowl and sprinkle evenly over pie. Bake in preheated oven for 50-60 minutes until crust is golden brown. Remove from oven and allow to cool for at least 1 hour on a baking rack before cutting into squares. Serve bars drizzled with glaze (see instructions below) or with a scoop of vanilla ice cream.
Glaze: Combine all ingredients in a small bowl and whisk until smooth. Thin with additional milk if necessary and drizzle over bars.
NOTES
- If you don't have a food processor, you can make the pie crust by hand also. Just use a pastry cutter to cut the butter into the flour mixture and use your hands or a spoon to add in the milk and egg until you can form the dough into a ball.
– Adapted from Cooking Classy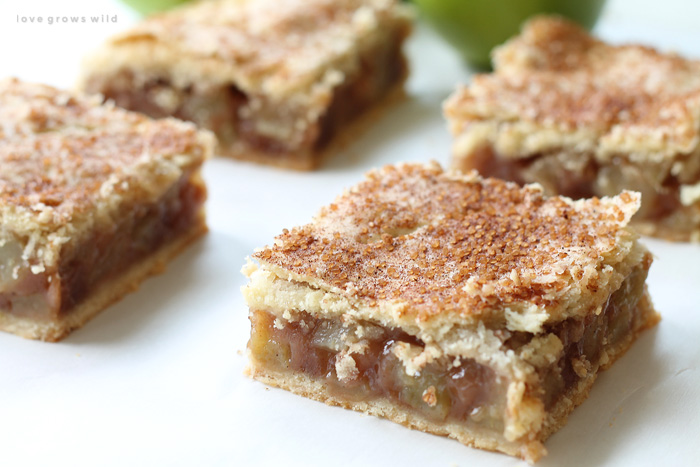 ---
LET'S KEEP IN TOUCH!
Subscribe to Blog | Browse my Shop | Follow on Facebook | Follow on Twitter
Follow on Google+ | Follow on Pinterest | Follow on Instagram