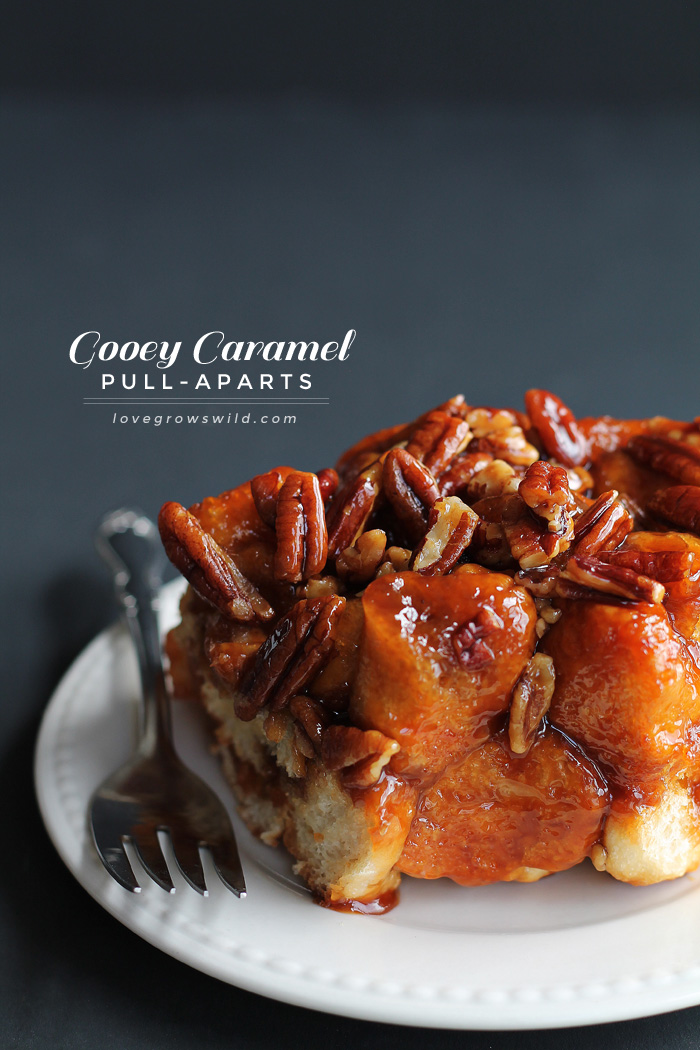 It's been awhile since I've done a good ooey, gooey treat, and this recipe is definitely making up for lost time! I recently had a chance to review a new cookbook from my pals over at Six Sisters' Stuff (more on that later in this post), and these Gooey Caramel Pull-Aparts immediately jumped right off the page at me. With only 5 ingredients and just a few minutes of prep work, you can have these amazing pull-aparts that are dripping with caramel and topped with sticky-sweet pecans served warm out of your oven. Perfect for weekends, holidays, brunch, or anytime that sweet tooth hits!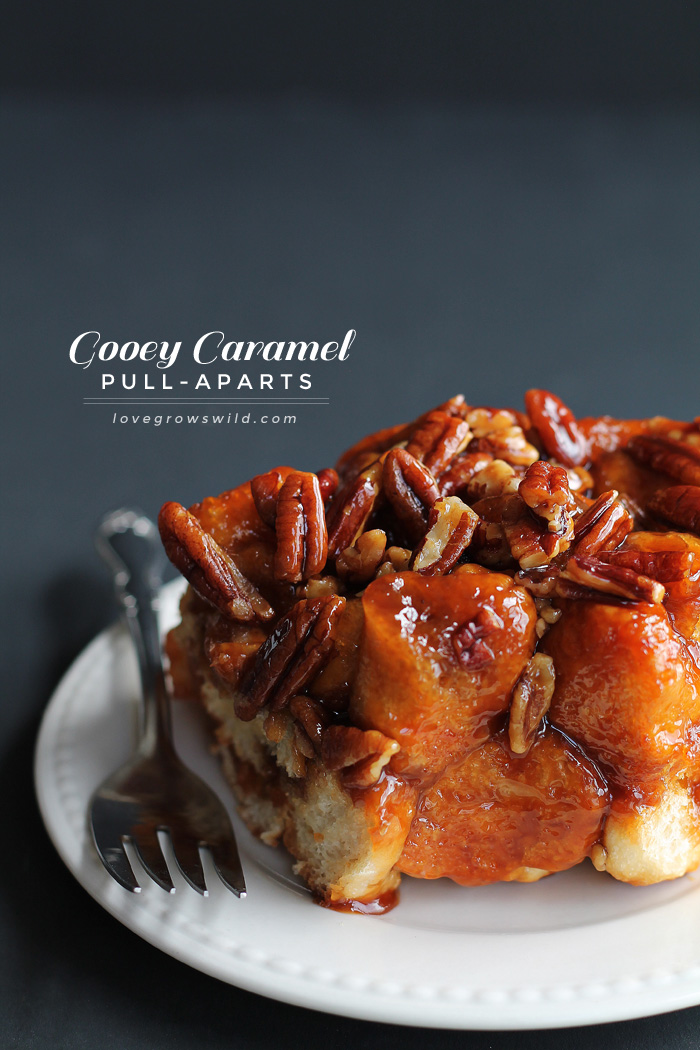 Can we just talk about these photos for a minute? I could not stop snapping shots of this gooey caramel goodness! Maybe it was the lighting, maybe it was my grandparents' 25th wedding anniversary tray with gorgeous patina, or maybe it was the glorious mountain of caramel-covered dough that sat before me… or maybe it was all three.
Either way, these pull-aparts were definitely giving me their best model poses because every shot I took made me drool more and more. I apologize in advance if everything I make from here on out is dripping with caramel and nuts of some sort. It just makes everything so pretty… or puuuuurty as my hillbilly husband would say. Love you, hunny. 🙂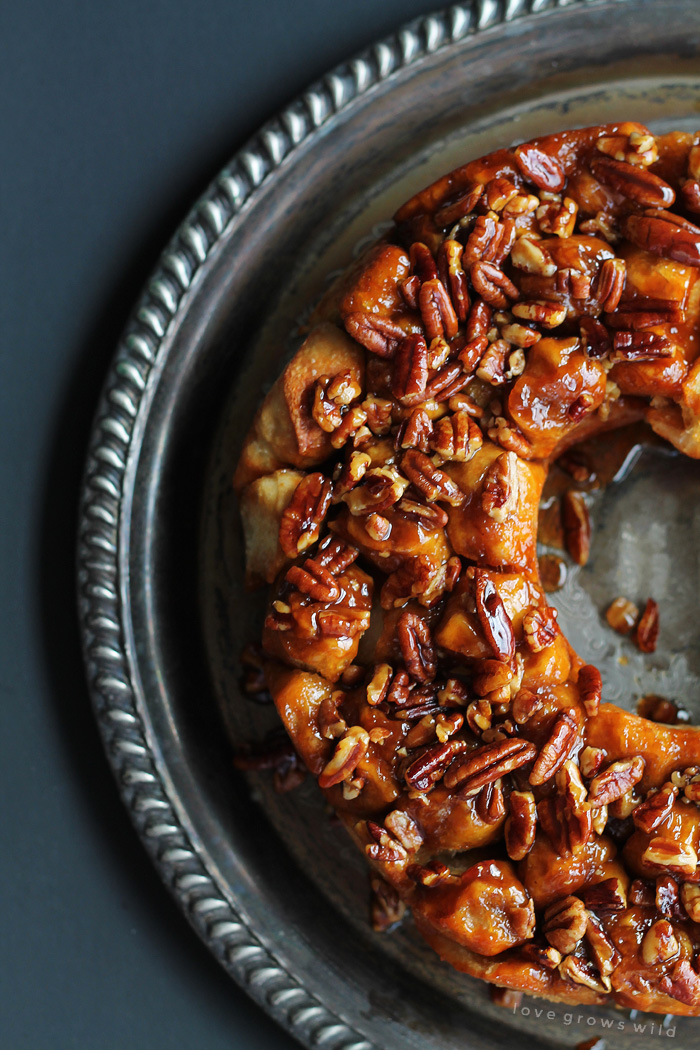 Let's get to the magic of this recipe now, shall we?
Usually I like to make everything from scratch, but there are a few super simple shortcuts in this recipe that really appealed to me. First, frozen dinner rolls. Don't worry about messing with the flour and yeast for homemade rolls, just buy the rolls frozen from the store and let them set out on the counter for about 2 hours to thaw. Then to turn the rolls into pull-aparts, you just cut each roll into 6 pieces (kitchen shears work great for this) and layer them in a bundt pan. I already know I'm going to be making this recipe quite a bit for the holidays, so using the frozen dinner rolls will save me the extra effort!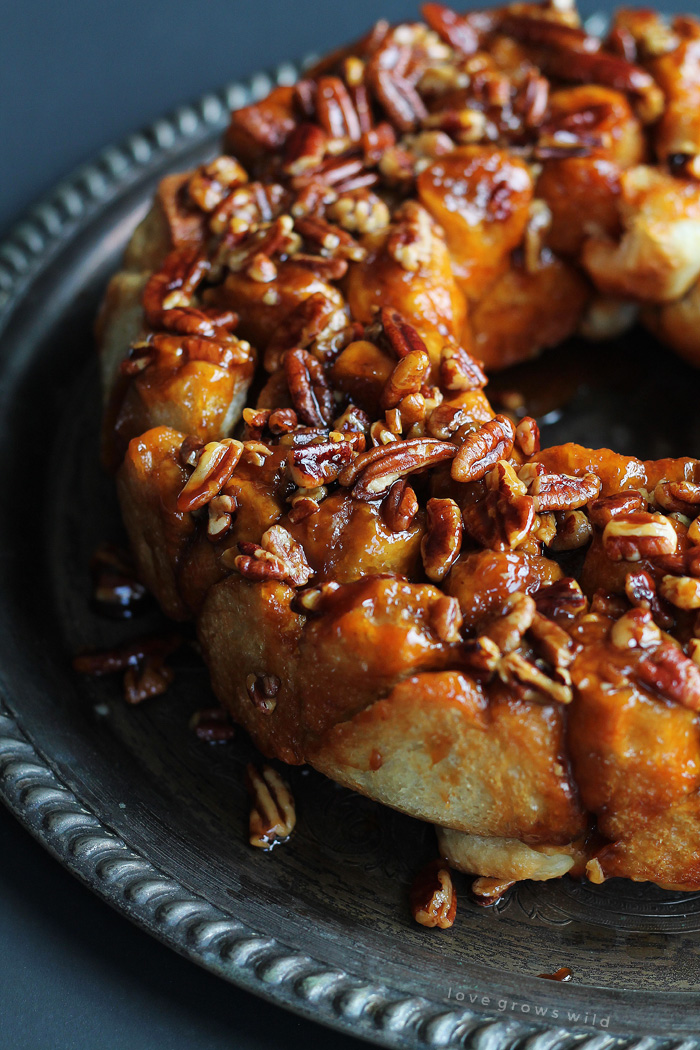 I've made homemade caramel sauce plenty of times before (love it in this popcorn recipe!), but I was really intrigued by the ingredients for creating the "caramel" part of this recipe… butterscotch dry pudding mix (the cook-and-serve kind, NOT instant), brown sugar, and melted butter. Sounds pretty easy, right? I was a little skeptical how the caramel would turn out, but when I took that first bite… I. Was. Sold. These ingredients were definitely meant to be together!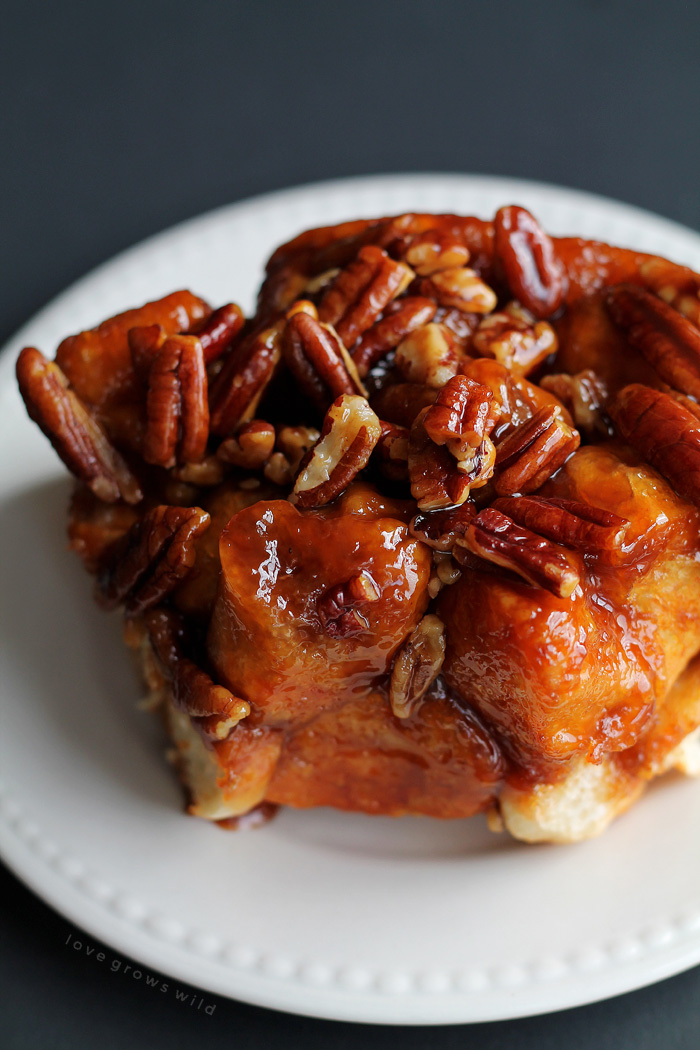 These pull-aparts require a lot of prep time, but not much prep work. Since you're using frozen dinner rolls, they'll need to thaw for about 2 hours, then rise for about 8. What I like to do is take the rolls out of the freezer around dinner time to thaw and assemble everything before bedtime. Then they're ready for the oven when you wake up in the morning! So like I said, this recipe does take time, but as long as you remember to think ahead, it's a piece of cake!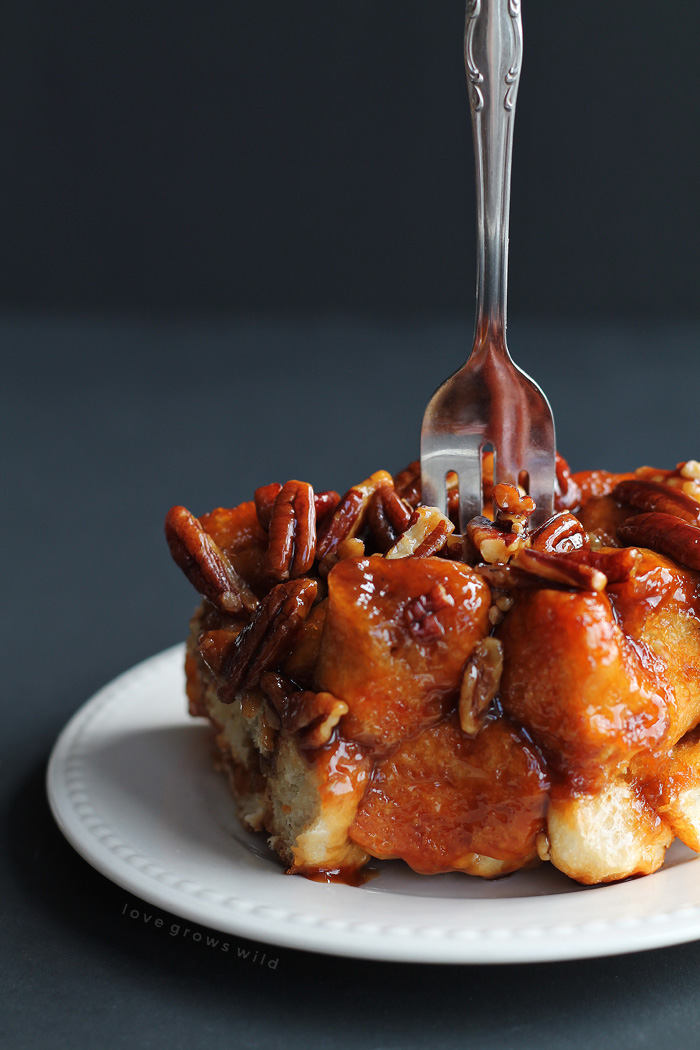 I made this recipe twice this week (yes, it's THAT good), so here's a few tips I have for you:
Spray the pan really well. You want the pull-aparts to easily slide out of the pan when it comes out of the oven.
Only let the pull-aparts cool for a few minutes (no more than 5) before turning the pan over onto a serving plate. You don't want the caramel to harden in the pan, making everything stick together.
I added an additional 2 tablespoons of butter to the original recipe, for a total of 8 tablespoons. The first time I made these, the caramel was more sticky than gooey, so adding the extra butter kept the caramel nice and soft.
Make sure to wear your fat pants, because you are going to need them with this recipe! It's rich and decadent, but impossible to stop eating! Don't say I didn't warn you. 🙂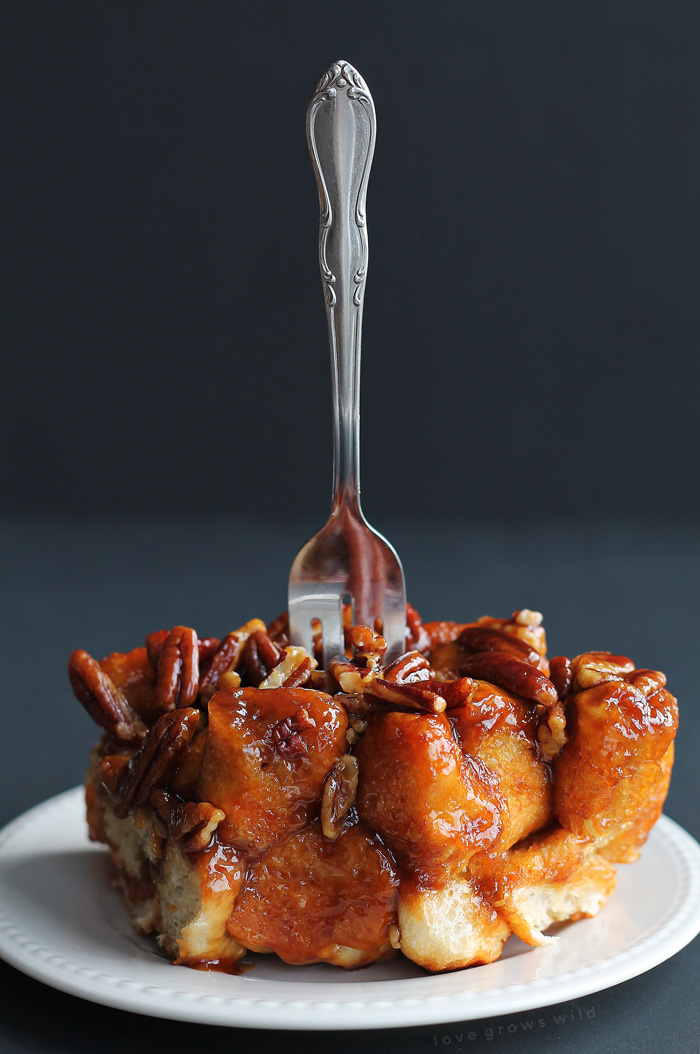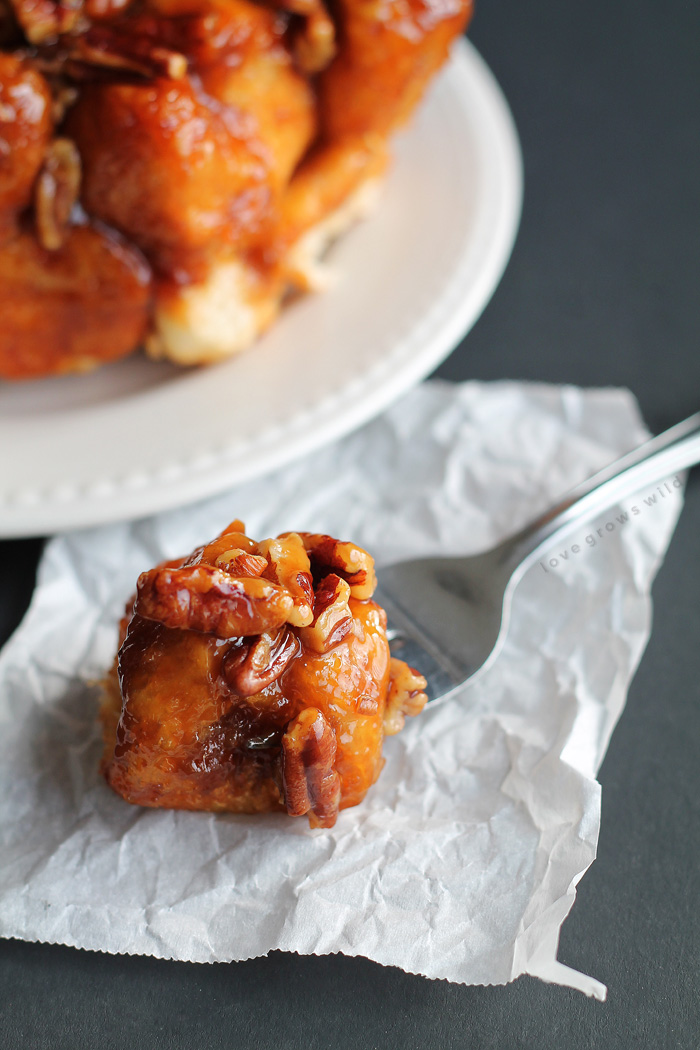 So as I mentioned earlier, this recipe came from the new Six Sisters' cookbook, 12 Days of Christmas With Six Sisters' Stuff
. This is now the 3rd cookbook of theirs that I've collected, and I have to say that I think it's the best yet! See all the pages I have marked with Post-its?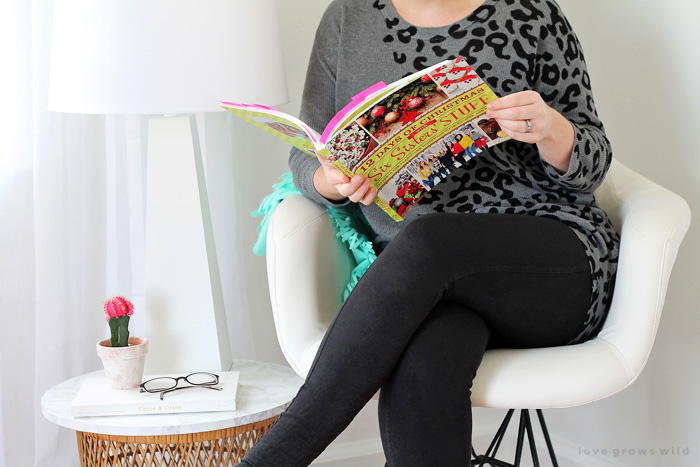 The book is jam-packed with holiday desserts like this Peppermint Crunch Ice Cream Pie and Almond English Toffee, plus ideas for easy homemade gifts, family traditions, and more.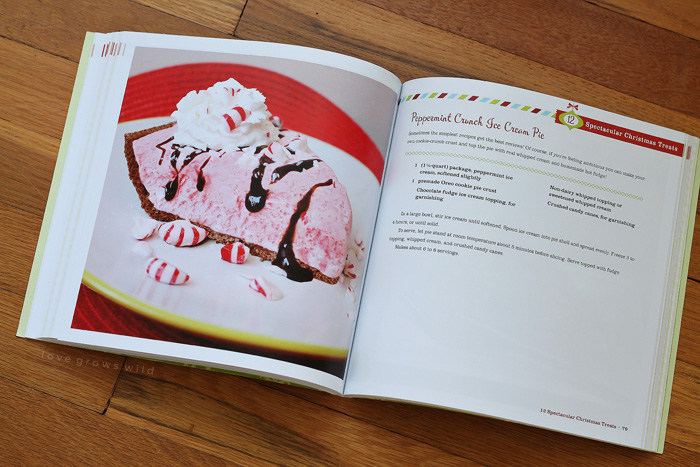 You're definitely going to want this book for yourself, but it's a great gift idea for the holidays too! Keep scrolling for the Gooey Caramel Pull-Apart recipe, information on where you can buy the cookbook, AND a cookbook giveaway!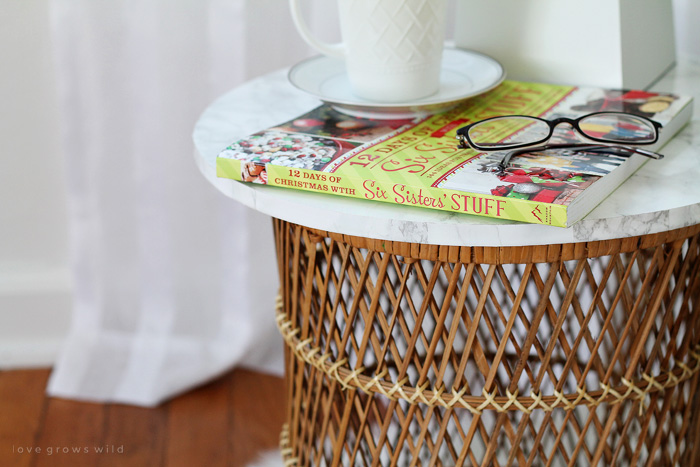 Like what you see? Subscribe to Love Grows Wild so you'll never miss a post!
Follow along on Pinterest, Google+, Instagram, and Facebook for more fun!

Gooey Caramel Pull-Aparts
Only 5 ingredients needed for this delicious, decadent treat! Serve warm out of the oven for breakfast or dessert.
INGREDIENTS
16 frozen dinner rolls, such as Rhodes
1 - 3.5 ounce package cook-and-serve butterscotch pudding (not instant)
½ cup chopped pecans
¾ cup brown sugar
8 tablespoons unsalted butter, melted
INSTRUCTIONS
Thaw frozen rolls in a zip-top bag for 2 hours until the rolls are just thawed, but not yet risen.
Use kitchen shears to cut each roll into 6 pieces. Coat a bundt pan with nonstick cooking spray and sprinkle all of the nuts into the pan in an even layer. Arrange half the cut rolls on top of the nuts. Sprinkle half the package of dry pudding mix over the rolls. In a small bowl, mix together the brown sugar and melted butter. Drizzle half the butter-sugar mixture over the pudding mix. Top with remaining rolls, pudding mix, and sugar-butter mixture. Cover with plastic wrap coated with nonstick cooking spray and let rise overnight, or at least 8 hours.
Bake at 350ºF for 30 - 35 minutes and cool for no longer than 5 minutes. Turn the pan over on a serving plate and enjoy warm from the oven!
NOTES
- I added an extra 2 tablespoons of butter to the original recipe for a total of 8 tablespoons. This made the pull-aparts more gooey and soft rather than sticky.
– recipe from 12 Days of Christmas with Six Sisters' Stuff cookbook. The recipe was reprinted with permission and slight adaptations made.
Are you making this recipe? I'd LOVE to see it! Post a photo of your creation on Instagram and use the hashtag #MyLGWRecipe. It may just get featured!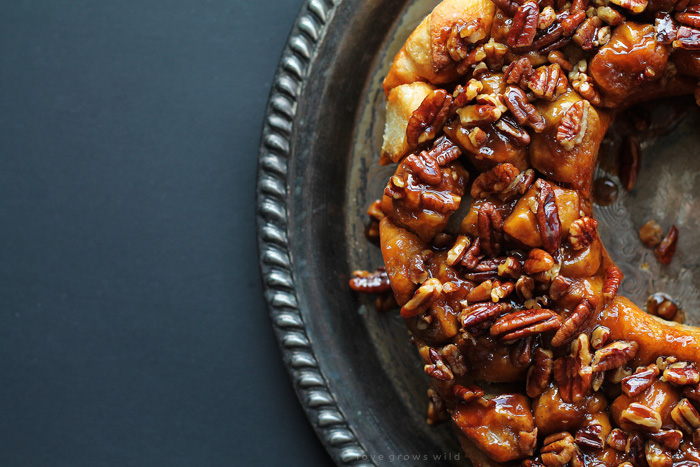 ---
So now that you've seen a sampling of what's included in the book, I'm sure you want to see the rest! Check out 12 Days of Christmas With Six Sisters' Stuff
on Amazon today! And to kick off the holiday season, I'm giving away a copy of the new Six Sisters' Stuff cookbook to one lucky reader! Just use the giveaway form below to enter:
*** This giveaway has ended and a winner has been contacted. Congratulations to Jo-Anna! ***
I received a cookbook to review and one for this giveaway, but all thoughts and opinions are 100% my own. This giveaway is not endorsed or affiliated with Pinterest or Instagram in any way. Giveaway begins on November 11th and ends at midnight EST on November 19th. Winner must be a United States resident, will be chosen at random by Rafflecopter, and notified by email. Affiliate links are included in this post. Thank you for helping support Love Grows Wild!
---
LET'S KEEP IN TOUCH!
Subscribe to Blog | Browse my Shop | Follow on Facebook | Follow on Twitter
Follow on Google+ | Follow on Pinterest | Follow on Instagram