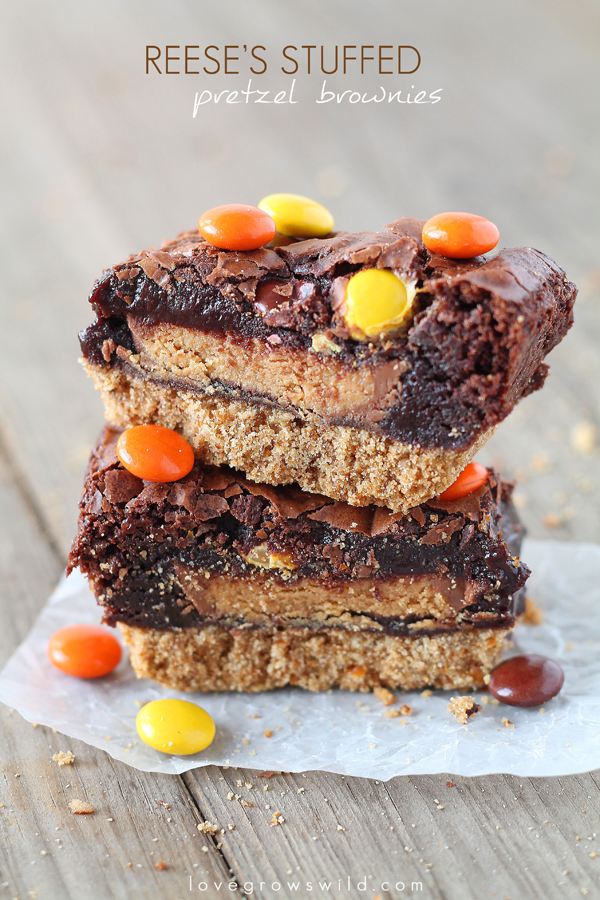 This is a Sponsored post written by me on behalf of REESE'S® Brand for SocialSpark. All opinions are 100% mine.
What if I told I have a GIANT, super-awesome secret that involves Reese's, brownies, basketball, and YOU! Are you totally confused yet? I've been dropping little hints on Instagram the past few weeks at what this huge surprise may be, and today I FINALLY get to spill the beans!! Are you ready for this epic chocolate and peanut-buttery treat?
Here it is folks: Reese's Stuffed Pretzel Brownies! Let me say that again… Reese's STUFFED Pretzel Brownies! I'm talking about gooey chocolate brownies loaded with Reese's Pieces, baked on top of a sweet and salty pretzel crust, with Reese's peanut butter cups stuffed in between. Perfect for all the Reese's lovers out there! And the best part? It all starts with a simple box brownie mix, so you can have these delicious brownies in the oven in no time!
Now are you ready for the BIG surprise? My brownie recipe is competing in the REESE'S® Baking Bracket Challenge!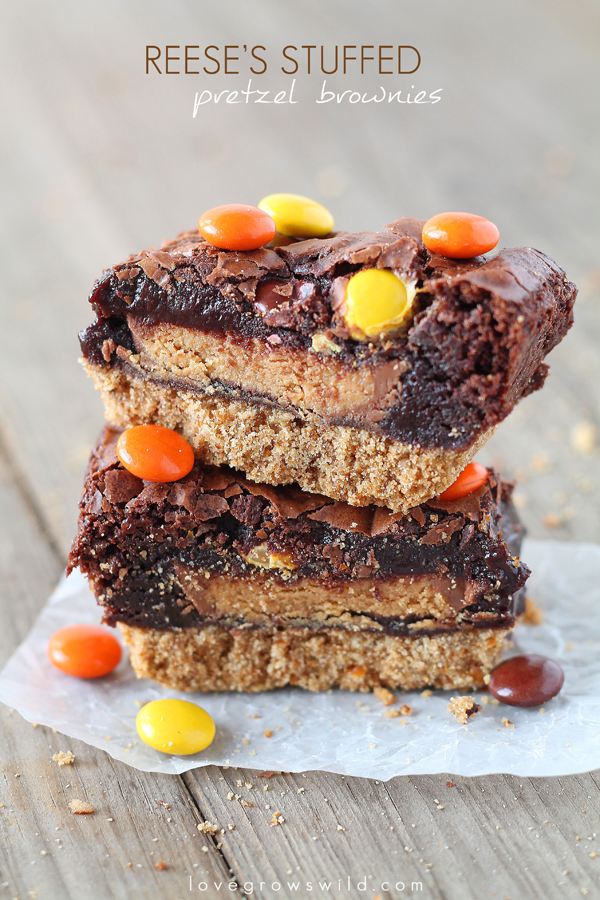 How exciting is that?? My Reese's recipe is one of 32 competing in this bracket-style challenge, and each week the recipes that receive the most votes will move on to the next round. Sounds familiar, right?
This fun (and delicious!) challenge is to help you get ready for all the big college basketball games coming up, and Walmart and Reese's want to help you make game day perfect. Gather your friends and family, stock up on supplies for the game (especially these brownies!), and get ready to cheer on your favorite team. You can find the perfect Game Day Recipes and make your crowd go wild for less with Walmart's affordable, everyday low prices.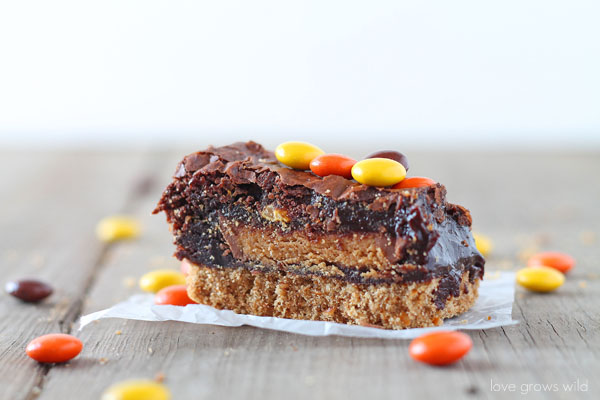 So instead of begging shamelessly for your votes (which I'm totally going to do in a minute or two!), I'm going to win you over with photos so drool-worthy, you'll dream about these Reese's stuffed brownies tonight!
The recipe starts with an easy-to-make pretzel crust, which adds a perfect salty-sweet layer to the brownies. Then you mix up a box of store-bought brownie batter with a handful of delicious Reese's pieces and spread a thin layer over the pretzel crust. Now here comes the best part…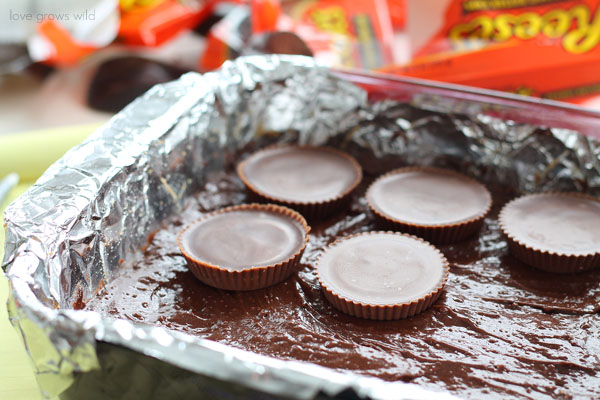 A beautiful, scrumptious layer of REESE'S® Peanut Butter Cups! Regular brownies are great, but these brownies with a creamy peanut butter cup hidden inside are something truly special. You can never have enough chocolate or peanut butter in my opinion! Am I right?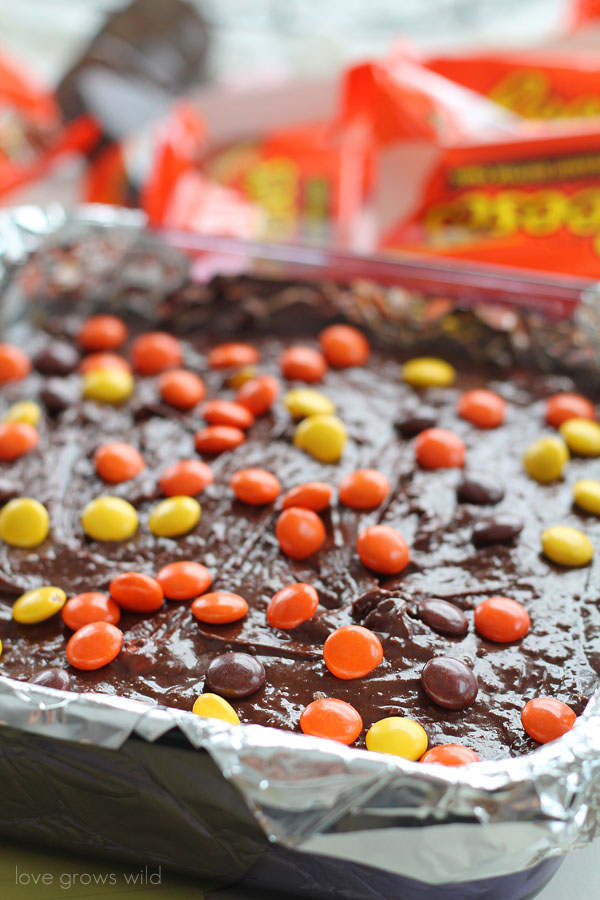 The peanut butter cups then get topped with the remaining brownie batter and a healthy sprinkling of additional Reese's pieces. Doesn't all that orange and yellow just make you smile?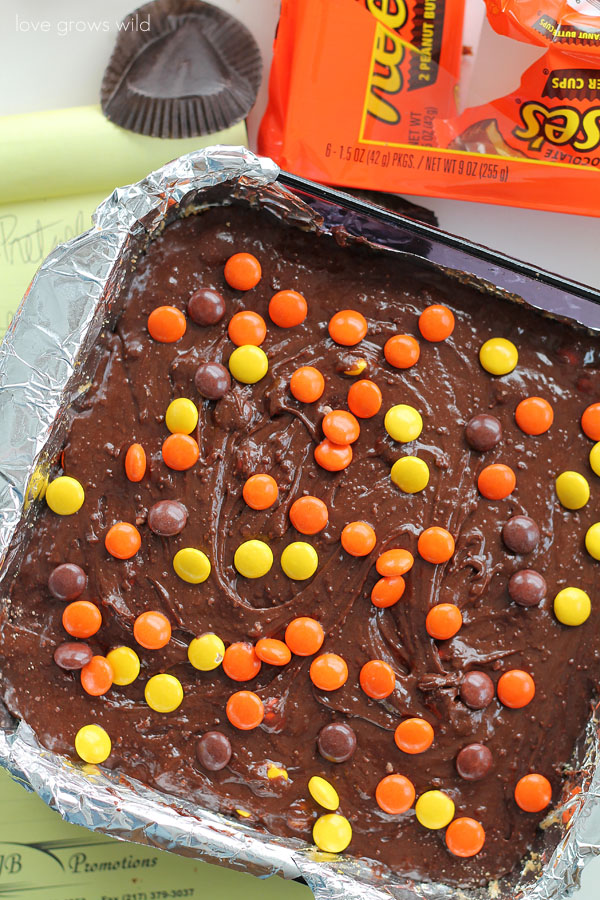 Into the oven for about 40 minutes, and out comes a decadent, incredible pan of brownies. This recipes is sure to become a favorite with all my fellow Reese's lovers out there!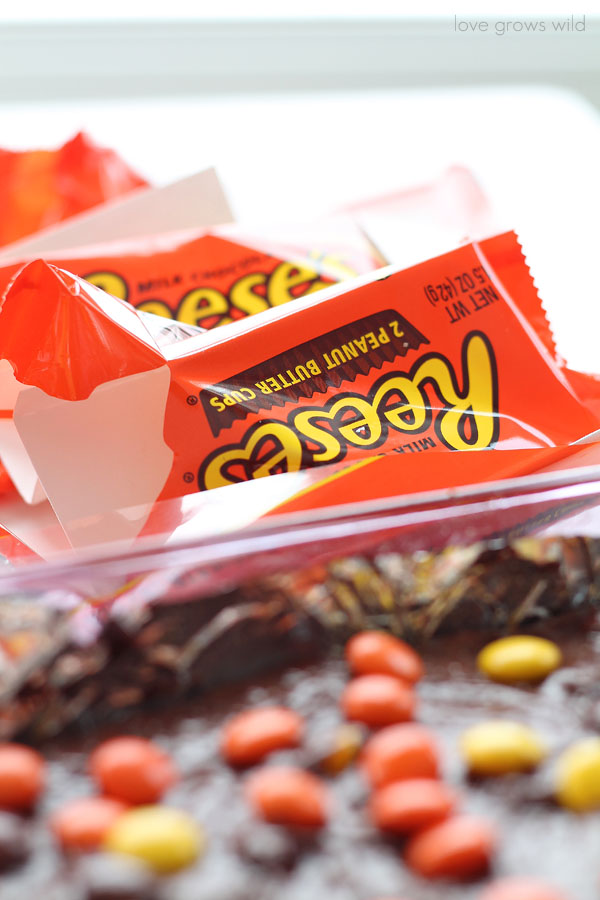 Keep scrolling to learn how you can vote for this recipe!
Reese's Stuffed Pretzel Brownies
Gooey chocolate brownies loaded with Reese's Pieces, baked on top of a sweet and salty pretzel crust, with Reese's peanut butter cups stuffed in between. Perfect for all the Reese's lovers out there!
INGREDIENTS
Crust:
1½ cups finely ground pretzels
9 tablespoons butter, melted
¼ cup packed brown sugar

Brownies:
box of brownie mix, plus ingredients to prepare brownies
9 Reese's peanut butter cups
½ cup Reese's pieces
INSTRUCTIONS
For the crust: Preheat oven to 350ºF. Line an 8x8" baking dish with foil and spray with cooking spray.
Add pretzels to a food processor and process until finely ground. Add melted butter and brown sugar and process again until combined. Dump pretzel mixture into prepared baking dish and press to form a crust in the bottom of the dish. Bake for 10 minutes and let cool completely on a wire rack.
For the brownies: Lower oven temperature to 325ºF. Prepare brownie mix according to directions on package. Add ½ cup of brownie batter over the pretzel crust and spread in an even layer.
Place 9 peanut butter cups over the brownie batter, evenly spaced in 3 rows of 3.
Add ¼ cup of Reese's pieces to the remaining brownie batter and mix to combine. Pour remaining batter over the peanut butter cups, and spread gently until cups are completely covered.
Sprinkle with remaining ¼ cups of Reese's pieces and bake at 325ºF for 40-45 minutes. Cool at least 2 hours before cutting to serve.
NOTES
- You can also add pretzels to a zip-top bag to crush them.
- Check brownies at 40 minutes. Center should still be slightly soft, and will set once cooled.
NOW I NEED YOUR HELP! This recipe is competing in Reese's Baking Bracket Challenge, and your vote can help me win! Fans who vote for their favorite recipe are entered to win a daily prize of a $100 Walmart gift card, so you can win big too! Just head on over to the Reese's Baking Bracket website to check out all the recipes and vote for your favorite. Help my Reese's Stuffed Pretzel Brownies make it to the championship round!
P.S. Have I told you how pretty you look today? 😉
LET'S KEEP IN TOUCH!
Subscribe to Blog | Browse my Shop | Follow on Facebook | Follow on Twitter
Follow on Google+ | Follow on Pinterest | Follow on Instagram