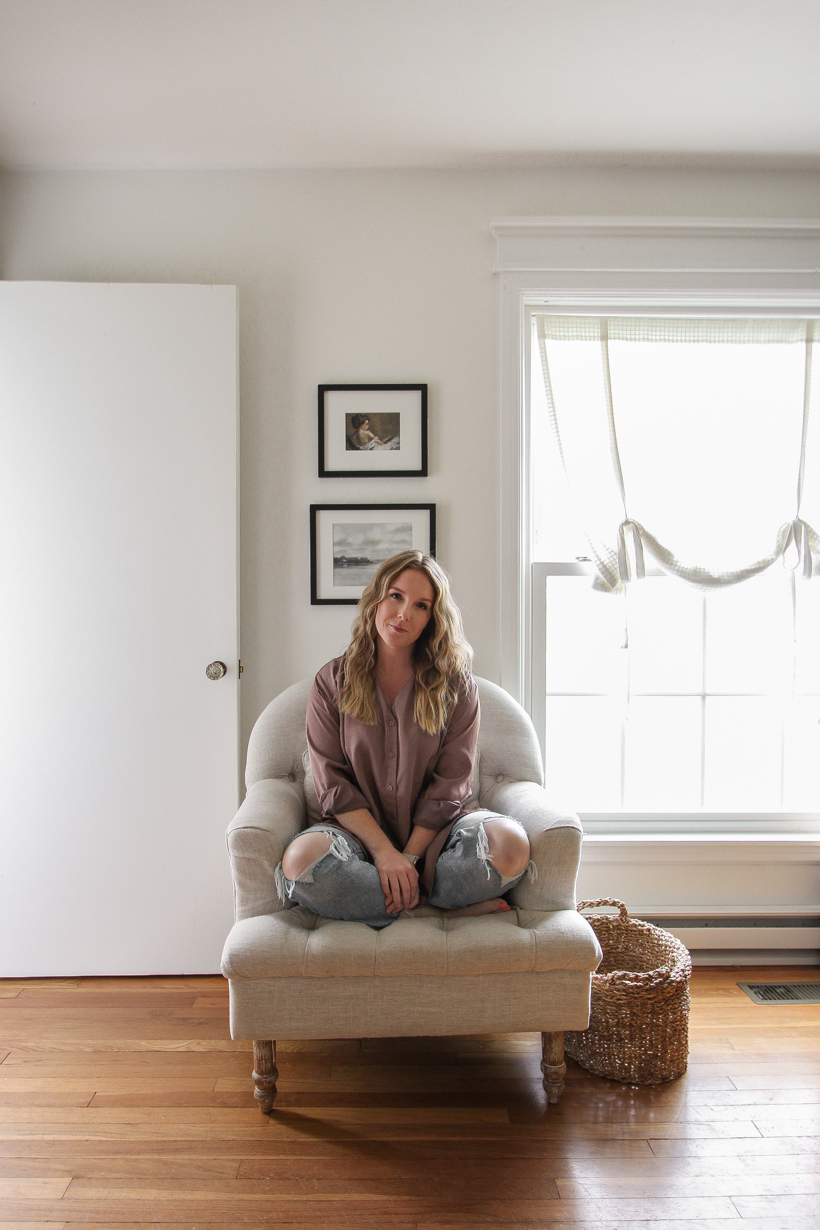 It has been such a surreal month celebrating the last ten years of Love Grows Wild. We moved into this house just a few months after I started my blog back in 2012, documenting all the changes we've made to this little house along the way. Naturally, I've spent a lot of time looking back on just how much has changed over the last decade, and I want to take you on a little photo "tour" of the house going all the way back to 2012. You're in for a real treat, my friend.
Please let this trip back in time remind you of a few very important things:
We all start somewhere. It's not going to be pretty or anywhere near perfect, but the important thing is that you don't let fear paralyze your progress. I had absolutely no idea what I was doing as far as interior design goes, but I did know what I wanted our home to feel like. Back when I had a young family, I spray painted many thrift store finds to fit my shoestring budget, and if that's where you are able to start, then go for it! You deserve to live in a home you love today… not in ten years when you have the money, time, skills, etc. to do it.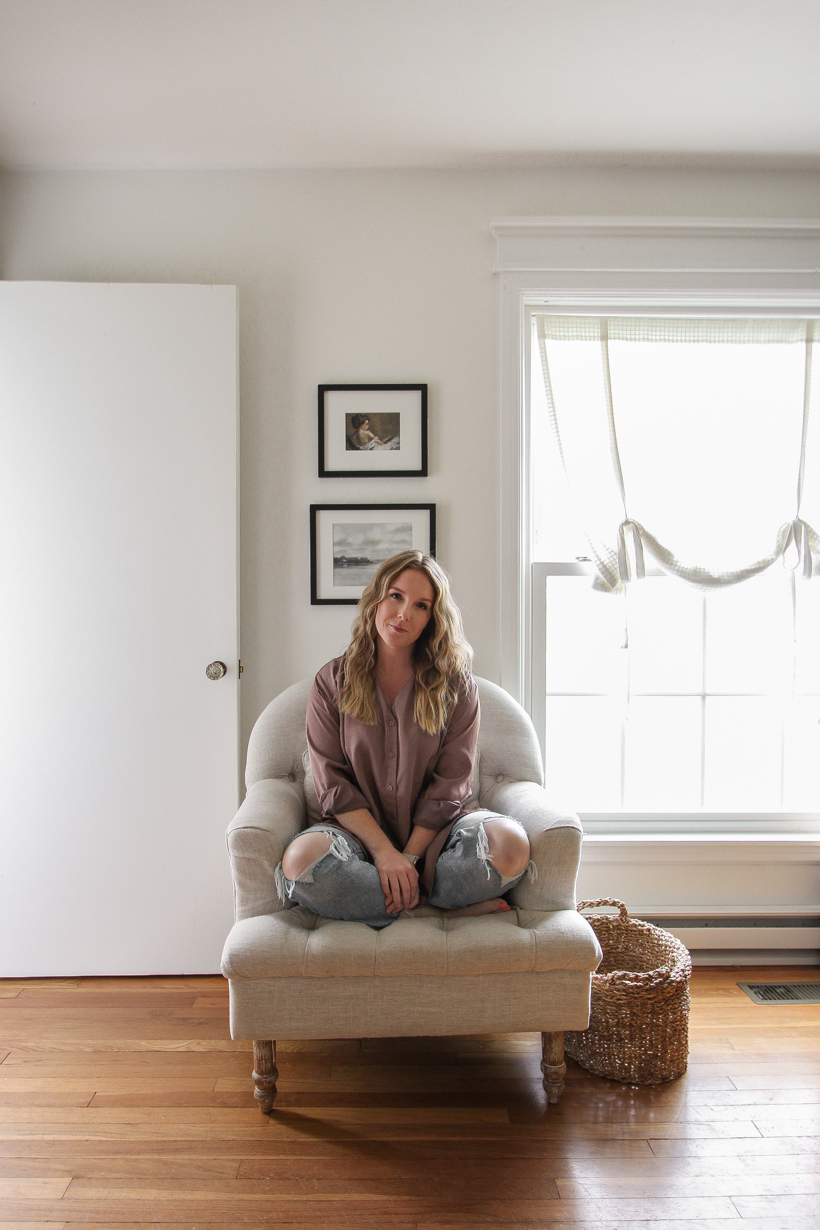 THE LIVING ROOM
Welcome to our living room back in 2012 when I still had moving boxes on the floor. I had just purchased my first set of brand new living room furniture and got rid of all the old hand-me-downs we had for years. Silver spray painted thrift store lamps and a rug a few sizes too small.
I painted the entire house Woodlawn Colonial Gray by Valspar (which I believe is now called Soulful Gray) when we moved in, but all the trim and doors were dark wood. Modern and gray felt like my style at the time.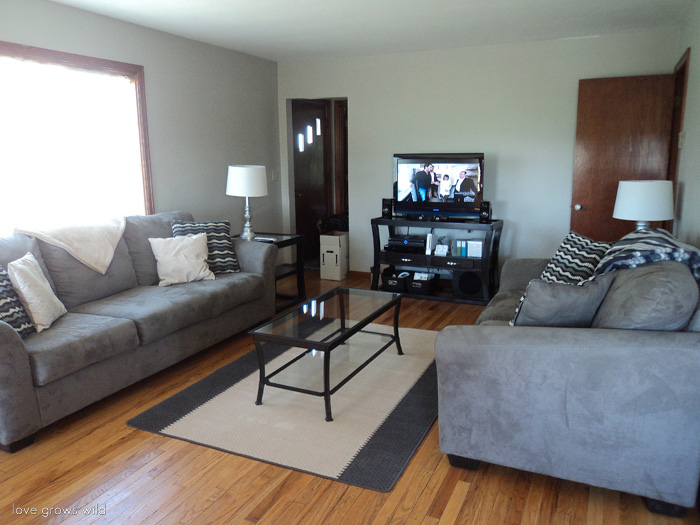 2012
Eventually I added in a little bit of personality with some refinished furniture pieces and decor.
This was probably the first major project I tackled: adding board and batten trim more than halfway up the wall and painting it white. I also painted all the wood trim and doors white and loved how much brighter it made the space feel.
This was when I really started embracing the farmhouse vibe. I added slipcovers to the sofas and hung these HUGE black lanterns on either side of the picture window. Our home started to feel like it had character and a story to tell.
Some questionable furniture choices have been made over the years, but this was probably the worst. Two gray armchairs that looked more purple than anything else, and a "sofa" that was really the size of a small settee. I learned to pay closer attention to measurements and other details after this purchase. But I did enjoy playing with different furniture arrangements and layouts for this big, open living room/dining room space.
My first light color sofa, a jute rug that hides everything, and a random floral curtain I bought hoping to make the purple-ish chairs work.
After my divorce, I went through a period of time embracing a more "feminine french country" vibe. It felt fitting to add things like lace, floral, and ruffles while I made this huge transition in my life.
With growing boys, I eventually upgraded to a sectional sofa in the same tufted light linen fabric.
Many different furniture arrangements, and many different coffee tables. Some of them I built!
Then I started to embrace a more simple. laid-back vibe. Layered rugs for softness, cozy neutral pillows, and plenty of sunshine.
I loved this shelf I built for the living room to display art. Such a great, easy focal point.
A rare look from this angle to show where our TV is and how the different spaces flow together.
I added two bookcases and lights in the living room, which made such a pretty focal point behind the sofa. And I finally got a new front door (in black!) that lets in a ton of light.
I'm about ready to get rid of the sectional and look for some new couches, so we shall see where 2022 takes this space!
Now let's check out the dining room/entryway area that is open to the living room.
THE DINING ROOM/ENTRYWAY
This space has always been difficult because it really doesn't feel strictly like an entryway or like a dining room. It's sort of an odd space that is combined into one since this is the door we use most often instead of the front door.
But that hasn't stopped me from styling it a million different ways over the years.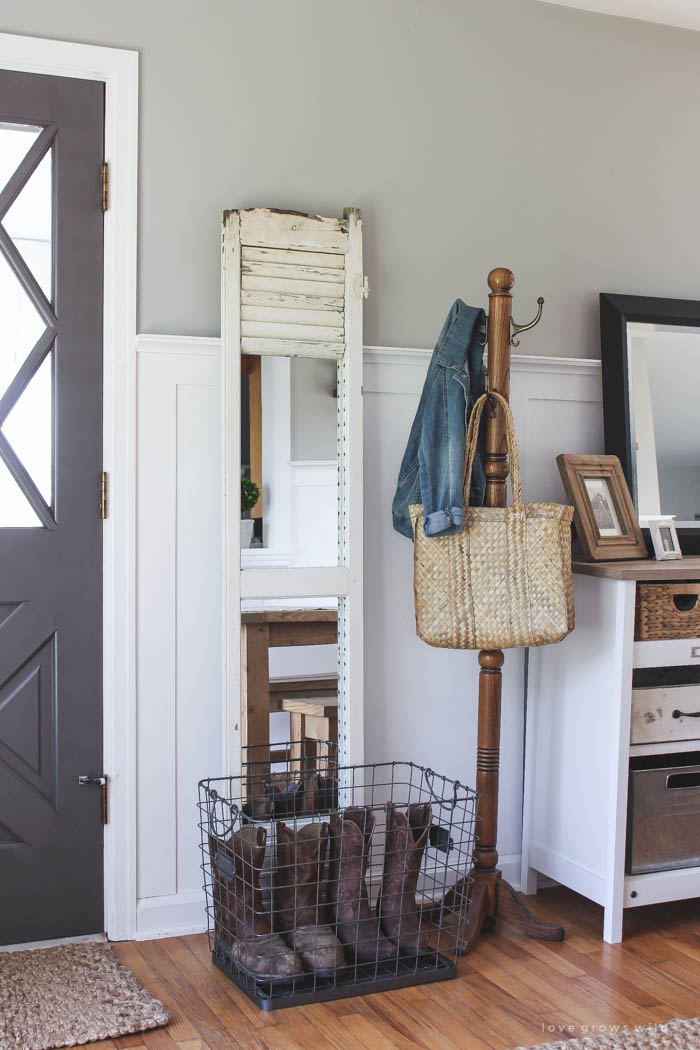 Remember when I created a wood bench from an old door? That was such a cool piece. 😍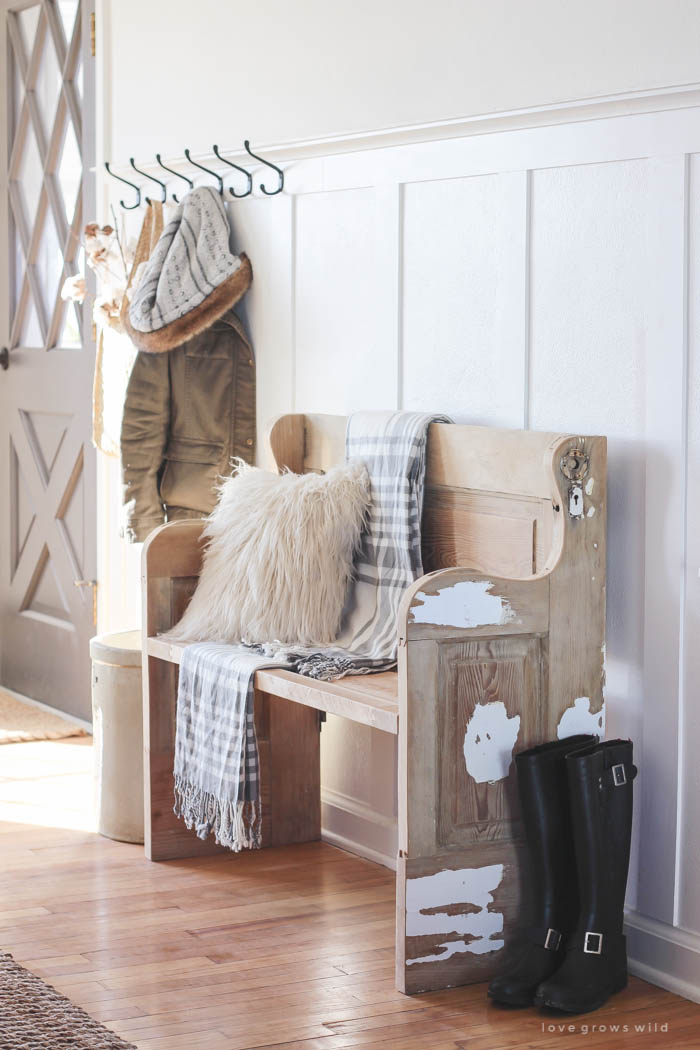 I painted the door with Rust-Oleum door paint in a custom mixed color called Rustic Pewter. It definitely needs some touch-ups now, but it has held up really well over the years. It's much thicker than normal paint, and not as easy to apply, but very durable.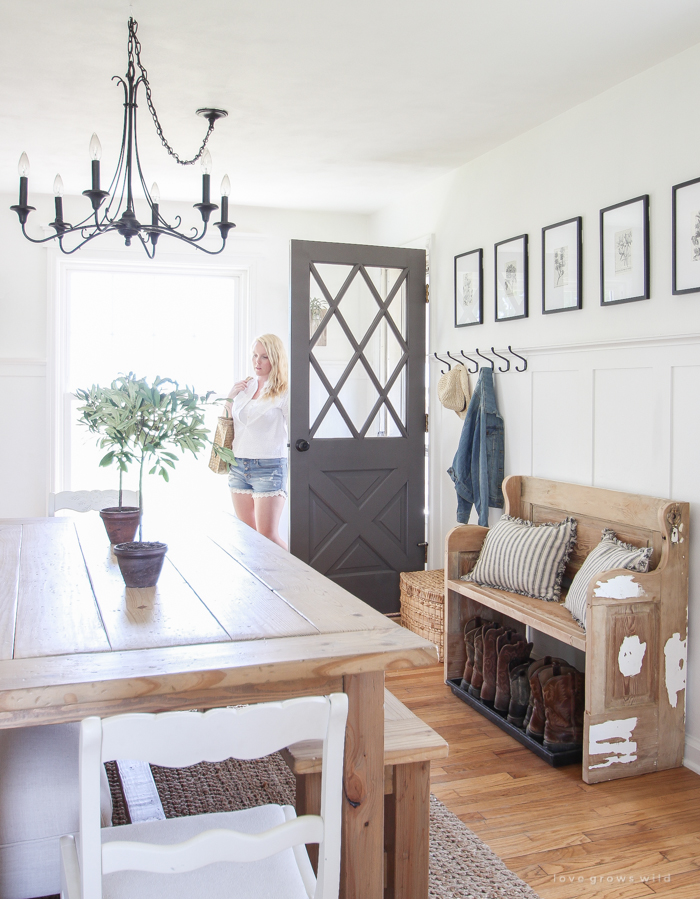 2016
At one point I built a huge plate rack on the wall to display my wood cutting boards.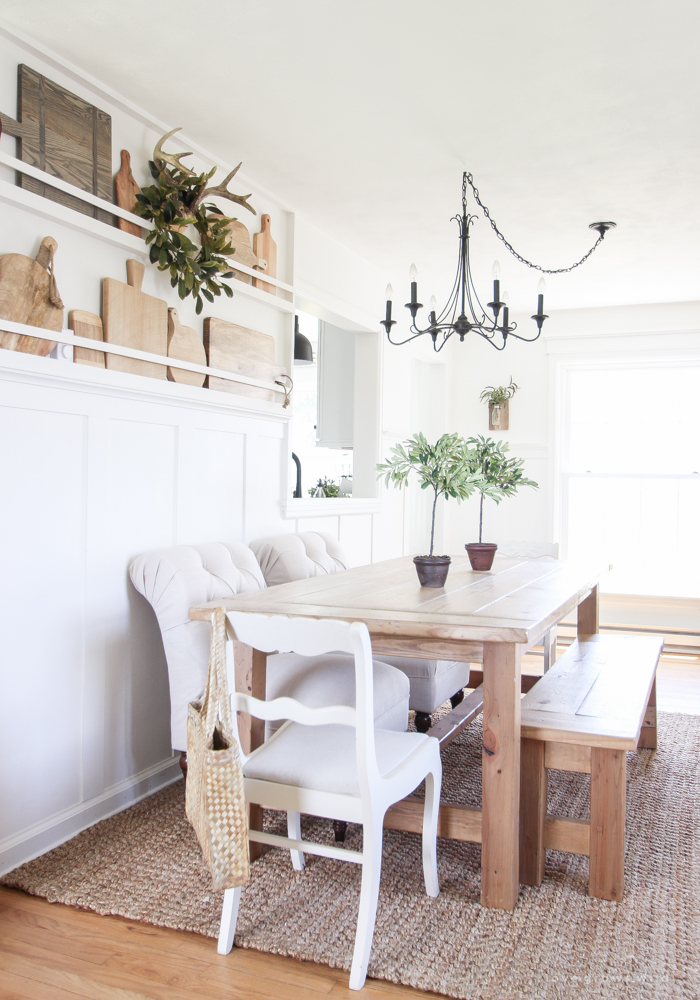 Then I moved the dining table out of this space for awhile and added a little desk area.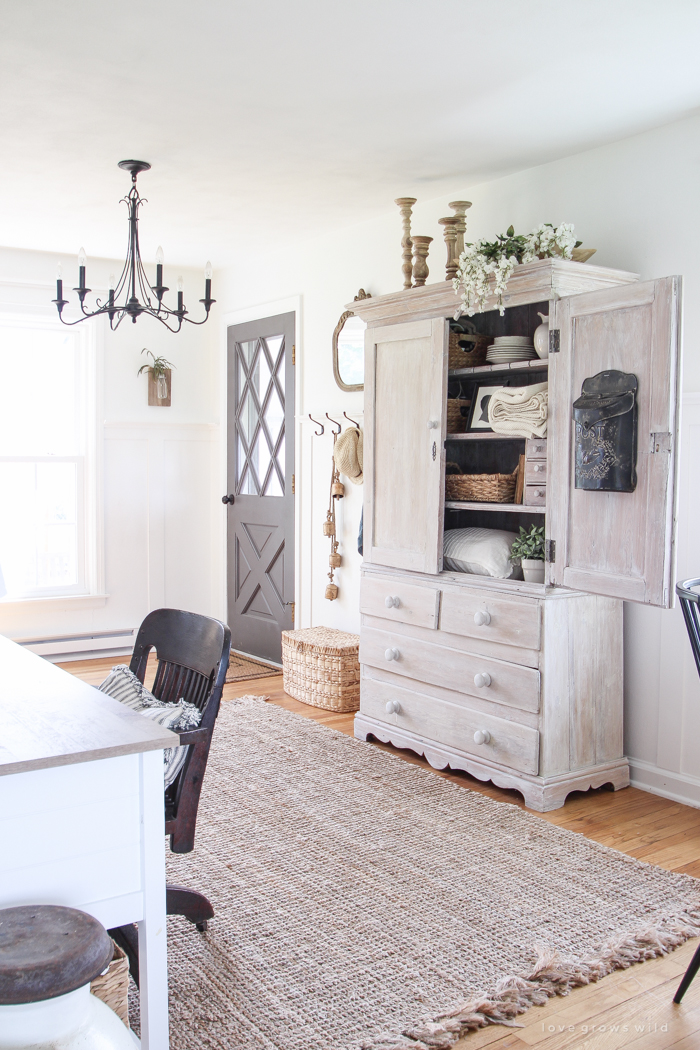 I loved finding antiques to mix old with new.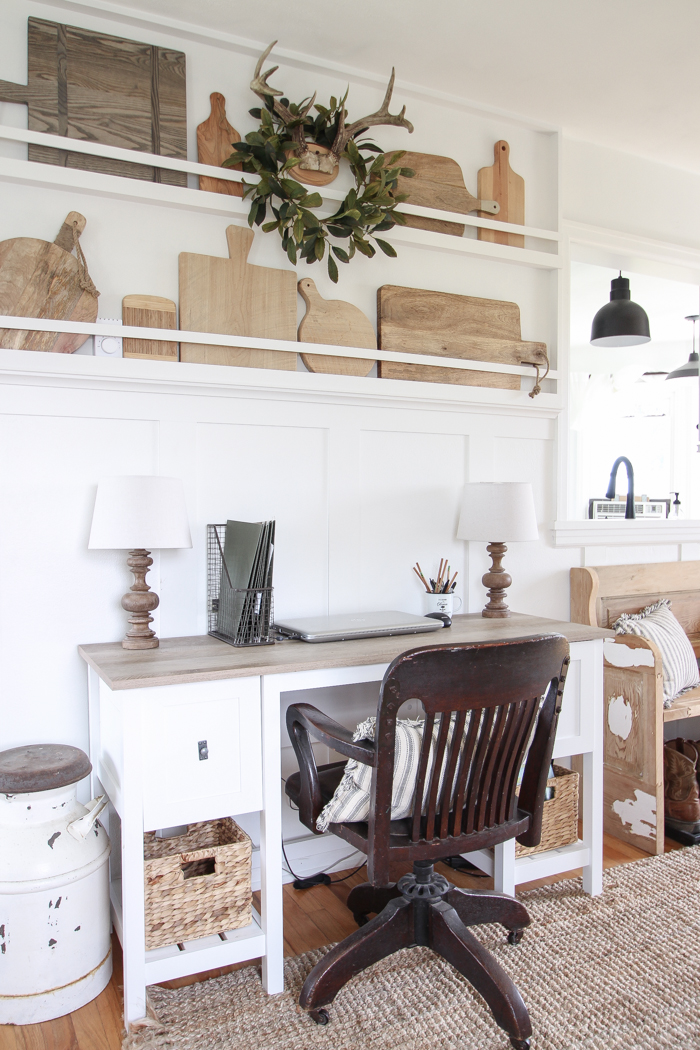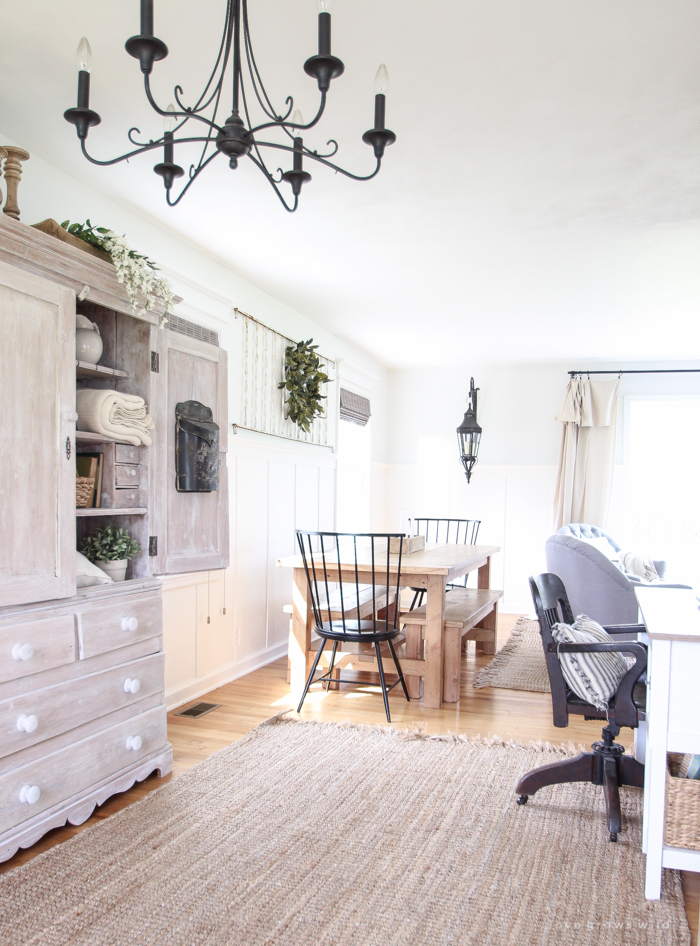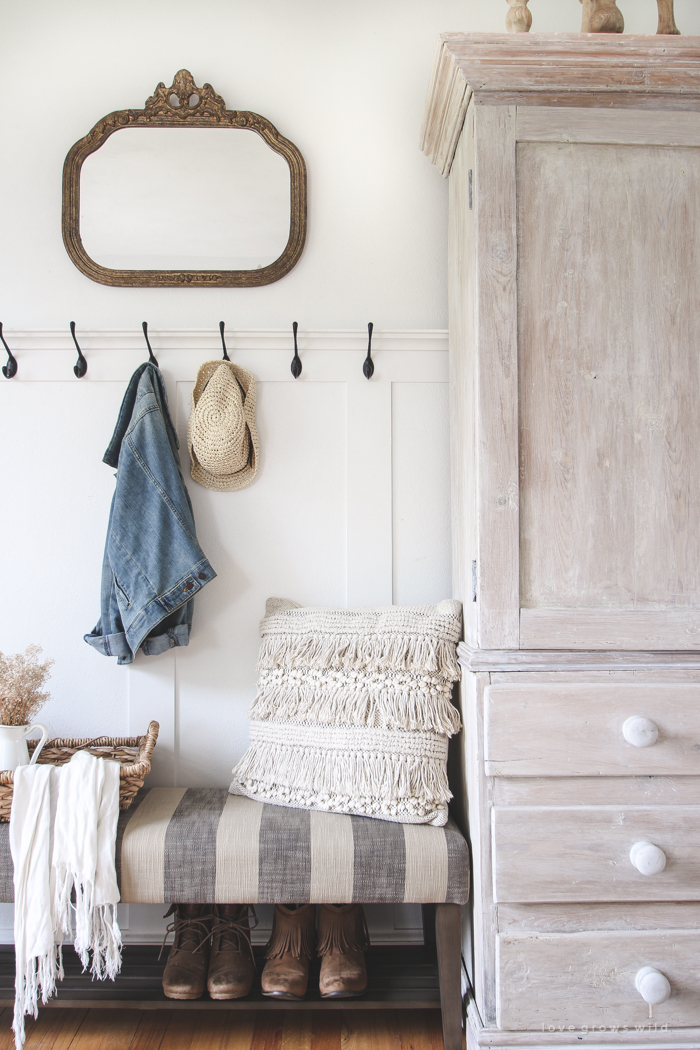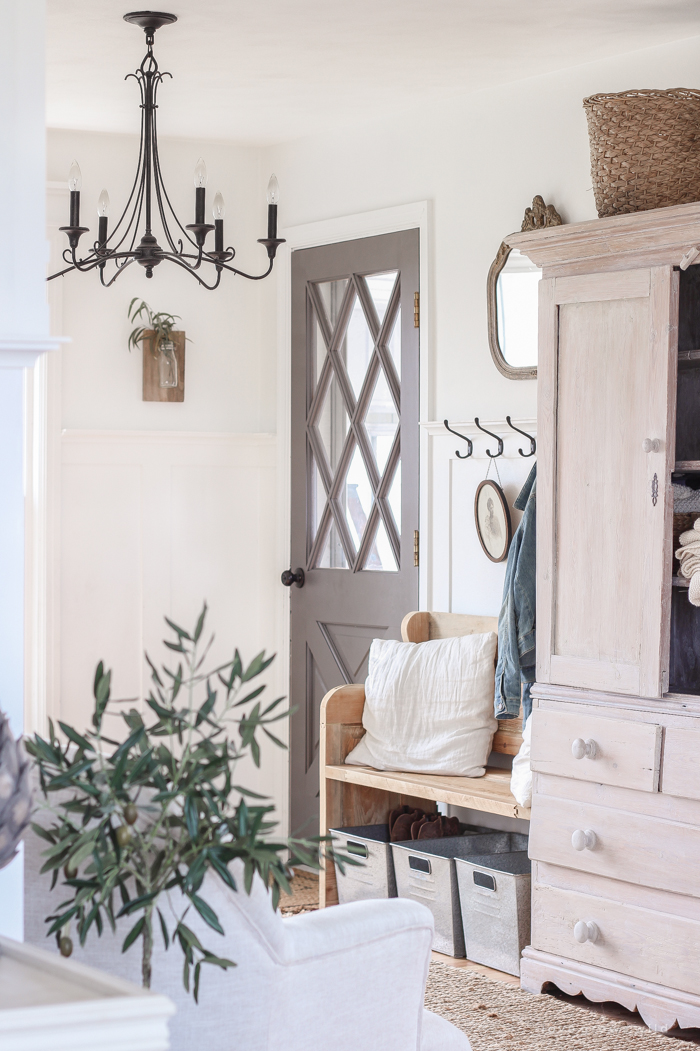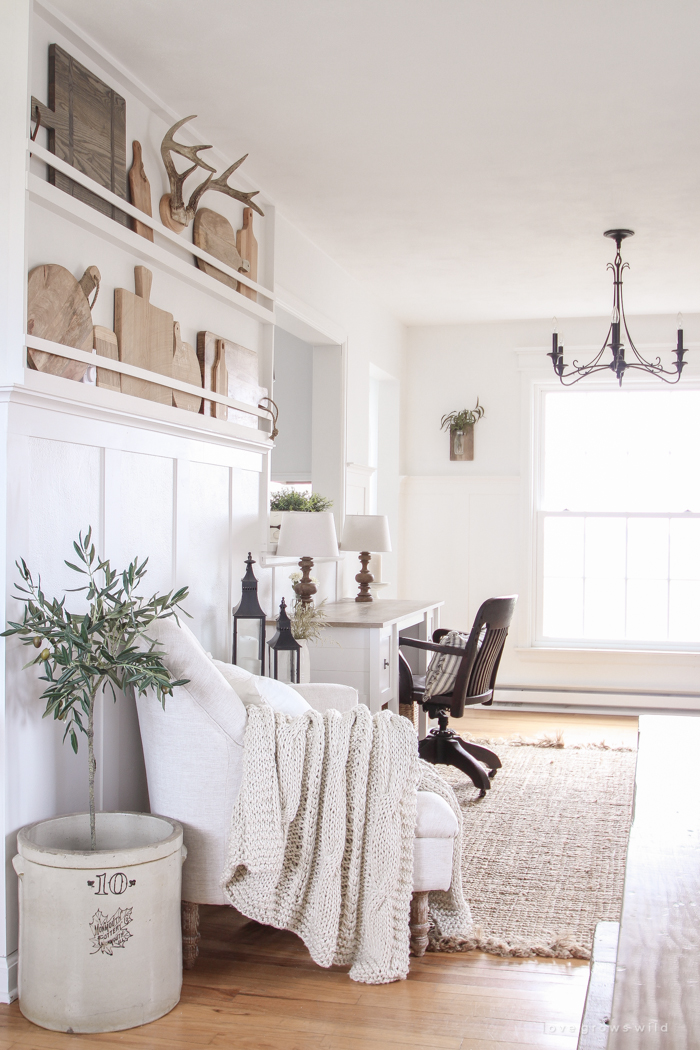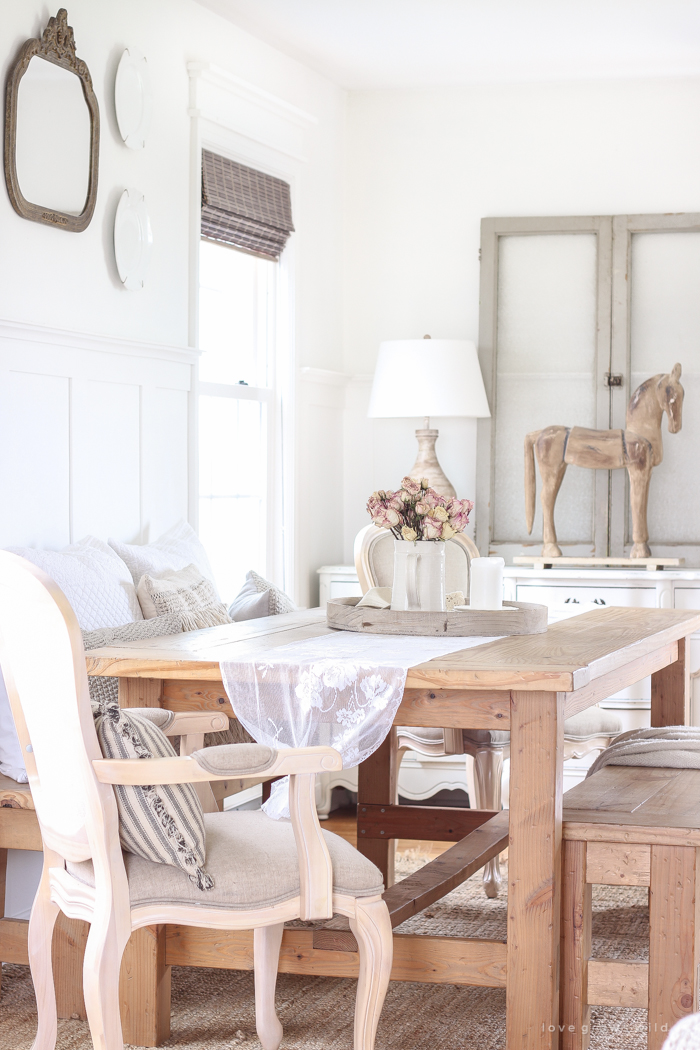 Then I really switched things up and moved the dining table to the opposite side of the living room by the front door.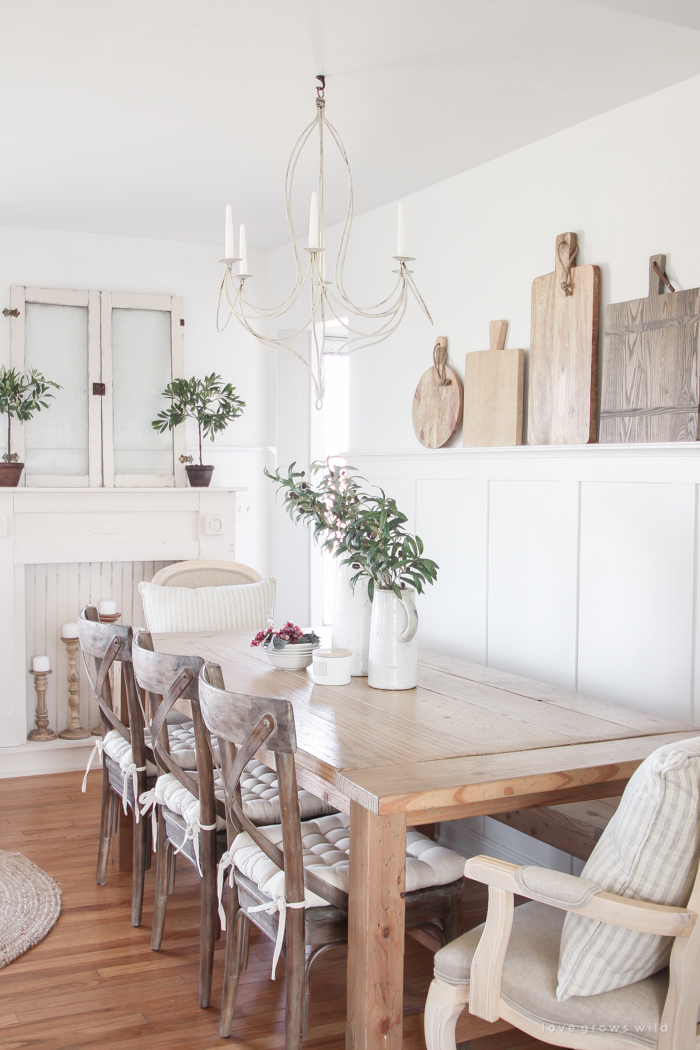 And built a custom wood bench for the entryway.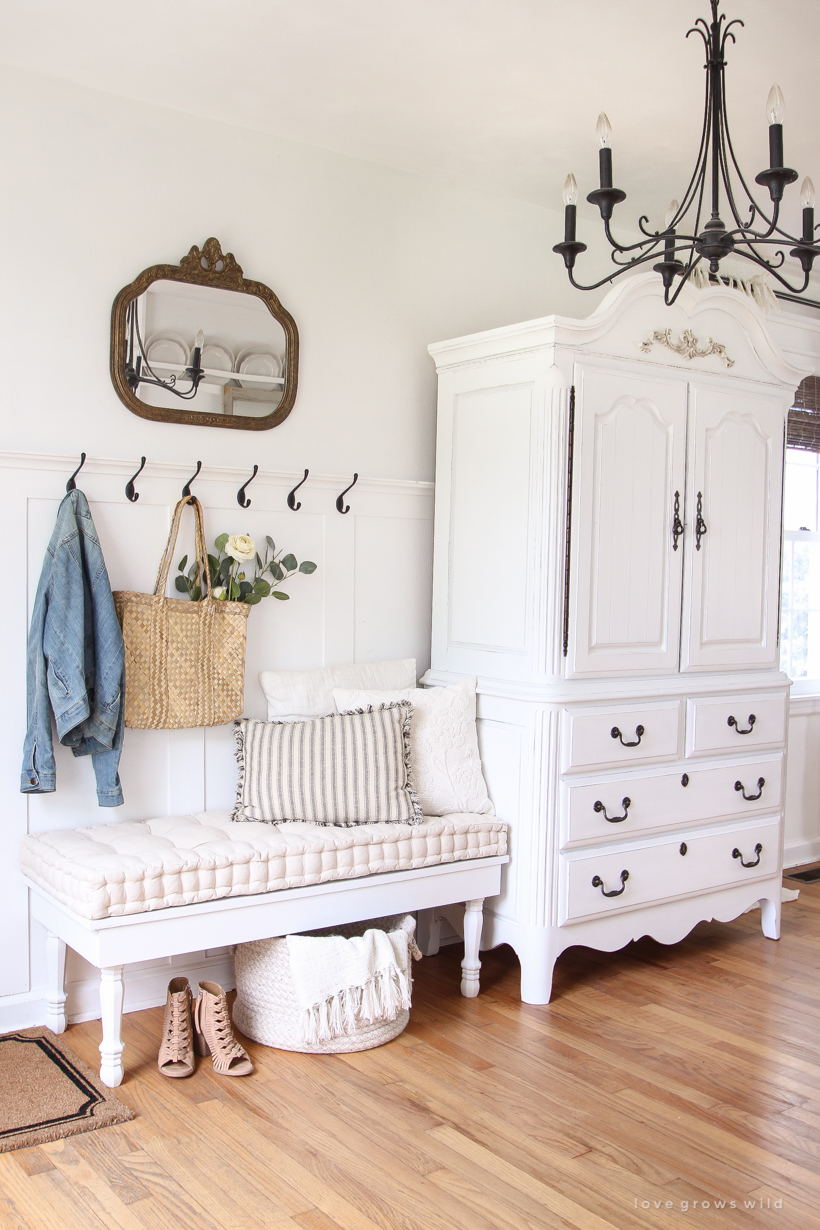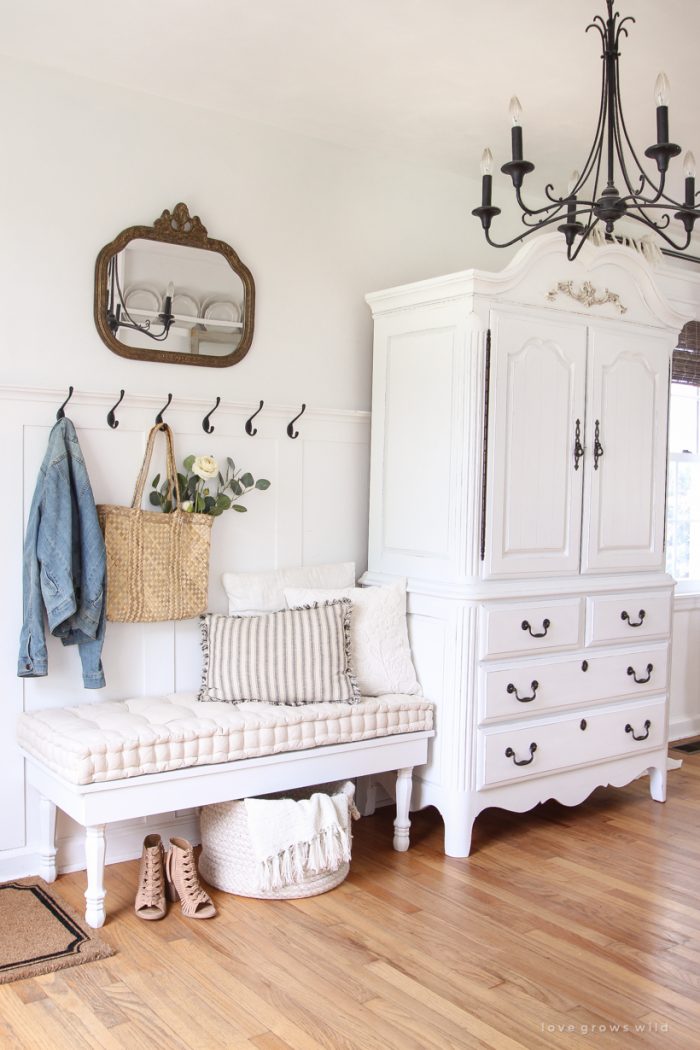 We have no overhead lighting in the living/dining room, but this candle chandelier I hung above the table was SO pretty. Would you believe I painted that huge piece of art myself?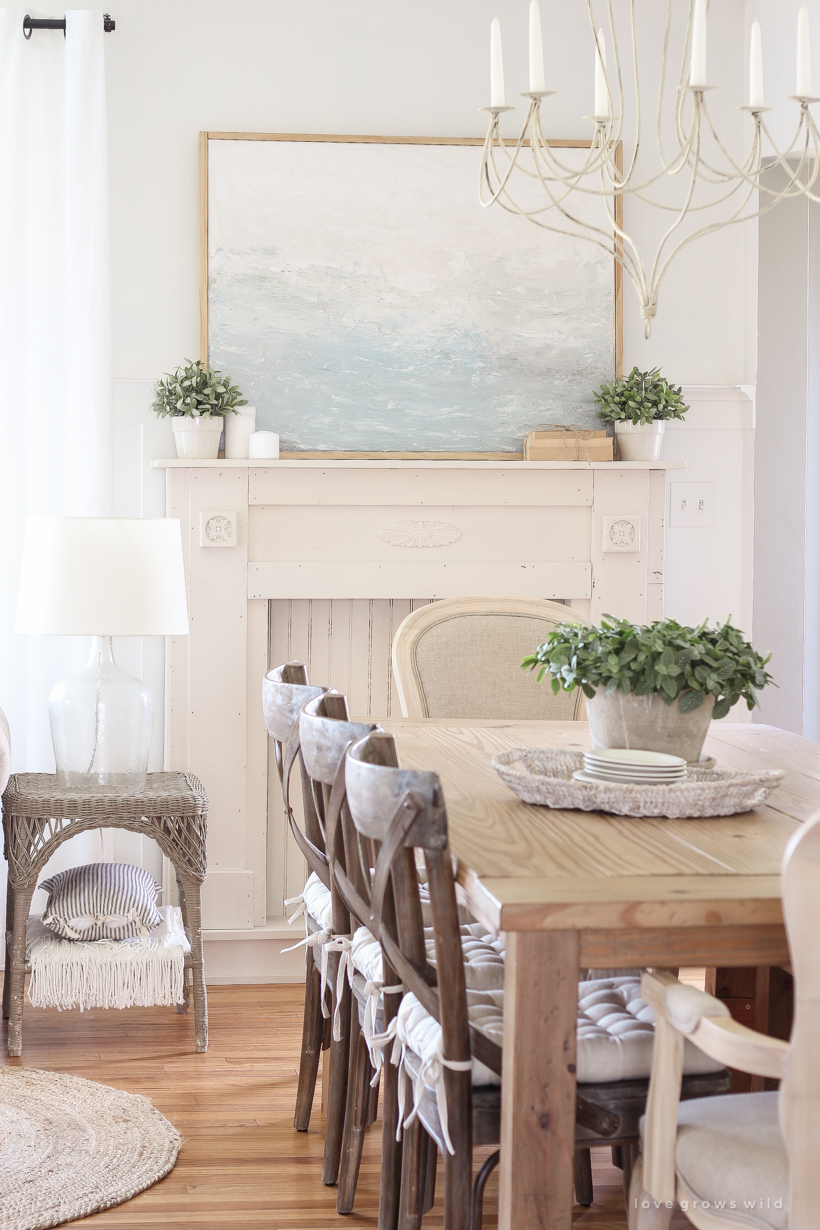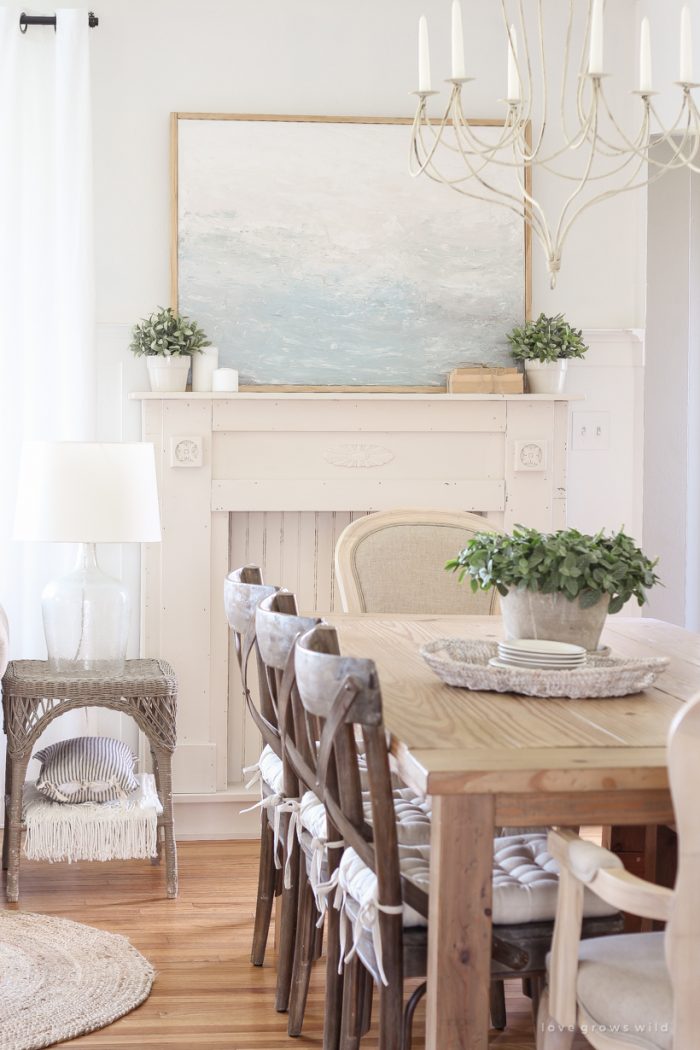 Eventually the table moved back to the other side of the room with a little more of a simple, laid-back style.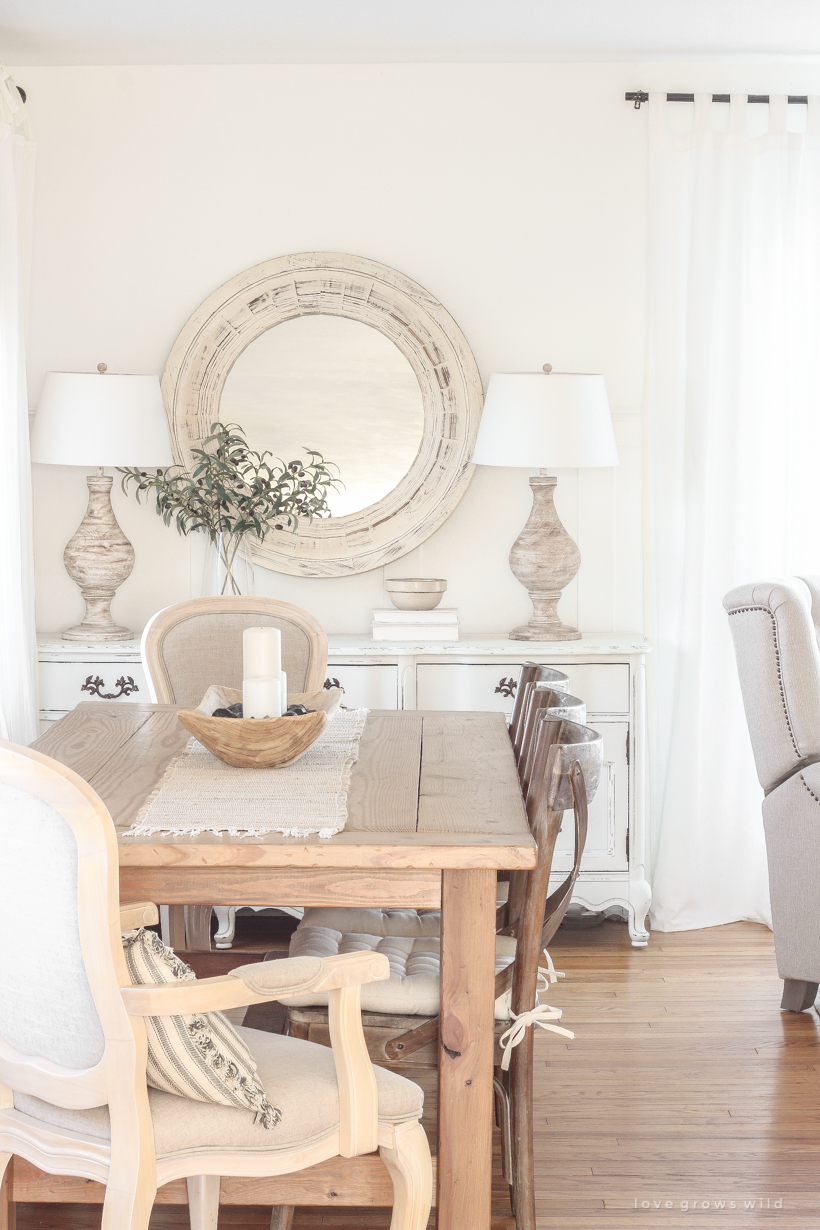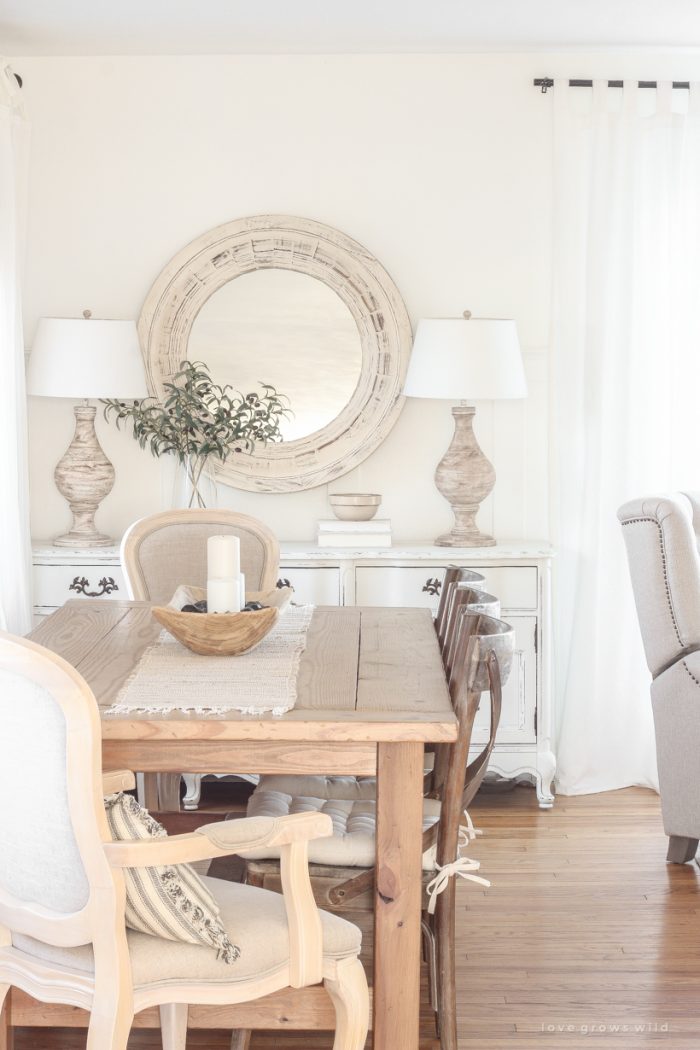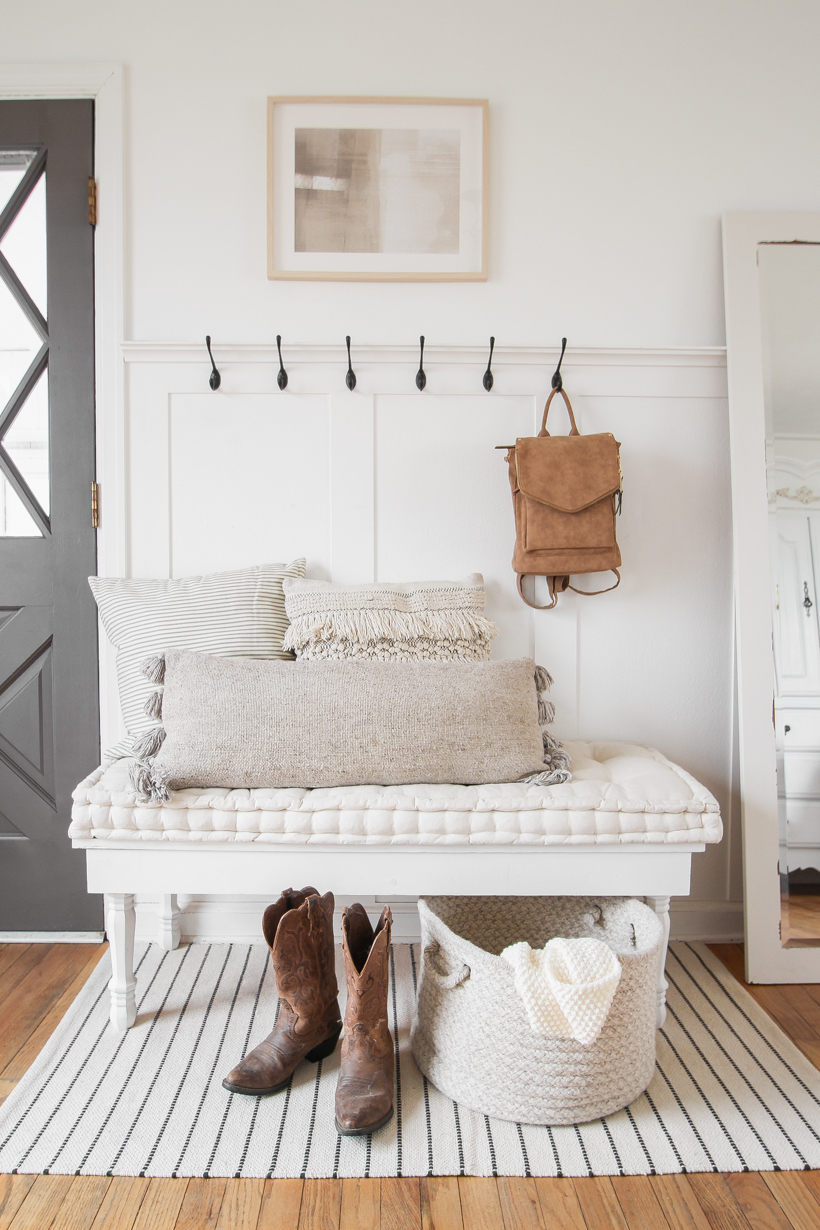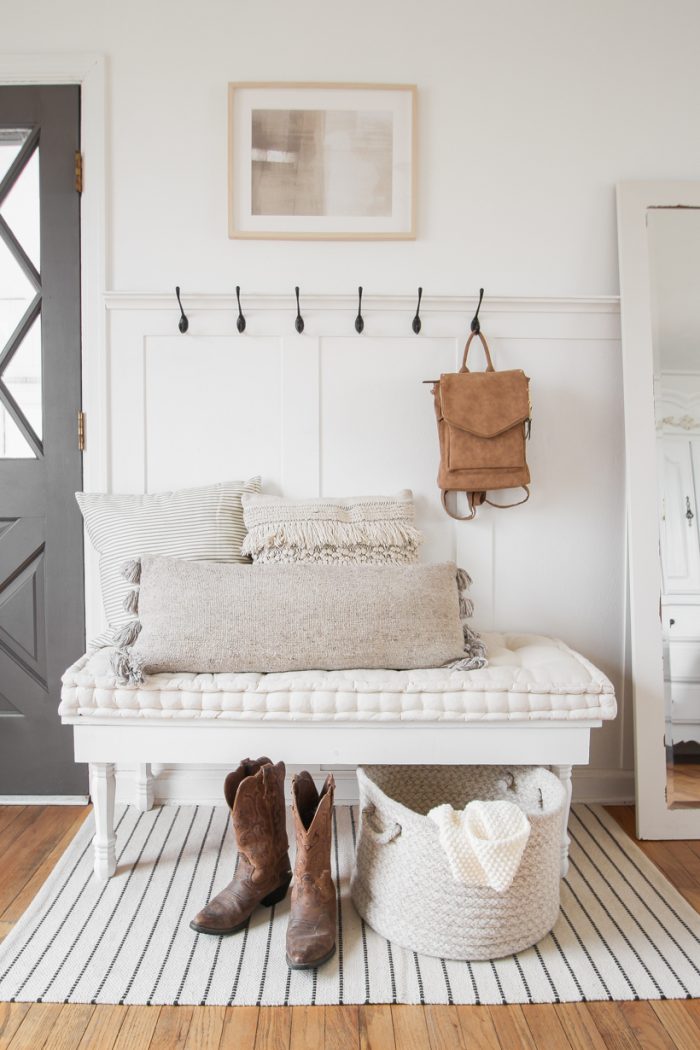 I got new dining chairs to update the space, including upholstered armchairs for the head of the table.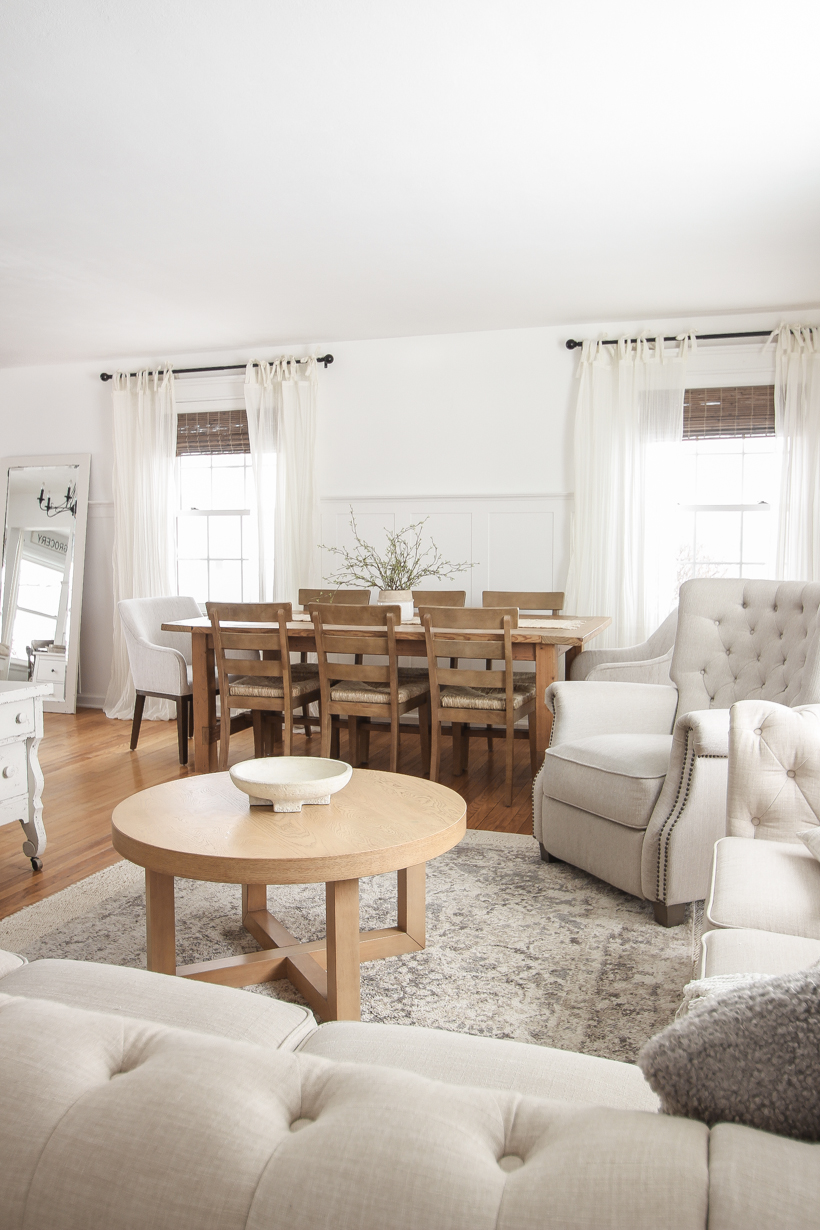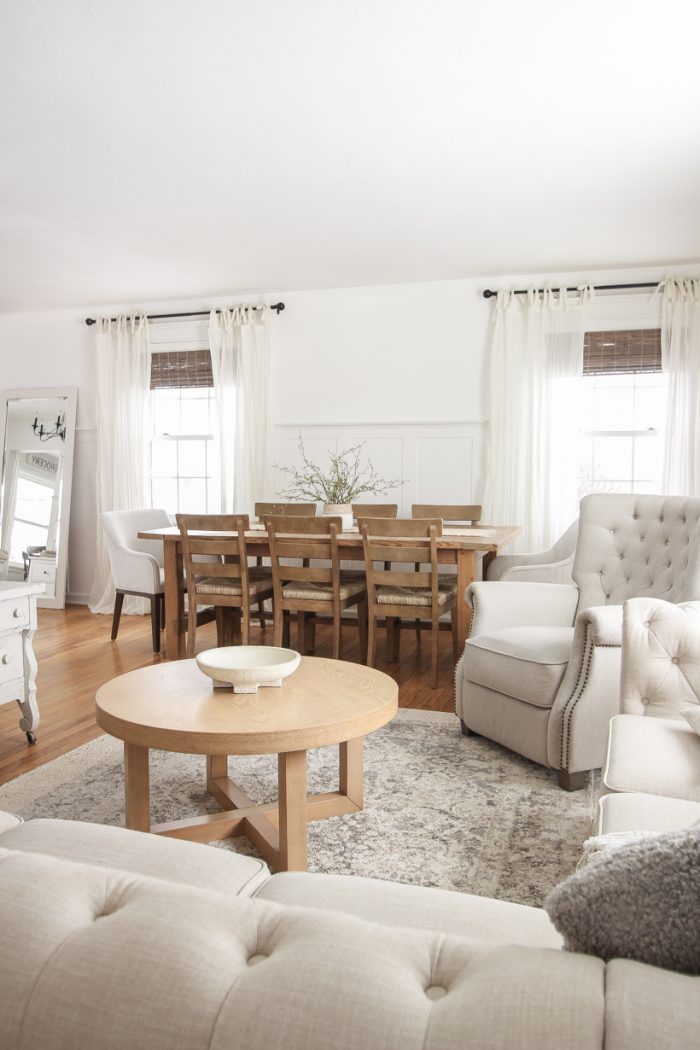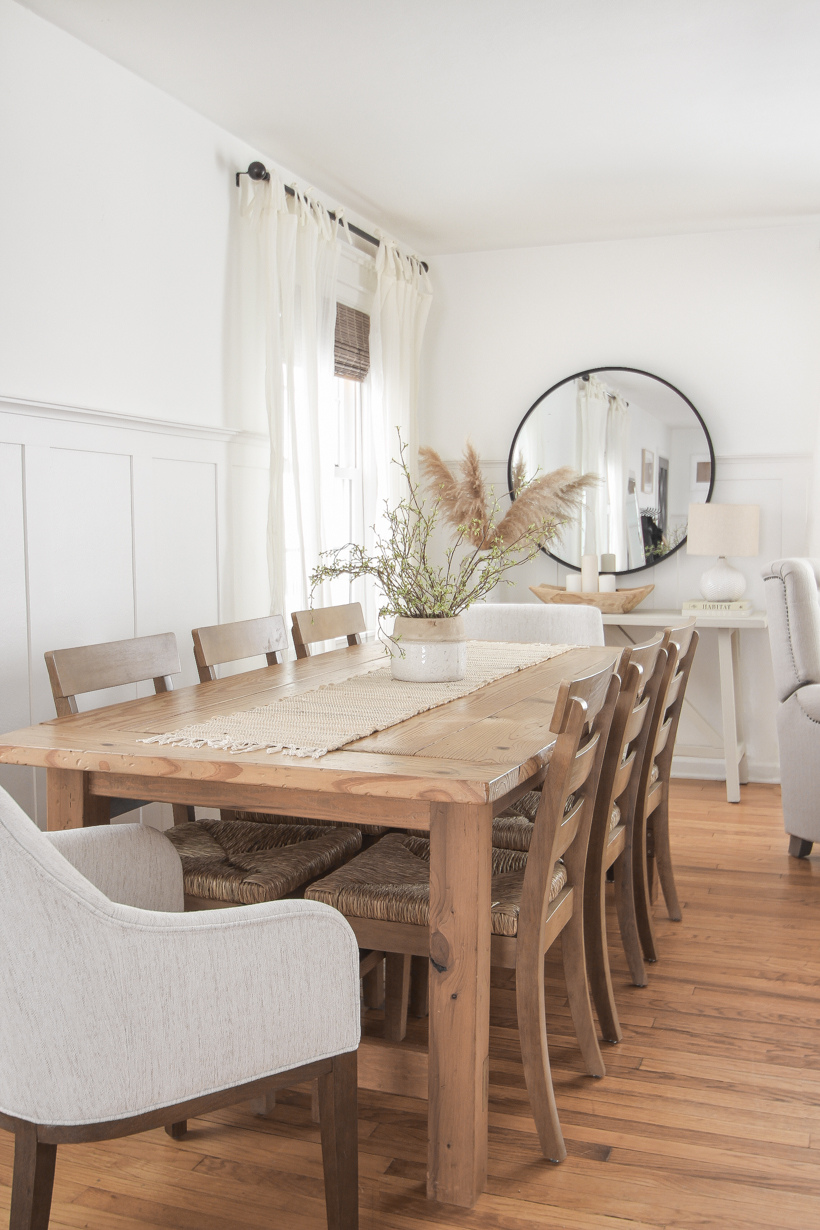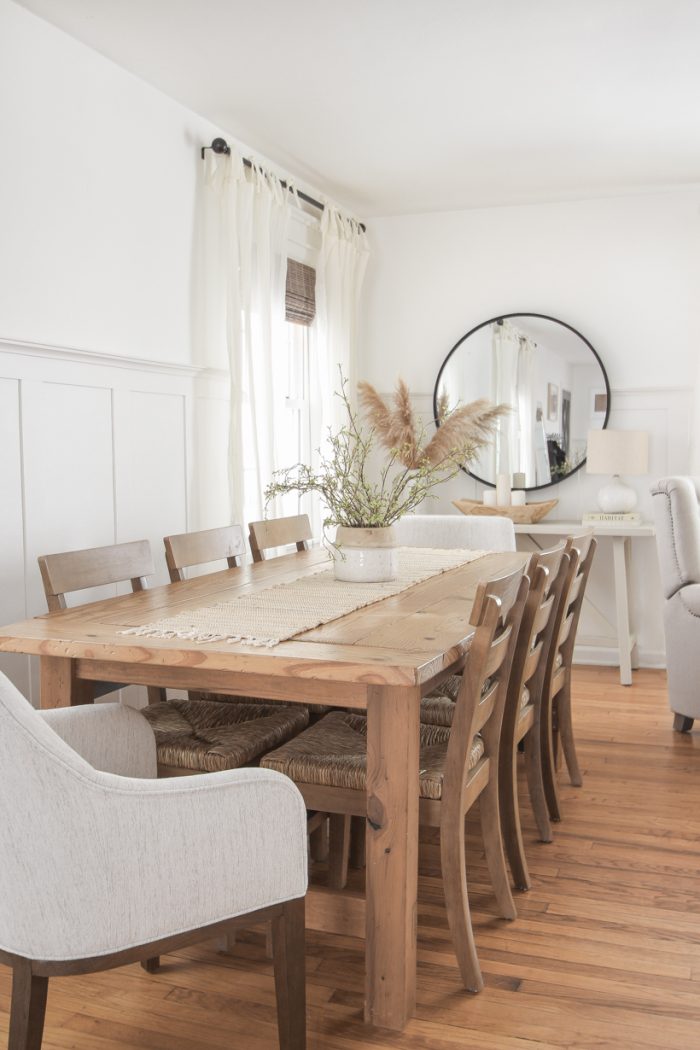 I started to lean more towards black and other darker colors, which made the space feel more cozy and grounded.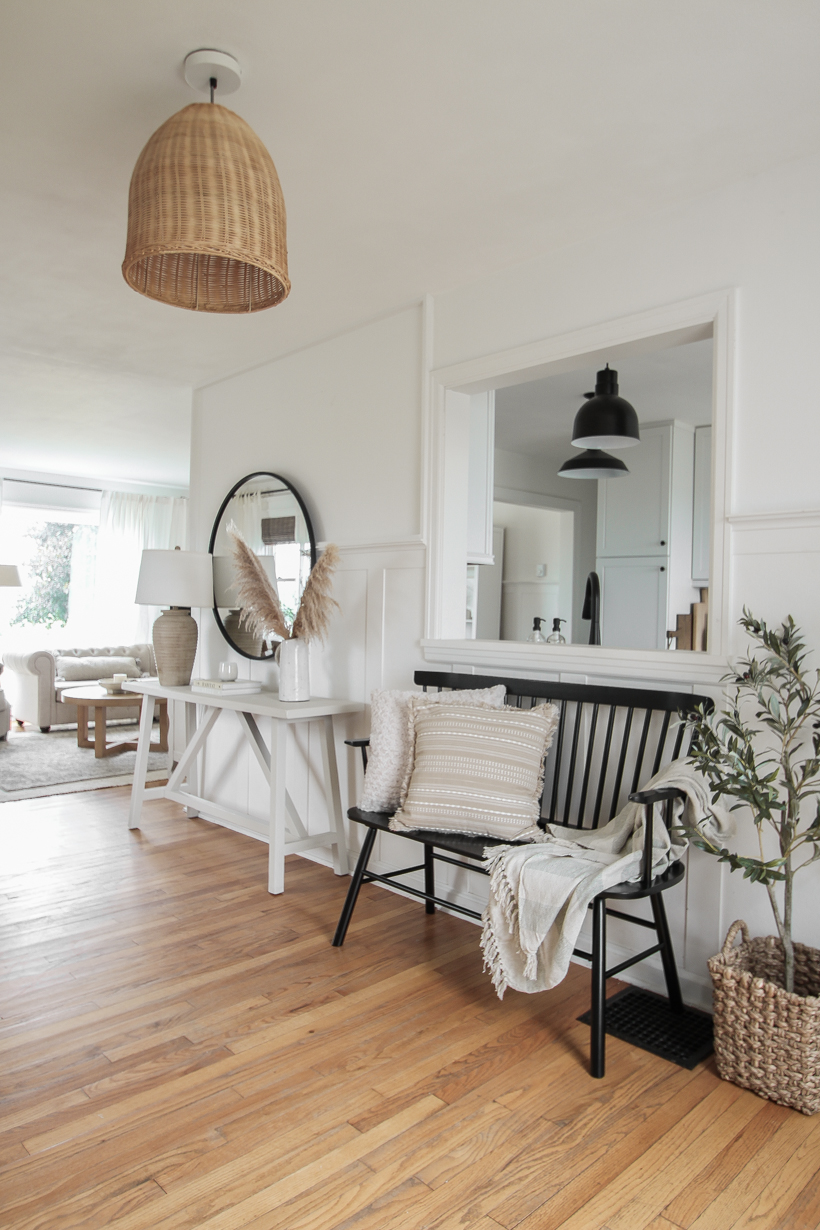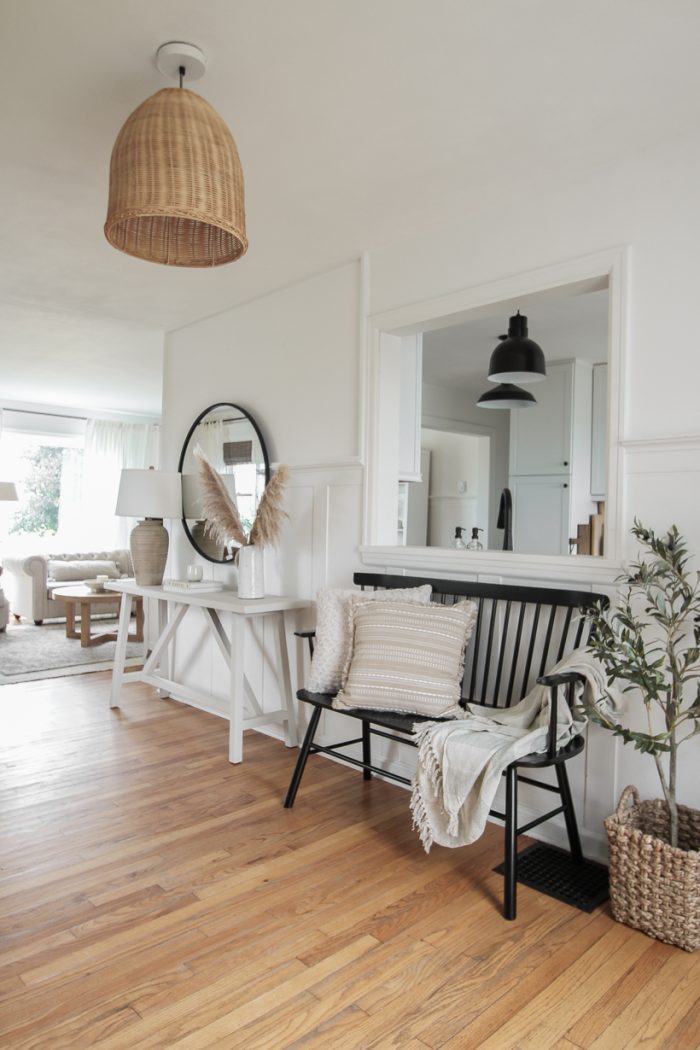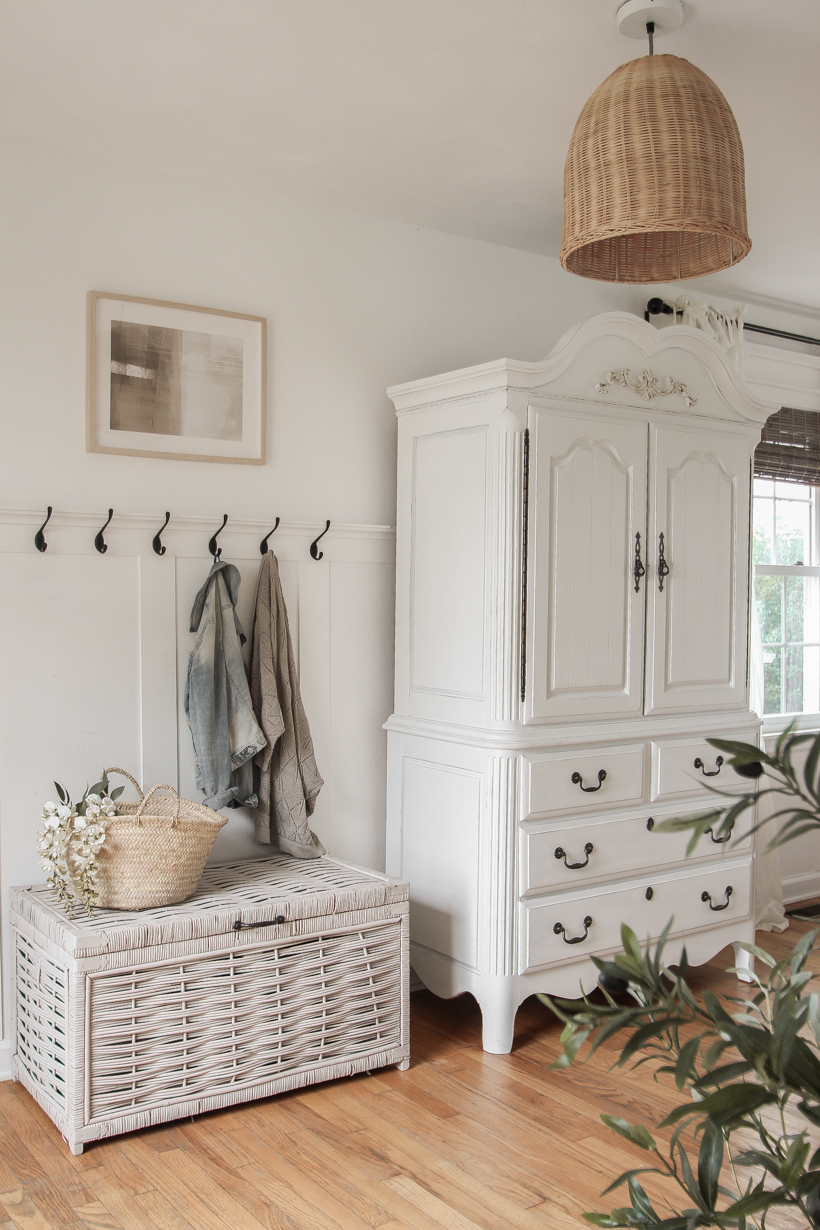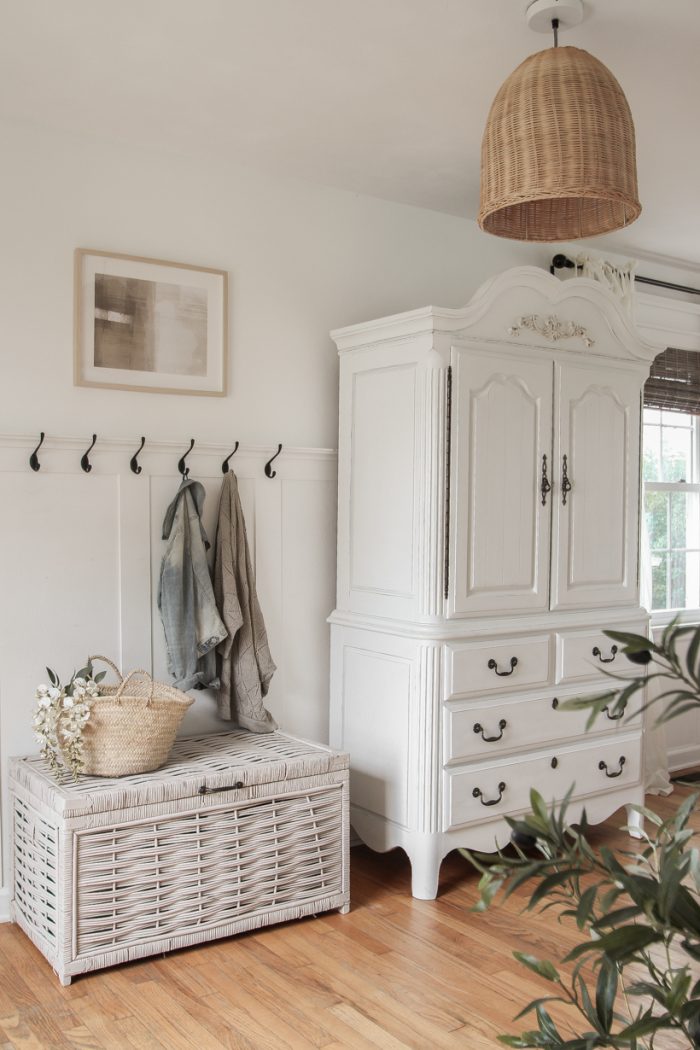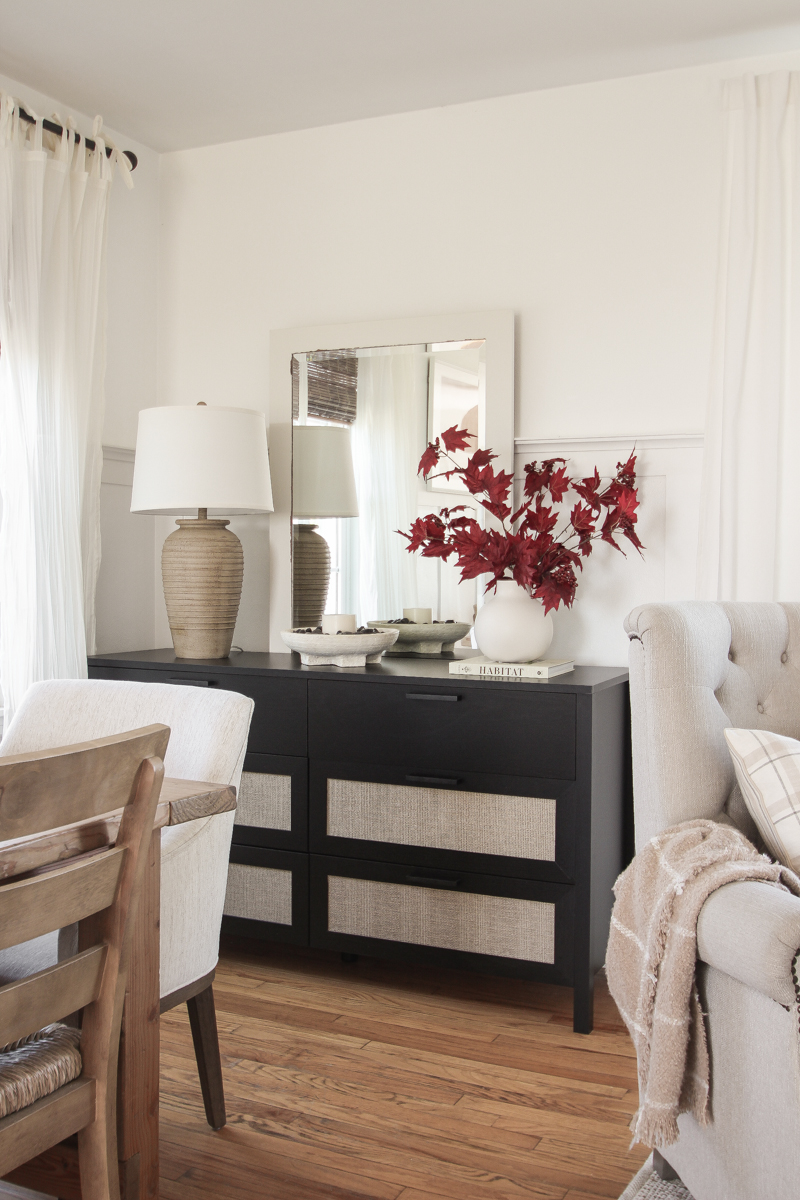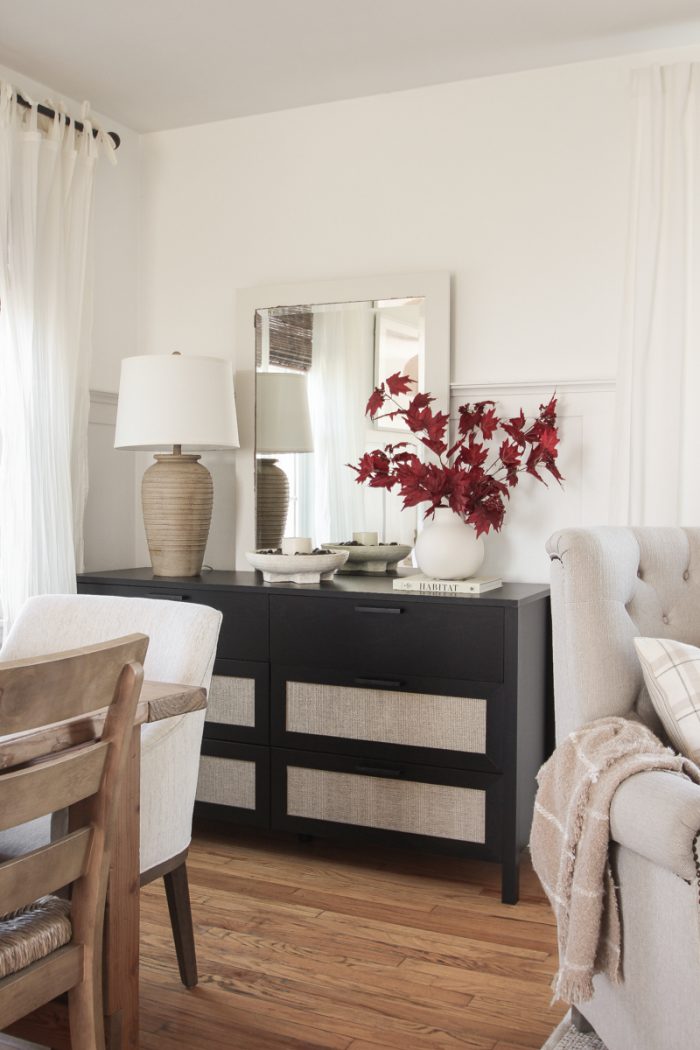 And today the dining table is back where it originally started, in the "entryway".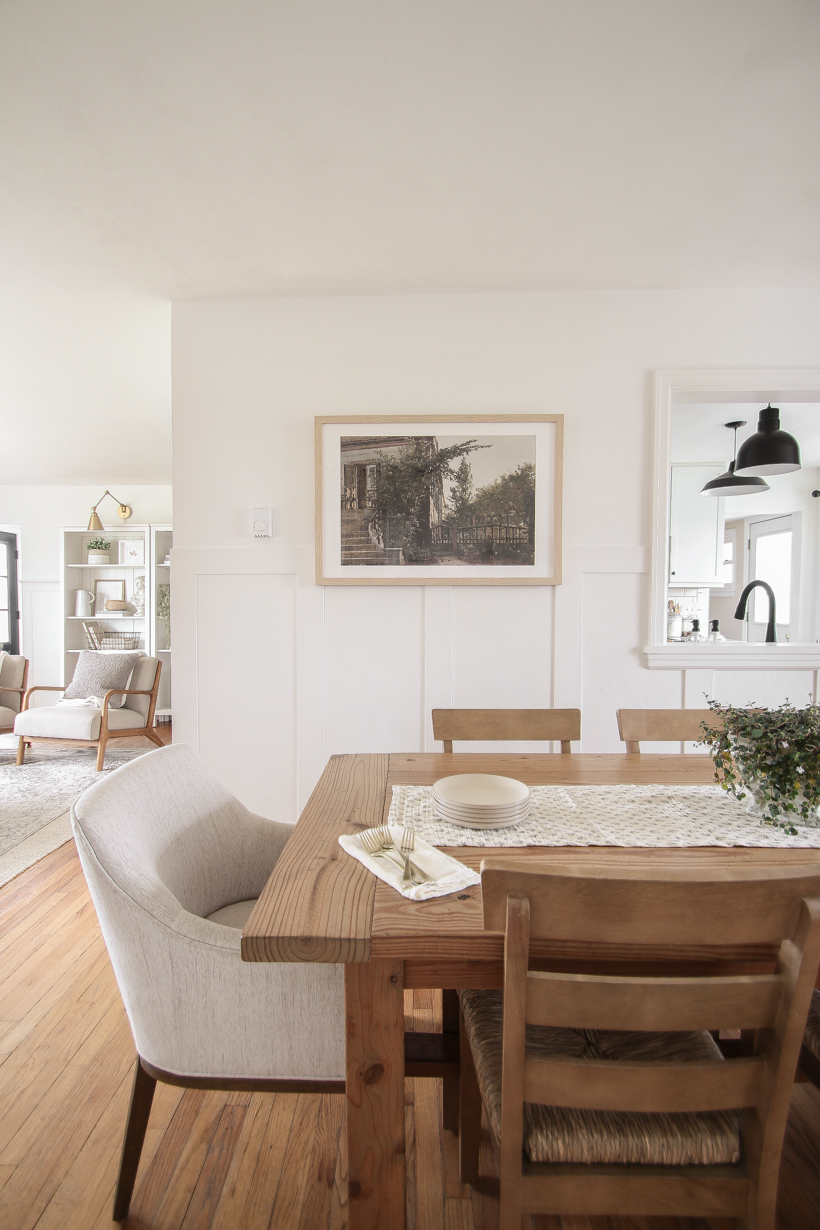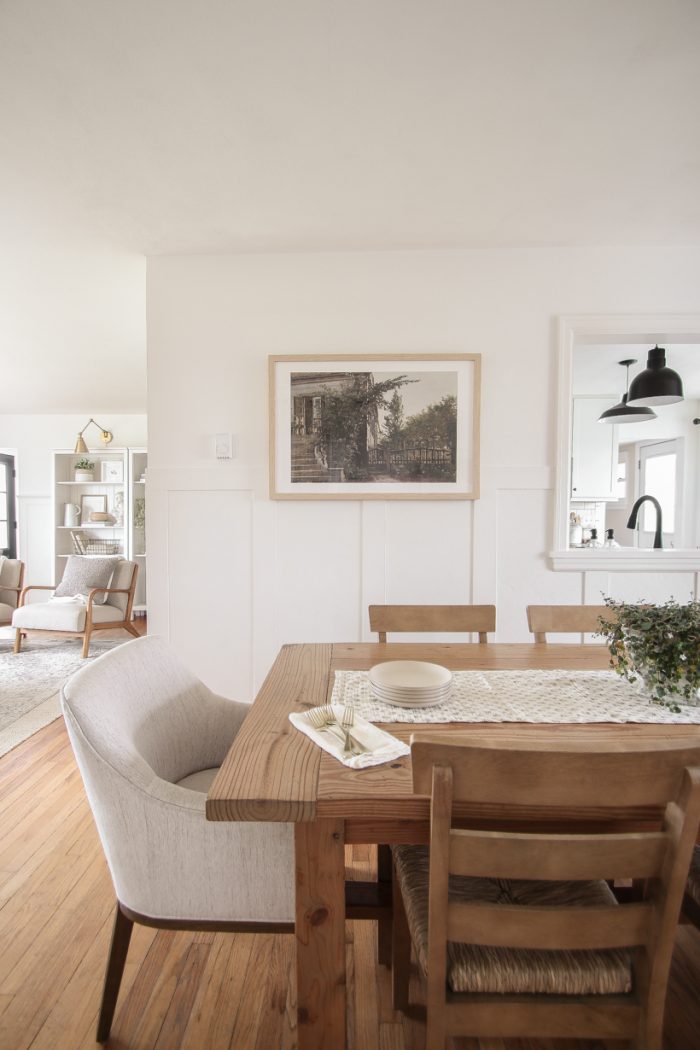 Creating a home is a journey that is never truly "finished". Your home grows and changes with you, which is why I think I get so emotional looking back on these photos. I can remember where I was at in my life in each one and see how far we've come… the house, myself, and my family.
H O M E … what a beautiful gift to ourselves and those we love.
I hope this post helped or inspired you in some way, no matter where you are in your own journey. If you have any questions, I'm happy to answer them, and I have a Part Two I'm writing with a look back on more spaces in our house! Look for that soon… xoxo Liz
---
Join my text community
Subscribe to our Newsletter | Follow on Instagram
Follow on Pinterest | Follow on Facebook