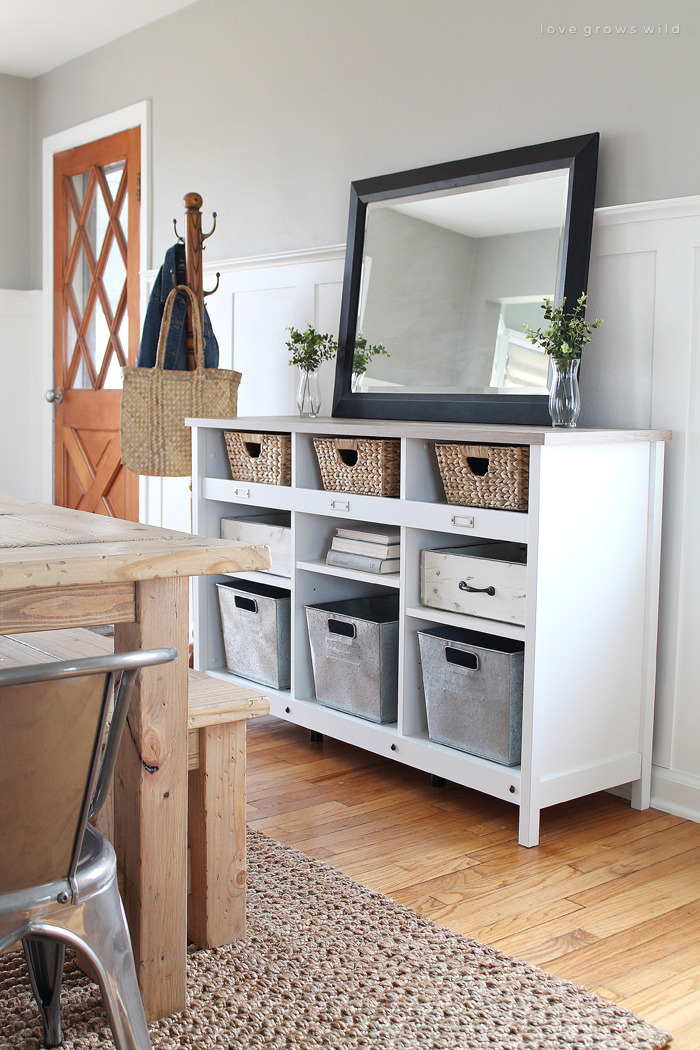 Sponsored by Sauder // Our dining room… this space was TOUGH to design. Any of you that saw our "before the makeover" video tour know exactly what I'm talking about. Basically, as soon as you walk through the front (actually, it's the side) door, you're standing in our dining room. No coat closet, no shoe storage… just the dining room.
Rather than break my ankle by continuing to trip over massive piles of shoes, I finally figured out a way to create some sort of "entryway" by the door without taking up all the space needed for the dining room. It all started with a gorgeous storage credenza from Sauder.
I put it along the wall our door is on, leaving the other side of the room for our farmhouse table and benches we built. It provided us with a TON of storage underneath, but here's the HUGE bonus for me: whenever we have parties or host the holidays, it can also serve as a buffet table to set food and drinks on, rather than having everyone crowd into our tiny kitchen. I LOVE when furniture can be multi-purpose!
We do have a small coat closet by the front door of our house, which of course, no one uses… but most of our big winter coats are stored in there. My mother-in-law let me have an old coat tree of theirs that fits well in the space and at least gives us somewhere to hang up a few coats. I thought about painting it at first, but I actually think I like the wood against the white board and batten walls… what's your opinion? Paint or no paint?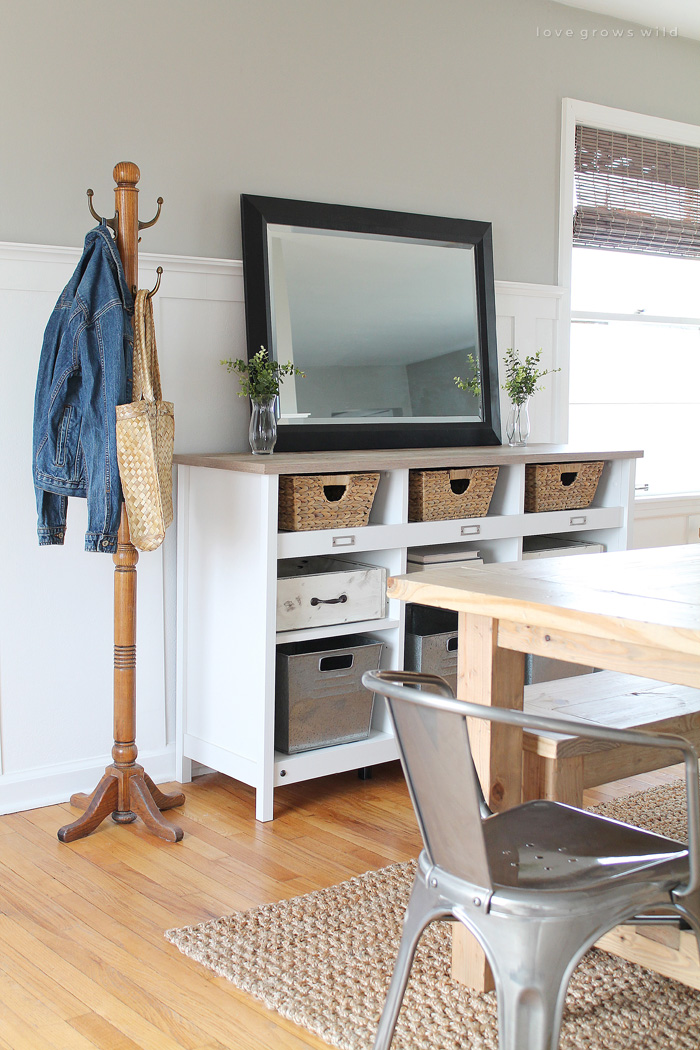 I filled the bottom with different boxes and baskets to hide our hats, gloves, scarves, shoes, sunglasses, keys, etc. Since the credenza has a simple, white design, I used a mix of natural woven baskets, galvanized metal bins, and distressed wood boxes to give it a little of our farmhouse style.
Do you recognize the look of those distressed white wood boxes with the handles? Yep, I made those the same day as I made the centerpiece for our farmhouse table! Repeating this look throughout the dining room adds a sense of cohesion that I totally crave when designing a space. You can find the wood box centerpiece tutorial here and adapt the plans to create whatever size box you need.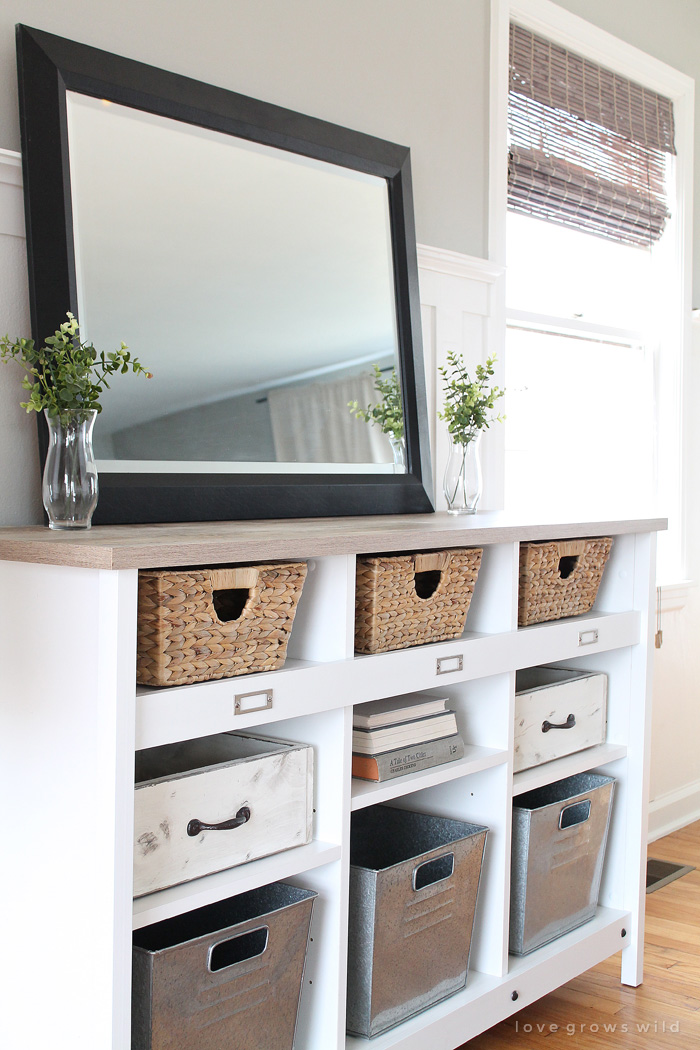 I set a mirror on top of the credenza (still need to anchor it to the wall) to make the room feel wider than it really is. Have you ever tried that trick? It tricks the eye into thinking a space is bigger than it is and helps bounce some light throughout the room. Try it in one of your small spaces… you'll be amazed!
Over the years I've learned that decorating with clutter is just not my thing. I like my house to feel clean, uncluttered, and symmetrical. A small vase with some (faux) greenery on either side of the mirror is all I needed to finish off the look and bring a little color to the room.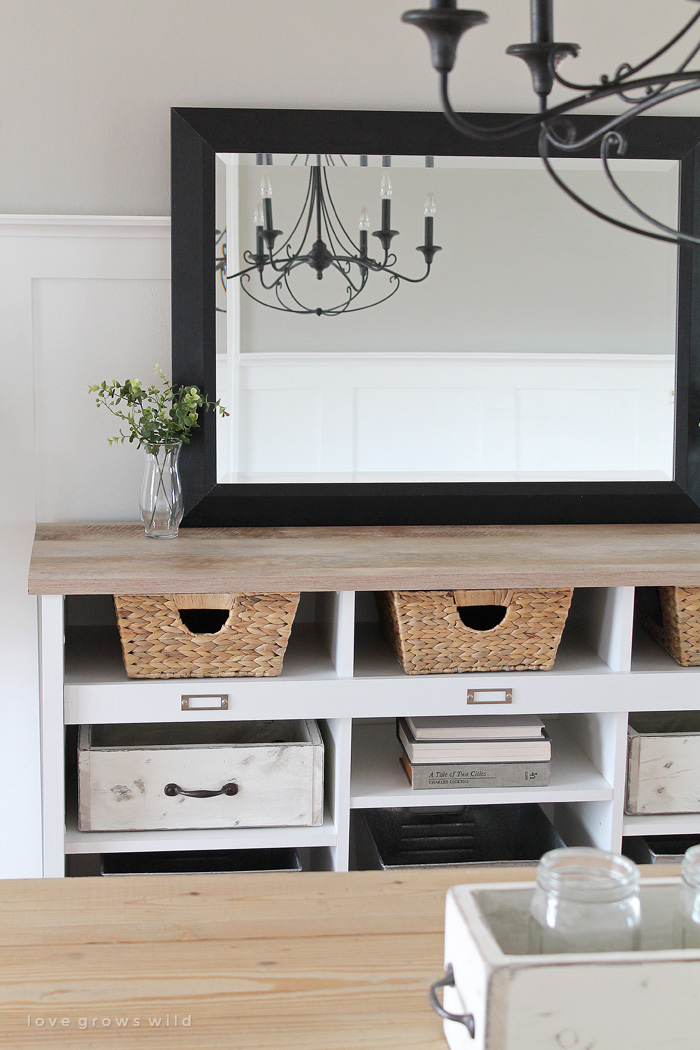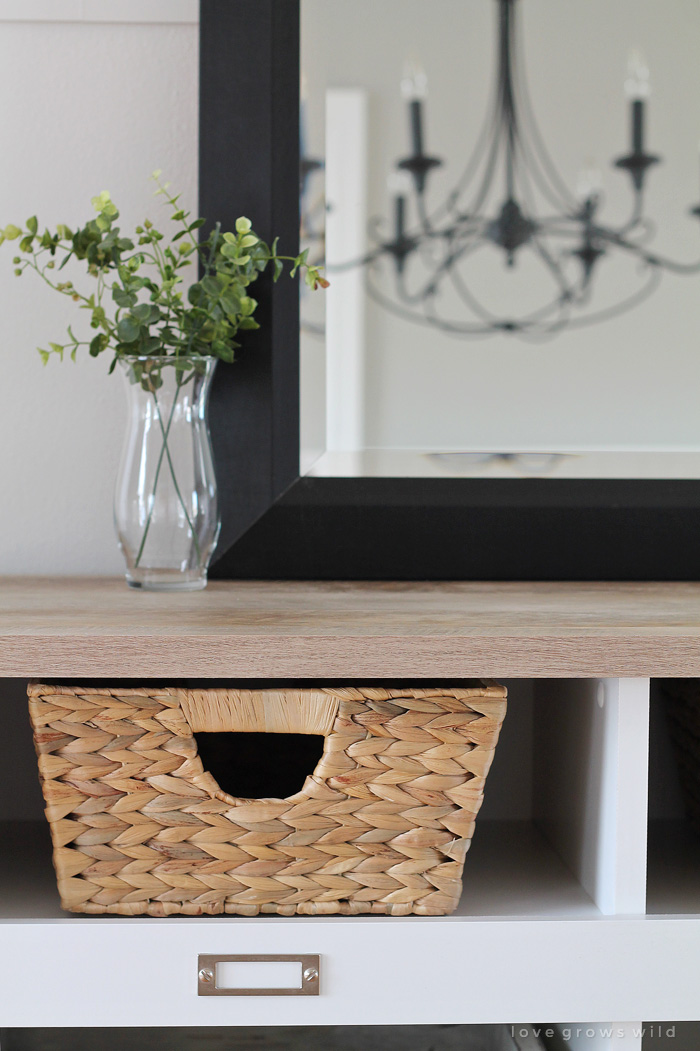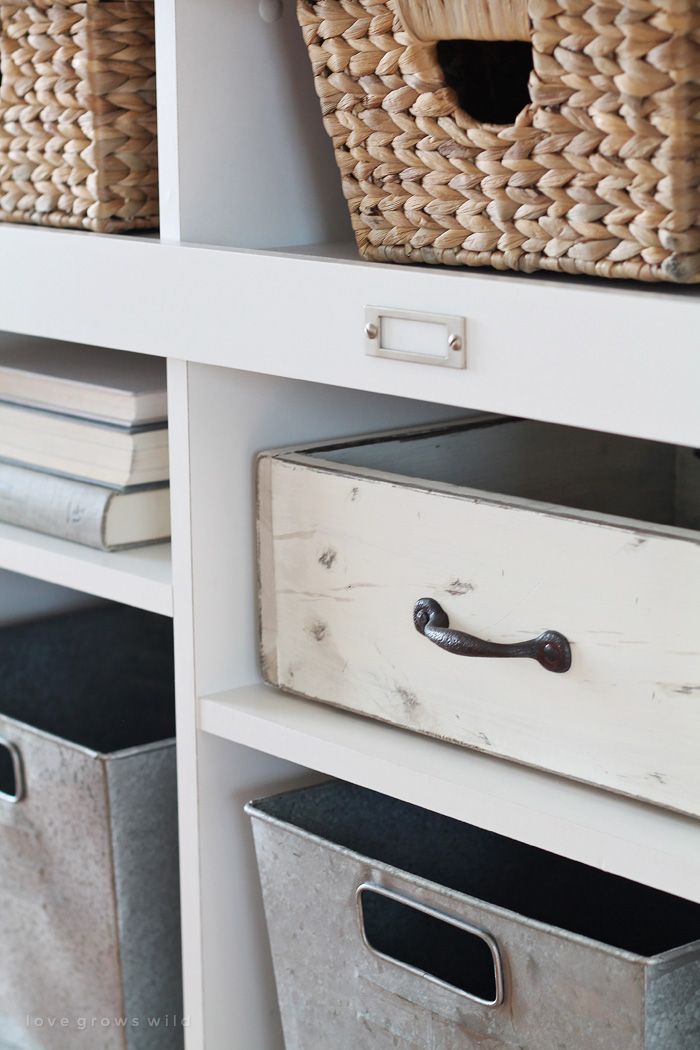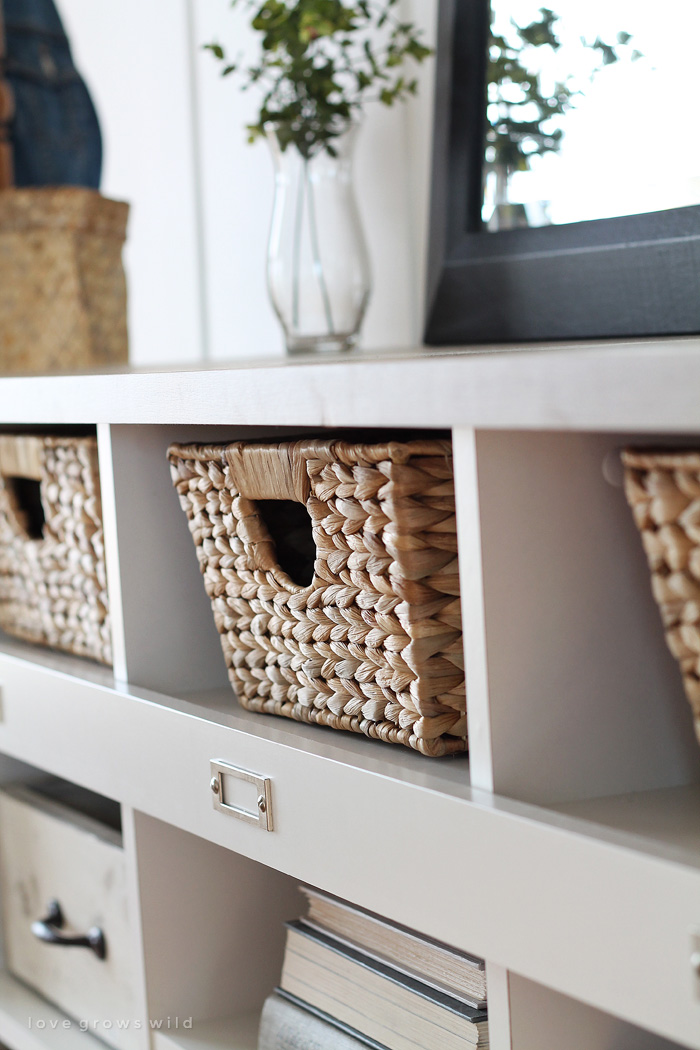 Those of you who follow me on Instagram (hey, Insta-friends!) have seen a sneak peek at our super cute door that was recently painted… I cannot wait to show you the color! Don't expect some crazy, bold color… you know me better than that. 🙂 But it is much better than the orange-toned wood that now sticks out like a sore thumb. Stay tuned for photos… I'm just waiting on a rug to go back in stock!
So tell me… how do you think this room is coming along? Do you like the "entryway" I created or does it feel too cluttered to you? Where would you use a storage credenza like this in your home? I can't wait to hear your thoughts!
Like what you see? Subscribe to Love Grows Wild so you'll never miss a post!
Follow along on Pinterest, Google+, Instagram, and Facebook for more fun!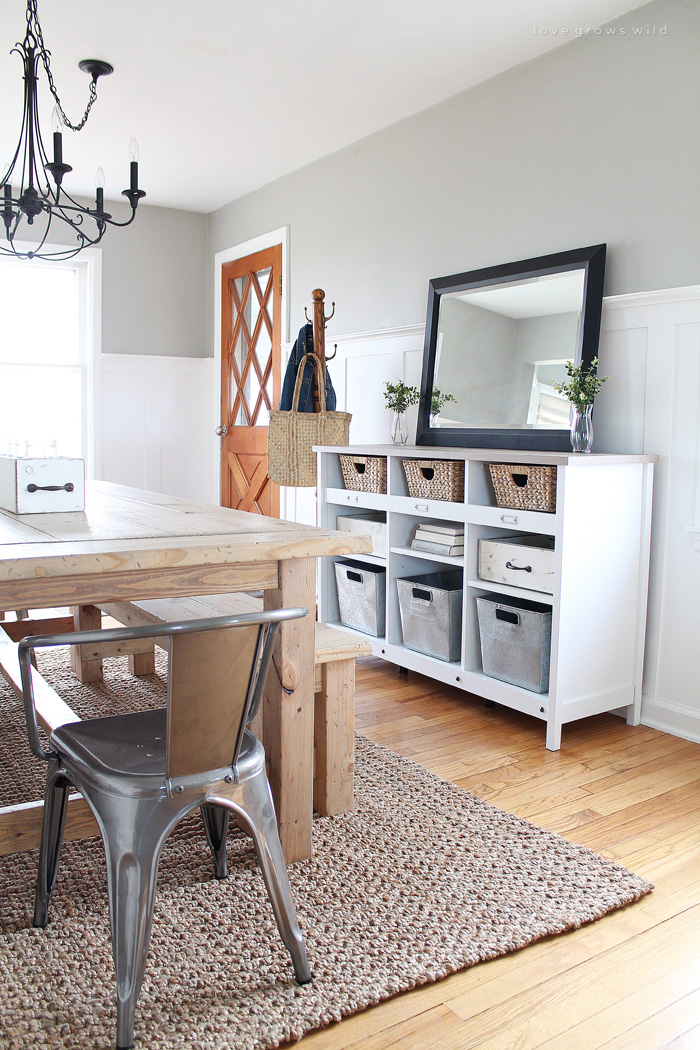 Sauder is a great source for finding affordable, durable, beautiful furniture, and you can follow them on Facebook, Twitter, and Pinterest for more information. To get ideas for styling your furniture, be sure check out the Sauder Lookbook!
---
More from Love Grows Wild:
---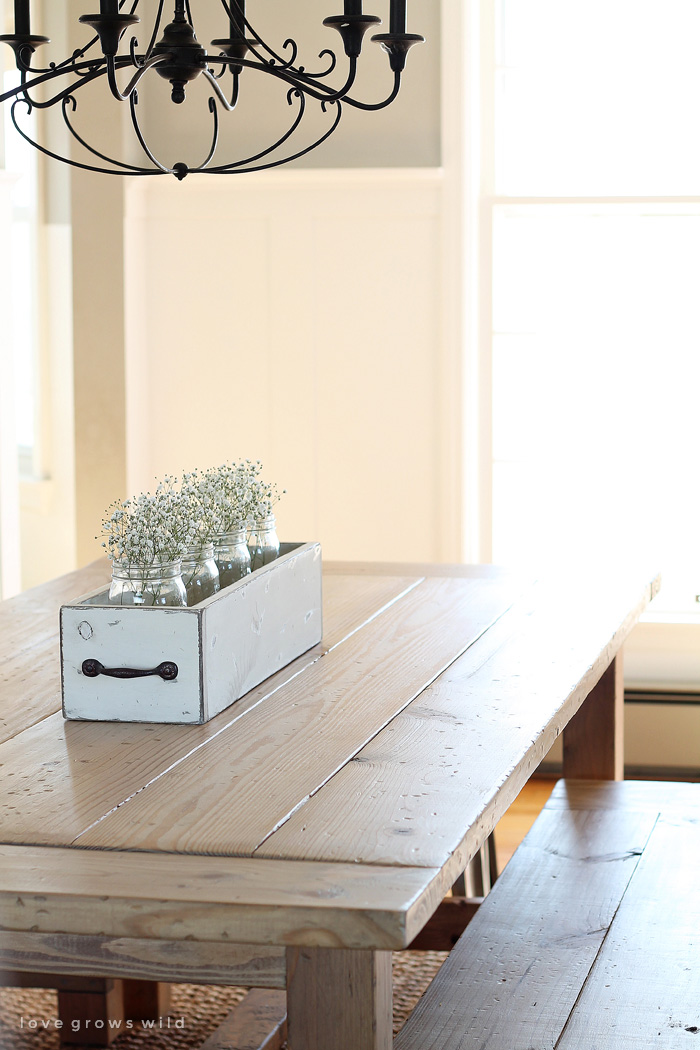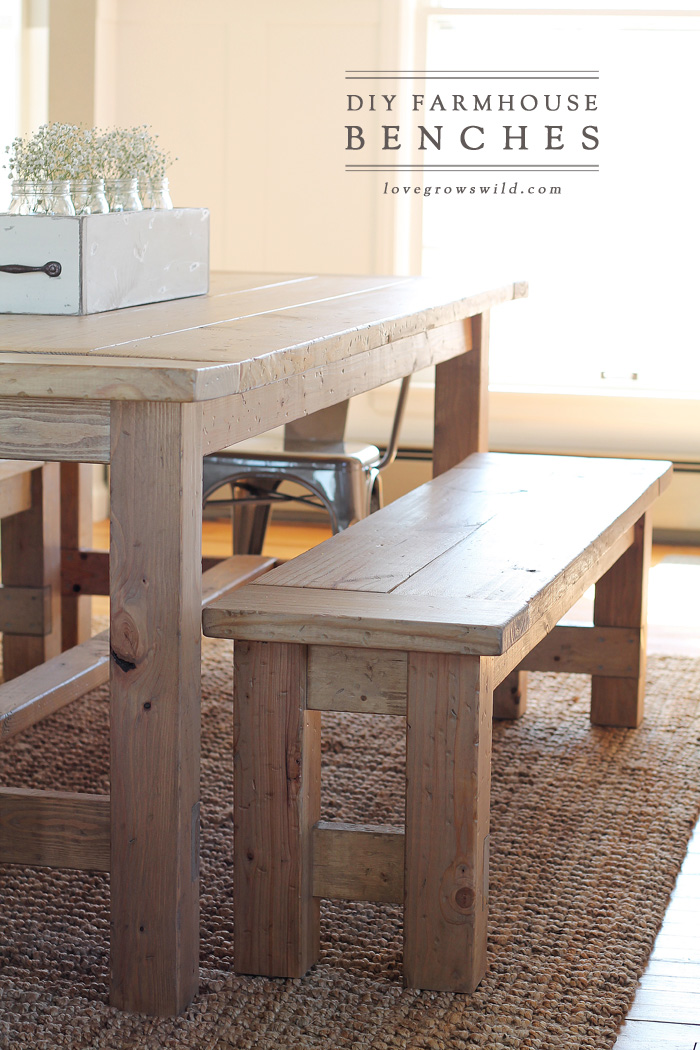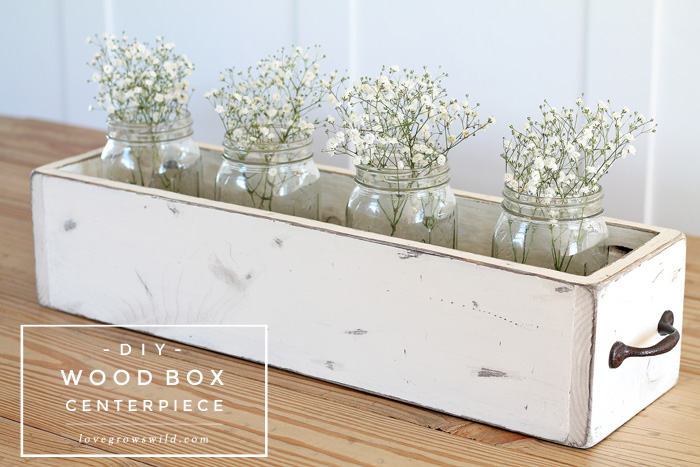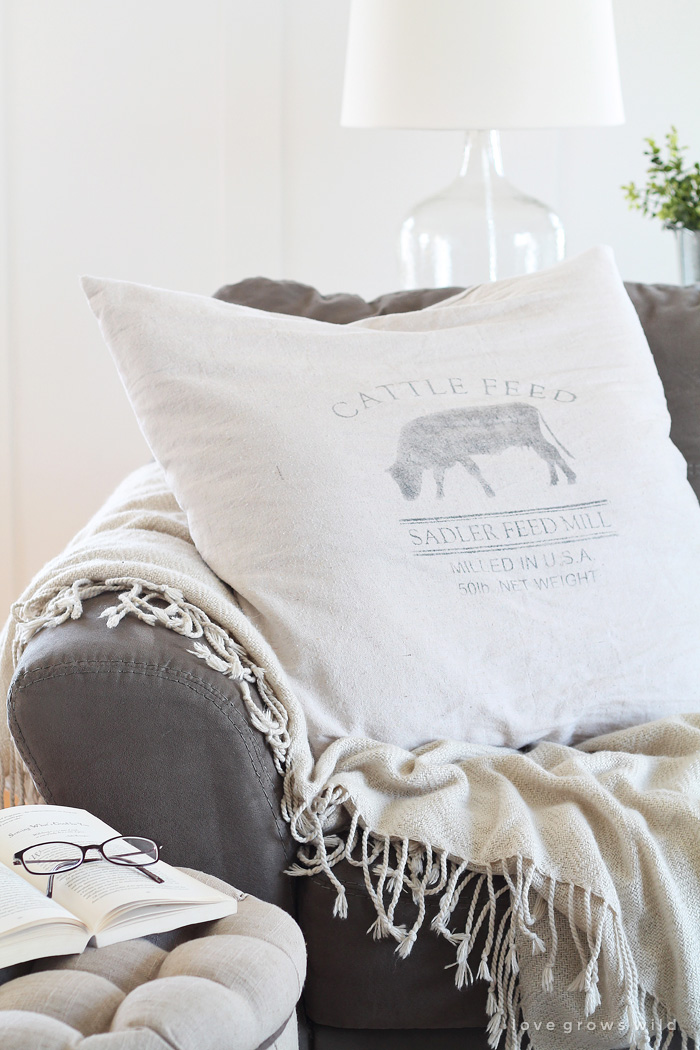 Envelope Pillow Cover Tutorial
---
LET'S KEEP IN TOUCH!
---
Subscribe to Blog | Browse my Shop | Follow on Facebook | Follow on Twitter
Follow on Google+ | Follow on Pinterest | Follow on Instagram
This is a sponsored conversation written by me on behalf of Sauder. The opinions and text are 100% mine. Thank you for supporting the brands that make this blog possible!