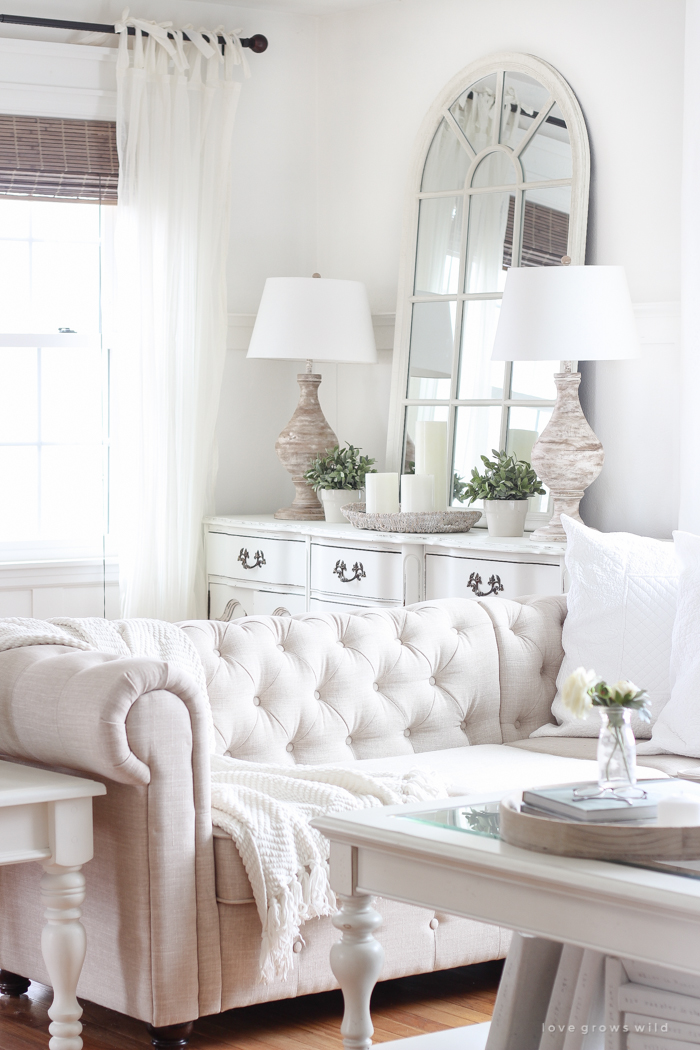 A couple weeks ago I was sitting in the living room on my laptop trying to answer emails one night, and I saw a big sale that was going on till midnight. Naturally I got distracted (no surprise there), and the next thing I knew I had ten windows open of different couches that caught my eye and were on major markdown. Since Christmas I've had in my mind that I'd like to play around with the furniture layout in the living room and find a way to add more seating without making the room feel crowded, but it was something that I had tucked in the back of my mind for sometime in the future when I had a chance to really think about what I wanted to do in here. I've tried a hundred different looks and layouts in this space since we've moved in 5 1/2 years ago, and while some have been much better than others, none of them felt like the perfect fit. But when a huge sale is staring you in the face late at night, and you find the exact sofa you think will work for your weird and difficult living room… sold!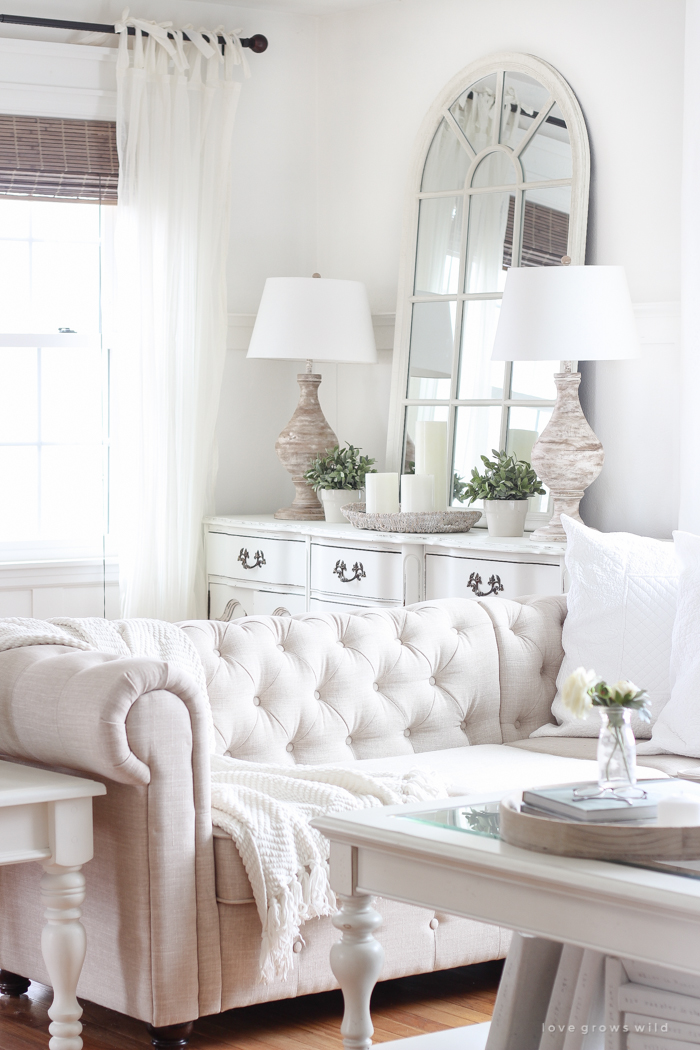 Yes, my friends… we got a new sofa! A new sectional sofa to be exact. A hand-tufted, rolled arm, creamy linen sectional sofa that I am absolutely in love and could not be happier with! I bought our sectional from Wayfair, which is actually where I buy a lot of the furniture for our home. They have a huge selection and free shipping, and everything was delivered in perfect condition. It did take a little bit longer to deliver than my normal Wayfair purchases just because it is such a large piece and came in a couple very large boxes, but for free shipping I had no complaints. I needed a few weeks to figure out where all the living room furniture was going to go anyway!
If you've been following me for awhile, you know my struggles with finding the right layout and appropriate size couch for this space and our family. It's actually pretty comical if you look back on all the many couches we've tried over the years… I might just have to write a post about that sometime soon to show you that how many times I've struck out in the couch department! But I'm sure you've noticed that this new sofa doesn't look all that different than our last one, and that's because honestly… it's not! I absolutely adored our old tufted sofa, and the only reason I bought this new one was so we could have more seating in here, which we desperately needed. This room is long, but narrow and has to do double duty as our dining room also (more on that later), so having a sofa plus extra chairs in here just felt a little cluttered to me. And if I'm being completely honest, no matter how much I love gorgeous, cozy arm chairs, when our family is spending time together in the living room, everyone ends up wanting to be on the couch anyway. It's just more comfortable to relax on, and we can all snuggle up together under blankets… me, two boys who are growing like weeds, and one very spoiled, snuggly puppy. One couch just wasn't cutting it anymore.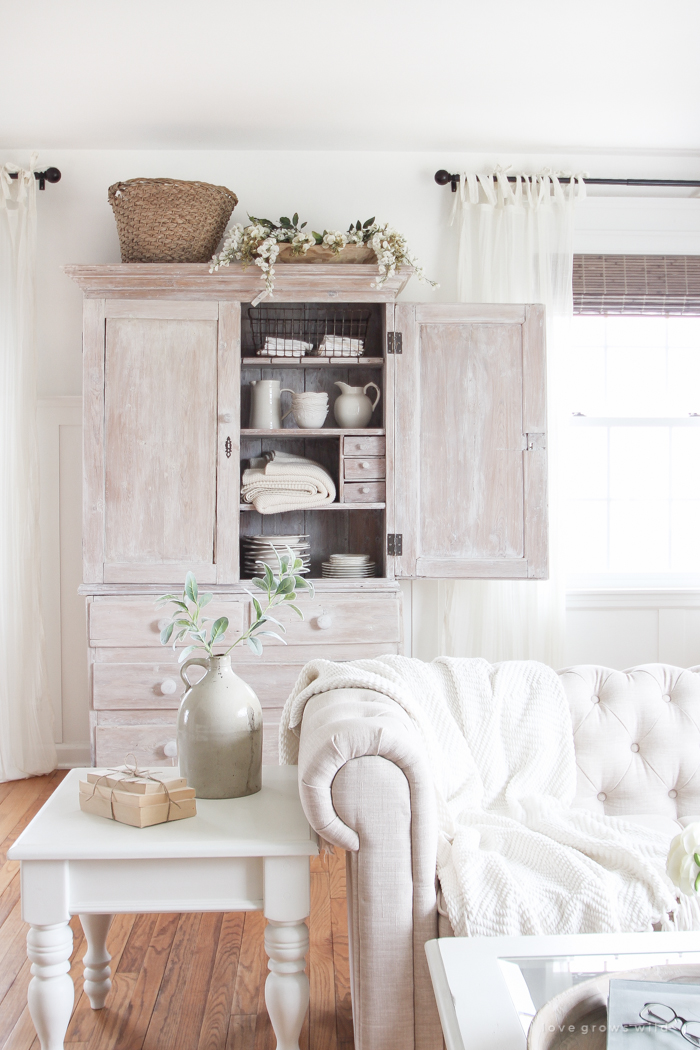 So I decided to try a sectional which I never have before, except for my grandparent's giant, blue, double-reclining sectional when we first started dating… oh, the days of hand-me-down furniture! I was pretty nervous about how it would look and fit in the space, but I measured and visualized the best I could and it turned out to be the best sofa decision I've ever made! We have to much more space to spread out and enjoy this room together now, and it honestly fits like a glove in my opinion. Rather than having a bunch of smaller pieces in here, this sectional simplified the room and made it feel even more spacious, even though it's a pretty large piece of furniture. Here's why…
One of the reasons I love these tufted sofas so much is because they have a lower back than most of the big, over-stuffed sofas, which adds SO much visual "space" to the room. If this was a normal high-back sectional sofa, the room would feel swallowed up by the couch, and it is all your eyes would see. By keeping the back lower, you still see the sunlight coming in from the windows and the other pieces of furniture in the room, and we were able to fit a very large sectional into this not-so-large space. Another note about why I love tufted sofas… how many of you mommas out there have spent countless hours adjusting and putting couch cushions back in place after your family has been on it? I got tired of one of our old couches constantly looking messy and disheveled because the back cushions never stayed where they should, and after having a tufted sofa like this, I don't think I'll ever go back!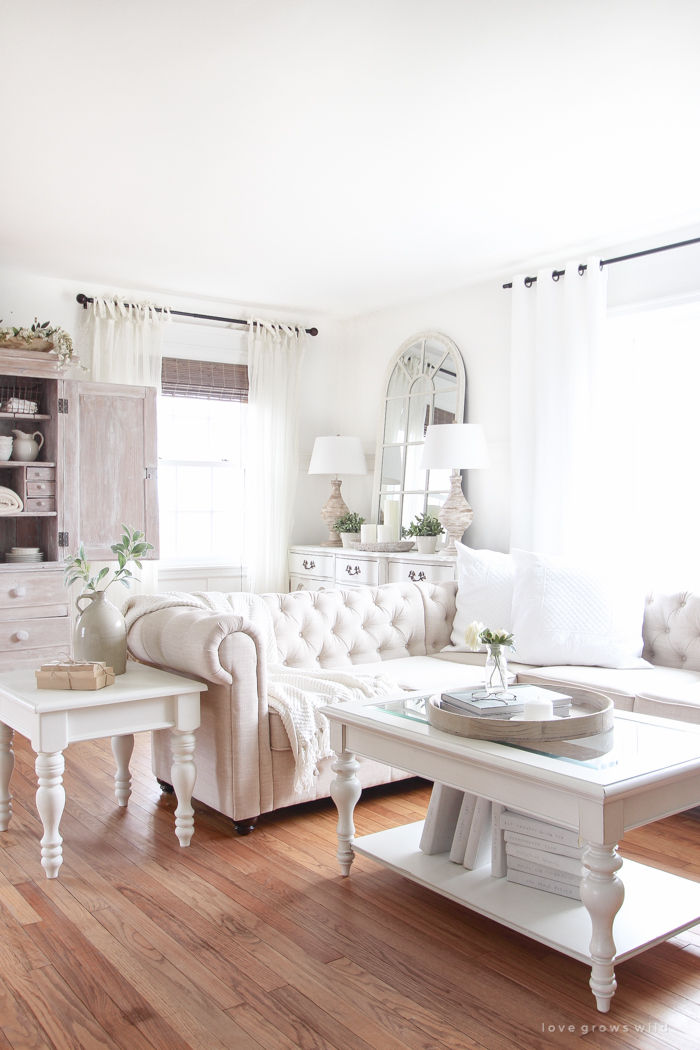 To answer a few questions I'm sure you have… yes, the sofa is still comfortable having a lower back. That part hasn't bothered us at all. A couple comfy pillows to lay down with is all I need. Especially now that we have more space to lay down on! And I get many, many questions about having a light sofa with kids and a dog, and yes, I promise it is possible! This specific sofa does say that the upholstery has a "performance finish for stain resistance", and I can tell you after having my last one for over a year, it does resist stains pretty well. I would occasionally vacuum the fabric and had to clean up a couple dirt/wet marks from the dog, and it still looked like new. Every family is different, and I don't let food or drinks go in the living room (except for movie and pizza nights, but the kids eat on the coffee table) and obviously you want to keep shoes or anything that would be super dirty off the couch. But other than that, I really don't have to fuss or worry about keeping the sofa clean, and the dog is always on it with us. I would say that if you're contemplating a lighter color sofa like this and are a little nervous, as long as it's not a big deal to keep food and drinks out of the living room then I would say go for it!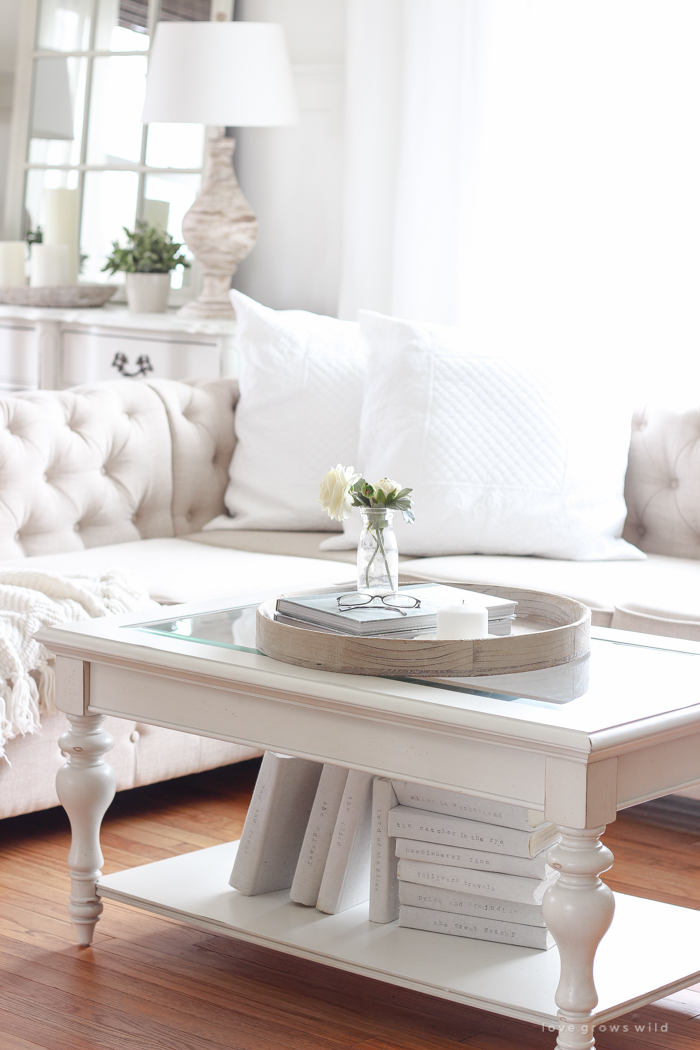 So we definitely had to do some (okay, a whole lot of) furniture rearranging to fit this sectional in here, and I'm so lucky to have strong little helpers to help momma move the whole house around! I'll explain more about where everything went in upcoming posts, but the old sofa did get repurposed in another room, the dining room table got moved to the other side of the living room, closer to the kitchen, and the hutch moved to the opposite wall. I am so, so, so happy with how the room looks now, and the only thing I'm wanting to change at the moment is getting a few large pillows for the sofa (these white ones are the size I want, but will probably get dirty too easy) and look for a new coffee table. Everything is very white and bright in here, which I love, but I would like to find either an antique that is old wood and a bit rustic or a large ottoman to kind of break things up a bit. I'll keep you updated if I find anything!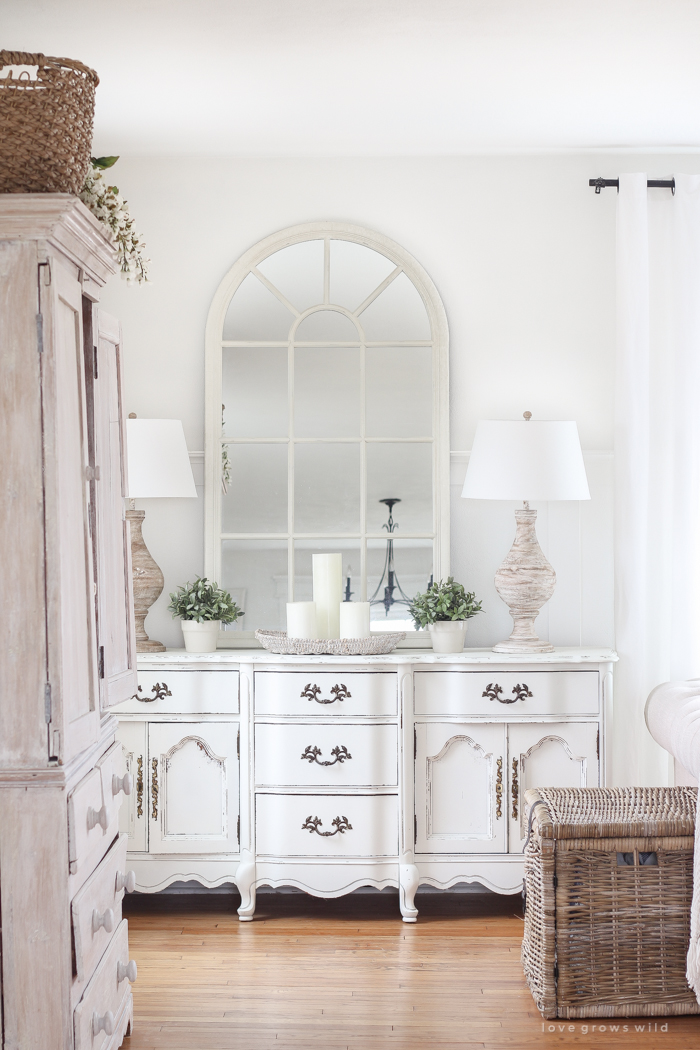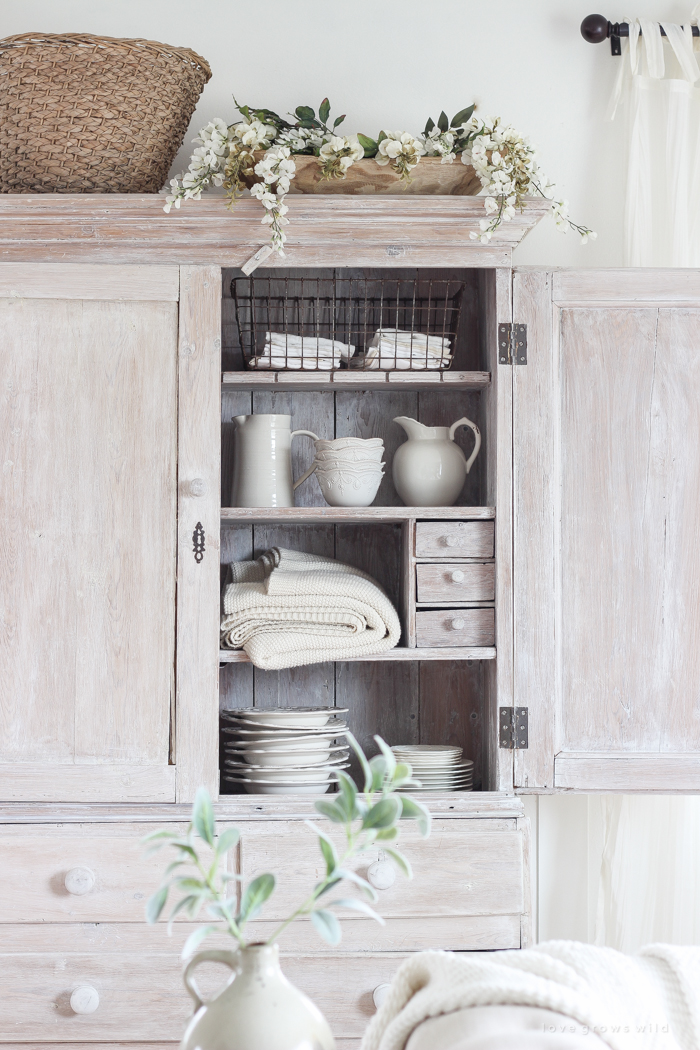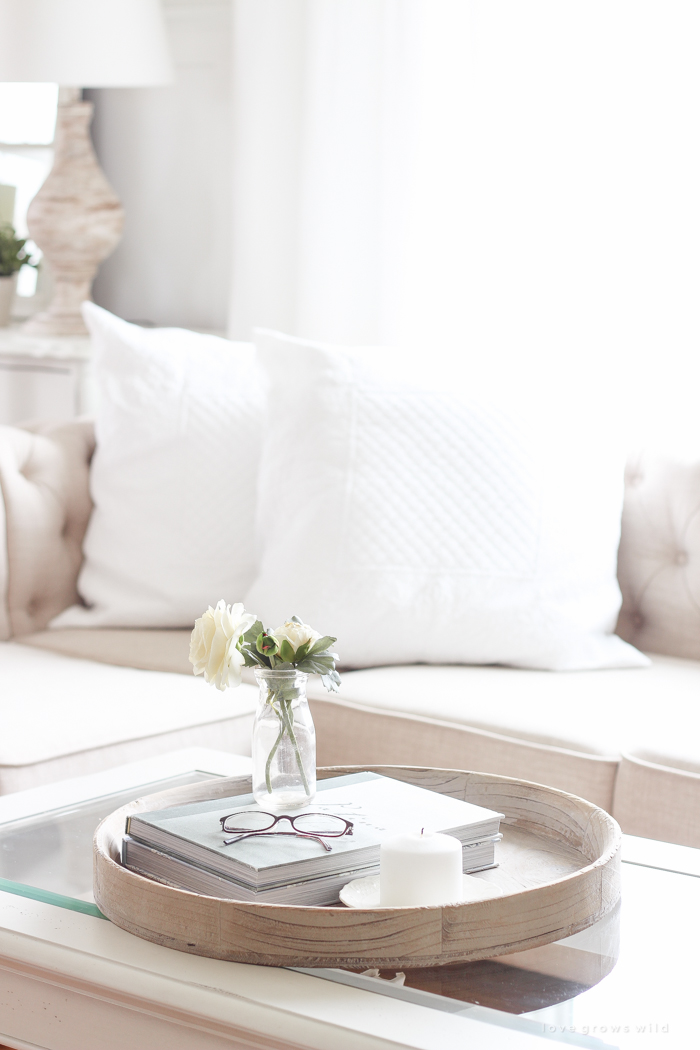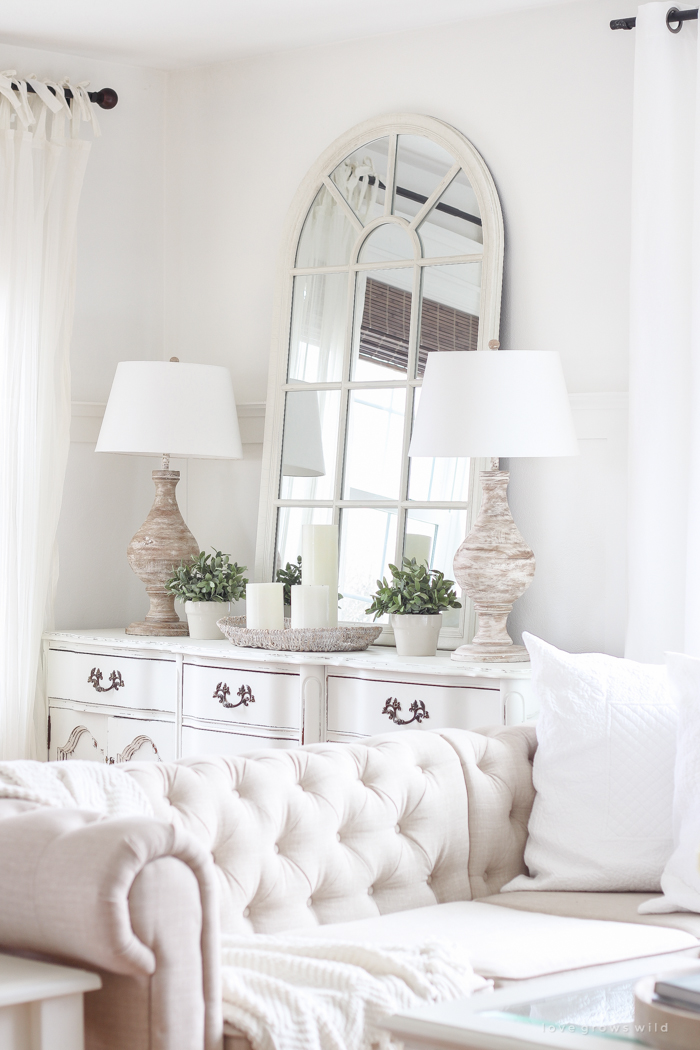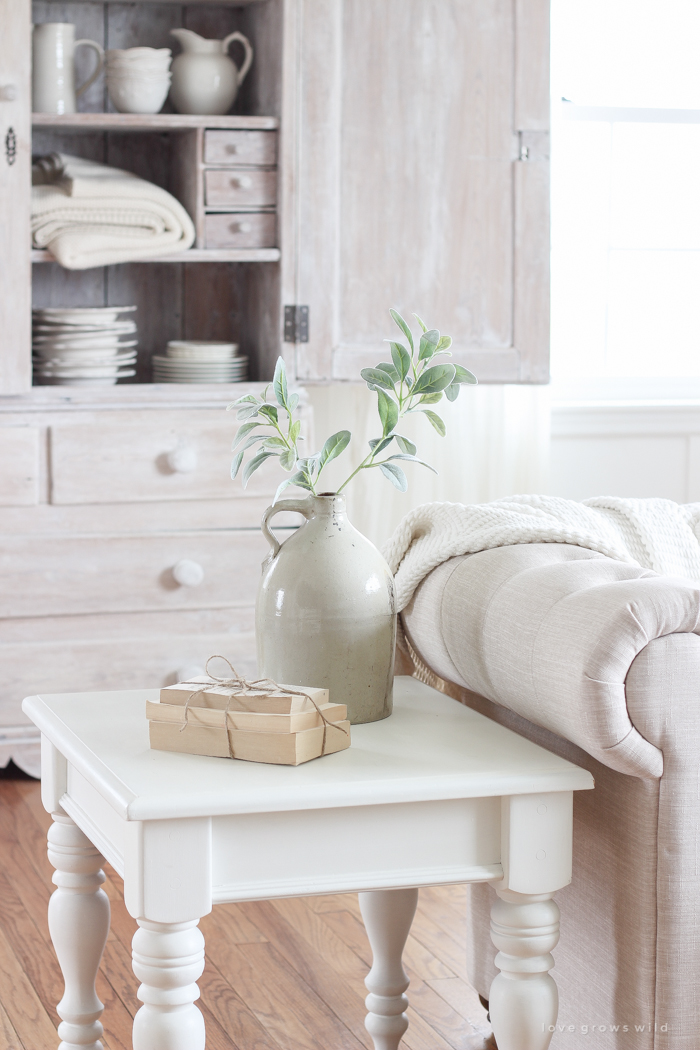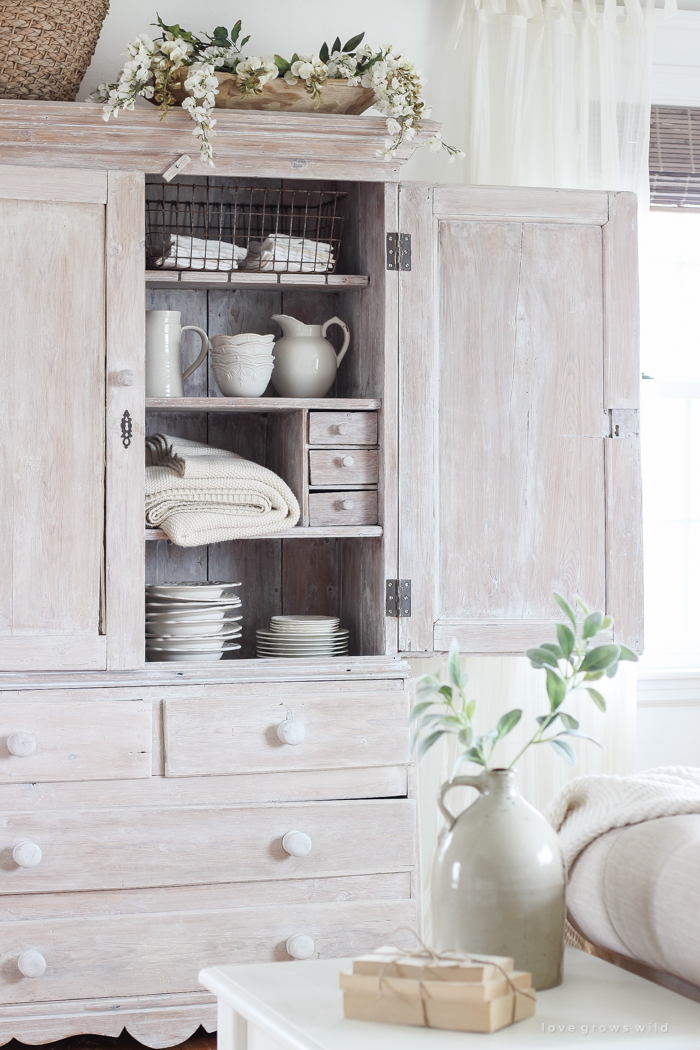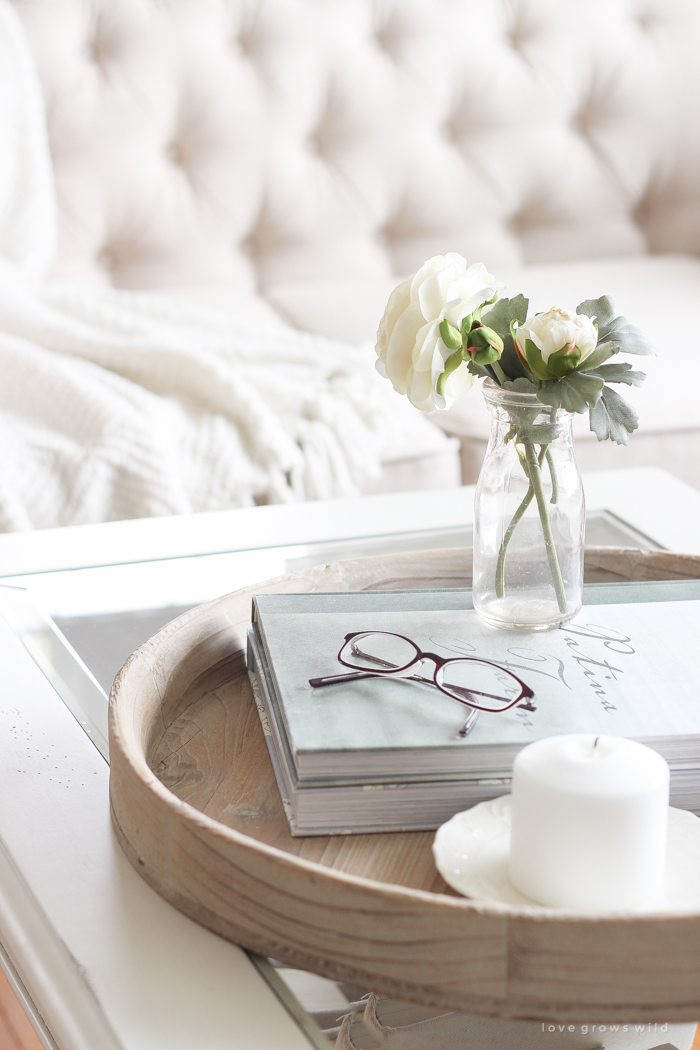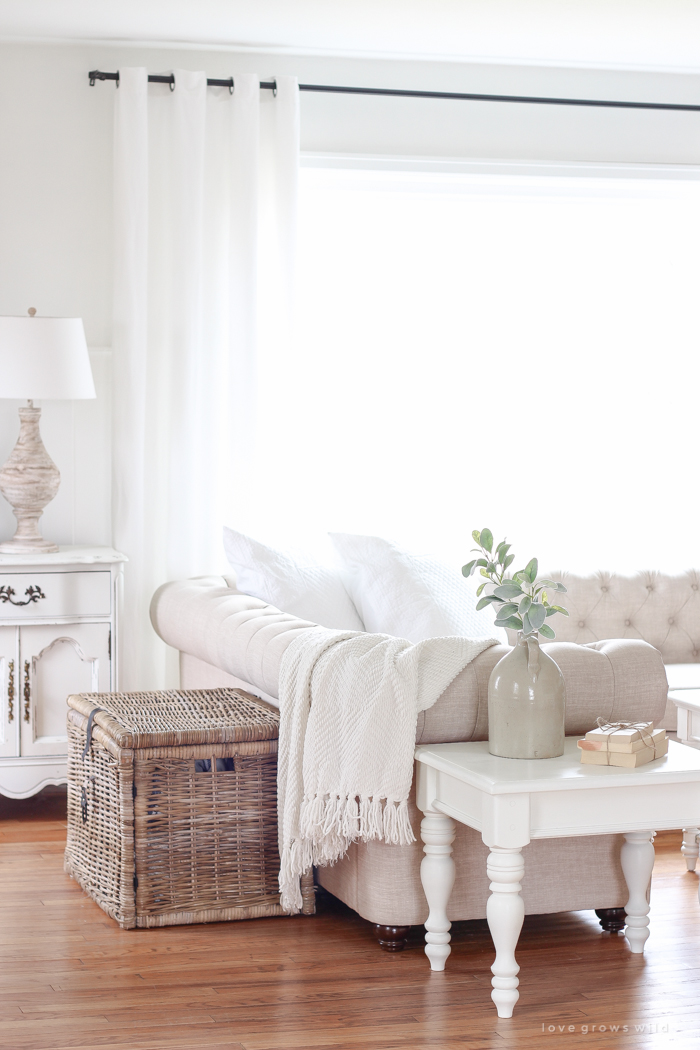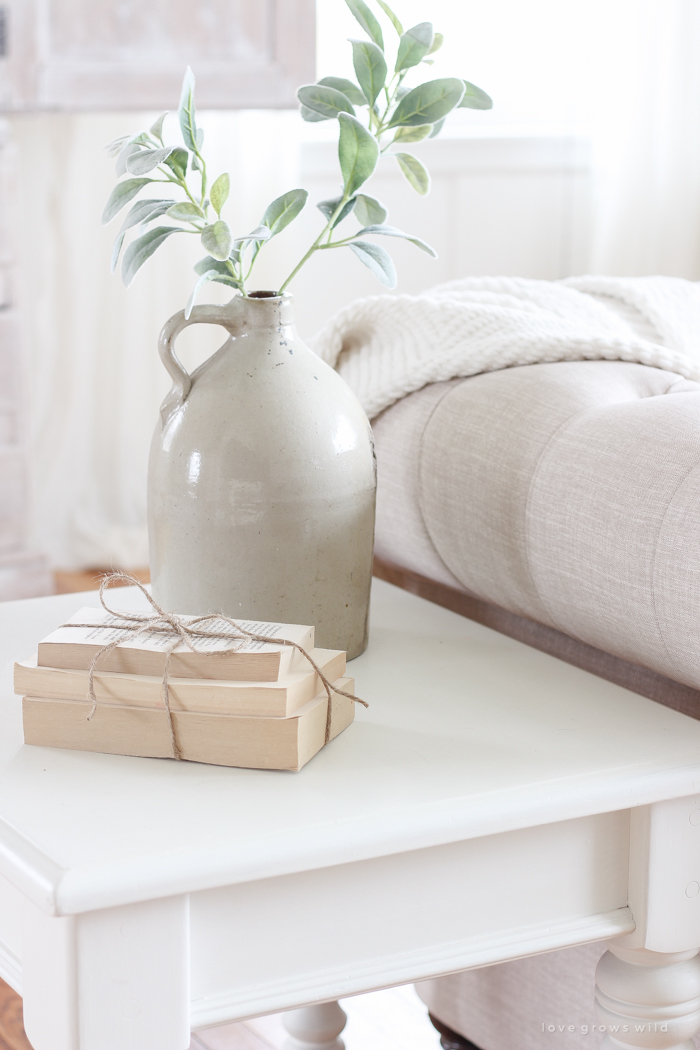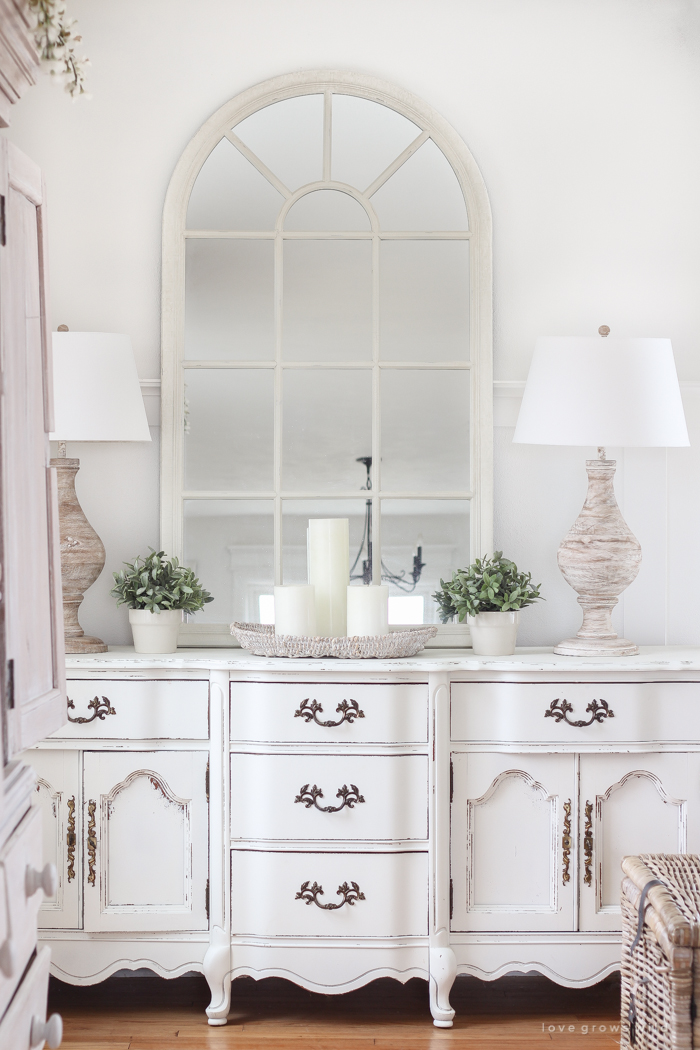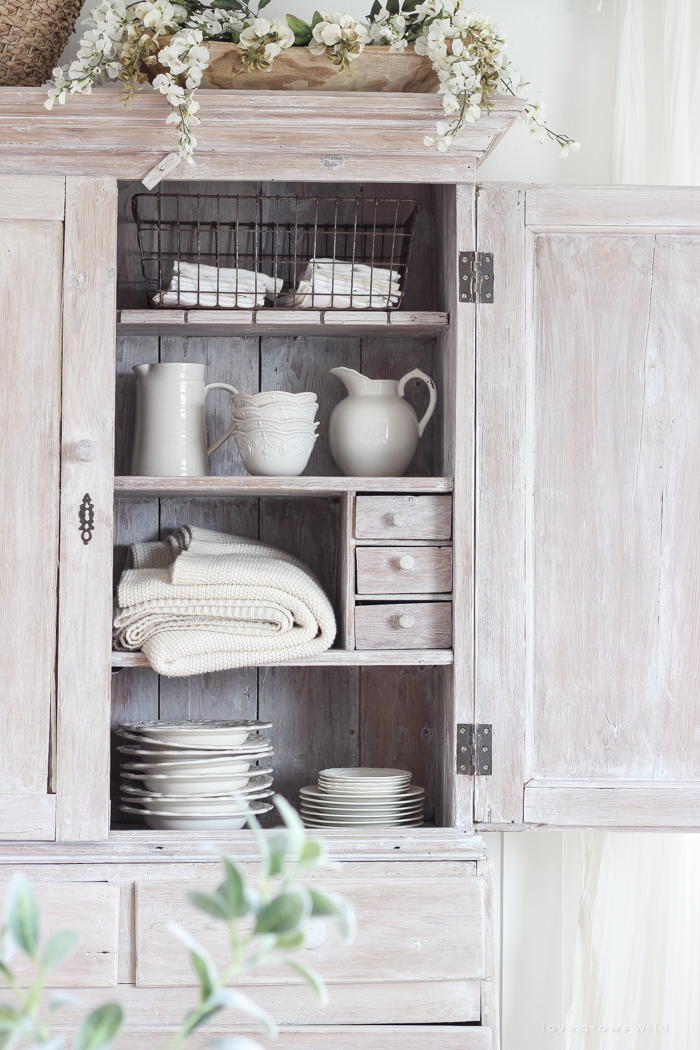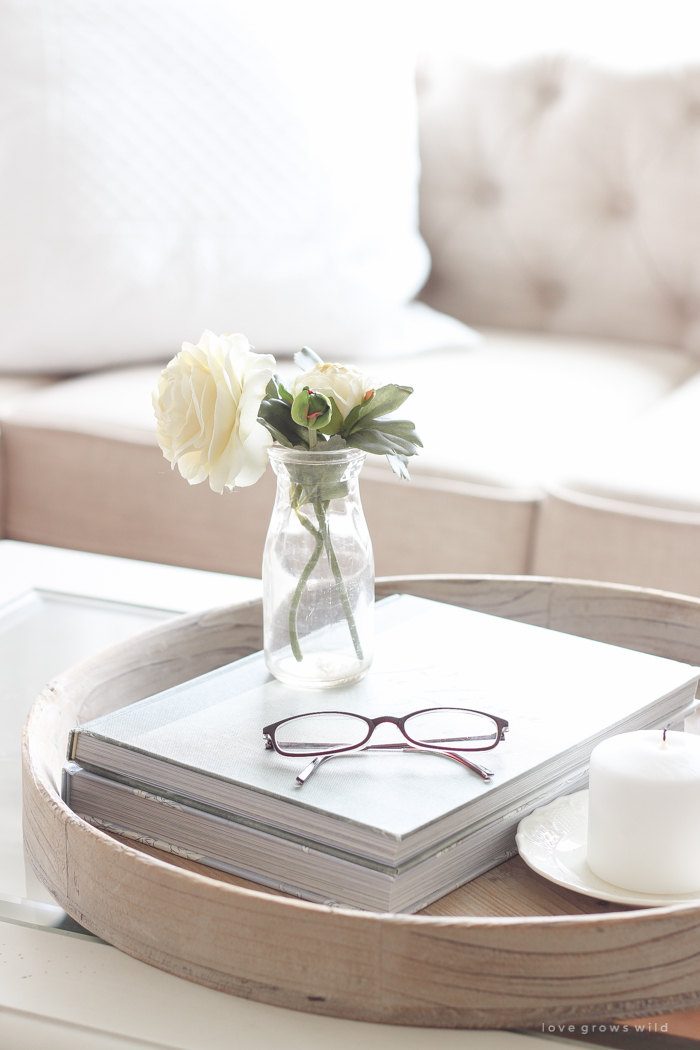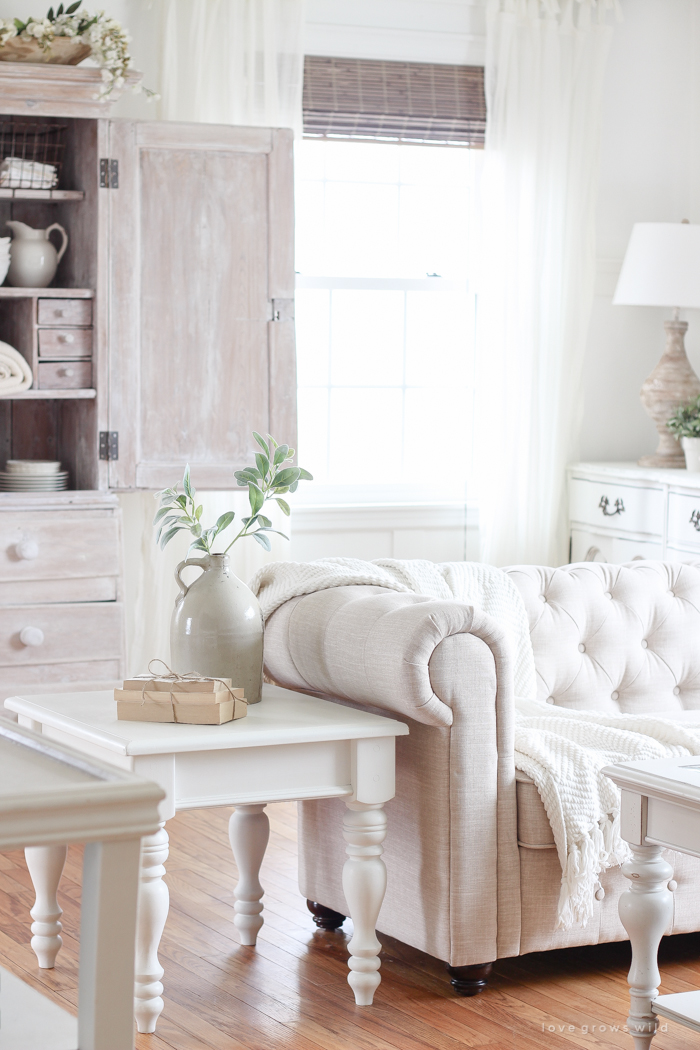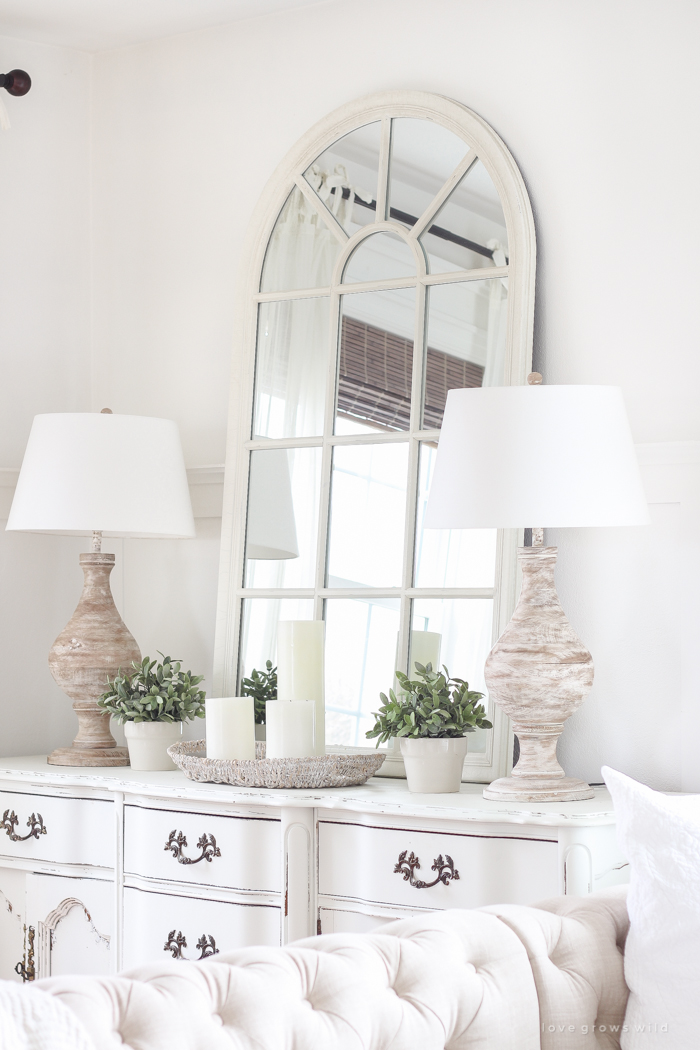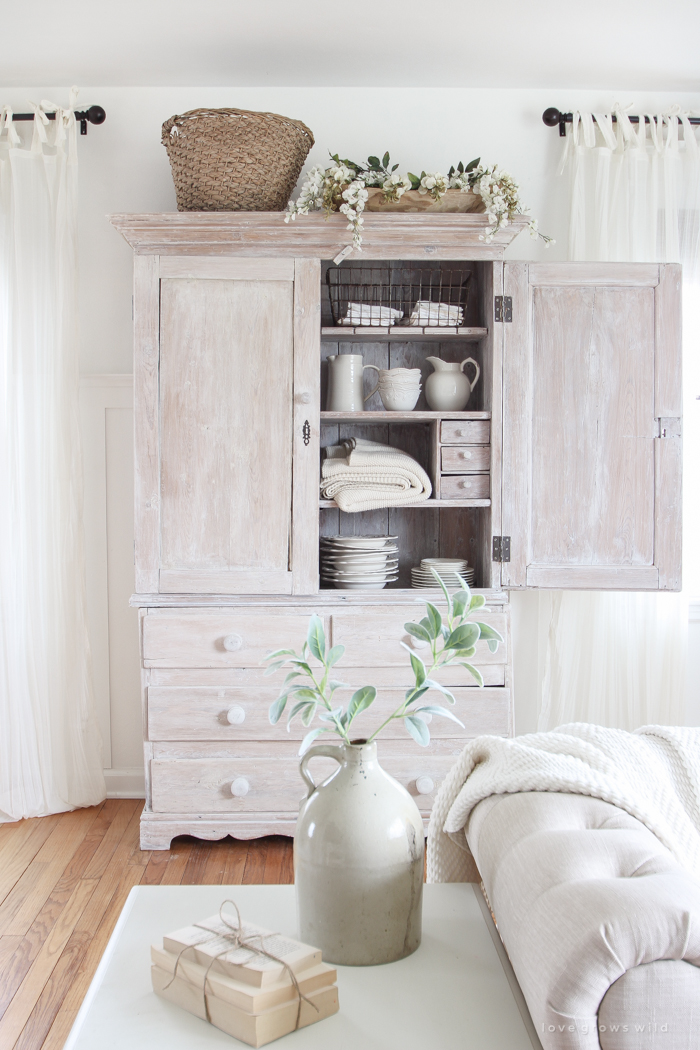 I'd love to hear your thoughts on the new sofa and layout! I'm trying to find better ways to share sources for the items in our home with you guys, and if you click on the little photos in the slideshow below, you'll be taken to the product page. If I can find the exact item, I'll always share that, but sometimes if an item gets discontinued or it was an antique or handmade, I will try to find a few similar items that you might like too. I hope this is helpful! Have a wonderful weekend, sweet friends!
Some links in this post are affiliate links, which allows me to make a small commission from your purchase, but your purchase price stays the same. Thank you for helping support our blog and keep it going!


---
LET'S KEEP IN TOUCH!
Subscribe to Blog | Follow on Instagram
Follow on Pinterest | Follow on Facebook