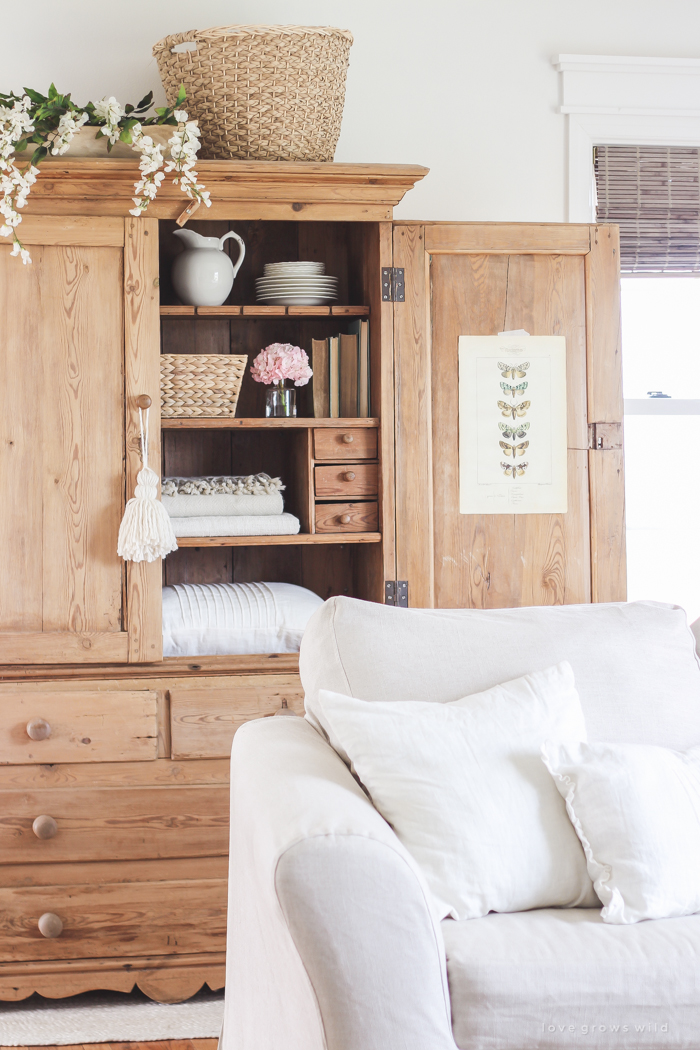 Yesterday was the first official day of spring, so I thought today we be the perfect time to do a little spring decorating and introduce you guys to a gorgeous new piece of furniture we added to our living room. Some of you have already seen Instagram sneak peeks of this beautiful antique armoire we brought home a few weeks ago, and I am so excited to finally get it all styled and decorated and up on the blog. Isn't she beautiful?
The last few weeks have been pretty chaotic around the farmhouse, as I had to get the entire house ready for photo shoots for my book coming out on December 6th. Every single room got a face lift in the process, but for weeks I couldn't figure out exactly what I wanted to do in the living room. No matter what I put up on the walls or how many pillows I stacked on the couch, the room was lacking personality and character, but I just couldn't put my finger on what it needed.
And then just a few days before the big photo shoot, I woke up one morning and just KNEW I had to have an armoire sitting between our two living room windows instead of the storage credenza that was currently there. I don't know if it came to me in a dream or what, but somehow it just hit me like a ton of bricks that an antique armoire would perfectly complete the space. So I ran over to the antique store and almost instantly spotted this natural wood beauty. It has beautiful trim details along the top and bottom, and the sides and back of the armoire are built with wood planks instead of solid wood, which makes me love it even more. It has old metal hinges and hardware, old wood knobs, and has quite a bit of warping on the doors, but all of the imperfections just add to the beautiful character it has. It's the perfect fit for our little farmhouse!
I quickly texted Jeremy to make sure he could come pick it up in his truck (this baby definitely wasn't fitting in the Jeep), and a few hours later my new armoire was sitting in our living room. At first I thought I would paint the armoire either creamy white, olive green, or dusty blue, but once I got it in our all white living room, the natural wood brought so much warmth to the space that I couldn't bring myself to paint it. I really didn't have time to paint it right before the photo shoot anyway, and I think the natural wood grain on this piece is just beautiful.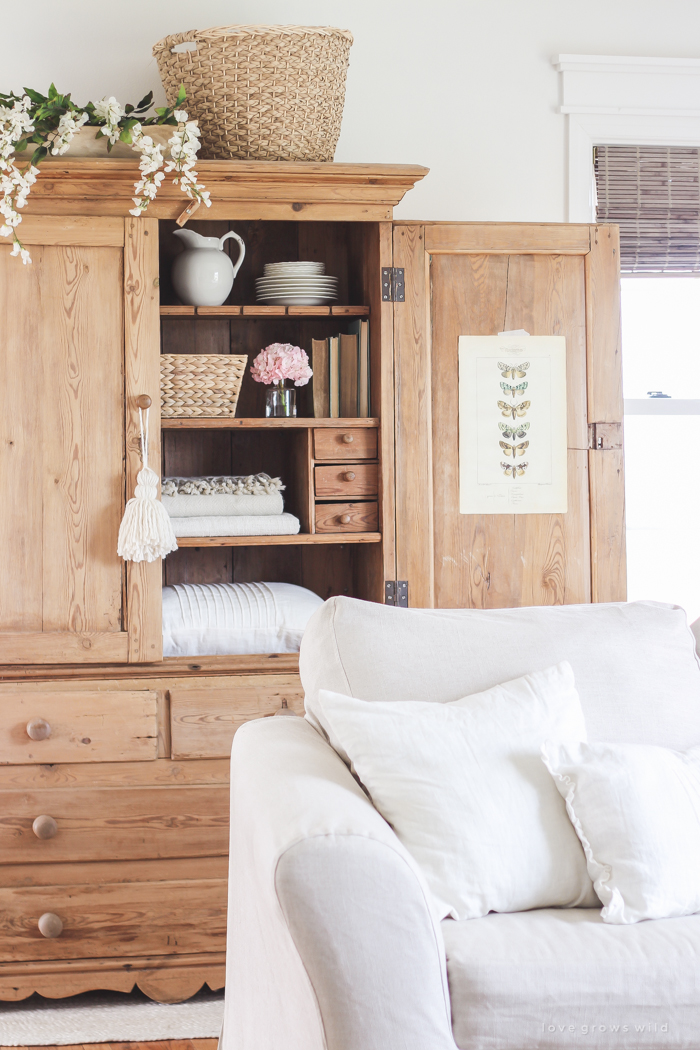 I didn't even realize it while I was at the antique store, but the armoire has the cutest little set of drawers on one side, so I pretty much always keep that door open to display some pretty plates, books, and flowers, and the other side is stacked with baskets holding our winter gloves, hats, scarves and other miscellaneous items.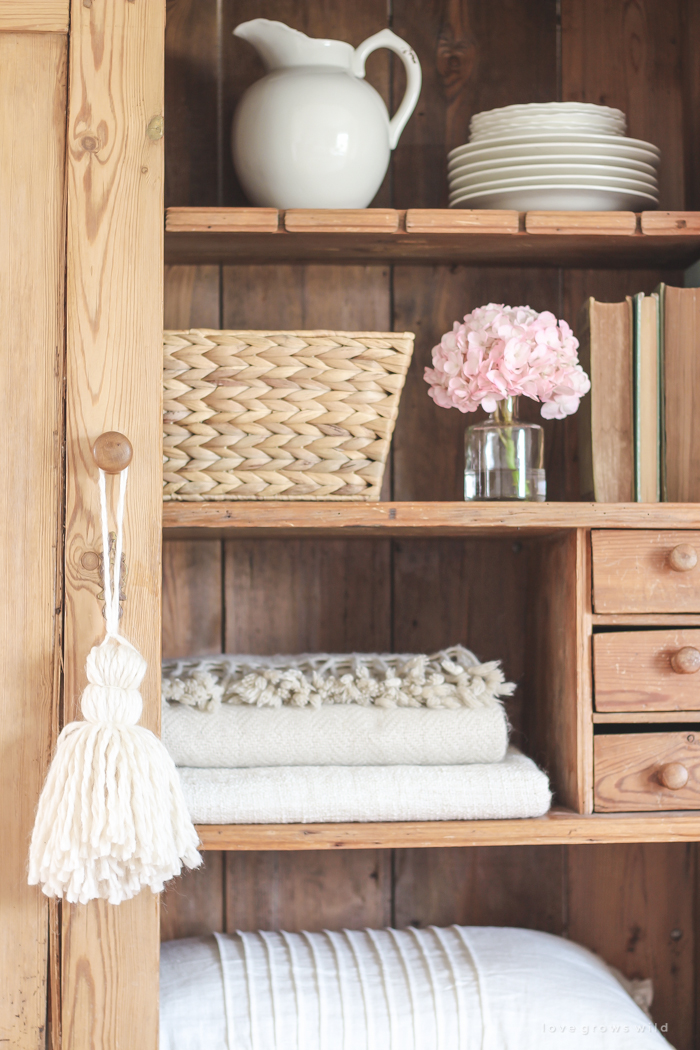 The vintage moth print I found at The Graphics Fairy, the white pillow is from IKEA, the round basket on top is from Joann Fabric, and I made the chunky tassel with yarn to hang on the door knob.
This piece of furniture just feels "meant to be" in our living room, and I love that it gives us lots of extra storage in here as well as a place to decorate for the changing seasons and holidays.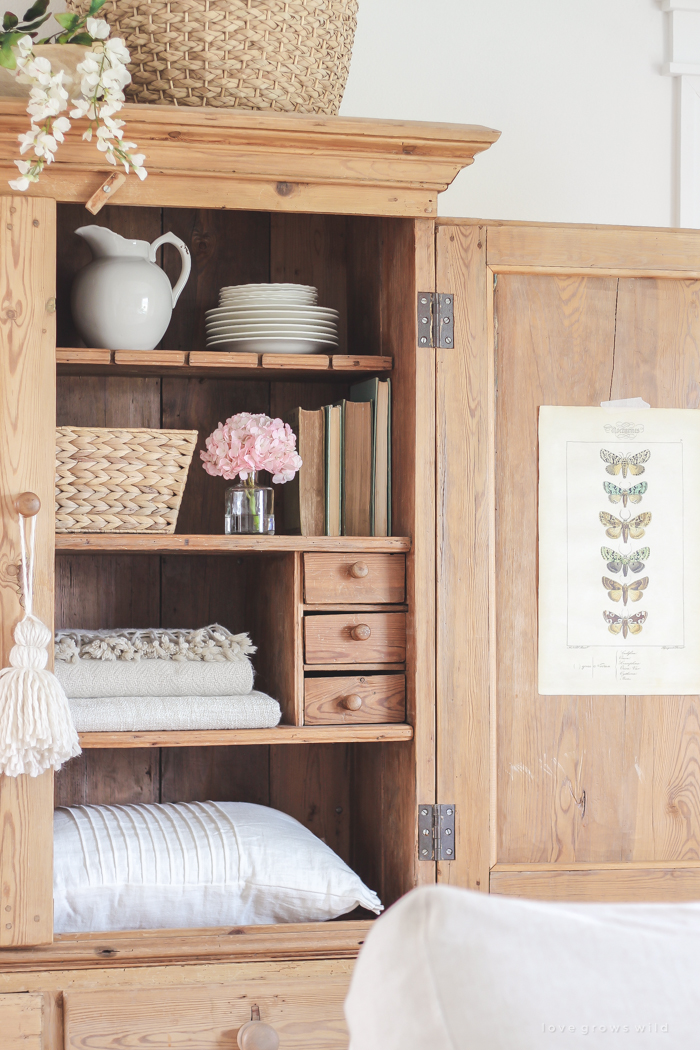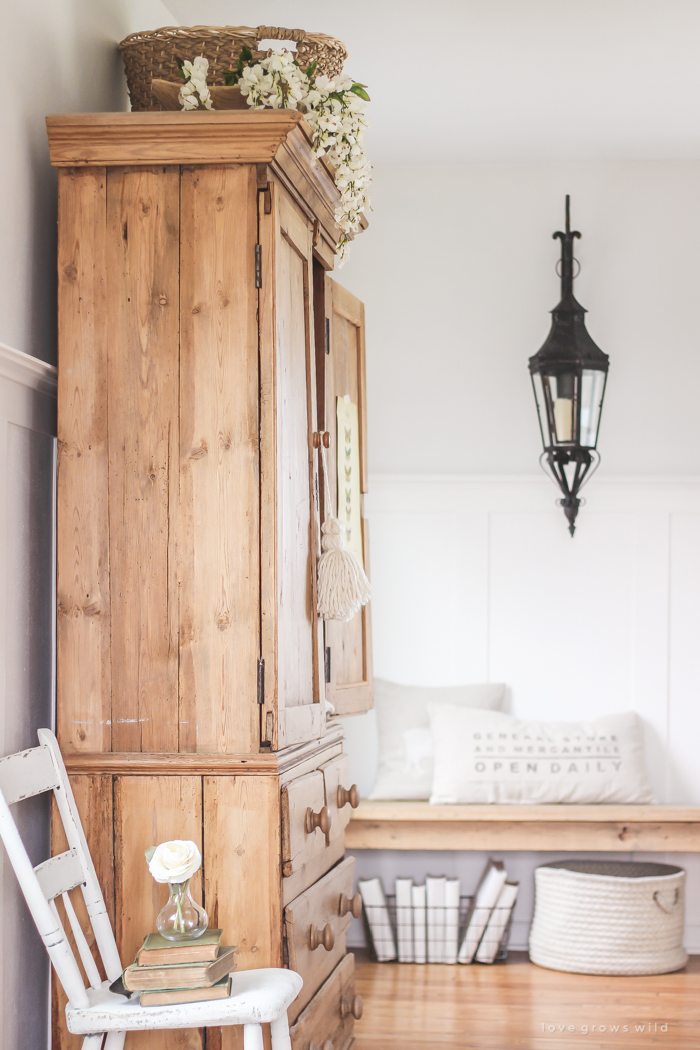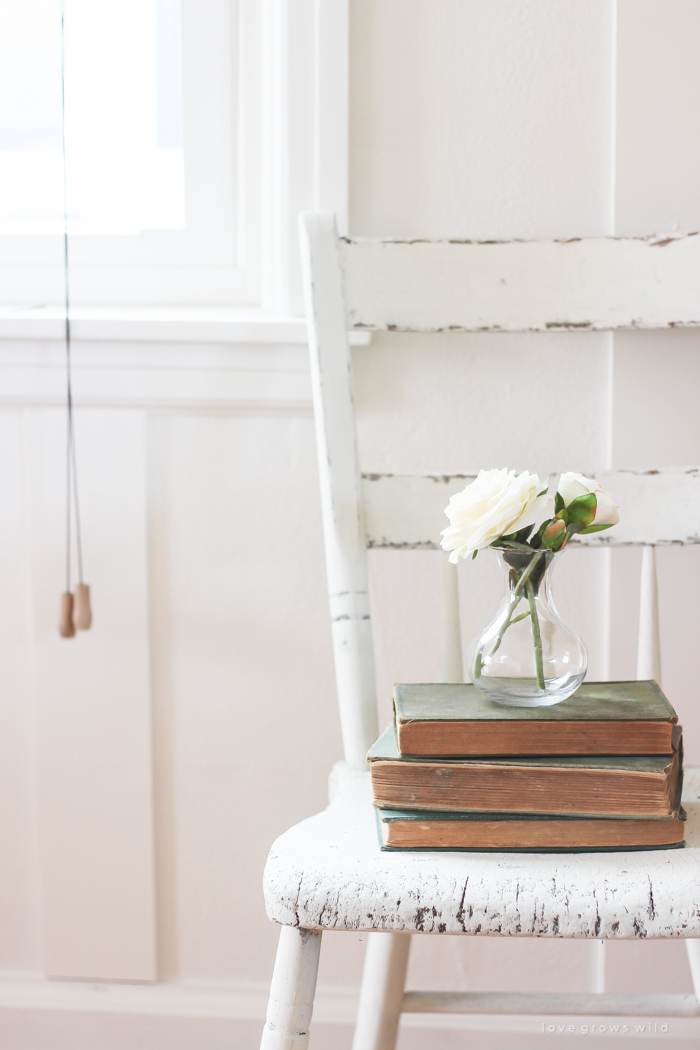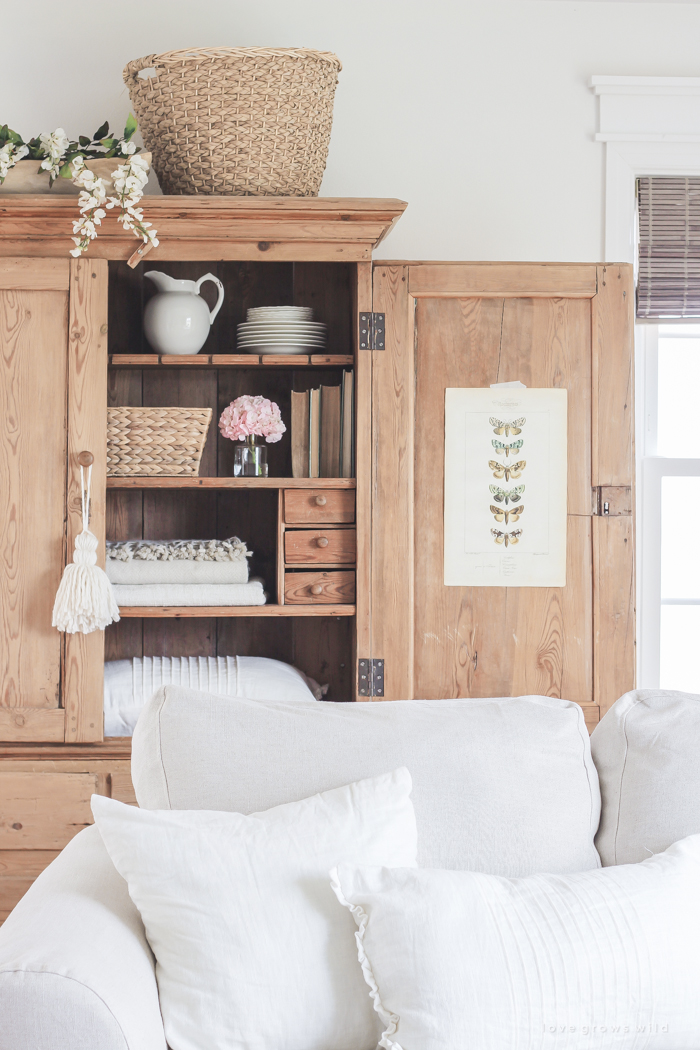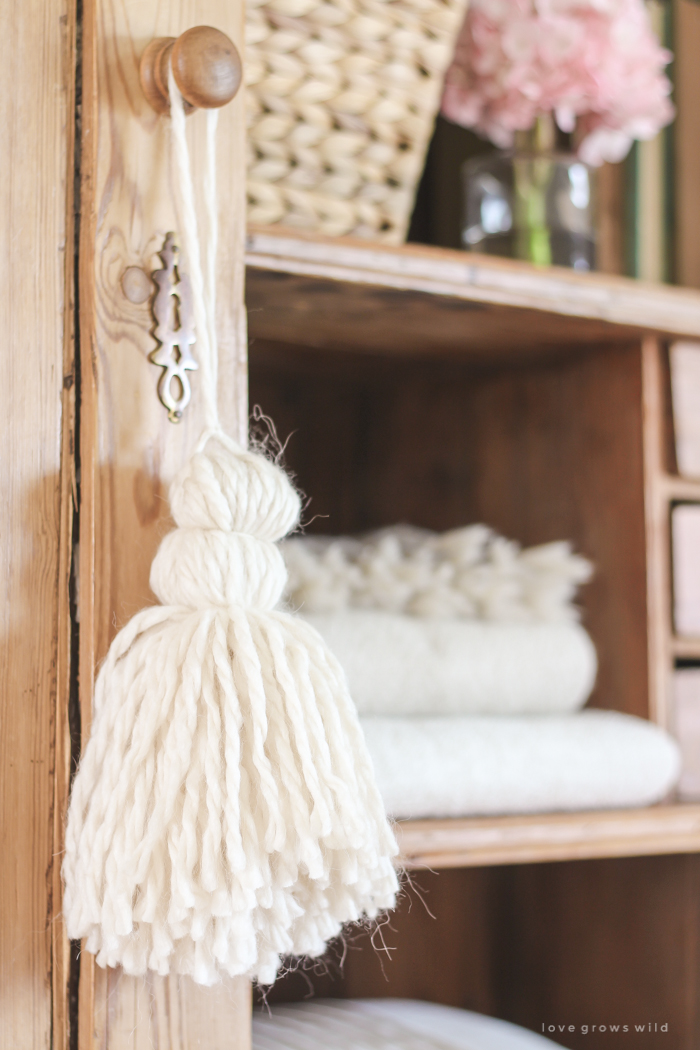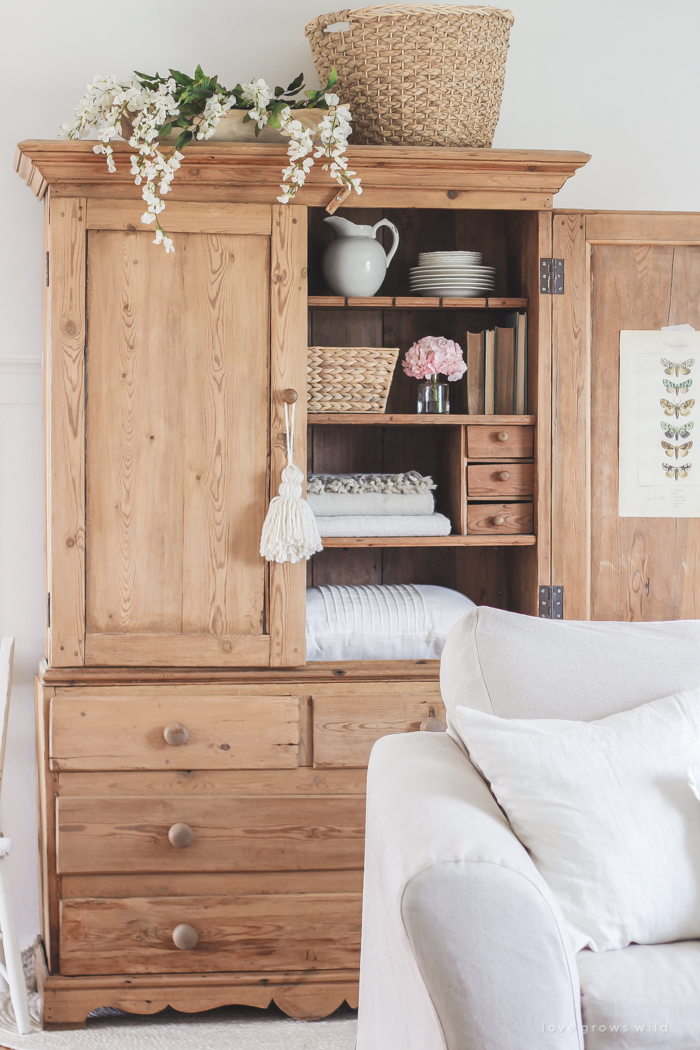 Okay guys, what do you think of our new/old armoire? Do you have a favorite piece of furniture in your home that was just "meant to be" too? I'm sure you're wondering where our old gray couch went and where this light linen beauty came from, and I'll have that answer for you on the blog later this week! Stay tuned!

---
LET'S KEEP IN TOUCH!
Subscribe to Blog | Browse my Shop | Follow on Facebook | Follow on Twitter
Follow on Google+ | Follow on Pinterest | Follow on Instagram