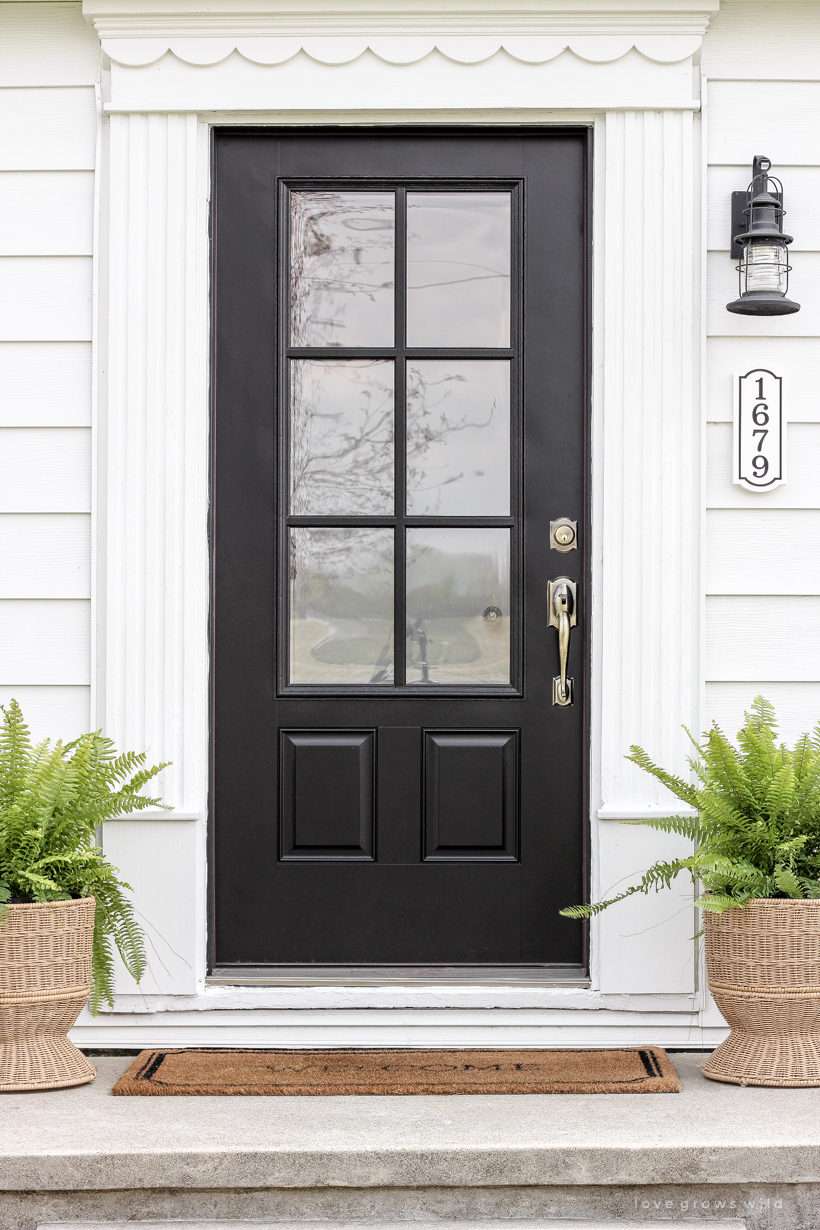 I feel like I've waited for this day for forever! My new front door finally got installed last week, and our front porch got a major curb appeal upgrade. After years of focusing on the interior of the house, I've finally been able to spend some time on the exterior, and over the last year and a half the outside of the house has been painted, landscaping has been ripped out and re-done, and a deck was added to the backyard. Now that the major updates have been completed, I'm able to focus on some of the smaller projects, and I am so excited to finally cross "new front door" off my list!
I've always been in love with that sweet scallop trim above the front door and those little details that add so much charm and character to our home. But this new door feels like it fits the house so much better… updated, yet classic. Bold, but timeless. At first I thought it was going to be nearly impossible to settle on a color for the front door because it is SUCH a statement on the front of your house. But as I started gathering inspiration, I almost immediately decided that black would be the perfect contrast to all the white and would be something I could live with for years and years to come. A classic color combination that makes my heart beat faster every time I pull into the driveway… swoon.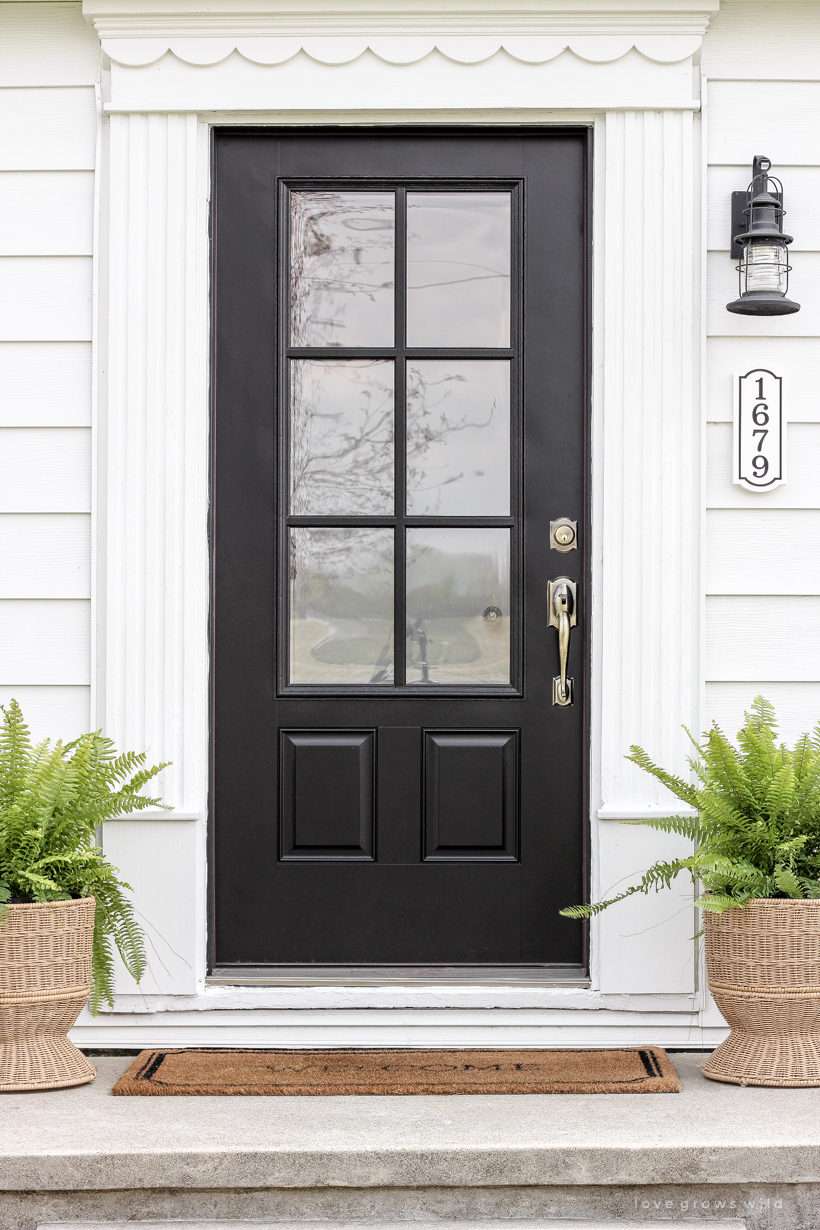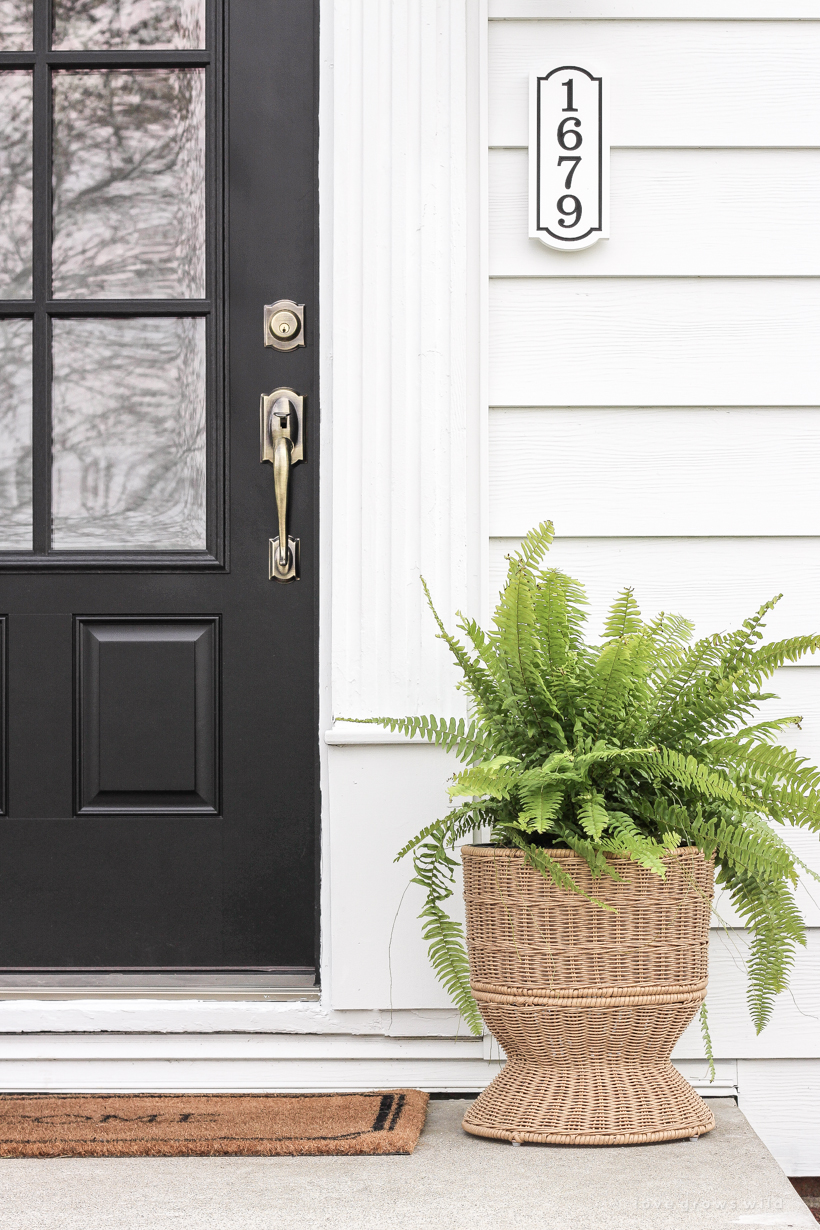 Before I dive into the details of the front porch makeover, I thought it would be fun to take a look back at the very first mini makeover I gave this space…
Back in 2015 I didn't have the budget to put towards a new front door, so I made do with what I had and painted our house number on the bottom of the storm door to give it some personality. Several people told me I was crazy when I first started that project, but it ended up being one of the most popular and most recognizable projects from this house to date. You can find details of how I did that here. It cost me next to nothing and added so much character to an otherwise boring storm door. I also built these wooden planters from here.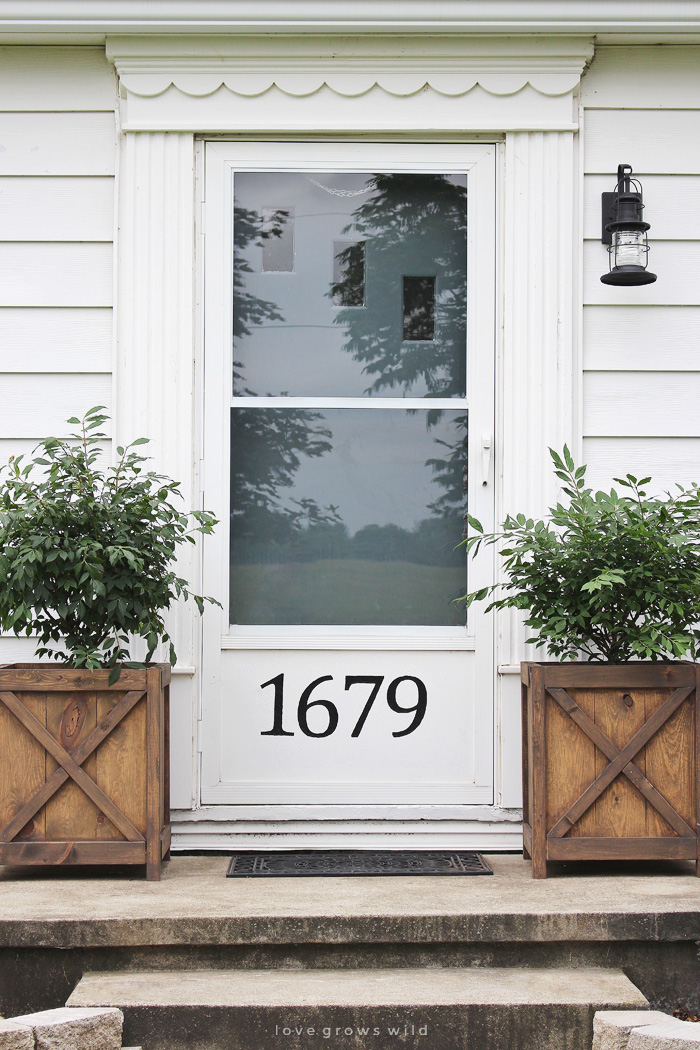 Not much changed over the next few years except I replaced the old planter boxes with this new cedar version that was much more sturdy and durable.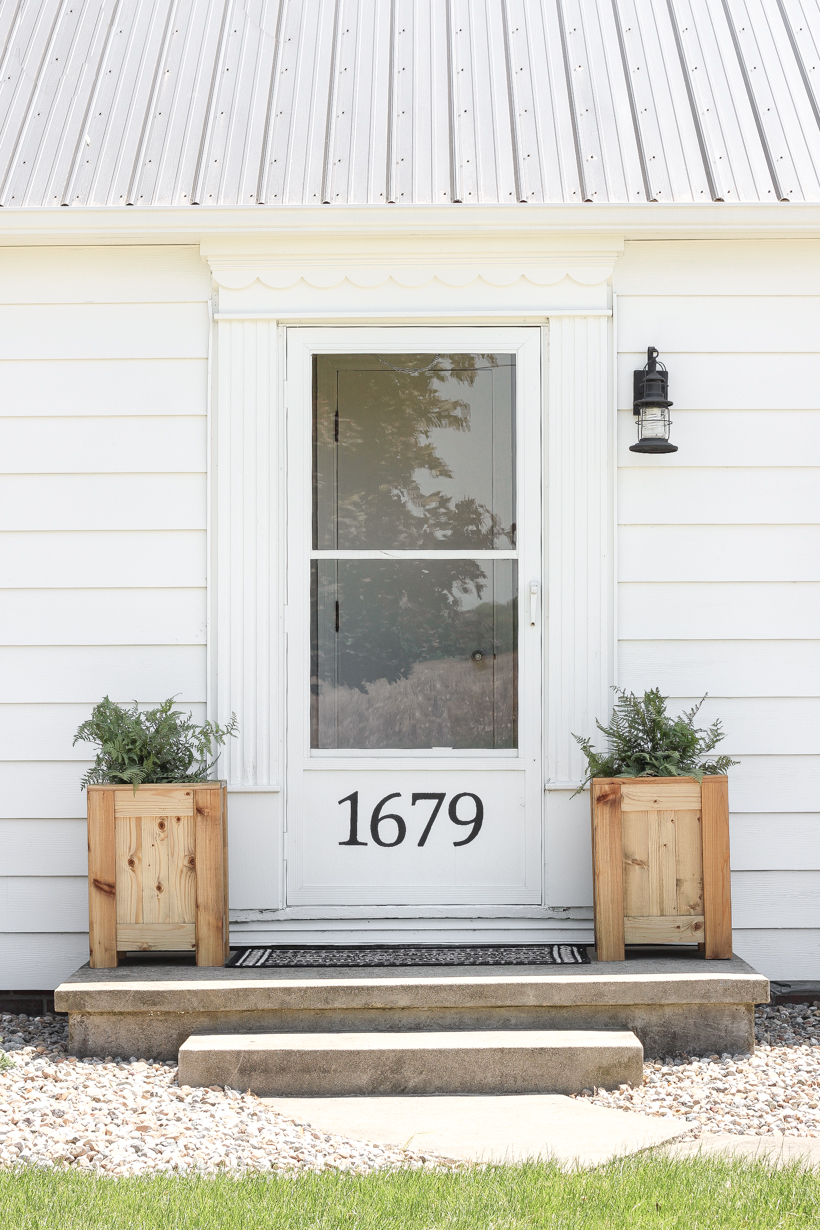 But I knew I wanted a door that would let more light into the house and make more of a statement in our curb appeal. After looking at what felt like a million different options, I ended up custom ordering a door through Lowe's. In case you are interested in something similar, here are the details of mine: Therma-Tru Benchmark Door ¾ Lite Simulated Divided Lites with painted black finish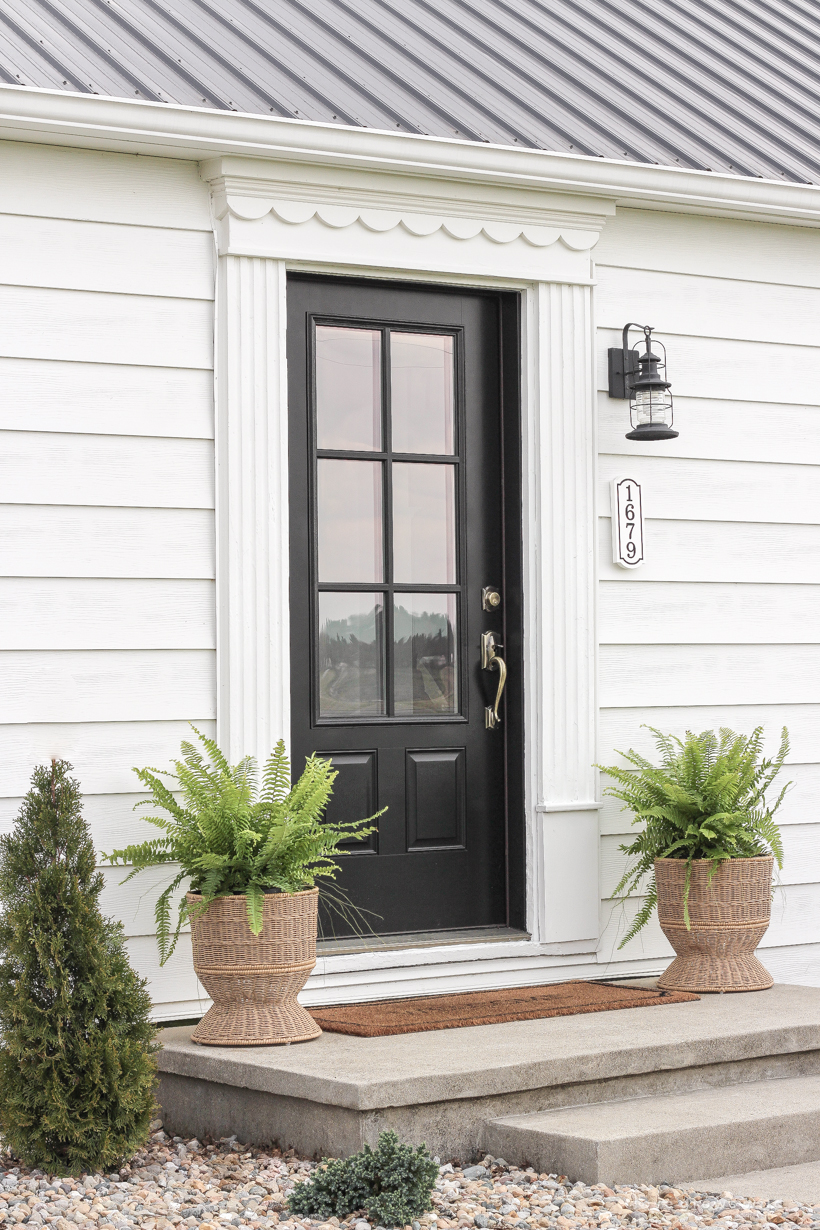 The hardest decision I had to make during this process was choosing a finish for the hardware. Nothing on the inside of the house necessarily leans towards gold or silver, but going with a matte black handle (which would match the hardware in my kitchen and a lot of my lighting throughout the house) seemed like it would just fade right into the color of the door instead of standing out as a beautiful piece of jewelry.
Funny story… I had a friend of mine and his brother come with me to Lowe's to pick up the door since I don't have a vehicle big enough. I also needed to pick out the hardware while I was there, and as soon as we got to the aisle with all the door handles I knew I had to quickly make a decision so I didn't keep the guys waiting forever. Cue: panic attack. I'm very picky about details like these and usually have a general idea of what I like and don't like, but I had NO clue what I wanted. I'll spare you the details of my inner monologue freaking out during the few minutes we were in that hardware aisle because I'm sure most of you don't have the ridiculous anxiety that I do. But ultimately one of the guys suggested antique brass, and I said sure! … hoping that I wouldn't regret the decision later, but feeling relieved that a decision had been made.
As soon as the antique brass door handle went up on the moody black door, I knew it couldn't have turned out any more perfect if I tried. The finish is perfectly aged, which fits the style and age of the house, but it has just enough shine to stand out and grab your attention. Here is the handle I chose.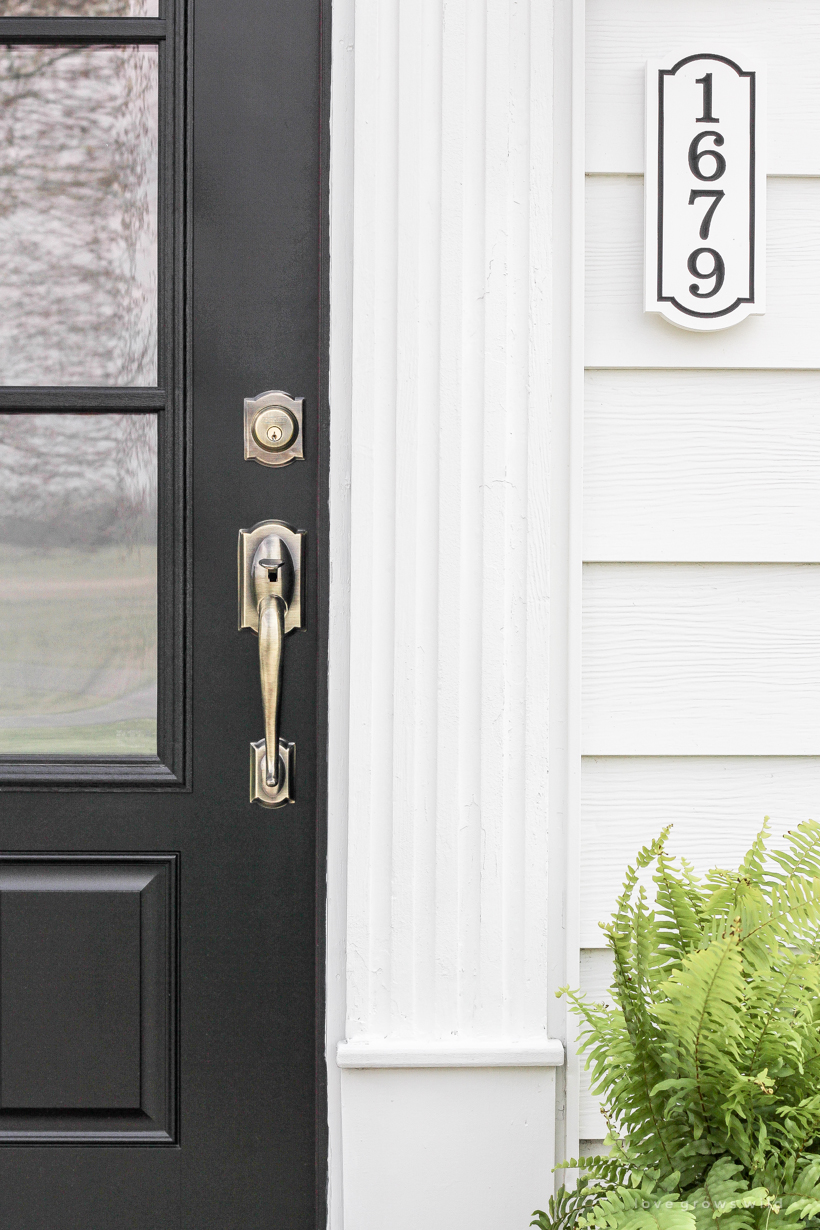 As much as I love the new door, I have to admit that a tiny part of me was sad to see the big house numbers go that I had painted on the storm door. I love how bold and graphic it was, so I started doing some research on a new way to display our house number.
I ended up finding a company on Etsy that makes really beautiful house address plaques and ordered a vertical one to hang just below the light fixture. It comes with D-ring hooks already attached to the back, which made hanging it on the siding very easy. I was so happy with the quality of the sign and love charm it adds to my simple front porch.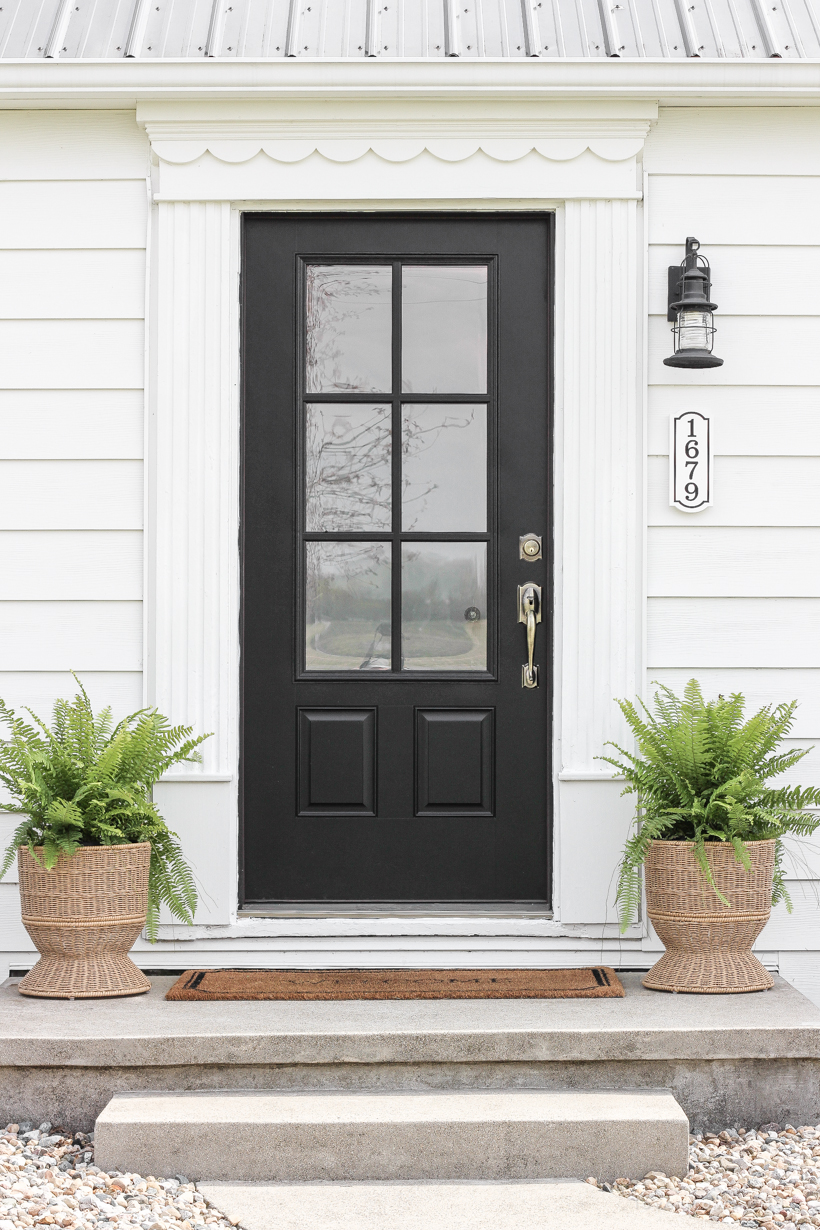 The last detail to finish the space was choosing a planter for either side of the door and a doormat. I grabbed the welcome mat I had inside the house because I love its large size and the way the black wording ties into the door color. And after having similar boxy wooden planters for so many years, I decided I wanted to try something a little different. I ended up finding these unique wicker urn planters at Target (actually, I had to drive over an hour to two different Targets), and I love the texture they add to all the smooth black and white surfaces. Since the house faces North, ferns are always my go-to for this mostly shaded area.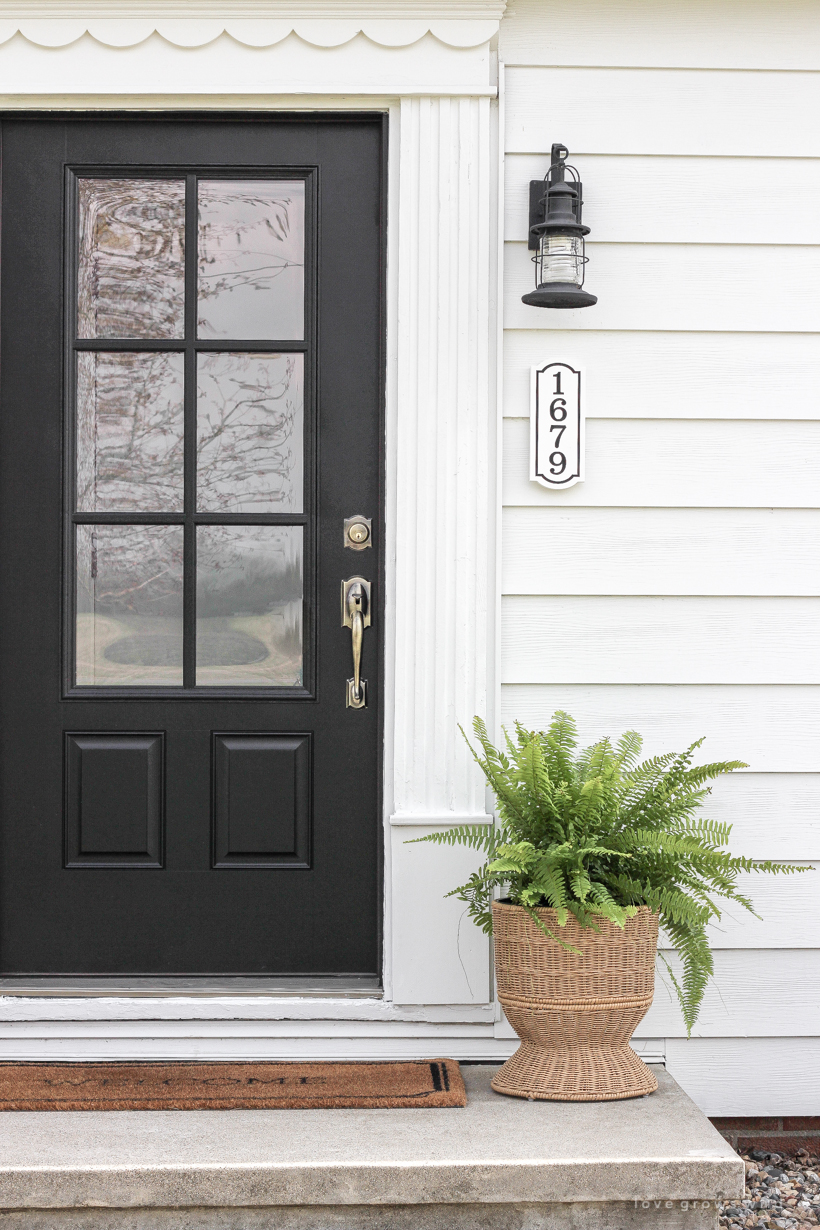 What do you think of the new look?? I have one or two more little details to add to the front of the house before I reveal the full transformation of the exterior, but I am so in love with how everything is coming together. House renovations involve years of budgeting and planning and hard work and patience, but the reward in the end is so worth it all. And I'm so grateful I get to share my ideas and journey with you!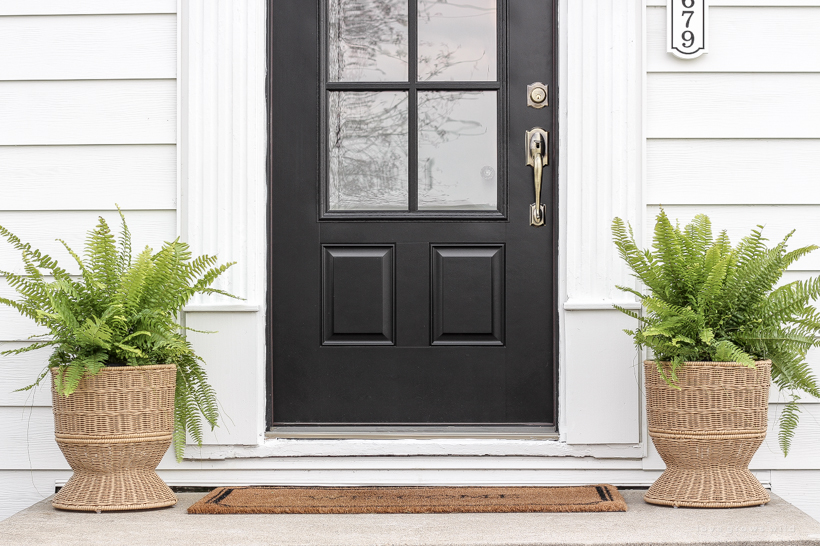 SHOP THE POST:

– SOURCES –
door: Therma-Tru Benchmark Door ¾ Lite Simulated Divided Lites with painted black finish custom ordered from Lowe's
hardware: Home Depot – also available at Lowe's
planters: Target
doormat: Target
address plaque: Etsy
outdoor sconce: similar at Home Depot
As always, I sincerely appreciate you shopping through the links I share, which allows me to make a small commission from your purchase while your purchase price stays the same. When you use my affiliate links, I'm better able to create content for this blog as well as support my family, and I thank you from the bottom of my heart for supporting what I do! xoxo Liz
---
Subscribe to Blog | Follow on Instagram
Follow on Pinterest | Follow on Facebook