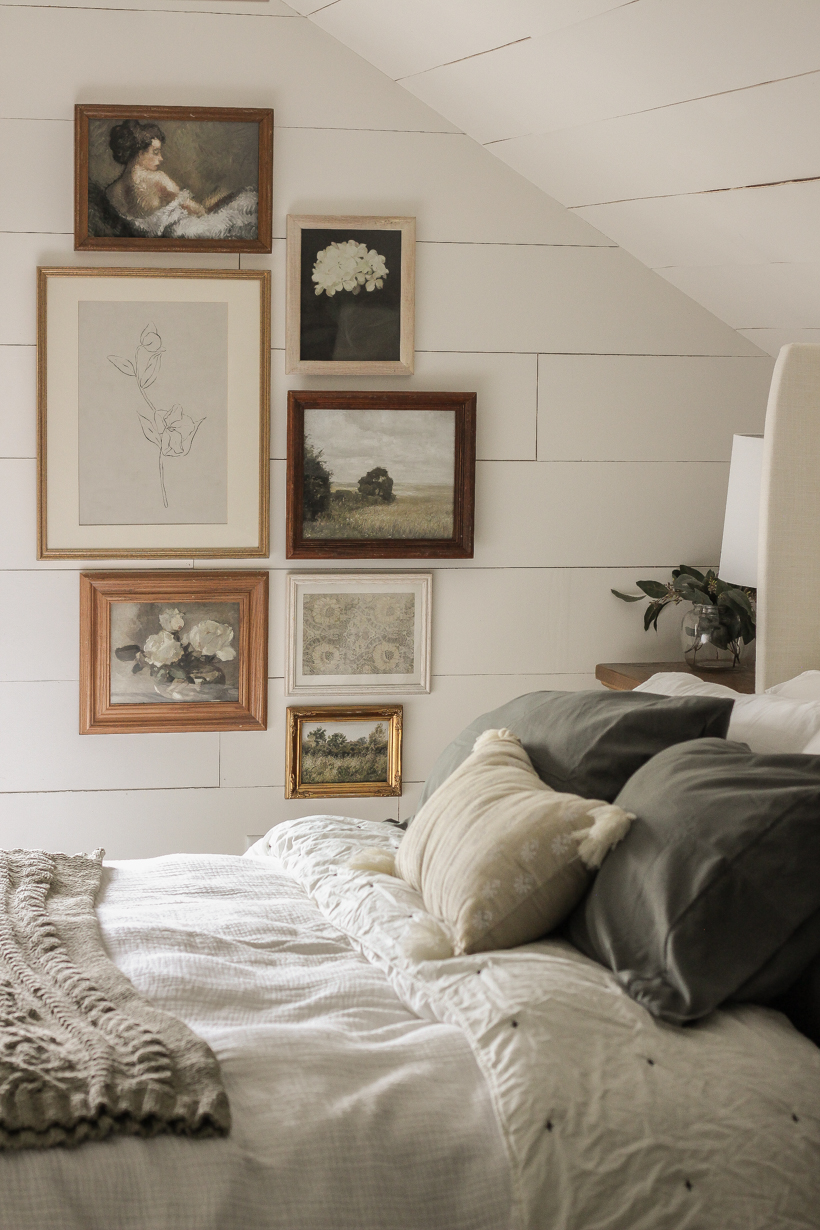 I've had a vision for some kind of gallery wall in my bedroom lately, and I finally had a chance to play around with the idea and bring it to life. Most of the framed art in the house has a more clean, modern-meets-traditional feel, but I wanted this gallery wall to feel heirloom, vintage, and collected over time.
It turned out even better than I envisioned and was SUCH an affordable project, so today I'm going to share my tips for recreating this look in your home!
TIPS FOR CREATING A VINTAGE STYLE GALLERY WALL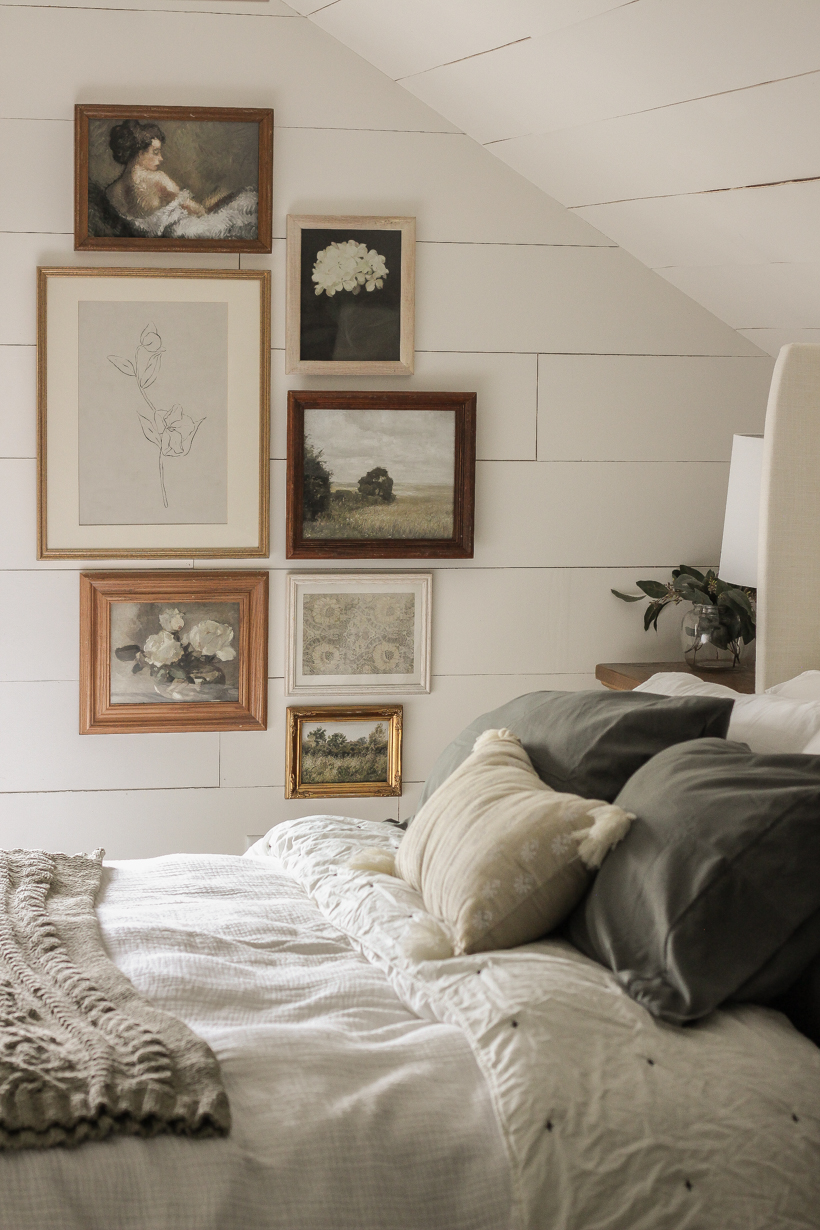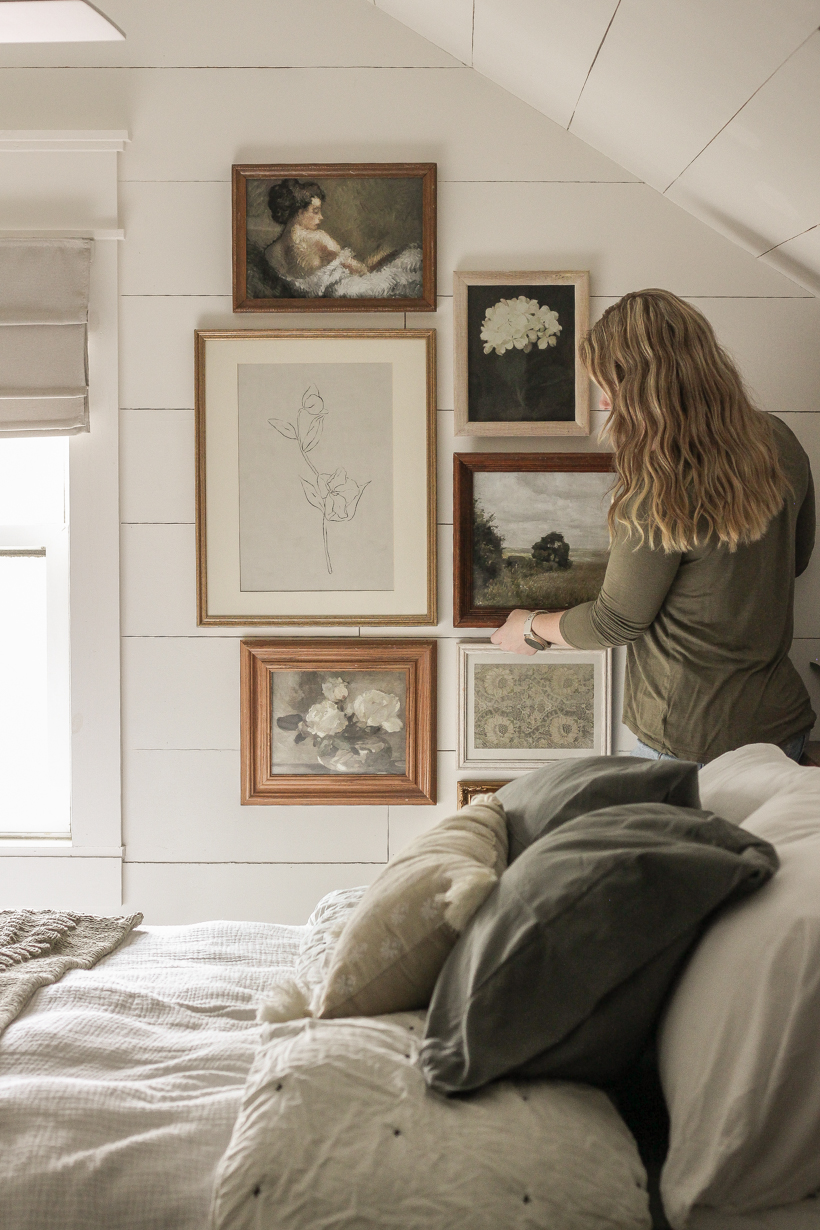 1. Measure your space
You'll want to start with an idea of how big your gallery wall will be. Measure your available wall space and where you want your frames to hang.
2. Source vintage style frames
Most of us have unused frames sitting around the house, so I always suggest shopping your home first. Or check with family members to see if they have any old frames they want to get rid of. But if you need to go out and buy picture frames, I recommend checking thrift stores first to look for the most affordable options or antique stores if you're having a hard time finding ones that look vintage.
Look for simple wood frames with moulding or carved wood details. I personally like either dark or light gray-neutral toned wood vs. the more bright orange toned wood. I also like to mix in a few more ornate gold/brass frames to add some variety. Gather various shapes, sizes and finishes, and buy a few more than you think you'll need. That way, once you get home and are working on layout, you'll have options.
TIP: No matted frames!
Whether you find authentic antique frames or buy brand new ones with a similar look, showcasing your art inside a bright white mat really takes away from the vintage appeal. Remove the mats from all your frames, unless it's a true antique white that looks accurate with the age of the frame and artwork.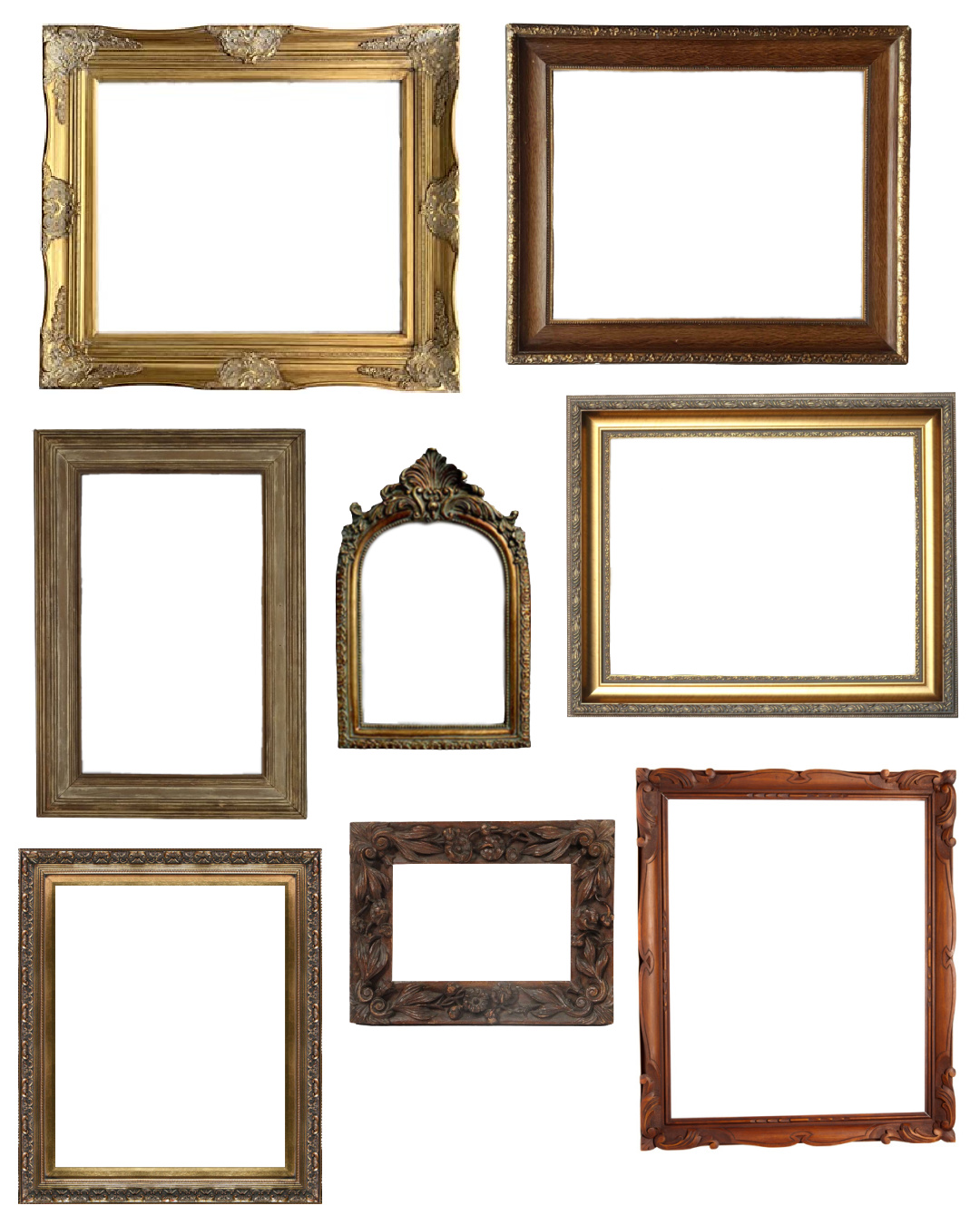 3. Design your layout
This can be as simple as laying your selected frames on the floor until you find an arrangement you like, or as detailed as the method I used, a sketch on graph paper.
My bedroom has a sloped ceiling, so I wanted to sketch the available wallspace on graph paper so I could get an accurate visual on how many frames I wanted to use and where their placement should be. This step probably isn't necessary if you're only hanging a few similar size frames in a row, but if you're going for a more eclectic layout with various size frames, I find a detailed sketch to be very helpful!
First, measure the wall and make a note of any outlets, windows, thermostats, etc. Then print out a piece of graph paper and sketch the wall using each square as 1″. Draw your frames to scale, and include a note of the frame opening size so you know what size art/photo prints to order for each frame. I also wrote down whether each print needed to be horizontal or vertical orientation, which is helpful when you're choosing your art.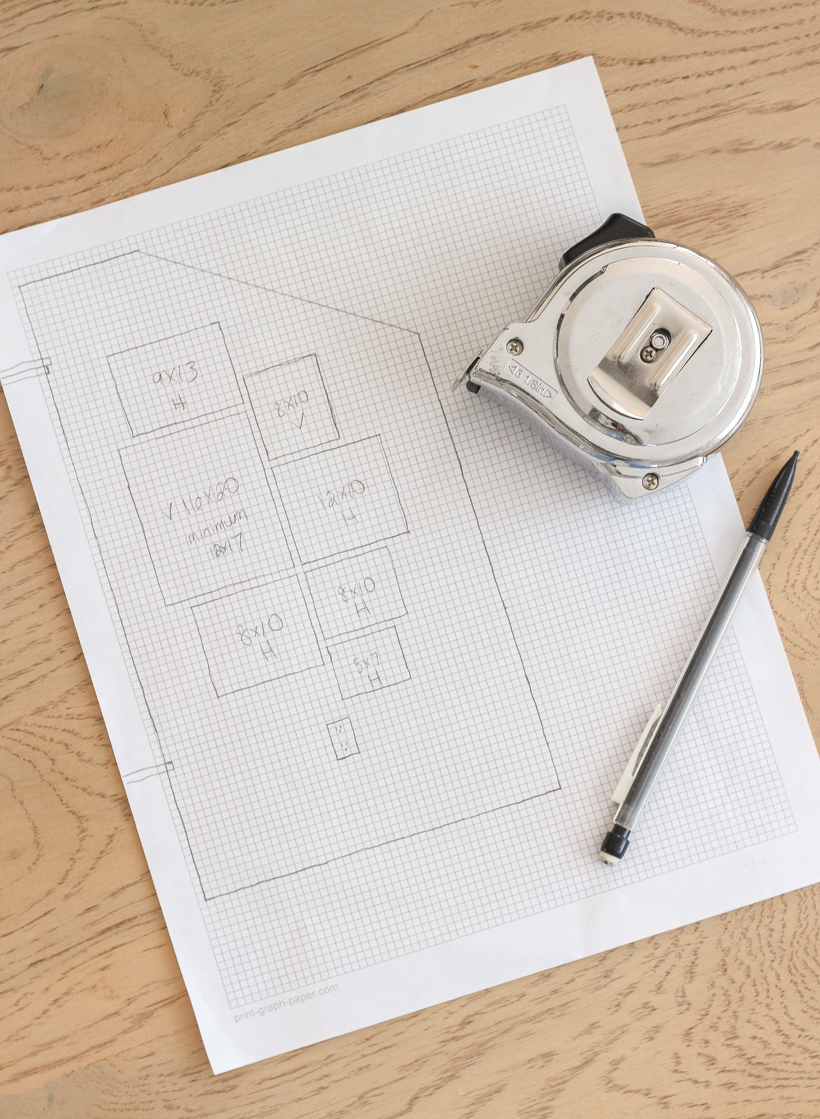 4. Choose your artwork
Now that you know how many frames you'll be using and the exact size/orientation, it's time to select artwork to display. It may seem daunting to choose even one art print, let alone a whole collection, but I have a tip to make it super simple. Go on Etsy and search for "vintage art print set". You'll find thousands of listings for groups of artwork perfectly curated and ready to print in any size you need. North Prints and Olive & Oak are two sellers that I use often for really affordable vintage prints.
To help me visualize what prints I wanted in which frame, after I purchased the artwork, I uploaded them into a blank canvas on PicMonkey and arranged them according to the sketch I drew.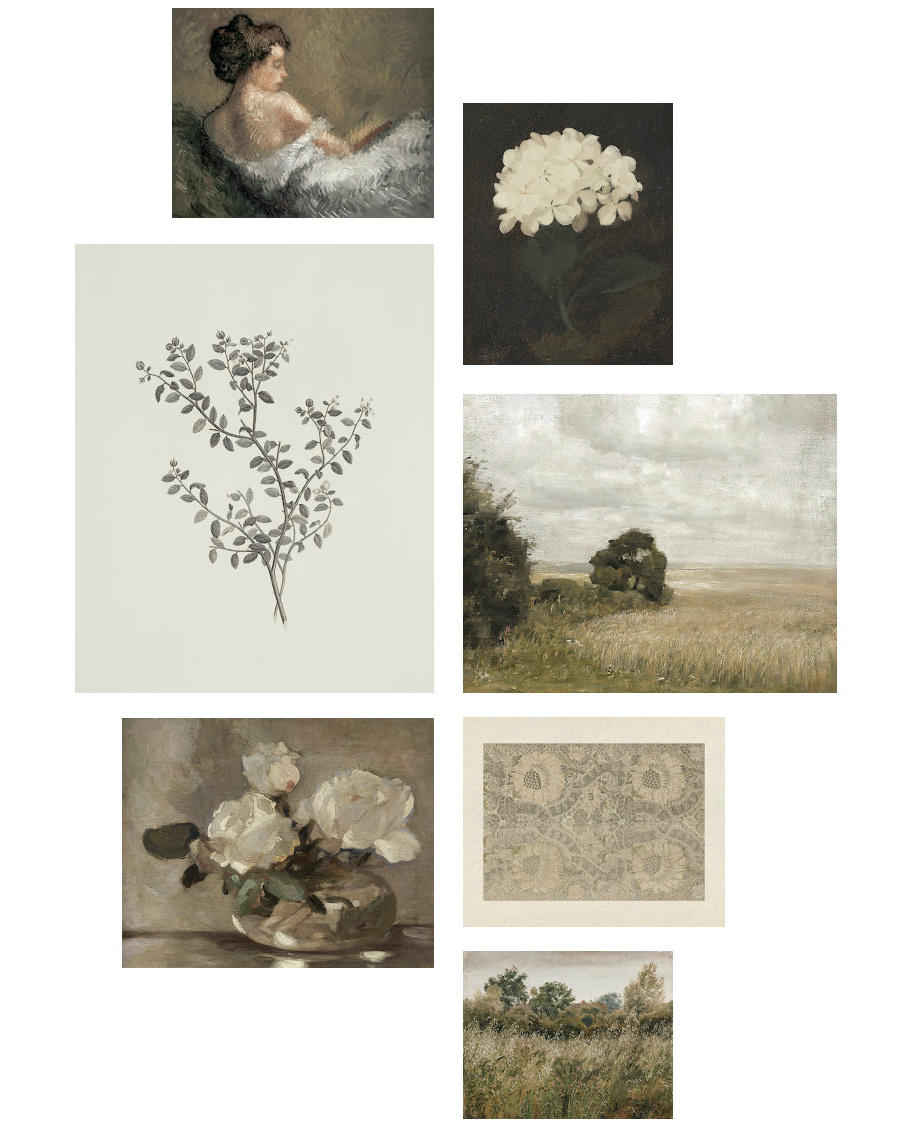 6. Print your artwork, frame and hang
If you purchase an art digital download like the ones I mentioned in the previous step, you'll need to have them printed. Since you already have written down what print sizes you need, this step is easy! I have been using Mpix a lot lately, but there are many online print companies you can choose from such as Shutterfly, Vistaprint, or Printique.
Several of the thrifted frames I used didn't have hanging hardware or needed new hardware, so I purchased a package of sawtooth hangers for just a few dollars. I followed my sketch and measured out exactly where each frame needed to go on the wall. It took me less than 15 minutes!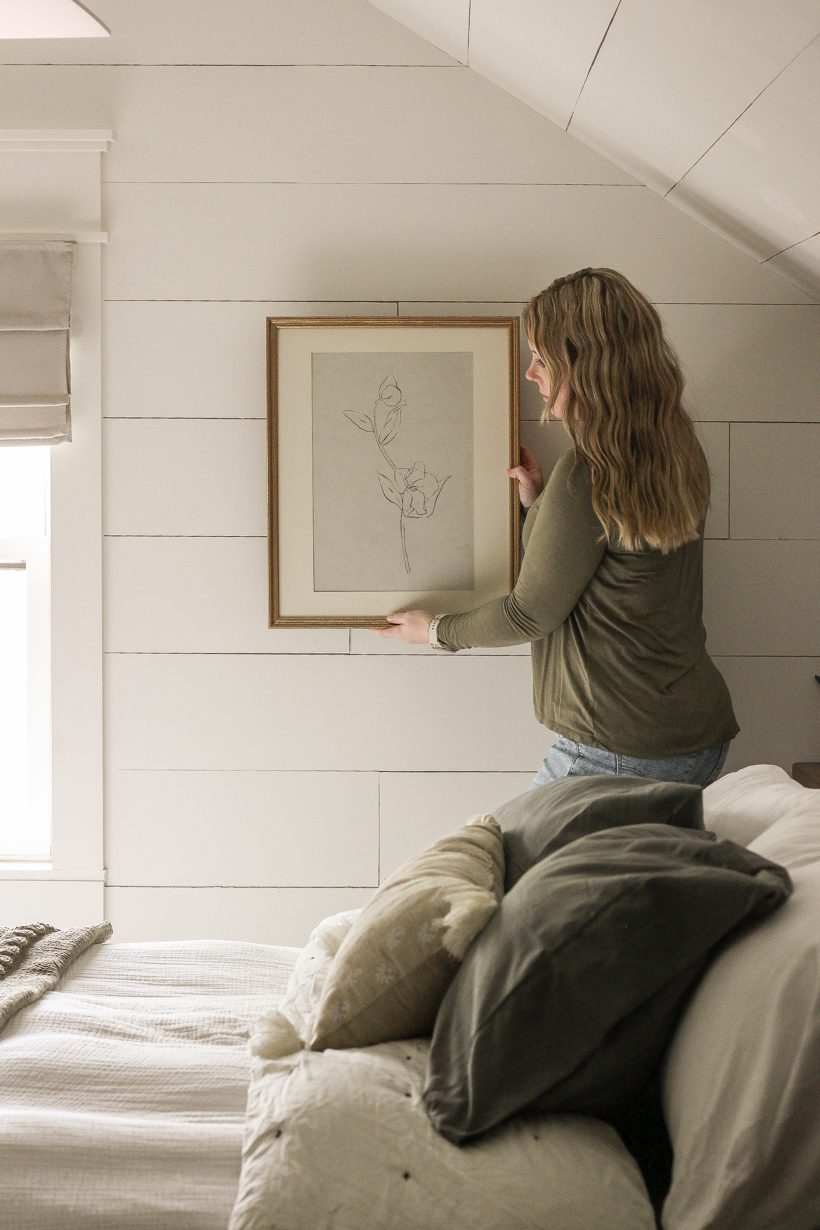 I am so so so in love with how it all turned out. Tons of charm and character.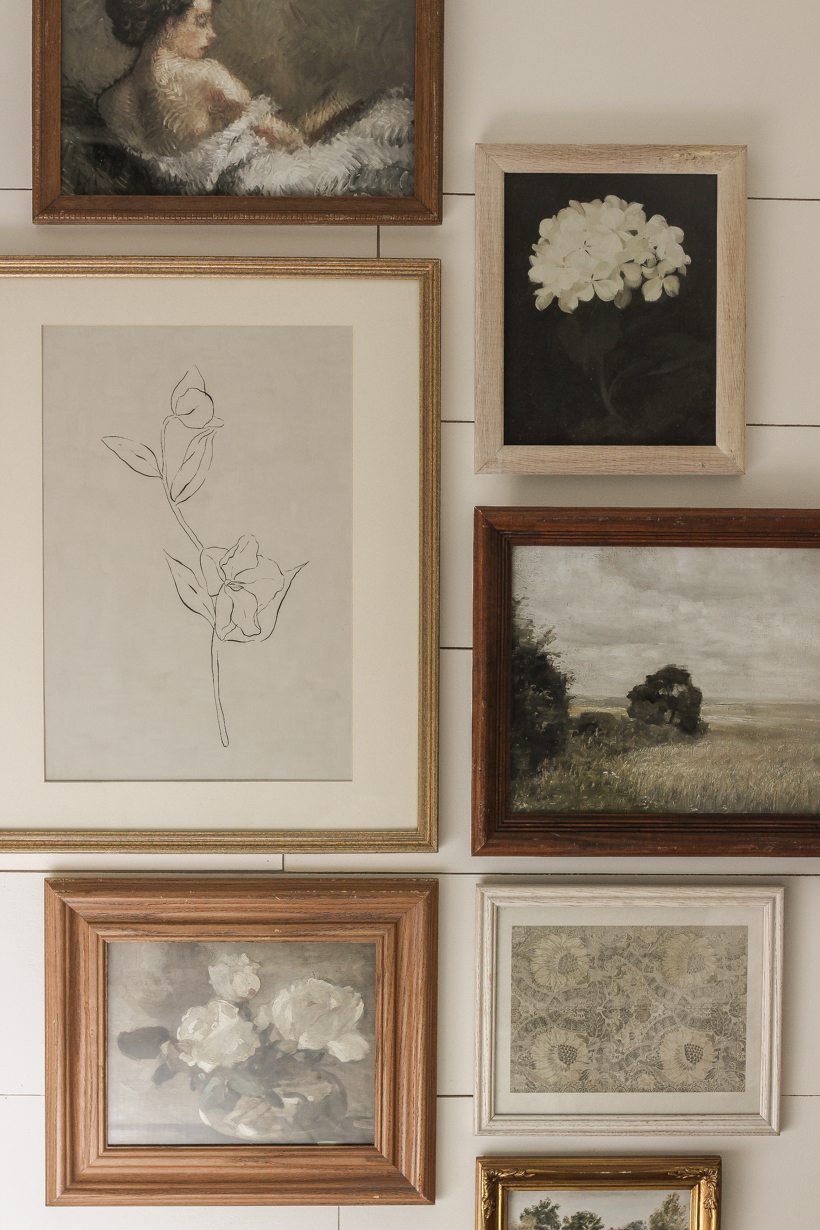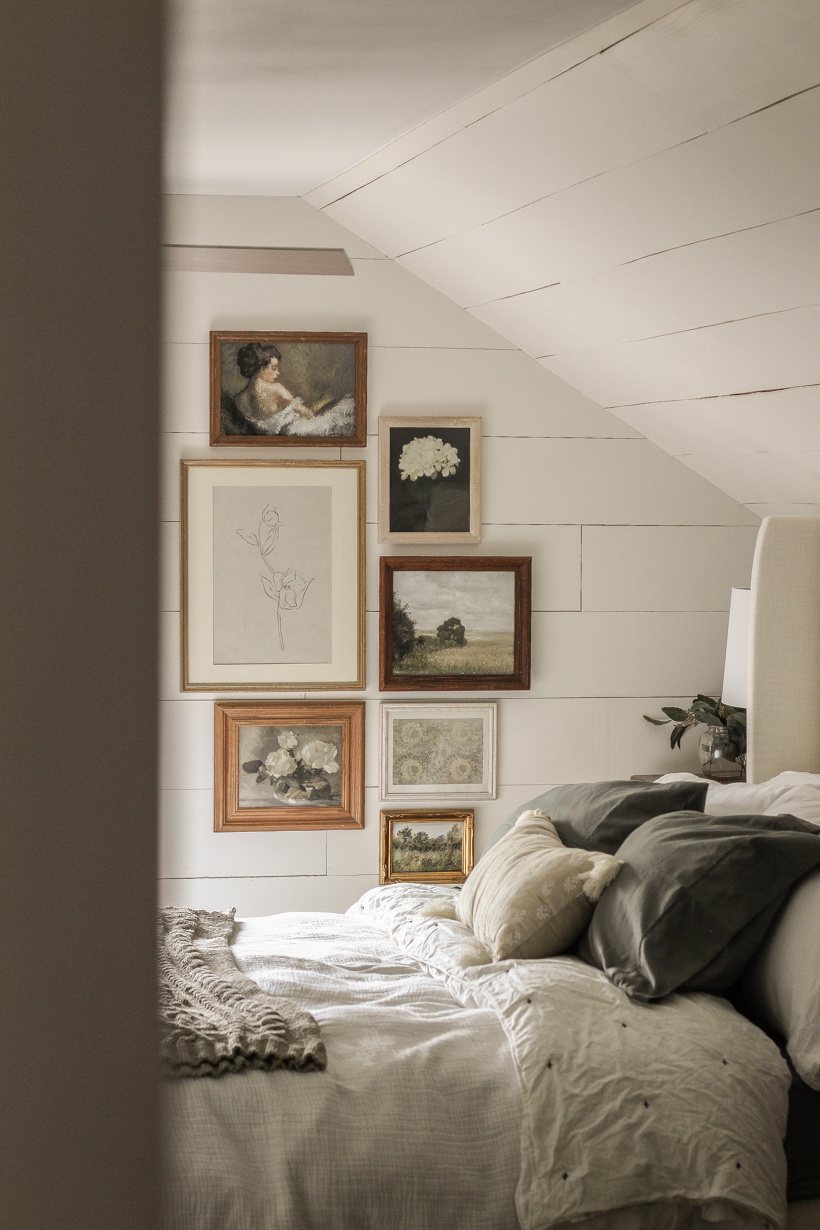 Here is a cost breakdown for this project:
I spent around $17 on 7 thrifted frames.
Less than $10 on digital download artwork.
A few I had previously purchased
Prints: three 8 x 10 + two 10 x 13 + one 12 x 18 + one 5 x 7 = $38
The price starts to increase quite a bit on prints larger than 8 x 10

$65 total!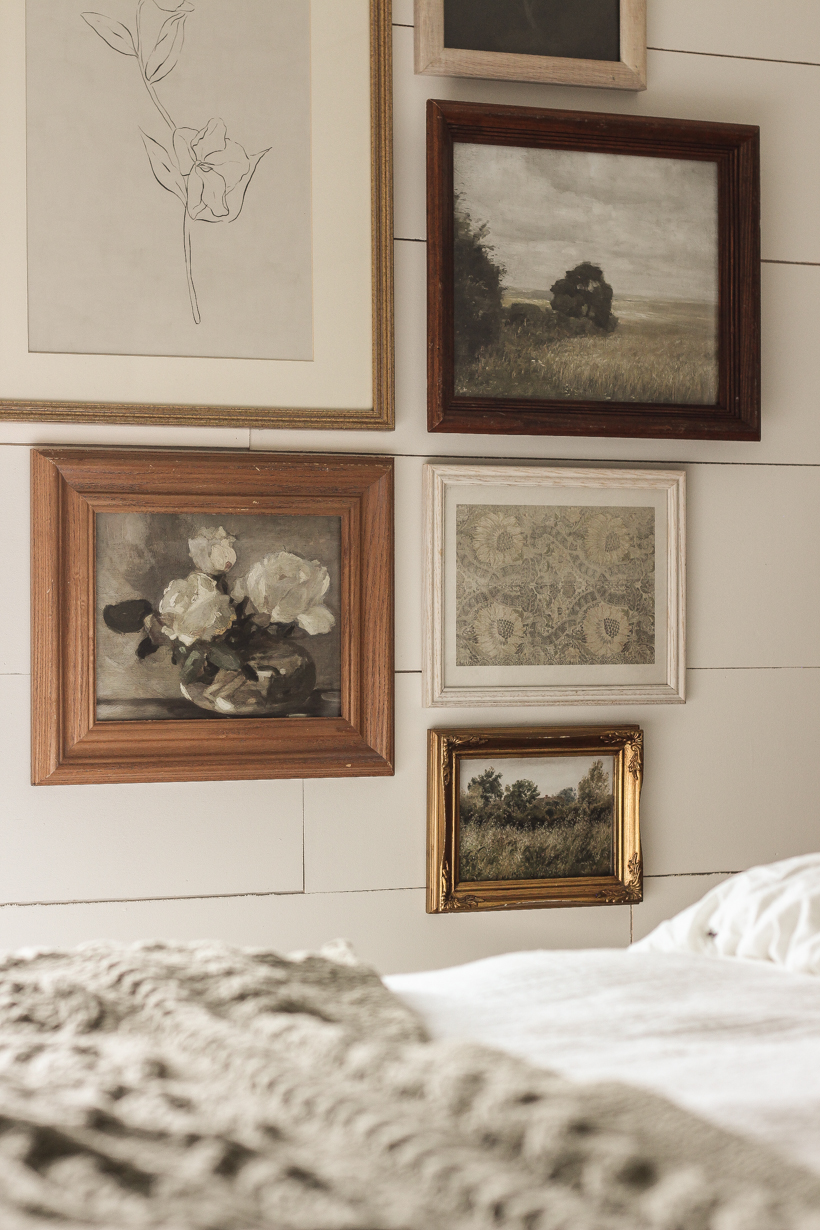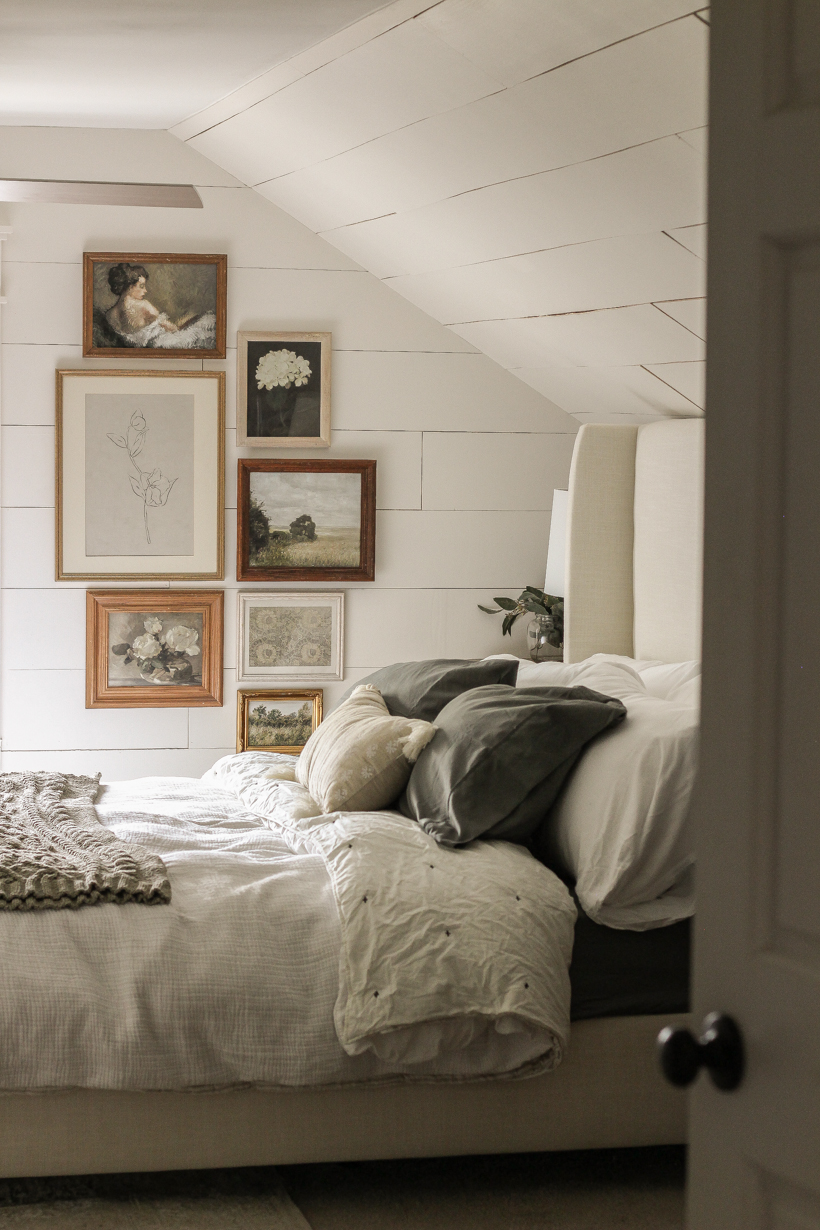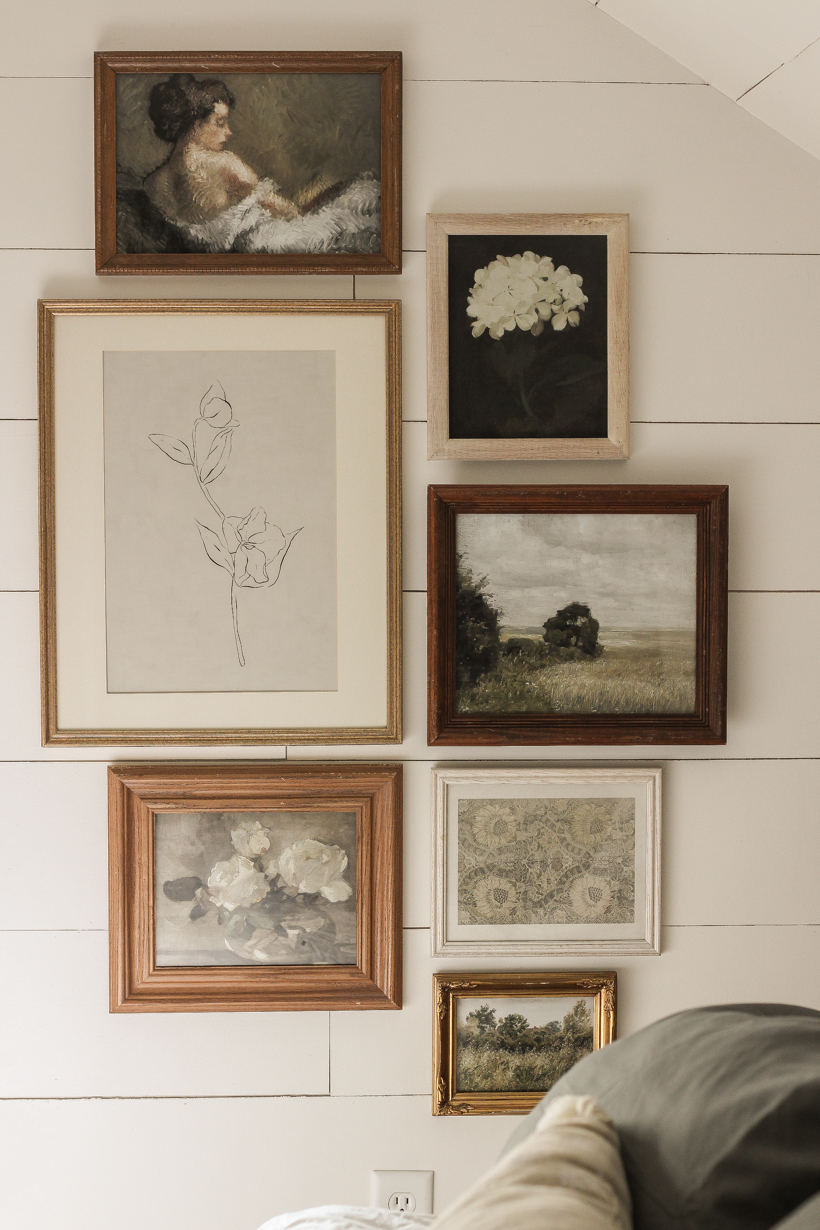 SHOP THIS SPACE:
upholstered bed frame | duvet cover | comforter | gray sheet/pillowcase set
white pillowcase | king size pillows | throw blanket | diy shiplap walls/paint color
roman shade window covering | ceiling fan | rug | lamp
female art print | hydrangea art print | neutral botanical sketch art print
landscape art print | flower vase art print | pattern rug art print | meadow art print

As always, I sincerely appreciate you shopping through the links I share, which allows me to make a small commission from your purchase while your purchase price stays the same. When you use my affiliate links, I'm better able to create content for this blog as well as support my family, and I thank you from the bottom of my heart for supporting what I do!
---
Join my text community
Subscribe to our Newsletter | Follow on Instagram
Follow on Pinterest | Follow on Facebook