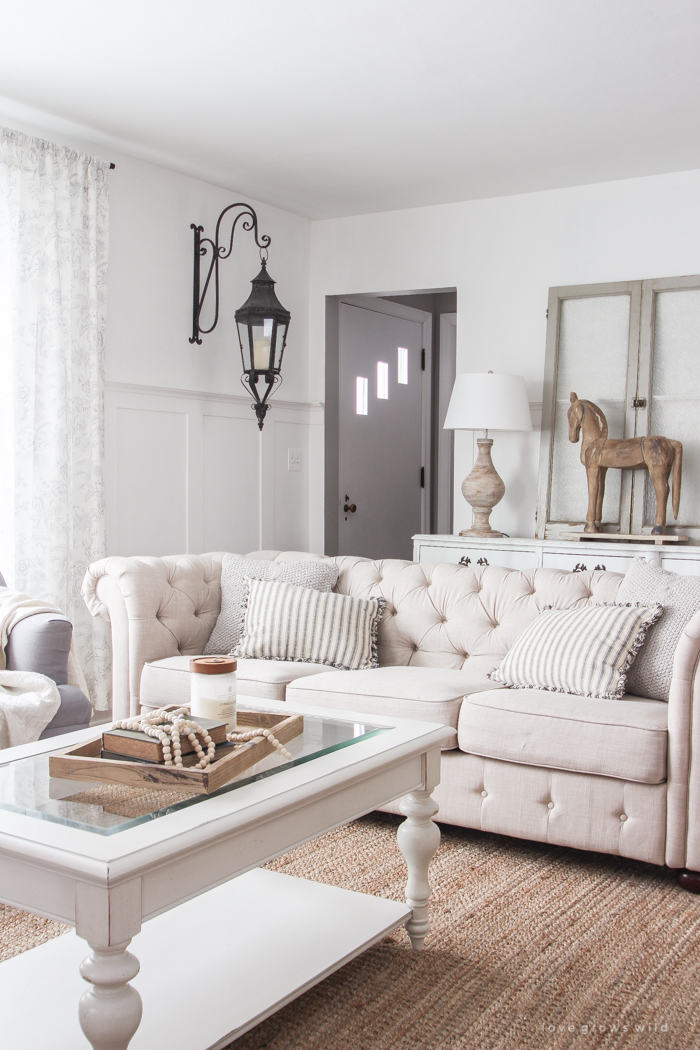 Hi, sweet friends! I'll admit it was a little depressing at first when all the Christmas decor came down and was packed away for the year. Part of me loves the clean, uncluttered blank slate, and the other part of me misses the coziness and light and warmth. The lights on the tree and wreaths in all the windows and presents waiting to be opened and cookies baking in the oven… it's pretty hard to top that feeling, especially once the dreary, cold winter weather sets in.
So I decided to update the living room a little bit to help ease the transition with some new pieces from Birch Lane, and I'm really excited to show you the changes. It looks so much brighter in here to me now, and I finally feel like I've nailed the look I've always wanted in our living room. What a difference swapping out just a few little items can make!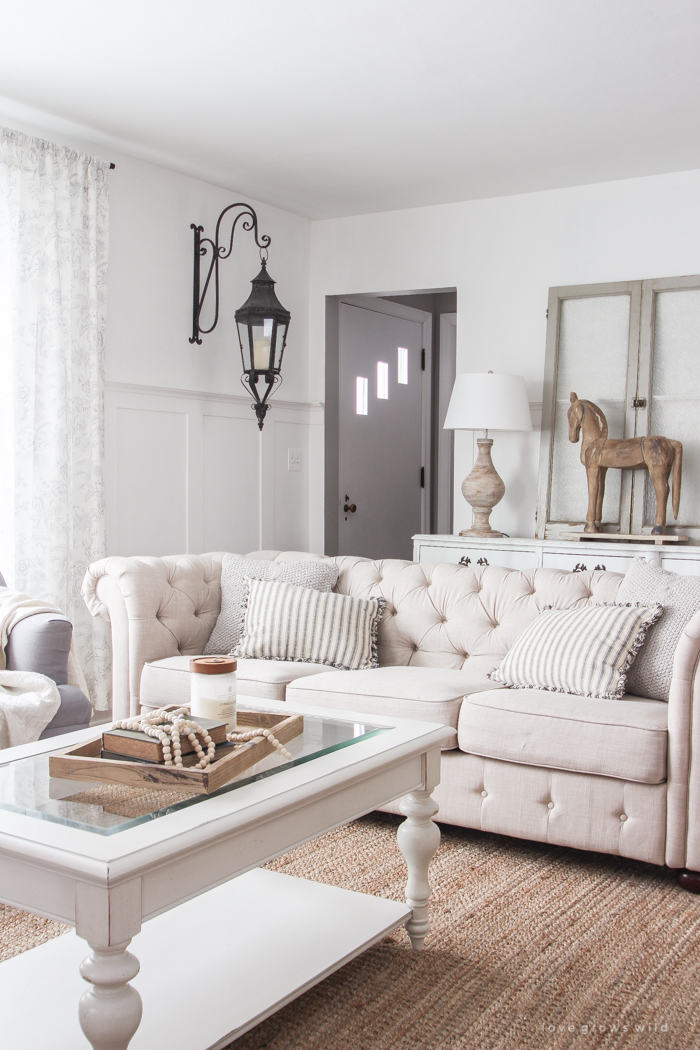 The first and probably most noticeable change in the living room is the coffee table. Let's pause for a second and take a trip down memory lane. If you ever look at my little farmhouse and think that it's perfect and I know exactly what I'm doing when it comes to decorating… please know that is far from the truth! I've struggled with decorating my living room for years, ever since we moved in here really.
The first time I decorated our living room, I had a modern metal and glass coffee table and gray couches. Then I started embracing the charm of our old farmhouse and built a new wooden coffee table to give the space a more rustic feel. Later I stumbled on this amazing antique blueprint cabinet and used it as our coffee table for awhile. Then I got tired of our dark gray couches and had linen slipcovers made to lighten up the room. I got rid of the bulky blueprint cabinet and made a unique round coffee table from an old milk can, which was super cute but didn't stick around for very long. And then I got tired of messing with slipcovers and bought two gray chairs and one beautiful "sofa" that was only large enough to fit my seven year old laying down. Major fail on that purchase. I finally settled on the tufted adult-size sofa we have now (seen here), and I absolutely love it.
This is just to show you that it takes patience and trial and error (sometimes a LOT of error) to create your dream home. Don't be too hard on yourself if you can't figure out the right paint color or furniture layout… try new things, get rid of what doesn't work, and enjoy the journey! I write a home and decorating blog for a living, and I STILL make mistakes all the time!
Okay, back to the coffee table…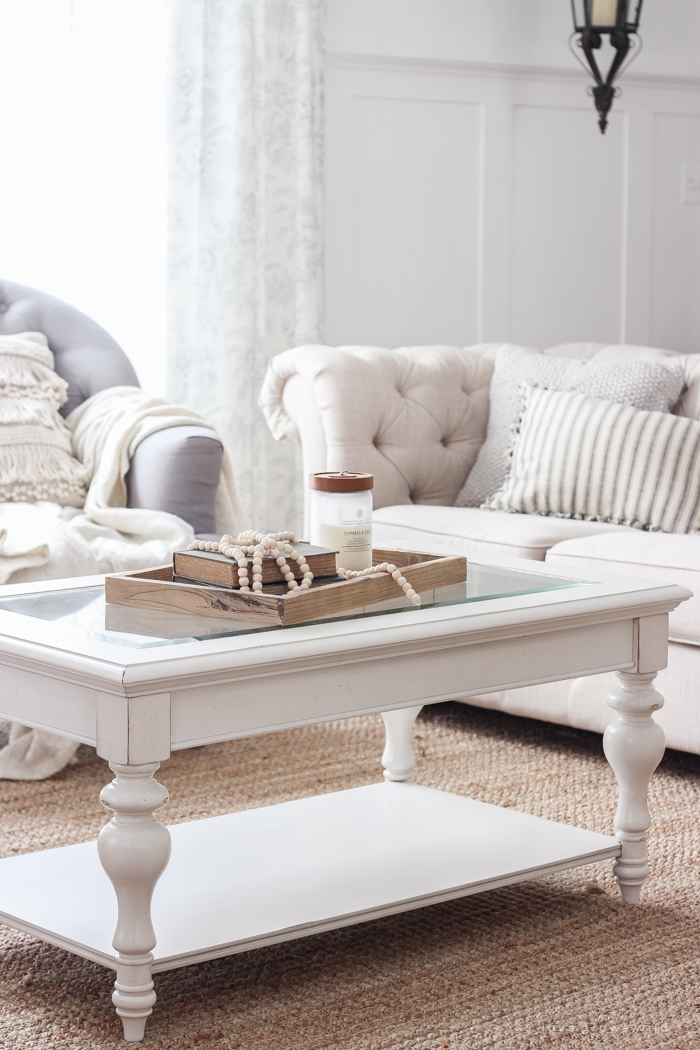 I knew that I wouldn't be 100% happy with the living room until I found the right coffee table, and I totally fell in love with this one from Birch Lane. The finish is a dusty antique white, which is a nice contrast from the natural jute rug I have underneath. And the table has distress marks around the edges and beautiful curved legs, which makes it feel more like an antique than a brand new piece of furniture. I also love that it has a shelf underneath for storing extra blankets, magazines or baskets.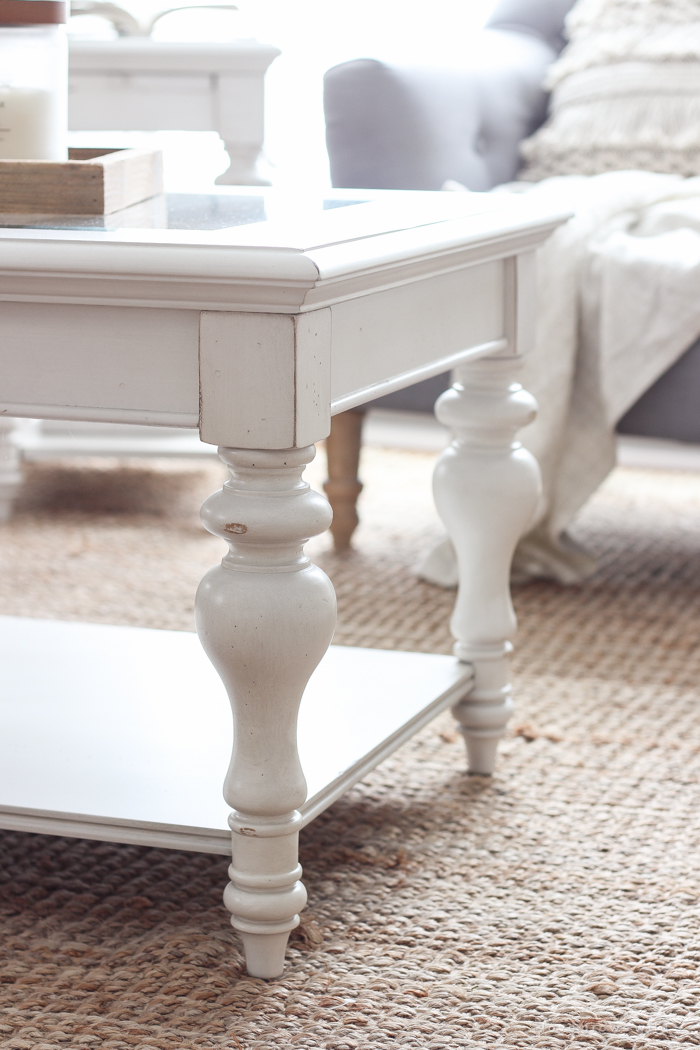 Usually I'm not big on having matchy-matchy furniture, but they also had a side table in the same style as the coffee table that I really liked. I feel like since the sofa and chairs are different, it's okay to have both tables in here! Or maybe I'm just craving a little symmetry and calm at the moment… who knows. : )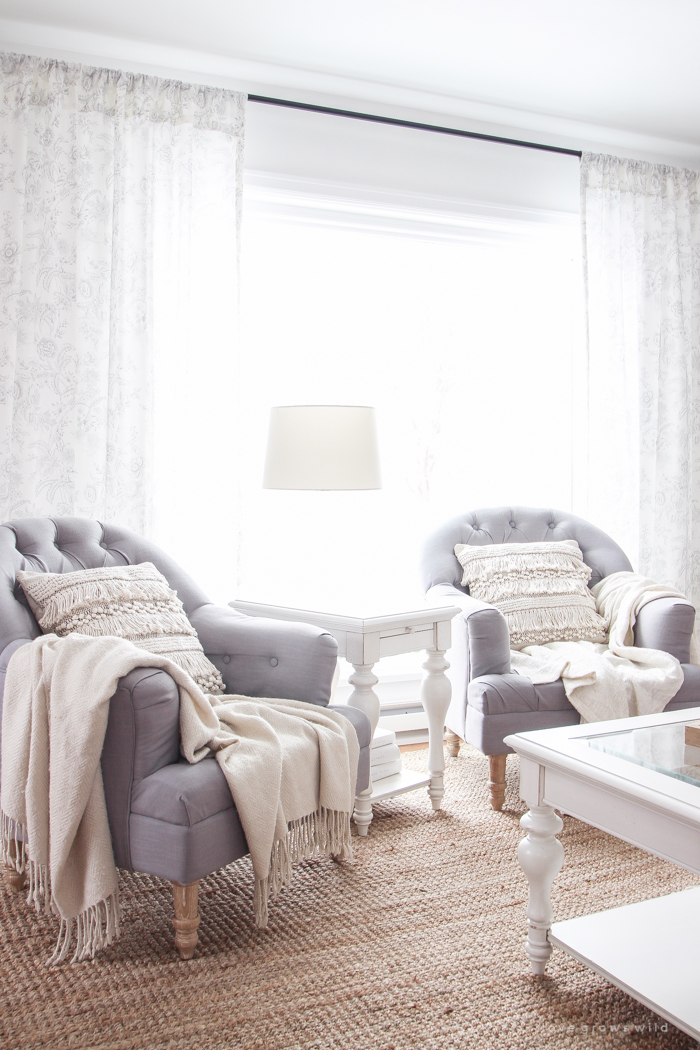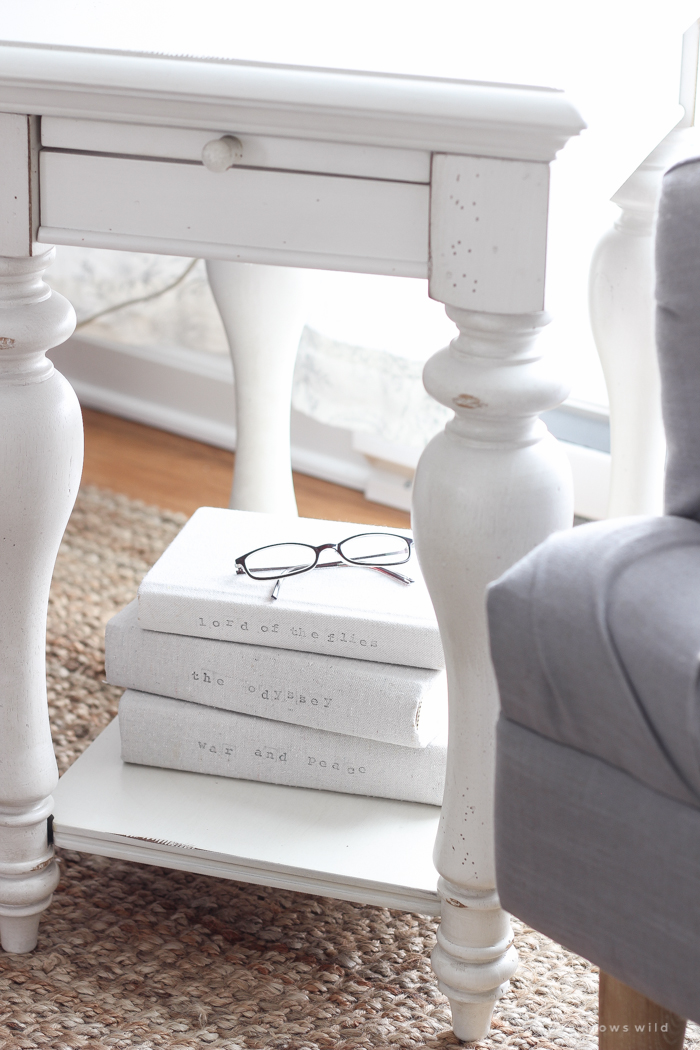 It has a little pull-out shelf when you need extra space, and the table nestles perfectly in between my two gray chairs in front of the window. See those distress marks? Swoon.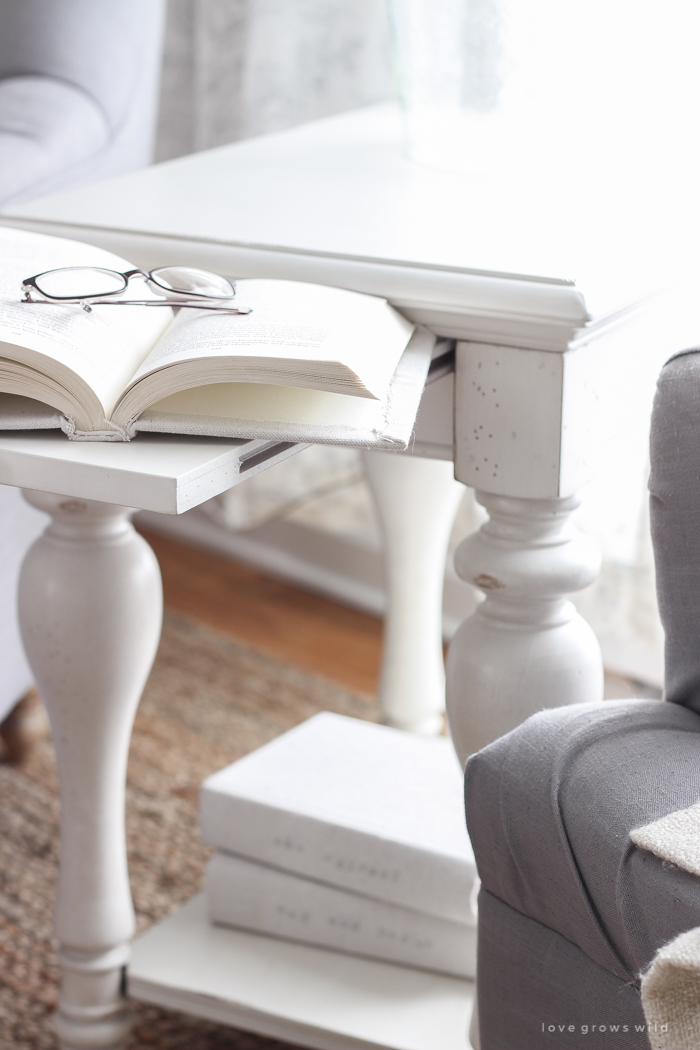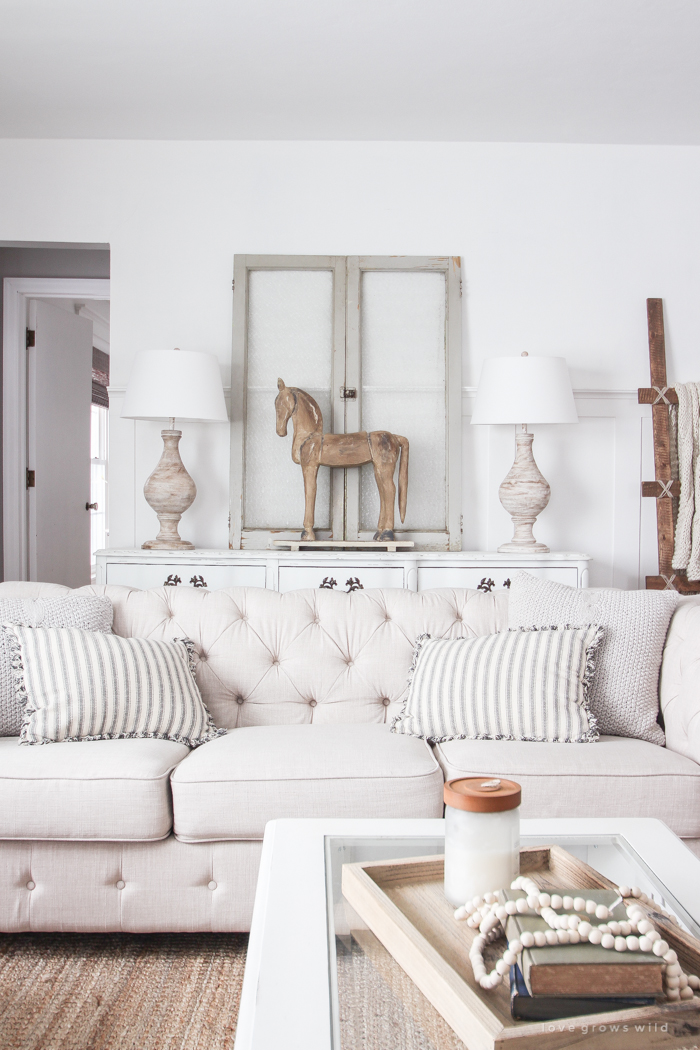 Moving on from the tables, have you noticed the next change in here yet?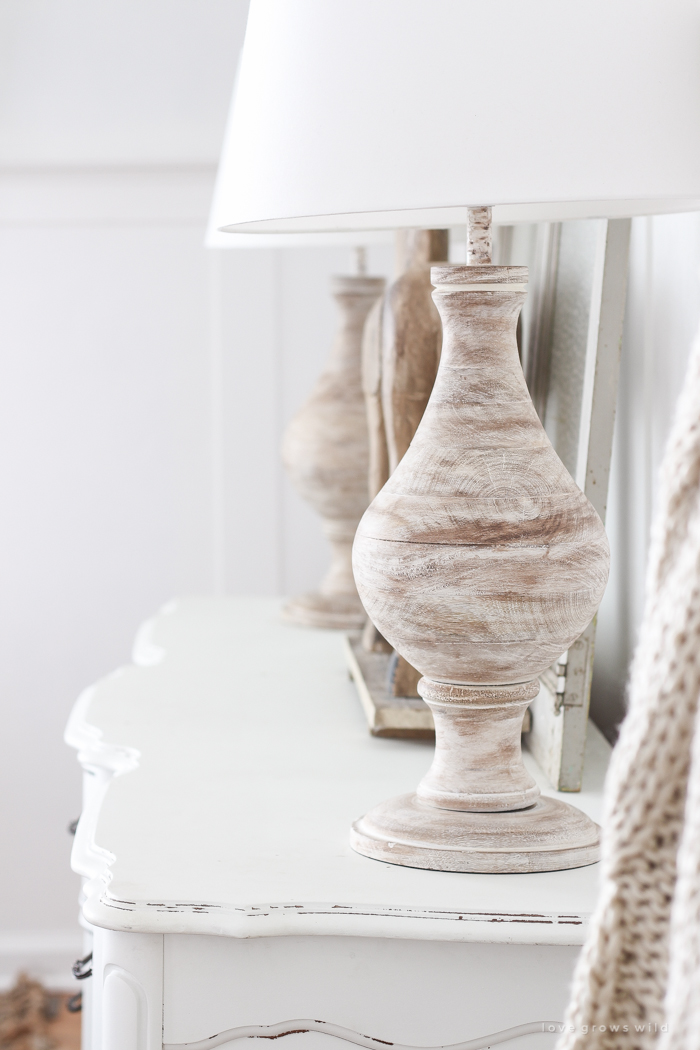 I replaced the clear glass jug lamps I had sitting on the buffet behind the couch with these gorgeous whitewashed wood lamps from Birch Lane, and wow… are the stunning. They are very substantial, about 31″ tall, which is perfect for flanking either end of the large buffet. The textured whitewash finish on the lamp base is beautiful against the white walls, and they give such a beautiful glow to the living room in the evenings.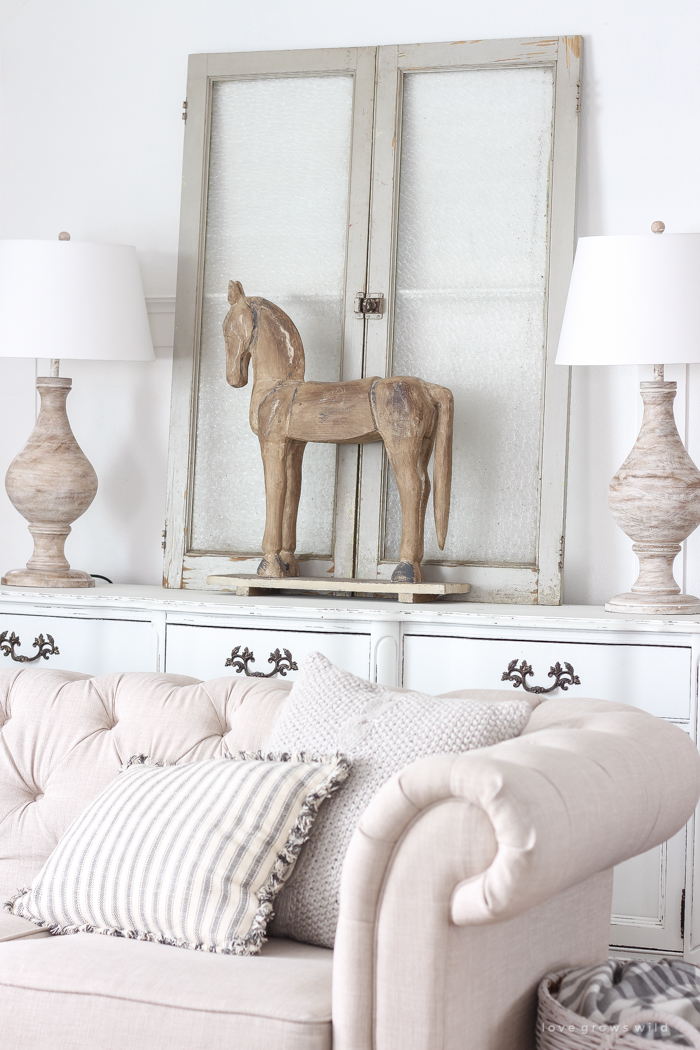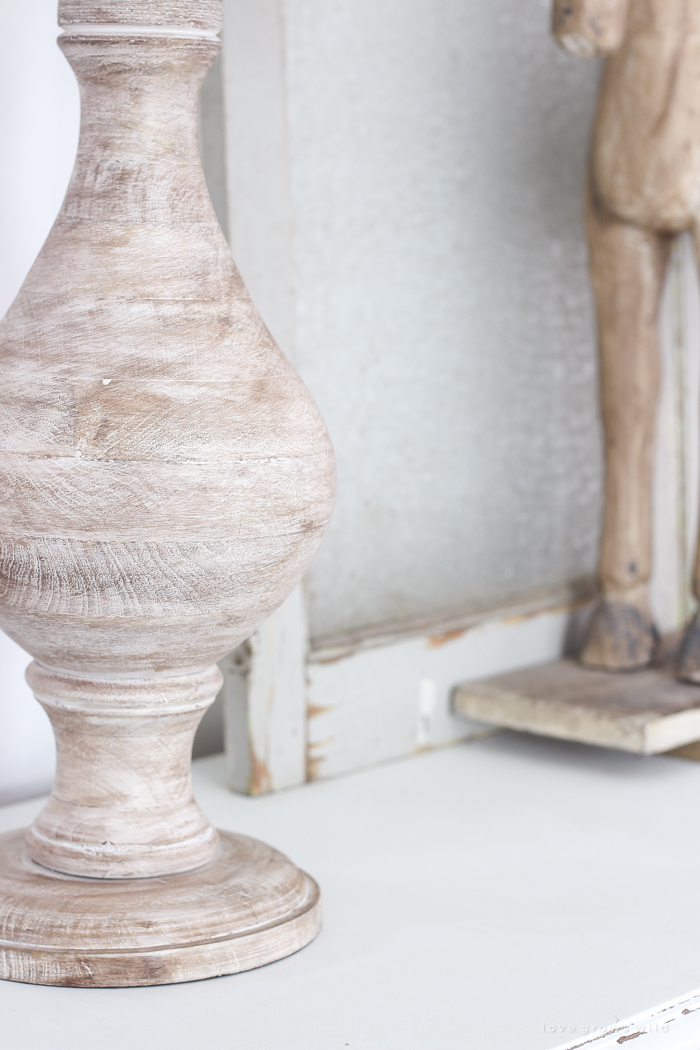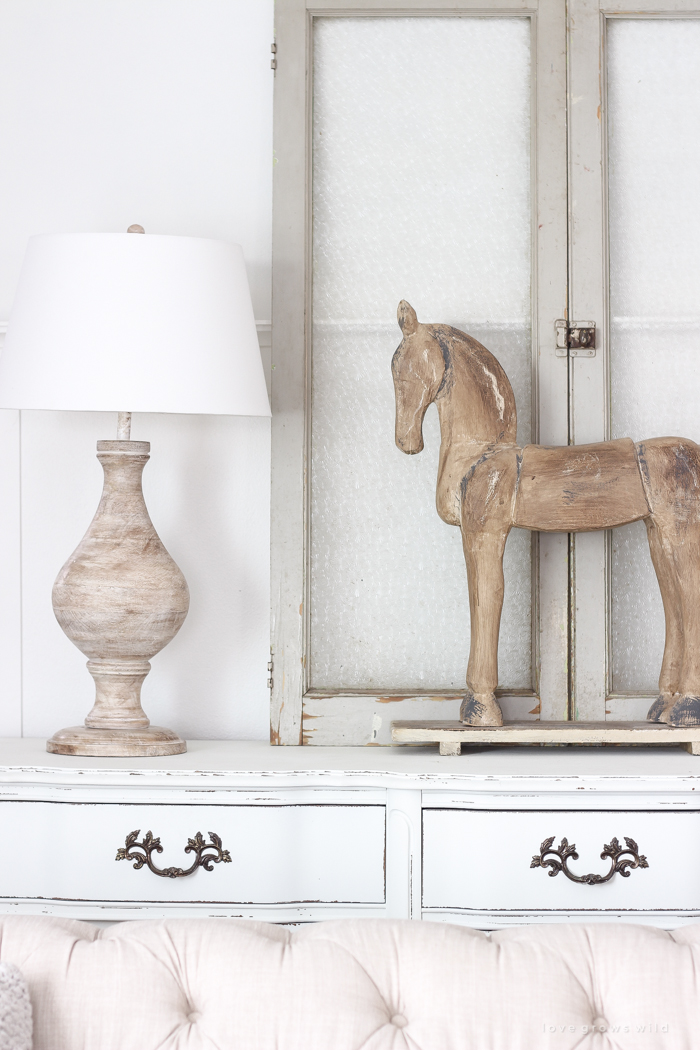 And last but certainly not least, we have new curtains! I did truly love the curtains we had in here before, which were actually made very economically from drop cloths (find the tutorial for them in my newly-released book!), but I wanted something a little lighter to go with the new white tables.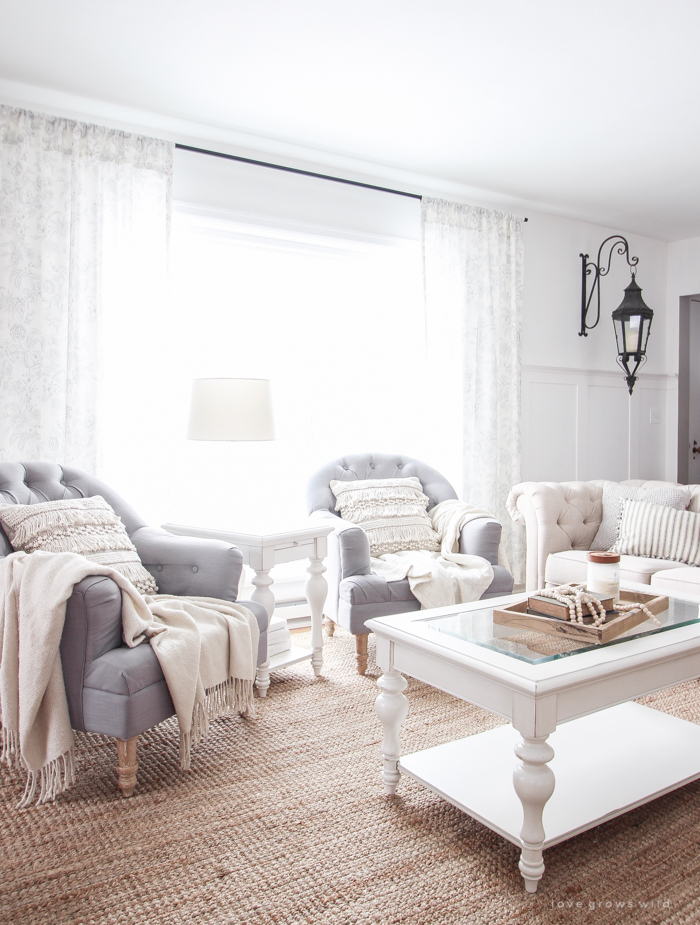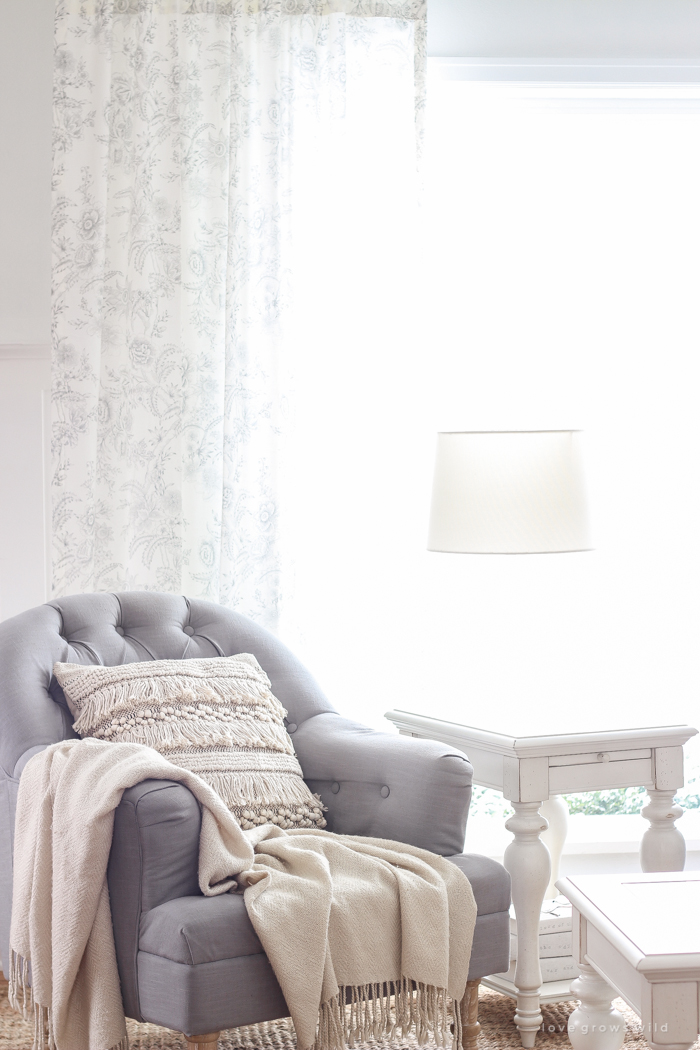 I love a simple white curtain, but when I spotted this subtle floral design, I thought it would be a great way to add just a hint of pattern around the window and also tie in with the gray fabric on the chairs. Pictures don't even do them justice… they are soft and flowy and just a little bit girly. And they let so much beautiful sunlight flood our living room during the day, which makes the whole space feel light and happy.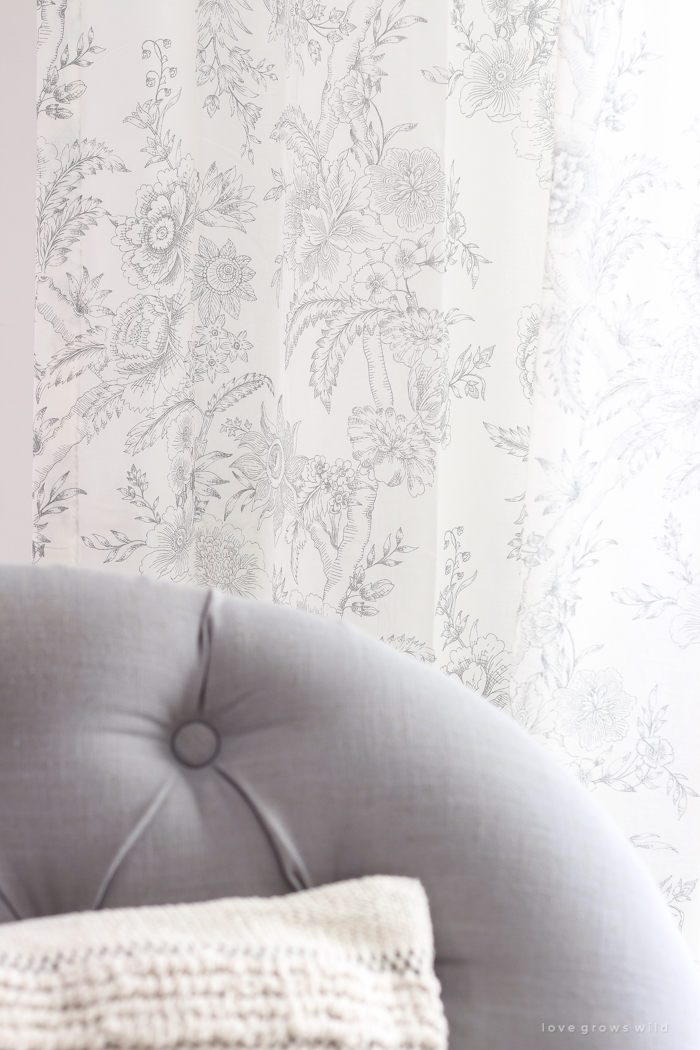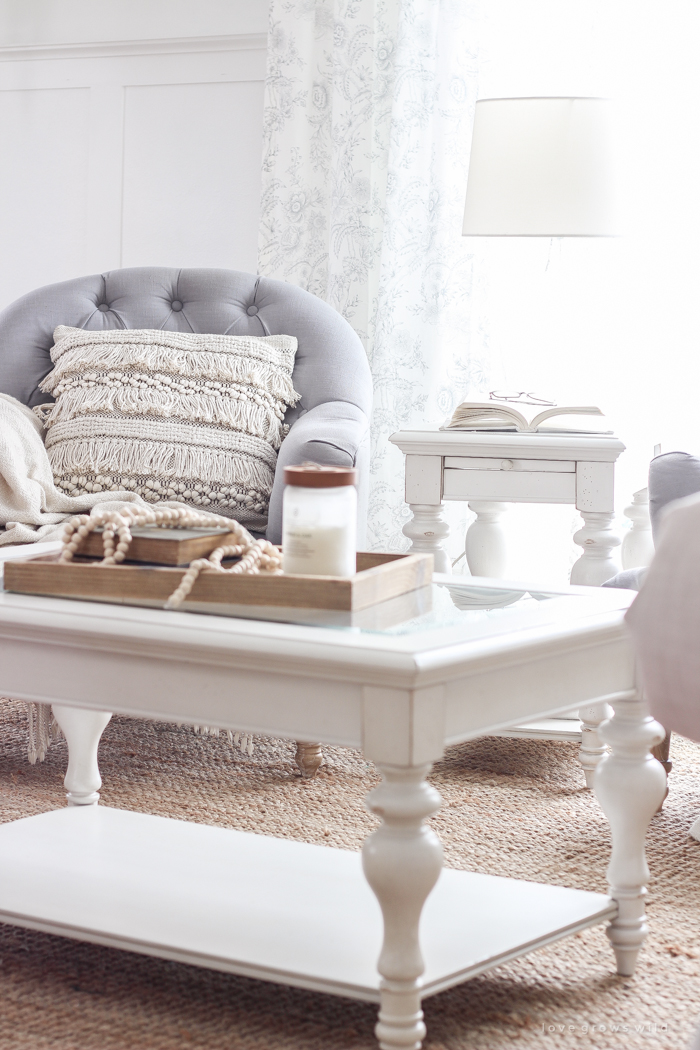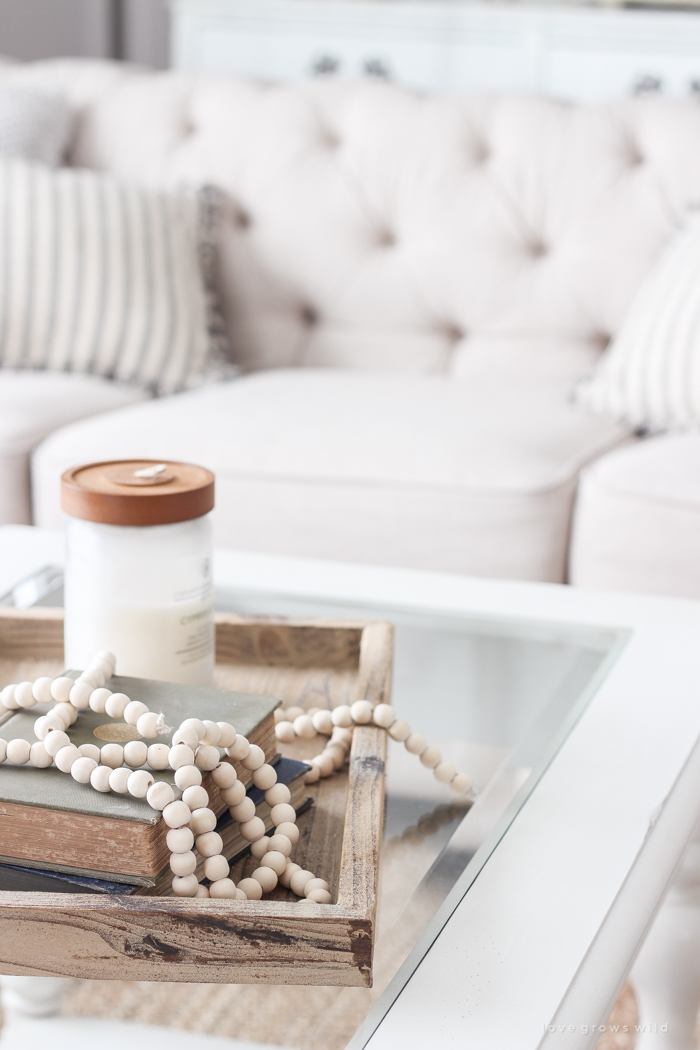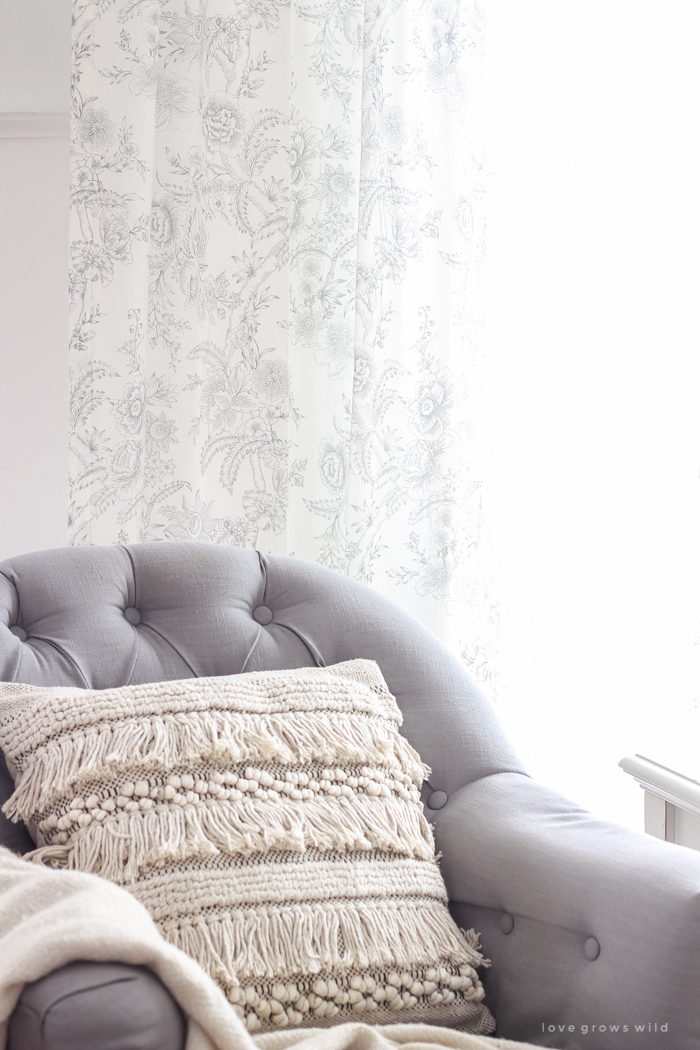 So what do you think of the new look, sweet friends? What are your favorite pieces in the room? Did you enjoy taking a trip down memory lane and seeing how our living room has evolved over the years? I hope it made you smile at some of my early attempts at decorating! : )
P.S. You can find where I found all the items in this room below!
Some of my blog friends are also giving their homes a little Birch Lane winter refresh this week, and I'd love for you stop by and see their beautiful spaces! My dear friend, Marian (who most of you know as Miss Mustard Seed), shared her room yesterday, and sweet Yvonne, from StoneGable, will be sharing hers tomorrow!

---
SOURCES:
---
Note: Some of the links in this post are affiliate links, which allows me to make a small commission from your purchase, but your purchase price stays the same. Thank you for helping support our blog!
This post is sponsored by Birch Lane, but all thoughts and opinions are 100% my own. Thank you for supporting the brands that make this blog possible!
---
LET'S KEEP IN TOUCH!
---
Subscribe to Blog | Follow on Instagram
Follow on Pinterest | Follow on Facebook