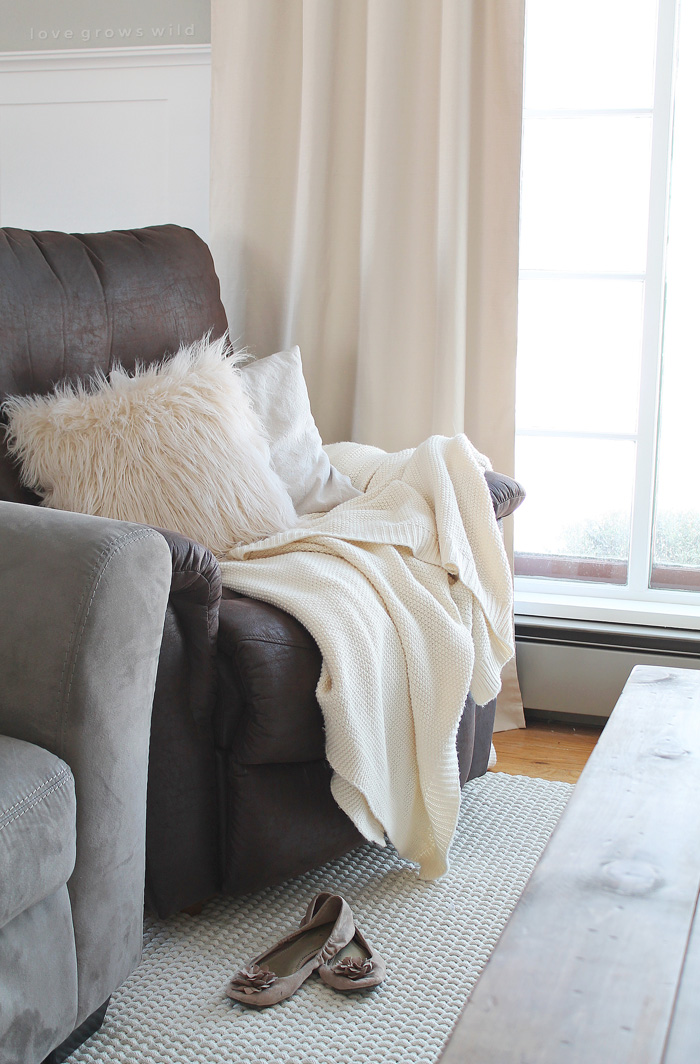 I'm finally ready to show you more updates from the living room makeover! You have no idea how hard it's been not to share every little update with you guys, but I wanted to wait until the space was at least semi-finished before I blogged about it. Will you forgive me? I figured a post titled, "Hey, the living room is a total disaster, but I GOT NEW LAMPS!" would probably not be the most exciting thing to read, so now that I have some good stuff to share, today is the day, my friends. I promise it is well worth the wait!
If you haven't seen the living room "before", I suggest starting with this little video tour I put together. It's always more fun to see the dramatic before and after! The living room started out dark and boring with outdated wood trim and a whole lot of gray going on. We first added a board and batten treatment to the bottom half of the walls, which lightened up the room and added tons of dimension and character. After seeing what a difference the board and batten made, I wish we had done it sooner!
You'll also notice that the furniture arrangement is COMPLETELY different than the last time you saw the space. I spent a good week moving furniture back and forth, trying to determine the best spot for everything. I'm pretty Jeremy thought he walked into the wrong house every night after work… 🙂
I decided to center the couches around our big picture window, which created a great conversation area for entertaining. Rather than pushing all our furniture against the walls (which seems like the normal, logical thing to do at first), I floated the couches in the middle of the room, and again… why didn't I do this sooner?? The room has a much better flow now and doesn't feel awkward and cluttered like it did before. The couches flank both sides of the window, the coffee table fits perfectly in between, we have a nice walkway on either side of the room, and the big, beautiful picture window becomes the focal point, allowing plenty of natural light into the space all day long.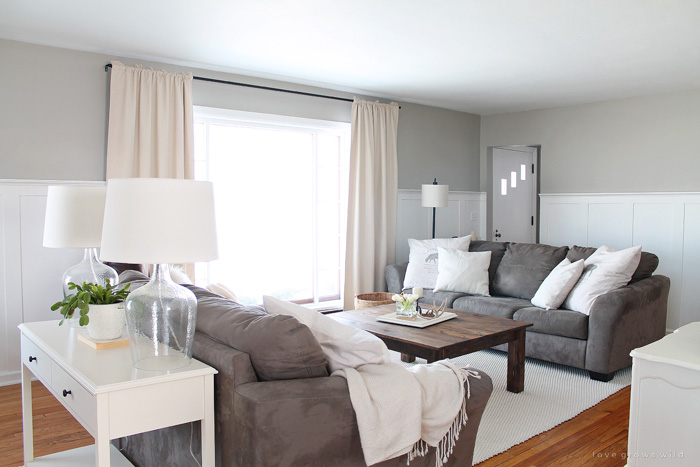 sofa table // glass lamps // rug // curtains
We moved the TV and media console to the wall across from the big window, and I ordered some nice, thick blackout curtains to hide any glare on the screen. That was the ONLY way Jeremy was going to let me switch the TV to this wall, so the new curtains ended up being a great compromise!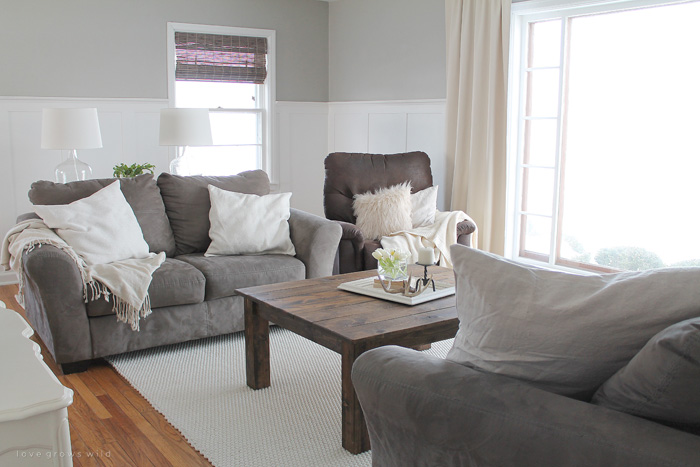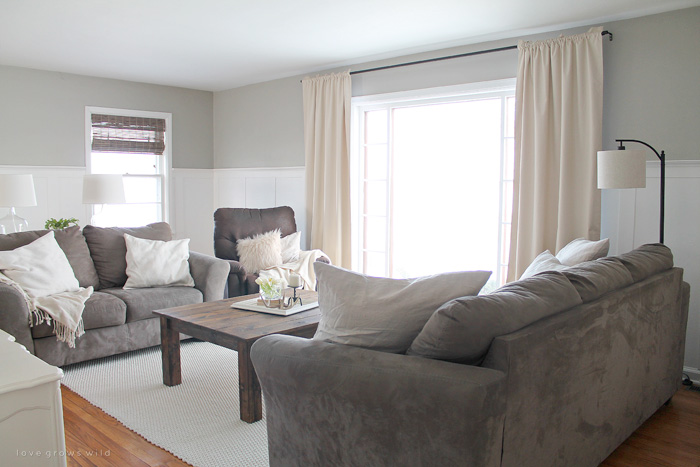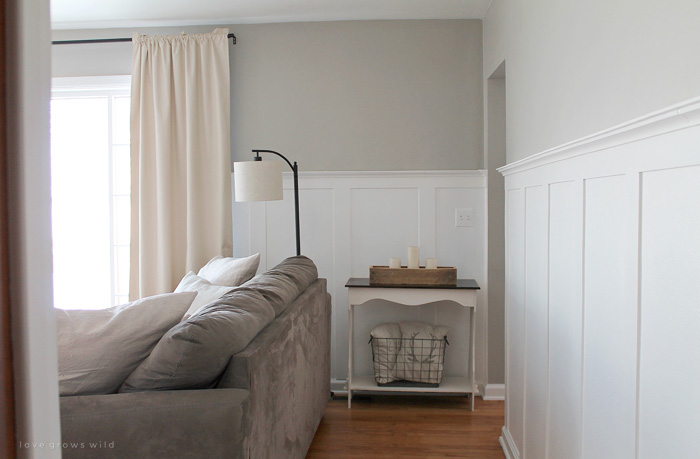 // floor lamp //
The old couches and J's beloved recliner didn't go anywhere, but I did replace the old glass coffee table with a new farmhouse-style table that I built myself! This was my first big-girl solo furniture build, and it was honestly way easier than I anticipated with the help of some new tools I've fallen in love with. The table has that rustic farmhouse vibe I was going for and warms up all the cool white and gray tones in the room perfectly. More details and plans for the table coming to the blog in the next few weeks!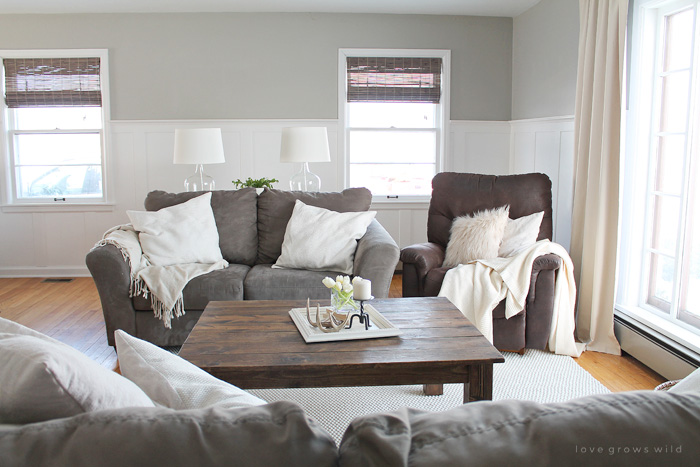 roman shades // fringe throw blanket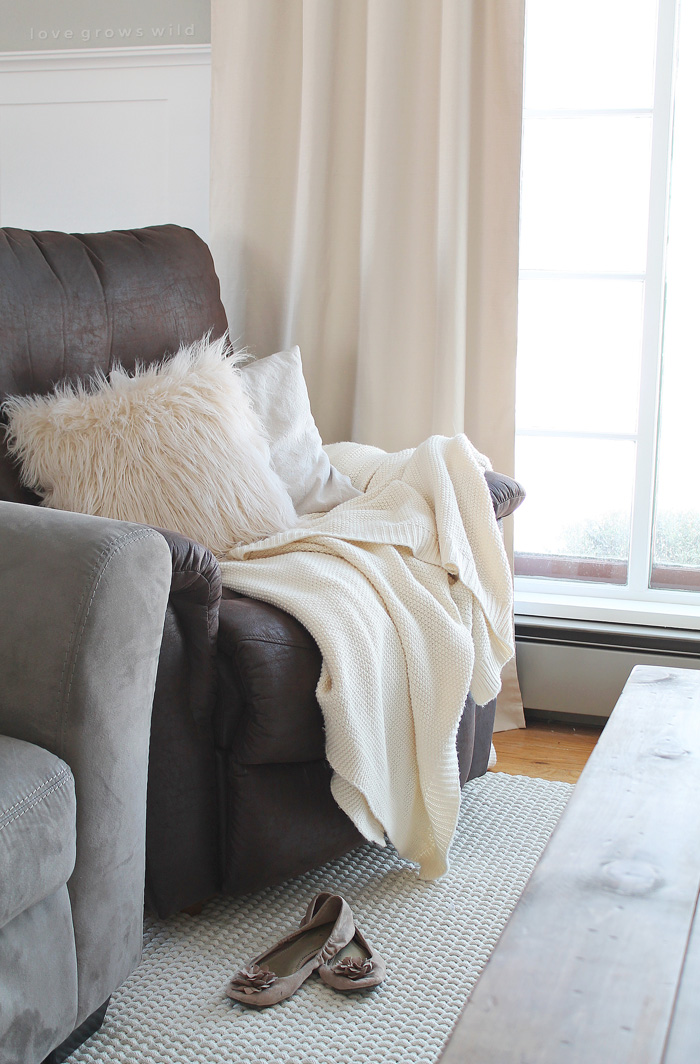 knit blanket // faux fur pillow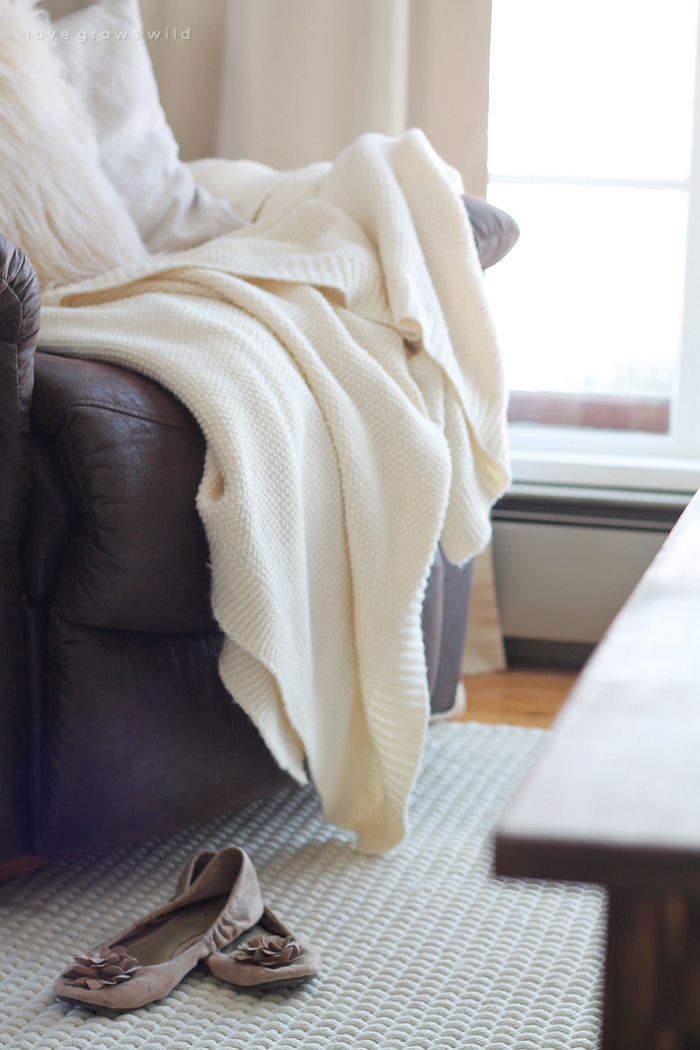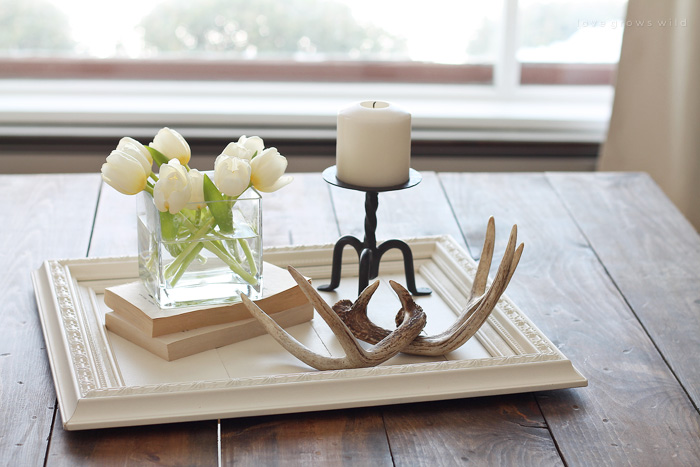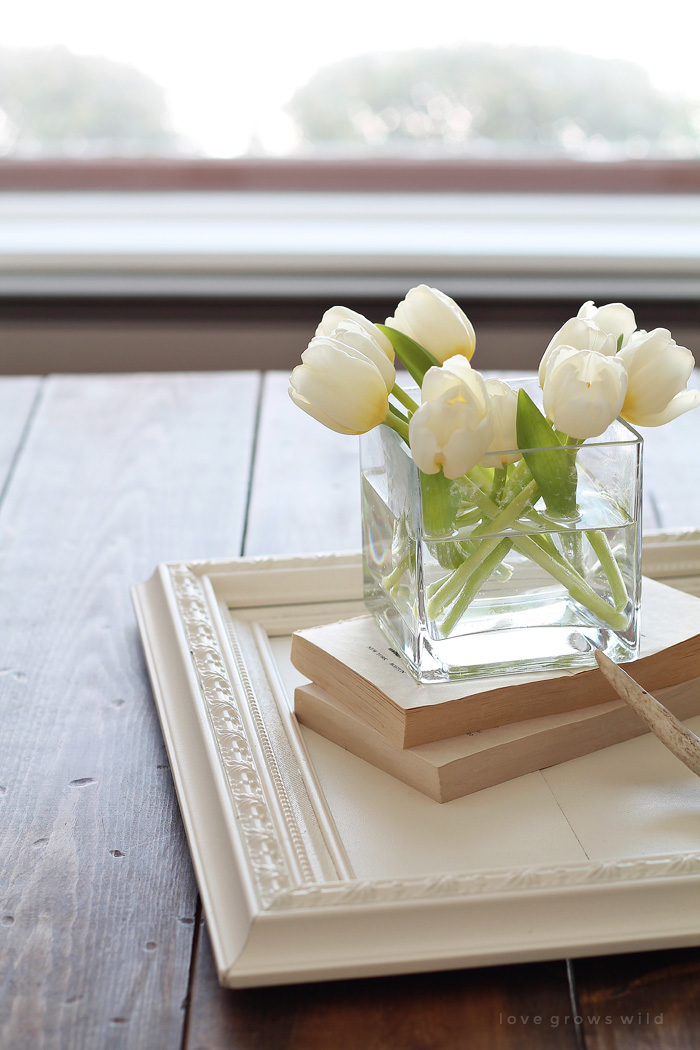 The couches were in desperate need of some pillow love, so I made a bunch of new covers for our old pillows using a cheap drop cloth from the hardware store. A $10 drop cloth gave me a TON of fabric to work with! I love the neutral color, and the cozy, slightly-wrinkled texture is perfect for the farmhouse look.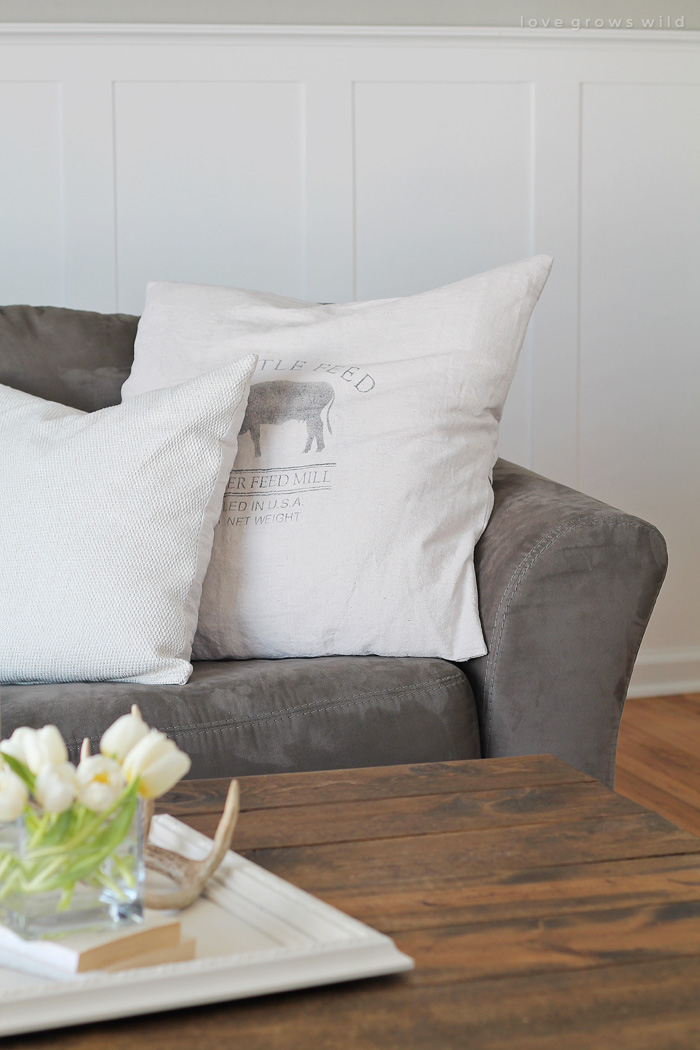 Making your own pillow covers is a great money-saver and an easy way to change up your space quickly and easily. I'll have a tutorial for you soon on how I made these pillows, along with the story behind this sweet printed design I created. I won't spill the beans completely, but it's a very special reminder of where we started our family!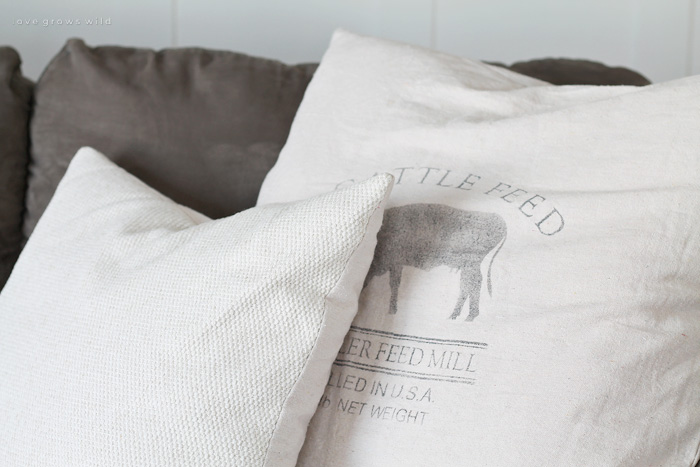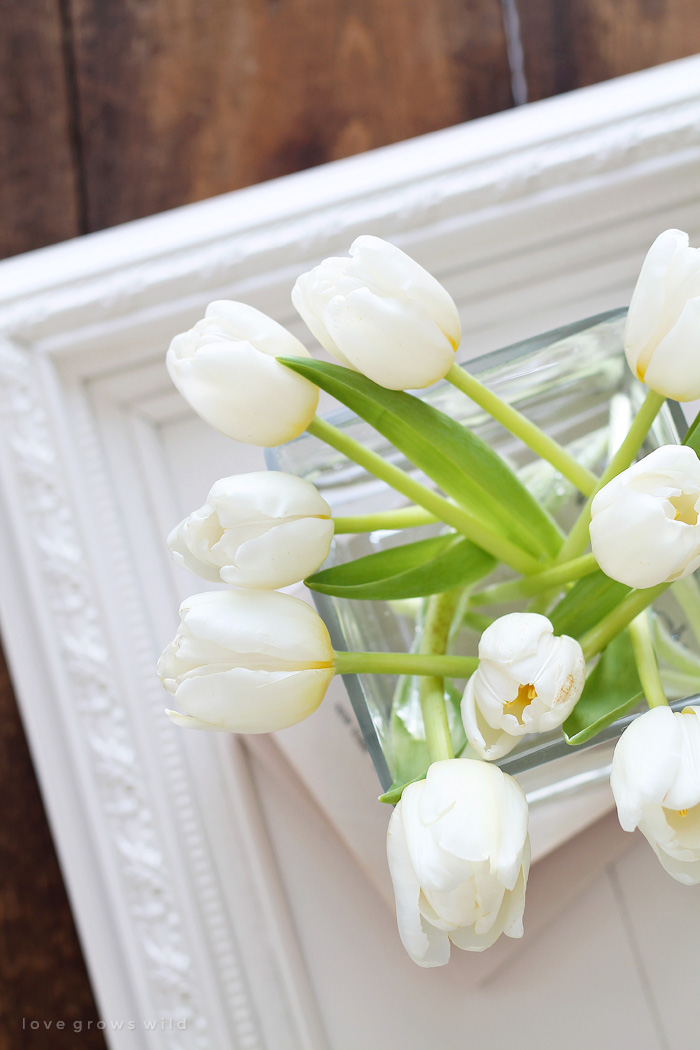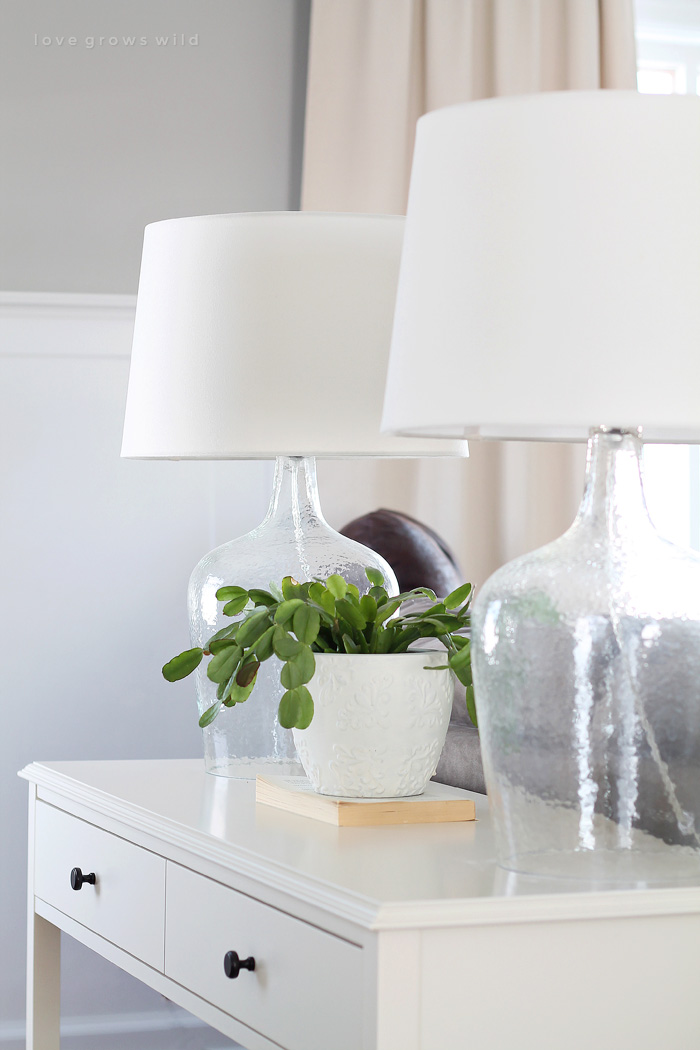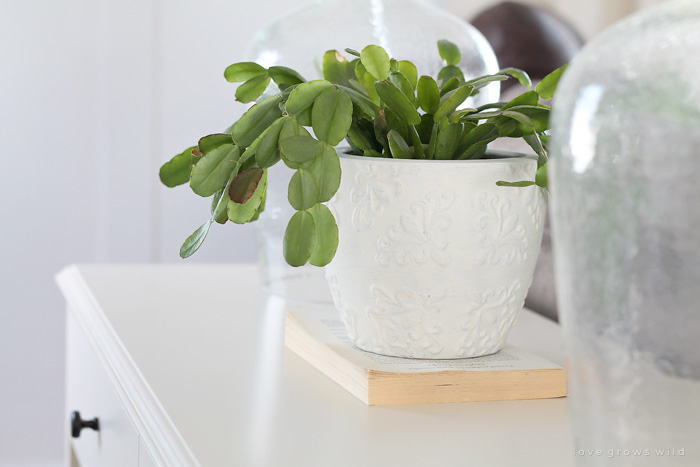 Remember the gallery wall that used to be displayed in our living room? I was so sad to take it down when we started the board and batten project, but I knew that I could probably re-purpose some of the pieces in other areas of our home. Do you remember the awesome arrow I made out of old pallet wood my sister brought me? I used some of the pallet scraps to make a rustic box for this little side table! It's perfect for holding some candles, mason jars, or seasonal items.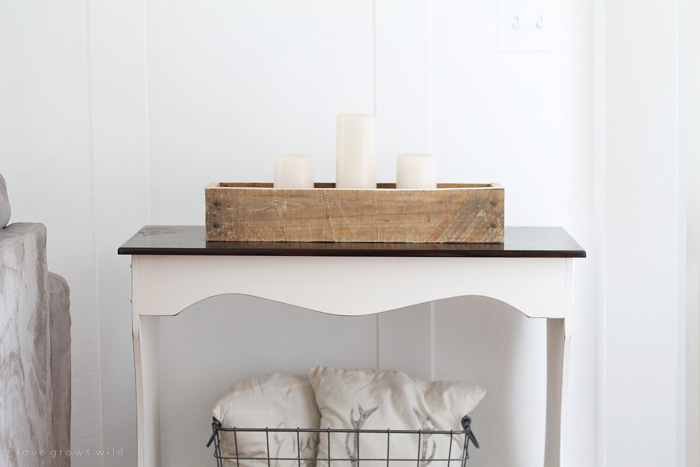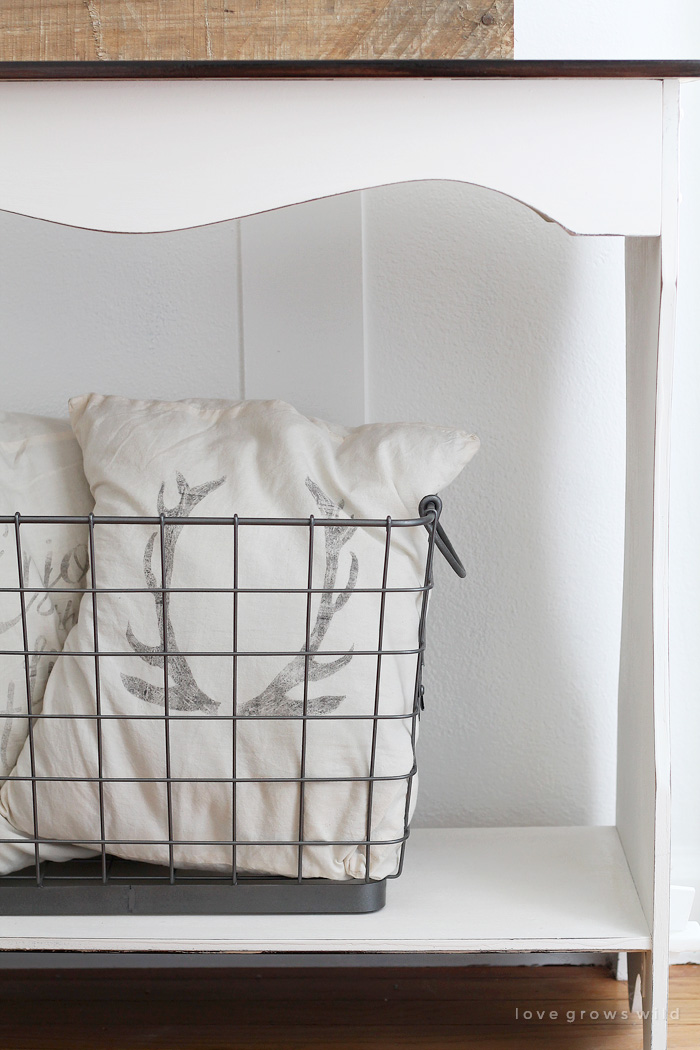 Just around the corner from our living room is a tiny hallway (if you can even call it that) that leads to the front door, a coat closet, and my office.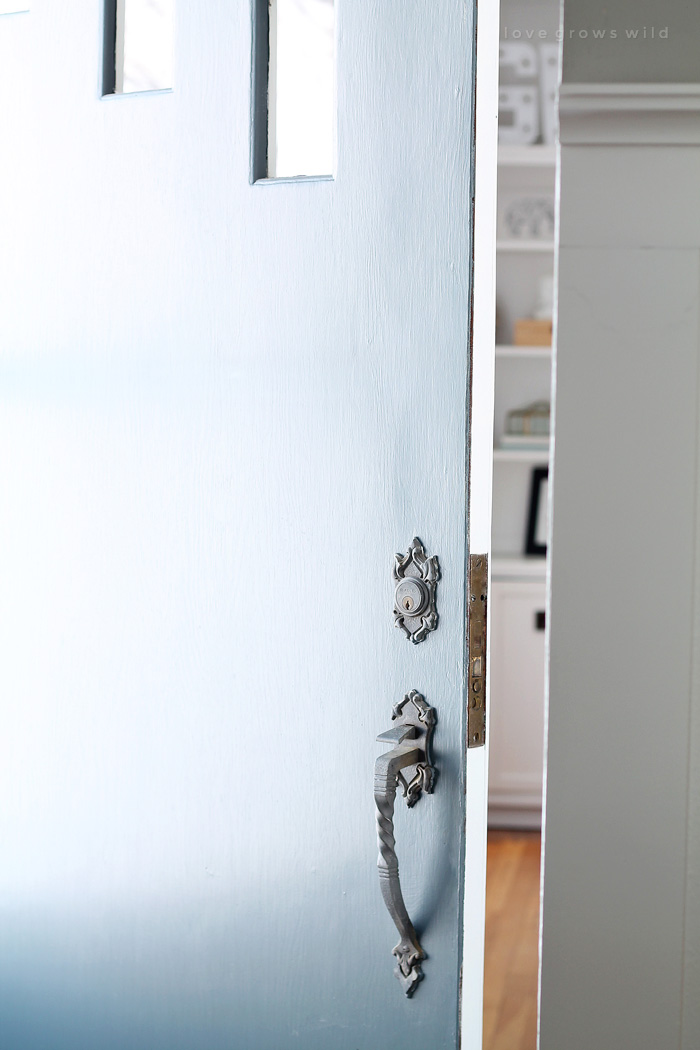 I painted all the trim and doors white to match the office and living room, but when you open the front door, you find a gorgeous muddy turquoise blue color on the outside and an antique door handle I might have to steal if we ever leave this house. It's the little surprise details like this that make me LOVE our house!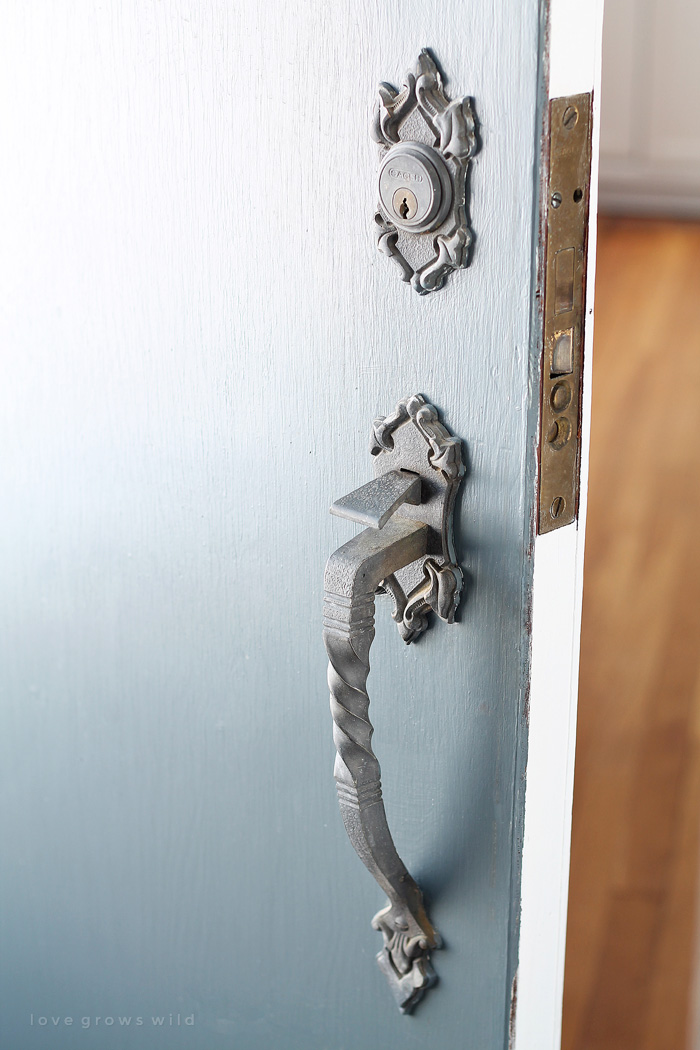 Since we use the side door instead of the front door to come in, our tiny coat closet up here rarely gets used. I have plans for fixing up a little entryway space by our side door (details coming soon!), so this closet may get re-purpose for other storage in the future.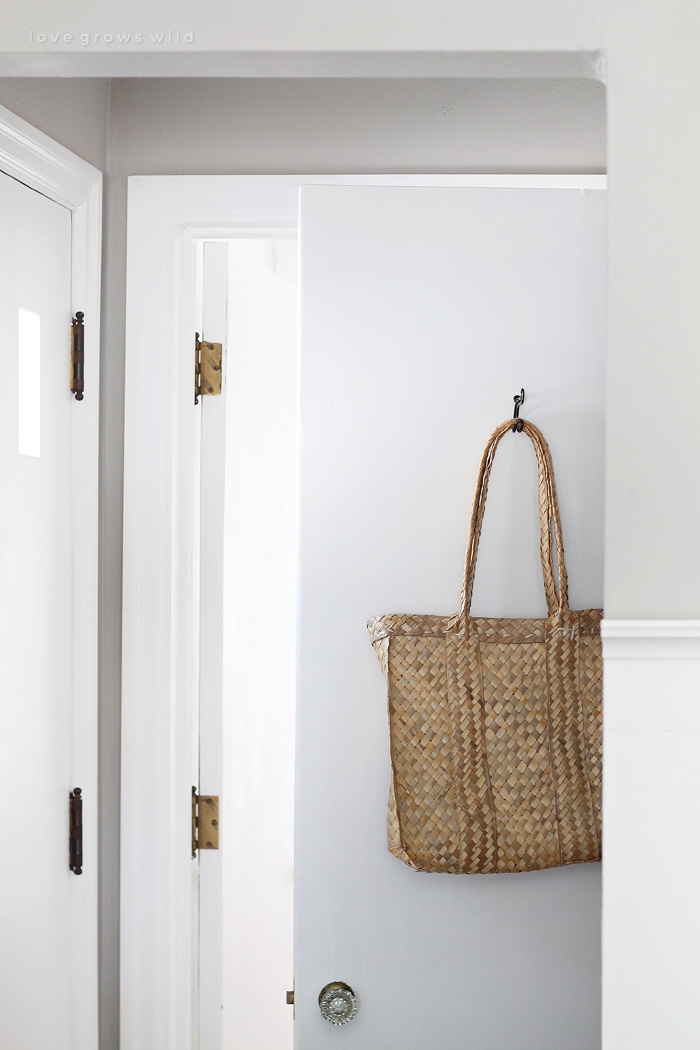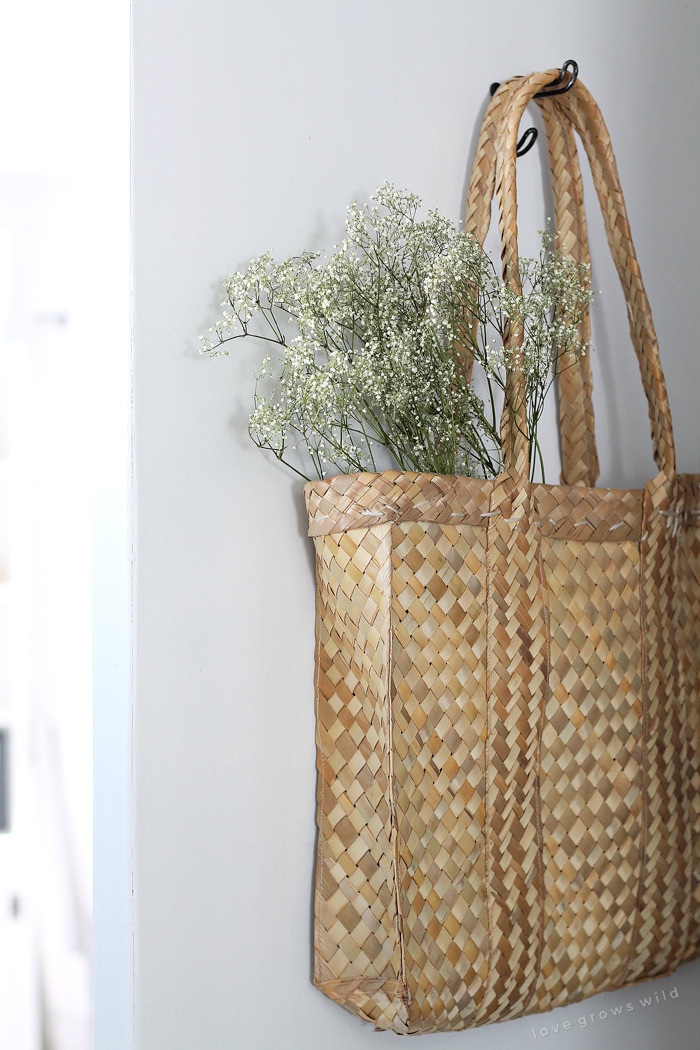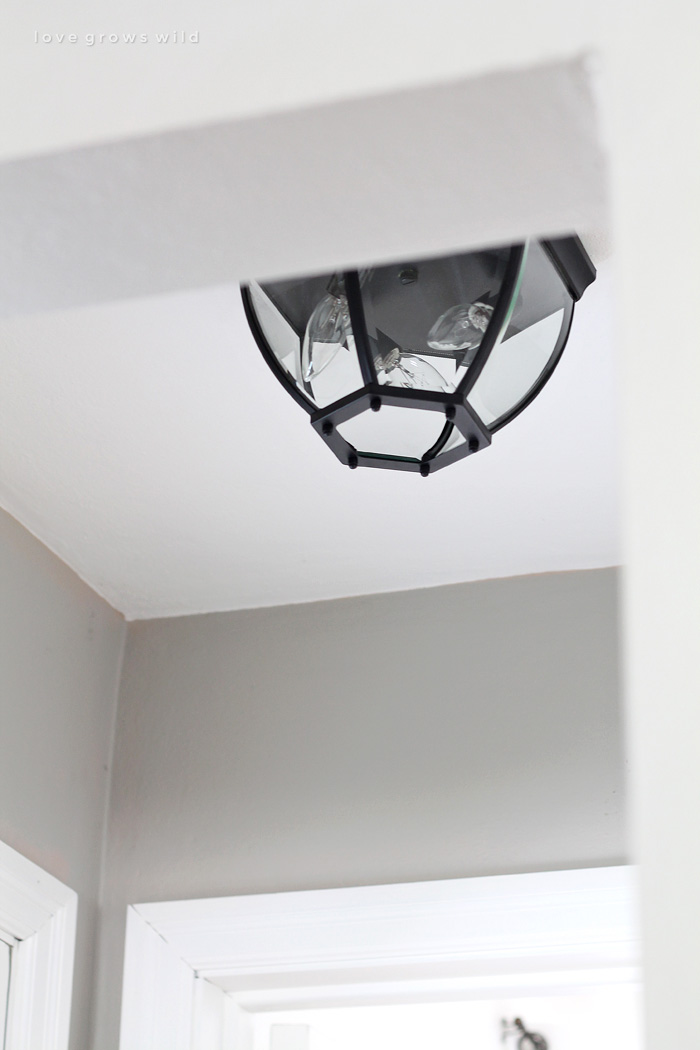 // light fixture //
All these updates have taken weeks of long days and late nights, but man, am I proud of this space. It finally feels like "us"! Okay guys, your turn… tell me what YOU think! Leave me a comment below and share your thoughts on the new furniture arrangement, board and batten walls, and farmhouse style. I can't WAIT to hear your feedback!
---
Like what you see? Subscribe to Love Grows Wild so you'll never miss a post!
Follow along on Pinterest, Google+, Instagram, and Facebook for more fun!
---
Looking for more inspiration?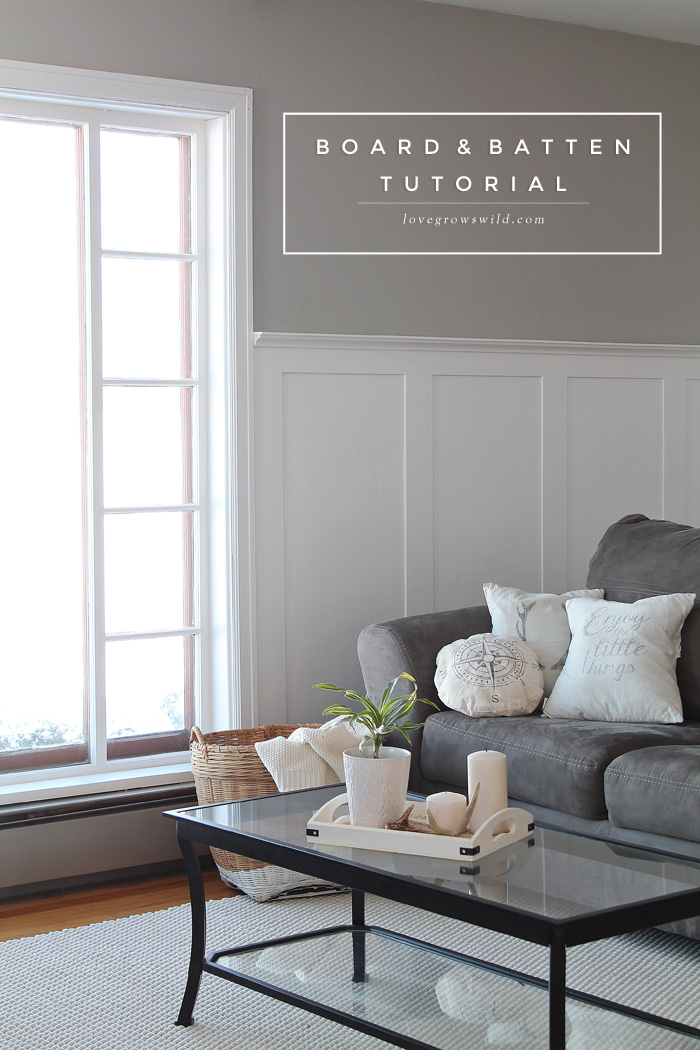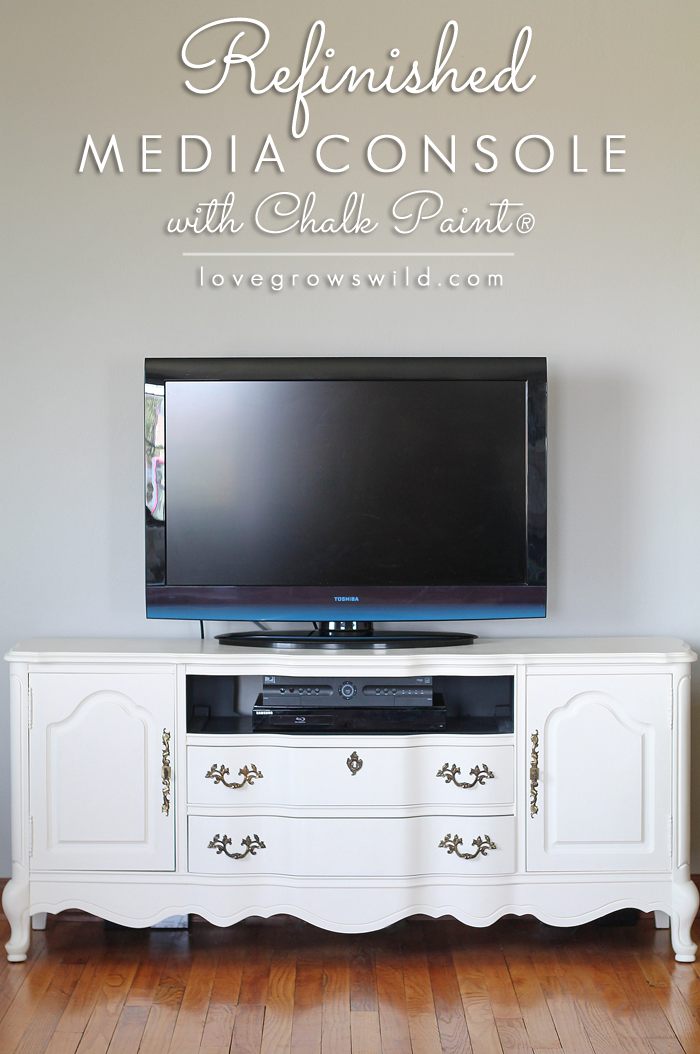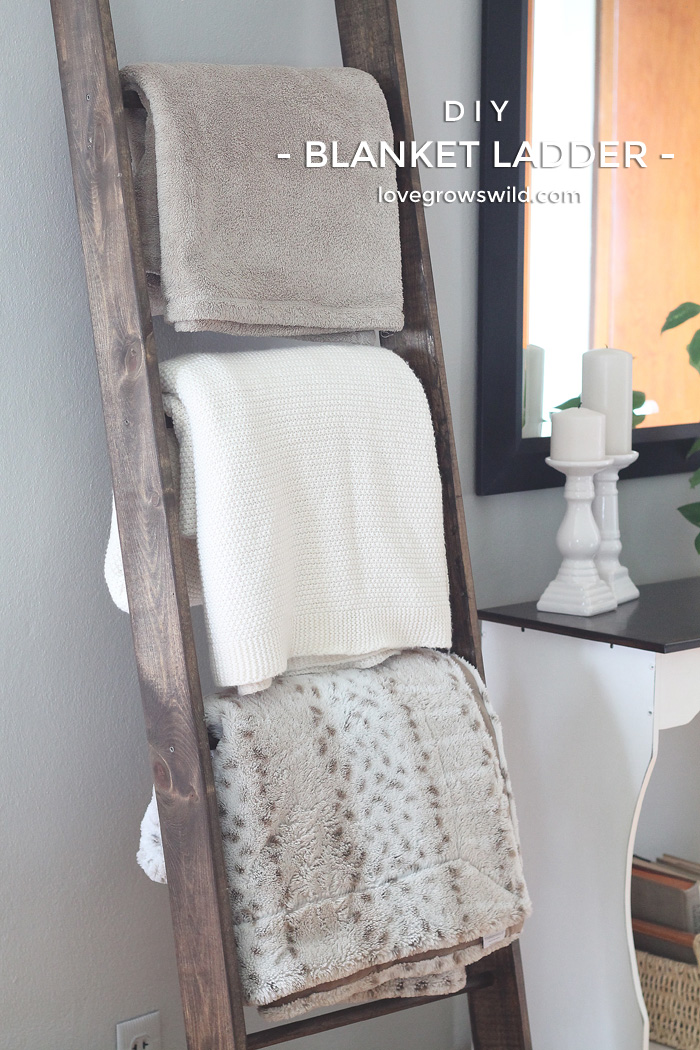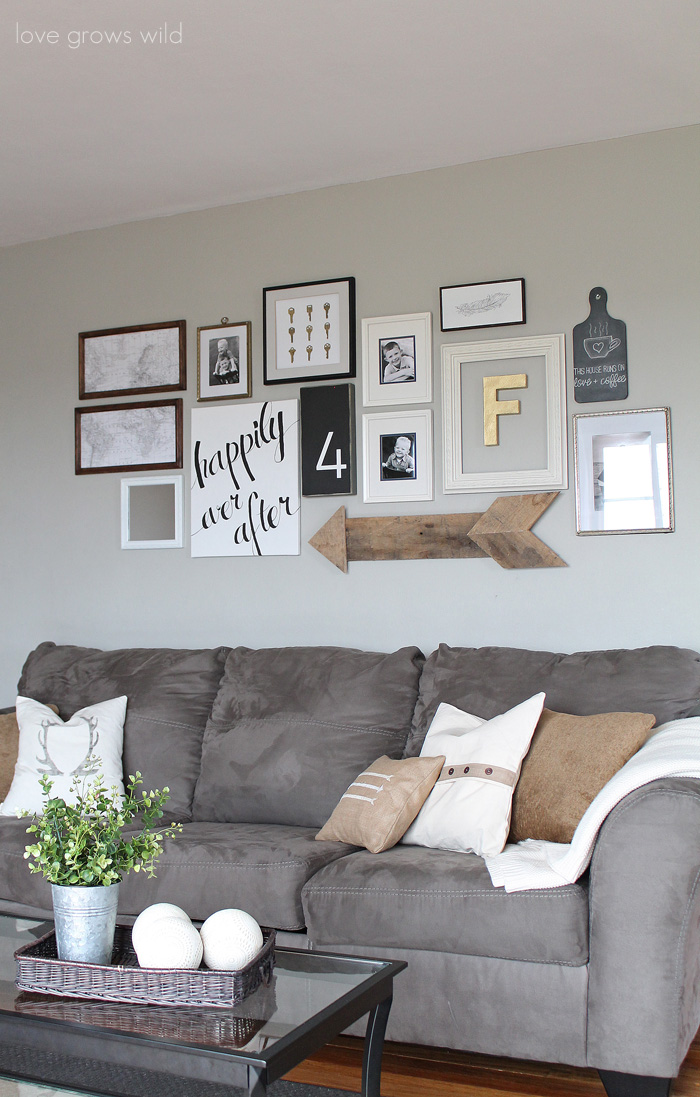 ---
LET'S KEEP IN TOUCH!
Subscribe to Blog | Browse my Shop | Follow on Facebook | Follow on Twitter
Follow on Google+ | Follow on Pinterest | Follow on Instagram