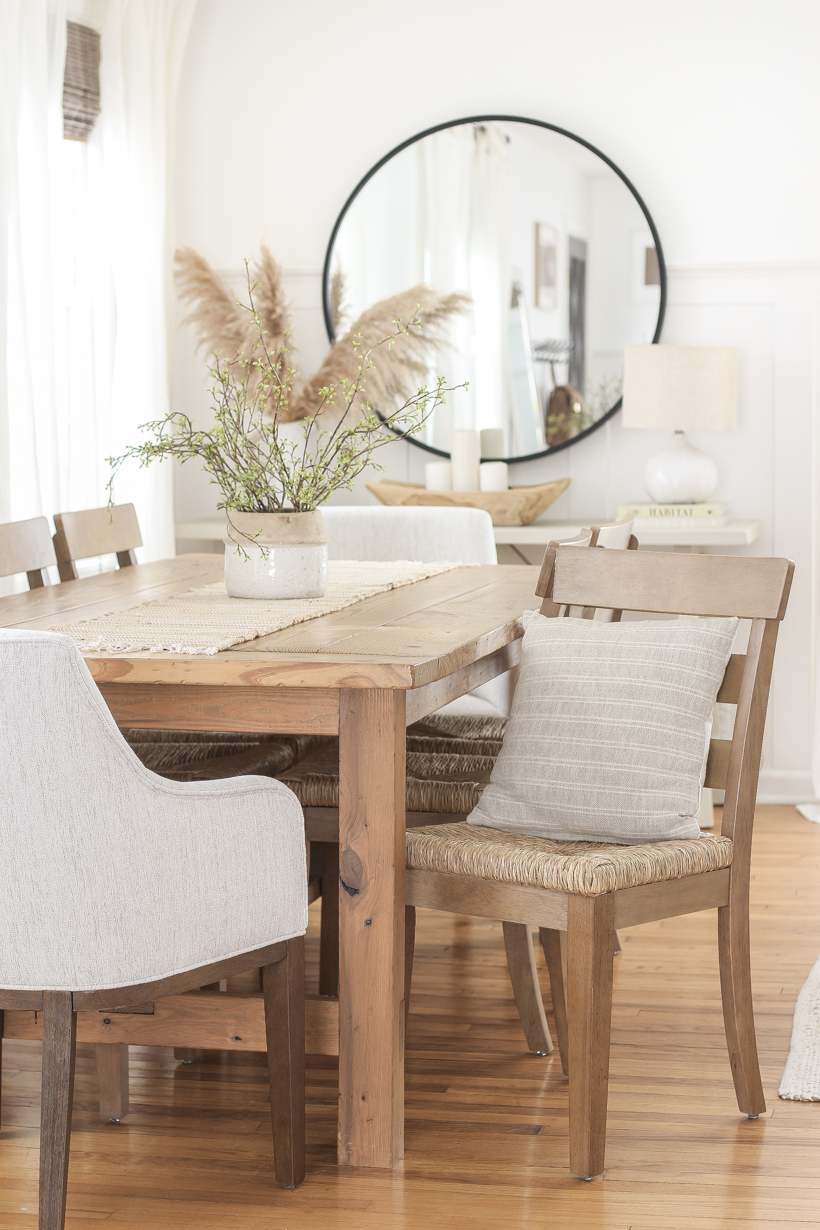 I've slowly been making a lot of little changes in our living/dining room that are starting to really change the look and feel of this big, open space. It began with adding two customized IKEA bookcases in the living room and hanging beautiful antique brass wall sconces above. You can read the details of that project here. Then I switched out our black metal and glass coffee table for a beautiful wood one from here, which added so much warmth to the space.
Since the living room and dining room are connected, these changes spilled over into the dining area as well, and I finally pulled the trigger on new dining chairs that I've been eyeing for quite awhile. This is the perfect example of how your style can evolve over time, and I'm so excited to show you this updated look for less today!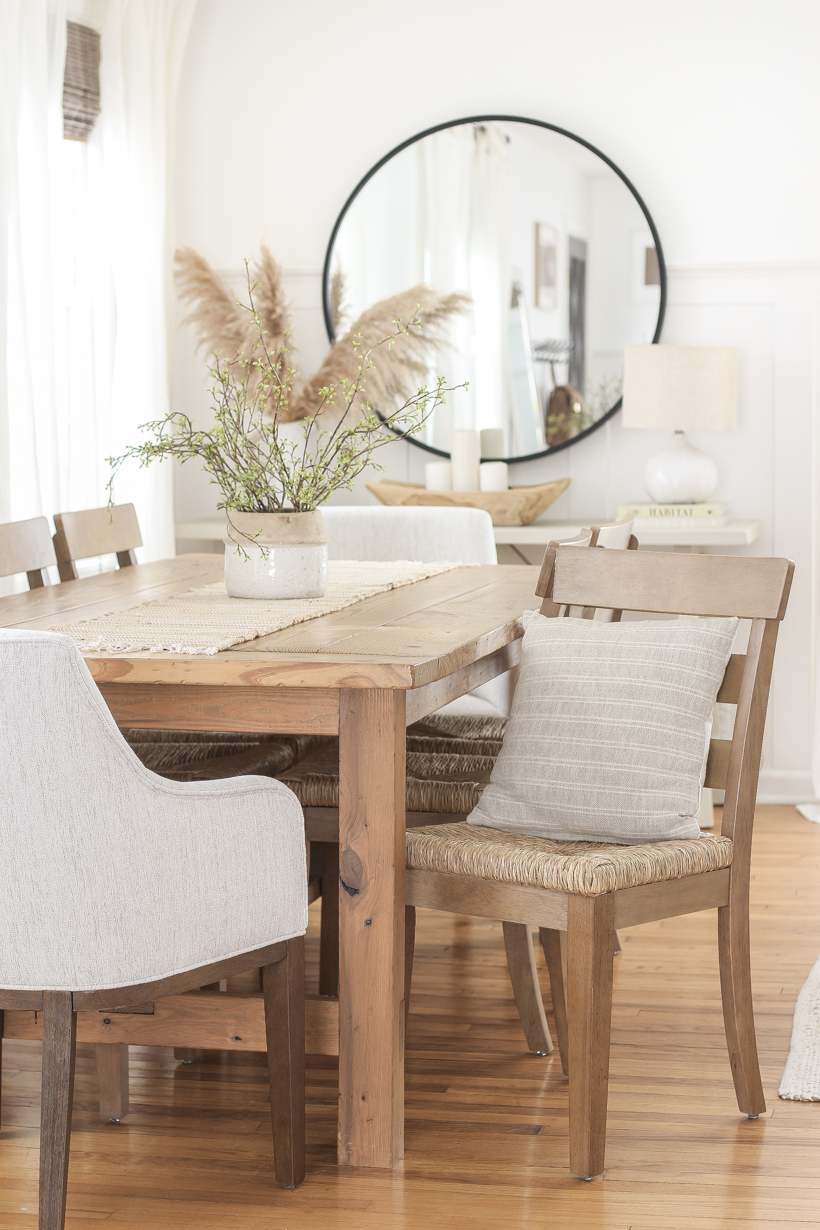 If you've been here for awhile, you probably remember what I had in here before… three of these cross back chairs, one long bench to match our dining table I built, and two partially upholstered armchairs at the ends of the table. You can see photos of everything here.
I still love those cross back chairs, so I ended up moving them into my kitchen, but I wanted something that felt a little less "french country" and a little more simple and streamlined for the armchairs. I was really inspired by this image of Shea McGee's dining room and wanted to recreate this look on a much smaller budget.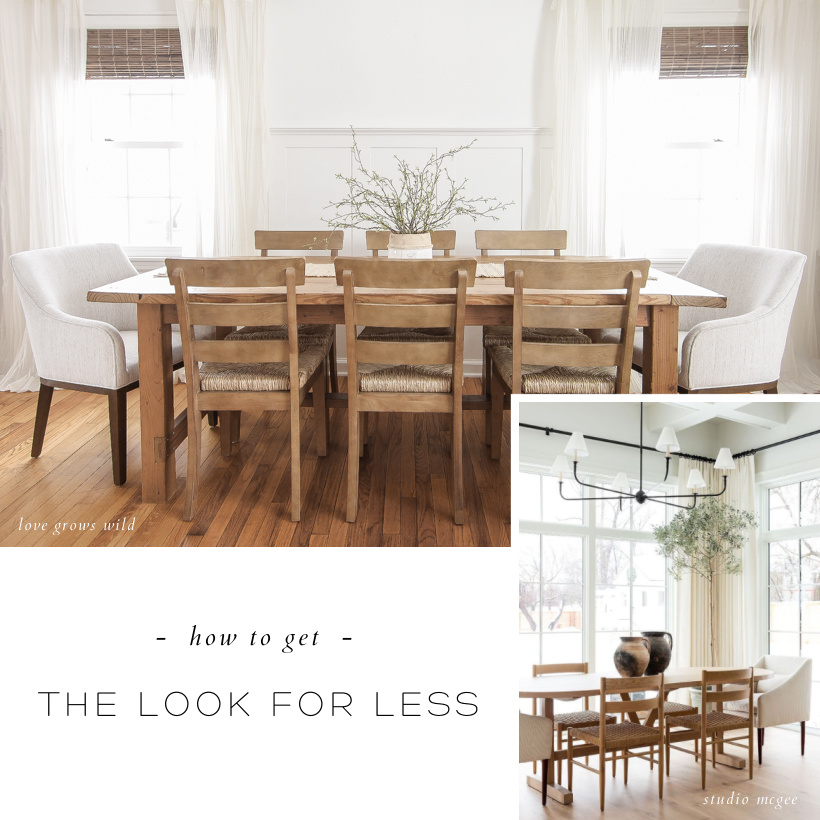 I wanted to find a simple wooden dining chair that had some kind of caning, rattan, or natural texture on the seat, similar to the ones from McGee & Co. and ended up going with this much more affordable option that has a woven seagrass seat. We actually used the barstool height version of this same chair in the Armstrong House kitchen, so I already knew the quality was good and the color of the wood tone was what I was looking for.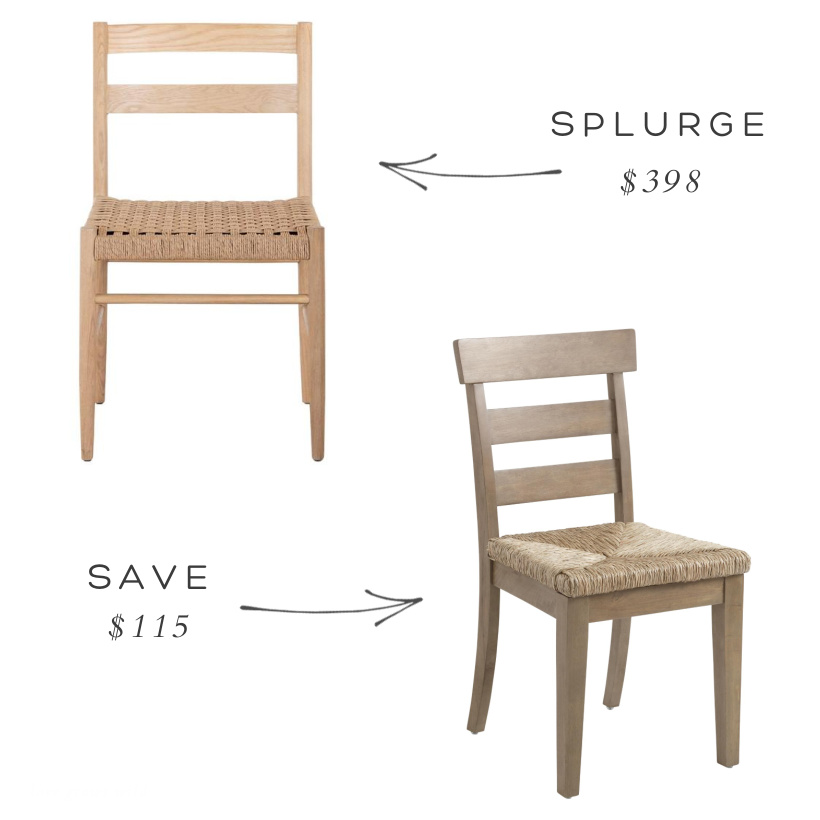 the splurge | $398
the save | $115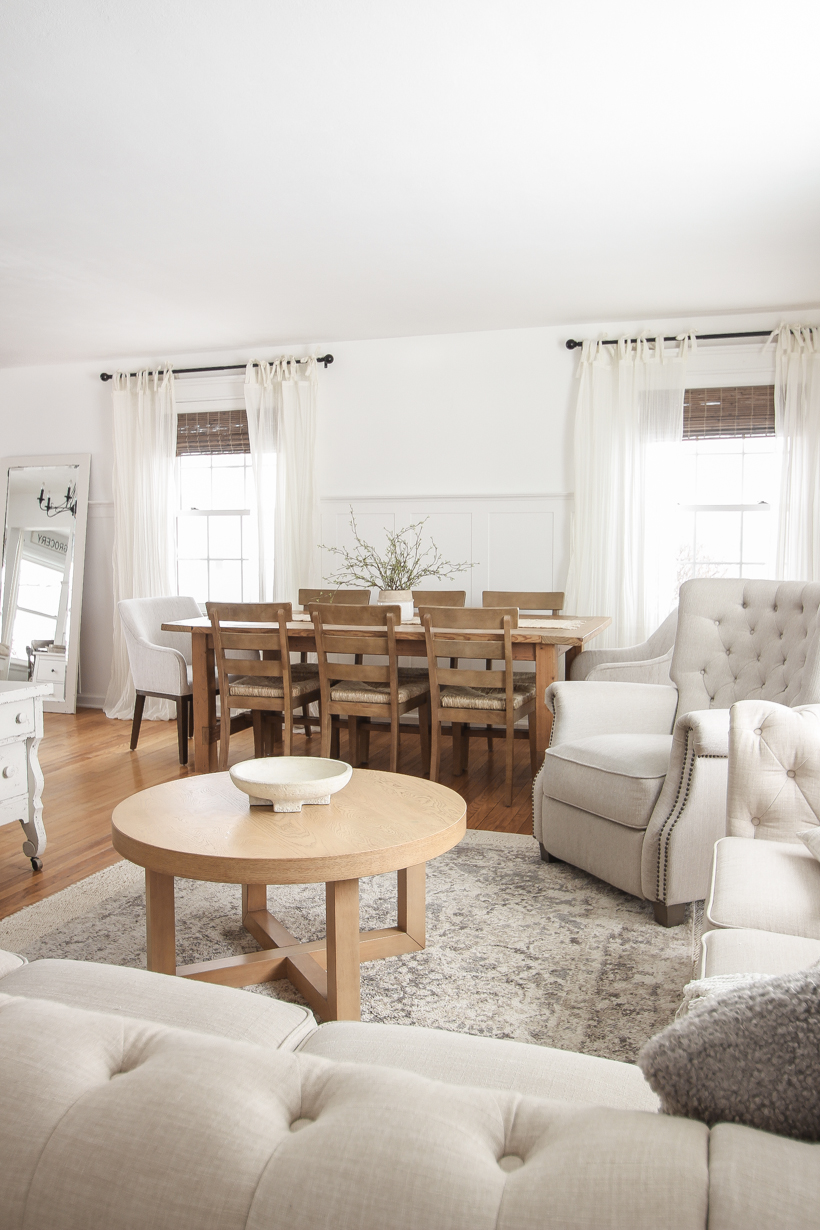 I love the look of a different armchair at the ends of the table, but the price tag on the McGee & Co. chair was way more than I was willing to spend. I found a very similar upholstered chair with simple legs for $400 less to complete the look in my dining room.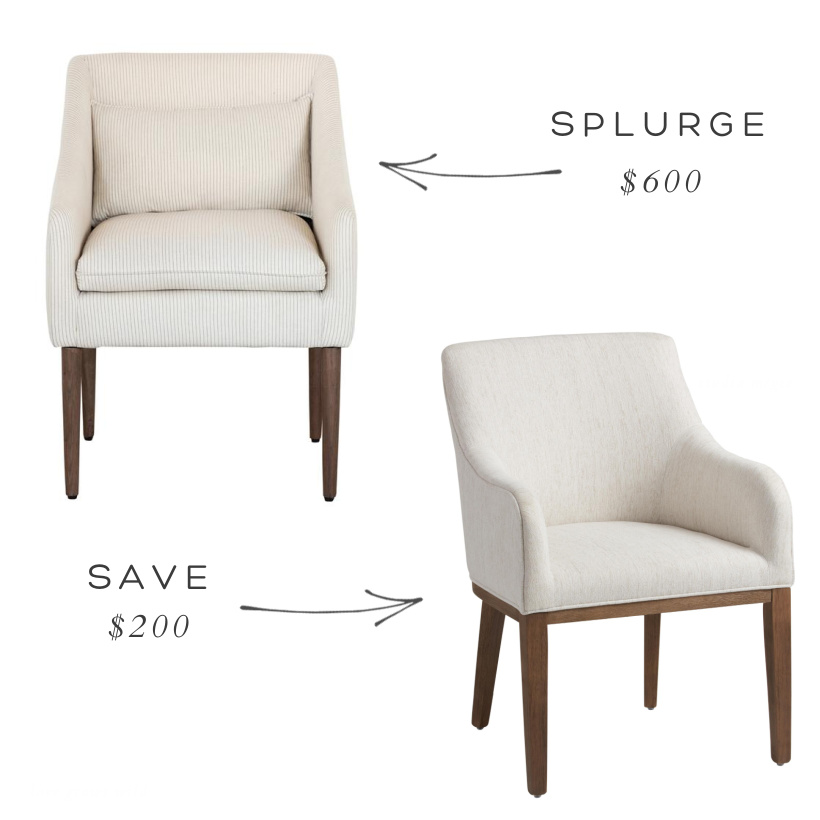 the splurge | $600
the save | $200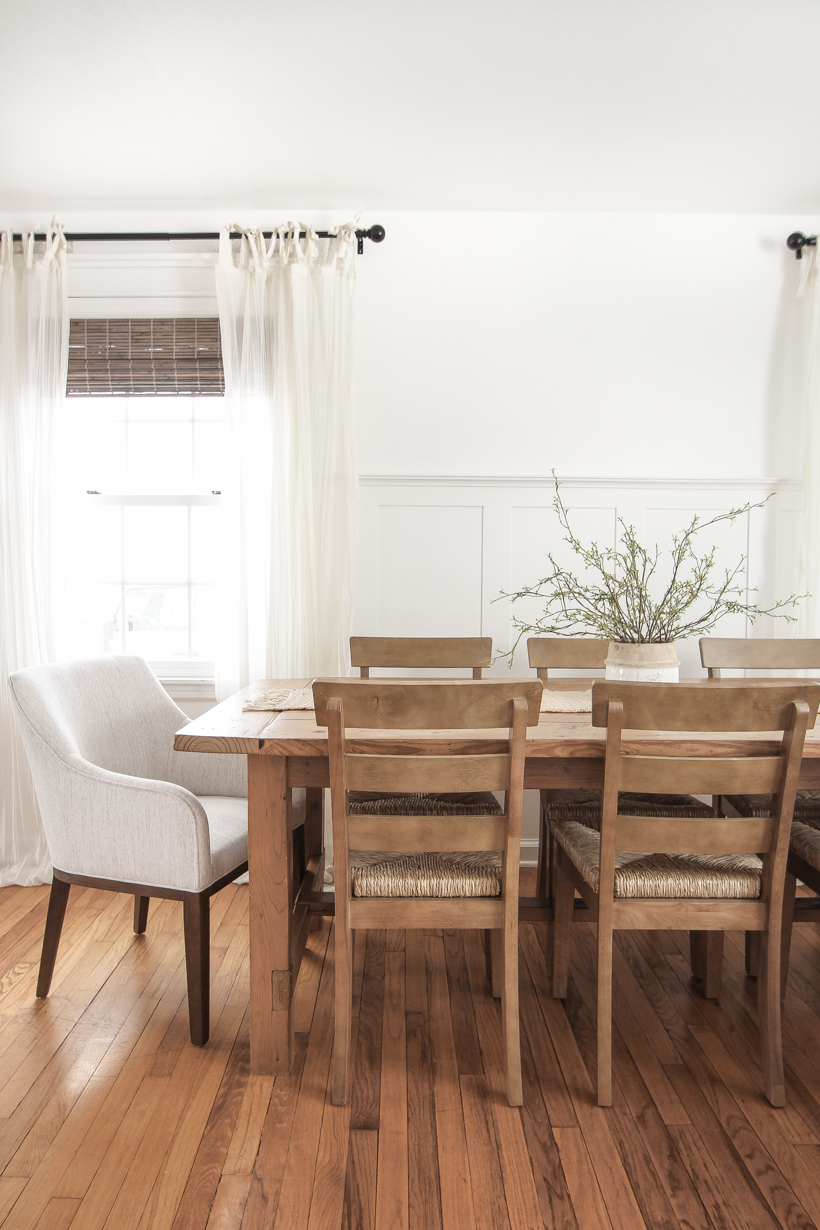 Ideally I would add an area rug underneath the table, but I have a two large layered rugs just a few feet away in the living room, so I choose to leave the dining space bare. It's actually a lot easier to clean and vacuum without a rug here, so I don't mind that part!
I have plans to add something on the wall in between the two windows, so stay tuned for that little project coming up soon.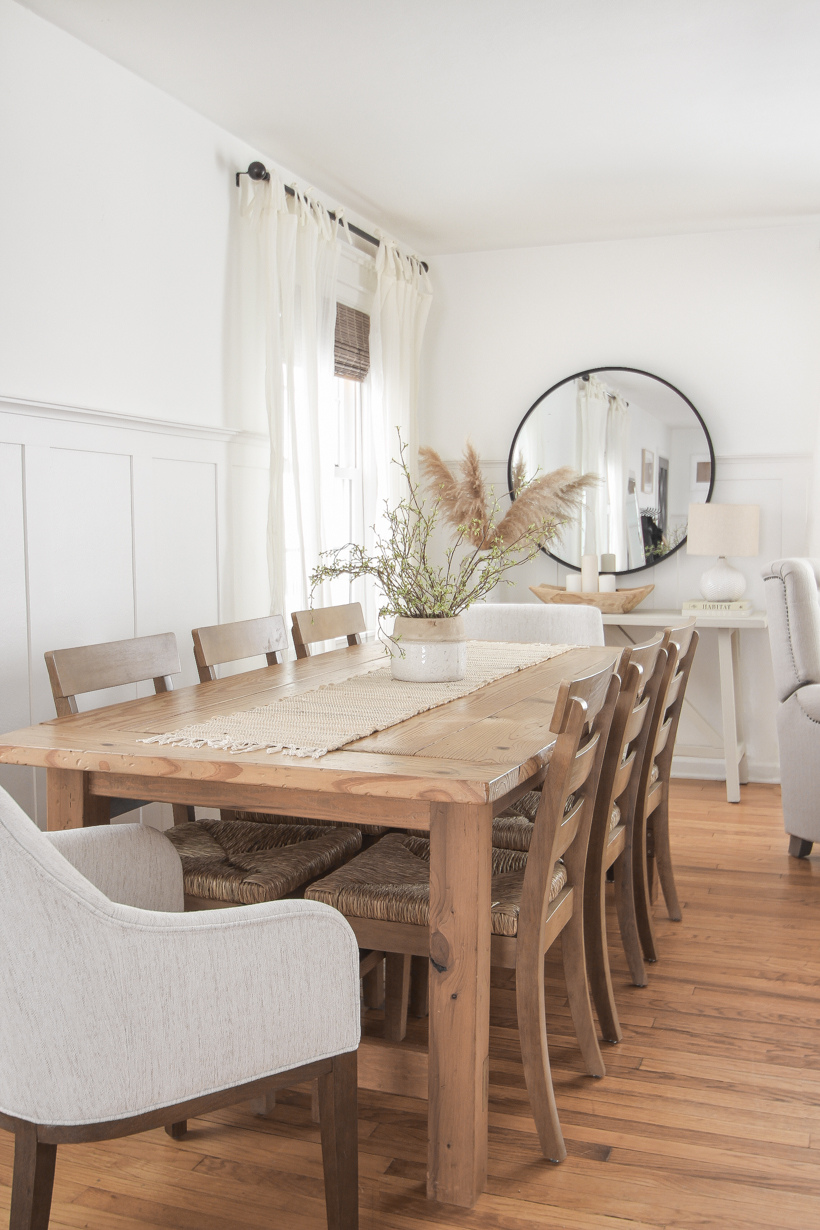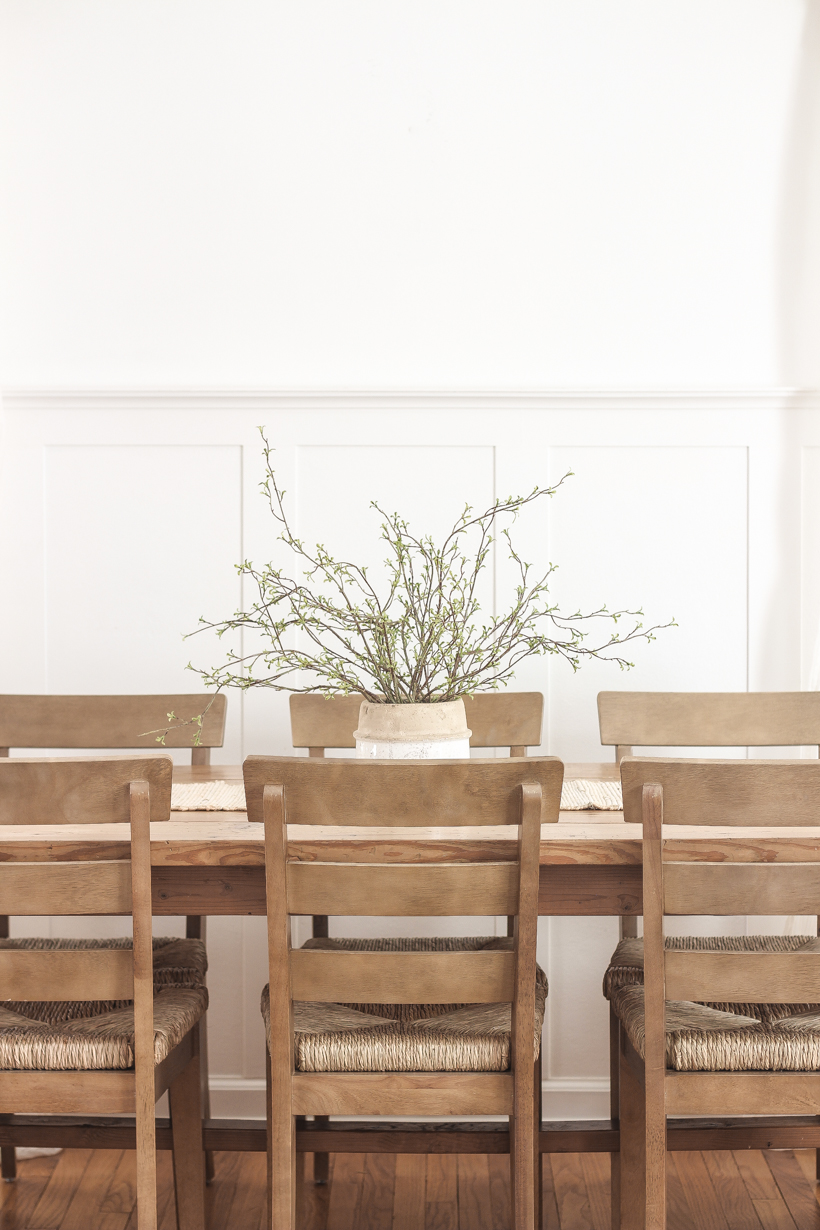 Another change you might have noticed in here was the console table and mirror on this wall. Previously I had an antique cabinet with a distressed white wood mirror and two large farmhouse style lamps. The look was very soft, feminine, and beautiful, but again, I was ready for a change. I pulled this console table from a hallway upstairs and decor I had around the house to complete the look. The round black mirror gives a more modern edge, while the wood bowl and pampas grass give off a bit of a bohemian vibe.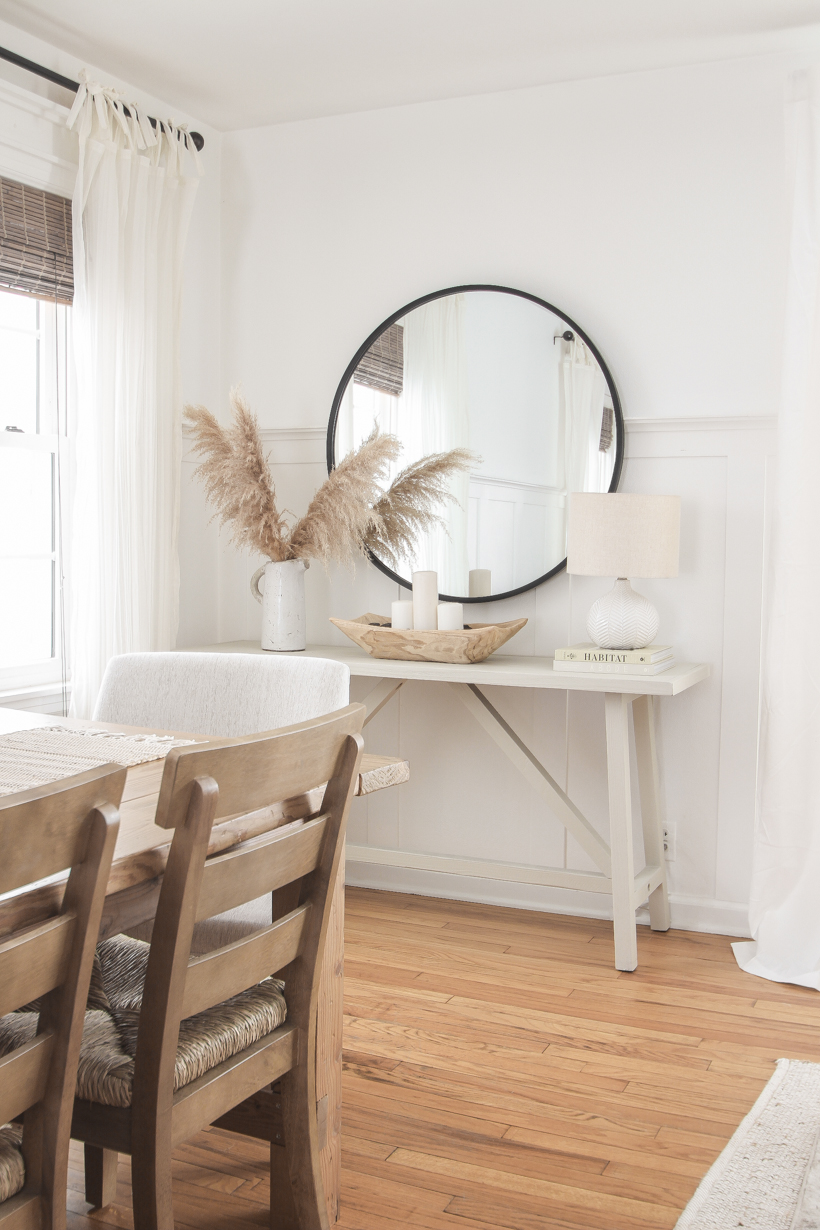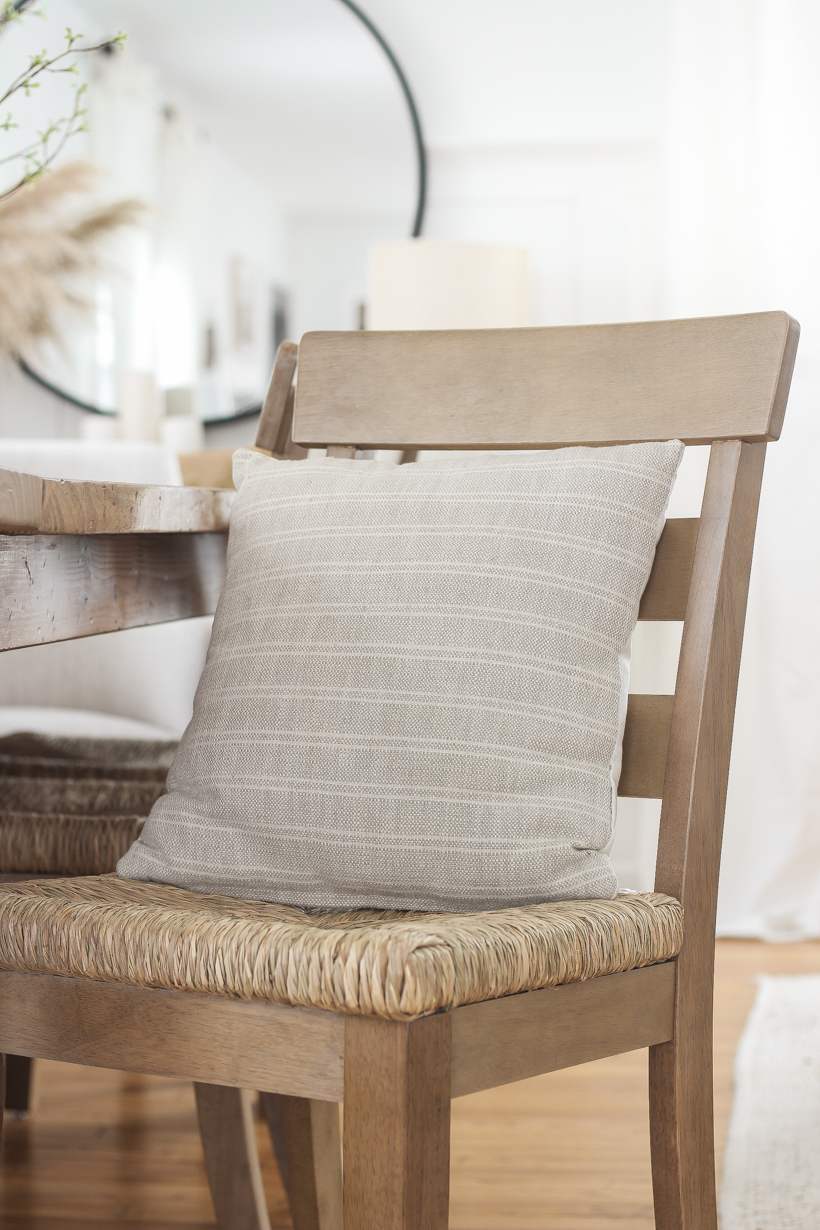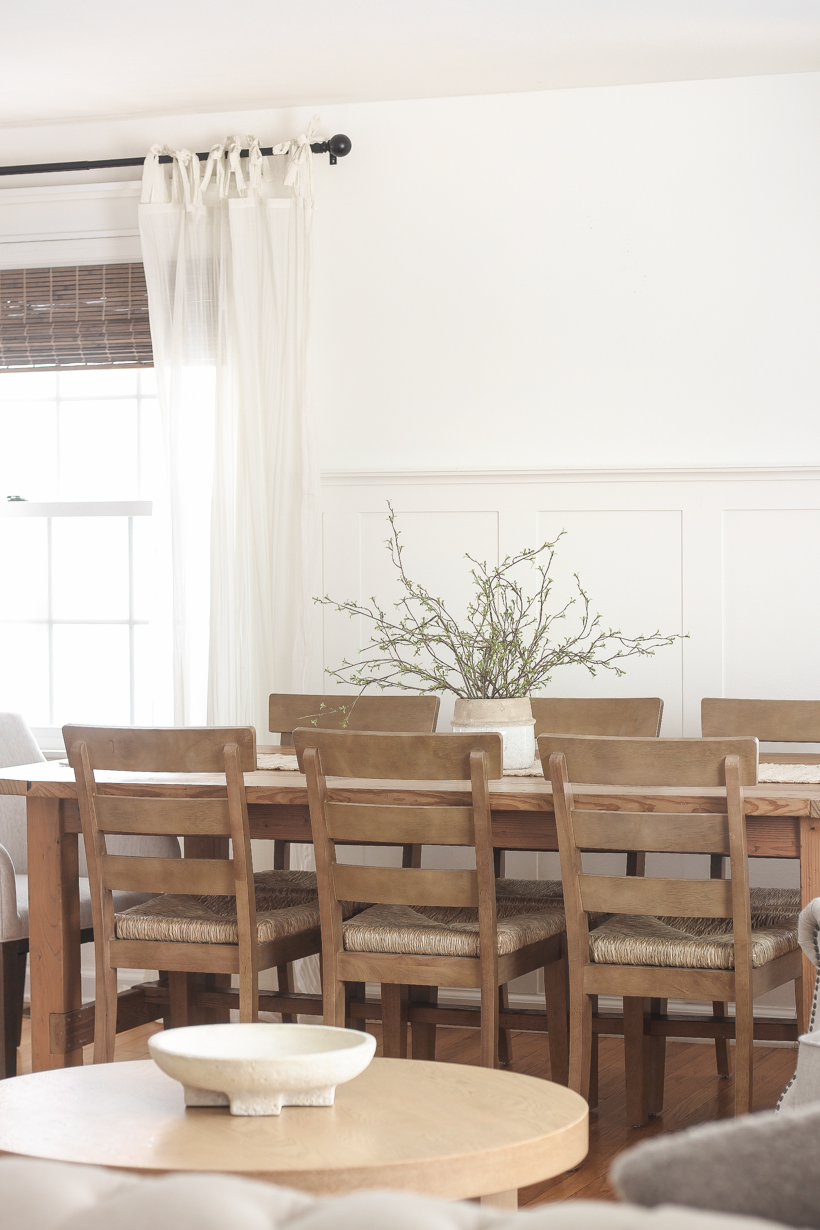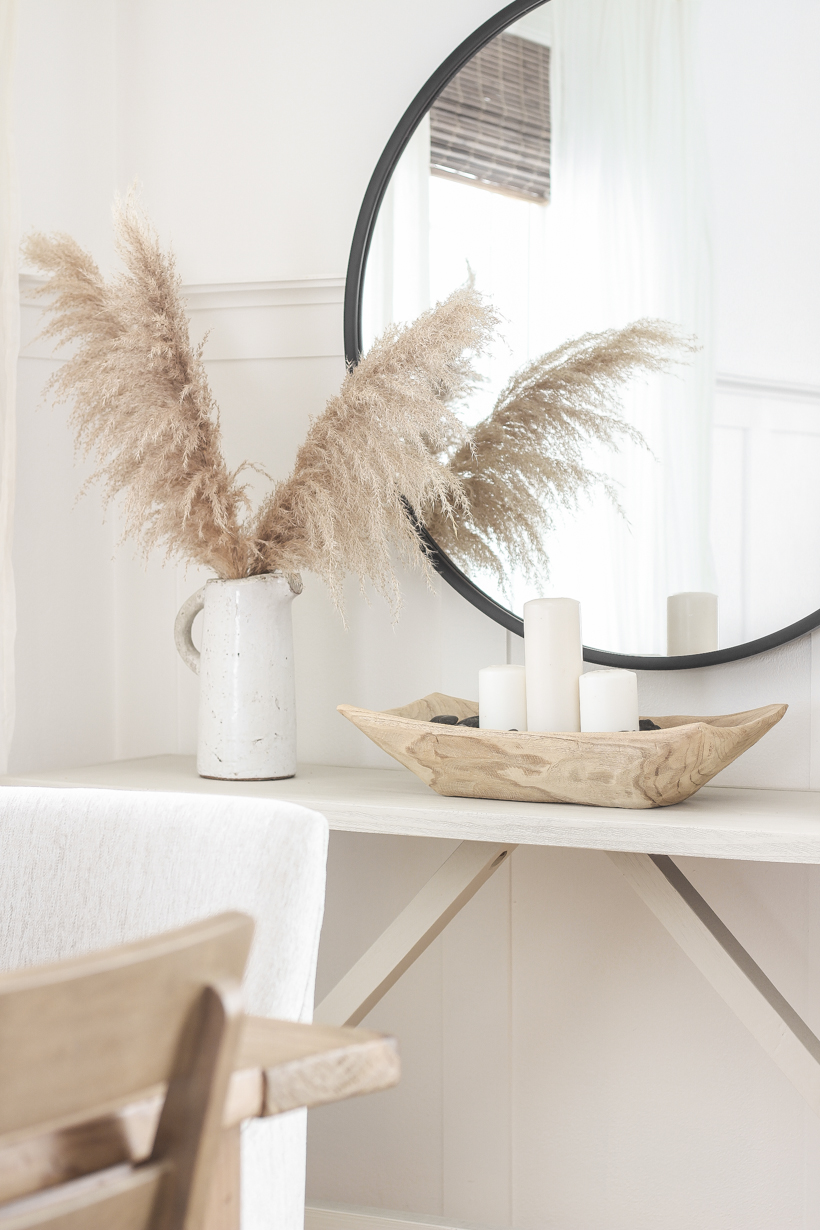 What do you think about the new dining chairs? Did I come close to my inspiration photo? Can you believe how much I saved on the chairs I found? I'd love to hear your thoughts in the comments!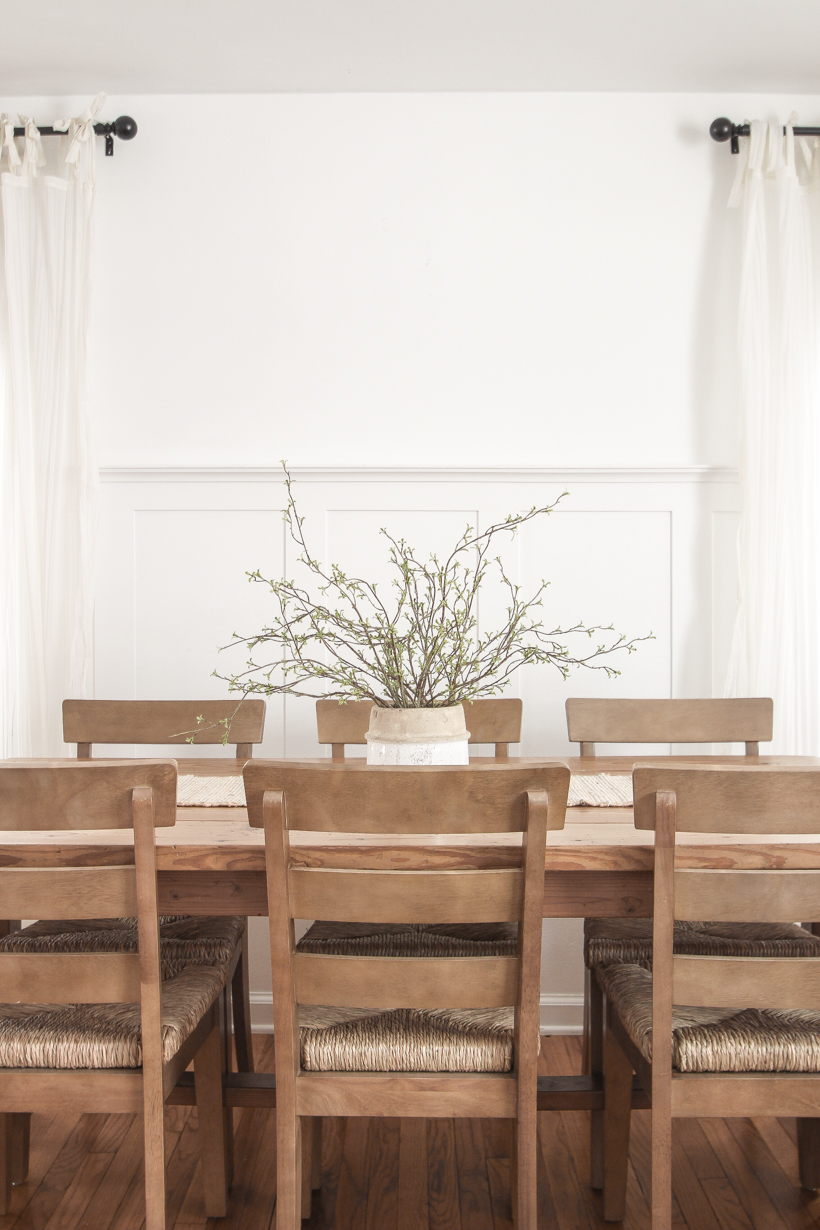 Thanks so much for being here today, sweet friends!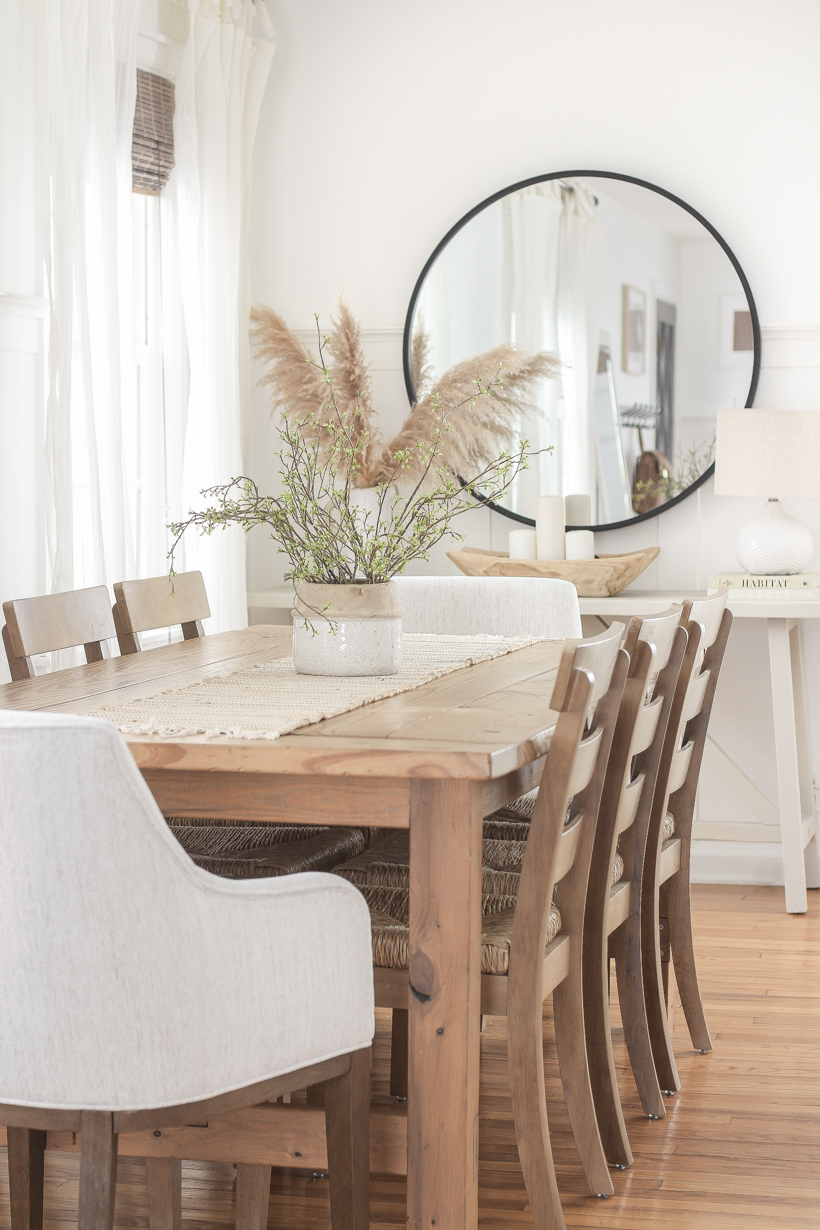 – SHOP THE POST –
dining table | wood dining chair | upholstered chair
curtains | bamboo roman shade
console table | round mirror | lamp
pillow | wood bowl | ceramic pitcher
pampas grass | woven rug | pattern rug
coffee table | recliner | sectional
white bowl | habitat book | abode book


As always, I sincerely appreciate you shopping through the links I share, which allows me to make a small commission from your purchase while your purchase price stays the same. When you use my affiliate links, I'm better able to create content for this blog as well as support my family, and I thank you from the bottom of my heart for supporting what I do!
---
Subscribe to Blog | Follow on Instagram
Follow on Pinterest | Follow on Facebook