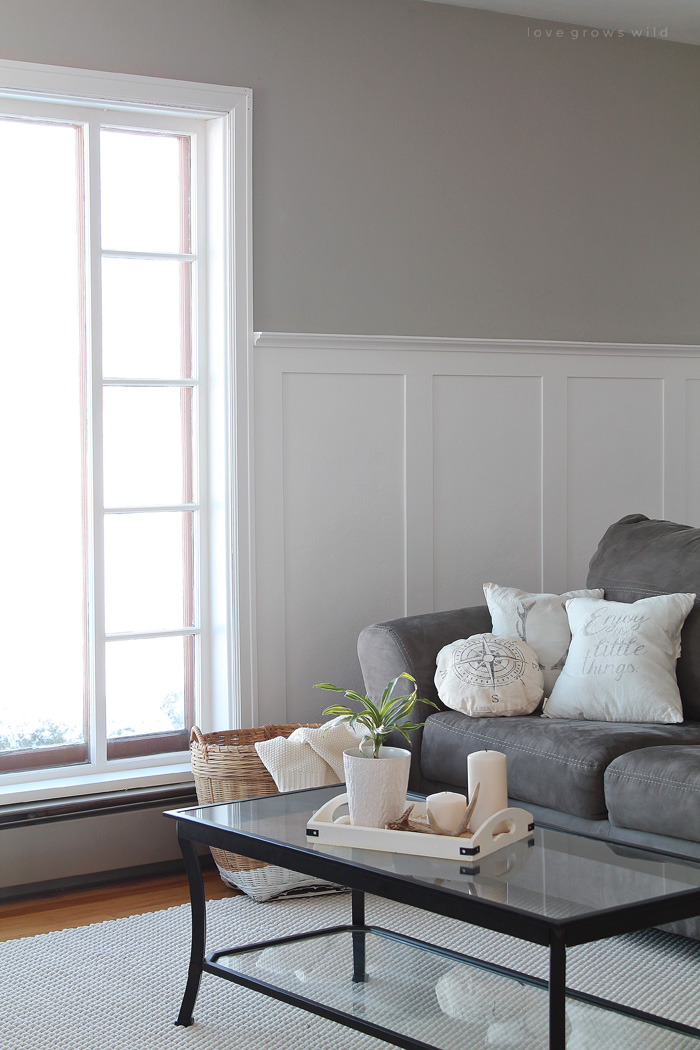 The complete guide to adding board and batten to your home! Keep reading for a full tutorial, supply list, and our best tips for giving your home a beautiful upgrade.
The big day is here! Today I get to share with you our experience of adding board and batten to our living room/dining room. If you watched our video tour a few weeks back and follow along on Instagram, you've been seeing sneak peeks of this big project for weeks now, and I know you've been waiting to see how we did it all! I finally cleaned up all the sawdust and paint cans to snap a few pictures for you guys, so let's dive right into the tutorial.
We decided to board and batten our walls to: a) add some architectural detail and b) lighten up the bottom half of the wall while leaving the top half with some color. It took my husband and I about 8 or 9 days (working on and off) to do both the living room and dining room from the first cut of wood to the last coat of paint. If you wanted to just do one focal wall in a room, I would imagine this could be easily completed in just a day or two, but we did the entire space for a BIG impact!
Supplies needed:
1/4″ MDF cut into 4″ wide x 4′ long pieces (for the battens)
1/4″ MDF cut into 2″ wide x 4′ long pieces (for the top ledge)
cove moulding (we used 9/16″ x 1 3/4″ pine)
miter saw
brad nailer
level
tape measure
liquid nails
paintable caulk
caulking tool
paper towels
spackling paste
putty knife
sanding block
primer
paint
paint brush
paint roller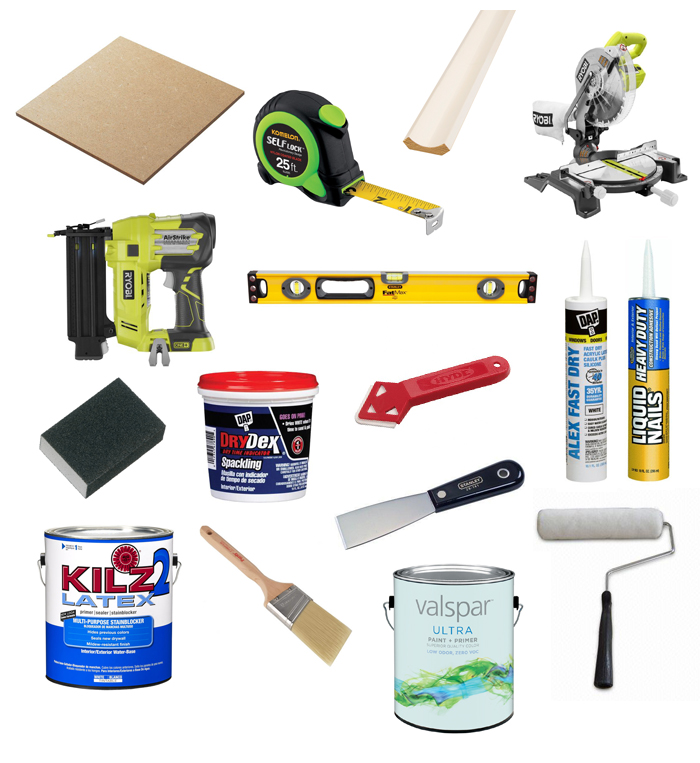 Notes:
Okay, I wanted to go over a few things before we get started. We went with 1/4″ MDF for two reasons: 1) It's economical. We ended up using almost 14 – 2'x4′ sheets of MDF at $5.97, which only cost us $83.58 for the entire living and dining room. 2) We didn't want to rip out and replace our existing baseboards, so we went with the slim 1/4″ MDF which is almost exactly the same width as the top of our baseboards. If you want your board and batten to be deeper and more defined, go with 1/2″ MDF and either replace your existing baseboards to match the battens OR try this trick I saw from Teal and Lime.
Sheets of 1/4″ MDF can be harder to find, so call around to your local hardware stores and make sure they carry it before you go. Home Depot had 2'x4′ sheets, and they cut them down into 4″ wide planks while we were there. Having them cut the MDF is a HUGE time saver, in my opinion!
We finished the top of our board and batten with a little ledge made from MDF and cove moulding. I LOVE the cove moulding detail, but it is on the pricier side (we paid anywhere from $7.29-$11.84 per 8′ section) and can be a pain to cut your corners with. We're super happy with how ours turned out, but if you want to go with a less expensive and easier option, buy quarter round instead.
Instructions:
Step One – Install the board and batten
First, install the top horizontal board. Our battens (vertical boards) were 4′ long, so we measured 4′ up from the top of the baseboards and used a level to make sure our top board was perfectly straight. I recommend applying liquid nails to the back of the boards and using a brad nailer to attach the board to the wall.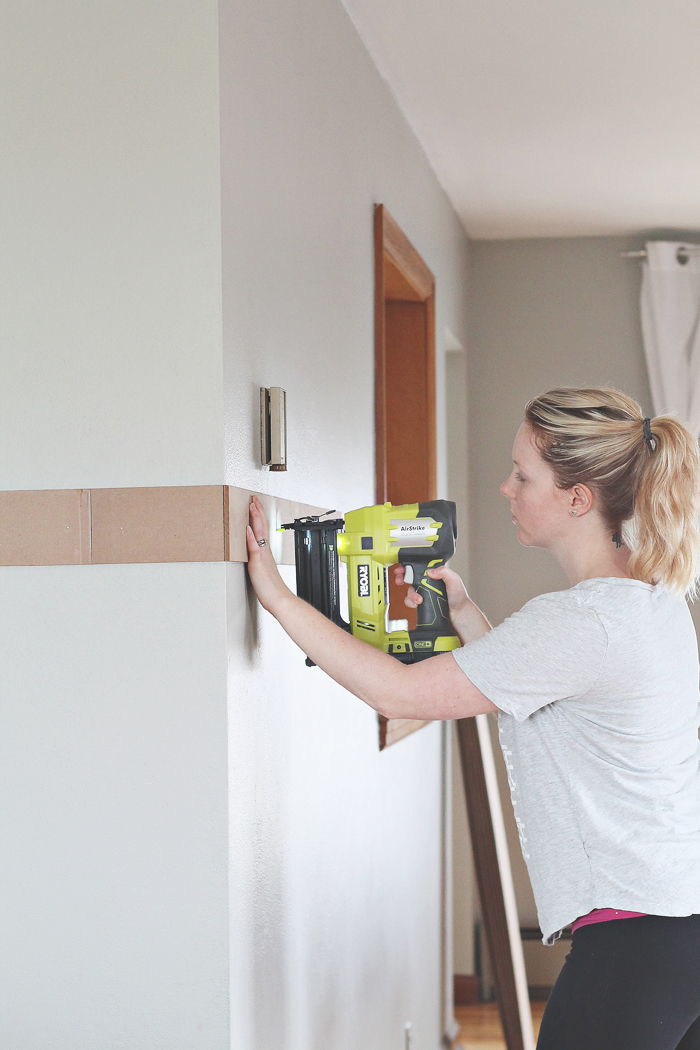 Next, add your vertical boards underneath the top board. Again, you'll want to use a level, liquid nails, and the brad nailer. The hardest part of the whole process is figuring out your spacing between battens. I used this great tutorial from Remodelaholic, which gives detailed instructions for spacing, but here's the basic equation I used:
Take your total wall length and divide that by the approximate spacing you would like between the battens. That number will be how many spaces you have on your wall. Add 1 to your number of spaces to get the number of battens on the wall. Now multiply your batten width by the number of battens. Subtract that number from your total wall length. Divide that number by the number of spaces you calculated earlier, and THAT number will be your exact spacing between each batten.
For example:
100″ (total wall length) / 20″ (approximate spacing) = 5 (spaces)
5 (spaces) + 1 = 6 (battens)
4″ (batten width) x 6 (battens) = 24″ (total batten width)
100″ (total wall length) – 24″ (total batten width) = 76″ (wall length minus the battens)
76″ (wall length minus the battens) / 5 (spaces) = 15.2″ (spacing between each batten)
If you're doing multiple walls, the spacing will vary slightly on each wall, but it won't be noticeable. Our spacing fluctuated from about 15 1/2″ – 17″.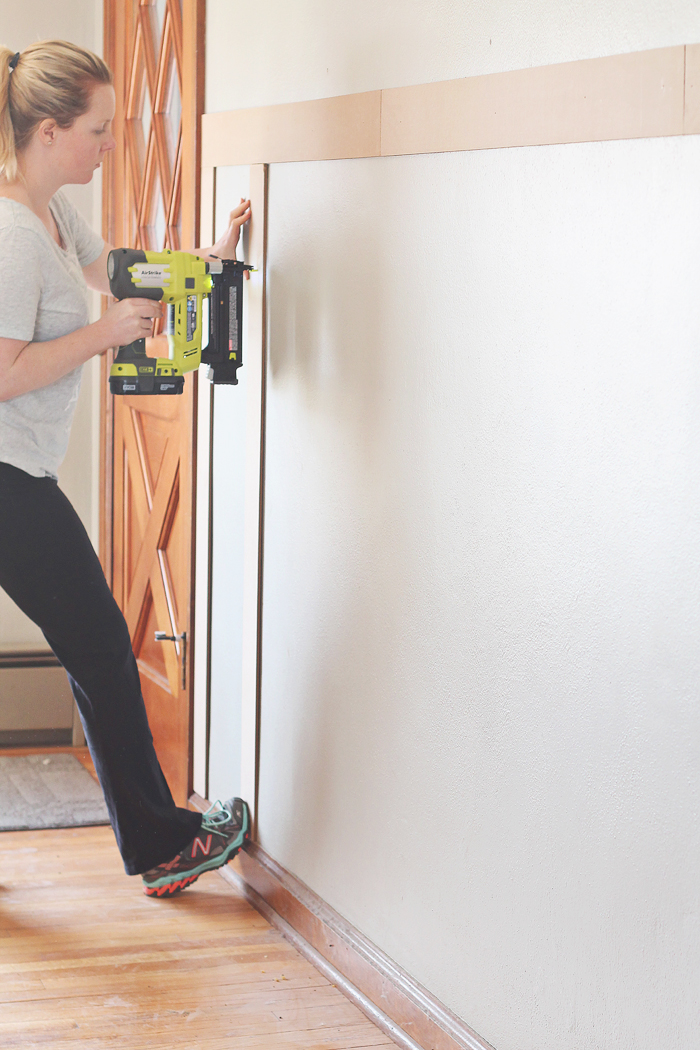 Step Two – Add the top ledge and moulding
Install the moulding flush with the top of the horizontal boards using the brad nailer. Then use a small bead of liquid nails and the brad nailer to install the 2″ wide MDF on top, creating a small ledge.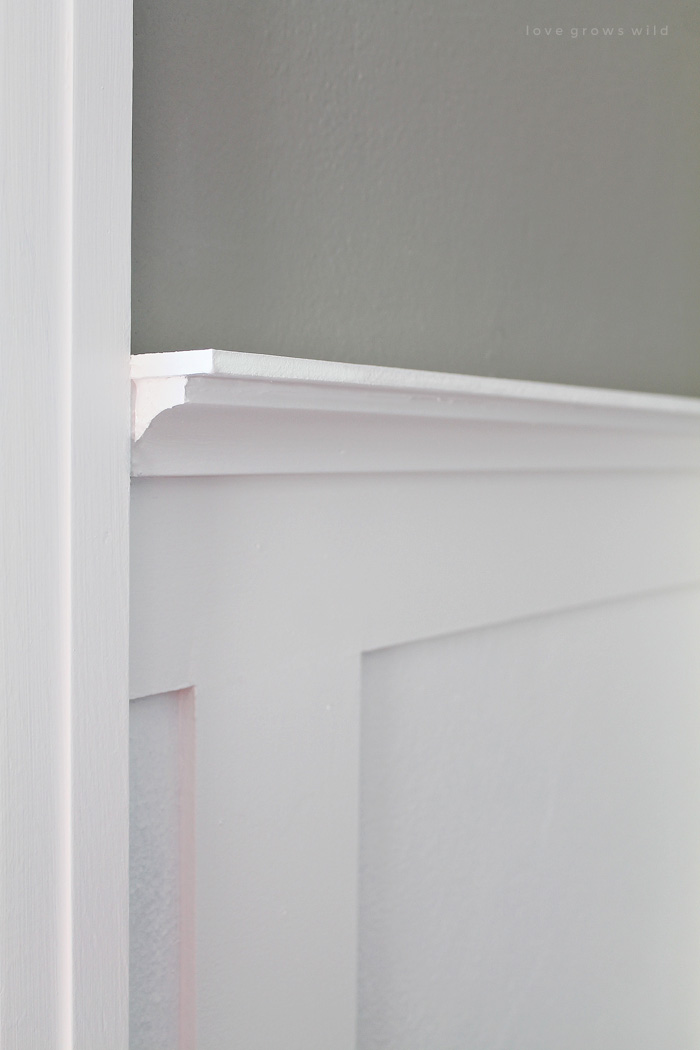 Step Three – Caulk edges and spackle nail holes
Once everything is installed, you'll want to caulk all edges where the boards meet the wall. I find that using a caulking tool (like the one listed in the supplies) makes this job much faster, cleaner, and easier. Then use a spackling paste to fill in all your nail holes and seams between the boards. Once dry, sand the spackle down to a smooth finish.
Step Four – Prime and paint
You'll need to clean all the battens and walls first before you paint. I used a vacuum to suck up all the dust first, then wiped everything down with a damp rag. Apply at least one coat of primer, then finish with your choice of paint. We used Kilz primer and Valspar's Du Jour on the board and batten portion of the wall, and Valspar's Woodlawn Colonial Gray on top.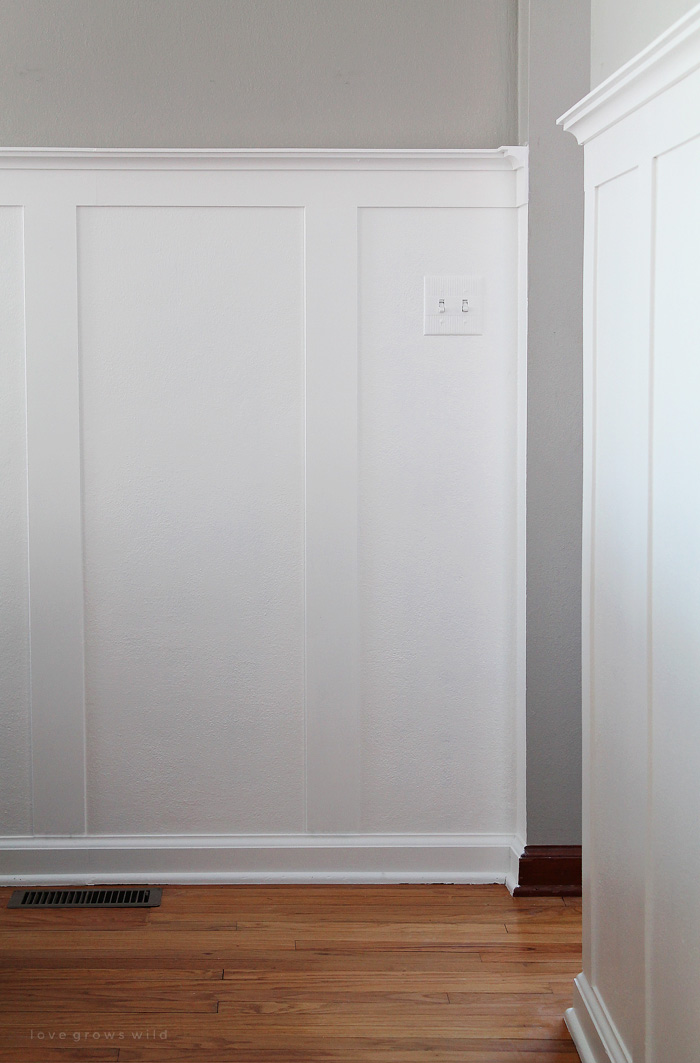 To give you an idea of price, this project cost us about $190 in MDF and trim, another $40 in miscellaneous supplies (caulk, spackle, etc.), plus the cost of paint. We already had some paint and primer on hand, so we bought less than 2 gallons for this project. That's under $300 for a HUGE transformation of our entire living room and dining room!
It is SO much brighter in here now with the lighter paint, and the board and batten detail really brings the room to life. I cannot wait to show you more of this space in the next couple weeks! You are not even going to recognize this room when we're all done.
Tell me what you think!
Do you like the board and batten? Does it make the room feel brighter? I'd love to hear your thoughts! If you have any questions, just leave me a comment below!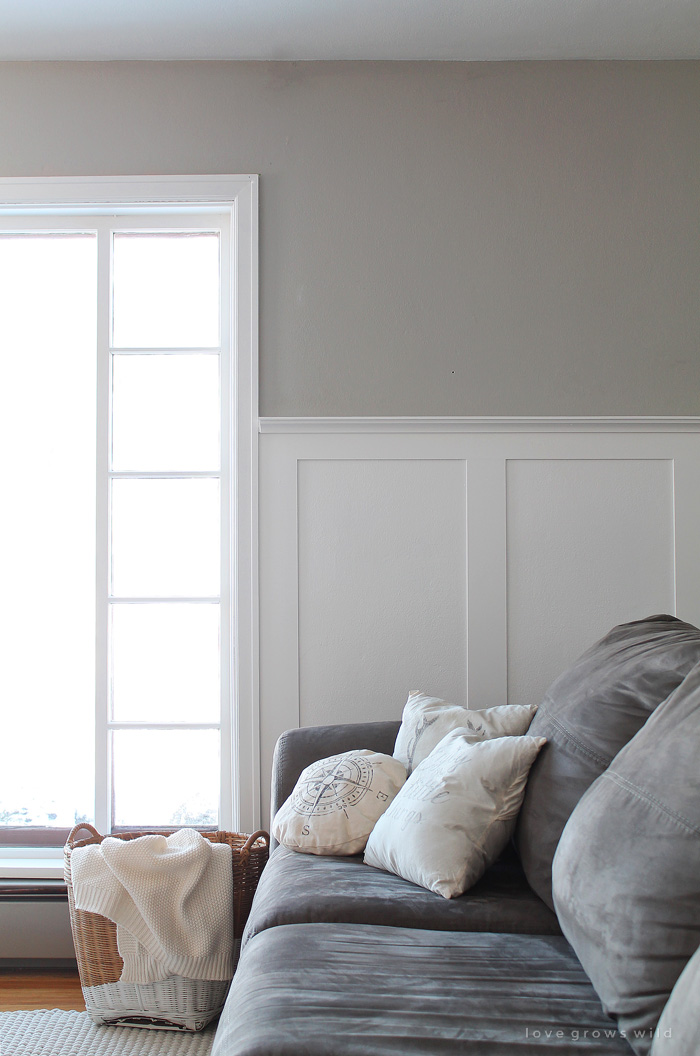 Like what you see? Subscribe to Love Grows Wild so you'll never miss a post!
Follow along on Pinterest, Google+, Instagram, and Facebook for more fun!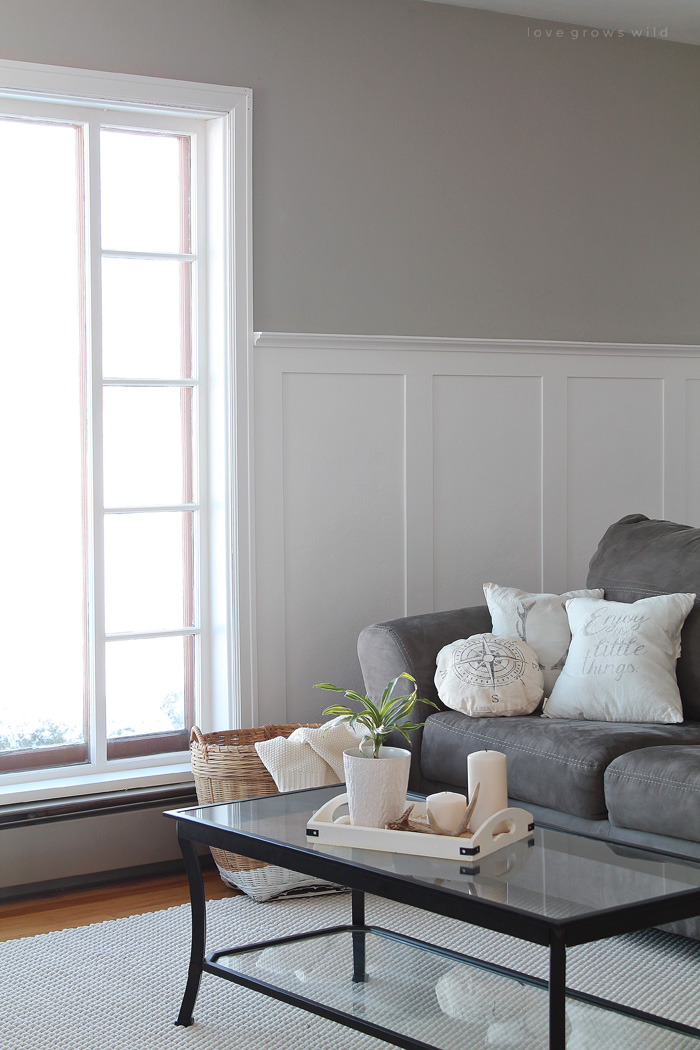 Feeling inspired? Check out these project ideas: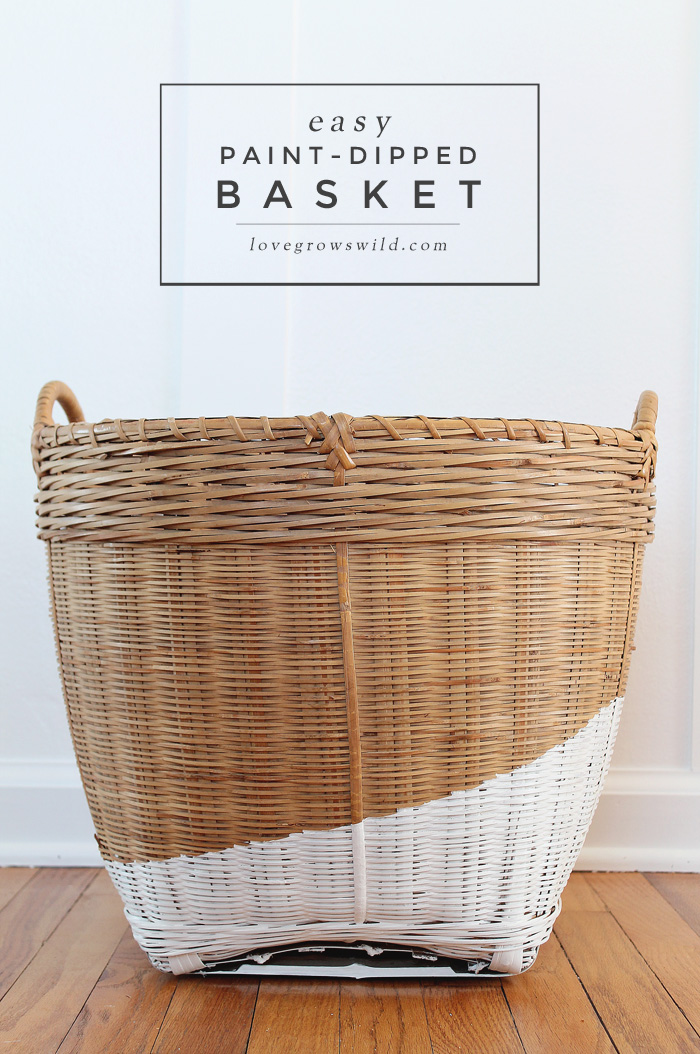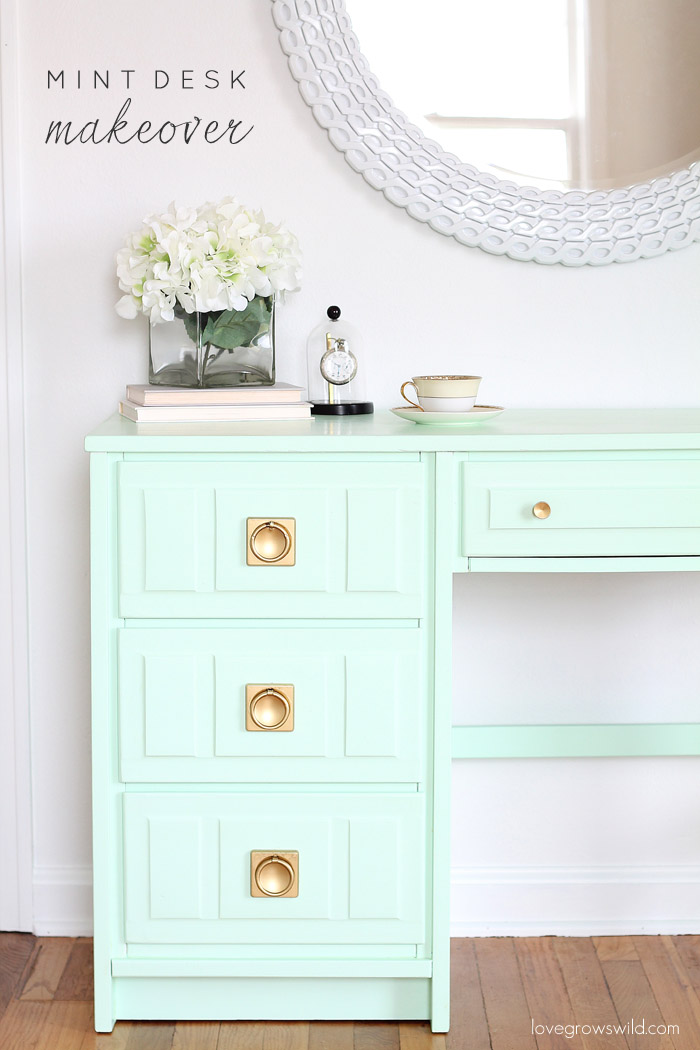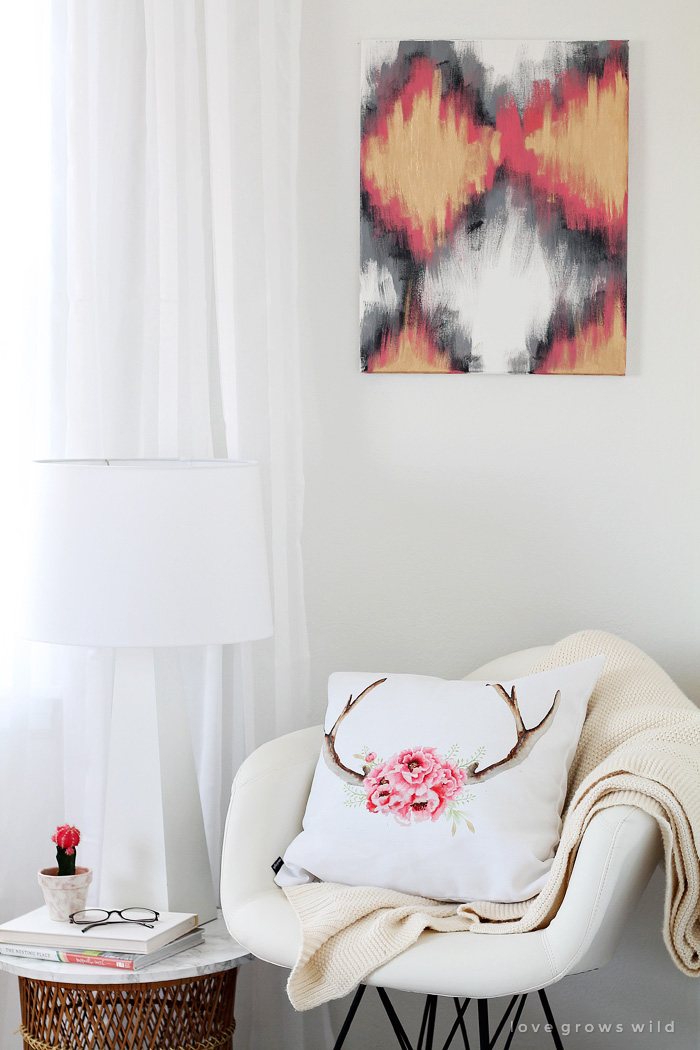 ---
LET'S KEEP IN TOUCH!
Subscribe to Blog | Browse my Shop | Follow on Facebook | Follow on Twitter
Follow on Google+ | Follow on Pinterest | Follow on Instagram