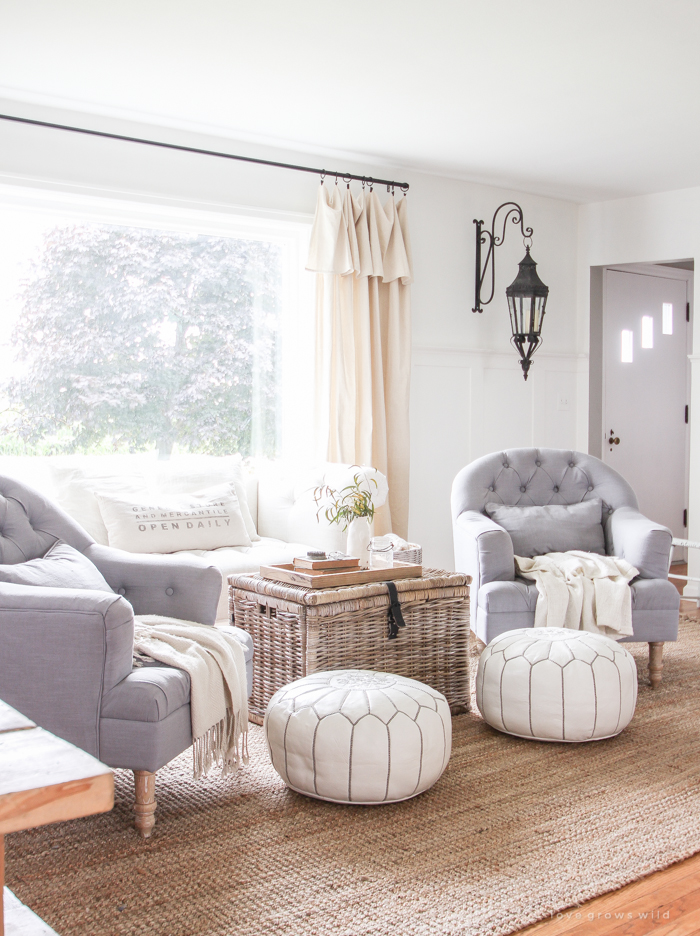 Do you have a room in your house that you feel like is never completely finished? Never quite the way you want it to look? Well, I certainly do, and that room is most definitely our living room! Our living room has come a long way in the four years we've lived here, and today I am so excited to share with you the latest update to this space. We've switched around furniture, decor, lighting and even changed the layout of our living and dining rooms! Go grab a cup of coffee (or your beverage of choice), and I'll dive into the MANY changes we've made in here!
Welcome to our new and improved living room…
Oh my… where to begin? Probably the most noticeable change in this room is the new furniture! Our old couches (seen here) had been around for about 5 or 6 years, and we recently had linen slipcovers made to lighten up the dark gray couches. I'll be honest with you… I LOVED the slipcovers. They were beautifully made and exactly the look I wanted for our living room. The slipcovers weren't the problem. It was the couches themselves that were the problem.
Jeremy always found them to be uncomfortable, so he would remove all the cushions (6 of them, to be exact) and stack and rearrange them to his liking. He would then steal every throw pillow in sight and stack those up on the couch as well until he was perfectly reclined and comfortable. As most of you wives can probably imagine, the cushions and pillows were never put back where they belong, so by the end of each day, I would have giant piles of cushions with crooked, wrinkled slipcovers and throw pillows laying all over the couches and mostly on the floor. Every. single. day.
Finally I had enough of the mess and decided that if no one was happy with our current couches, I would sell them and look for something new. I tell you guys all the time that if something isn't working for you and your home… change it! It was time to live by my own rule and do something about the problem. I sold the couches to a sweet woman who was thrilled to have them and after MUCH online shopping research decided to buy…
I already knew how comfortable those arm chairs were after buying a beige one for my office, and if I added some cute ottomans, it would be ALMOST like giving Jeremy a recliner. Not quite… but close. My first instinct was to buy the chairs in a light beige fabric. But after having those light linen slipcovers on our couches for a few months, I knew that my sweet farmer husband, who usually comes home covered in dirt or grease, would have those chair arms filthy in no time. So even though it killed me a little, I went ahead and ordered the chairs in gray instead of beige, and ultimately I think it was the right choice for our family. With the darker fabric, I won't be so paranoid about the chairs getting dirty, and I think it also adds a little bit of contrast in the room as well.
As far as the sofa goes… the verdict is still out. I think it's absolutely beautiful, and I love that it sits low enough to let all the light in from the large picture window. It's beautifully tufted and has no individual cushions, which means that my living room no longer looks like a pillow factory exploded in here! The negatives… it's not very big. Not something a full-grown man can spread out on comfortably. It's more of a chaise than a couch. It fits the space in here really well, but I may have to admit one of these days that it still isn't the right fit for our family. We just haven't found our glass slipper yet. The couch will stay for now, so we can live with it awhile before making any big decisions, but I WILL find the happy ending to this sofa story eventually!
Our coffee table stayed the same… a wicker trunk from IKEA. I also ordered a larger version of the rug we had in here before from Rugs USA.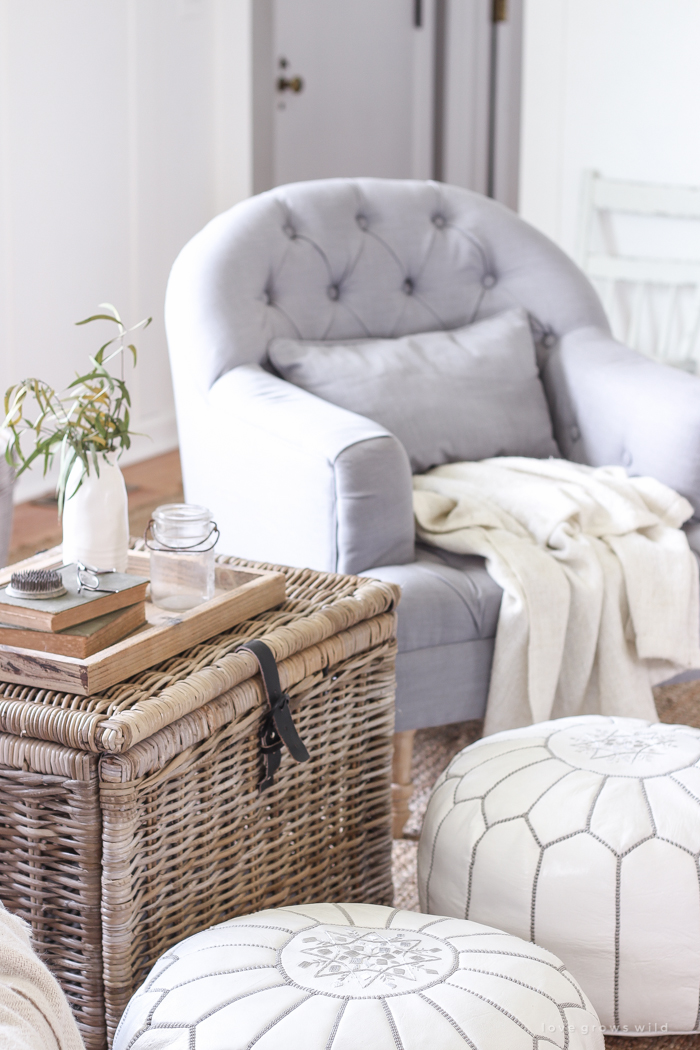 On one side of the living room sits an old buffet that I painted white a year or so ago. It's the perfect little spot to set some lamps, old pictures of my grandfather, a candle and two large windows/doors that I picked up from the antique store the other day. I am a lover of symmetry… can you tell?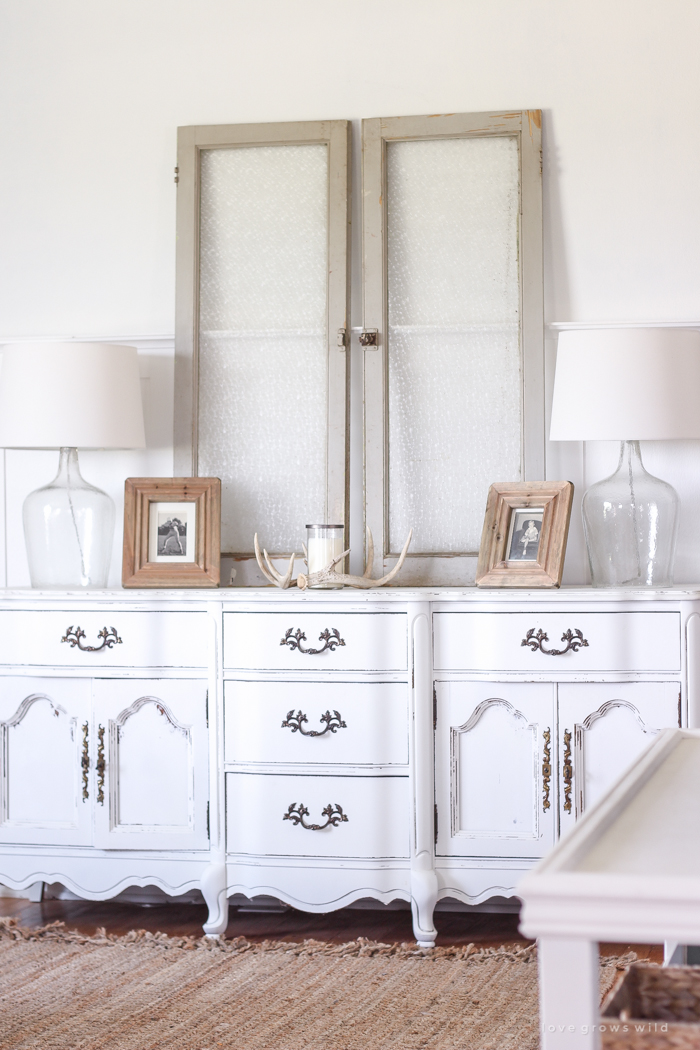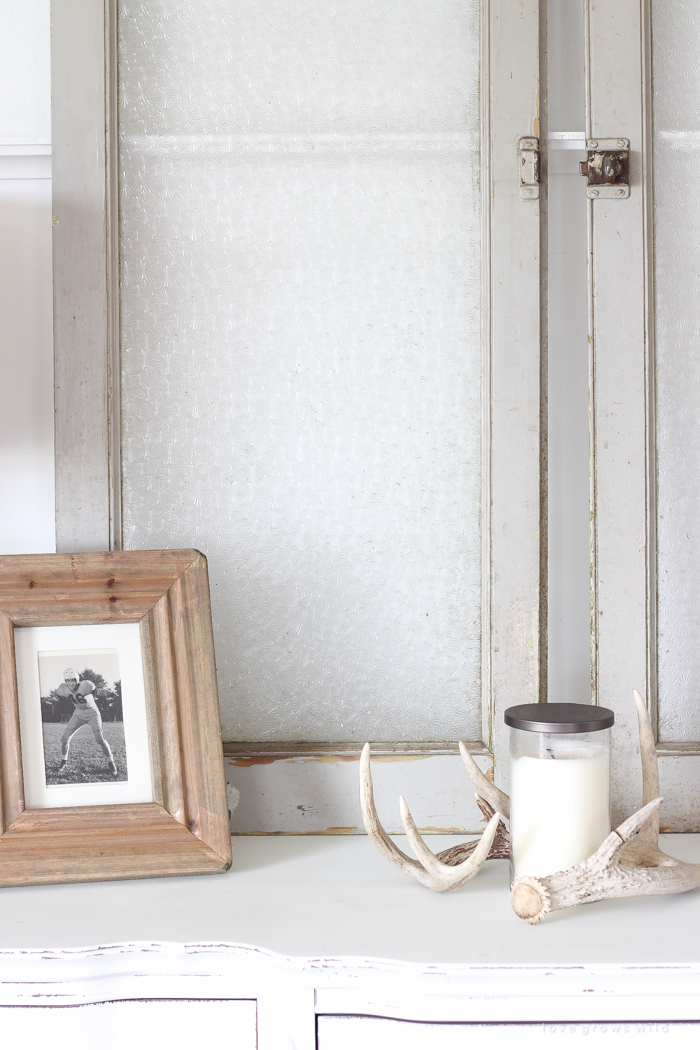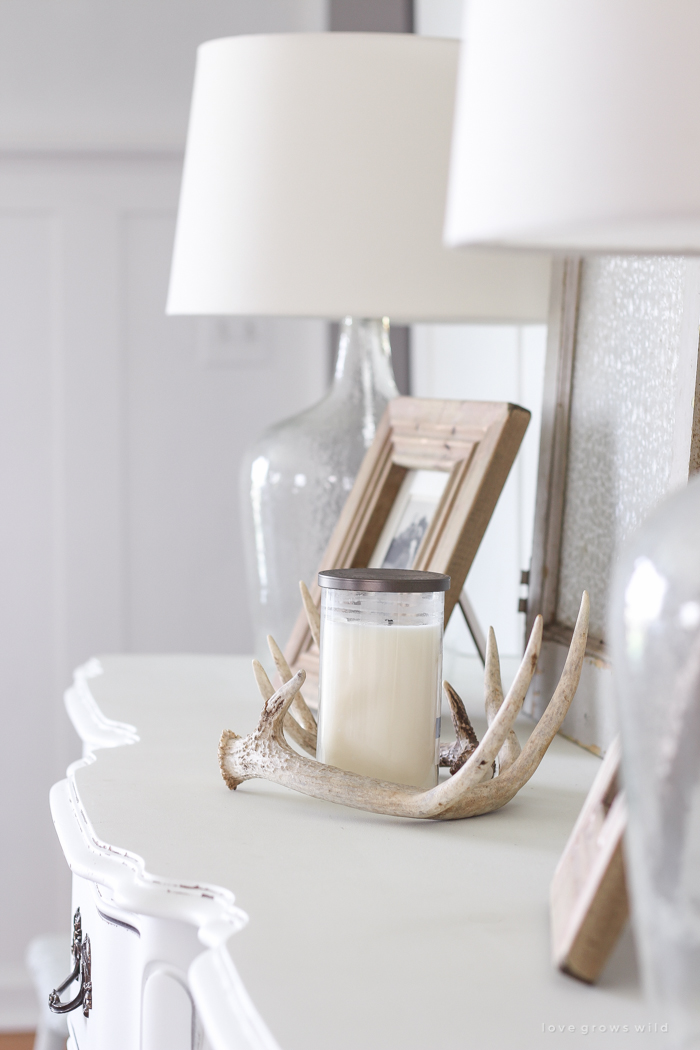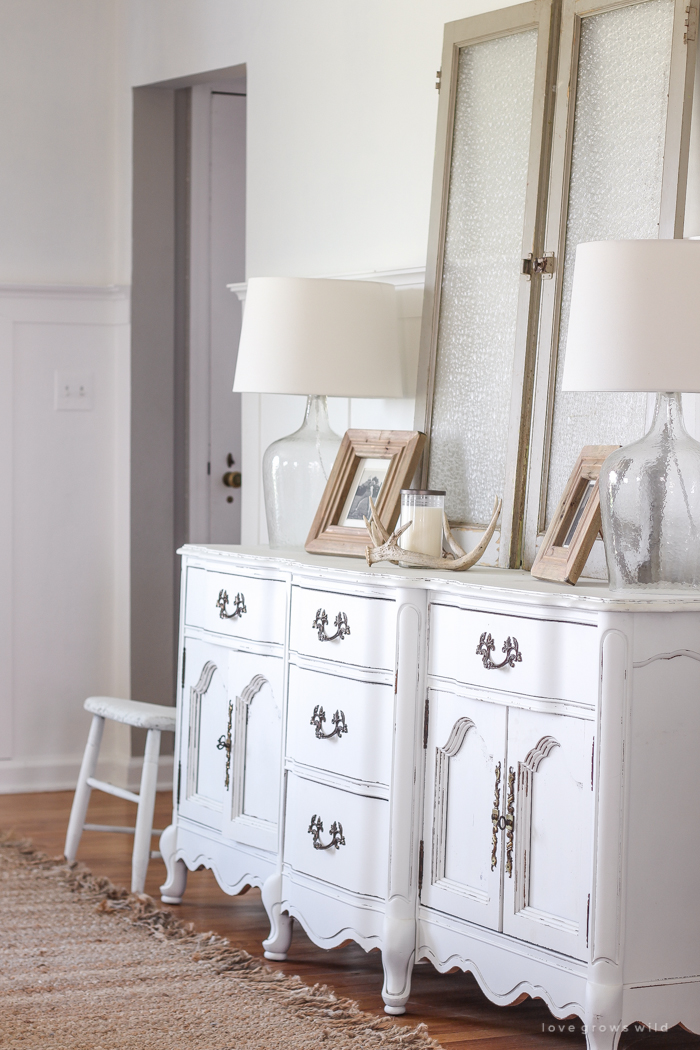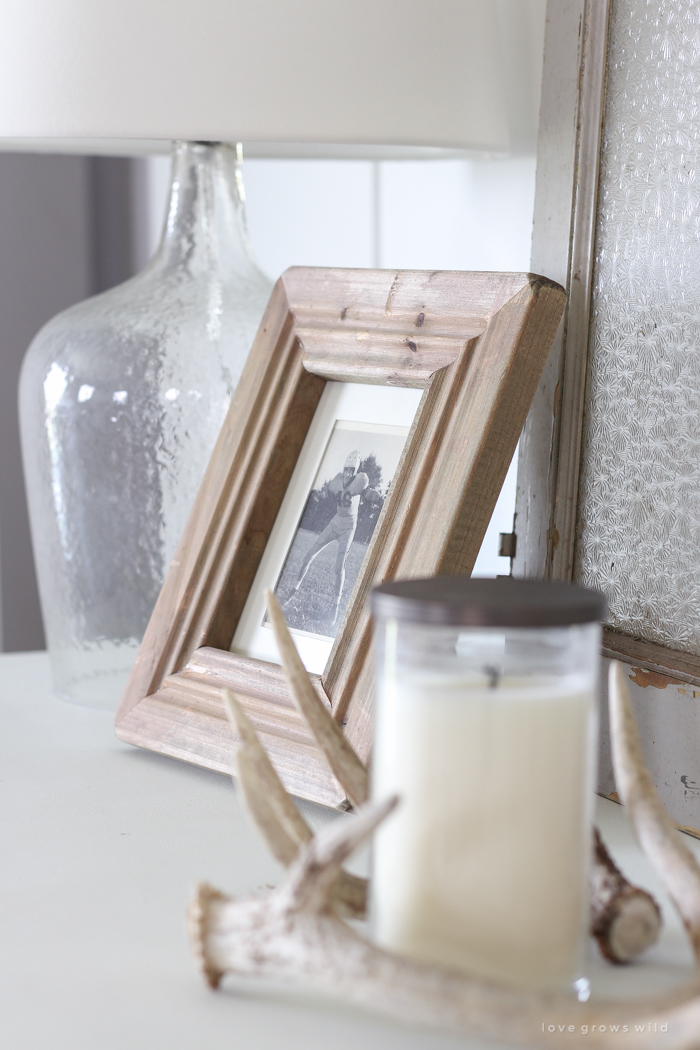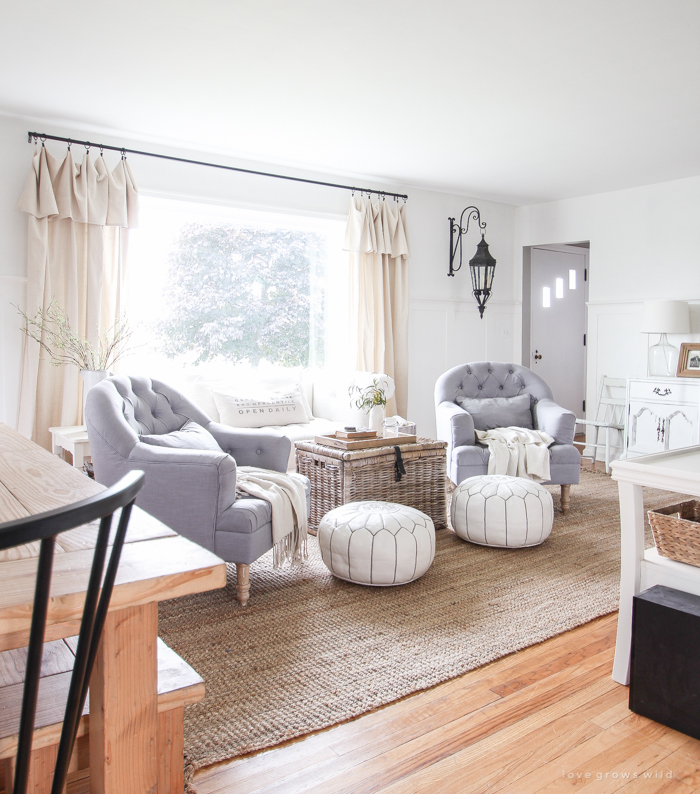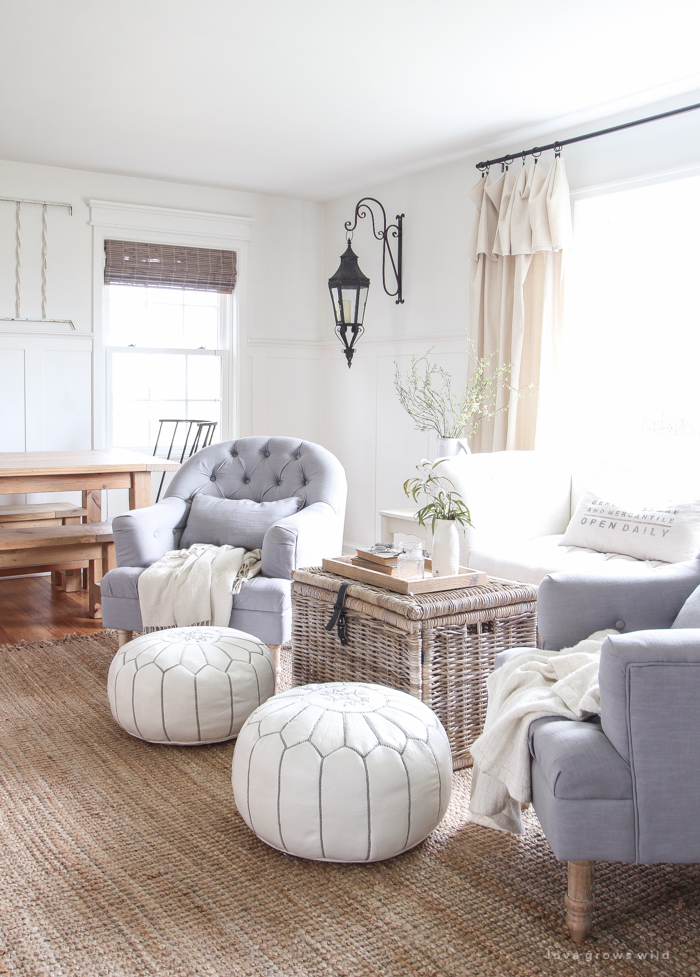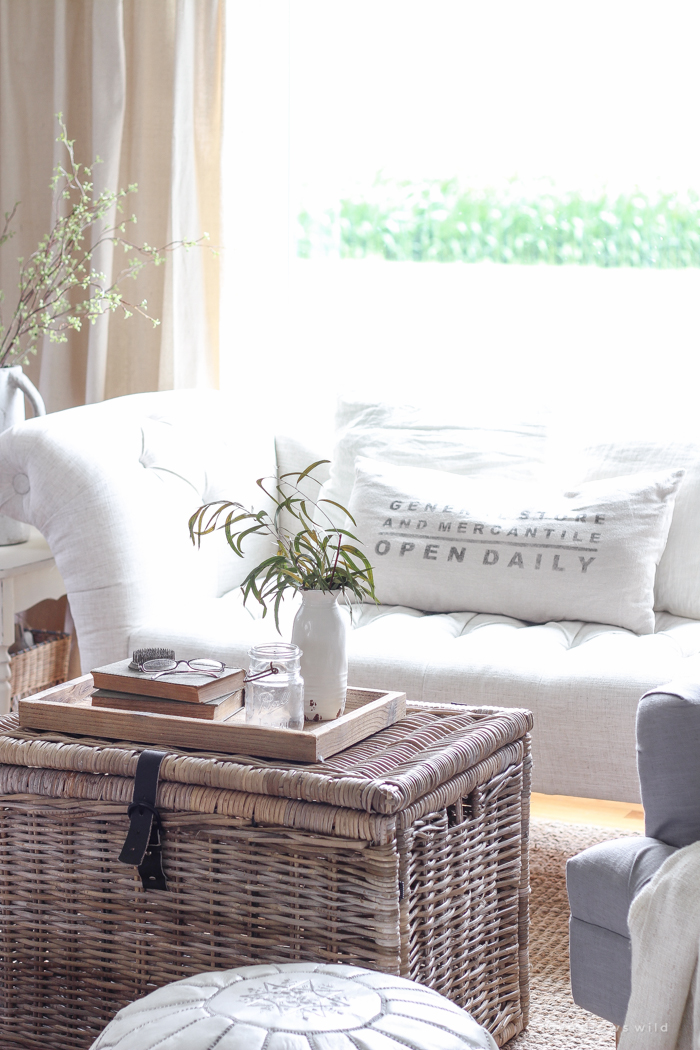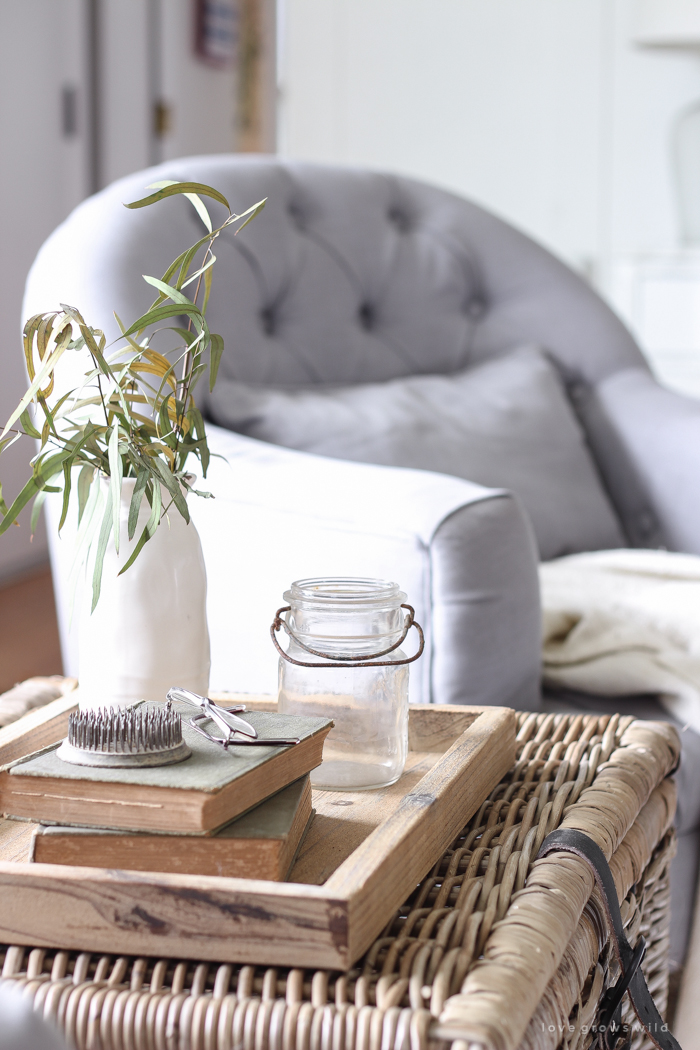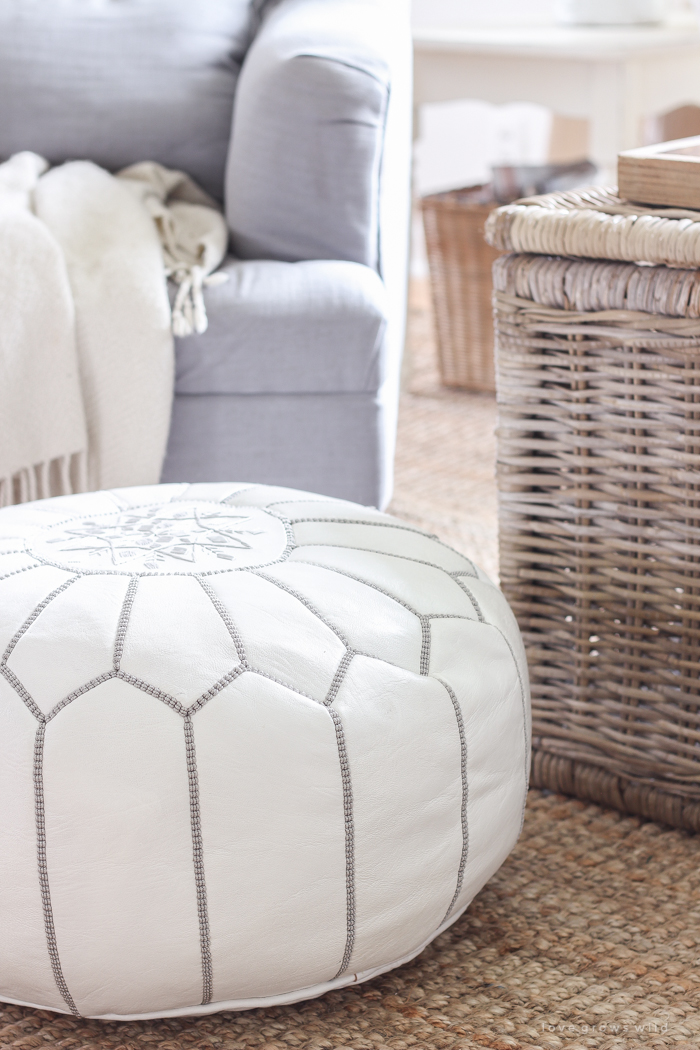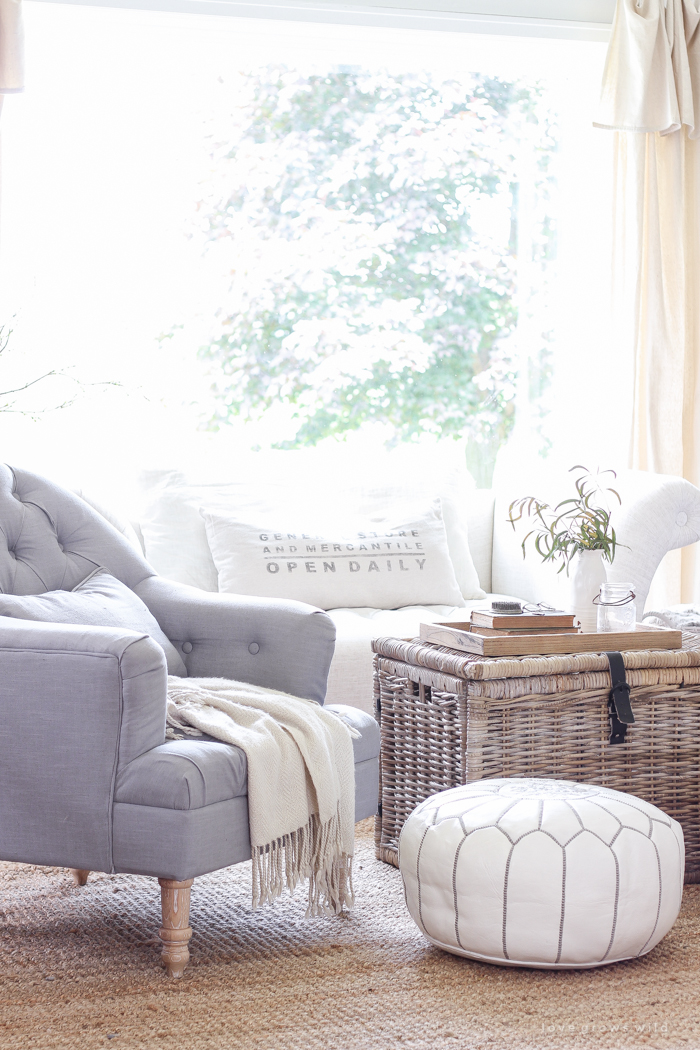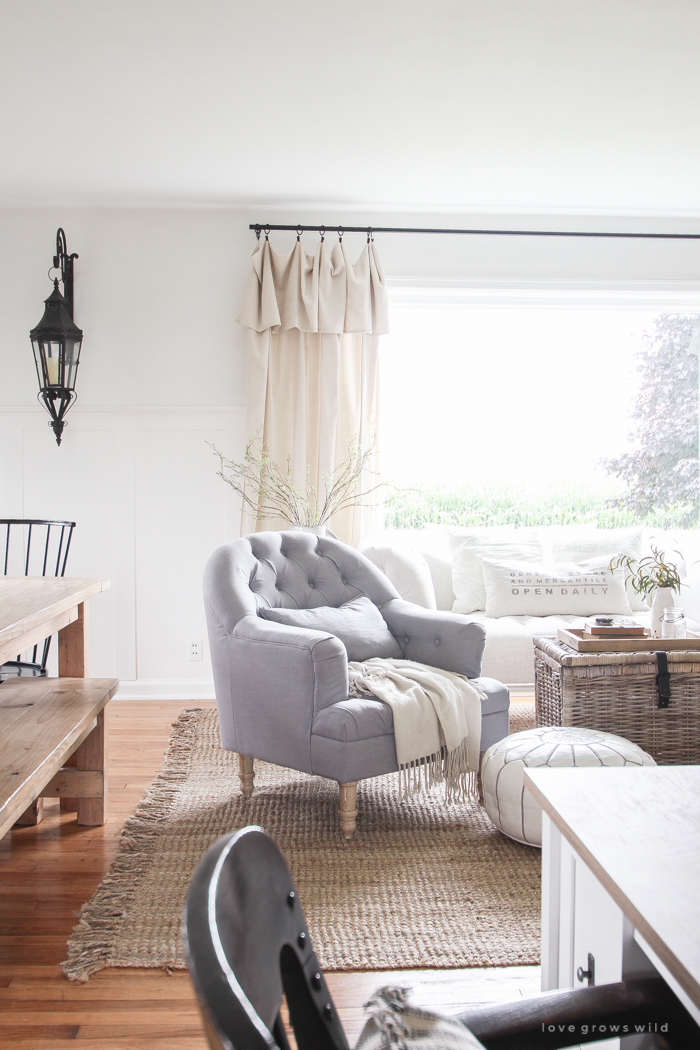 And here is a wide-angle shot to show you what we did with the OTHER side of our living room!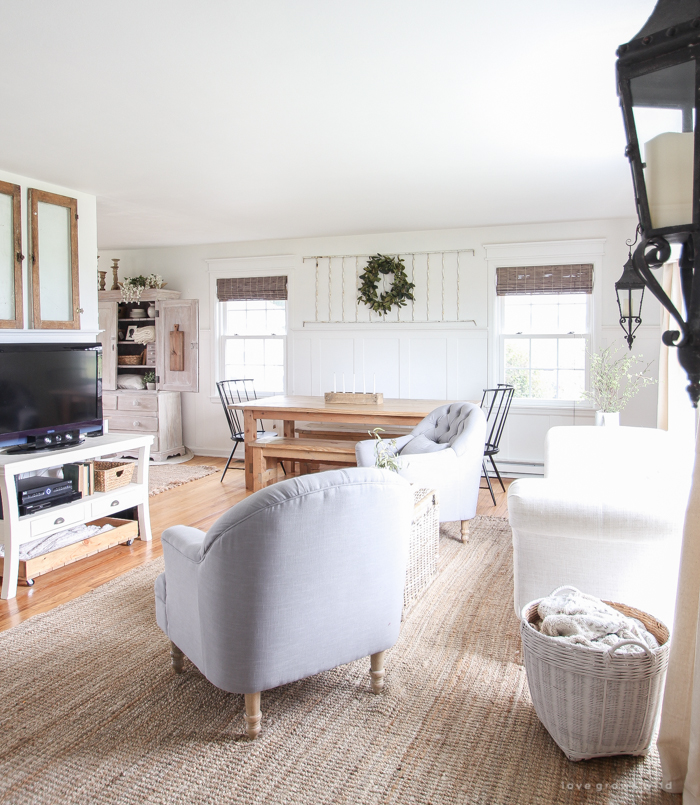 As you can see, the living and dining rooms are open to each other, and we have always kept these as two separate spaces. The living room felt so long and awkward, and the dining room was small, cramped and really narrow since it also served as our entryway. I started shifting a few things around as the new living room furniture was arriving and flirted with the idea of scooting our dining table into the living room. Jeremy thought I was absolutely crazy, just for the record. It happened to fit PERFECTLY between the two living room windows and still left enough room for our carefully selected living room furniture.
So our living and dining areas are all one big, happy space now! Ever since we finished our massive kitchen renovation this winter, we only eat at the small table in the kitchen, except for when we have company over and need the extra table space. So having our large farmhouse table here in the living room now isn't much of an adjustment for us. Since we built benches to go with the table that slide right underneath and out of the way, we're able to fit this rather large table into a narrow space on one side of the living room. I did also purchase two new chairs to go at the ends of the table that I am in LOVE with. They add some structure and contrast to the white walls and wood table, and the black finish ties in perfectly with the large lantern hanging on the wall.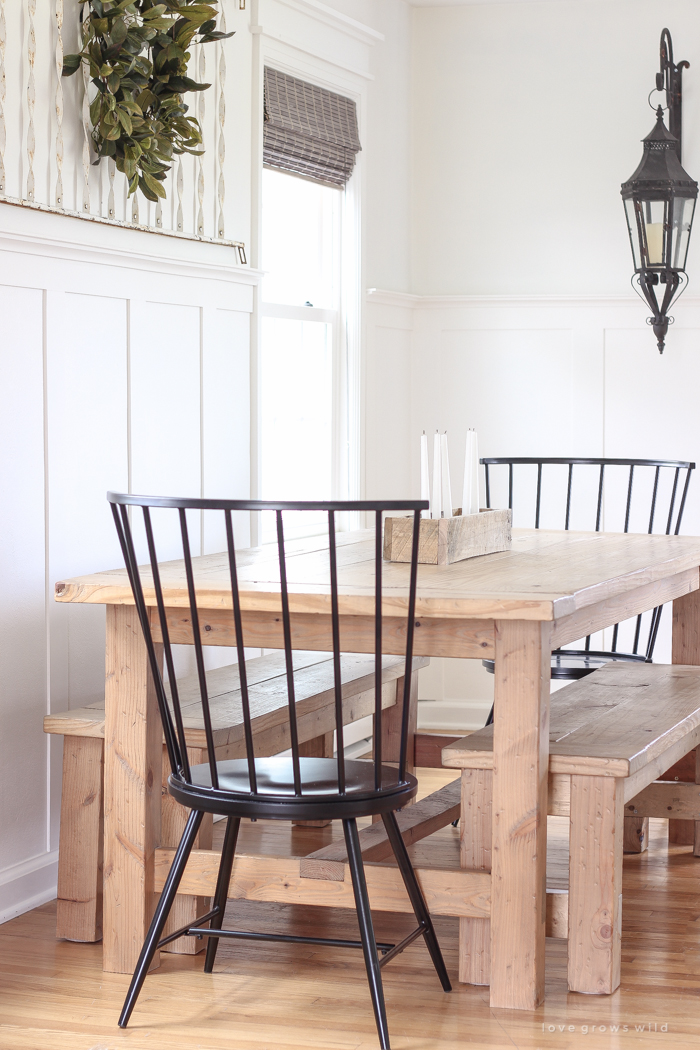 On the wall above the table, I hung an old, rusty iron rail that I spotted while shopping for the windows on the other side of the living room. It's the perfect touch of antique charm to decorate the wall, and I can hang all kinds of things on it depending on the season… wreaths, stockings at Christmas time, photos… I am really excited to play with this piece!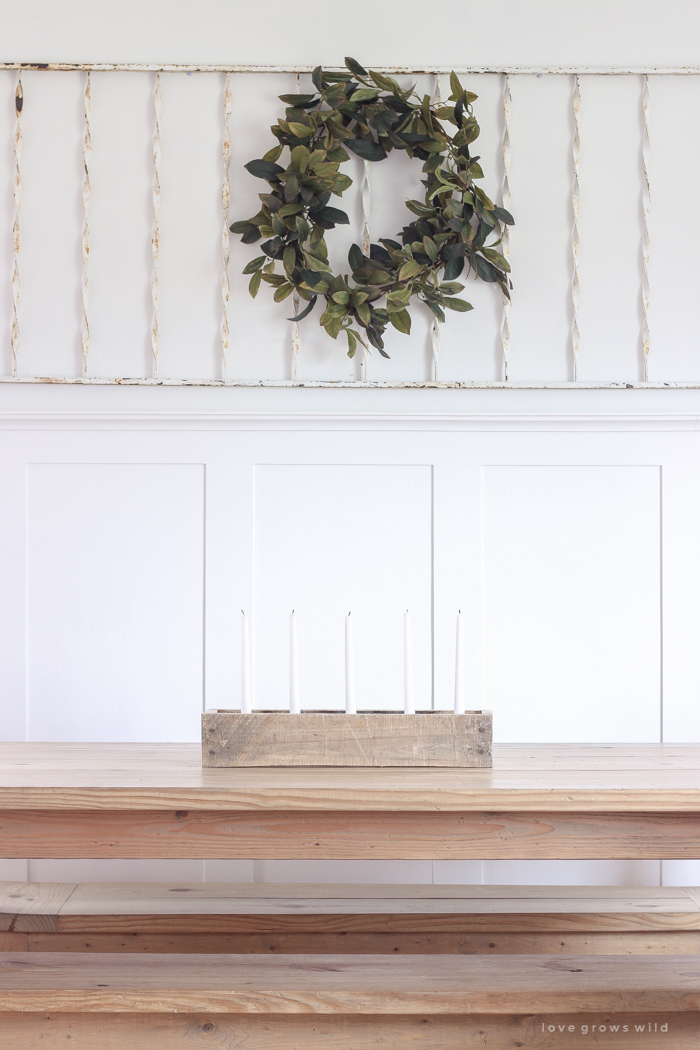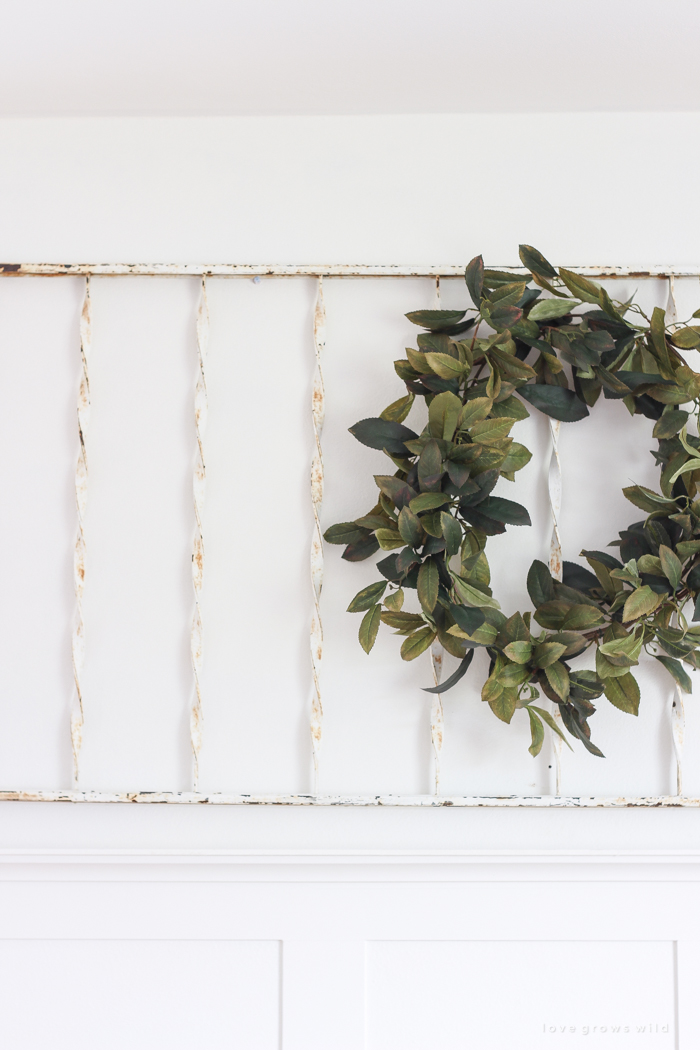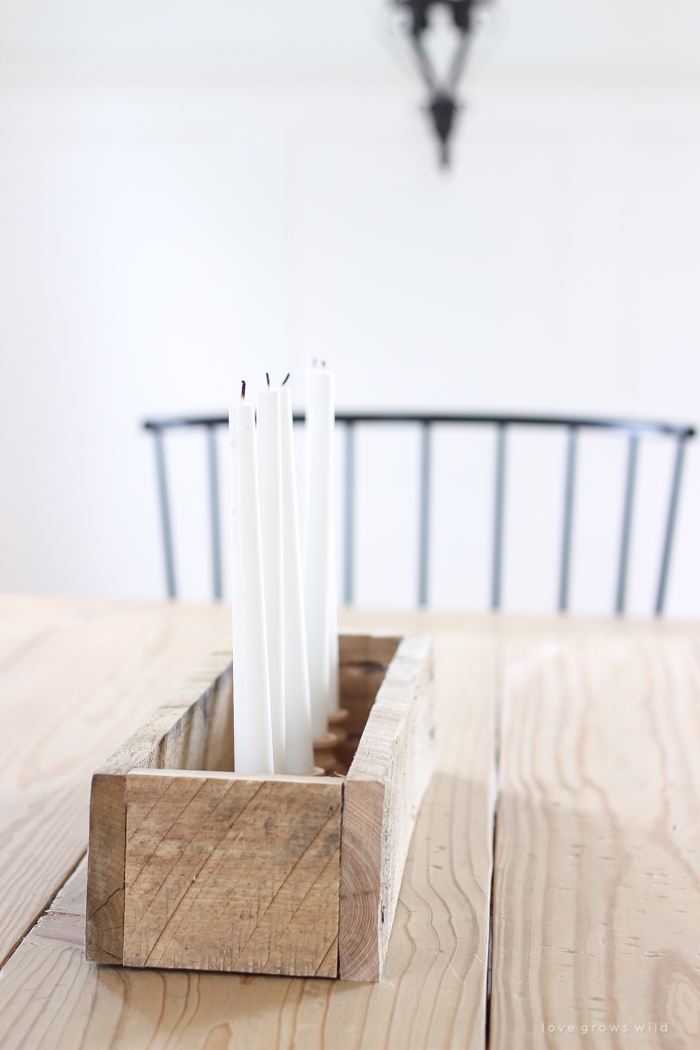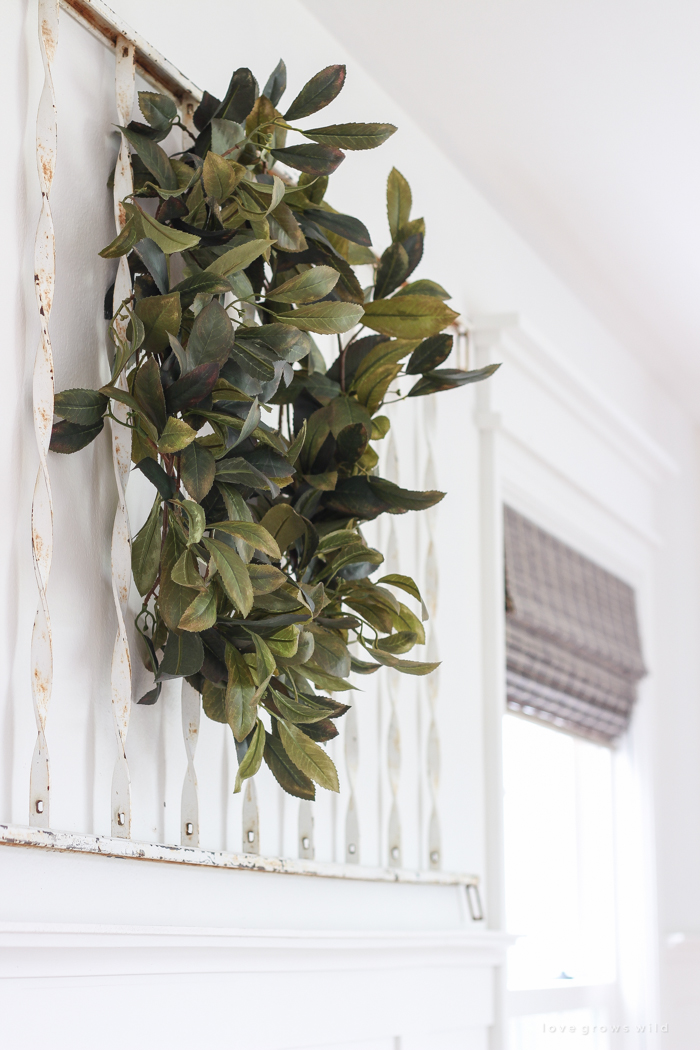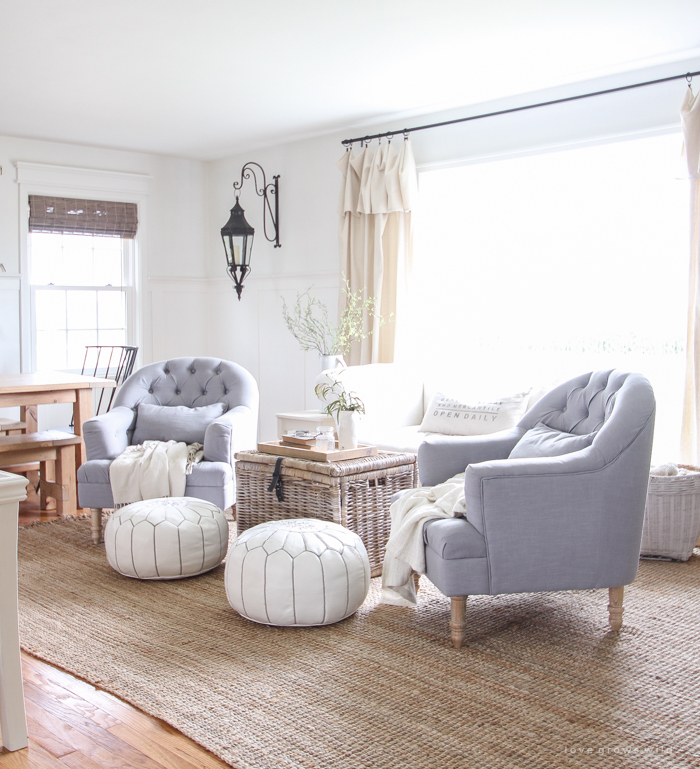 Originally, I had plans to build some kind of big, beautiful faux fireplace on this little wall and hang our TV on top. But after frustrating myself for hours this week trying to come up with the exact plans, I scrapped the idea and utilized pieces we already had in the house. I grabbed a simple white console table that was sitting at the top of our stairs and used it for a media stand of sorts. Then I added another set of old windows/doors (yes… I did a lot of antique shopping this week!) resting above the board and batten trim on the walls.
Let's be honest… TV's aren't very pretty to look at, and neither are the 6 different speakers my husband insists we need. But it's part of our home, and this is the best way I've found to decorate around the situation for now. Our home isn't the perfect model home, nor do I want it to be. It's real… it's lived in… it's full of dust and dirty laundry and giant TV's and Legos. LOTS of Legos. My goal is to create not only a beautiful home, but a home that works for our family. And so far, this new layout for our living and dining room is working very well for us!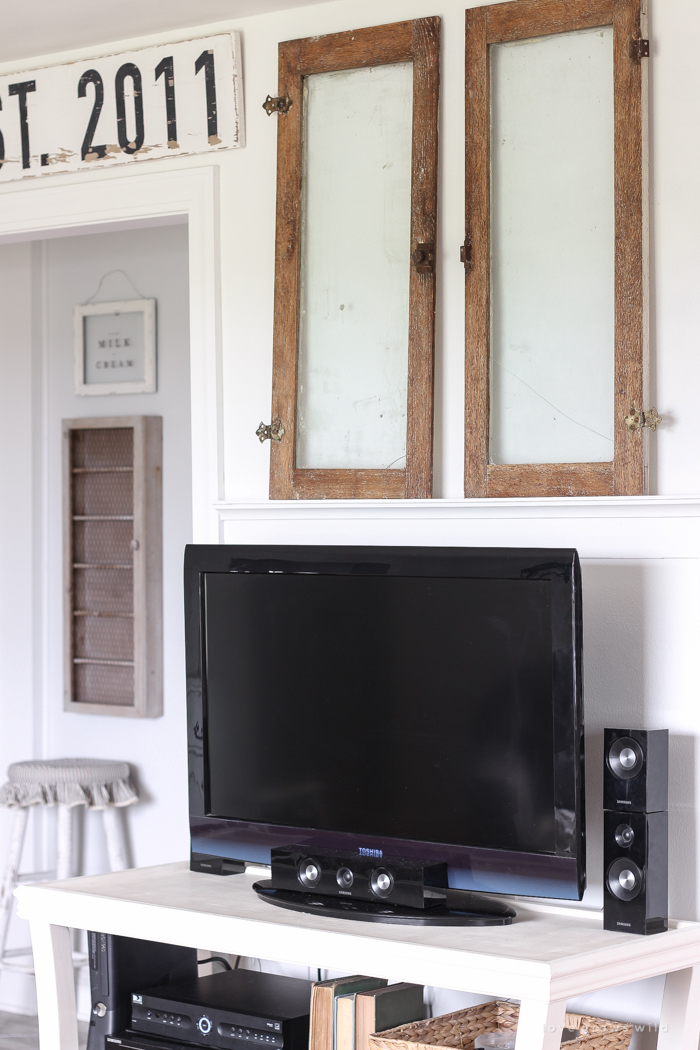 Now that our dining table has moved into the living room, I have a brand new look for our entryway that I hope to photograph soon and share with you guys! Stay tuned for that, and I'd love to hear what you guys think about our new living room! Feel free to leave me a comment below!

---
SOURCES
---
Note: Some of the links in this post are affiliate links, which allows me to make a small commission from your purchase, but your purchase price stays the same. Thank you for helping support our blog!
---
LET'S KEEP IN TOUCH!
Subscribe to Blog | Follow on Instagram
Follow on Pinterest | Follow on Facebook