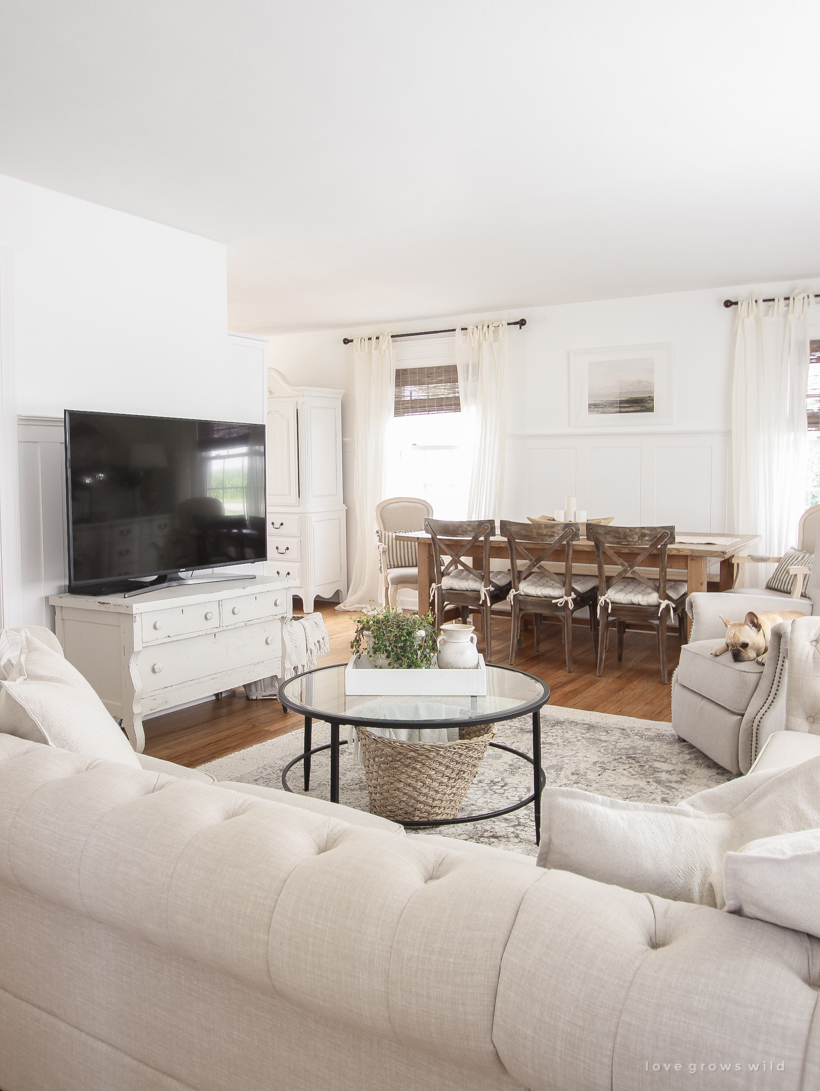 One of the most frequently asked design questions I get is this:
"How do I decorate around my TV?"
And I totally understand where you're coming from. TV's aren't the prettiest things to look at (most of them anyway), and it's hard to know what to do with that giant black screen sitting in your living room!
I want to tackle this design question in two parts: First, my personal philosophy on decorating around your TV, and what I've done in our house. And second, other options for styling around TV's, and a list of my favorite items for doing just that!
Let's start off with an angle of my living room that I very rarely, if ever, share here in photos…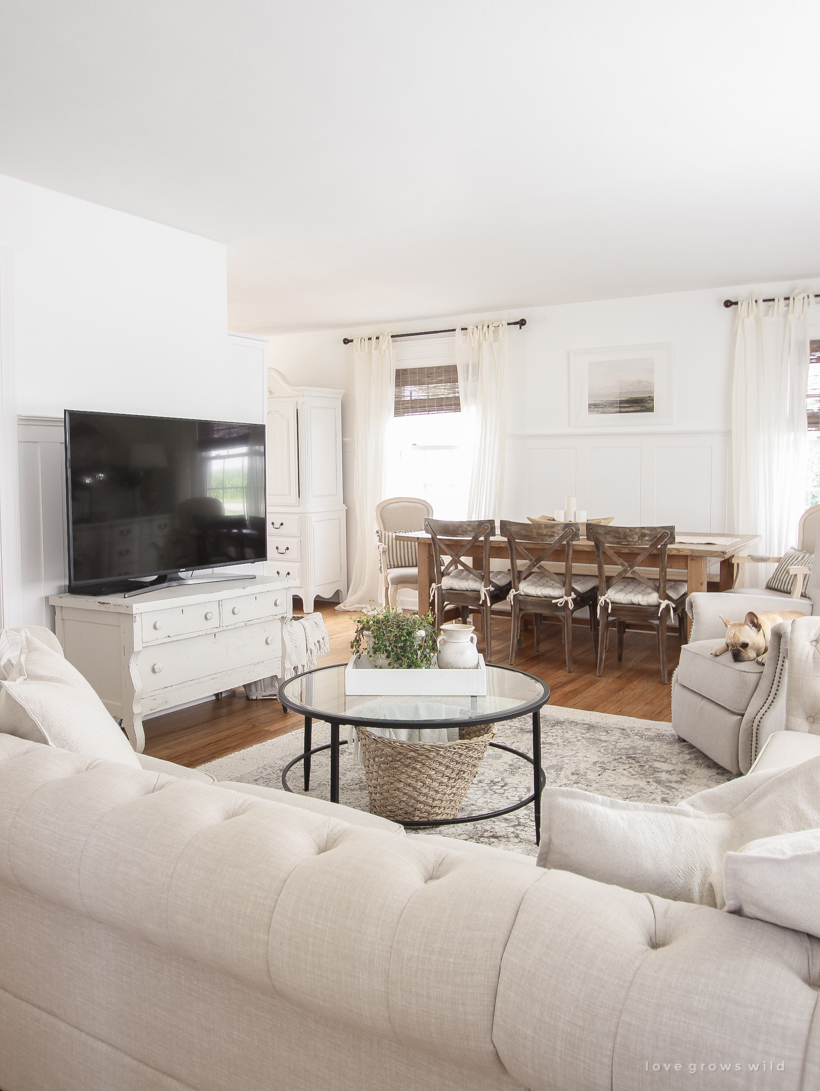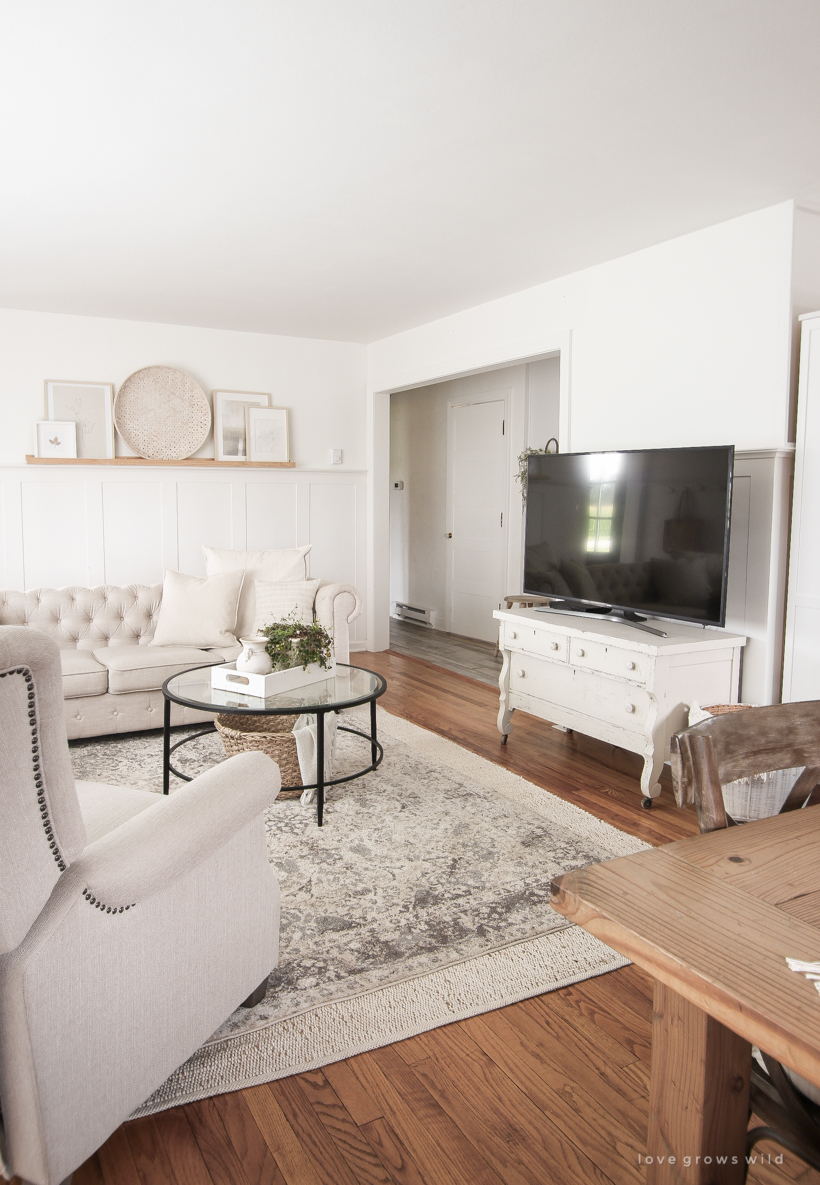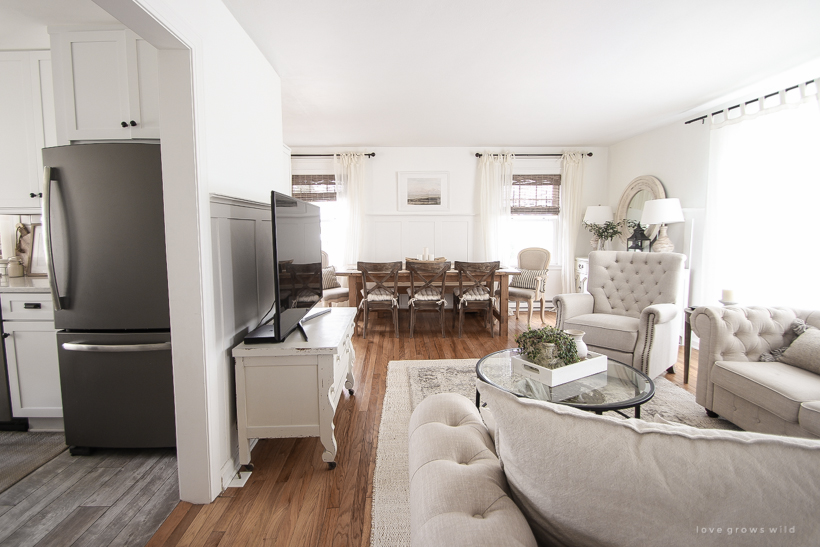 Yes friends, I too have a huge television in my living room! But do you notice how I strategically "hid" it on the short wall between the kitchen and living room? The reason I chose to lay the furniture out like this is so that when you walk into the living room from almost any angle, the TV is NOT the focal point of the room. It's not the first thing you see or what your eyes are drawn to. Now obviously I took all of these photos to specifically showcase the location of the TV. But in probably every other photo of my living room you've seen, the TV isn't even visible because the main focal points of the room (those cross-back dining chairs and artwork hung between the two windows, the large picture window, the art shelf display behind the sofa) are what your eyes are naturally drawn to.
My Philosophy on Decorating Around a TV:
So rather than having decor sitting on the TV console or adding a pretty gallery wall on the blank wall space above, I chose NOT to do any decorating around the TV. That's right… my philosophy is to avoid drawing your eye towards the TV by focusing on other focal points around the room and strategically placing the TV in the least noticeable spot.
What to do when that isn't an option:
Now let me say this: I COMPLETELY understand that this just isn't a reasonable option for many of your homes. My living room happens to be open to several other rooms, creating the perfect spot to "hide" a TV. Some of you may only have one wall that would work for your TV to live. Some of you may have a stunning fireplace and mantel as the focal point of your room. Whatever the reason is, if you're not able to "hide" the TV like I was able to, do not worry, sweet friend. I'll be going over tons of options for that scenario in part two of this series!
Now let's chat about my new/old TV console: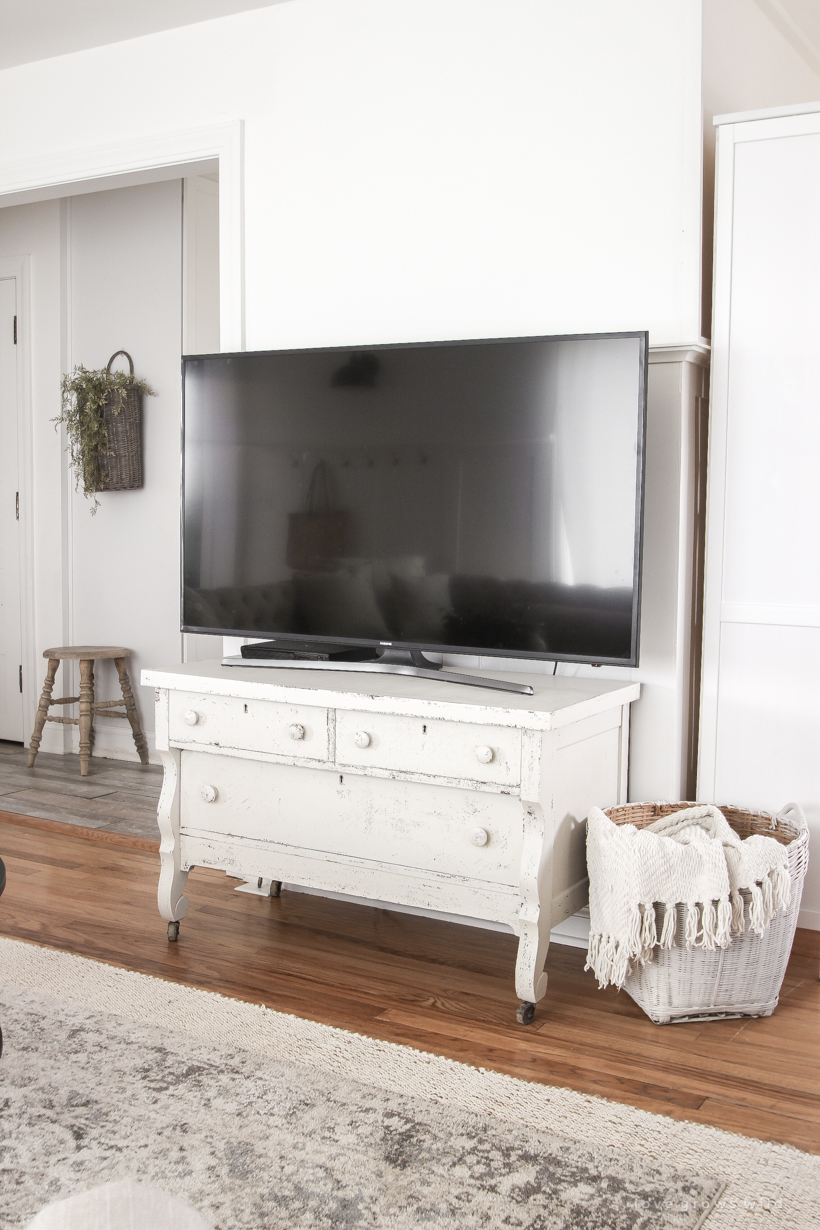 Recently a friend dropped off this antique dresser that had a big mirror attached to the back, and I instantly envisioned it as the perfect TV console for our living room. I liked that it was small, but had some interesting character to it: keyholes on the drawers + curved feet on wheels. Since it was such a beautiful antique I decided to paint it with milk paint to give it that chippy, aged look instead of a solid fresh coat of paint. The beauty of milk paint is that it naturally resists adhesion in some areas, creating an authentic chippy look with very minimal work. It also has a soft, matte finish that fits the character of antiques much better than a high gloss paint would.
I used an equal mixture of two different colors: linen + grain sack in Miss Mustard Seed's Milk Paint and sealed it with beeswax.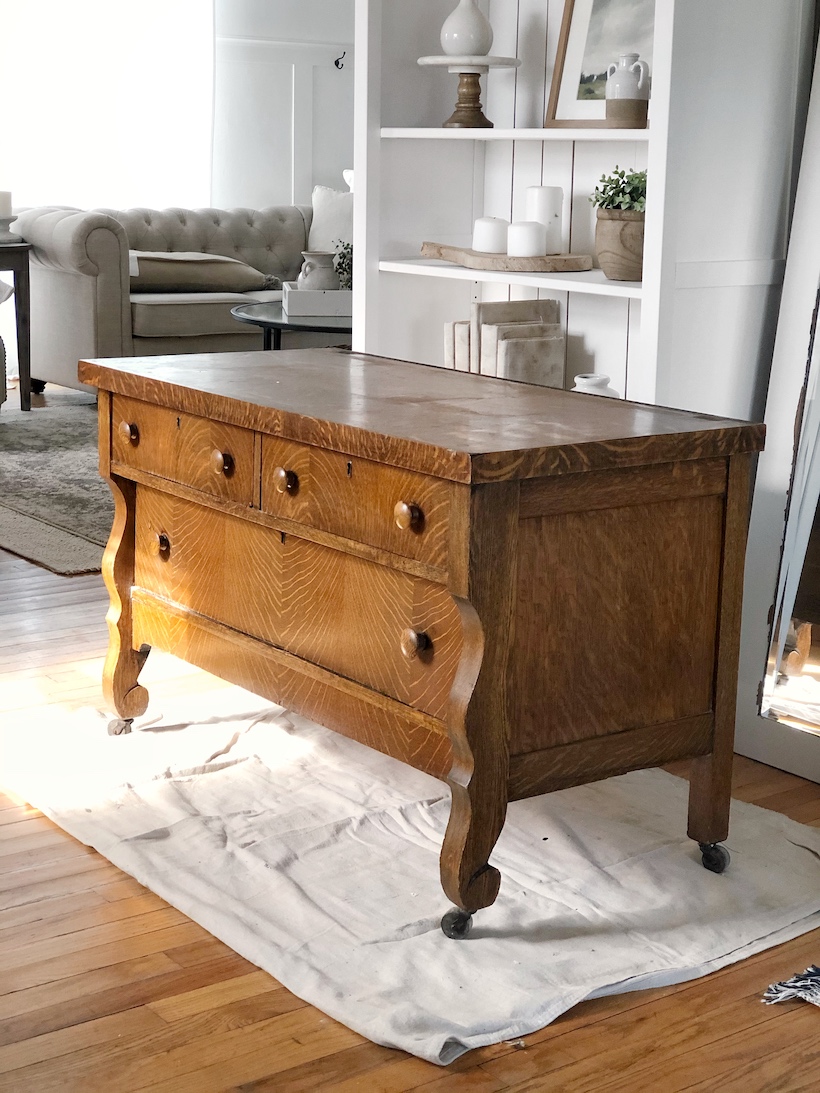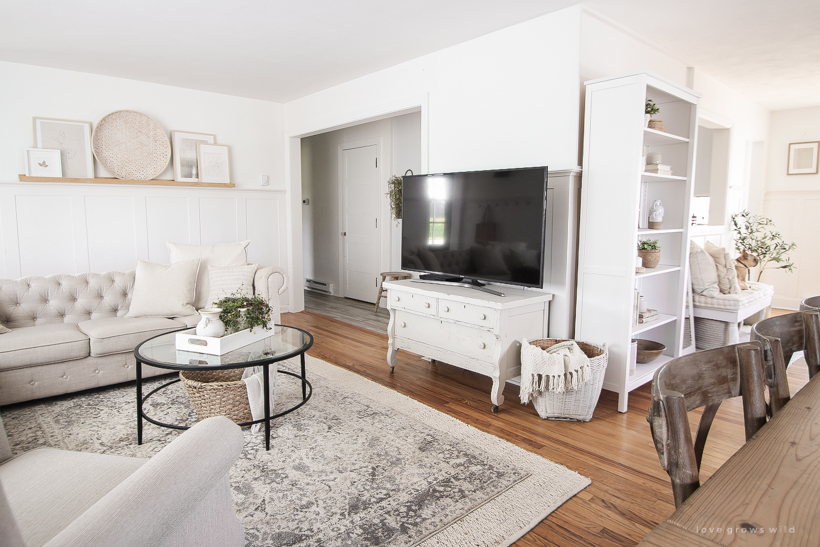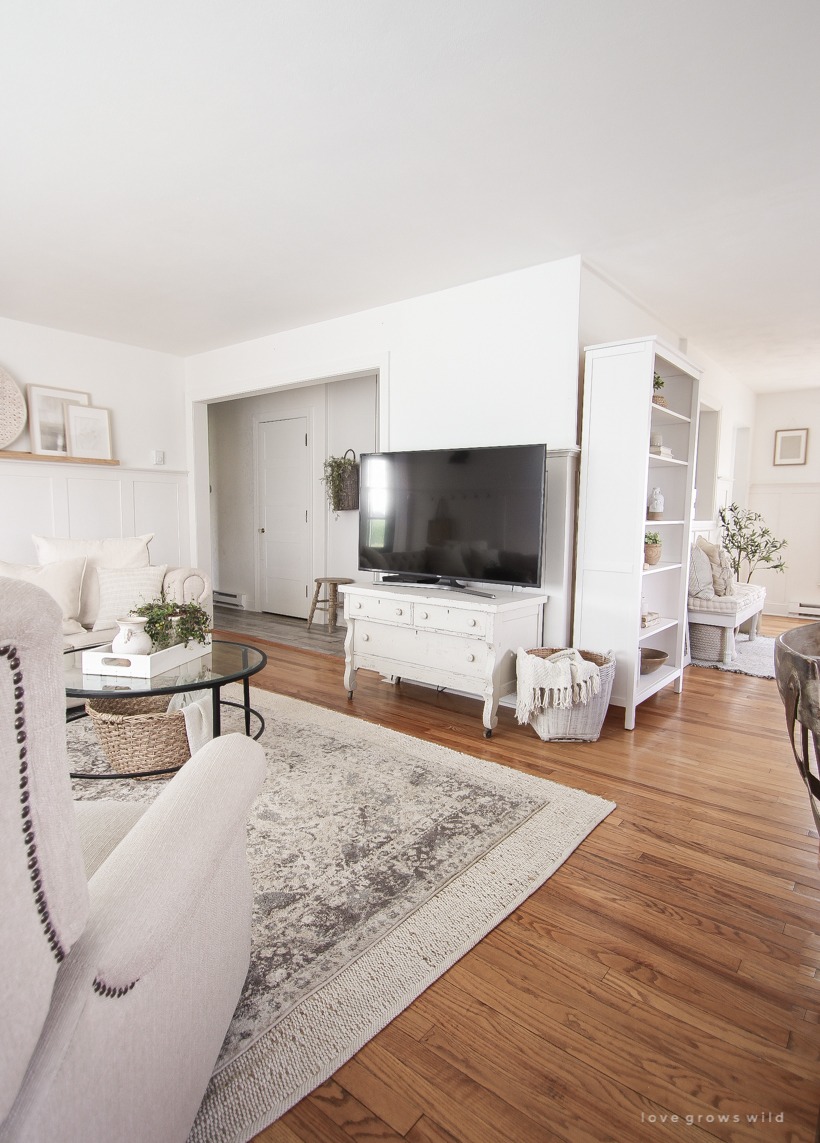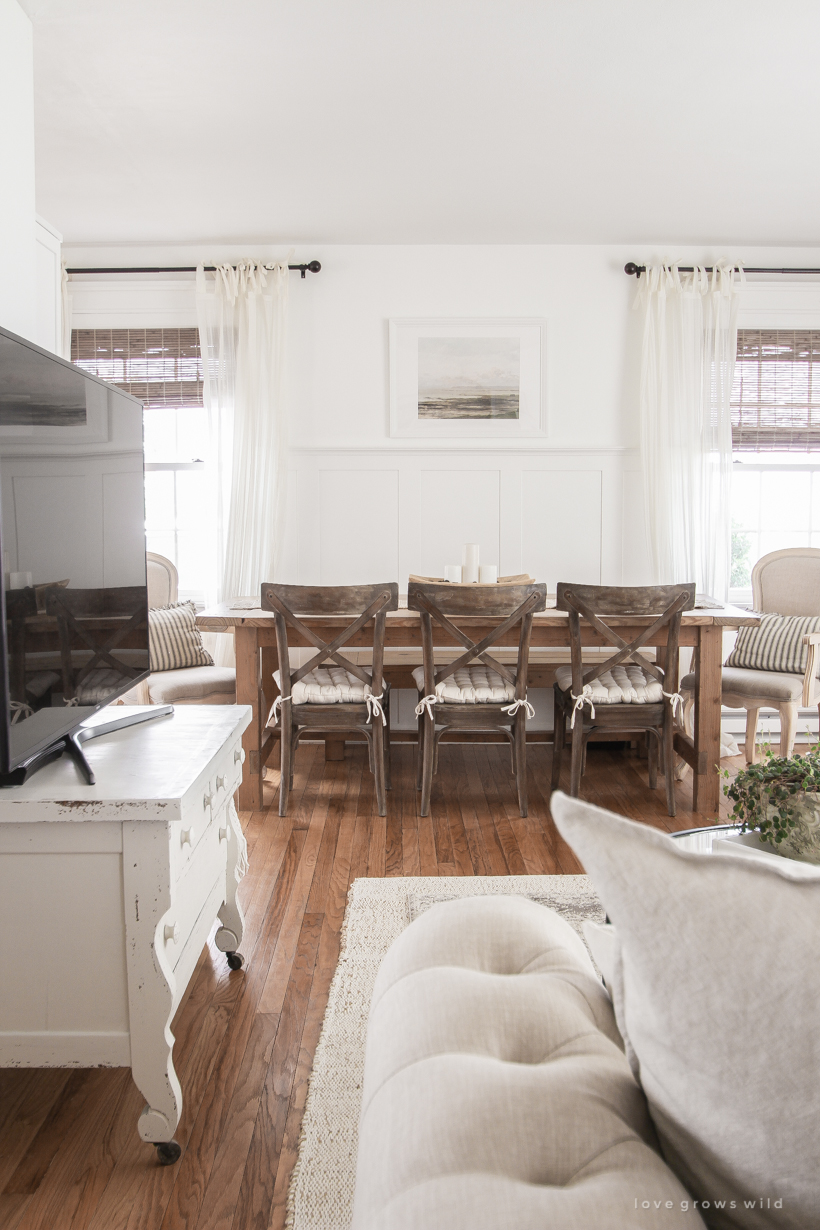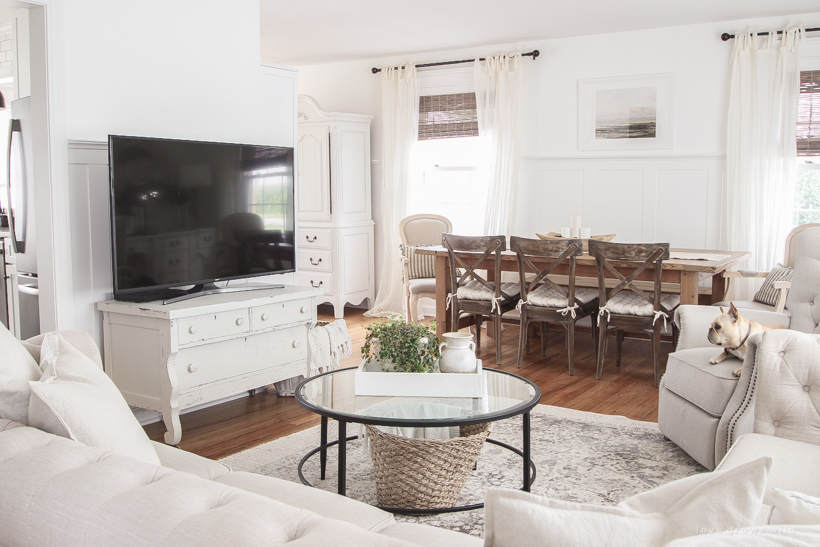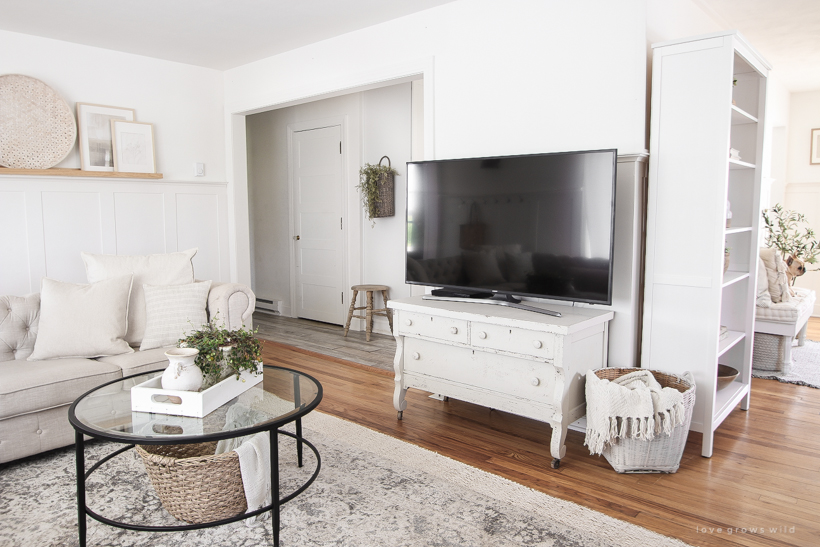 What are your thoughts? Do you decorate around your TV or not? I'd love to hear what you think! And stay tuned for part 2 of this series coming soon! Thank you for being here today, sweet friend. xoxo Liz
– SOURCES –
wall color: Du Jour by Valspar
board and batten wall treatment: tutorial
sectional sofa: Wayfair
recliner: Walmart
glass + metal coffee table: Wayfair
medallion rug: RugsUSA
jute + cotton rug: RugsUSA
solid pillow cover: IKEA
stripe pillow cover: Hackner Home
long lumbar tassel pillow: Wayfair (similar)
wall sconce: Wayfair
coat hooks: Amazon
dining table: tutorial
cross back dining chairs: World Market
tufted seat cushions: World Market
arm chairs: World Market (similar)
tie top curtains: World Market
bamboo roman shades: Home Depot
landscape painting wall art: Etsy
wooden bowl: Target (sold out)
table runner: Pier 1
art shelf: tutorial
whitewash wall basket: McGee & Co. (sold out)
paper mache pressed flower art: tutorial
watercolor botanical art print: Etsy
tv console: antique
bookshelf: IKEA
white bench: tutorial
Note: As always, I sincerely appreciate you shopping through the links I share, which allows me to make a small commission from your purchase while your purchase price stays the same. When you use my affiliate links, I'm better able to create content for this blog as well as support my family, and I thank you from the bottom of my heart for supporting what I do!
WANT TO SEE MORE OF OUR OUTDOOR LIVING SPACES?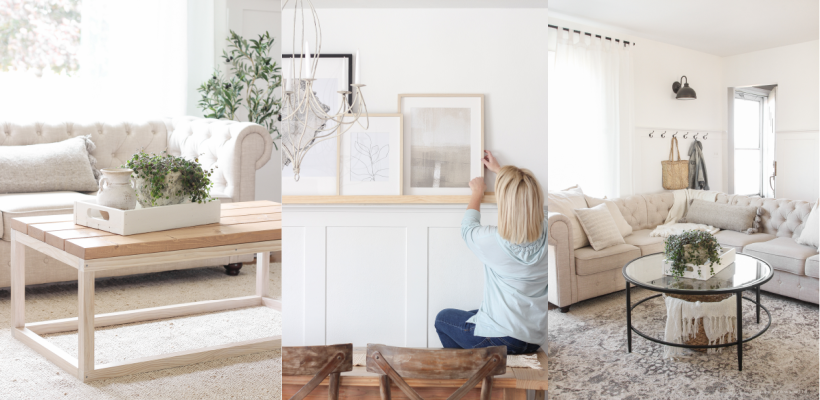 Simple DIY Coffee Table| The Easiest Way to Display Art: DIY Art Shelf| Living Room/Dining Room Swap
---
Subscribe to Blog | Follow on Instagram
Follow on Pinterest | Follow on Facebook