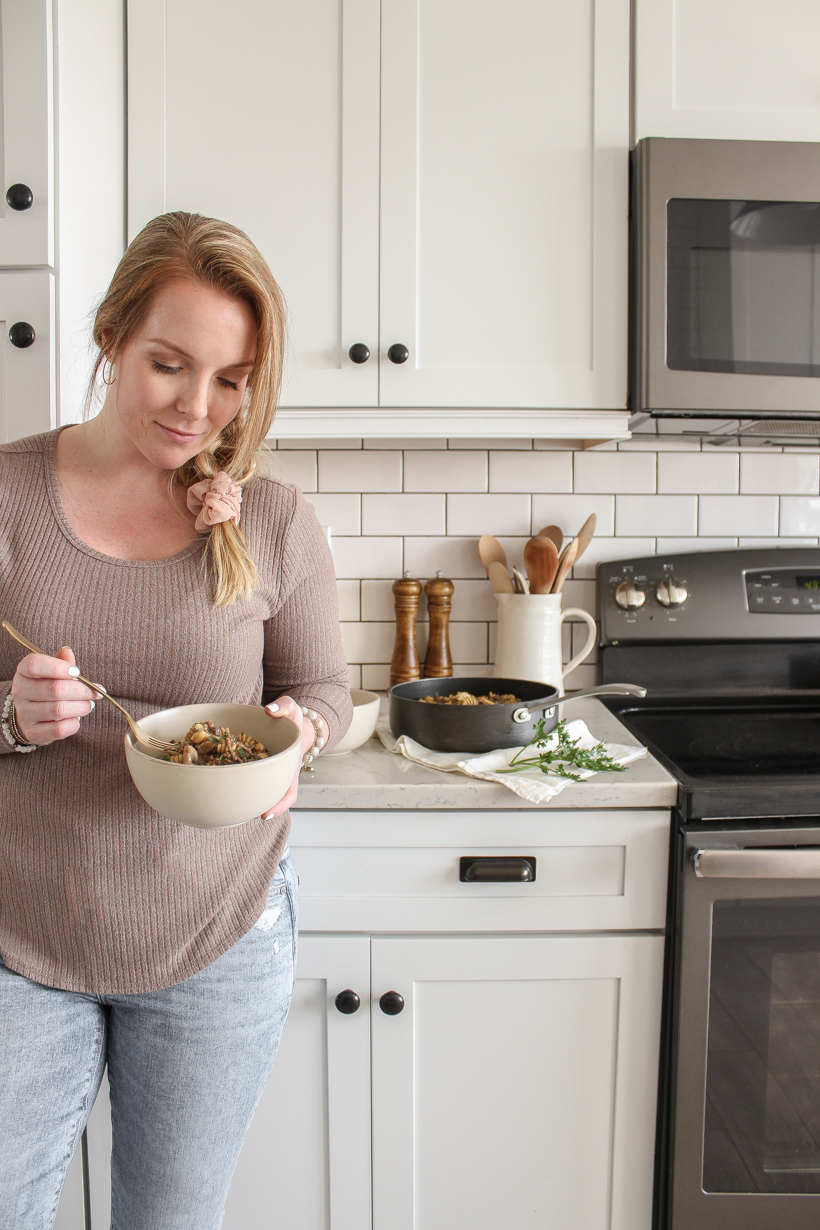 I'm back in the kitchen! Actually, I never really left, but I did take a hiatus in sharing recipes here after a certain illness manipulated my taste and smell for quite some time, which by the way is the weirdest and most frustrating thing. You know what things should taste and smell like, but they just don't. It made it difficult to create new recipes and taste test things for awhile, but I'm happy to finally be back cooking up some yummy things for you guys. Did you miss me in the kitchen? Or are you just here for the pretty decor? 😂
I wanted to come back with an easy dinner recipe I've been making a lot lately that saves a ton of time and is much lower in calories than the traditional version. Beef stroganoff is one of my favorite dishes, but you generally use a more expensive, higher fat cut of meat that cooks slowly all day. This recipe uses lean ground beef, which cooks up super quick and provides protein with a lot less fat. I am a mushroom lover, but those can be left out if you're not a fan. I always cut them into really thick slices so they're easy for my kids to eat around.
Everything cooks together in just ONE pan, even the pasta = less dishes to clean. It reheats well if you want to meal prep some meals ahead of time, and I like serving it with a fresh salad for dinner. I included some notes in the recipe on the specific ingredients I used to make it macro-friendly AND also the serving size and nutrition information for those who track. Enjoy!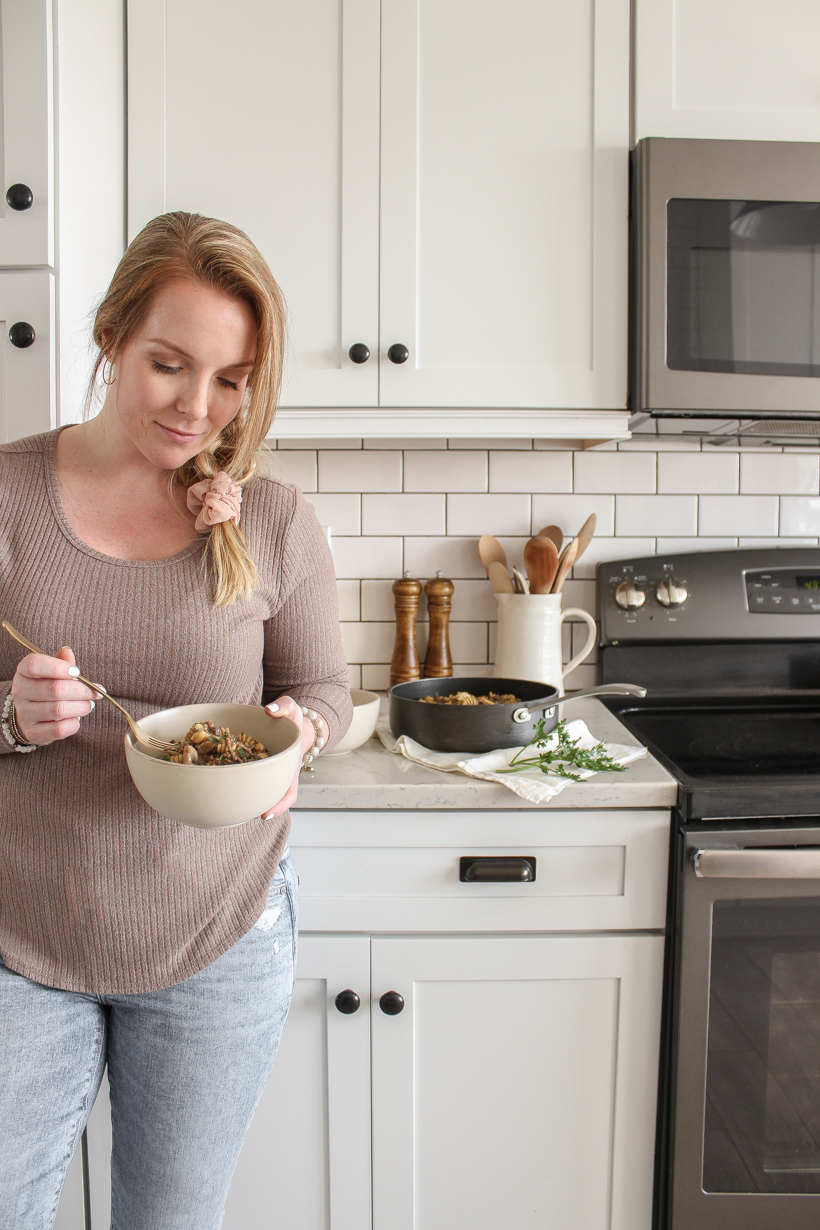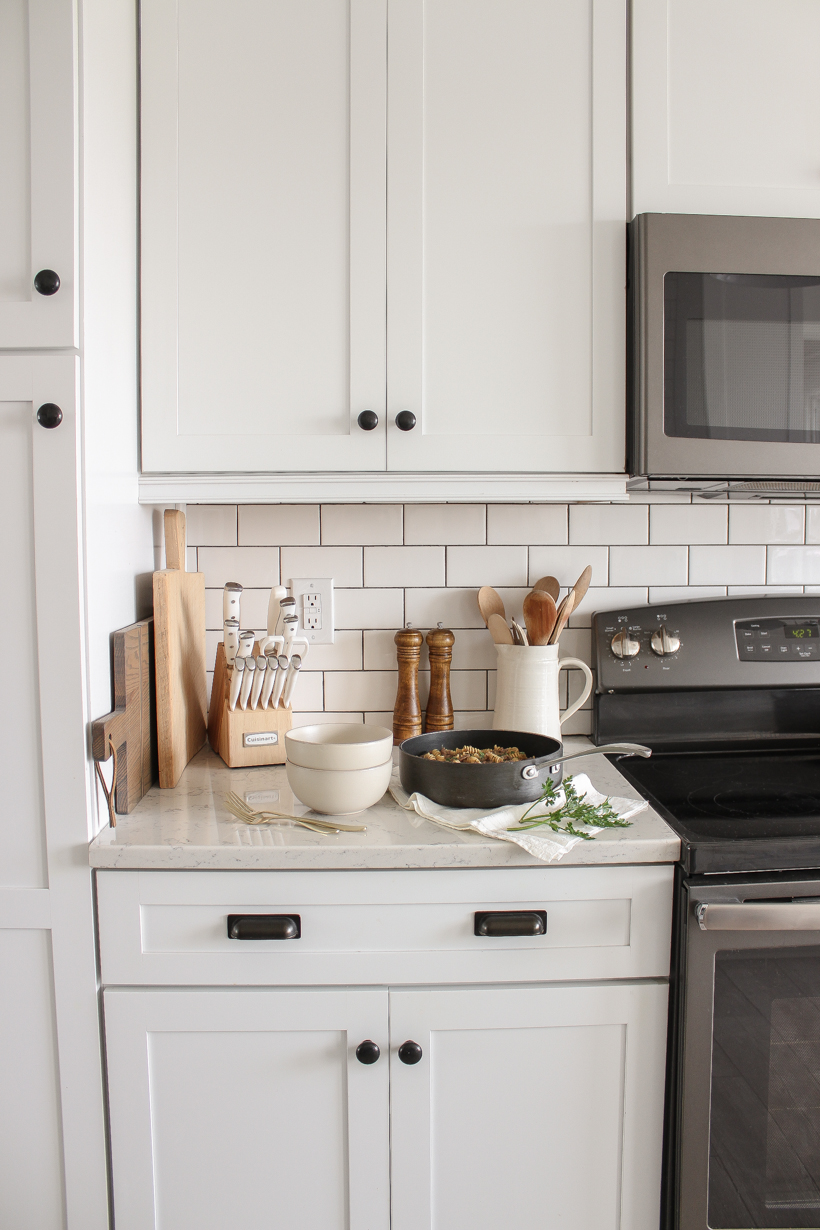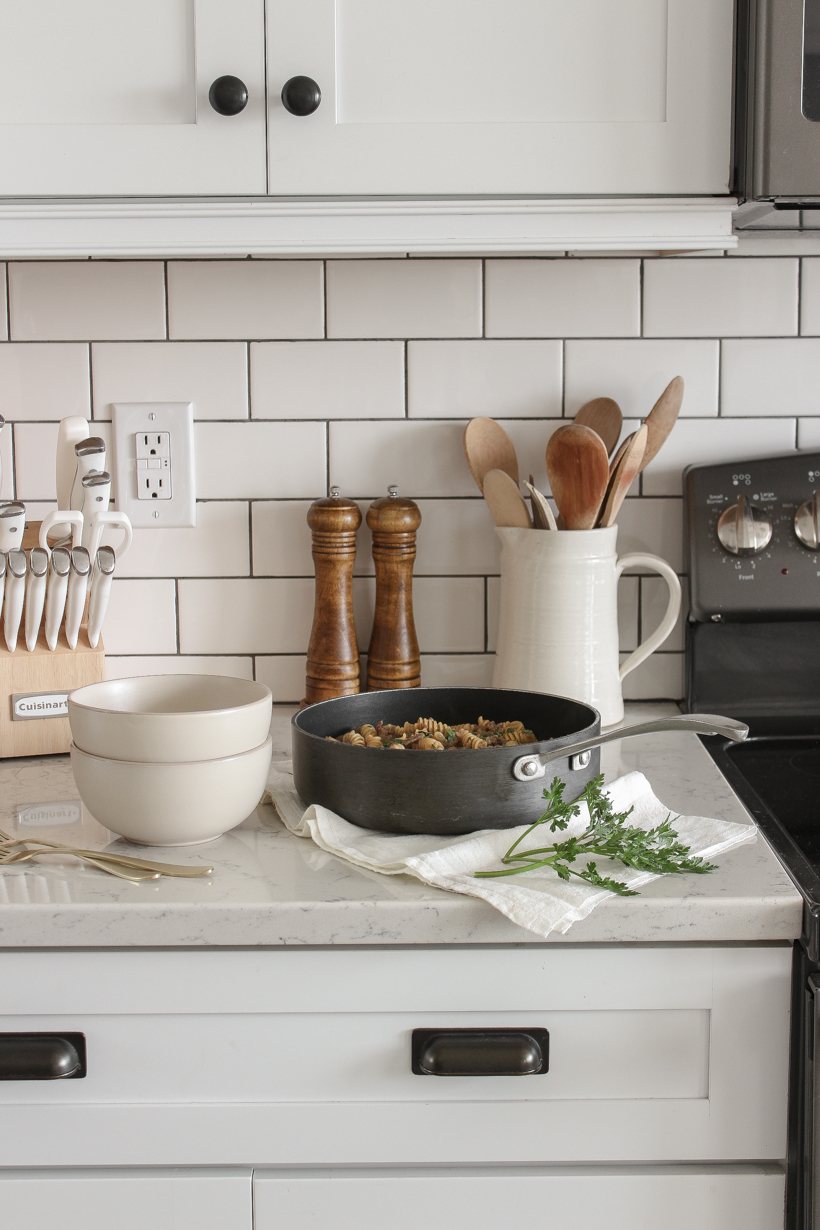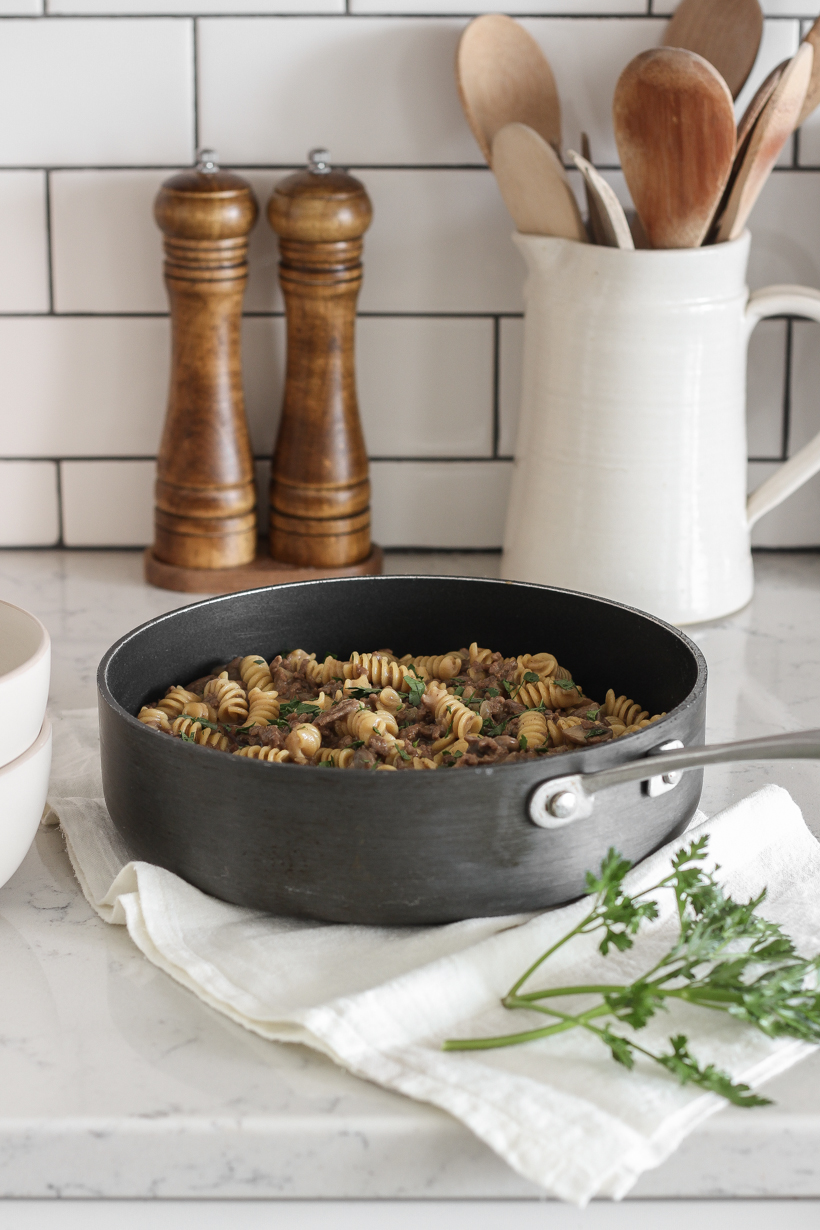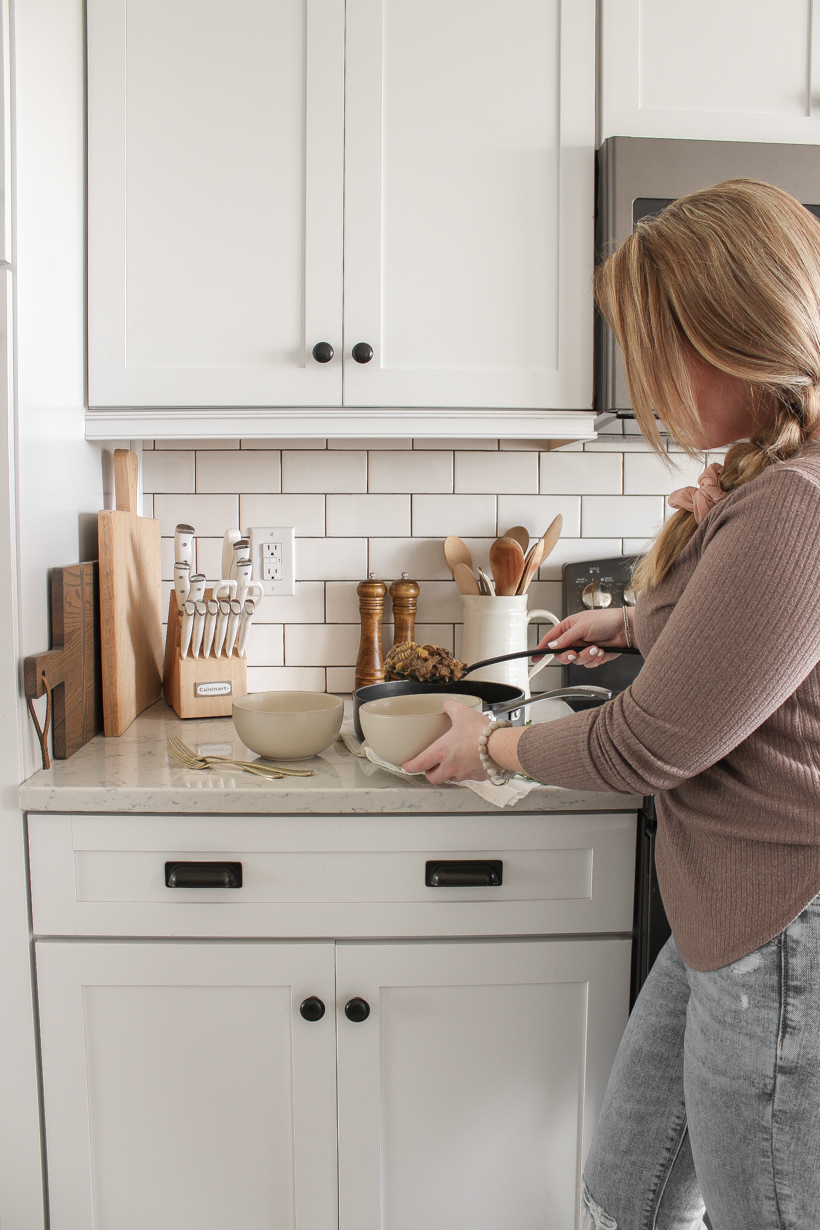 ---
Quick, Easy Beef Stroganoff
INGREDIENTS
1 tablespoon unsalted butter
16 ounces mushrooms, thickly sliced
½ medium onion, diced (about 80 grams)
1 pound lean ground beef (I use 92-96% lean)
2 cloves garlic, minced
½ teaspoon Italian seasoning
3 tablespoons all-purpose flour
4 cups beef broth or bone broth
1 tablespoon worcestershire sauce
1 tablespoon dijon mustard
8 ounces pasta, uncooked
½ cup light sour cream
salt and black pepper, to taste
optional: fresh chopped parsley and parmesan cheese for garnish
INSTRUCTIONS
Melt butter in a large skillet over medium heat. Add the mushrooms and onions and cook, stirring occasionally, until mushrooms are tender and any liquid from the vegetables is mostly absorbed. Season with salt and pepper to taste.
Push vegetables to sides of the pan and add ground beef. Cook until browned, about 5 minutes, crumbling the meat as it cooks. Stir in the garlic and Italian seasoning and cook for 1-2 minutes until fragrant.
Add flour and stir until well incorporated. Cook for 1-2 minutes.
Stir in the beef broth, scraping any browned bits from the bottom of the pan. Add the worcestershire sauce, dijon mustard, and pasta. Season with salt and pepper to taste, stir, and bring to a boil. Reduce heat and simmer until pasta is cooked through, around 10 minutes.
Stir in the sour cream and remove from heat. Serve garnished with parmesan cheese and chopped parsley on top, if desired.
NOTES
I calculated the nutrition information using Pacific Foods beef bone broth, 96% lean ground beef, Daisy light sour cream, and Barilla Protein+ penne pasta. Nutrition values will vary with alternate ingredients.
NUTRITIONAL INFORMATION
Serving size:
300 grams
Calories:
395 grams
Fat:
8.9 grams
Carbohydrates:
41.7 grams
Fiber:
5.4 grams
Protein:
39.8 grams
---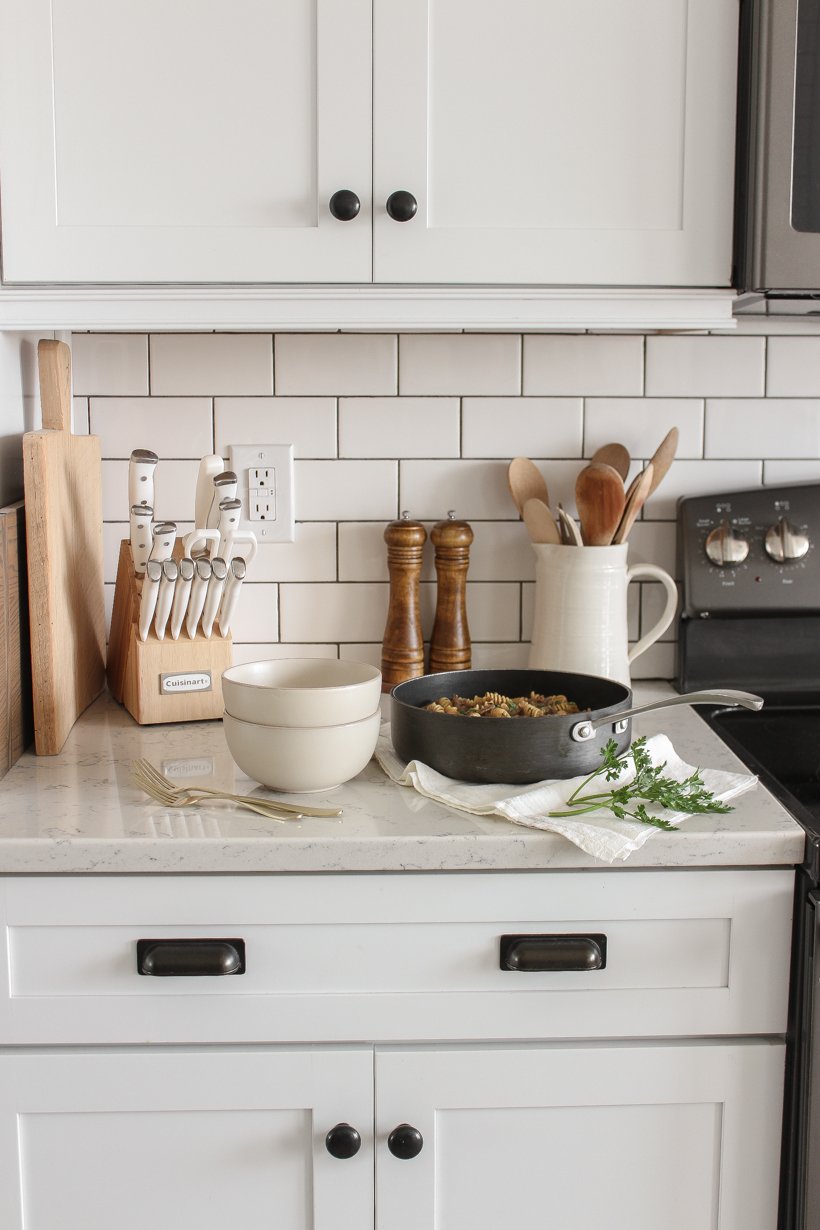 Enjoy! If you try this recipe, I'd love to see how it turns out! Share and tag me:
IG: @lizlovegrowswild + FB: Love Grows Wild
---
Join my text community
Subscribe to our Newsletter | Follow on Instagram
Follow on Pinterest | Follow on Facebook