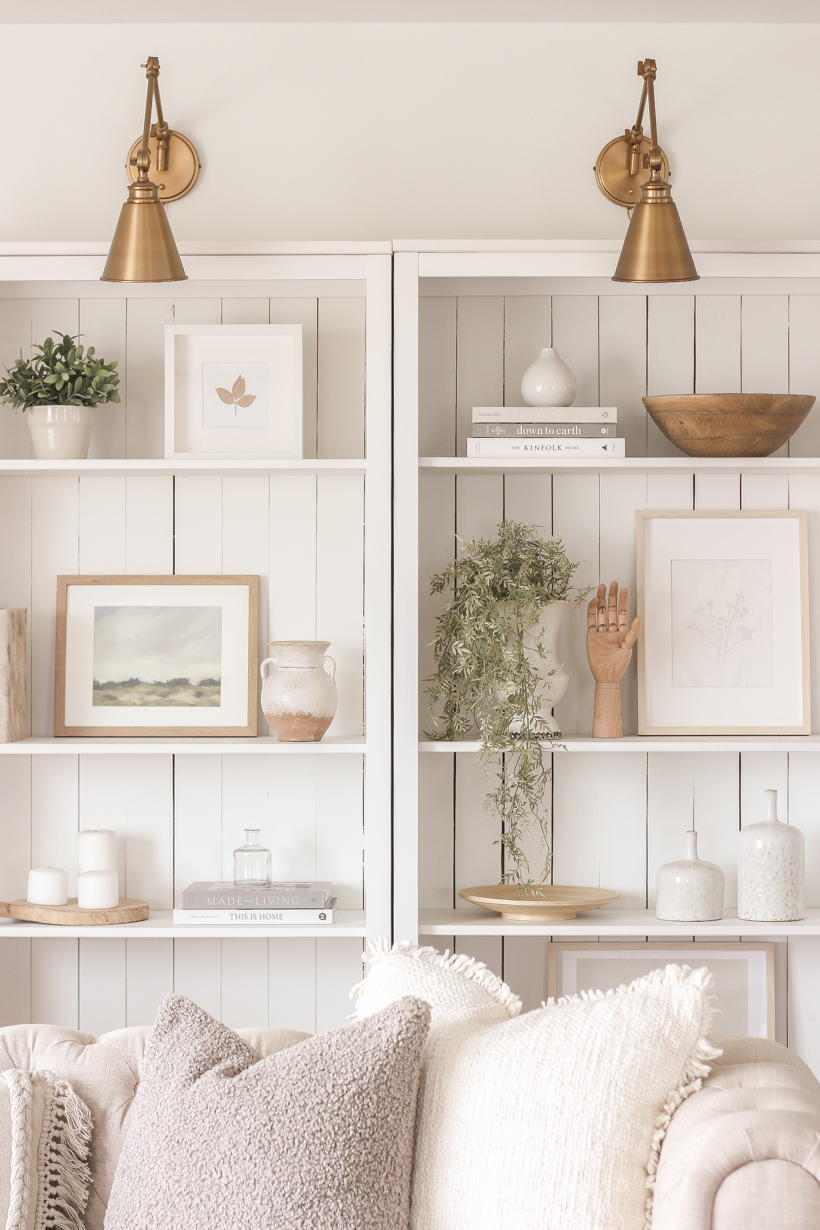 I started planning this project months ago, and if you follow me on Instagram, you've probably seen sneak peeks of the updates I've been making in the living room. One bookcase on one side of the room turned into two bookcases on the other side of the room, and I found the PERFECT lights to hang above them to add a touch of style & elegance. And the best part… I did it all myself! Let's dive right into the details…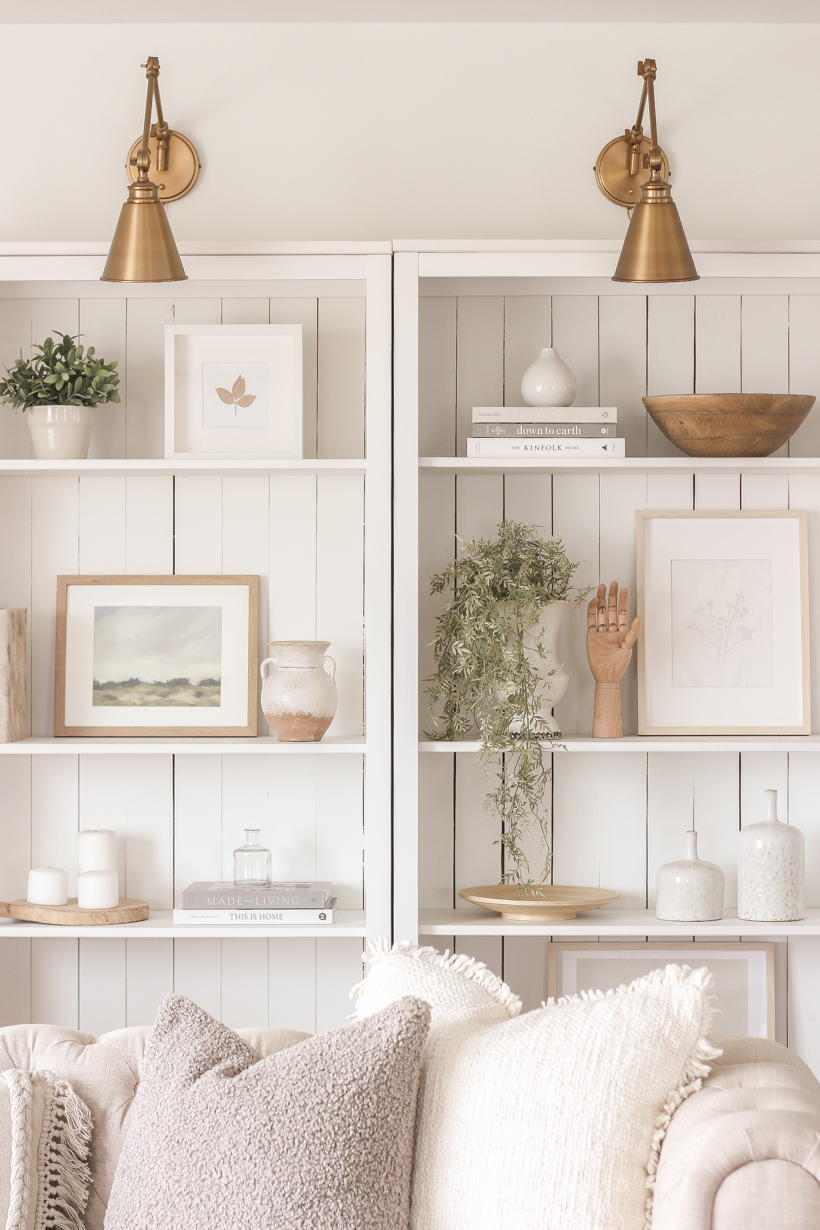 Do you remember the first IKEA bookcase I bought and updated by adding vertical shiplap to the back? You can find the details of that bookcase and the tutorial HERE. Before Christmas came last year, I decided to go back and get a second one to create a wall of beautifully styled shelves behind the sofa, and I am so in love with this new view in our living room!
Let's back up a bit first. For the last several years I've had a simple wood shelf I built to display artwork hung on this wall: that tutorial can be found HERE. As much as I loved playing with different artwork on the shelf, it started to feel a little too small and minimal for such a large blank wall that is a main focal point in the space.
enter: inexpensive IKEA bookshelves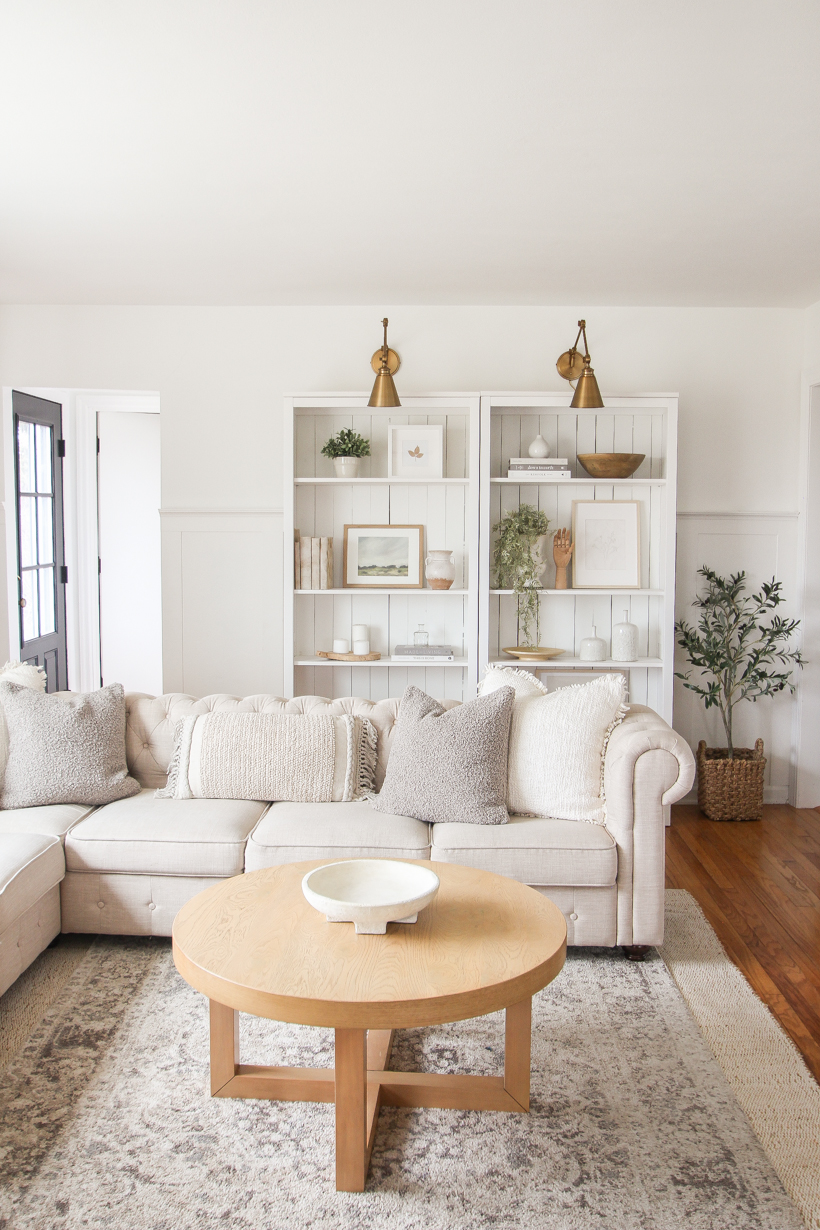 SHELF STYLING TIP:
I have an in depth blog post on shelf styling 101 that you can check out for the basic principles, but here is one tip I've been loving lately…
remove a shelf (or even two).
These bookcases have adjustable shelves, as many commonly do, and when I first got them I used all of the shelves it came with. That just makes sense, right? What I found was I ended up with a bunch of shelves that could only accomodate small, short items, and when you stand back and look at everything as a whole, it just looks like a bunch of little clutter… my least favorite thing.
By removing two of the shelves, I was able to add some breathing room and allow space for larger pieces of artwork and decor. It completely changed the look and feel of the shelves, and I was able to repurpose some of my favorite pieces of framed art that used to sit on the wooden shelf.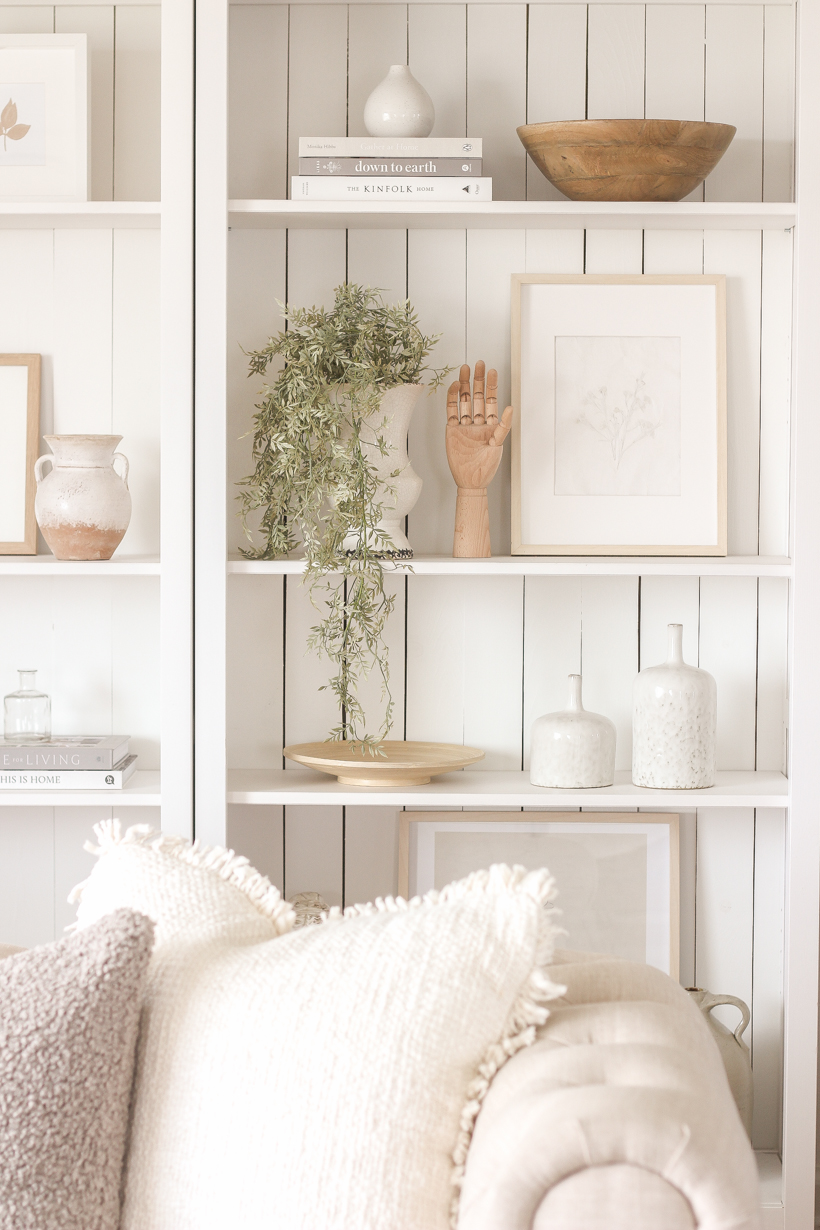 Now let's talk about those beautiful lights!
I love how elegant and sophisticated library lights or bookcase lights look in a room, and I thought it would be the perfect detail to make these white bookshelves really stand out. But I know myself, and I change things around our home pretty frequently, which means I don't necessarily want to spend the money having wall sconces hardwired somewhere when who knows what crazy ideas my brain will come up with next. Even just during Christmas recently, I had to shift these bookcases down to make room for our Christmas tree.
I came across these swing arm wall sconce light fixtures HERE, and they caught my eye immediately because they have a plug-in option! (they can also be hardwired) It comes in 5 different finishes (I chose warm brass), and I was able to get them for just over $110 each. They were super simple to install on the wall, and I placed them just above the center of each bookcase, hiding the cord on the backside. This was such an easy project to do, it probably took me longer to adjust the arms to the exact same angle & height than it did installing them both!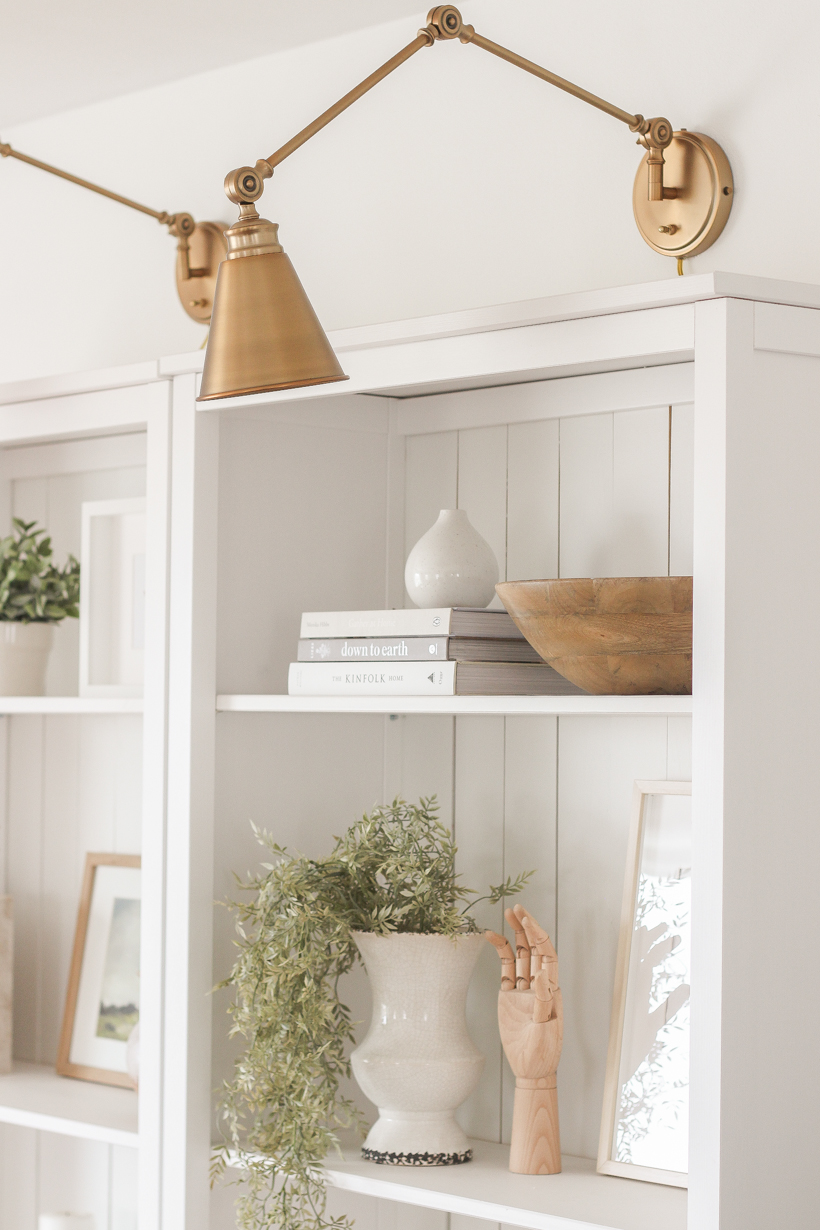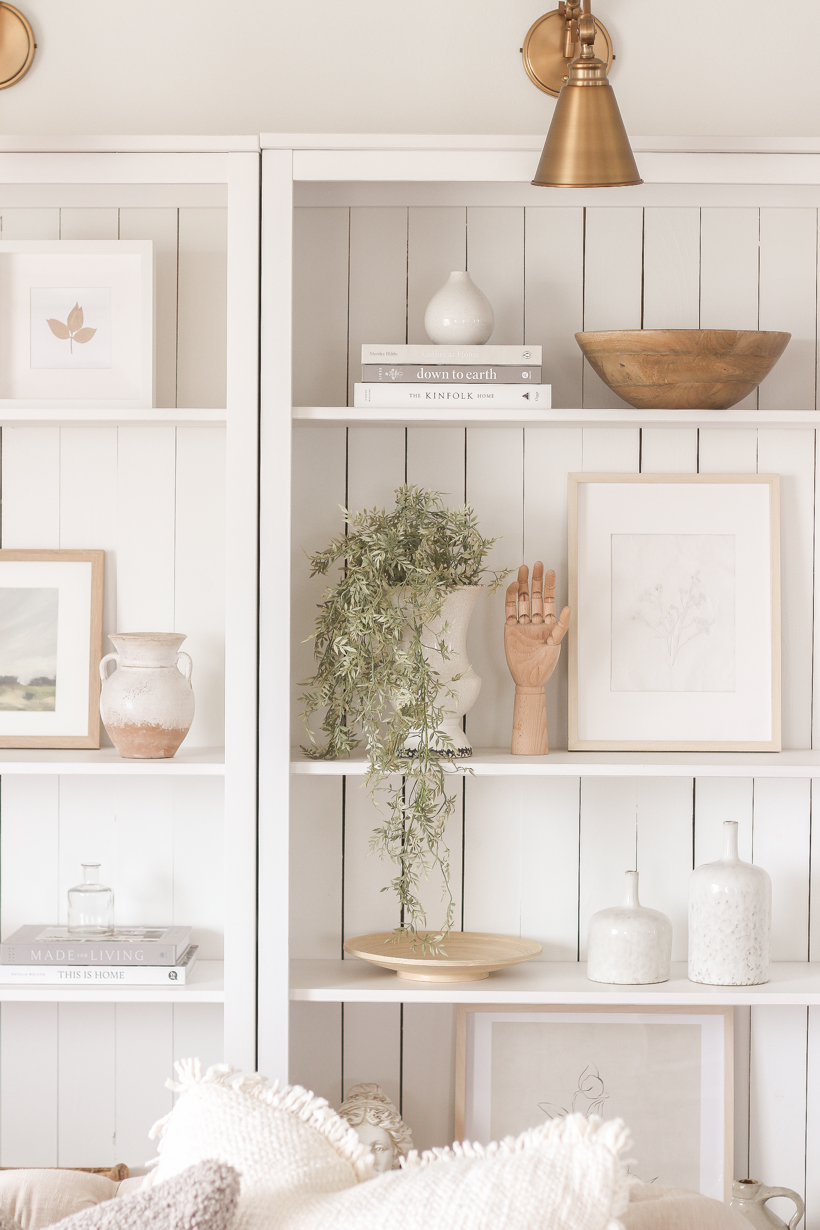 Remember the darker oil rubbed bronze wall sconce I had above the coat hooks by the front door? After I installed the new brass lights, it looked silly having two different sconces so close together in different finishes, so I took that one down and put up a piece of art for the time being. It always makes me laugh how one project leads to another, which leads to another, but it's important to look at the room as a whole to see how everything flows together!
Oh, and yes that is a new coffee table from the Studio McGee line at Target! I was browsing their most recent release for decor and came across this beautiful round wood table for a super affordable price compared to similar tables I've seen. I love the warmth it adds to the space, and that beautiful cross base bowl is also from the new Studio McGee line!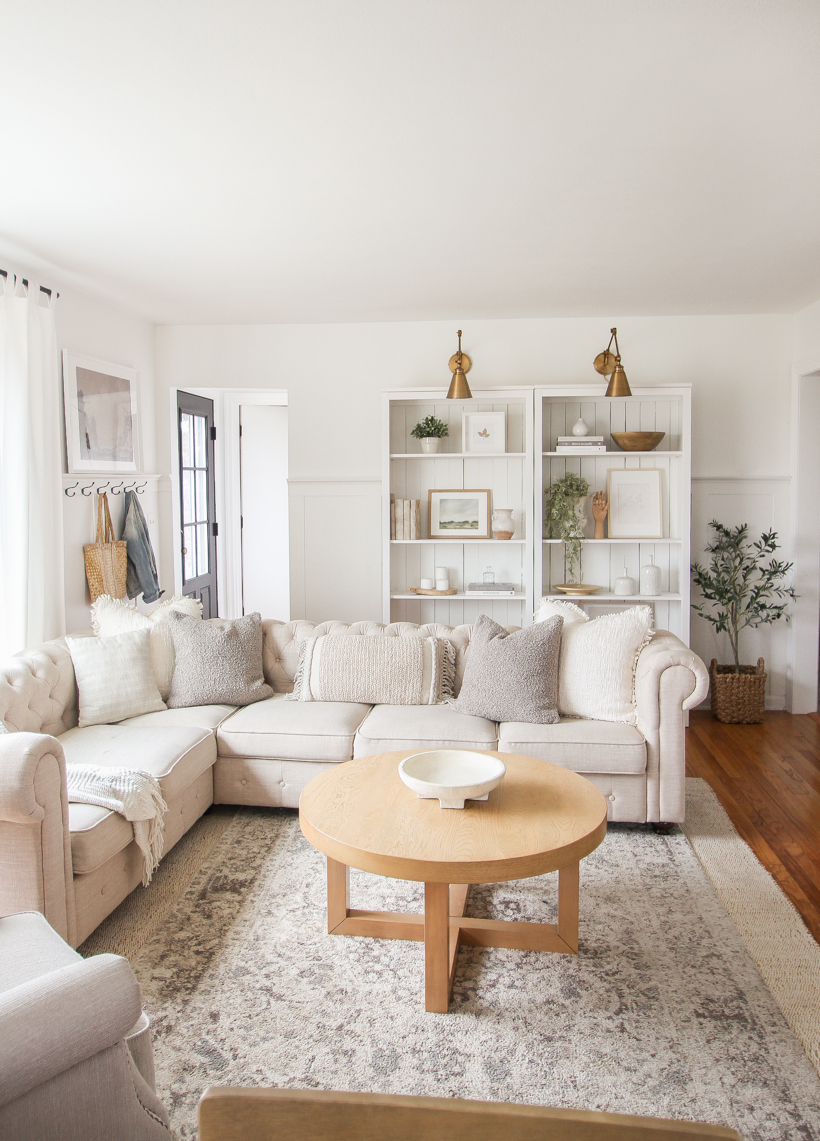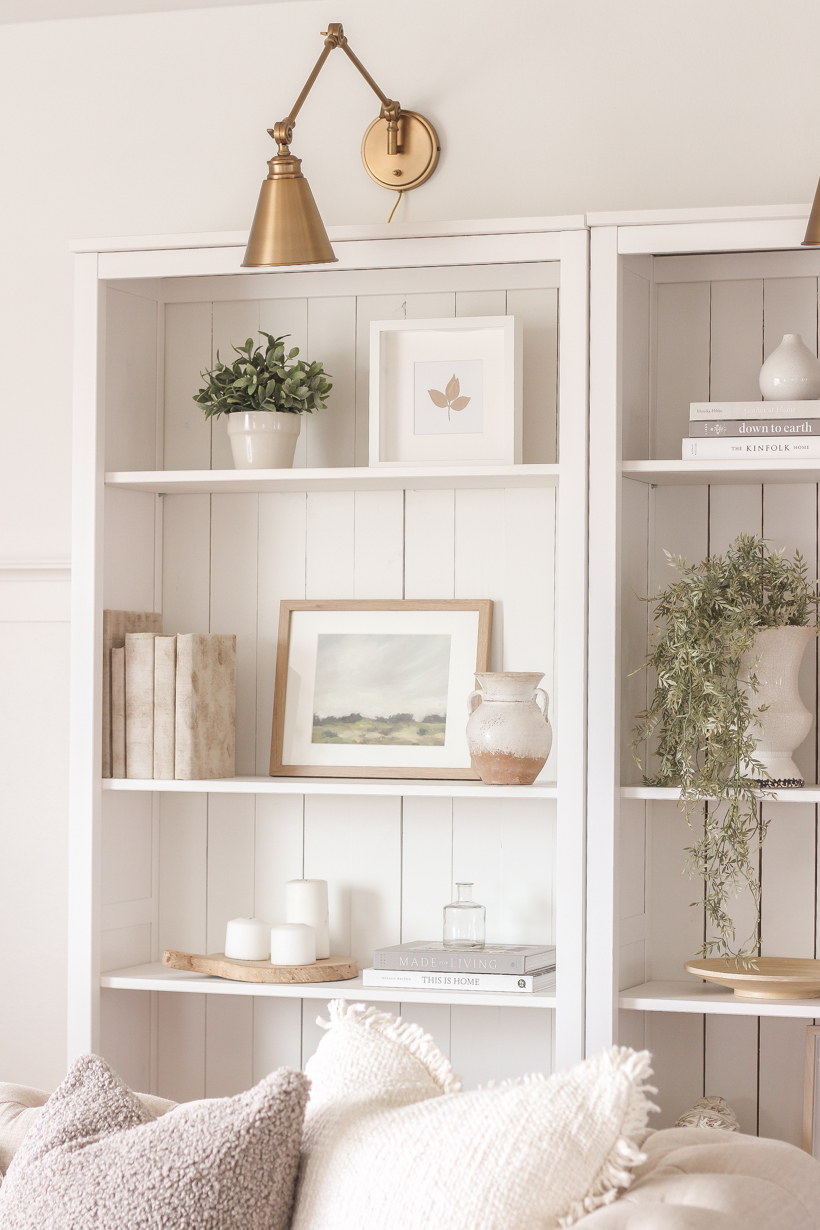 I feel like I'm finally settling into a style that is perfectly "me", and this room is starting to reflect that. I love that when I look around this space the vast majority of everything in here is budget-friendly and very attainable, which I hope gives you the feeling that these are all things you can do in your own home as well!
The bookshelves, wood bowl & plate, potted faux plant, and more are from IKEA.
All of the artwork is either from Etsy or I made it myself.
The vases and pottery are either Home Goods, from my shop, or an antique find.
The table and a few pillows are from Target.
Honestly… the biggest "splurges" in this space are probably my book collection, the lights, and the sofa!
I have all the sources listed and linked for you at the bottom of this post, but I just wanted to show you that beautiful design doesn't have to mean a big budget. You just need to know the style you're going for and look for affordable pieces to compliment that! Of course, if you find that you struggle in that department, you can always get in touch with me to chat about the decorating services I offer. You can click HERE for more details!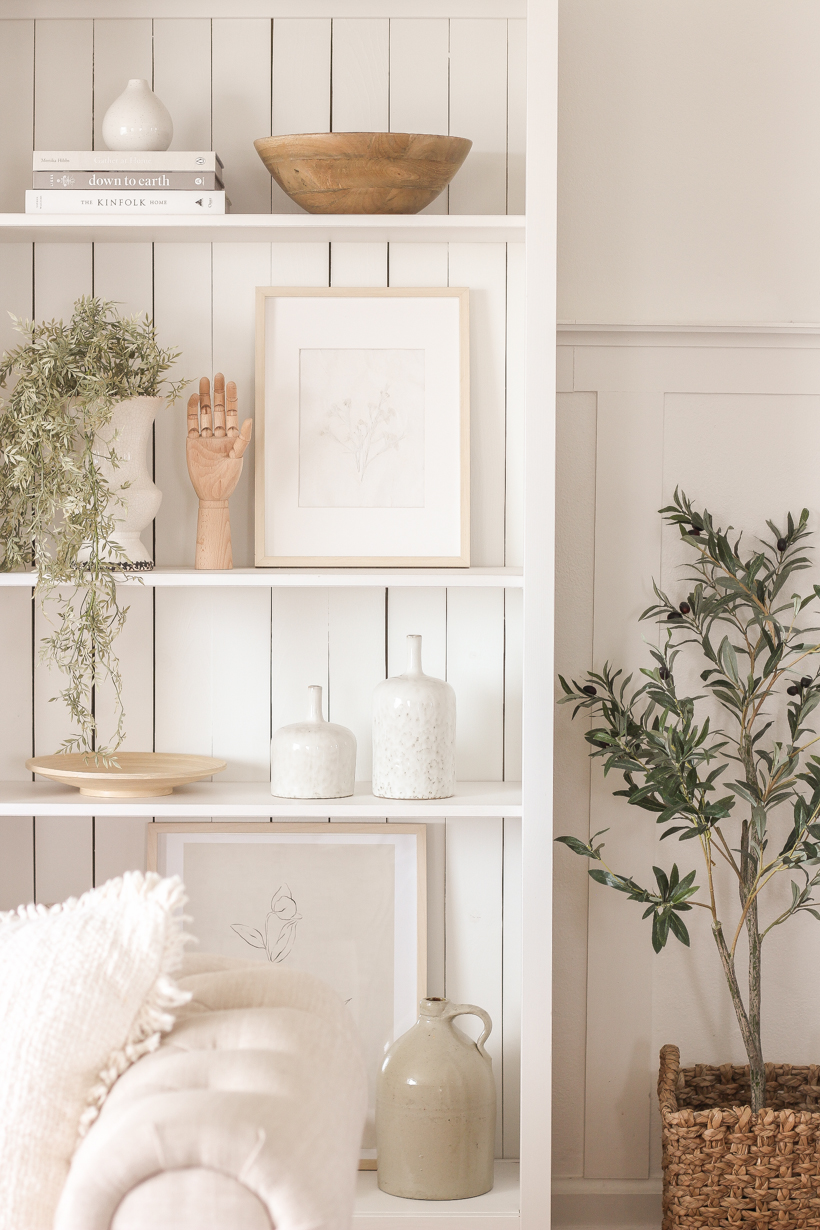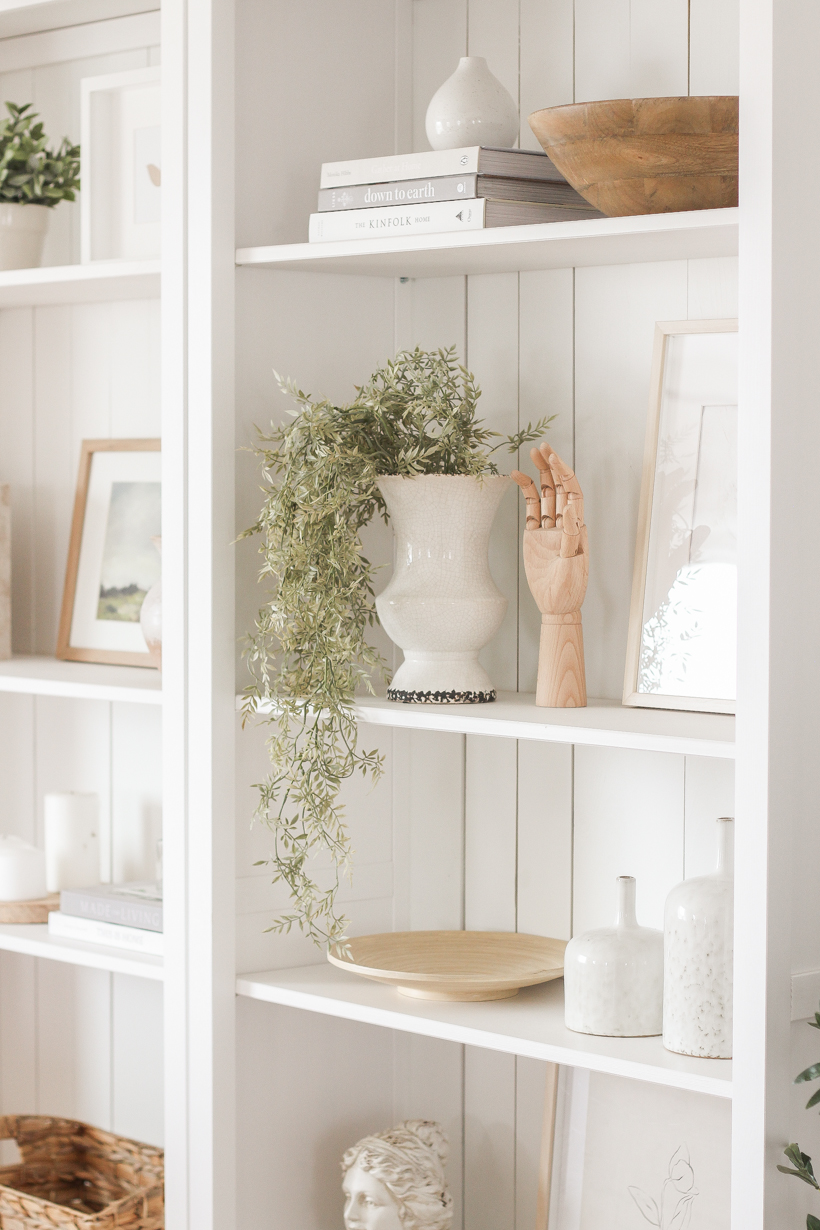 The antique brass hardware on the new front door now matches the new wall sconces, and I'm just so smitten with this view. And in case you were wondering, I keep a little stool in the kitchen, which is just to the right of the living room, to help me reach the on/off switch on the lights. It's not ideal, but it's much easier than getting back behind the bookcases to plug/unplug them!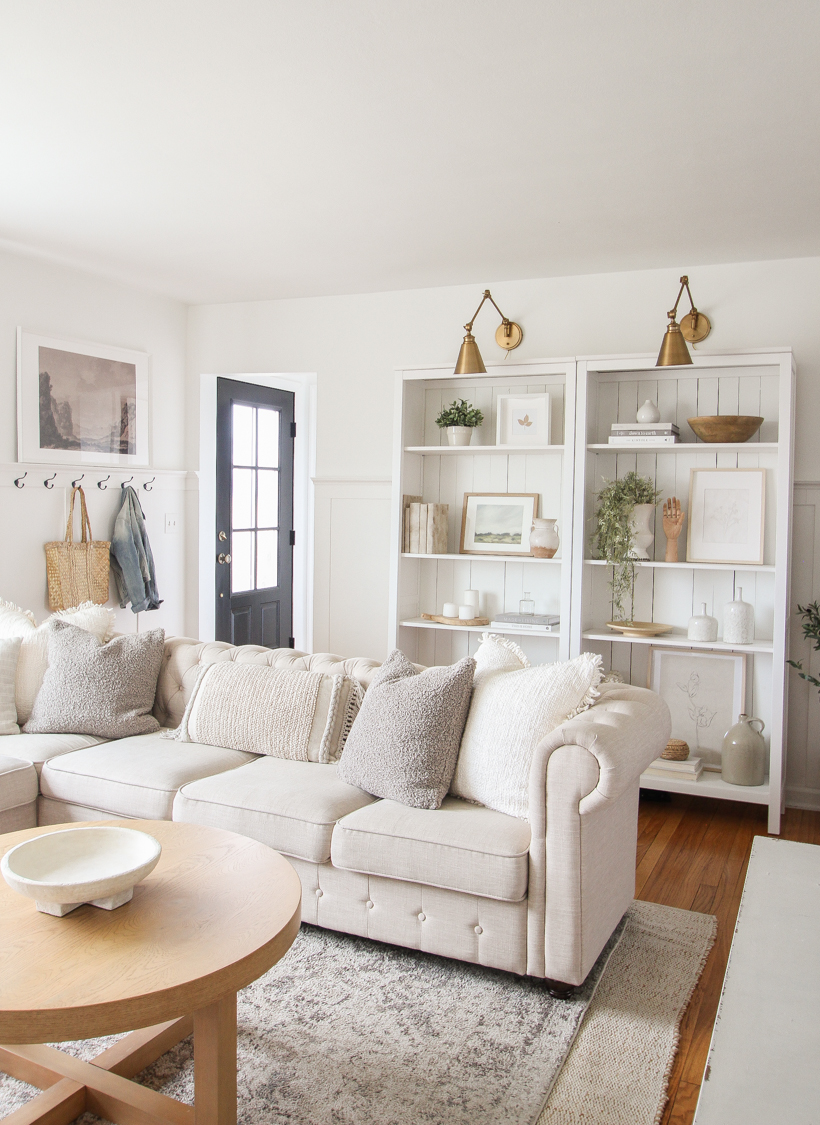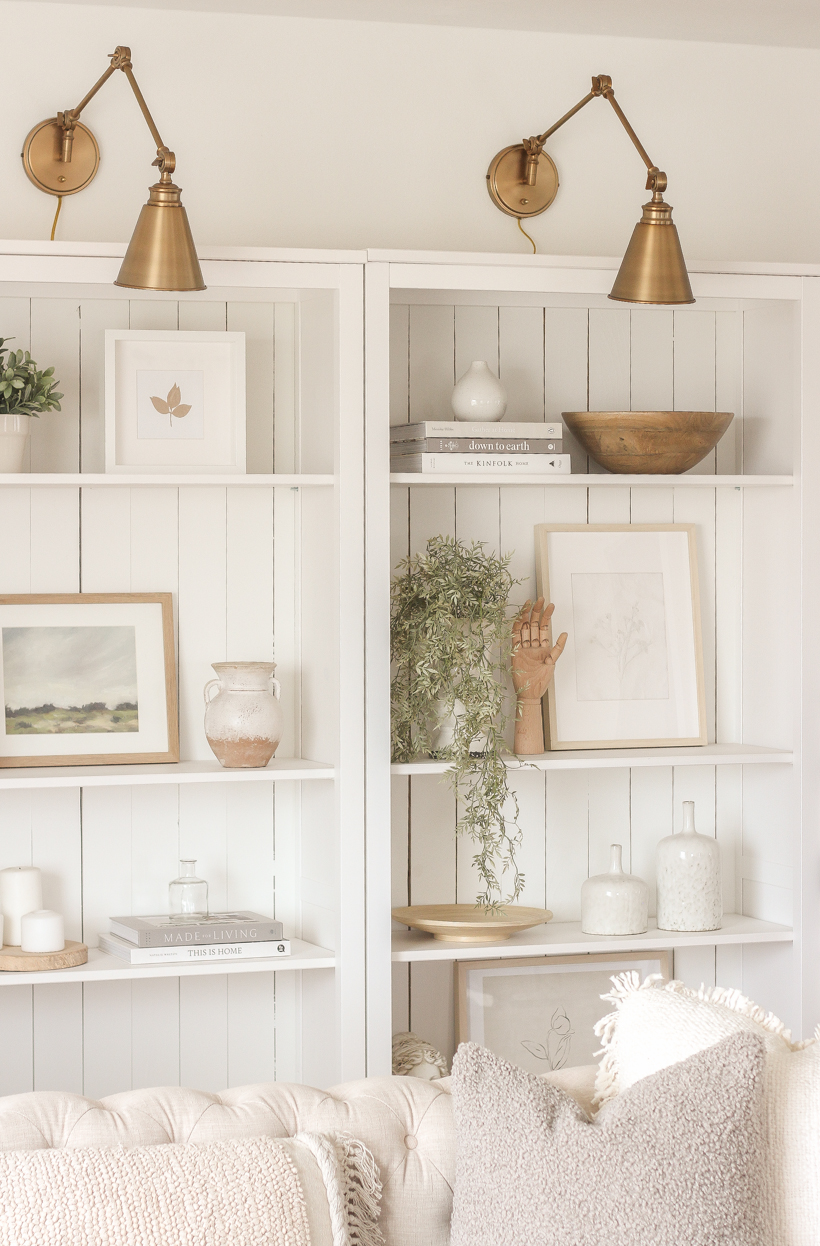 What do you think about the new lights? Do you have any questions? Let me know in the comments!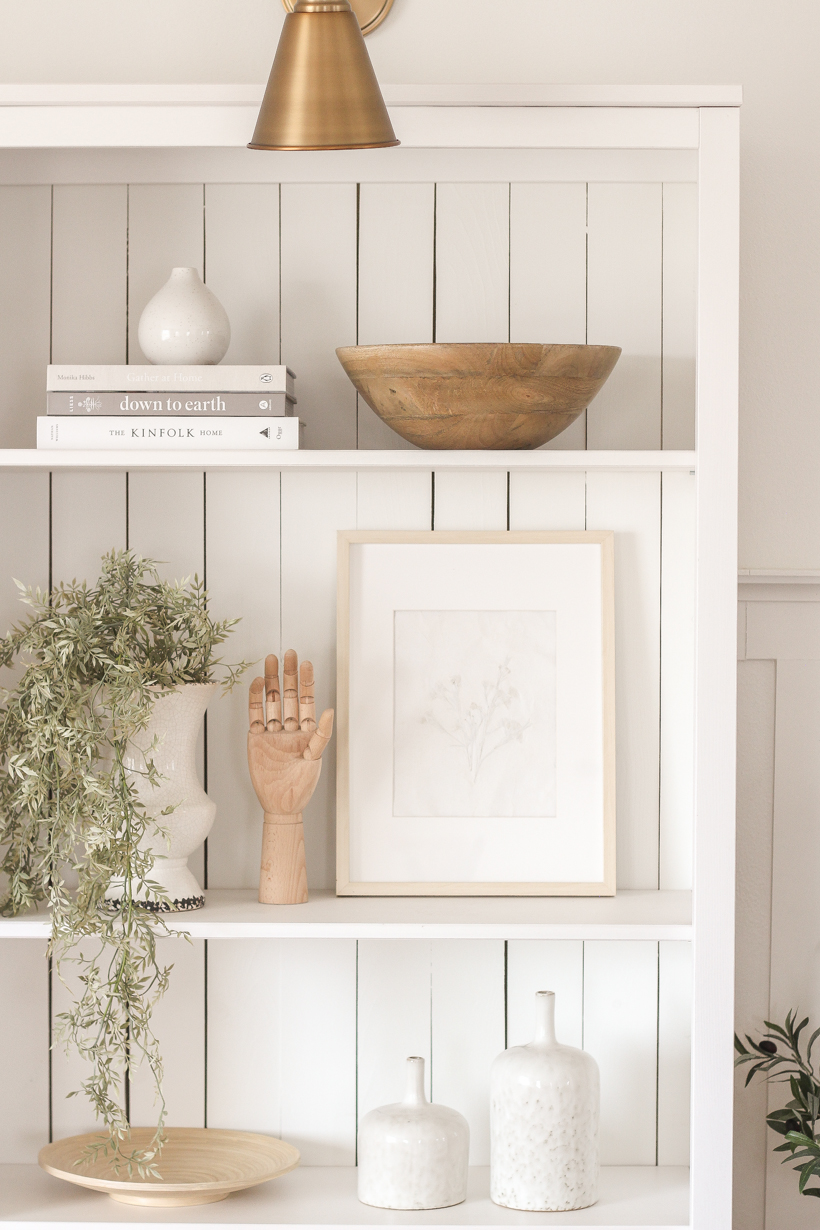 MORE DECORATING POSTS:
The Simple Pillow Formula for your Sofa
How to Decorate with Art on a Budget
The Easiest Way to Keep Your Home Tidy
Shelf Styling 101
Creating a Simple Entryway in a Small Space
Beautiful Books for Styling Your Home
Paper Mache Pressed Flower Art
DIY Art Shelf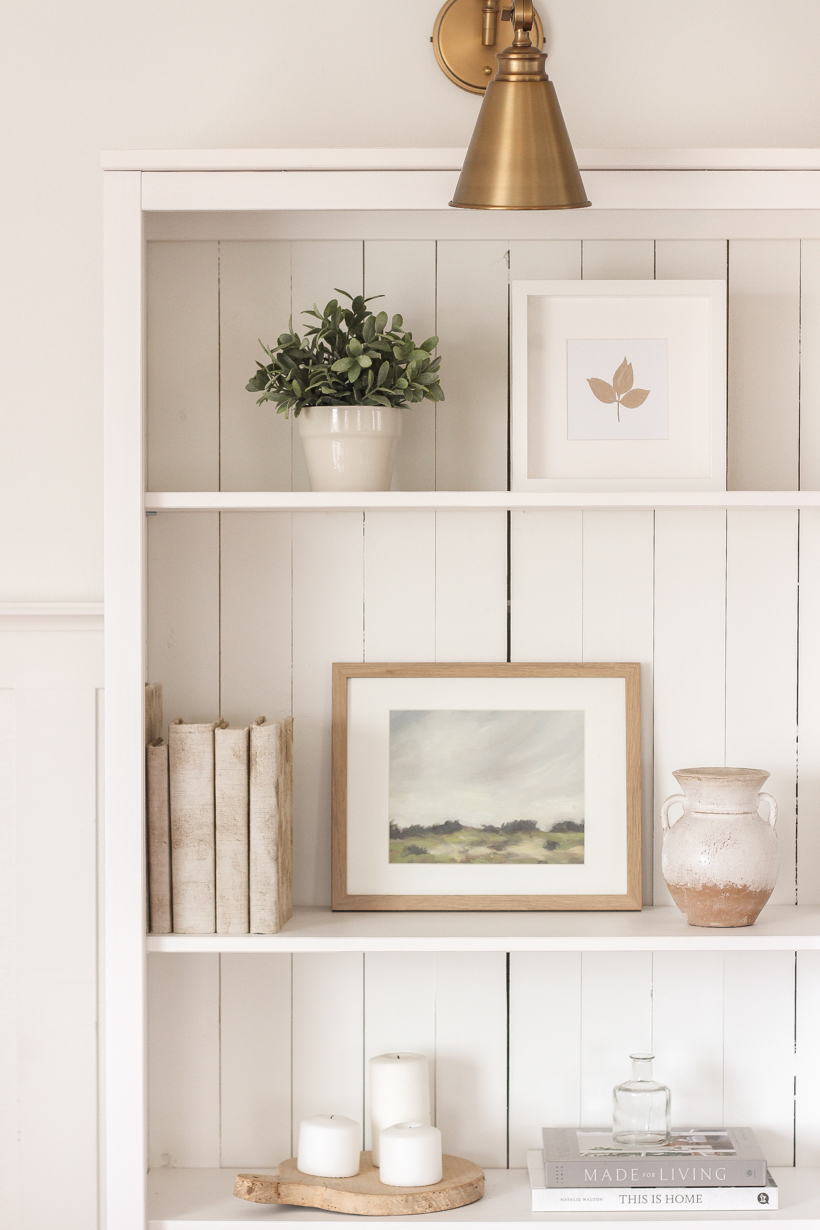 – ROOM SOURCES –
sectional sofa | medallion rug | handwoven rug
coffee table | cross base bowl | fuzzy pillow
stripe pillow | lumbar pillow | fringe pillow
bookcase | wall sconce | faux olive tree
– BOOKCASE STYLING –
potted plant | framed leaf art | interior design books
wood bowl & plate | wrapped books | landscape art
jug | faux hanging stem | wooden hand
paper mache pressed flower art | white vases

As always, I sincerely appreciate you shopping through the links I share, which allows me to make a small commission from your purchase while your purchase price stays the same. When you use my affiliate links, I'm better able to create content for this blog as well as support my family, and I thank you from the bottom of my heart for supporting what I do!
---
Subscribe to Blog | Follow on Instagram
Follow on Pinterest | Follow on Facebook