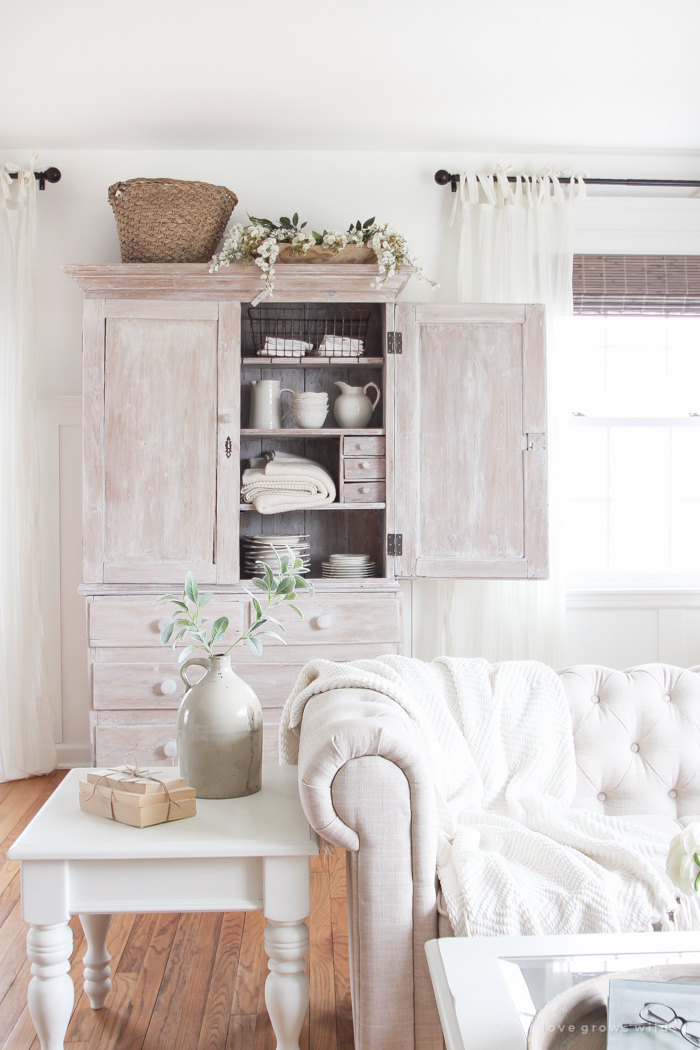 Oh boy… you're in for a treat today, my friends. A few weeks ago when we got our new sofa for the living room, I was thinking about just how much this space has changed over the years. From the time we moved in 5 1/2 years ago to now, this room has seen four different couches, two new paint colors, six coffee tables, one wall opened up, and a million other smaller changes along the way, and it's kind of crazy to think back on where our little farmhouse started and how far it's come. There have been so many times this room left me puzzled on how to arrange furniture or decorate, and I've made some great decisions like lightening up the dark gray paint on the walls and also plenty of not so great decisions (…we won't mention that teeny, tiny couch I bought once).
But as I look back through old photos of this room, I realize how much I've grown and my style has evolved and what an amazing opportunity I have to share with you guys that creating your "perfect" home is a journey and a process. It doesn't happen overnight and takes a lot of trial and error, but if you love decorating like I do, you also know how rewarding it is when you get something "just right". So today I'm taking you on a little trip down memory lane and sharing the evolution of our living room, because let's be honest… everyone loves looking back on embarrassing old photos! These just involve less bad haircuts and more bad furniture choices… ha!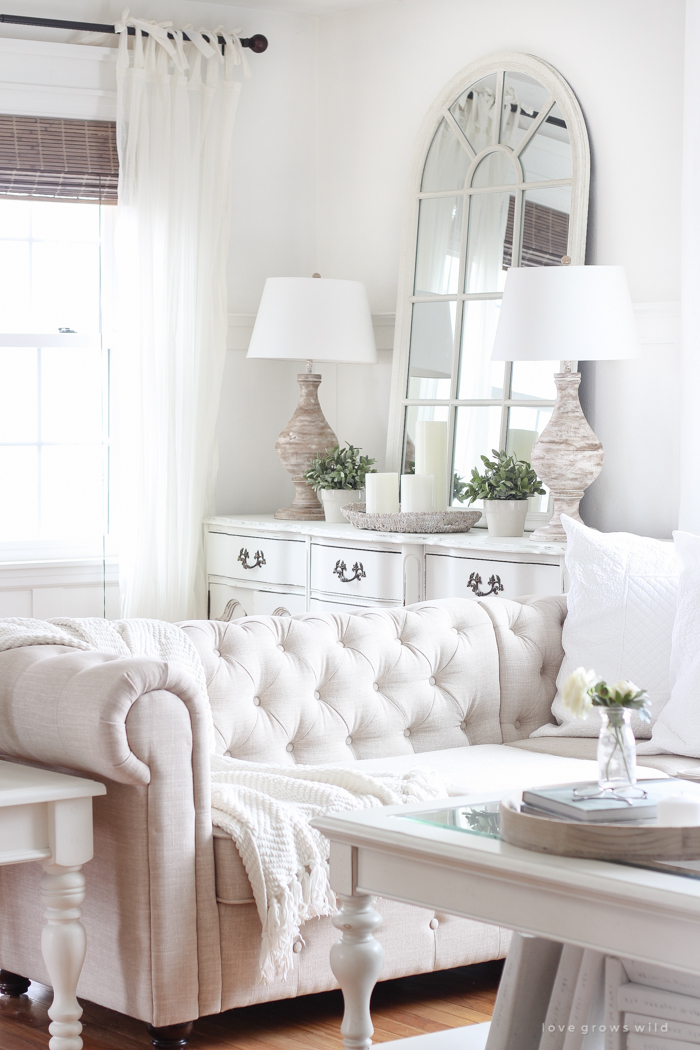 ---
2012
Welcome to our living room, circa 2012. Just before we moved here, I made my first furniture purchase as an adult and picked out these sofas that I absolutely loved at the time. They felt so much more modern than my grandparents' old hand-me-downs we were using, and in case you couldn't tell, gray was THE best color apparently. We spent weeks painting the entire house Woodlawn Colonial Gray by Valspar, and it never occurred to me at the time that gray couches against gray walls was a little much. We were a young family on a tight budget, and I believe the coffee table was from Walmart and the lamps I picked up at Goodwill and spray painted silver. This was the era of thrift store transformations, and I found creative ways to decorate our house without spending money we didn't have.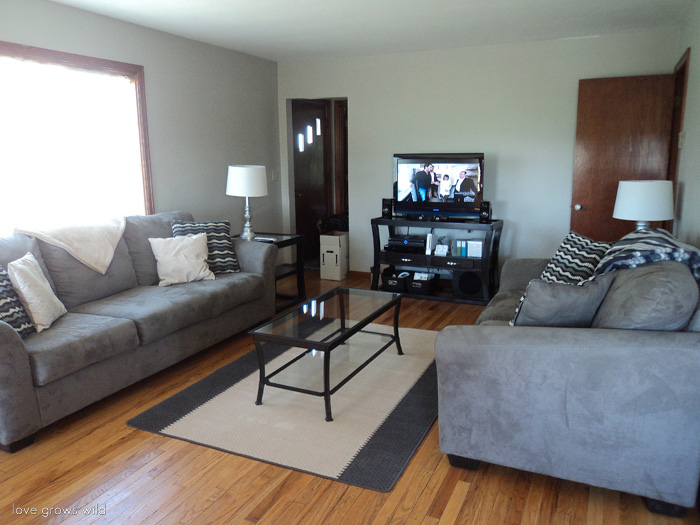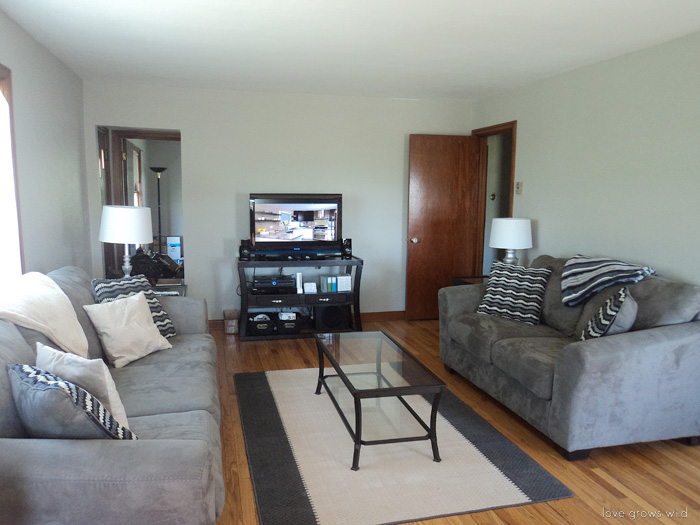 ---
2014
In 2014 I finally started making progress on giving each room in our house a "makeover", and this was the first big room I finished. I remember struggling so hard to figure out what my style was and how to combine all the things I liked into one cohesive design. I painted a piece of antique furniture (more family hand-me-downs) to use as our tv stand and added a big, fun gallery wall above our sofa. It's funny looking back at this gallery wall now because this wall doesn't even exist anymore since our kitchen renovation in the beginning of 2016. But creating this gallery wall using pretty much all items from the thrift store that I repainted or repurposed was one of the biggest catapults in my blogging "career" and became one of my most popular posts for a very long time. I was so proud of how it turned out, especially the wood arrow I made from an old pallet that my sister hauled to my house.
Looking back, I feel like this was the start of my love for design. It didn't come easy or naturally to me… AT ALL. I felt like I struggled to be someone and something I was not. You might have noticed I started focusing on food blogging a lot more back then because quite frankly it was just easier. I was trying to be cute and trendy and colorful and creative, and I would soon realize that following trends just wasn't me and I needed to figure out who I really was, design wise.
But I did learn a lot during this time period like how to use some basic power tools and how to make a cheap curtain rod using electrical conduit. I was building a foundation to be able to create the way I do today.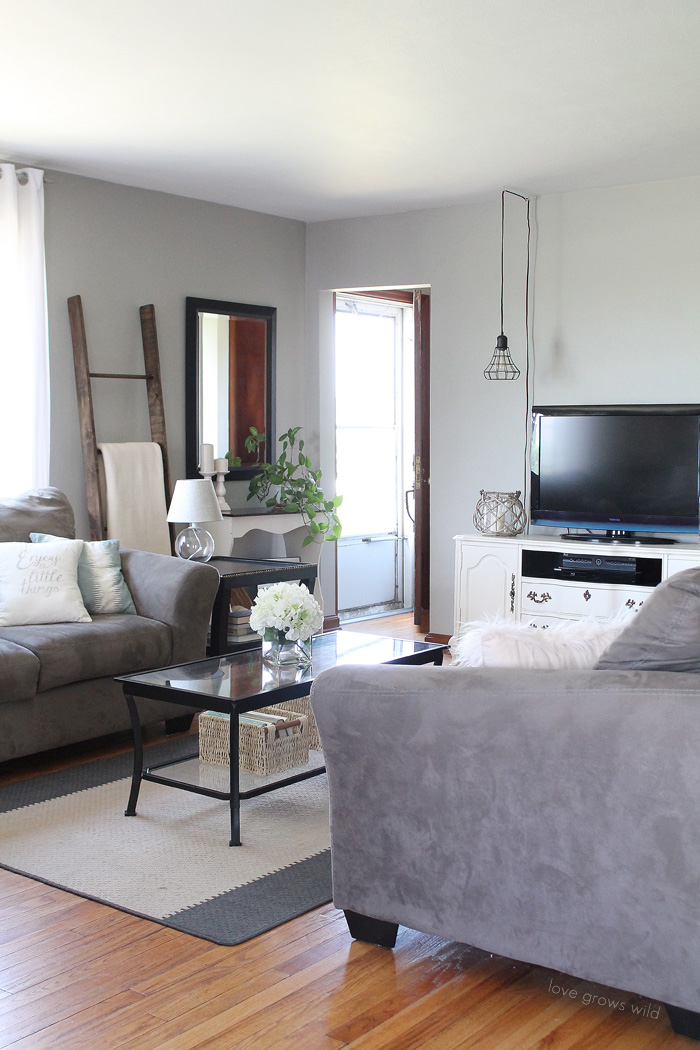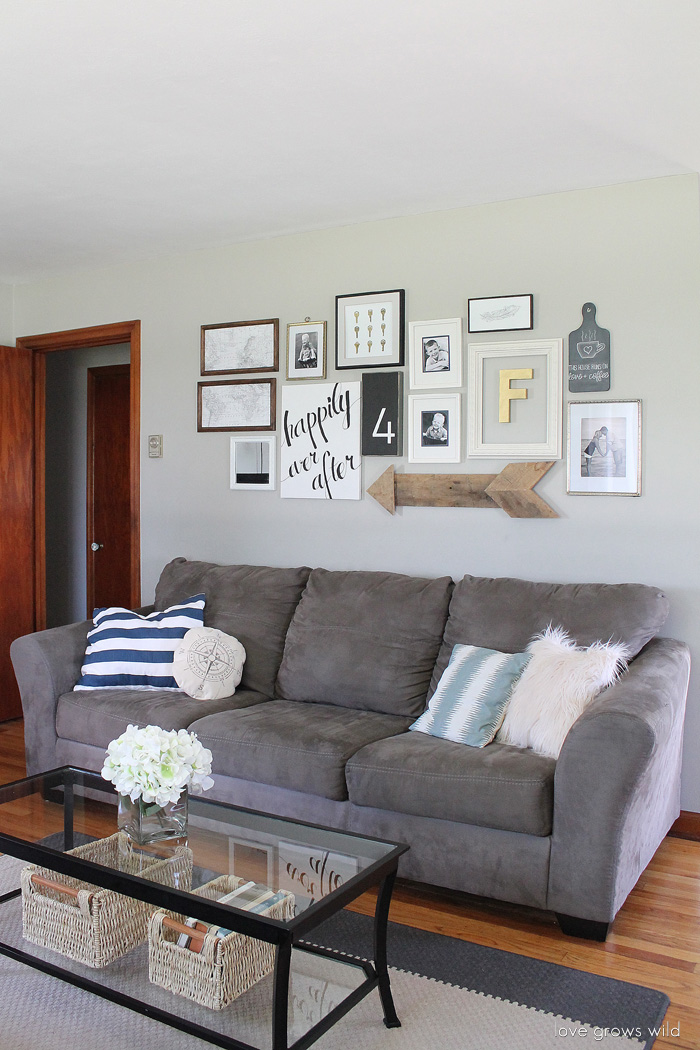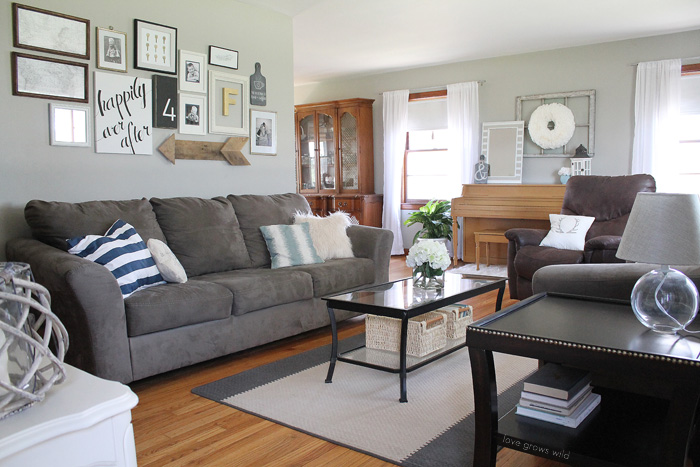 ---
2015
2015 was the year I decided to become fearless in chasing my dreams and creating our home. For so long I felt "stuck" with the things we had… all that hand-me-down furniture and the walls we had just painted gray and all the stuff I just didn't know what to do with. You can only switch out throw pillows so many times before you realize that what you really want for your home is going to involve a little bit more of an investment… time, money AND elbow grease. Little by little I started creating a plan and a vision for what I wanted our house to be and just fearlessly went for it. We kicked off the beginning of the year by installing board and batten on the lower portion of the walls and painted it a beautiful bright white. Oh my, did my love for bright white spaces begin to grow! It was a huge undertaking to start painting every.single.piece of wood trim in our house white, but once I started I never looked back. I am so glad I did it!
We moved the furniture around to be centered on the big picture window, which let in so much more light than being covered up by a big gray couch. I built my first piece of furniture (a coffee table) by myself after learning how to use a Kreg Jig pocket hole system, and my whole world opened up to new possibilities. I could MAKE my own furniture for our house! The decor slowly started to become much more neutral and soothing, and my vision for a cozy farmhouse retreat began to really take shape.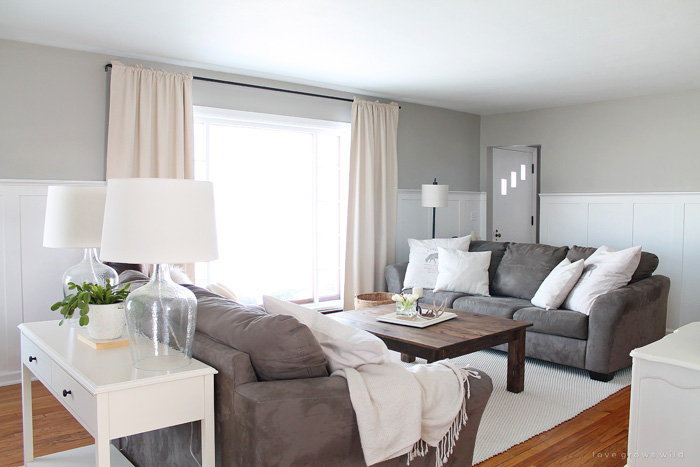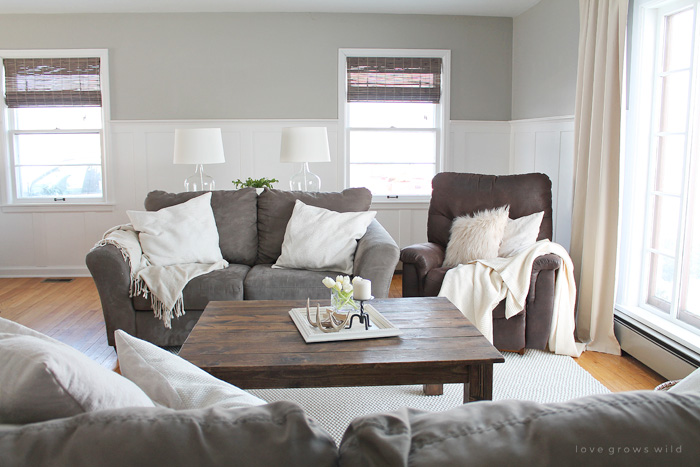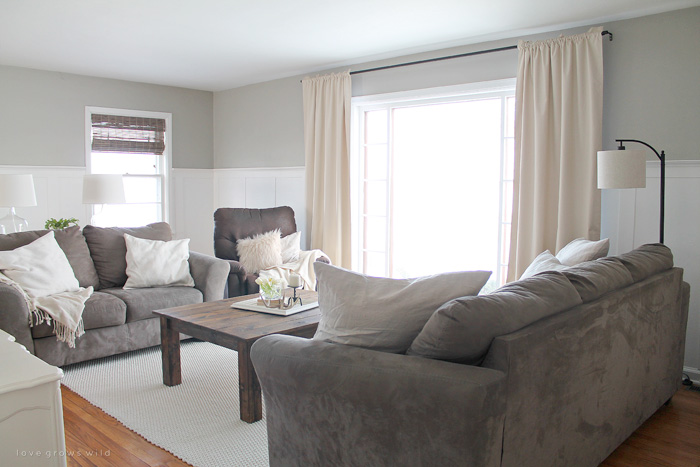 At one point, I introduced this huge piece of artwork into the living room for a bit of character and personality, and my boys lovingly named him Beau. It was a fun piece of statement art to have for awhile that fit our farmhouse vibe, and the boys still talk about him from time to time! I think this was when I started embracing simplicity over clutter in my design style. Instead of the huge gallery wall full of small items like I had before, I hung one large piece and let the rest of the wall "breathe".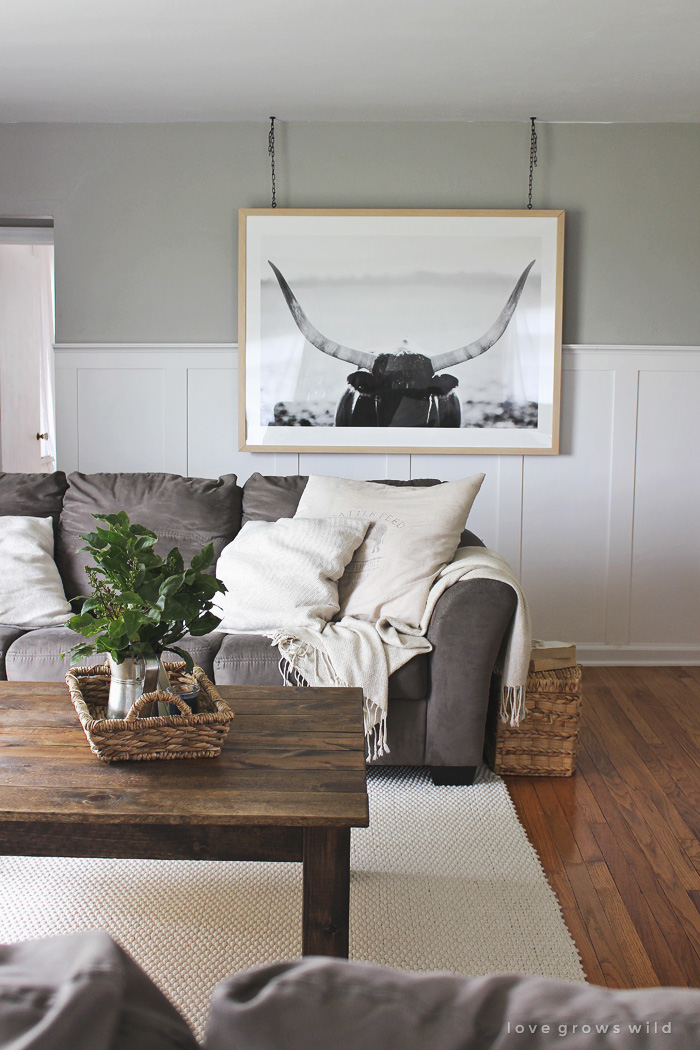 ---
2016
Fast forward to 2016, and the living room got even brighter and more cozy. First, I decided to finish painting the rest of the walls white, which gave me a beautiful, blank canvas to decorate with. I also had custom linen slipcovers made for the sofas and loved the soft, relaxed look and feel of them. I bought two huge metal lanterns and hung them on either side of the big picture window and really honed in on my design style with lots of textured neutrals and touches of nature. This finally felt like ME.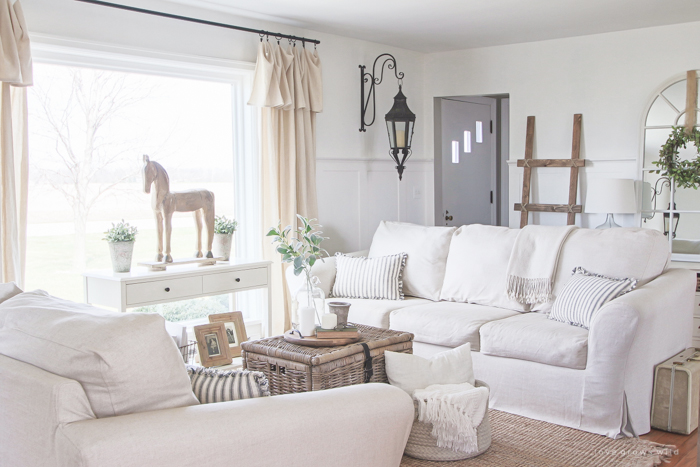 I also bought one of my favorite pieces of furniture to date, an antique hutch that I have enjoyed styling season after season ever since. It was originally raw wood, which I loved, but I did end up eventually giving it a whitewash makeover to tone down the orange hues, which you'll see a little later.
During this time I was finishing writing my book, A Touch of Farmhouse Charm, and wrapping up a major kitchen renovation, so lots of changes happened really quickly in here. I wanted the living room to be absolutely perfect when it came time to photograph this space for my book, which was a lot of pressure considering how much I always struggled with this room. But looking back, I loved the coziness and charm it had. I was definitely proud of how far it had come.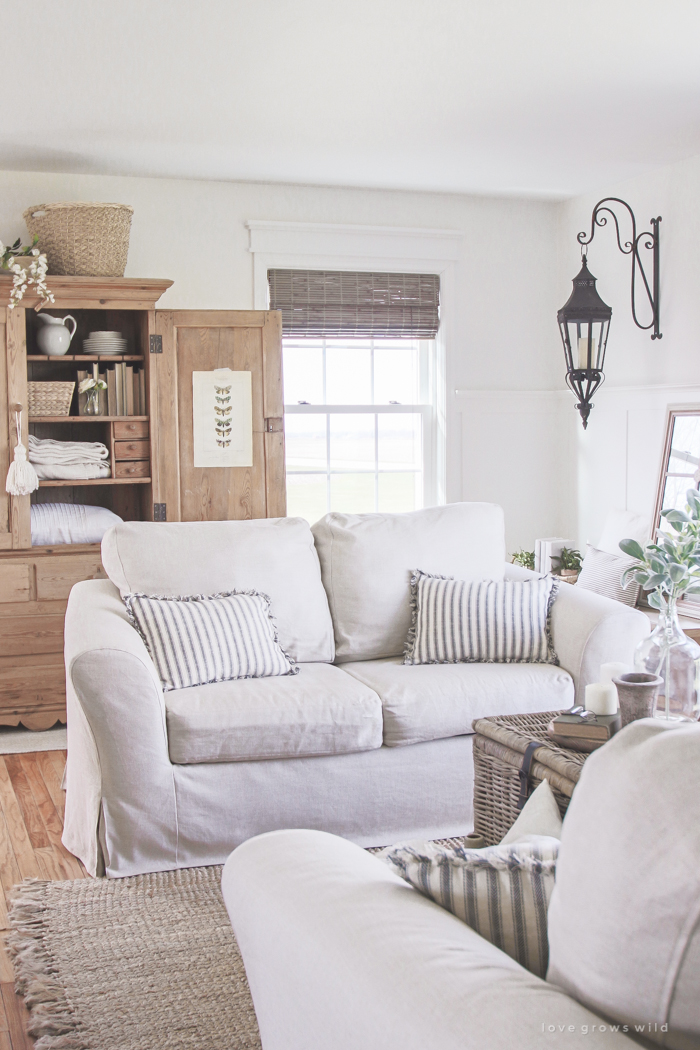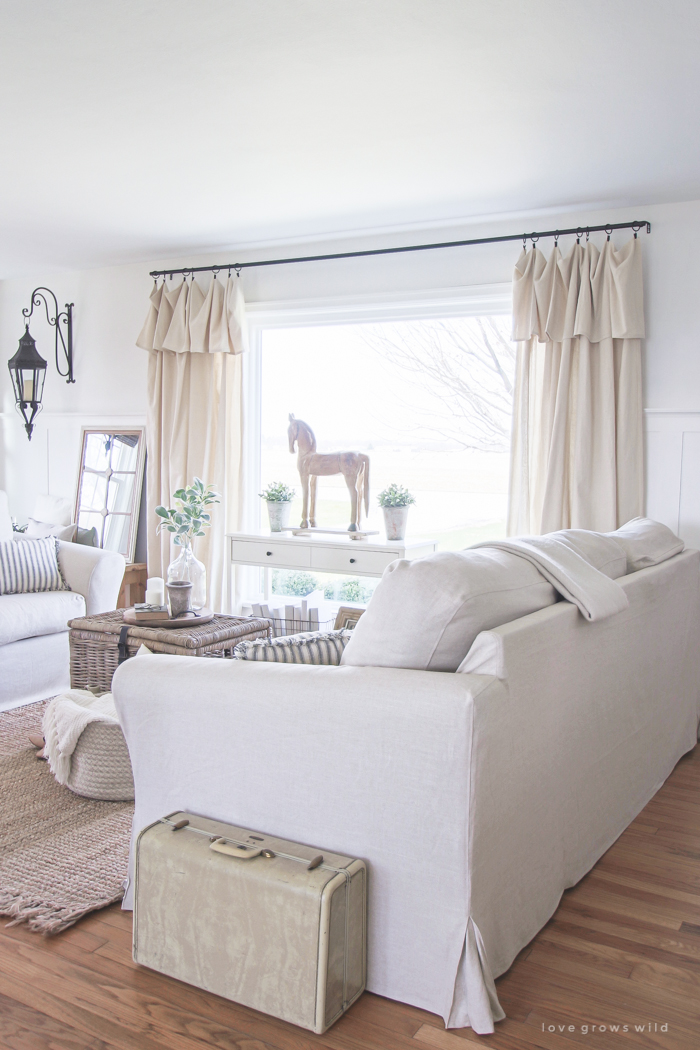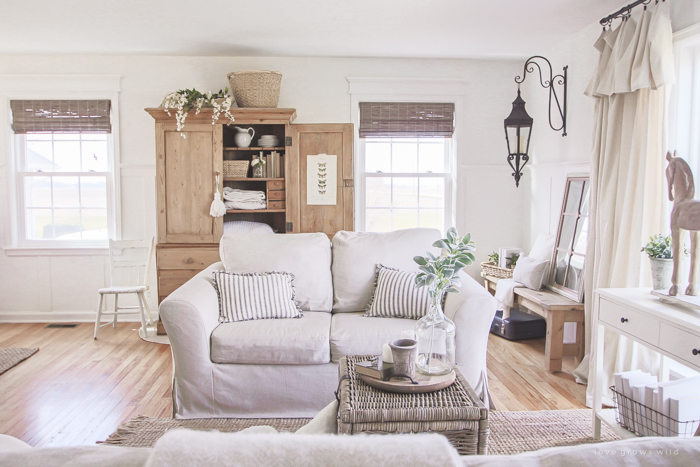 For a brief time, we had a round coffee table that I built on top of an old milk can. It wasn't perfect, but it sure was cute!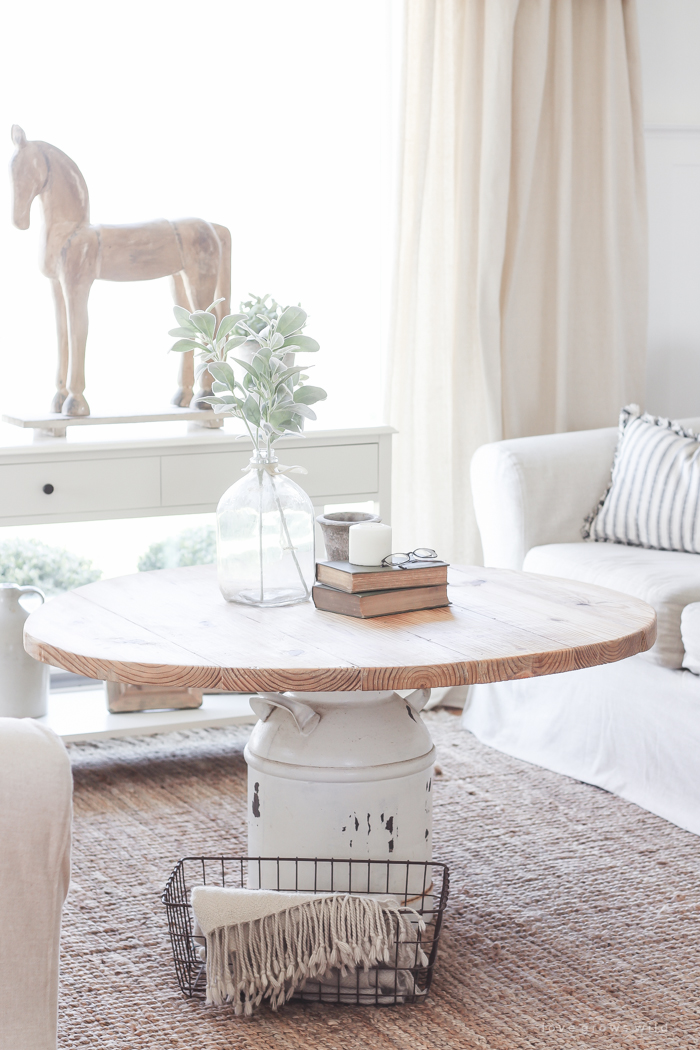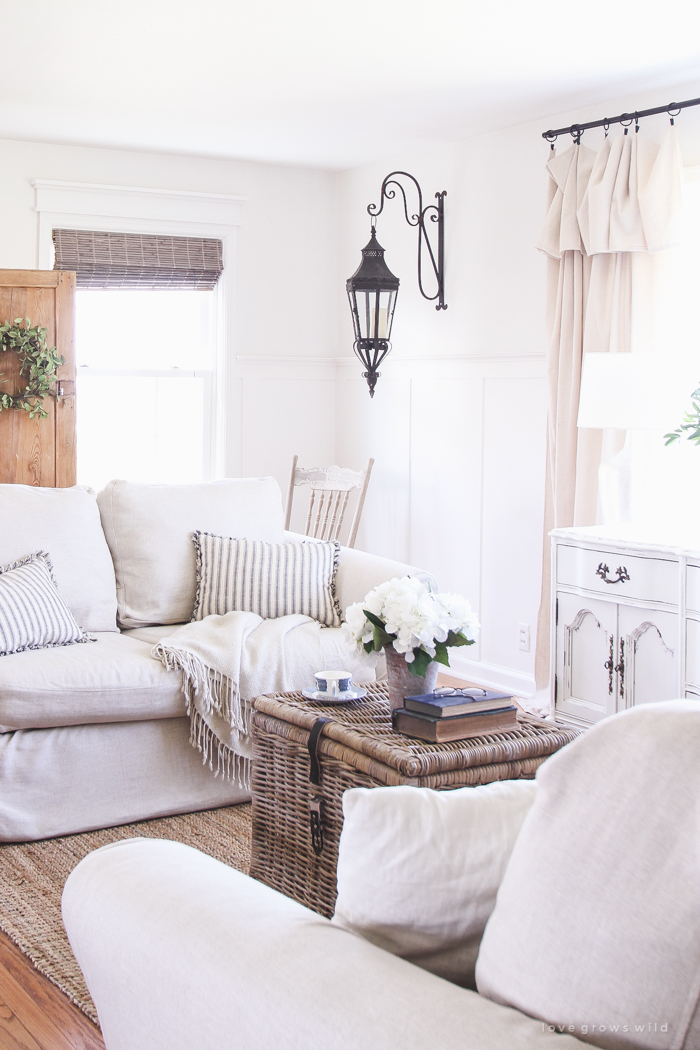 Then came one of my not-so-great design decisions. I loved the look of our slipcovered sofas, but as far as the functionality for our family, I wasn't crazy about them. None of the cushions were attached to the frame, so every time someone sat down, the cushions wiggled out of place. I felt like I was constantly putting cushions back where they belonged and adjusting the slipcovers that would slide around and look messy. My family didn't love them, and I was ready for something different.
I decided to move our dining room table into the left side of the living room to free up some space in what's considered our entryway, so the size of our living room shrank a bit. Instead of two big sofas like we had before, I thought it would be a nice change to have one pretty linen sofa centered on the window and two comfy arm chairs on either side. When the sofa I picked arrived, it was so small that I literally couldn't even lay down flat on it, and I'm only 5'2″… whoops. It was definitely more of a chaise than a sofa. I don't know if I didn't pay attention to the dimensions enough or if I just loved the design and ignored the size, but it was pretty apparent that it wasn't going to stay for long. Not one of my best looks…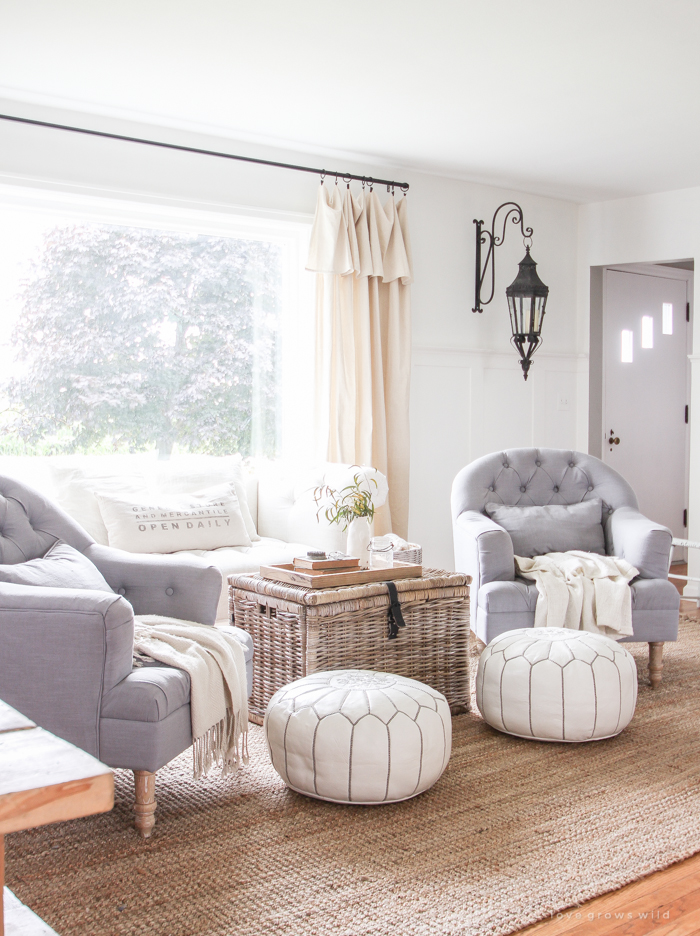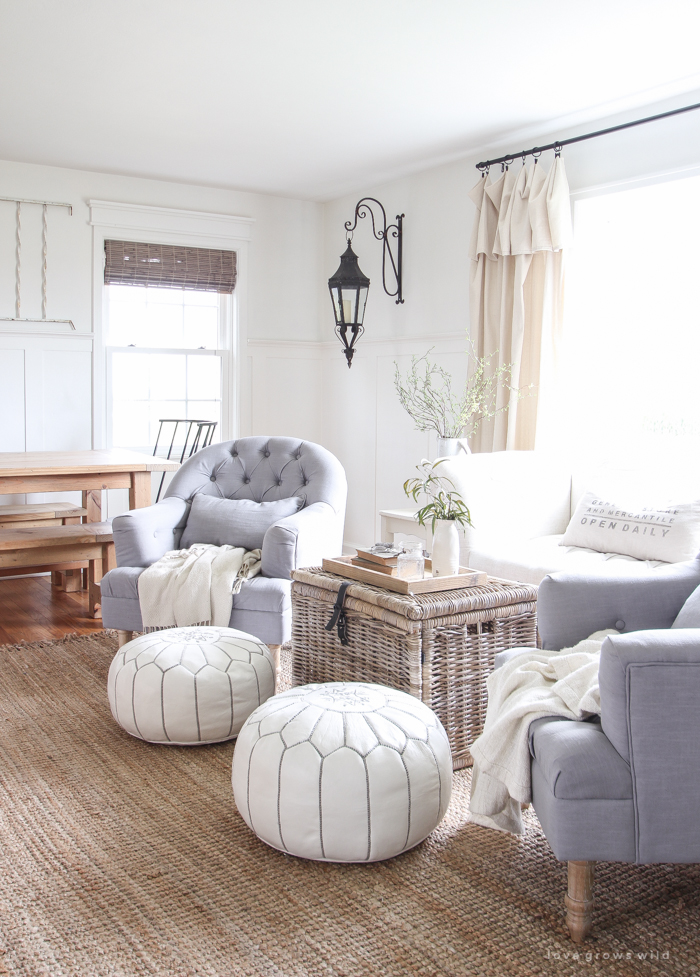 Eventually I ordered another tufted sofa in a MUCH larger size and fell head over heels in love with it. No back cushions to wiggle around, a nice low back so it didn't take up too much visual space, rolled arms, gorgeous tufting… I could go on and on. Don't worry, the little couch stayed in the farmhouse because by this point I was starting to feel pretty guilty about all the changes and new purchases, so it ended up in the master bedroom where it still lives today.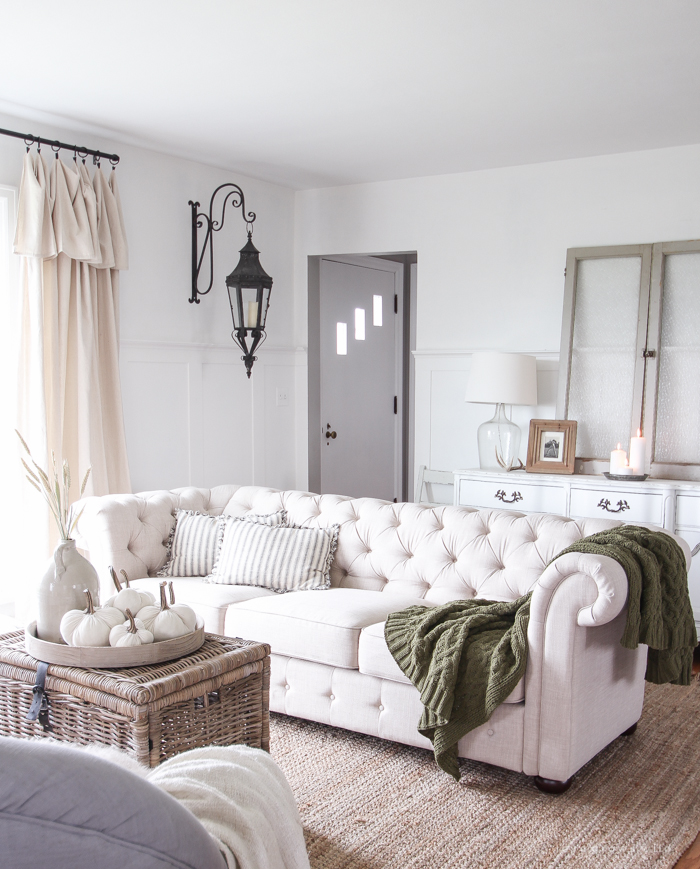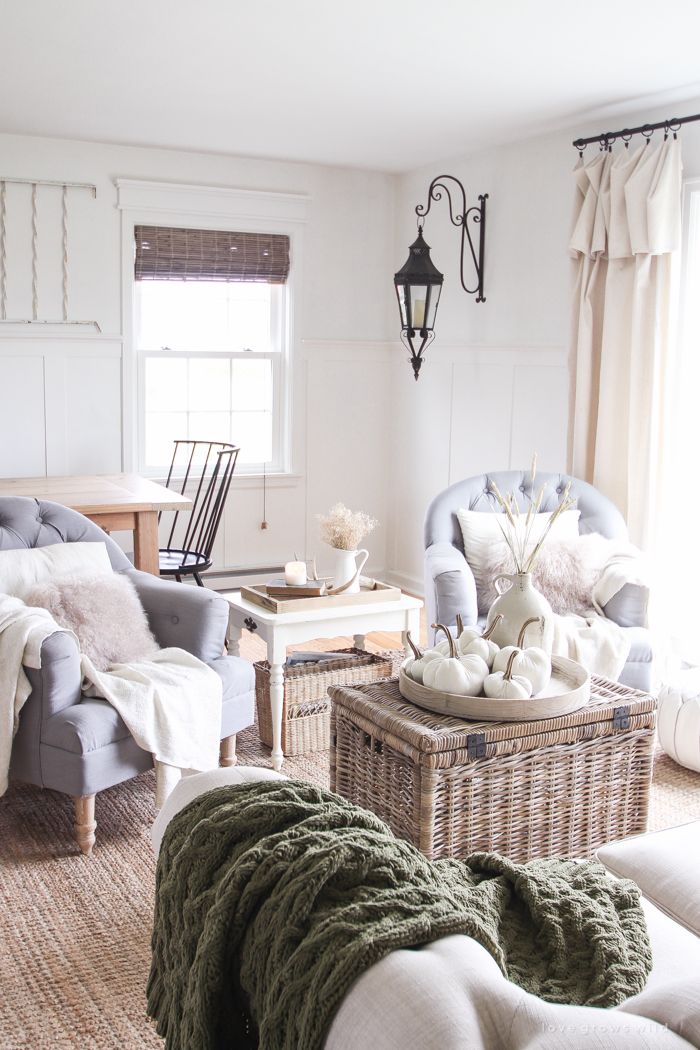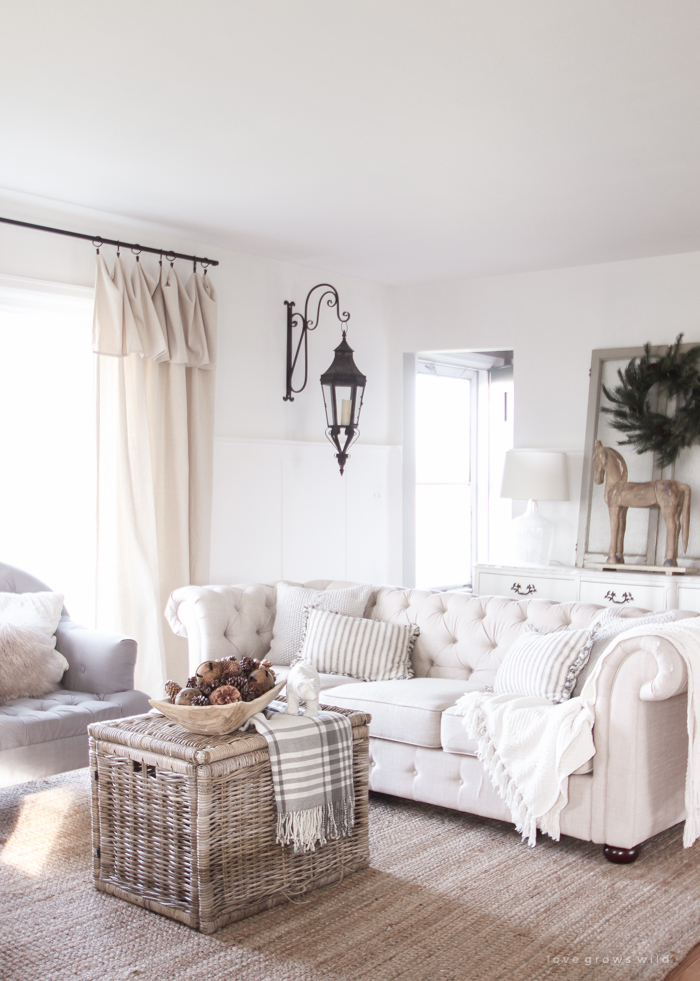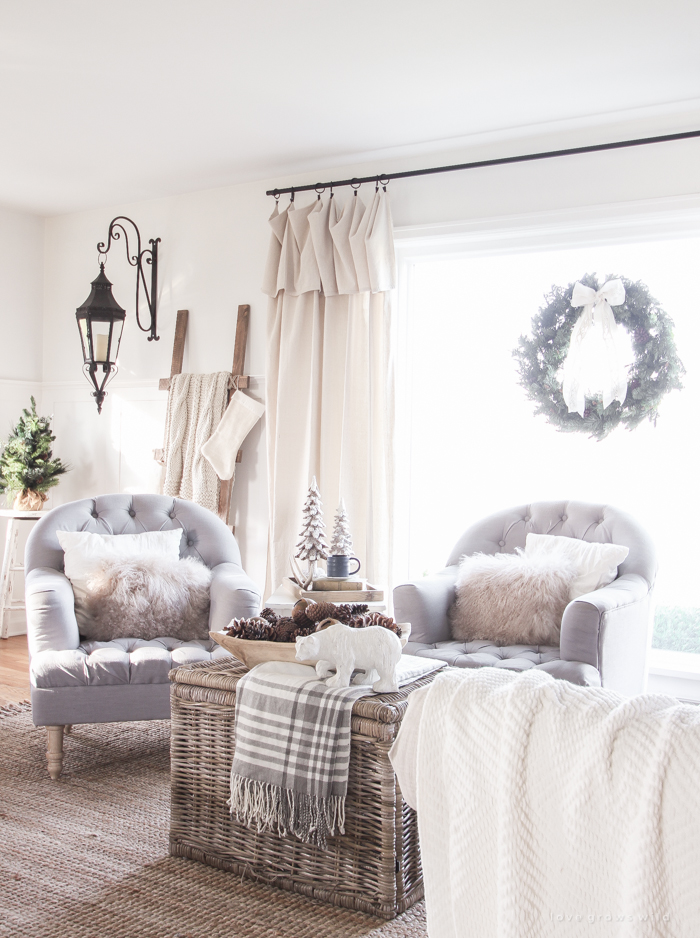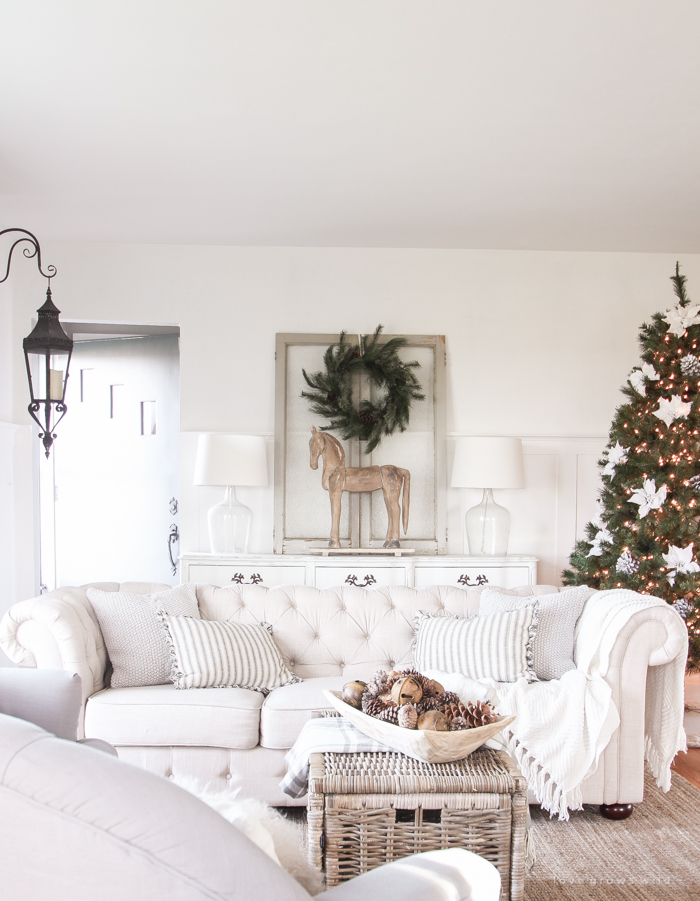 ---
2017
In the beginning of 2017, the living room got a mini makeover with some new curtains and a new coffee and end table. The curtains had a gray floral pattern that was a fun mix with the gray chairs, and it had been quite some time since we had a proper coffee table. I loved the texture of the wicker trunk we used for a few years, but it wasn't the best for functionality… definitely not easy to set any drinks there while we hung out in the living room.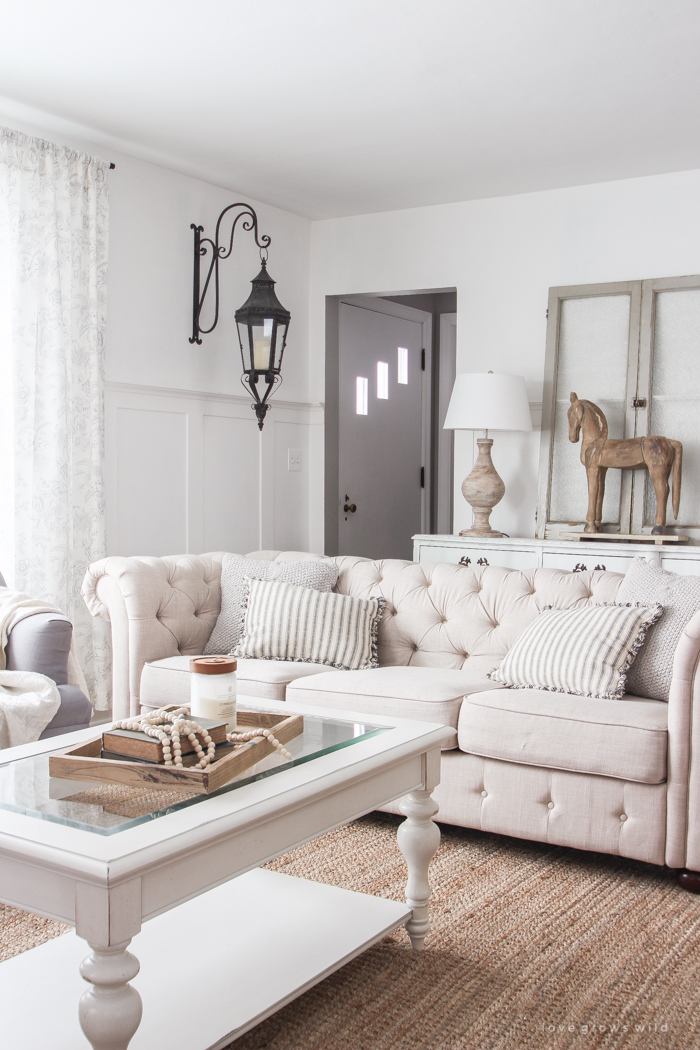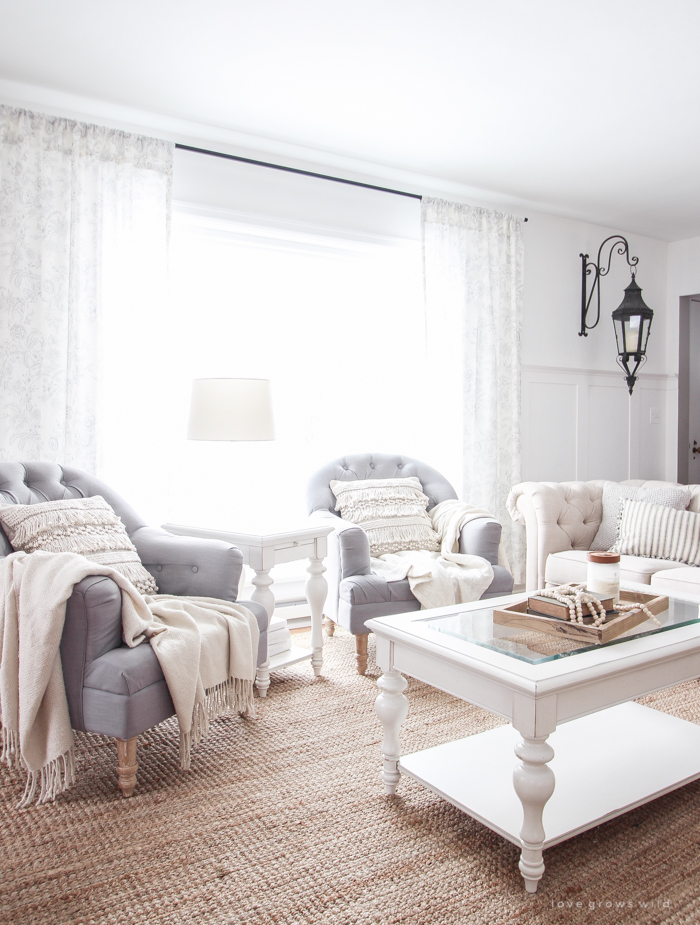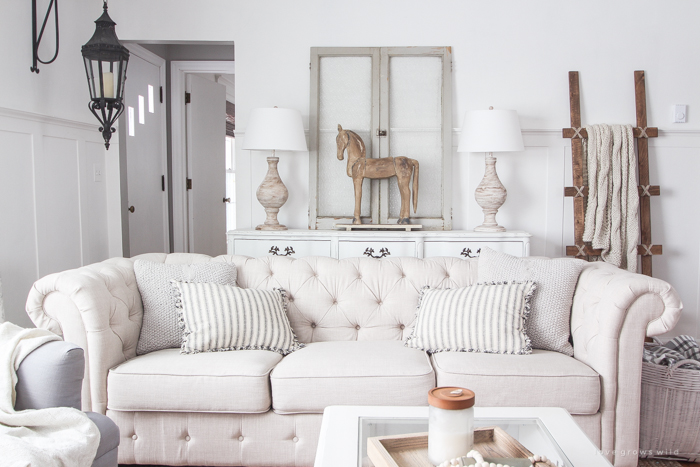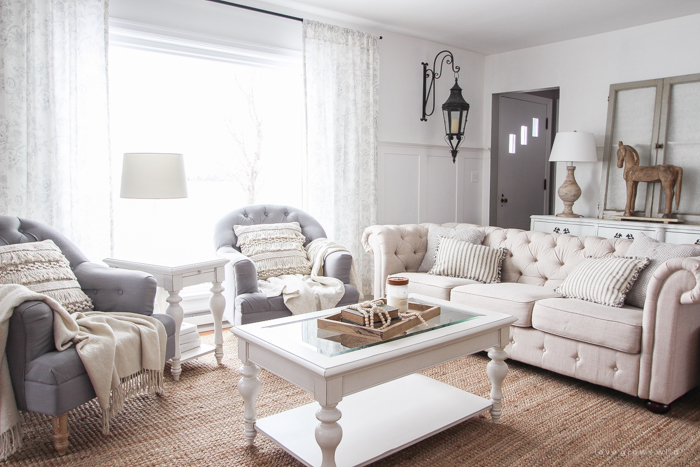 For a fun change, I moved the big hutch into the living room during the summer and set the gray chairs on either side. You can see here how pretty it is with the whitewash!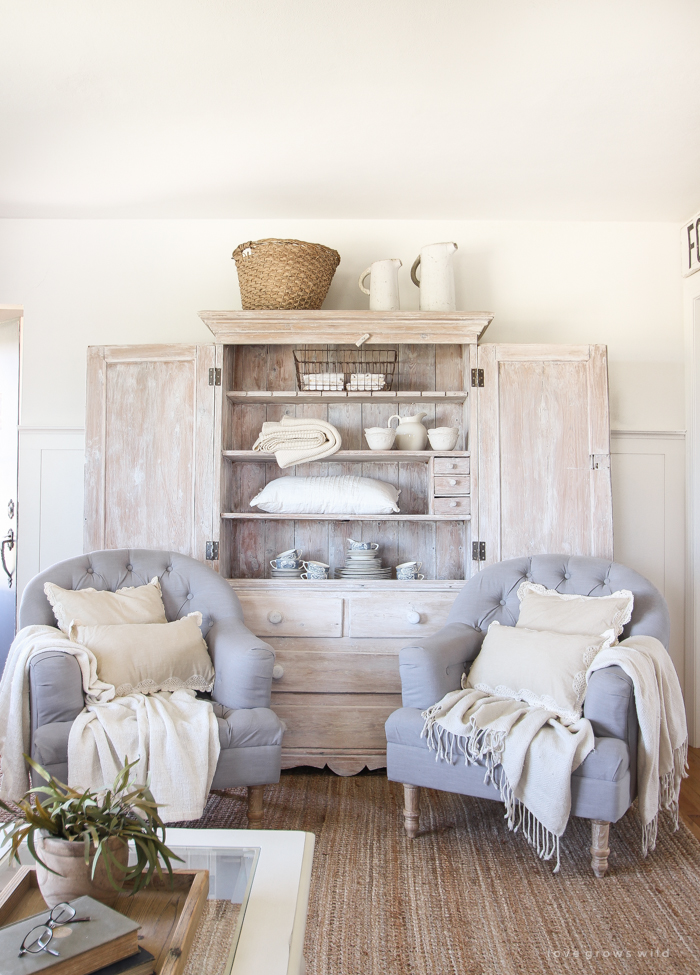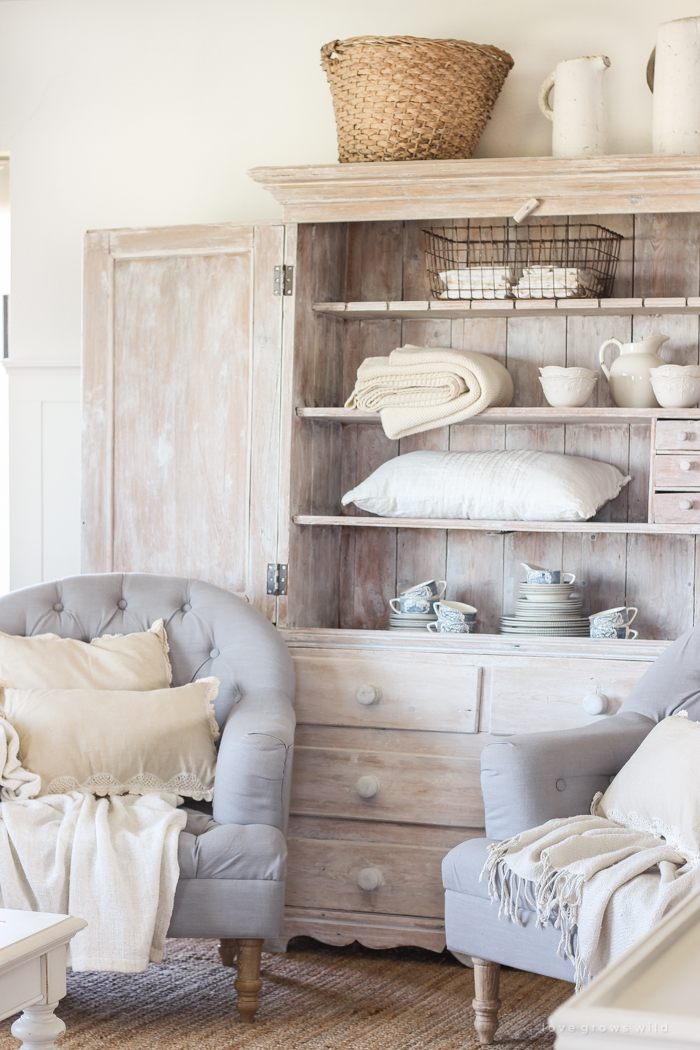 I simplified the room with solid white curtains on the big window and pretty sheer tie-top curtains on the smaller ones for fall.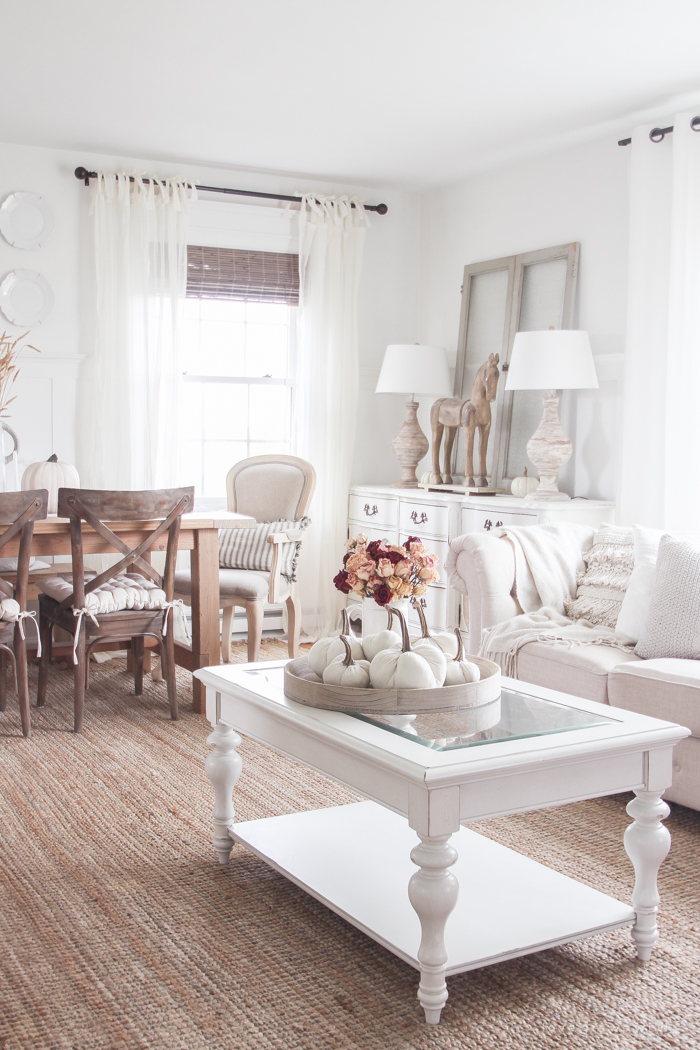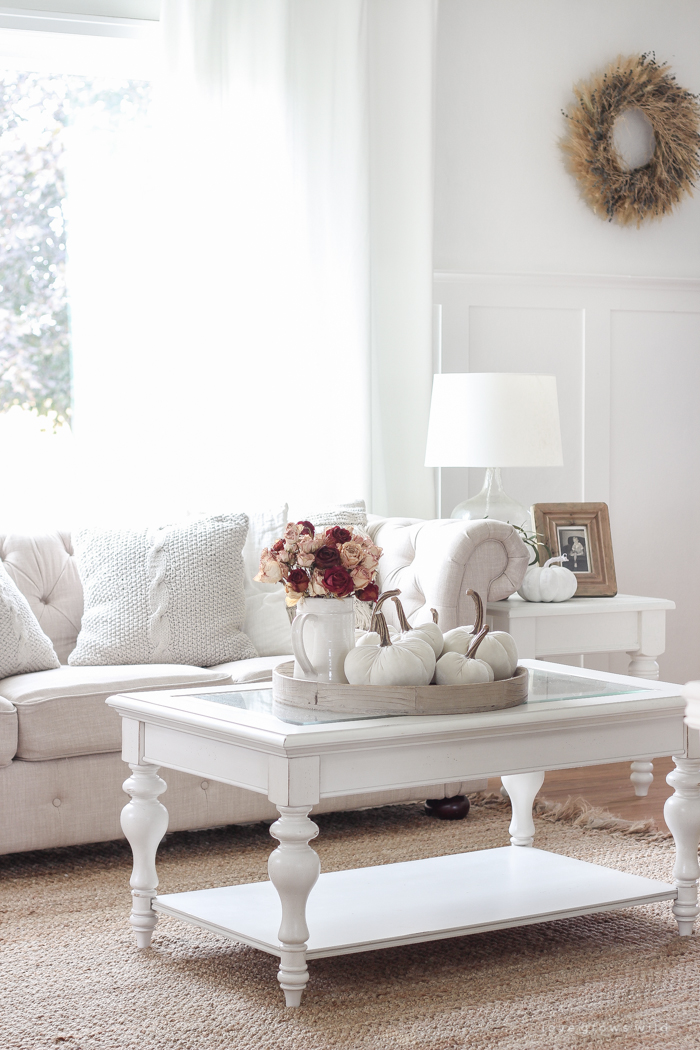 ---
2018
Then one night after this last Christmas I saw a HUGE furniture sale online and jumped at the opportunity to keep the same tufted linen look I loved about our most recent sofa, but add more seating for our family! You can read more about this latest version of our living room here and see the sectional here, but this change has been so wonderful and encouraged many more nights snuggled up together in our living room. The hutch and dining room table also swapped places, which I'll share more about soon!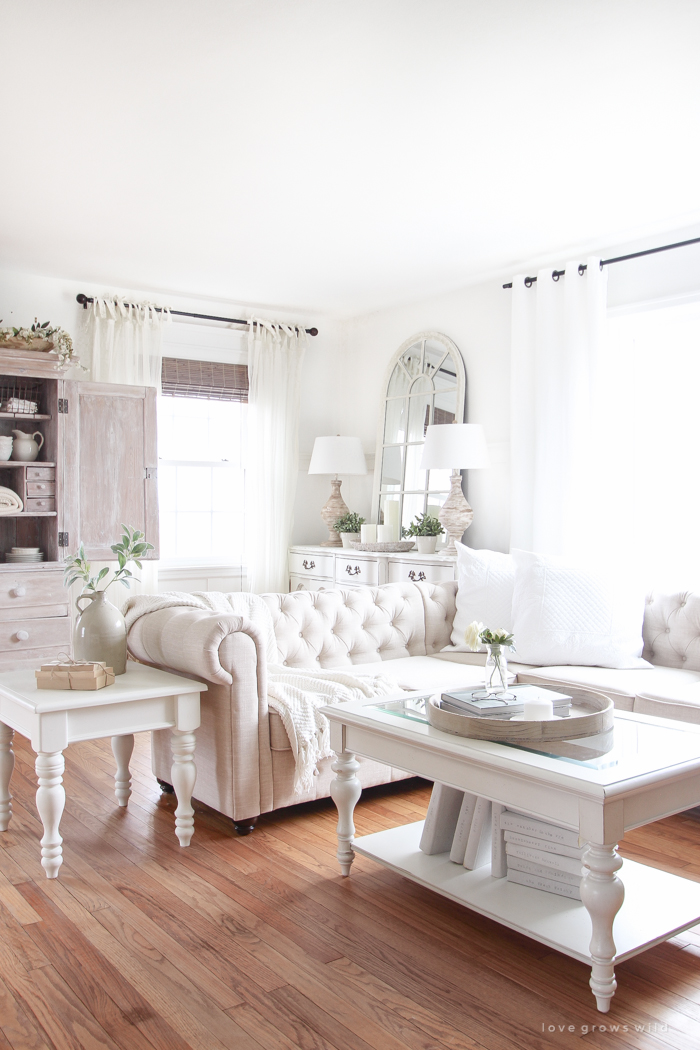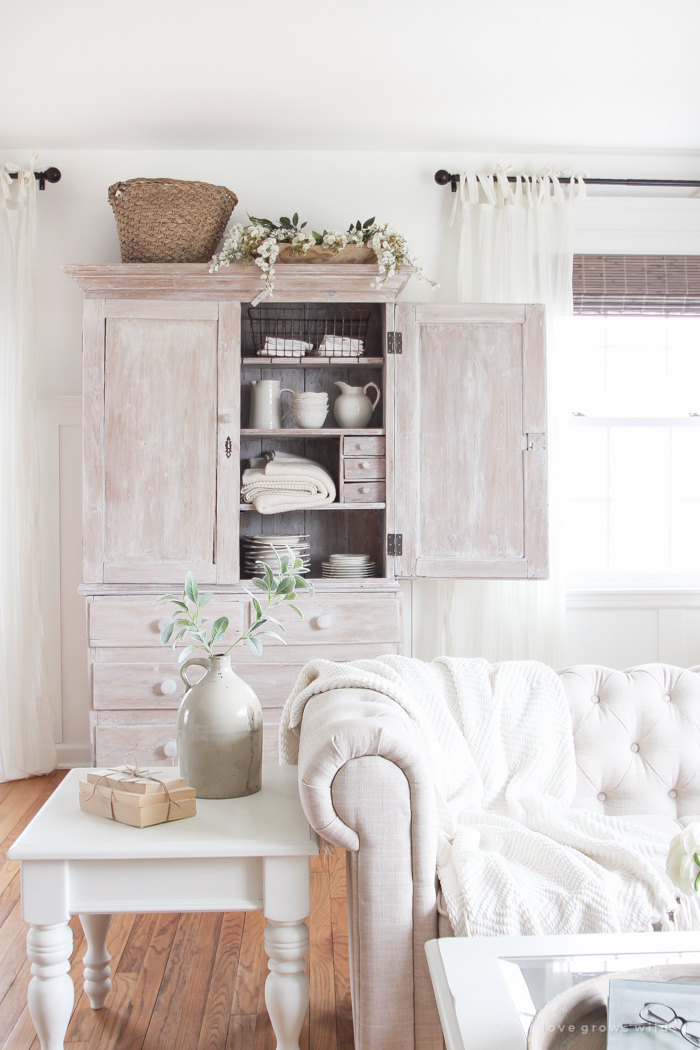 Wow… pretty crazy how much has changed, right? I hope you enjoyed taking a look back at how far our little farmhouse has come over the years and how much of a fun, but challenging journey it has been at times. If you ever get frustrated or confused when you're working on your home, just remember the progress you've made and the lessons you've already learned and don't be afraid to try something new! Thank you so much for reading this blast from the past post!

Some links in this post are affiliate links, which allows me to make a small commission from your purchase, but your purchase price stays the same. Thank you for helping support our blog and keep it going!
Shop The Post:

---
LET'S KEEP IN TOUCH!
Subscribe to Blog | Follow on Instagram
Follow on Pinterest | Follow on Facebook