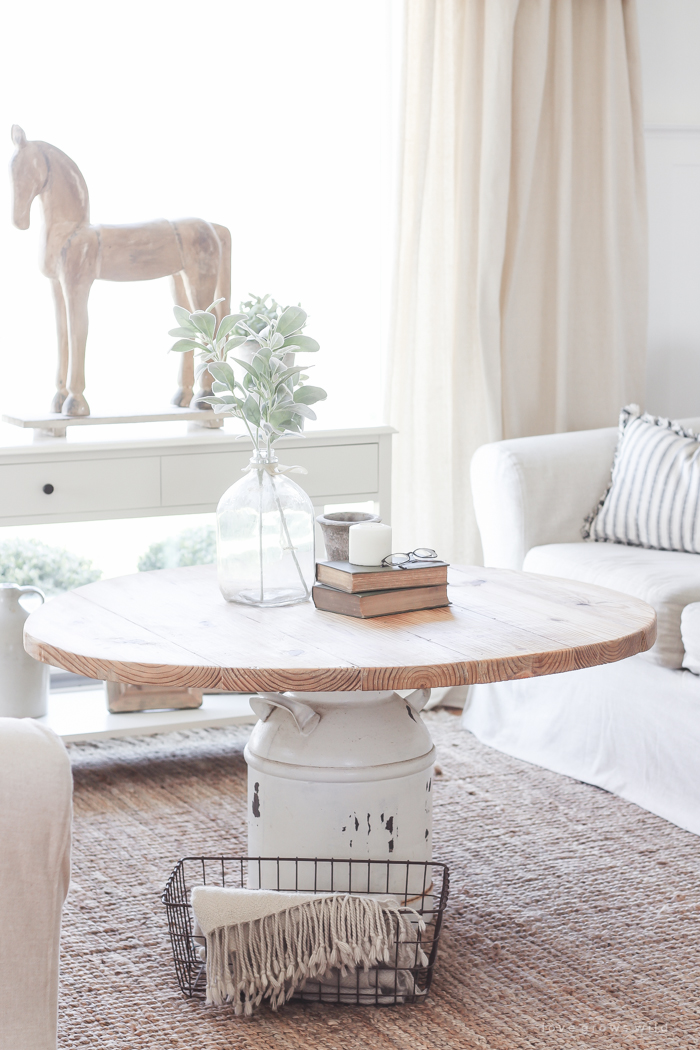 Hello, sweet friends! The last few months here at the farmhouse have been a complete whirlwind, from a major kitchen renovation to writing my first book. I've been consumed with these massive projects, but today I'm going back to one of my very favorite methods of decorating and DIY. I'm turning something old and unwanted into something new and beautiful for our home, and I'm doing it for less than $50!
Take a look at our beautiful new coffee table.
This week I spent a glorious afternoon sipping on some Starbucks and shopping around the thrift stores and antique stores in town. I walked past old chairs with floral fabric, dressers with years of wear and tear, lamps, window frames, and a few benches, but nothing really caught my eye. I wandered up to the top level of the old antique warehouse where they keep the stuff that doesn't sell and stumbled across an antique milk can hiding underneath a crooked formica tabletop with a random hook attached.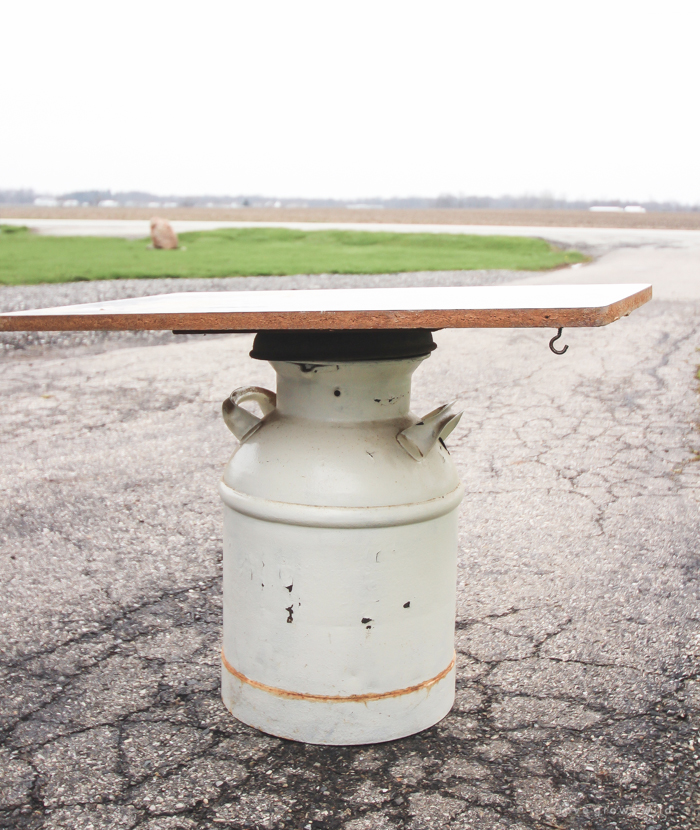 I thought adding a tabletop to the milk can was a great idea, but it would look even better if the cheap formica was replaced with a nice round wood top. The price tag was only $20, so I decided to grab it. Jeremy helped me haul the heavy cast iron milk can down two flights of stairs up to the front counter, and I grabbed $20 out of my purse. The young man at the counter pushed a few buttons on the cash register said, "That will be $2.14, please."
Say what?? I literally giggled the whole way home at my awesome score while Jeremy rolled his eyes at me. I was ecstatic!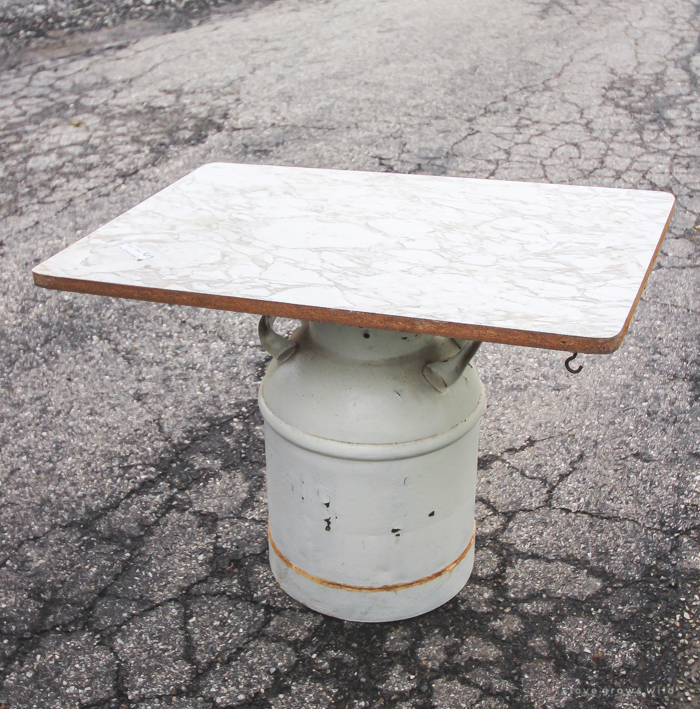 Note: Some of the links in this post are affiliate links, which allows me to make a small commission from your purchase, but your purchase price stays the same. Thank you for helping support our blog!
Once we got home, Jeremy pulled the formica top off, which was attached with screws to the metal lid. Then I made the wood tabletop by joining together 6 – 2 x 8 boards cut to 44″ long. I used this method when we built our farmhouse dining table, and it works beautifully! Once I cut the boards to size, I drilled pocket holes along the edges using my Kreg Jig. Then I applied wood glue along each board edge and connected the boards together using 2 1/2″ Kreg screws. The beauty of using pocket holes is that all of the screws are hidden underneath the tabletop, and the joints are nice and strong.
Then I drew a large circle centered on the tabletop and cut along the outline with a jigsaw. To draw a perfect circle I first tied a piece of string to a pencil that was half the size I wanted my circle to be (a.k.a. the radius length). Then I tied the other end of the string to another pencil. I placed one pencil in the center of the wood and drew a circle with the other pencil using the string as a guide.
It was a bit difficult to cut through the thick 2 x 8's with my cheap, little jigsaw, but once I sanded the entire piece, the edges smoothed out beautifully. I stained the wood with Minwax Weathered Oak stain and sealed the wood with a layer of natural paste wax.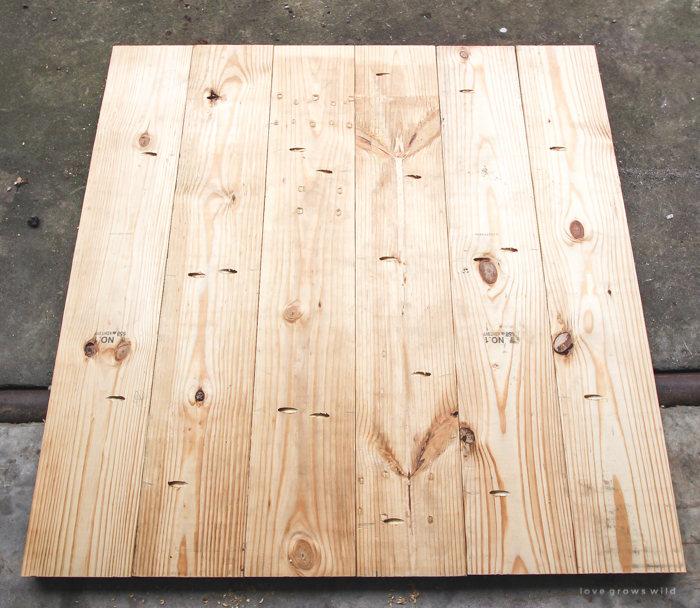 Here's what the milk can looked like before adding the wood top: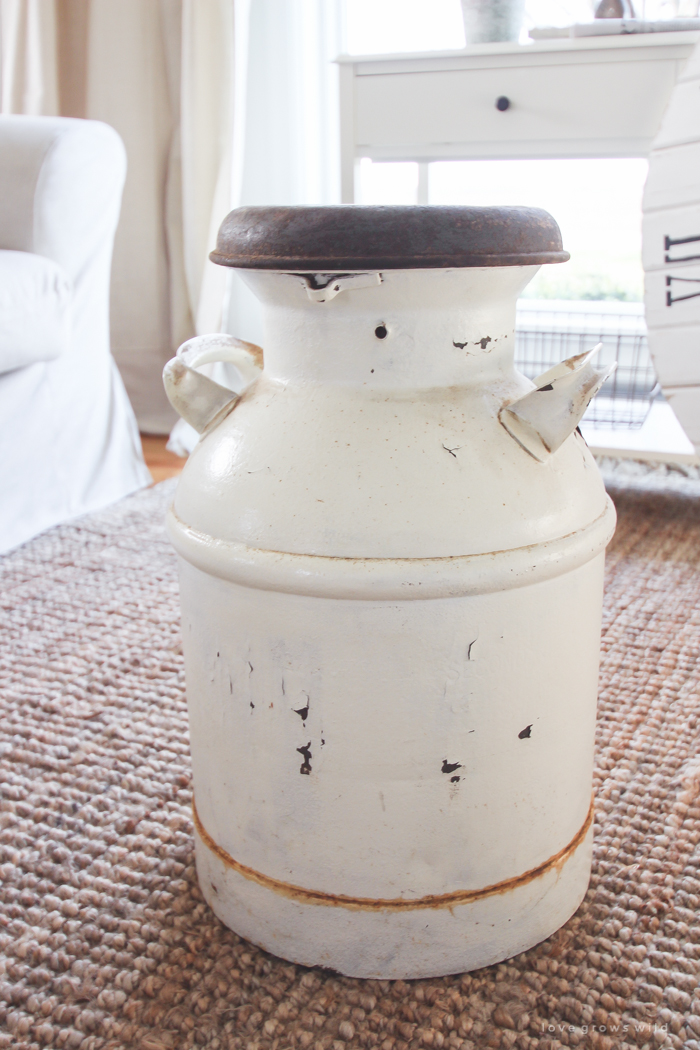 I attached the new tabletop to the milk can lid the same way that the formica was attached. I added screws through the existing holes in the lid into the tabletop. And here is what the milk can looked like after: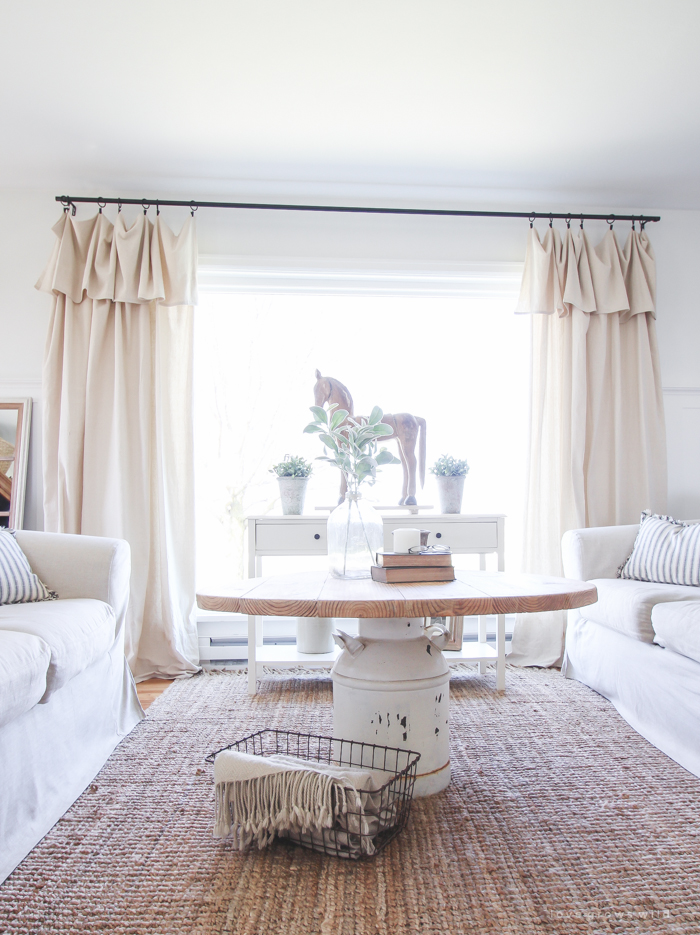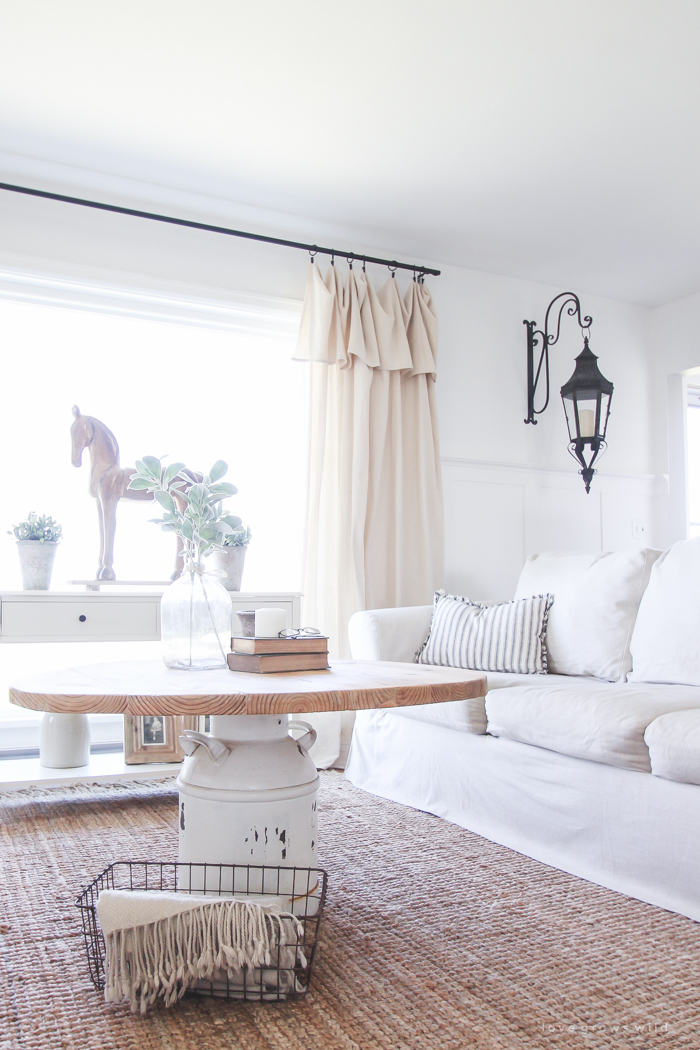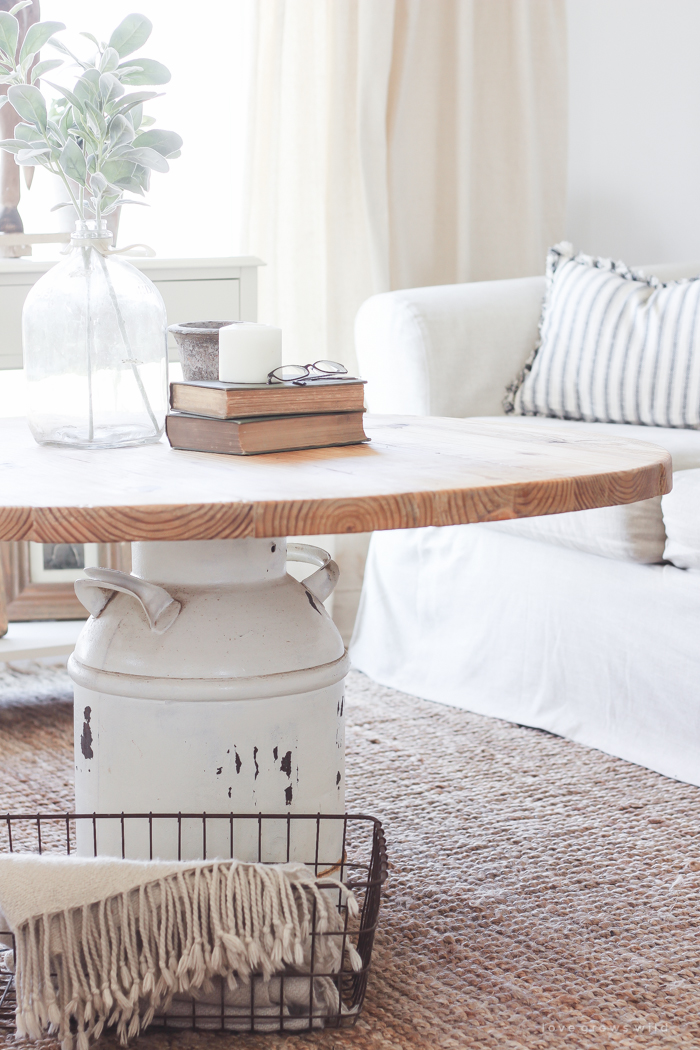 I was a little worried at first that it would be too tall for a coffee table, but I think it works just fine in our living room. I love the chippy white paint on the milk can, and I love even more that I was able to make a new coffee table for just $20. $2.14 for the milk can + almost $18 in lumber and screws!
I have to laugh because I think I've changed our coffee table more than anything else in this house over the last 4 years. First there was the farmhouse table, then the blueprint cabinet table, and now this milk can table. I think I'll keep this guy for awhile!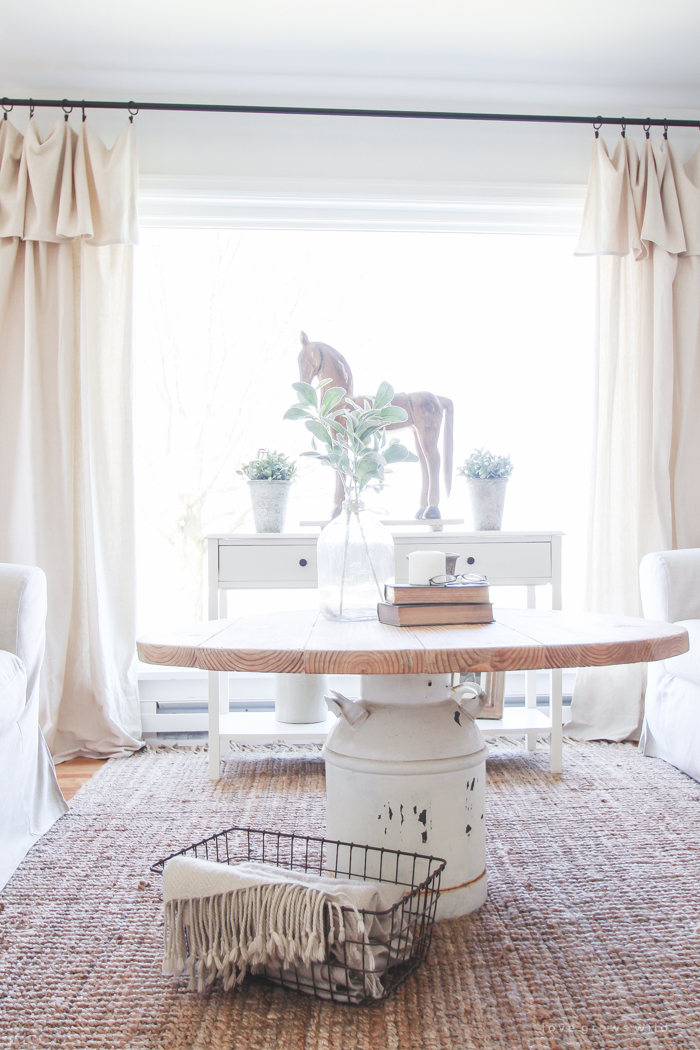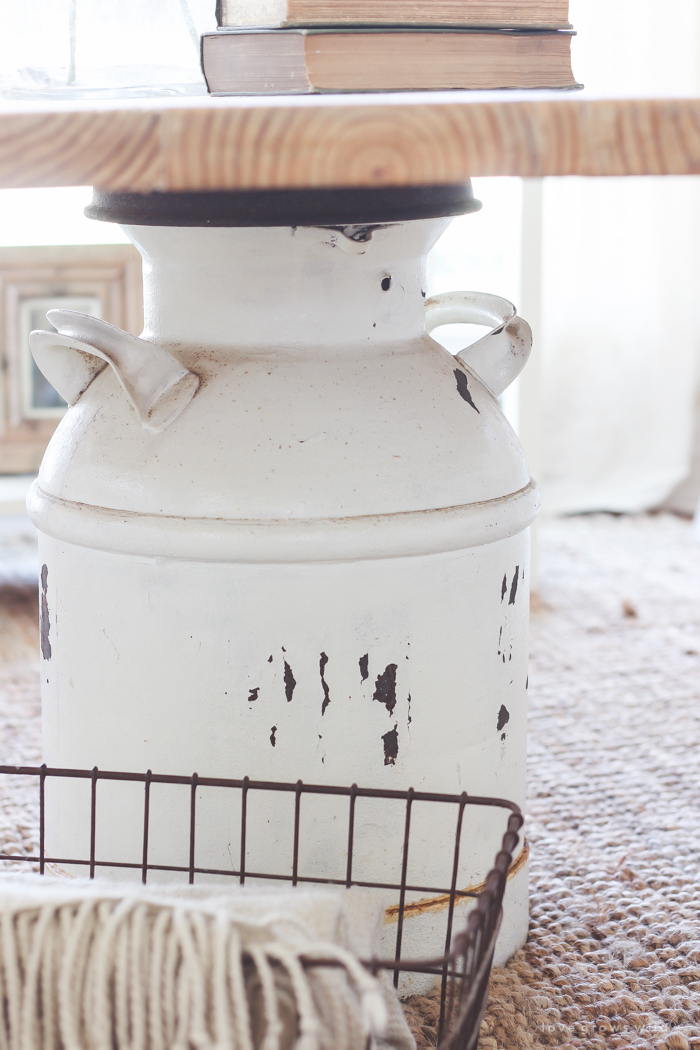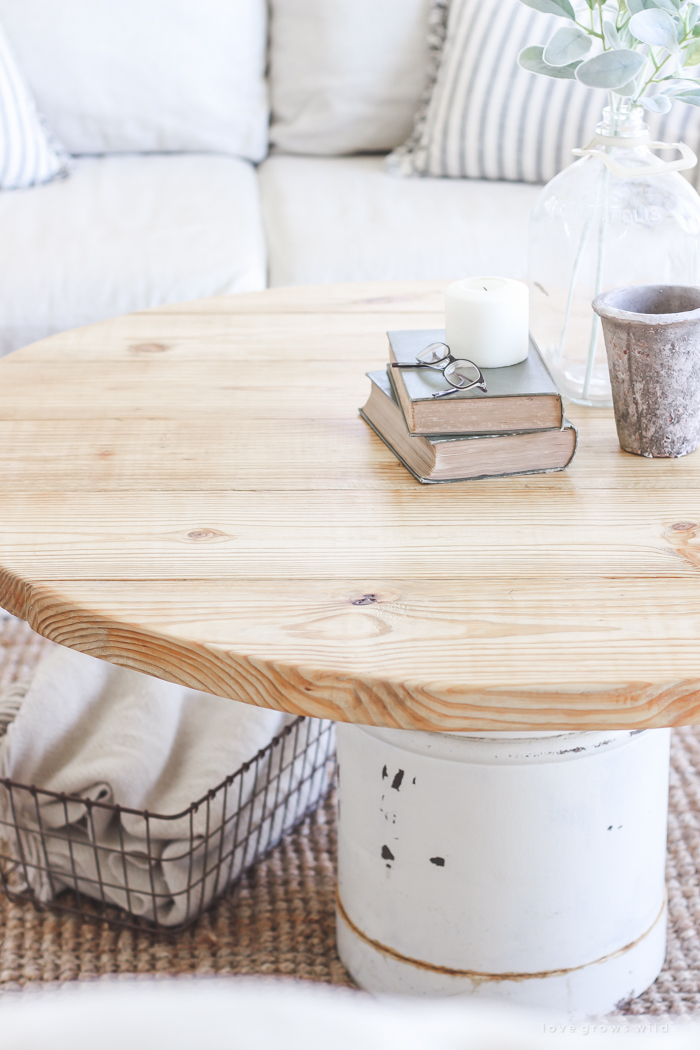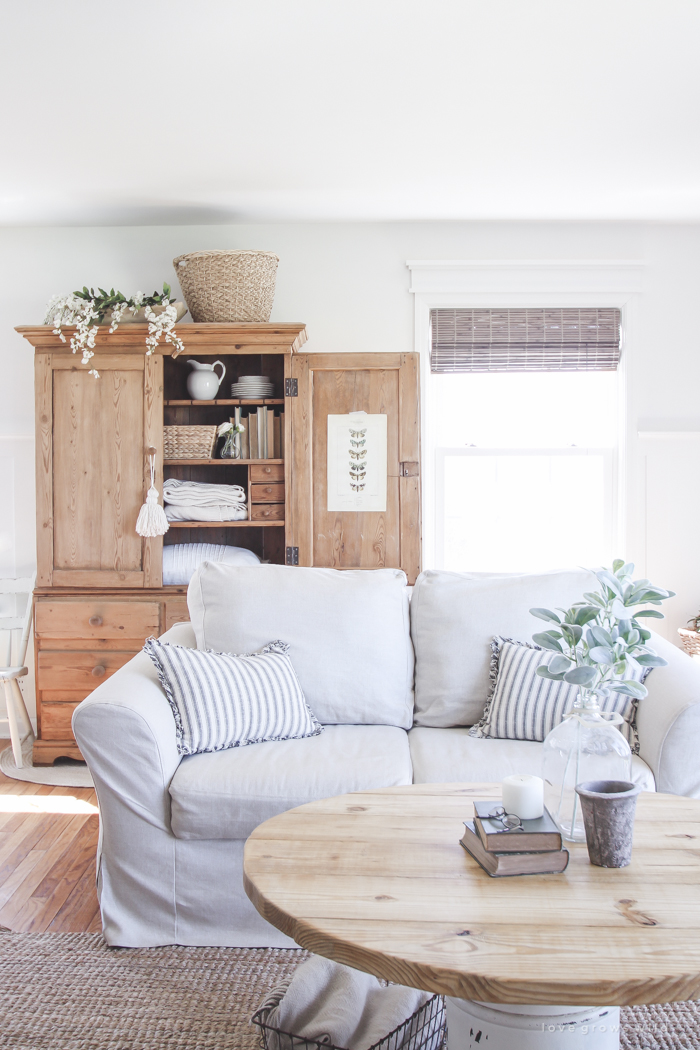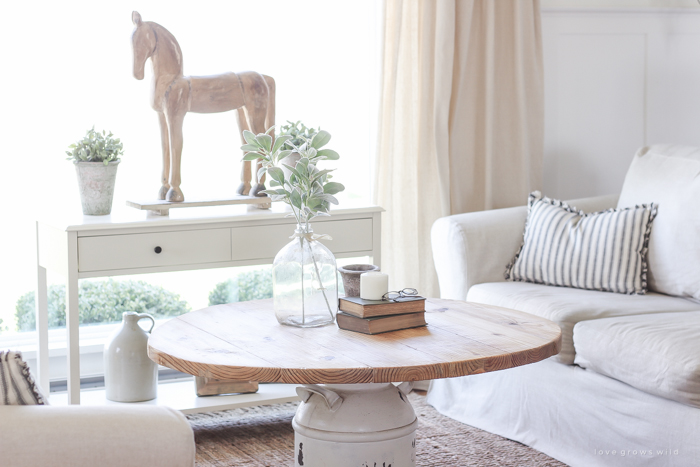 This project is proof that sometimes you have to look beyond the outer appearance, especially when it includes formica. Can you tear it apart and repurpose some of the items? Can you paint over the old finish? There are so many ways to give new life to old thrift store finds, and this week a group of fantastic bloggers are showing off their Thrifty Under $50 makeovers.
If you came here from Beneath My Heart, welcome to our farmhouse! Head on over to Ella Claire to see the next makeover!
Here are the rest of the amazing Thrifty Under $50 makeovers:
Monday
Home Stories A to Z
Design Dining Diapers
Finding Silver Pennies
Anderson + Grant
Tuesday
Wednesday
Thursday
Southern Hospitality
Life On Virginia Street
Four Generations One Roof
Nest of Posies
City Farmhouse
Friday
In My Own Style
Sand & Sisal
Julie Blanner
Fox Cottage Hollow
---
LET'S KEEP IN TOUCH!
Subscribe to Blog | Browse my Shop | Follow on Facebook | Follow on Twitter
Follow on Google+ | Follow on Pinterest | Follow on Instagram