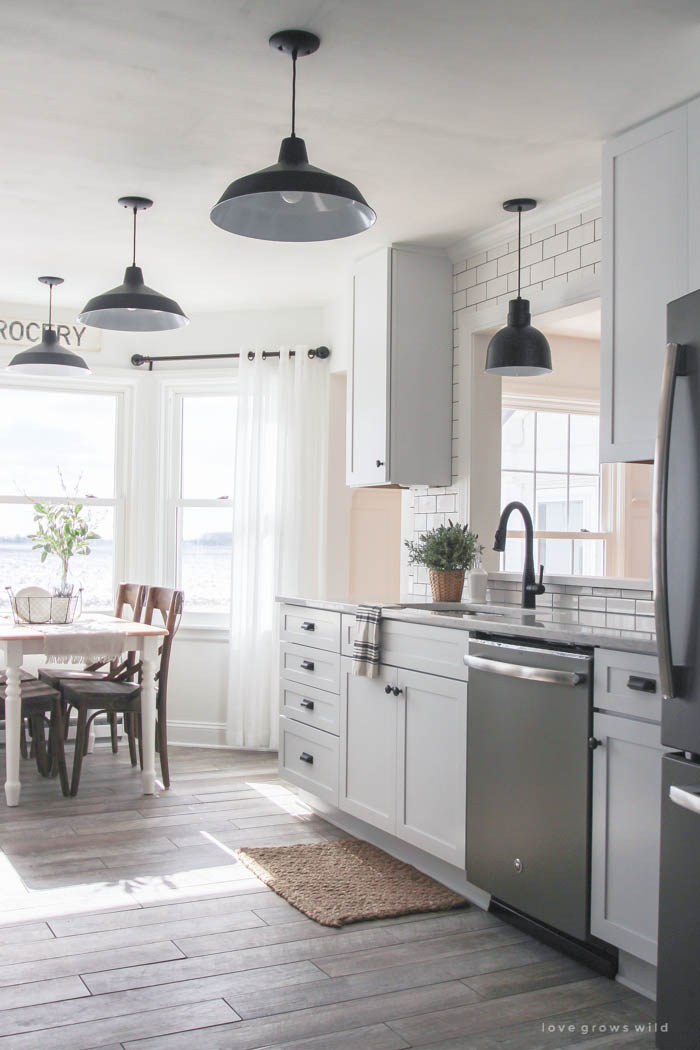 Our little farmhouse kitchen got a BIG makeover! This week I'm sharing the full reveal of our new kitchen… you can catch up on the rest of the kitchen makeover series here!
---
This kitchen renovation has by far been the biggest undertaking in our farmhouse, both financially and physically. But after months of dreaming and planning, weeks of construction, weekends painting, and the last week of our lives cleaning and decorating… I am so proud to share our finished kitchen makeover with you! With as much time and work as we've put into it, I can honestly say that it was worth every penny, every inch of construction dust that has settled all over the house, and every day we spent without a functioning kitchen. Since the day we moved into this house almost 4 years ago, I have always pictured a beautiful, white kitchen that is the heart of our home… a place where we gather to bake cookies and do math homework and enjoy Sunday dinners together. But most of all, I've longed for the day that Jeremy and I sit could together around the breakfast table next to our big, sunlight-flooded windows, enjoying our first sips of coffee together each morning as we gaze out towards our backyard and our family's farmland. The beautiful farm that my husband spent much of his childhood playing on and the farm that we want our children to grow up knowing, learning about, and loving as well…
As promised, I'm not making you guys wait another minute to see the full reveal of the kitchen, mostly because I just can't keep it all to myself any longer! If you haven't seen our kitchen "before" photos yet, I highly suggest you start here first. It will make this transformation even more dramatic, trust me! Over the next few weeks, I'll post all the details of our cabinets, tile, appliances, etc. so feel free to leave a comment with any questions you have, and I will answer them all in the posts to come! But for today, let's just enjoy all the pretty photos…
Welcome to our beautiful, new "modern farmhouse" kitchen!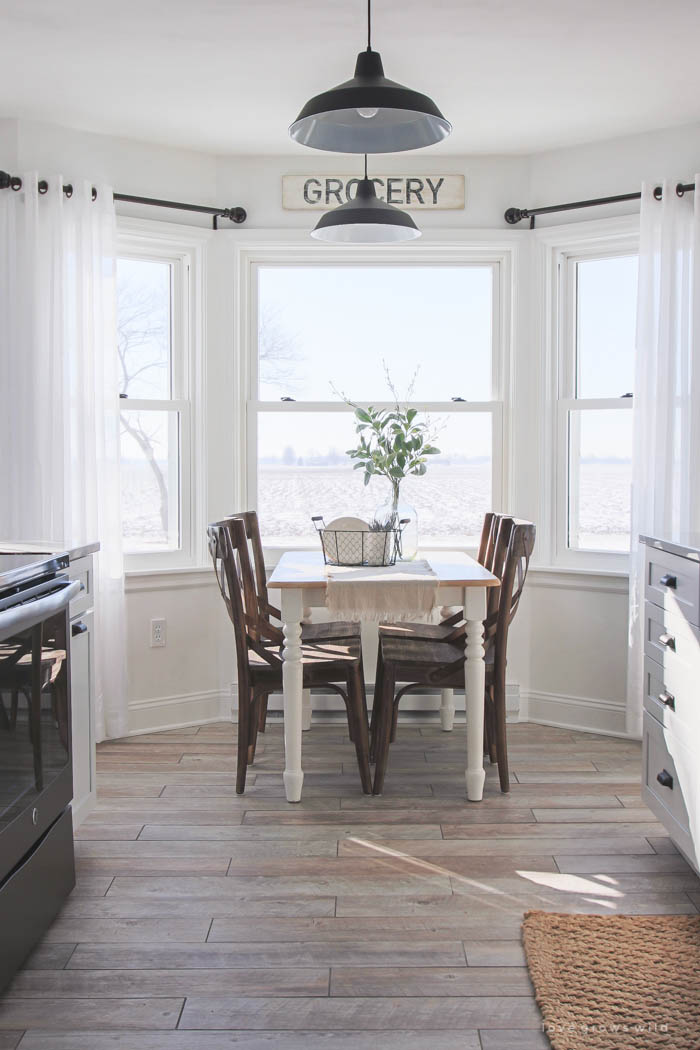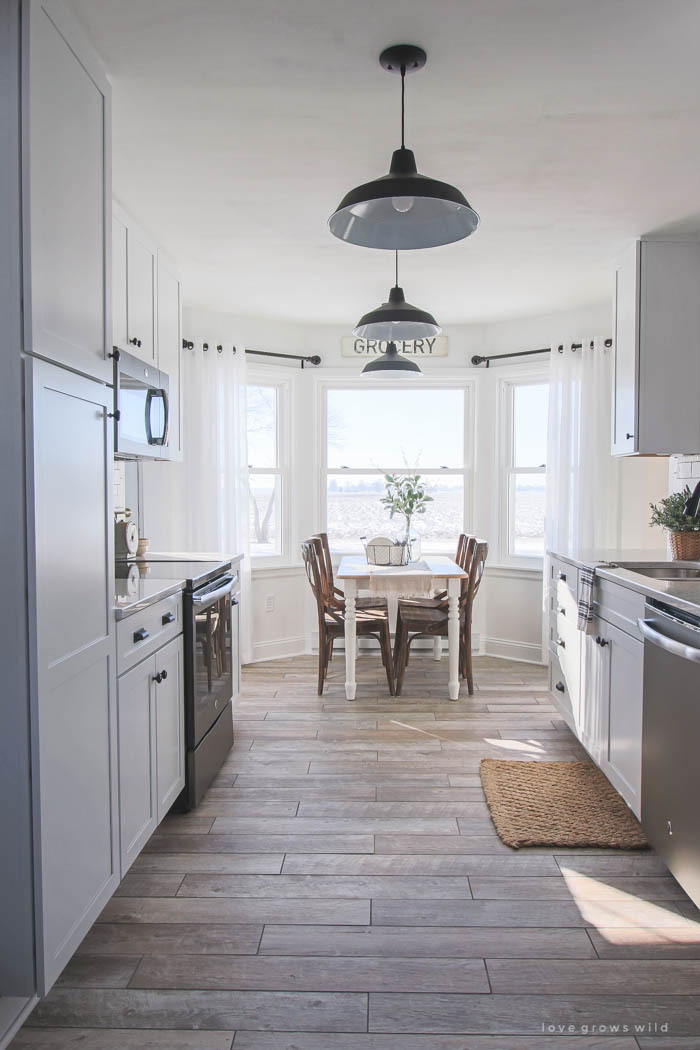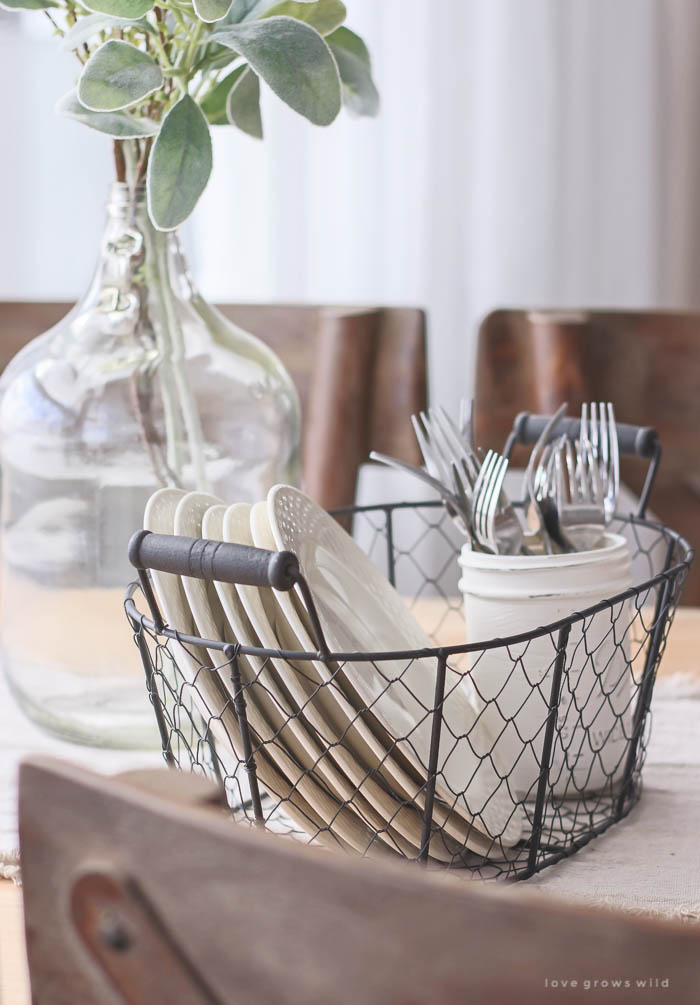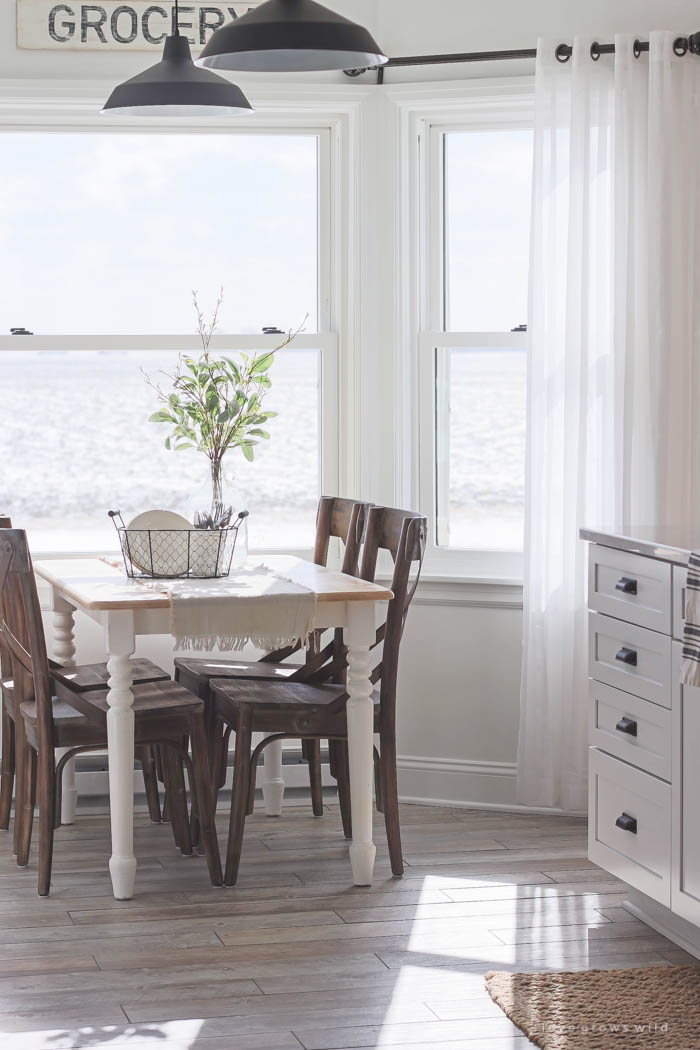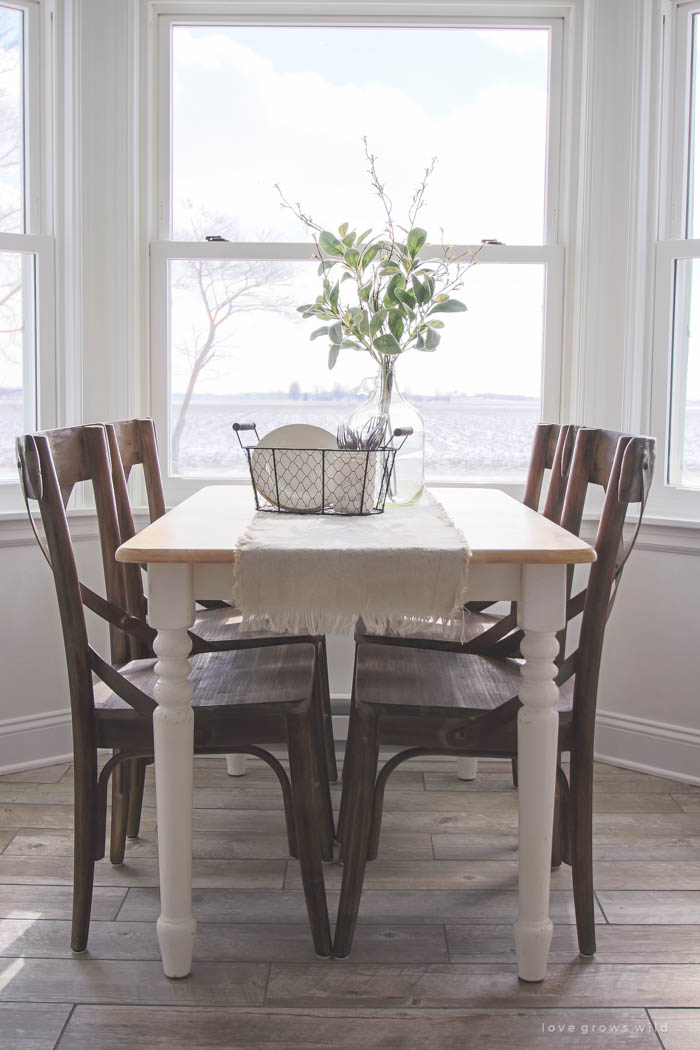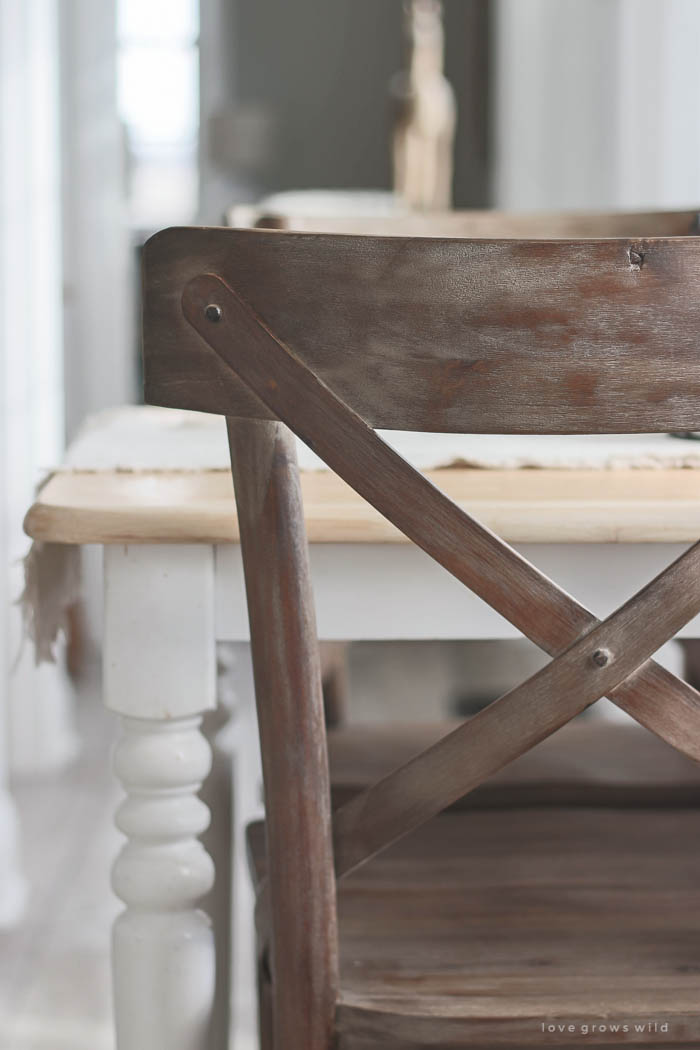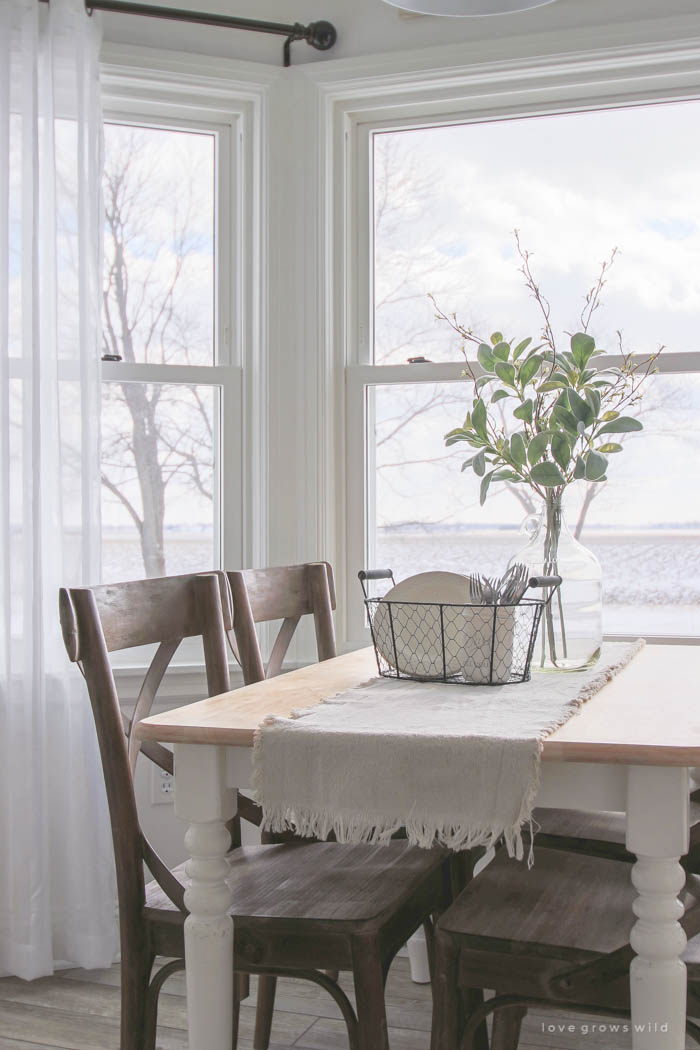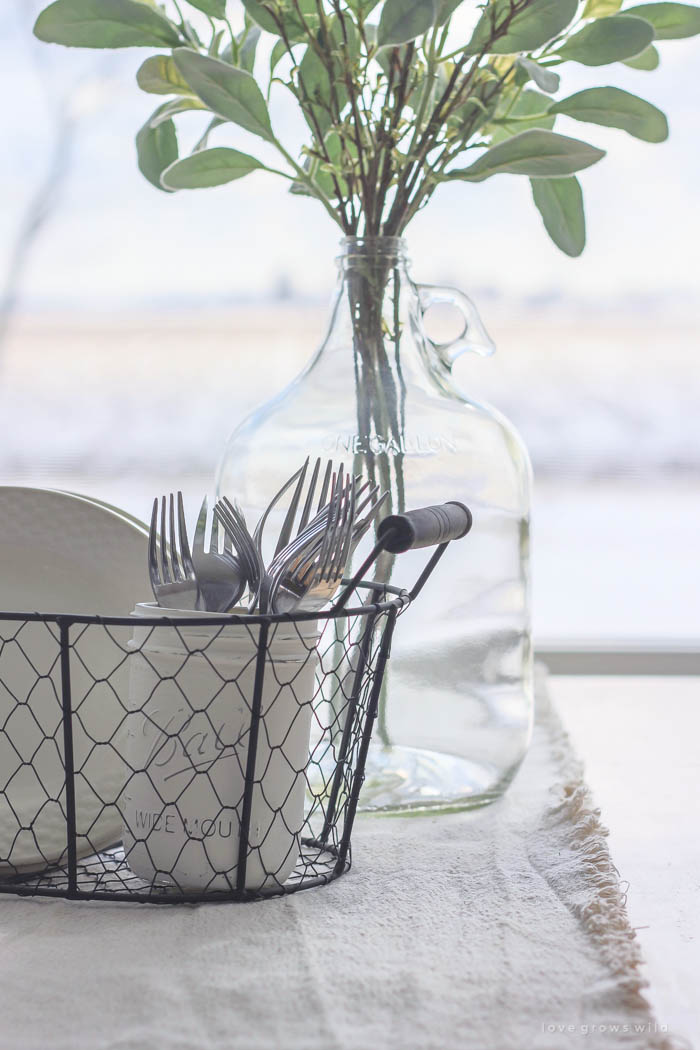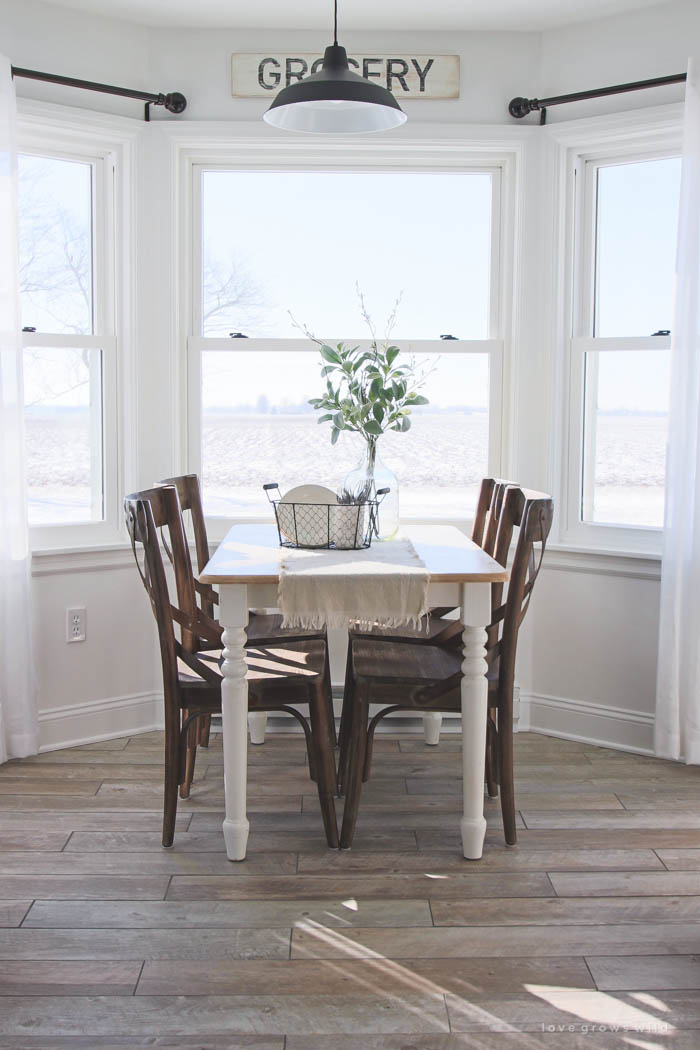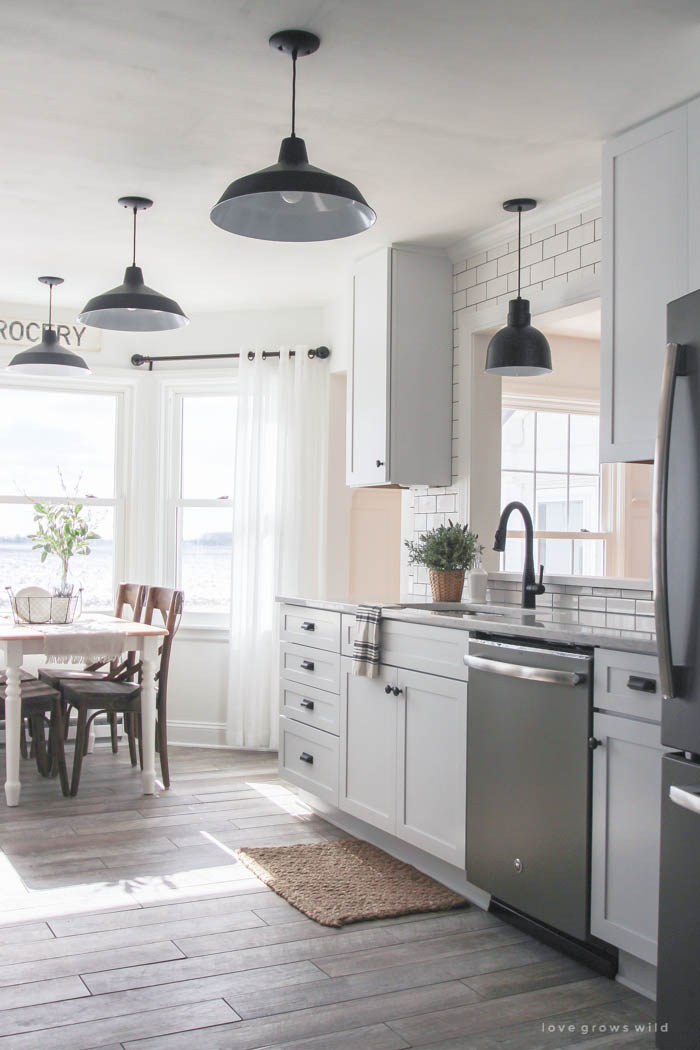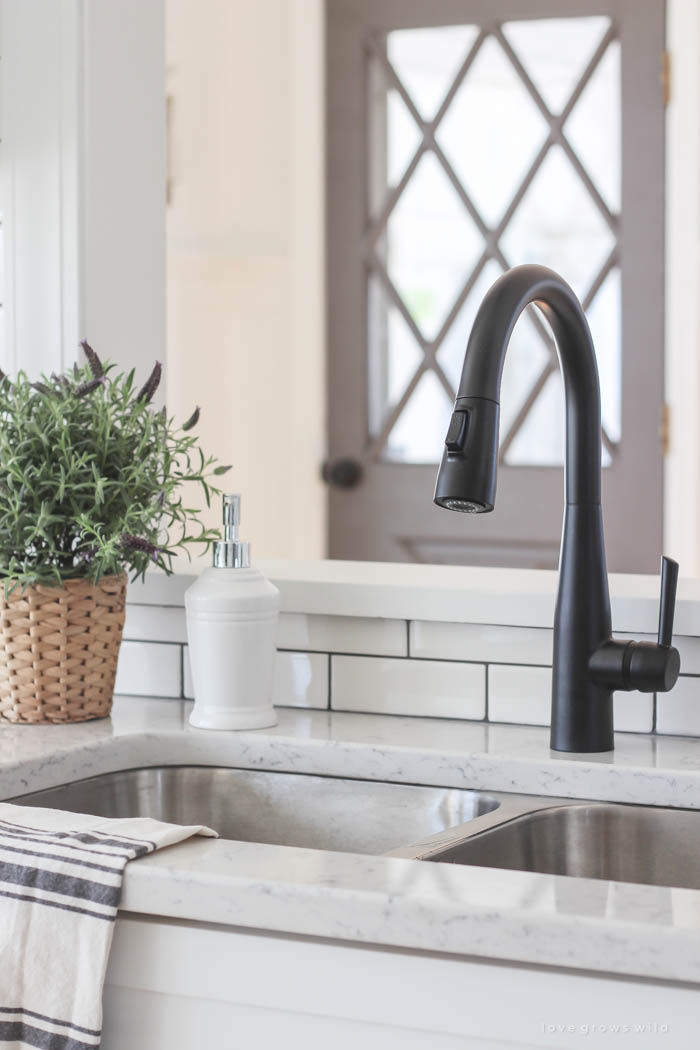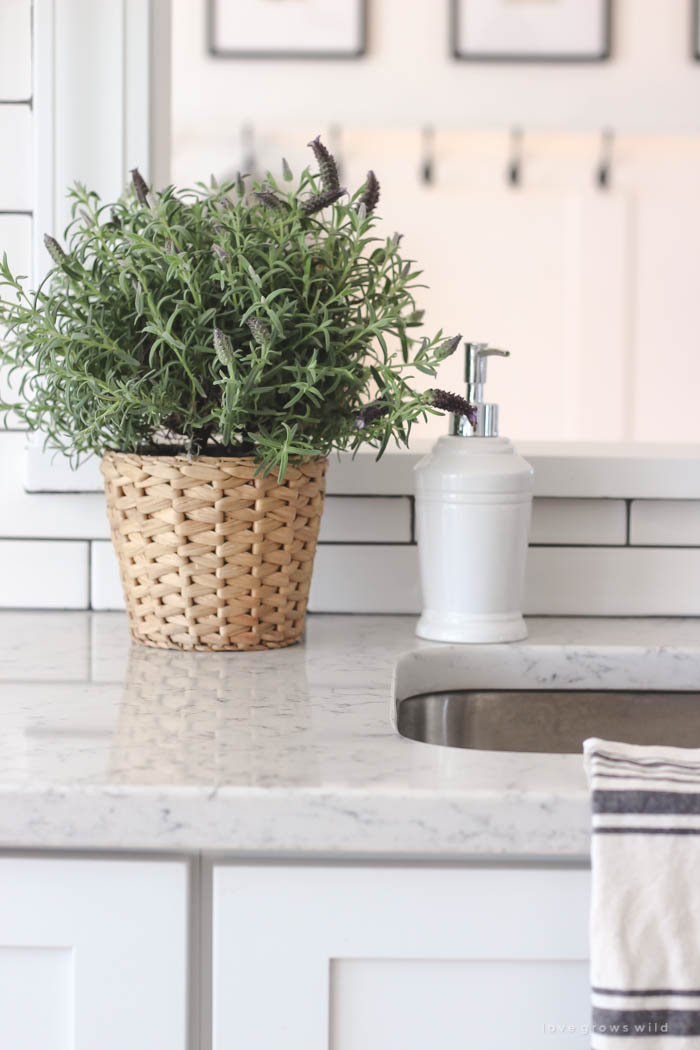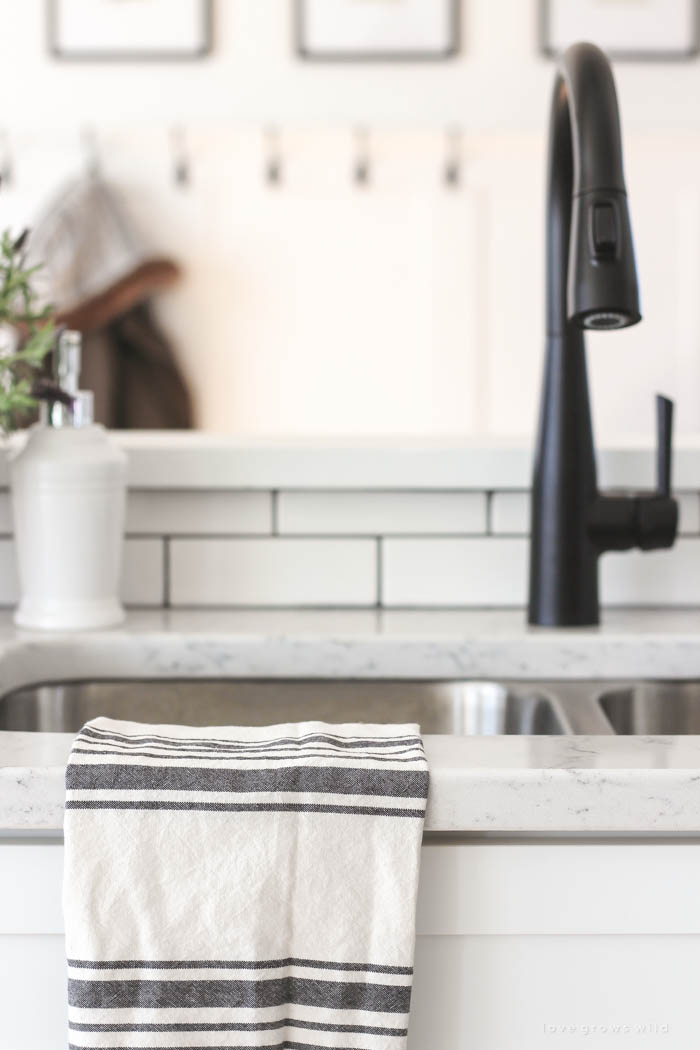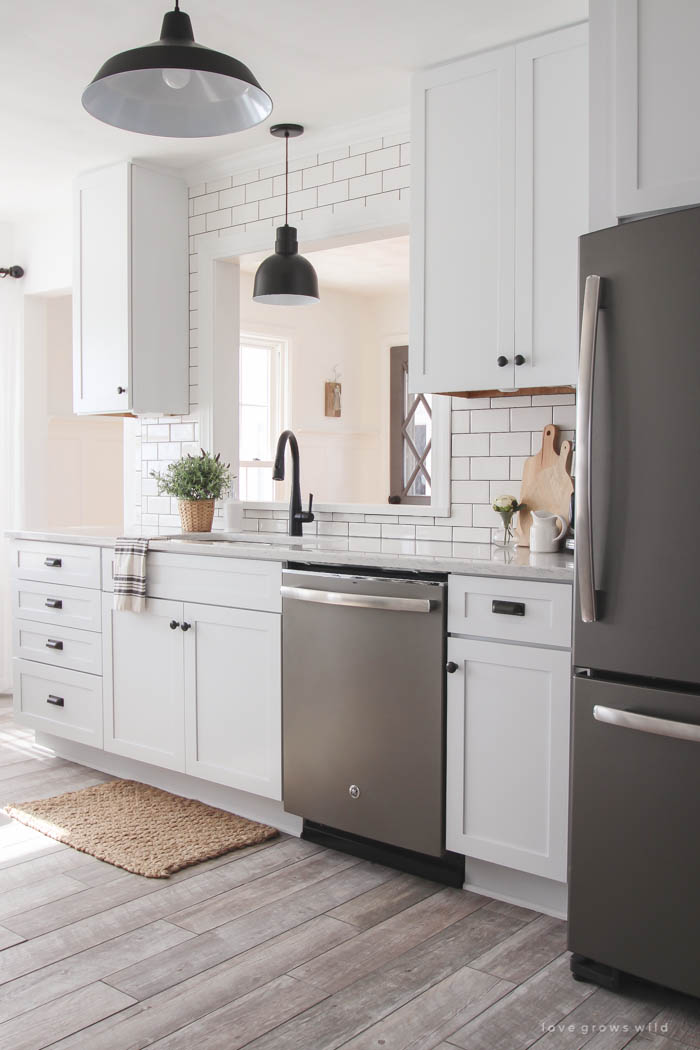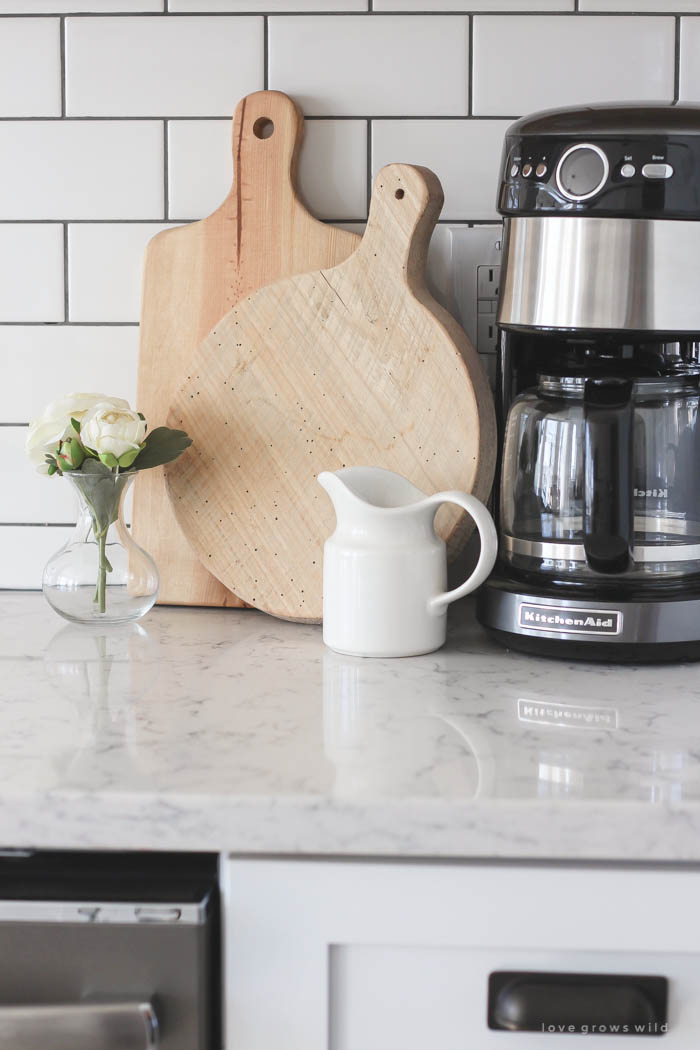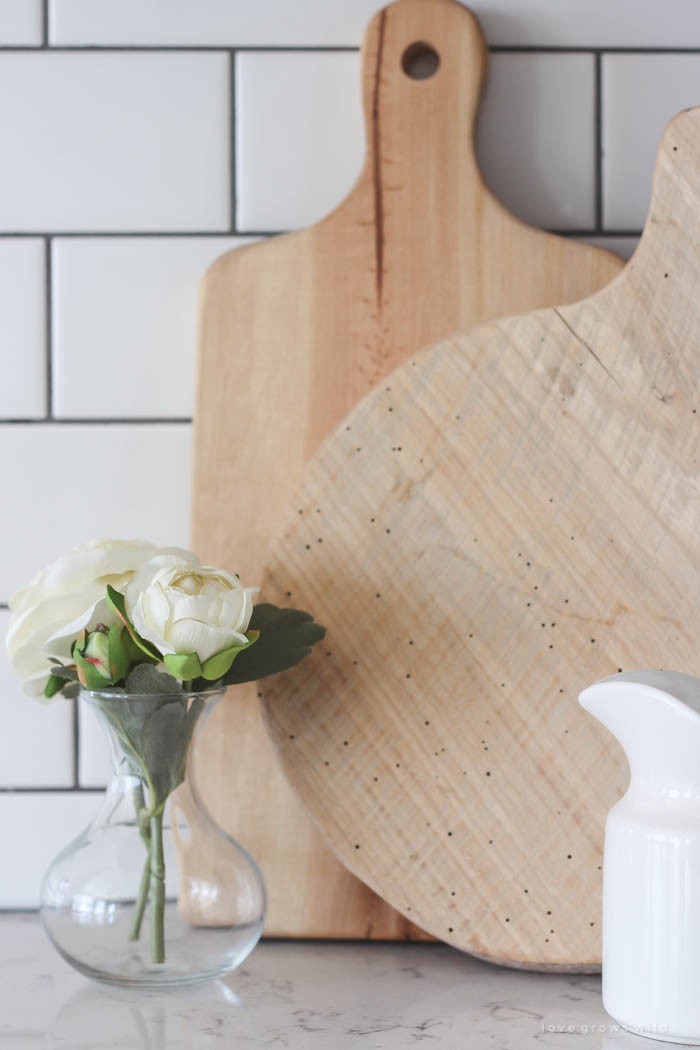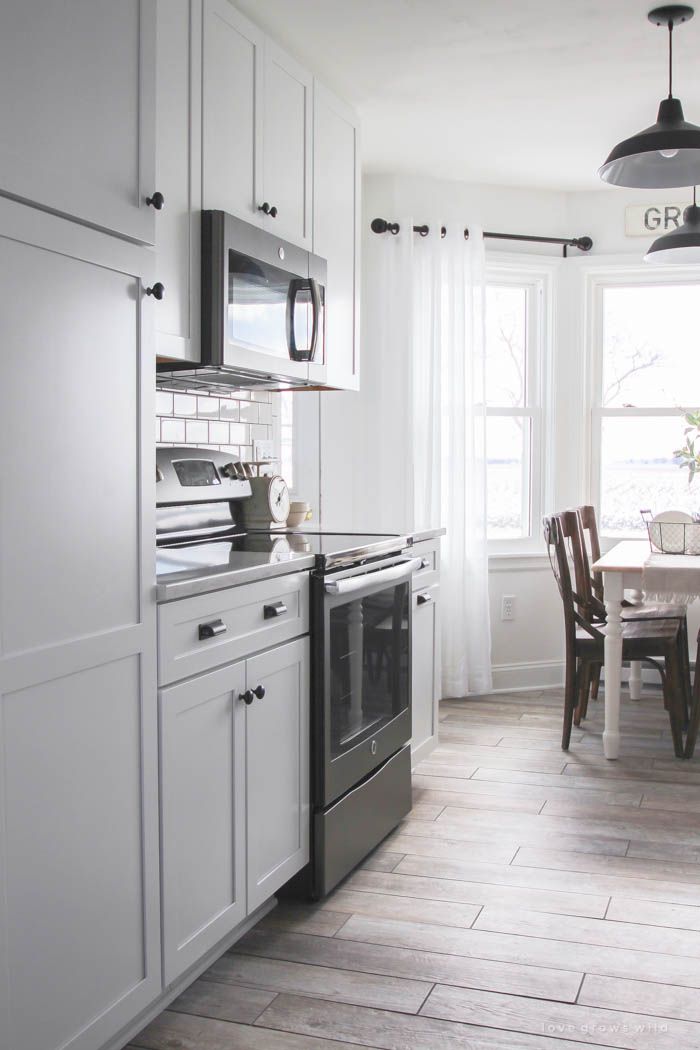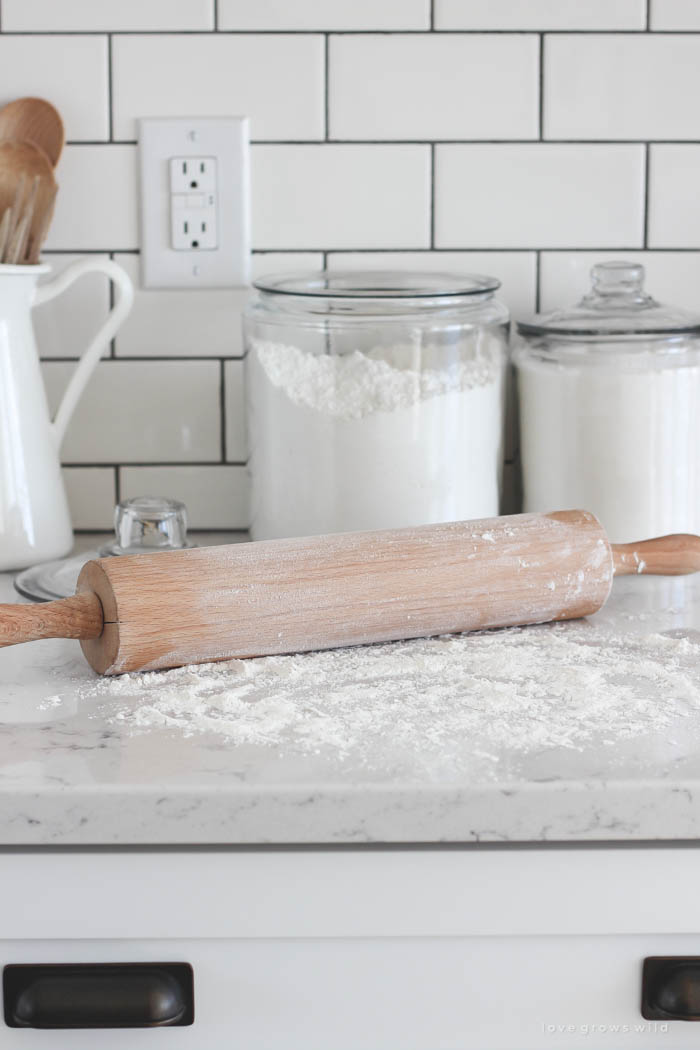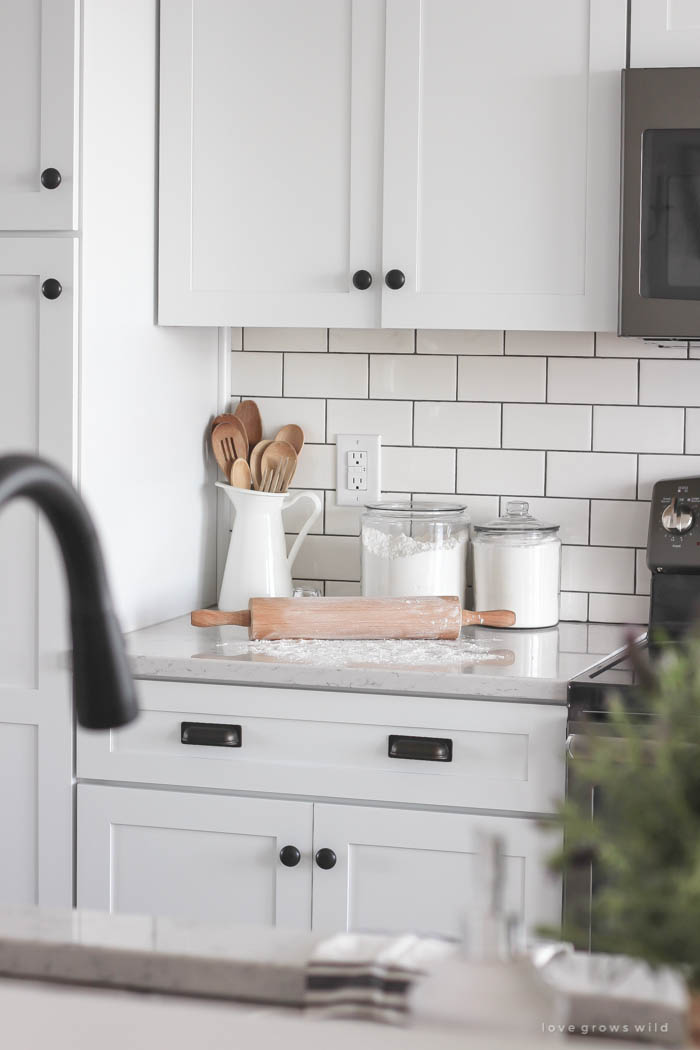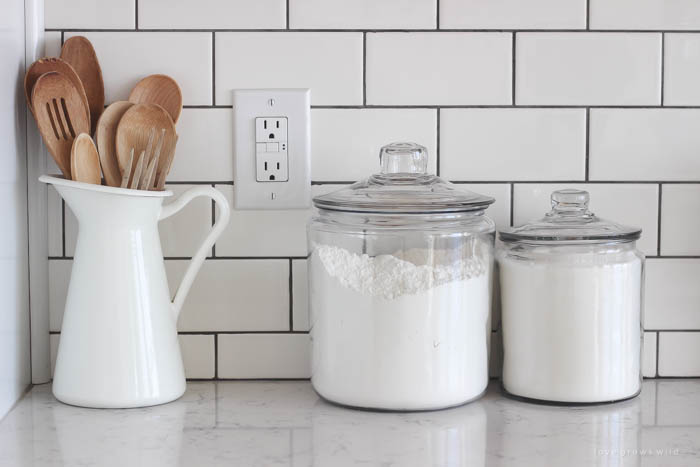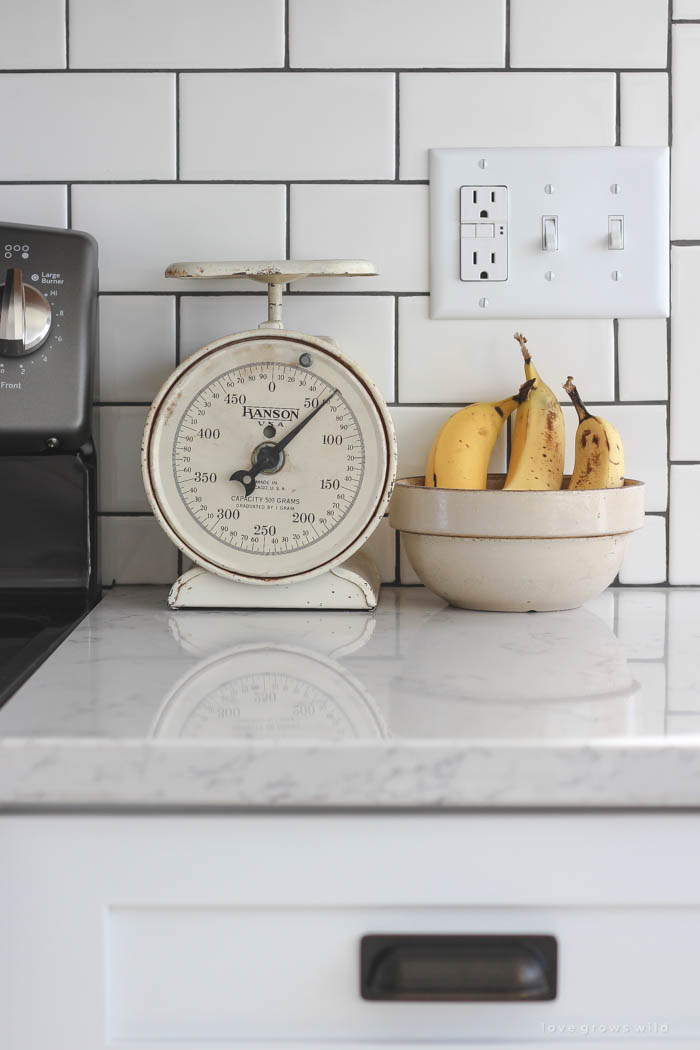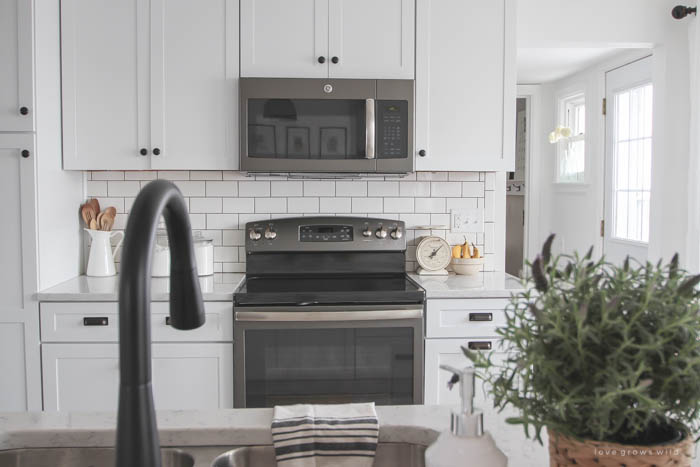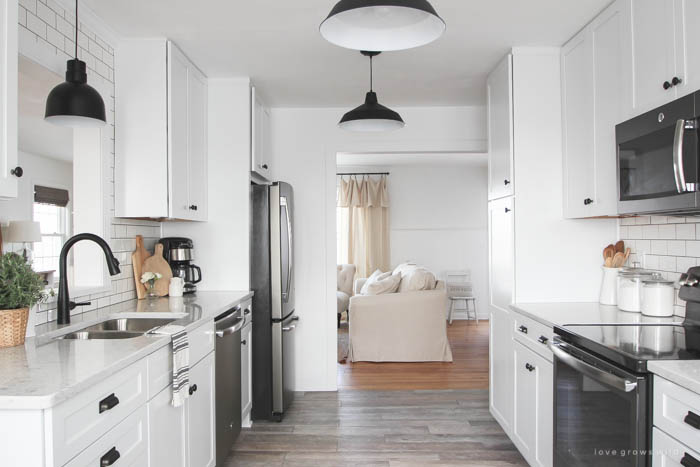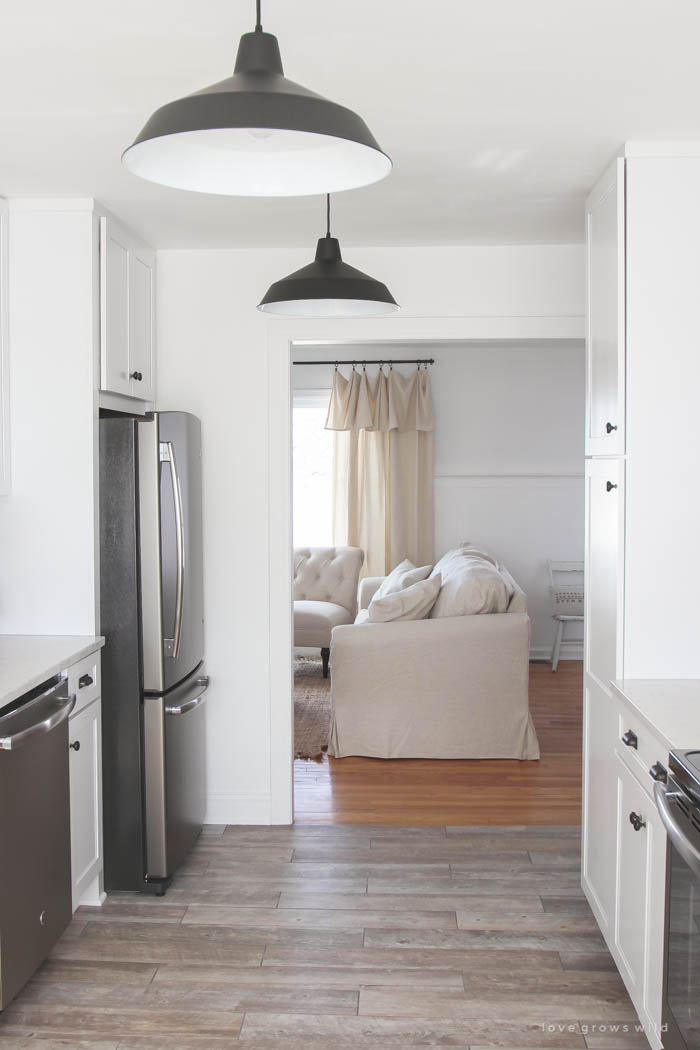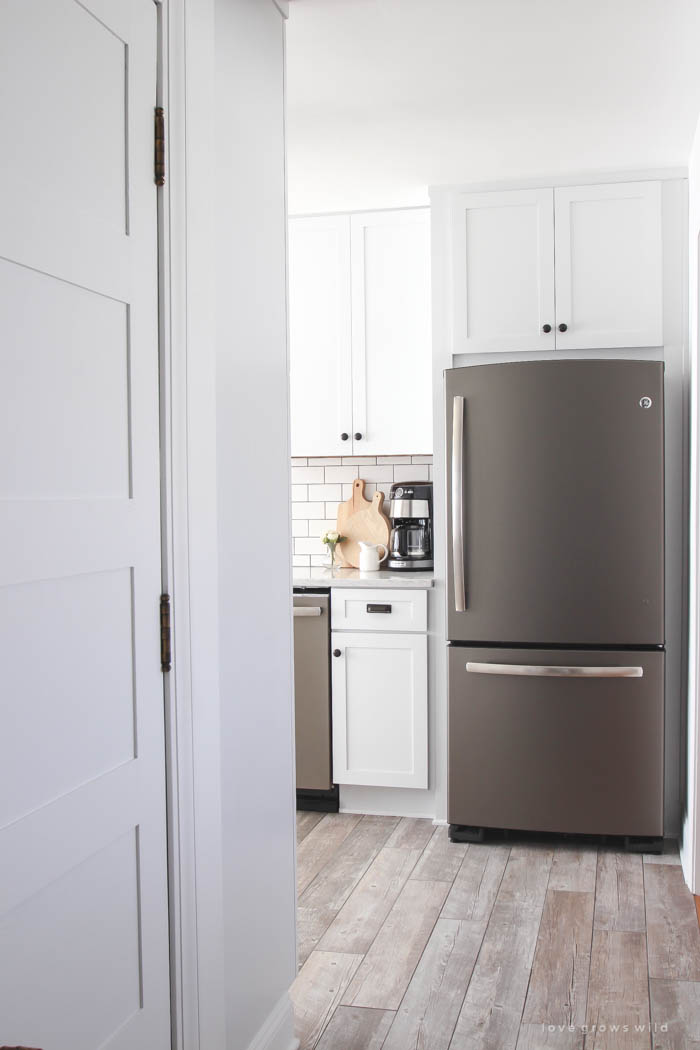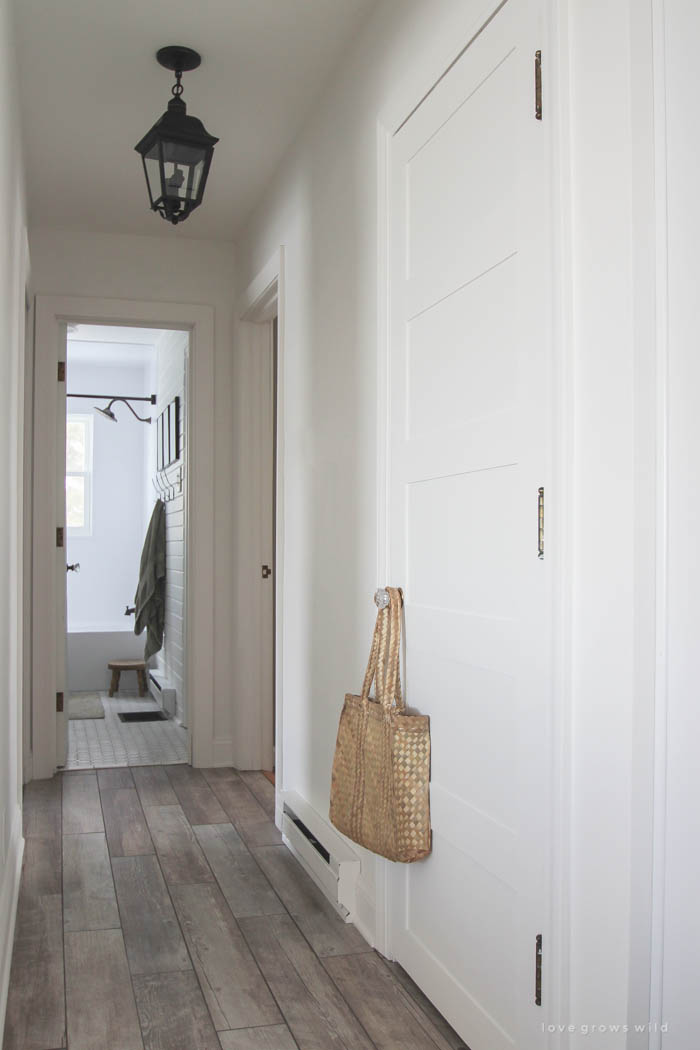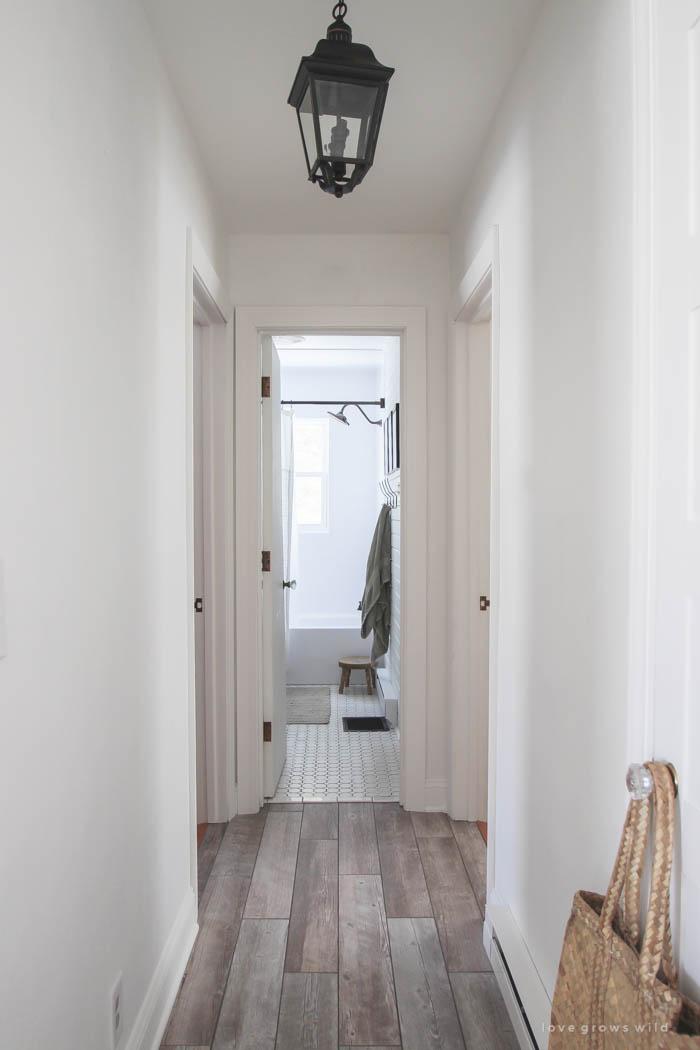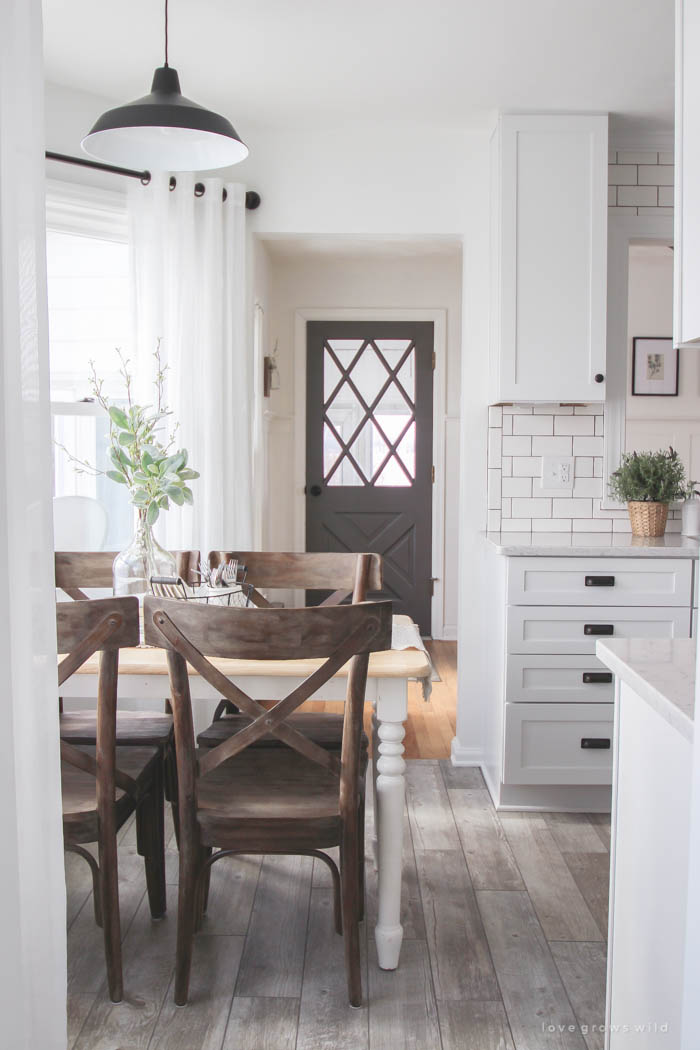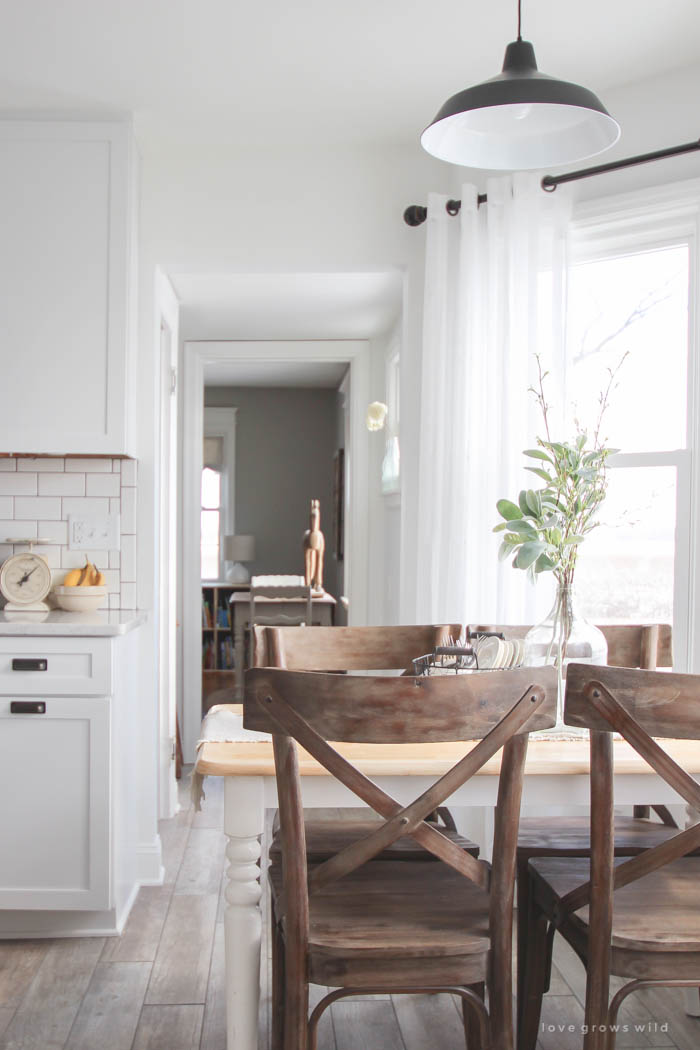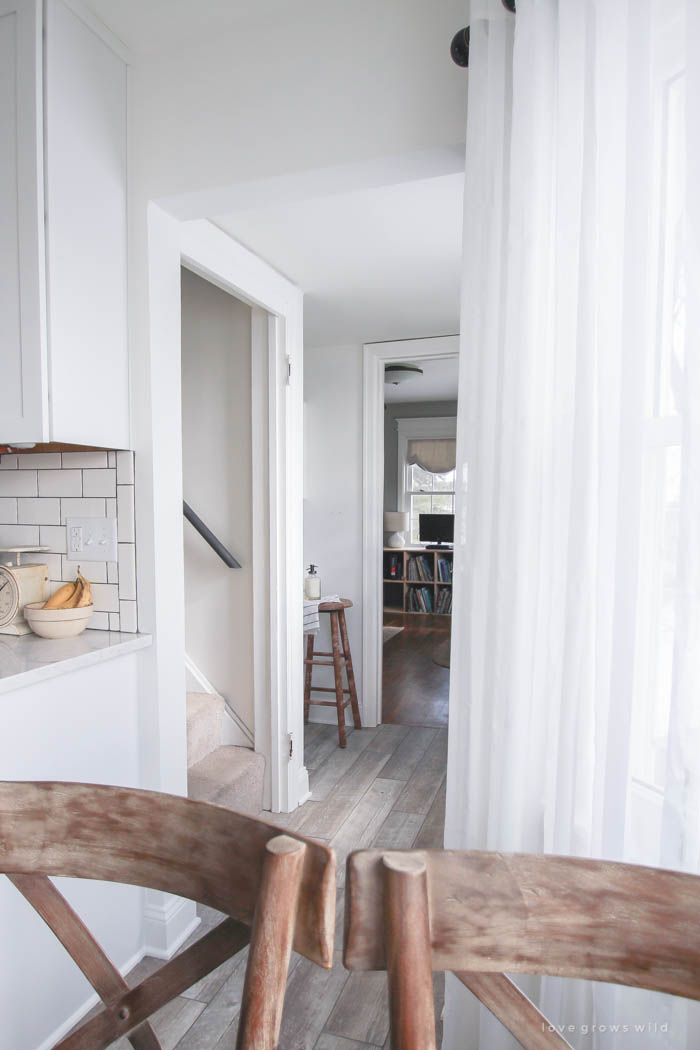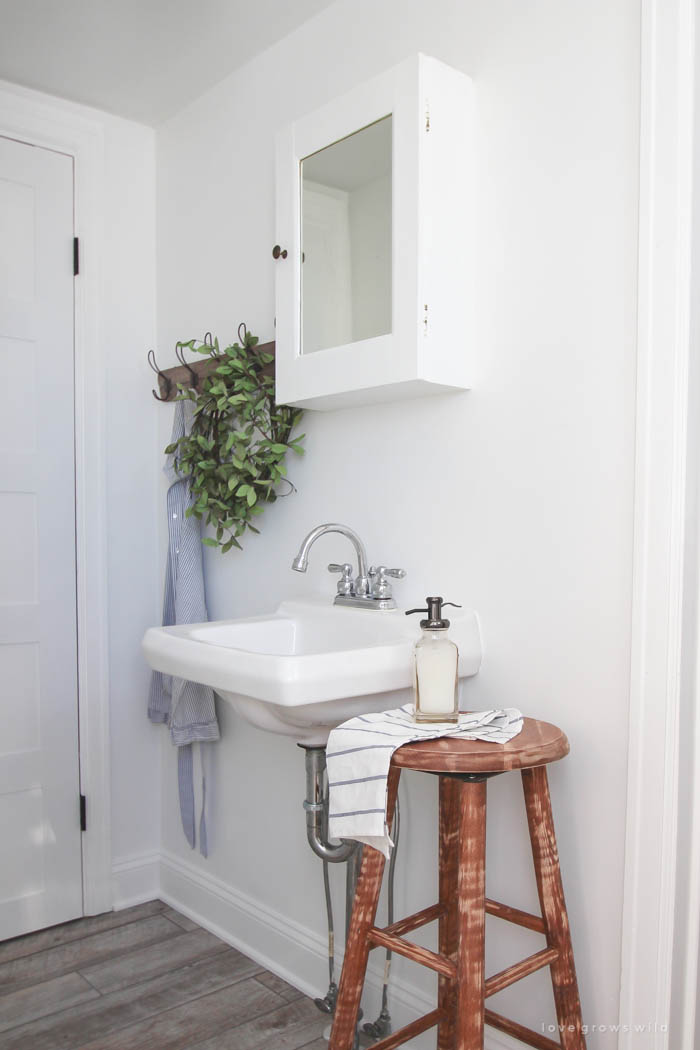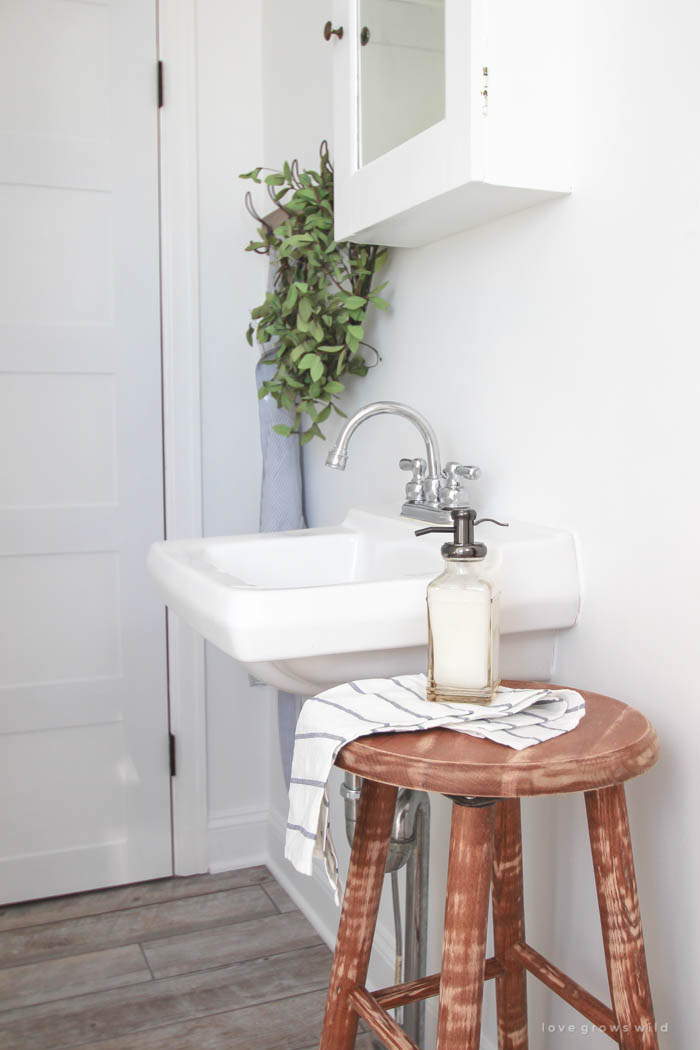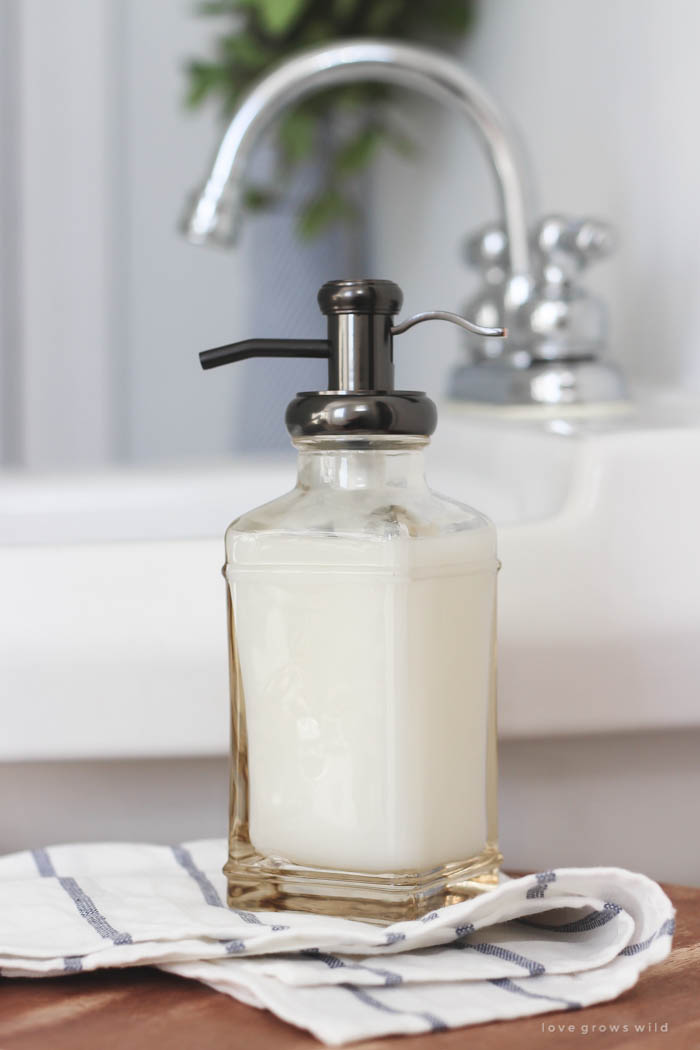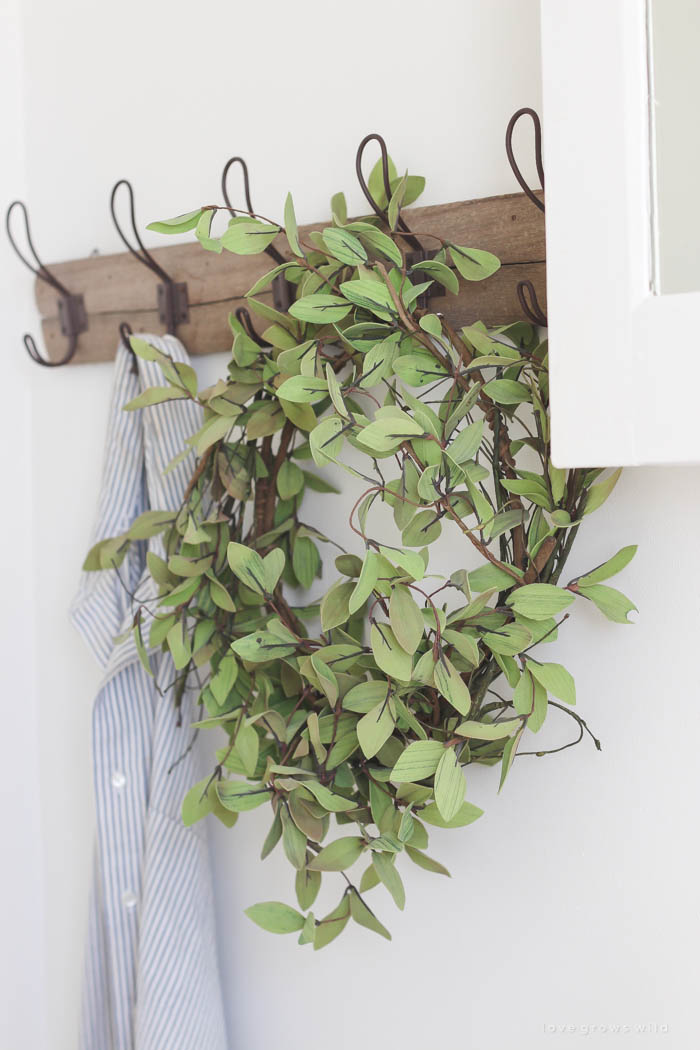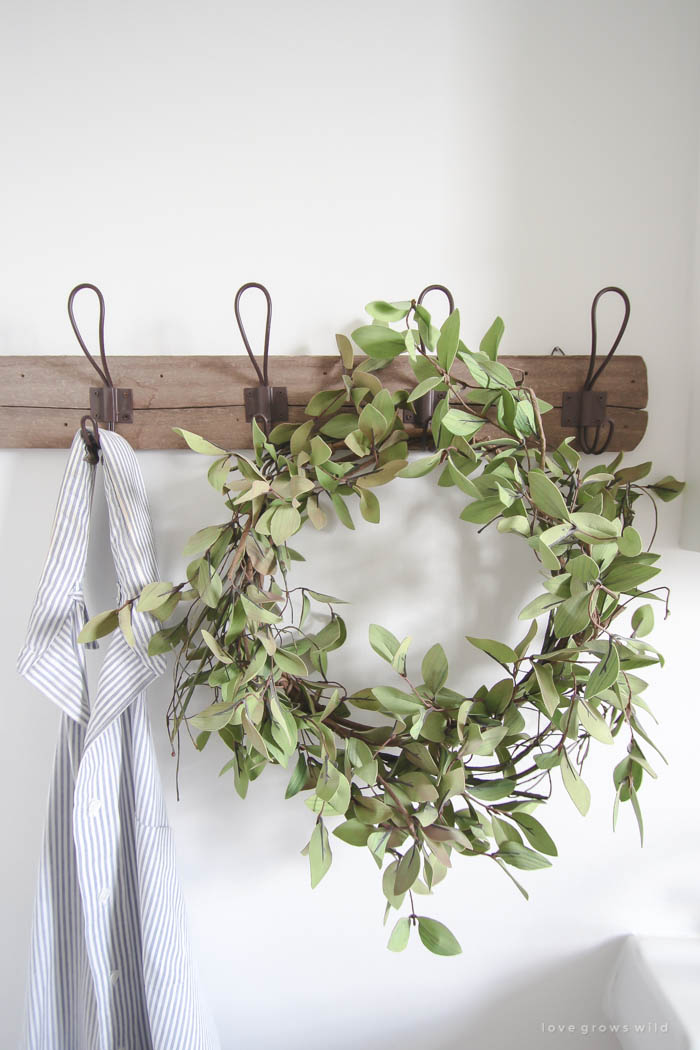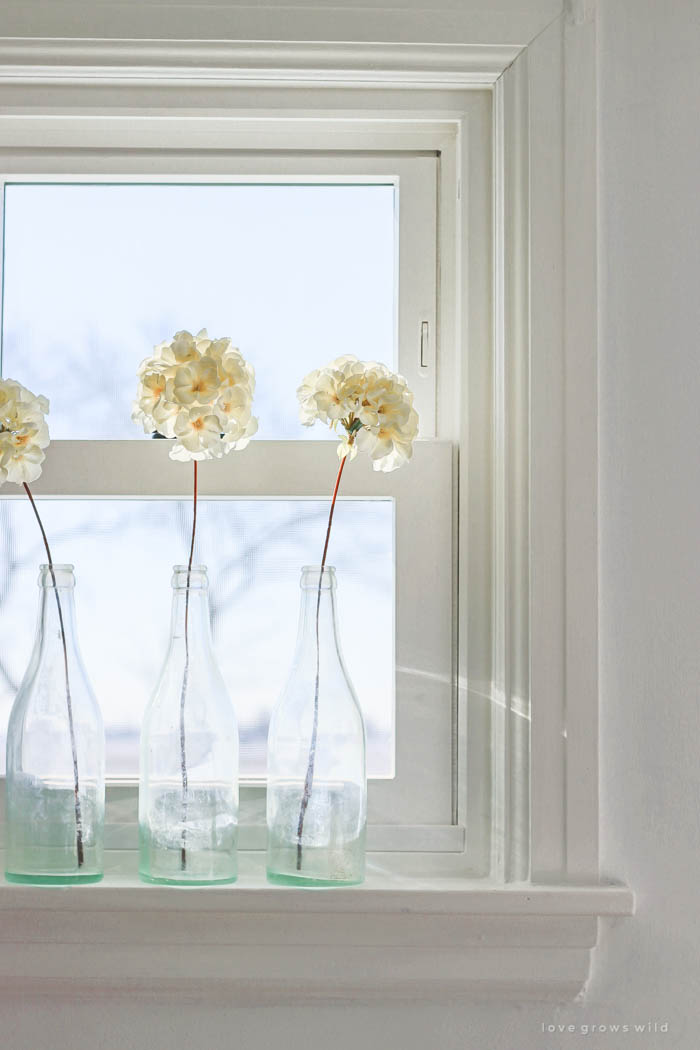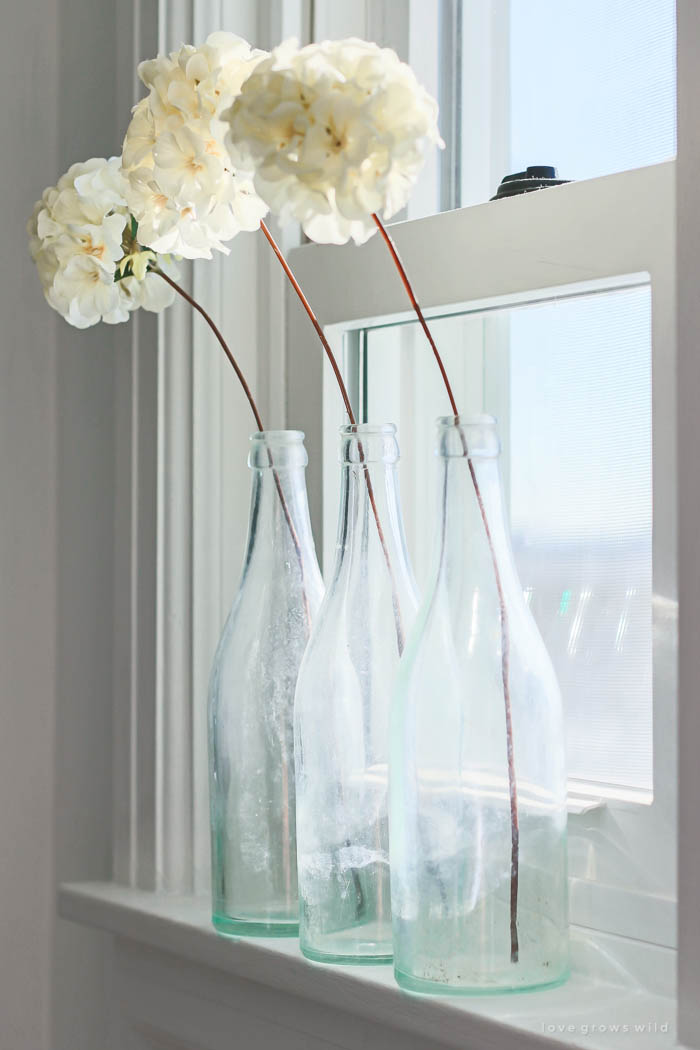 I hope you enjoyed the tour, and stay tuned for all the kitchen details coming soon!! Thank you from the bottom of my heart for being so patient over the last few months as we've tackled this kitchen renovation. I hope it was well worth the wait!
Sources:
Dove White cabinets – KraftMaid purchased at Lowe's
Cup cabinet pulls – Hickory Hardware
Cabinet knobs – Hickory Hardware
Quartz countertops – Silestone by Cosentino purchased at Lowe's
Natural timber porcelain tile flooring – Lowe's
Gray grout for tile floor – Lowe's
Wall color – Du Jour by Valspar
Slate electric range – GE Appliances
Slate dishwasher – GE Appliances
Slate bottom freezer refrigerator – GE Appliances
Slate over-the-range microwave – GE Appliances
Matte black pendant lights – Amazon
Pendant light above sink – Wayfair
X back wood dining chairs – World Market
Sheer white curtains – Walmart
Bronze curtain rods – Walmart
Small jute rug by sink – Home Goods
Matte black sink faucet – Delta
Stripe kitchen towel – World Market
Woven plant pot – IKEA
KitchenAid coffee maker – Amazon
White pitcher with cooking utensils – IKEA
Glass canisters – Target
Round wire basket – Walmart
Faux greenery in glass jug – Hobby Lobby
Hallway lantern light fixture – Lowe's
Soap dispenser by wash sink – Target
Blue striped towel by wash sink – IKEA
Blue stripe apron – tutorial
Antiques, secondhand finds, and handmade items:
white and wood dining table, drop cloth table runner, glass jug, grocery sign, wood cutting boards, antique scale, wood stool, blue glass bottles

---
LET'S KEEP IN TOUCH!
---
Subscribe to Blog | Browse my Shop | Follow on Facebook | Follow on Twitter
Follow on Google+ | Follow on Pinterest | Follow on Instagram