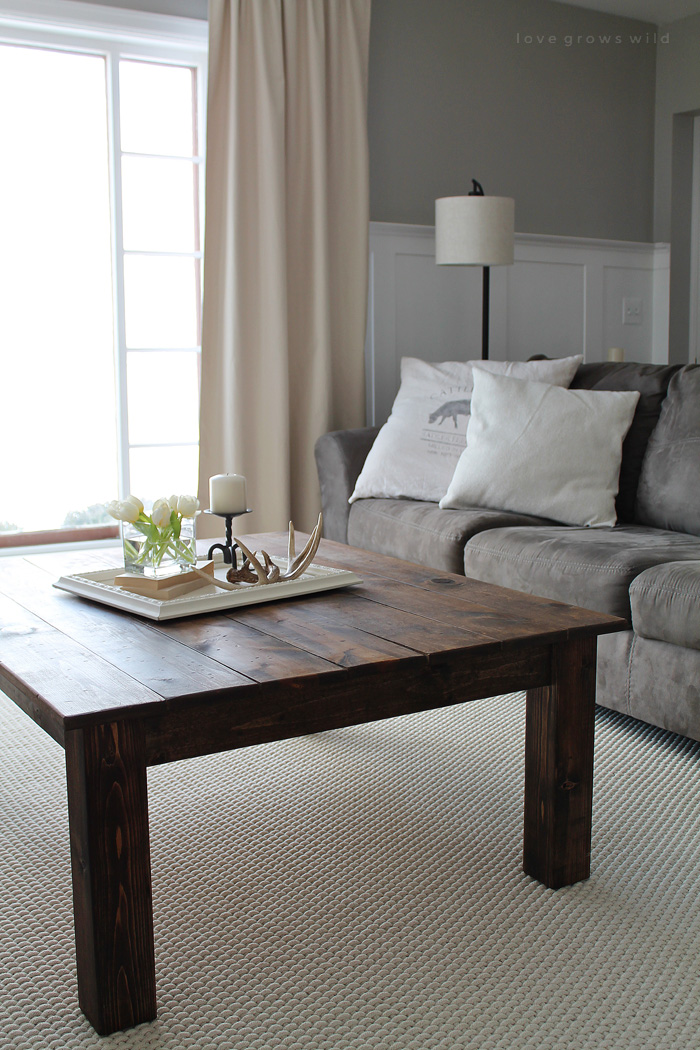 Last week I showed you the big reveal of our living room makeover progress, and this week I'm sharing one of the most-requested tutorials from that post… our DIY Farmhouse Coffee Table!
When I started planning this makeover, I knew I wanted to get rid of the glass coffee table I had and go with something more rustic and cozy… something with beautiful wood grain that looks like it's been in an old farmhouse somewhere for ages. So rather than searching every single antique store in town or buying something off the shelf at a big box store, I gathered up my tools, picked up some lumber, and made myself a new coffee table!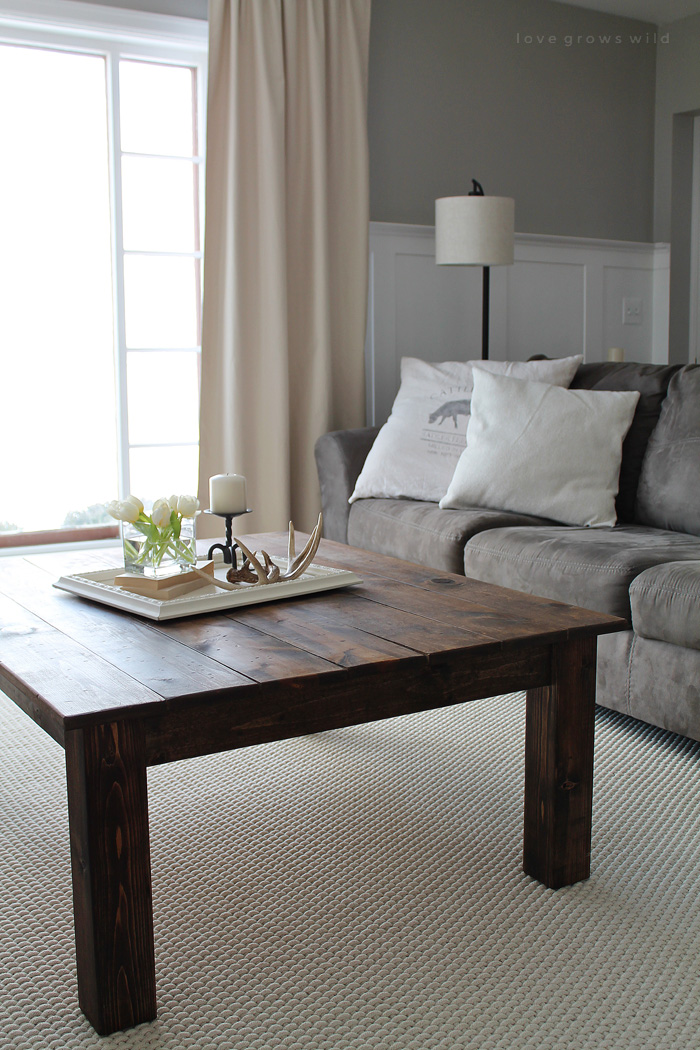 I've gained a lot more confidence in my woodworking capabilities over the last year, so I wanted to tackle this project solo (a.k.a. without the assistance or supervision of Jeremy), and I was actually really surprised at how easy and fast this table came together. I was able to shop for my supplies, make my cuts, and build the table all within just a few hours. Not bad for a little afternoon project!
I've been wanting an excuse to buy a Kreg Jig for probably a year now, and with a long DIY to-do list of building tables, benches, and more for our living and dining room, I decided now was a good time to make the purchase. This project is in no way sponsored by Kreg Jig, but I was so impressed with how much easier this tool made my life, I just had to share it with you guys! This tutorial (and probably most builds from here on out) will be shown using the Kreg Jig, so if you enjoy building things for your home, I highly recommend getting yourself one! You can purchase the kit I have here: Kreg Jig K4 Pocket Hole System
.
The plan I'm using is a modified version of a table from Shabby Creek Cottage, and mine came out to be a whopping 46 1/2″ x 38 1/2″. It's big, beautiful, and a perfect fit for our space, but if you don't need a massive table like this one, you can either: make adjustments to these plans OR check out Gina's table, which is quite a bit smaller. Okay, let's build!
Supplies needed:
4 – 4×4 cut to 18″ long (legs)
2 – 1×4 cut to 37″ long (long apron)
2 – 1×4 cut to 29″ long (short apron)
3 – 1×4 cut to 32 3/4″ long (supports – *cut these to fit, see note below)
7 – 1×6 cut to 46 1/2″ long (top)
scrap piece of 1×4 (for a spacer around the apron of the table)
miter saw

Kreg Jig

tape measure

drill

2″ Kreg Jig screws

1 1/4″ Kreg Jig screws

palm sander

stain or paint of choice (I used Minwax dark walnut
and Annie Sloan dark wax)
Instructions:
Start by attaching the apron flush with the top of the 4×4 legs. Drill 2 pocket holes on each end of the apron boards and use 2″ Kreg Jig screws to attach them to the legs. Set a scrap piece of 1×4 underneath the apron to create an inset.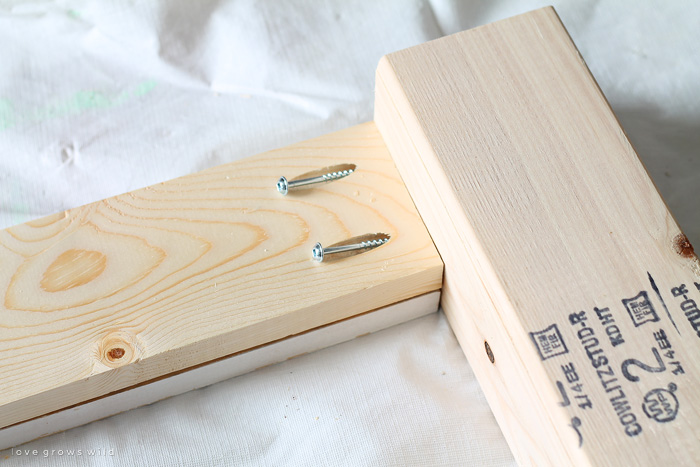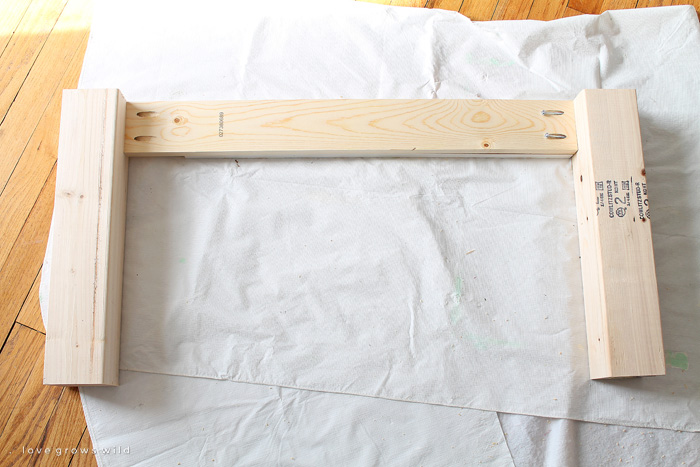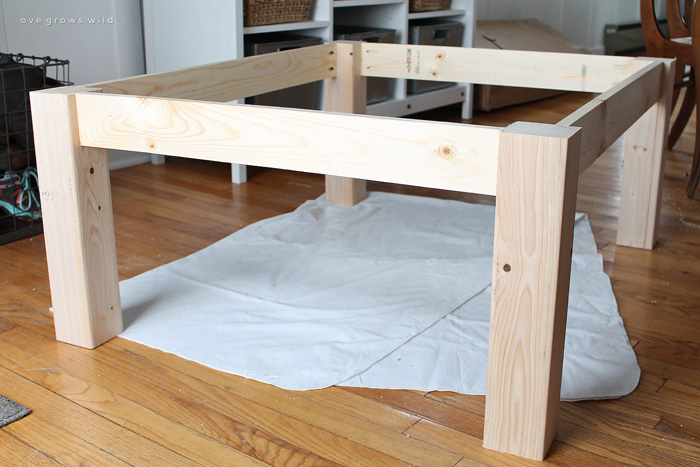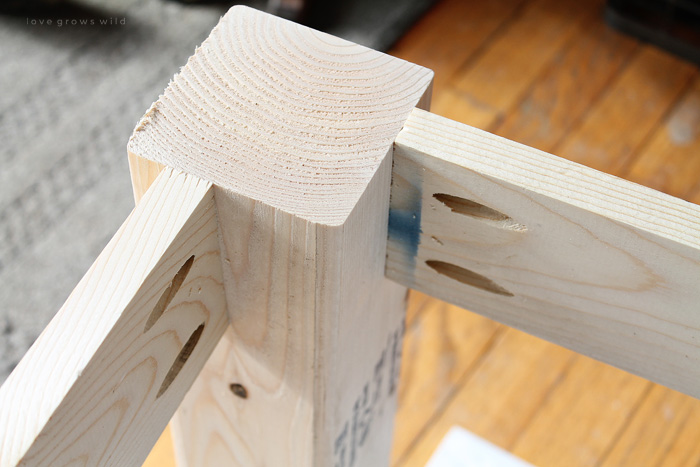 * Once the long and short aprons are attached to the legs, add the supports. I recommend waiting until you are at this step to cut the supports for an exact measurement. Use two pocket holes on each end of the support boards and 1 1/4″ Kreg Jig screws to secure them flush with the apron.
You'll notice that I used a 1×6 in the middle, instead of a 1×4. I ran out of 1×4's and had a scrap piece of 1×6 handy, so I just used that for the middle support.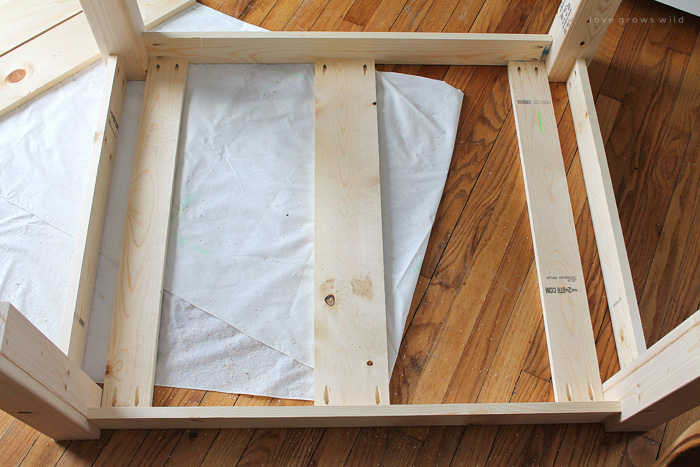 Now it's time to attach the top of the table. Line up the 1×6 boards and place the frame you built upside down and centered on the boards. Drill 1 1/4″ screws through the supports into each board to secure them to the table. I used regular wood screws for this step originally, but the heads were sinking into the supports and not pulling the top boards down tight like I wanted. So I swapped them out for the Kreg Jig screws, which have washer heads, and they worked like a charm. If you're having trouble getting those top boards secured tight, I'd try switching to the Kreg Jig screws!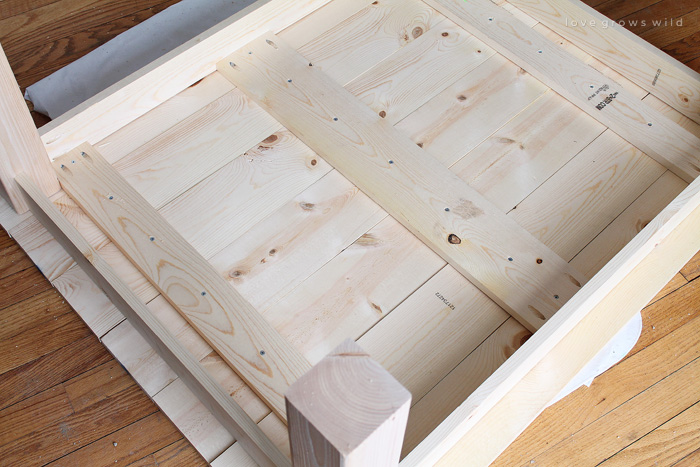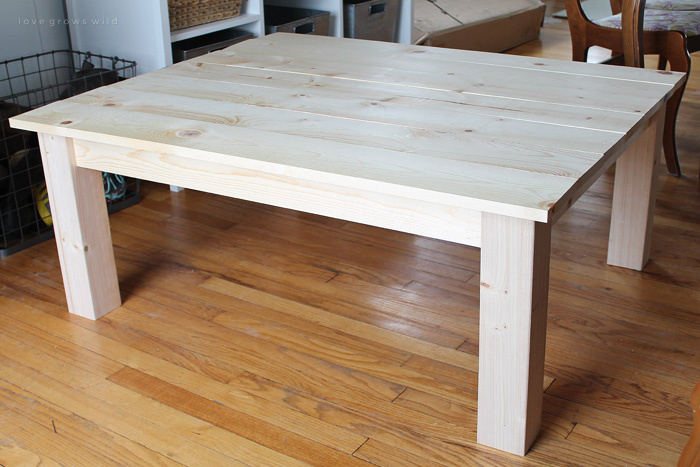 To finish the table, I sanded the whole thing down and rounded all the edges to make the table look old and timeworn. The wood looked a little too "fresh" and perfect, so I used some rocks to beat the table up a bit, making marks and indents all over the top and the legs.
I stained the table with Minwax Dark Walnut and sealed it with Annie Sloan dark wax. The stain pulls out the different wood grain in each board and highlights the distressed marks we added.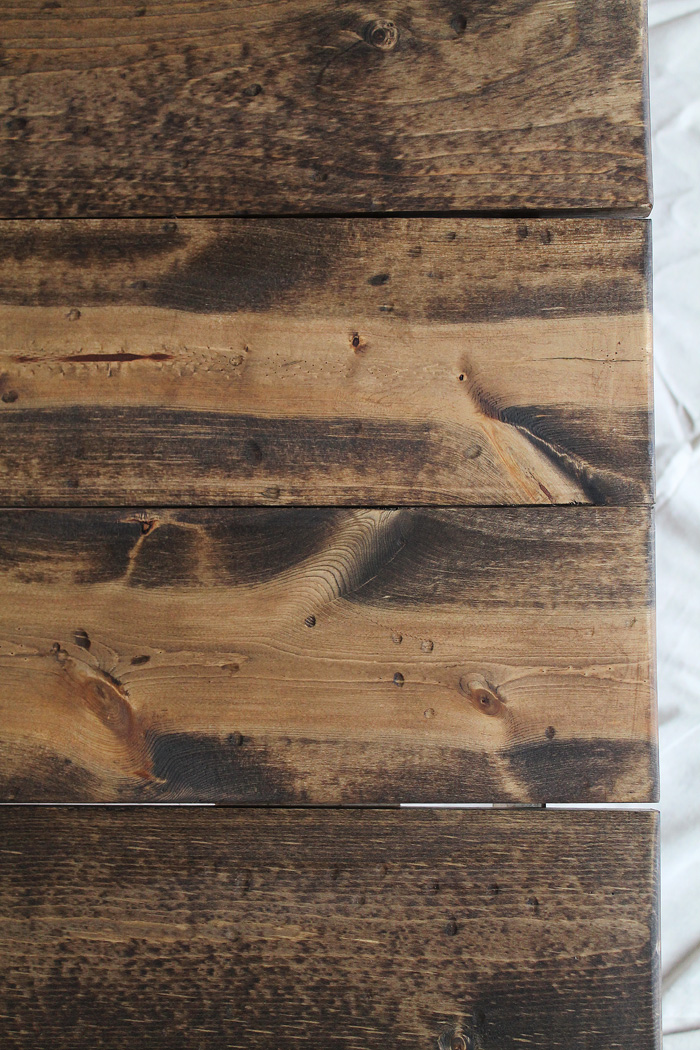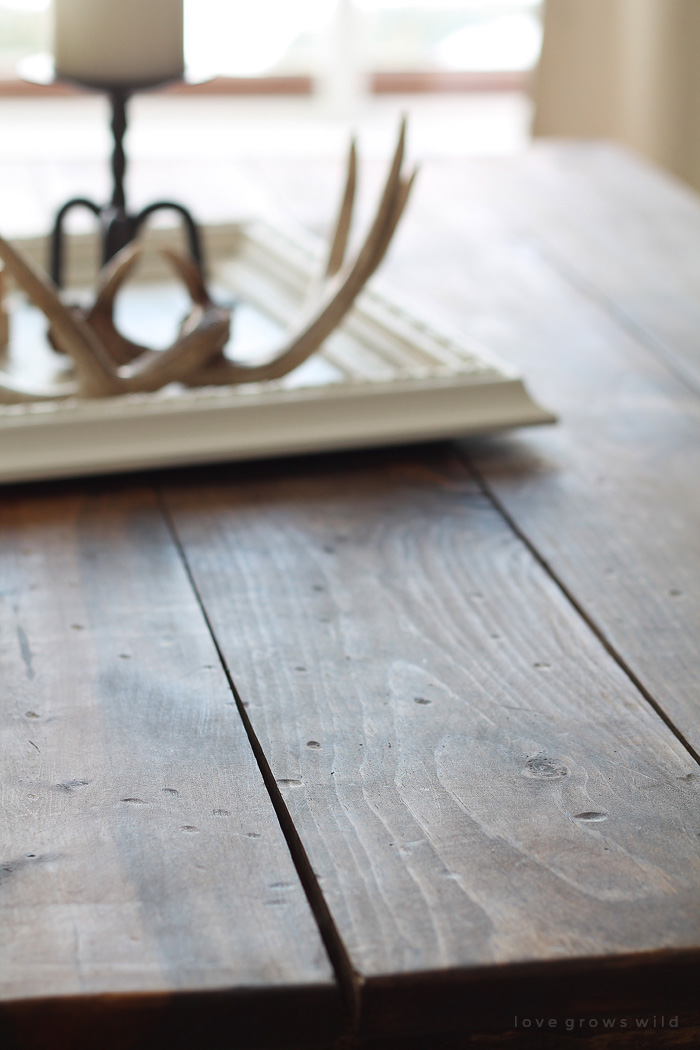 I love how the new table warms up the room, balancing the cool gray and white on the walls. It's the perfect spot for having a coffee date with friends, playing a board game with the kids, or building a fort out of pillow and blankets… the boys have had a blast doing this lately!
I'm so pleased with how this build turned out, and it definitely inspired me to build some more furniture for our living room/dining room…
Spoiler Alert! There's going to be a matching farmhouse table and benches in our dining room! Eek! Stay tuned. 🙂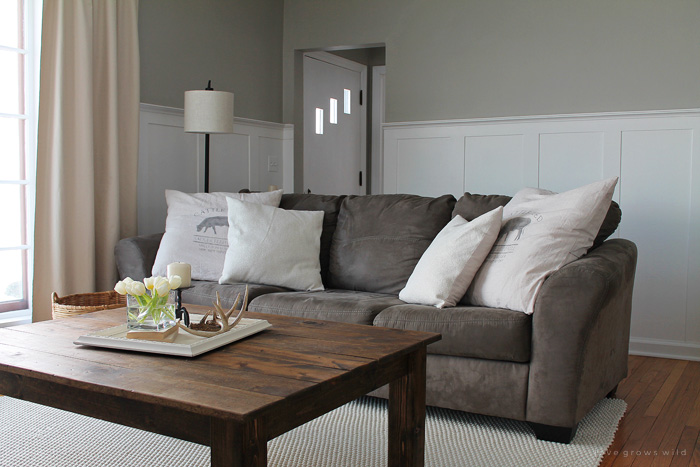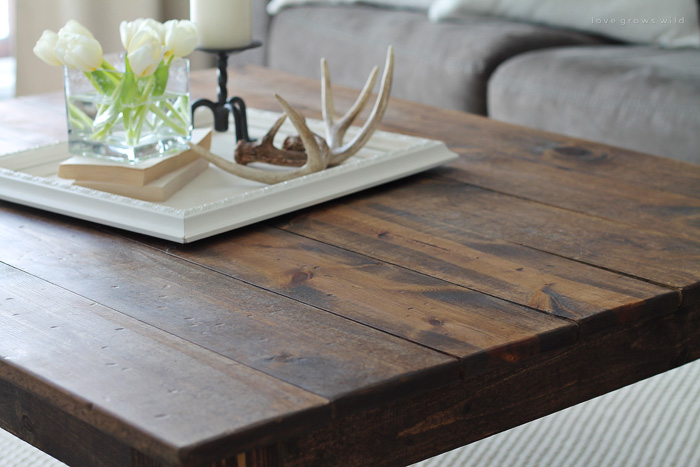 TELL ME WHAT YOU THINK! Leave me a comment below and share your thoughts on the new table and if you'd like to see more build plans like this on the blog. I can't wait to hear your feedback!
Are you making this project? I'd LOVE to see it! Post a photo of your creation on Instagram and use the hashtag #MyLGWProject. It may just get featured!
---
Like what you see? Subscribe to Love Grows Wild so you'll never miss a post!
Follow along on Pinterest, Google+, Instagram, and Facebook for more fun!
---

Check out more posts from our living room makeover!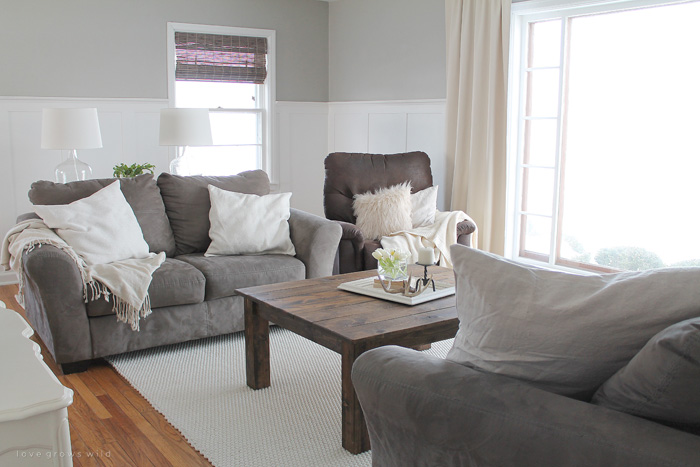 The Beginning of our Farmhouse Living Room Makeover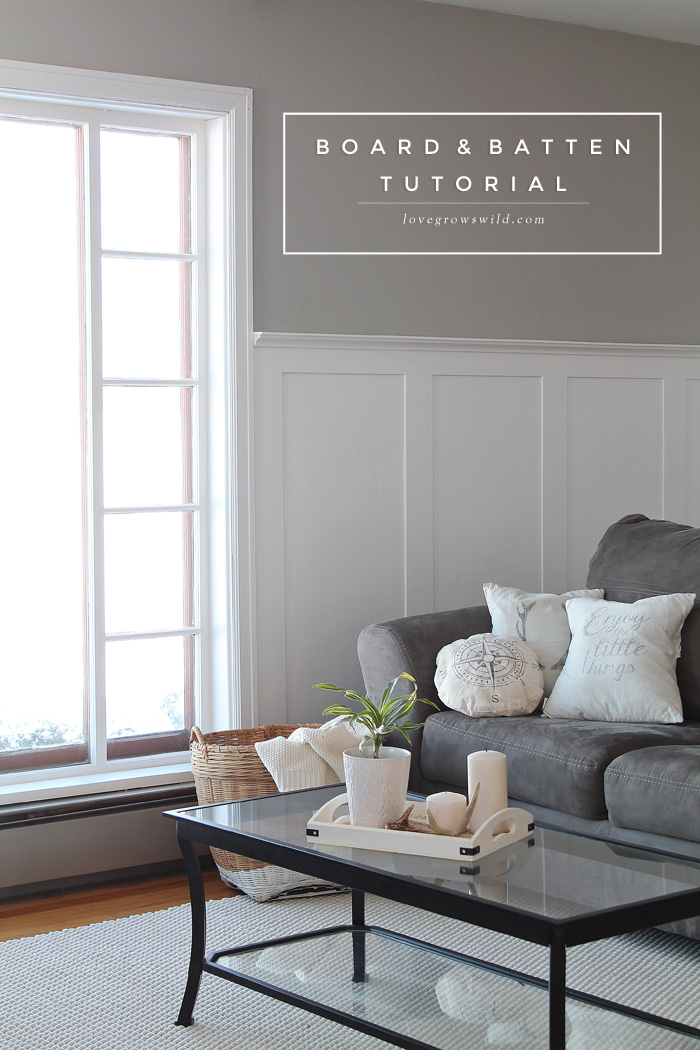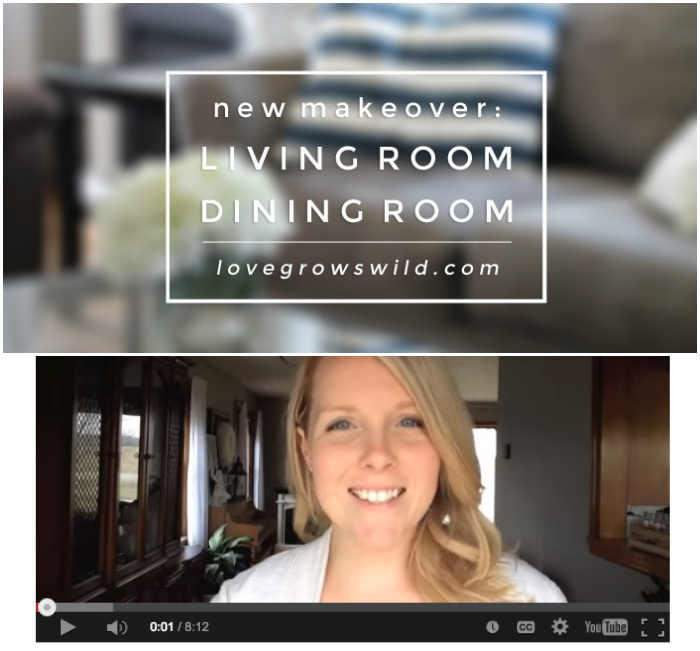 Our Living Room "Before" Video Tour
---
LET'S KEEP IN TOUCH!
Subscribe to Blog | Browse my Shop | Follow on Facebook | Follow on Twitter
Follow on Google+ | Follow on Pinterest | Follow on Instagram
– There are affiliate links within this post that I am able to earn a commission from. Thank you for helping support this blog!