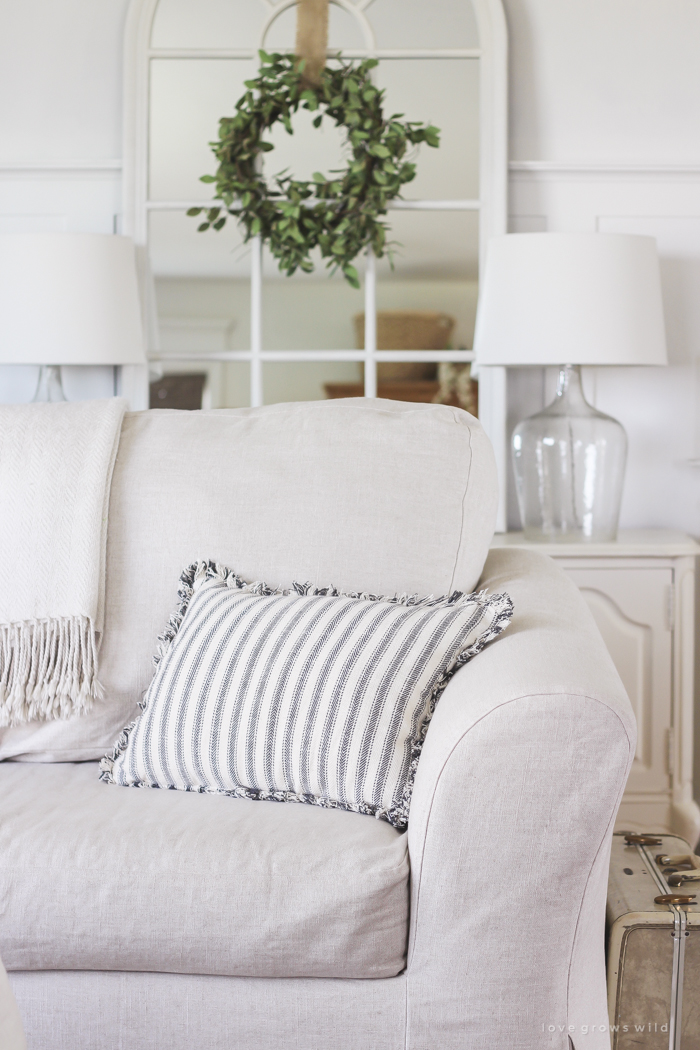 Brought to you by our friends at Comfort Works || Hi, sweet friends! A miracle has happened in our living room, guys. A beautiful, wonderful, life-changing miracle in the form of custom linen slipcovers on our sofas! I am so excited to finally share all the slipcover details with you guys, including the awesome company I ordered them from and the day I took a knife and pair of scissors to our couch cushions. Don't worry, haha… I'll explain all of that in a second!
So here is what our couches looked like a few months ago. This is the loveseat, and we have a matching 3-seater sofa on the other side of the room. They are not bad couches by any means, and I think I only bought them about 4 1/2 years ago. The problem is 4 1/2 years ago I had NO idea what my style was or what kind of couches I wanted. I saw a modern looking gray couch in a furniture store paired with modern black end tables and silver lamps and accessories, and I thought they were just the bees knees. We got rid of the end tables and coffee table while ago, but there was no way I was going to try and convince Jeremy we needed to buy MORE living room furniture when the stuff we had was practically brand new.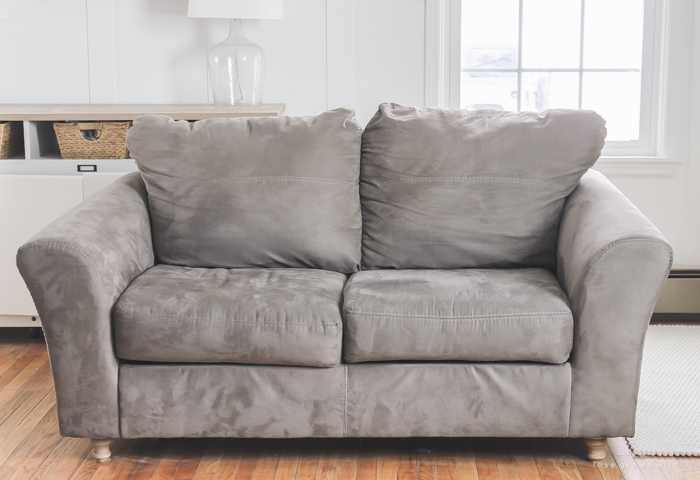 And besides that, what would I even get if I did sell these couches? In my mind, I picture beautiful light linen tufted sofas nestled in our cozy white living room, but the idea of my kids and husband anywhere near a white sofa makes me break out in hives. There are way too many sticky fingers, muddy boots, and glasses of sweet tea running around our house to even consider light colored sofas. So I told myself that I would just live with these for now, and maybe someday when the boys are grown I would look at new couches again. Sad sigh…
And then one day right before last Christmas, I got in touch with Comfort Works, who not only makes slipcovers for current and discontinued Ikea couches, but also makes CUSTOM sofa slipcovers as well. Out of sheer curiosity, I exchanged a few emails with them asking about how their custom slipcover ordering works and what types of fabric they offer. They sent me samples of different fabrics that I could test out, and to my surprise I found one that had just the look I wanted and might even survive in the Fourez farmhouse.
They have a handy guide on their website that gives a rating for each fabric for its durability, comfort level, and price. It also shows what each fabric is made with, whether or not it is pet/child-friendly, how many wash cycles it will withstand, and care instructions for washing, drying, and ironing. I found it to be really helpful when going through my fabric sample options.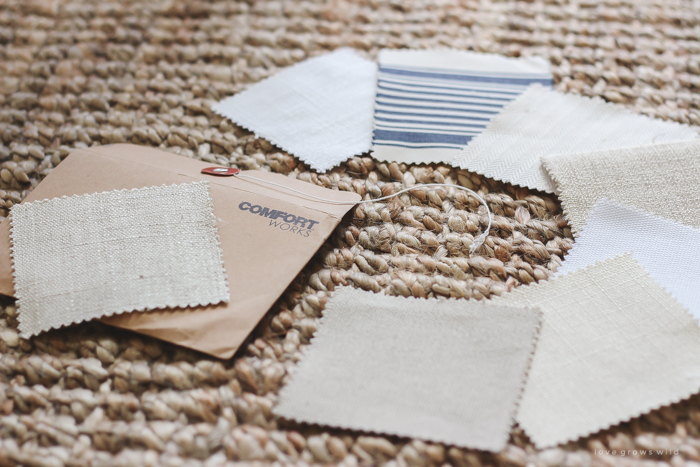 I decided to go with their Liege fabric, a 100% linen blend woven from raw unbleached natural linen yarns, which makes each batch unique. It also has a nanocoating that keeps the slipcovers clean and dry by allowing liquid to run right off the surface. I tested the fabric out myself by pouring water over it, and it really does resist liquids rather than allowing the liquid to soak into the material. I was sold! The Liege fabric comes in Eggshell (white) or Biscuit (tan), and I went with Biscuit since my living room walls are already bright white.
The slipcover process had been smooth sailing up until this point, but then I realized that slipcovers wouldn't work on our sofas because only our seat cushions are removable. The back cushions were attached to the frame of the couch, which meant I couldn't put a cover on them. Womp womp womp. : (
You guys know that there aren't many projects I'm not willing to tackle, right?
Picture this: It's about 11:45 pm just a few days before we had family coming over for Christmas, and I walk into the living room where Jeremy was sitting with a craft knife and pair of scissors. "Babe, don't watch what I'm about to do. I know what I'm doing… I've got this…"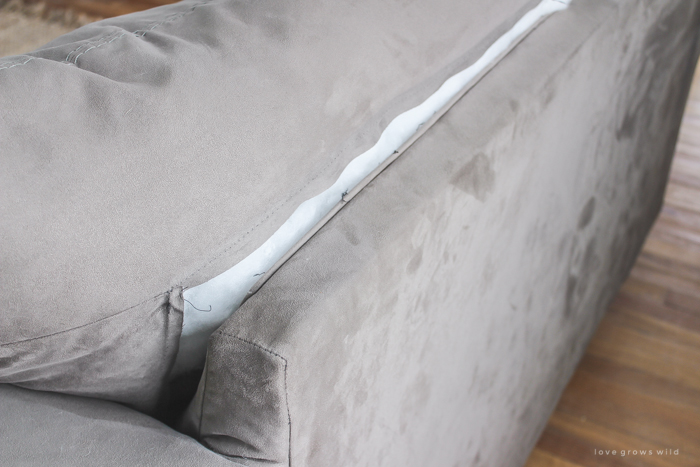 I started snipping threads along the back of the couch where the cushions were attached to the frame. I just wanted to take a little peek inside and see how the cushions were connected. It was only a few inches of fabric I opened up, and if I thought I could detach the cushions from the couch… cool. If not… I could always just stitch it back up and no one would ever know. A few days after Christmas, the kitchen renovation chaos started, so not only was our kitchen completely torn apart, but now our couches were too. I swear, I married a very patient man to be able to put up with all my crazy ideas!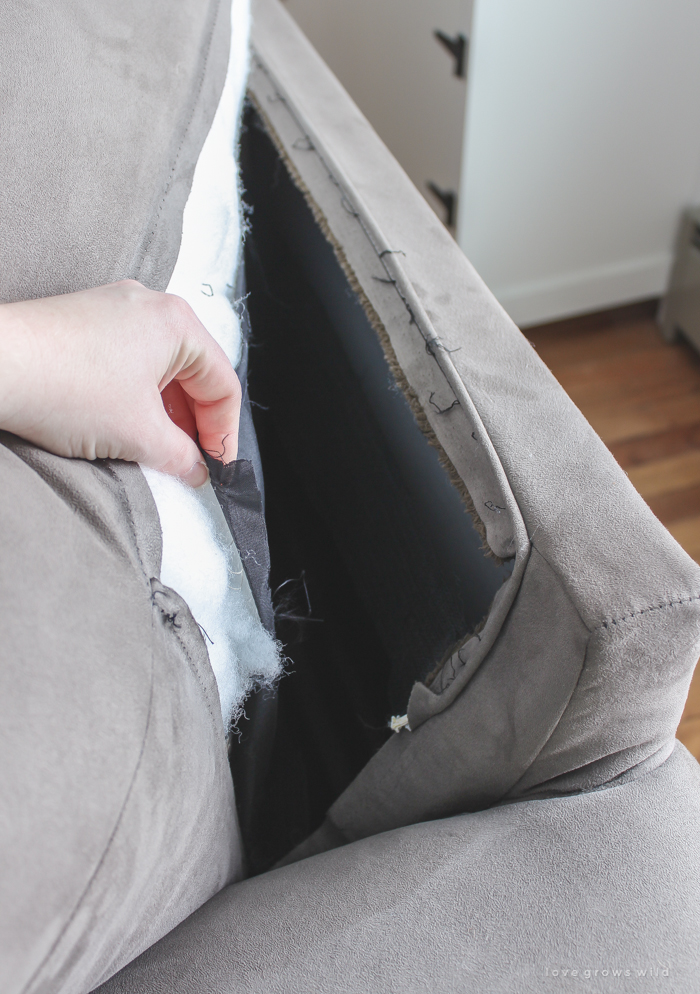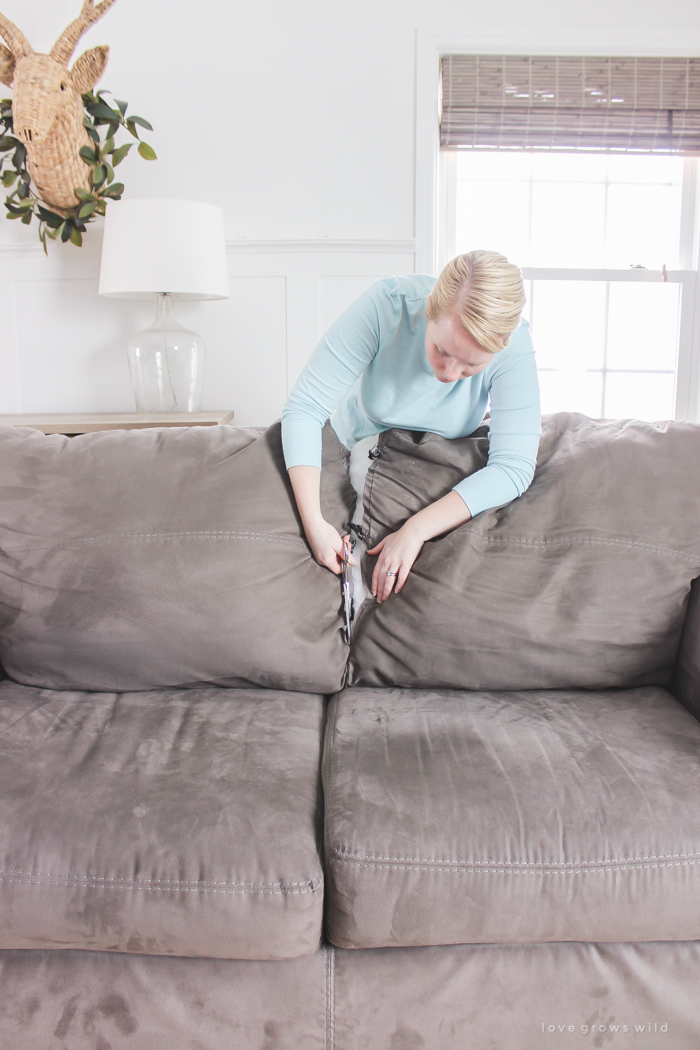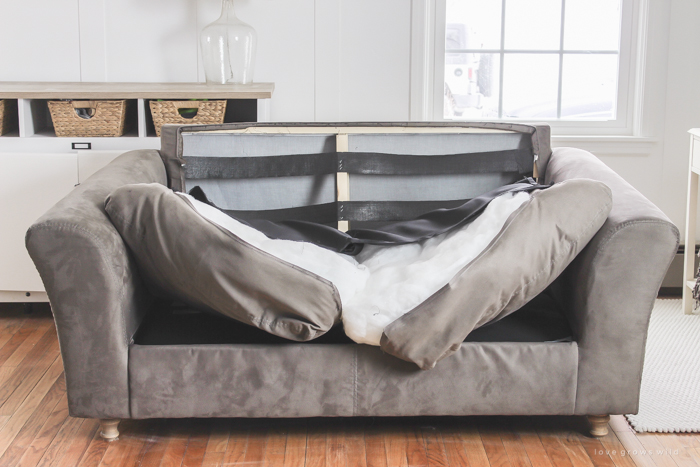 I cut all the seams where the cushions were attached to the frame, then I cut the two back cushions apart. It looked like two separate pieces, but they were actually sewn together.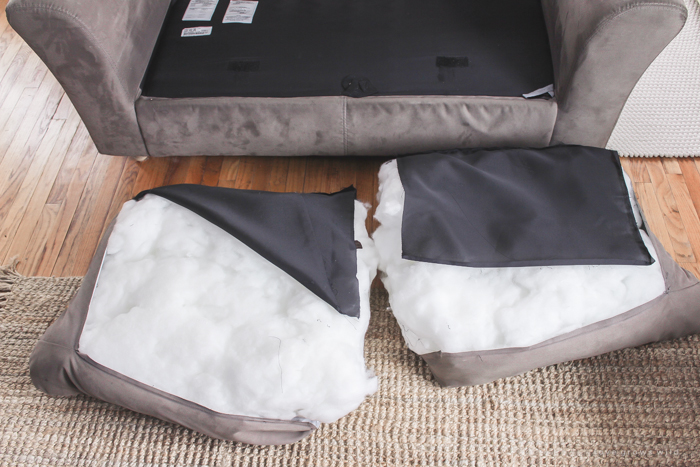 Then I removed all the stuffing and reattached the black backing fabric, which used to separate the cushion stuffing and the couch frame. I bought some fabric that matched the cushions and cut a piece to fit on the open end.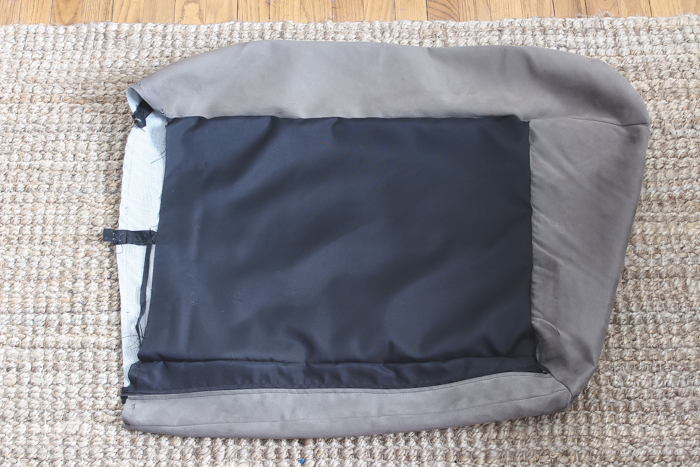 This part was kind of tough since I had no template to work off of. I measured the opening the best I could, cut the new fabric piece, and sewed it onto the cushion, leaving one edge open to put the stuffing back in. I used a sewing machine for the majority of the sewing and hand stitched the last edge once the filling was back inside. The cushions I detached and sewed back together certainly were not perfect, and you can tell that each one is a little bit different. But it was good enough for me because now I could get my slipcovers!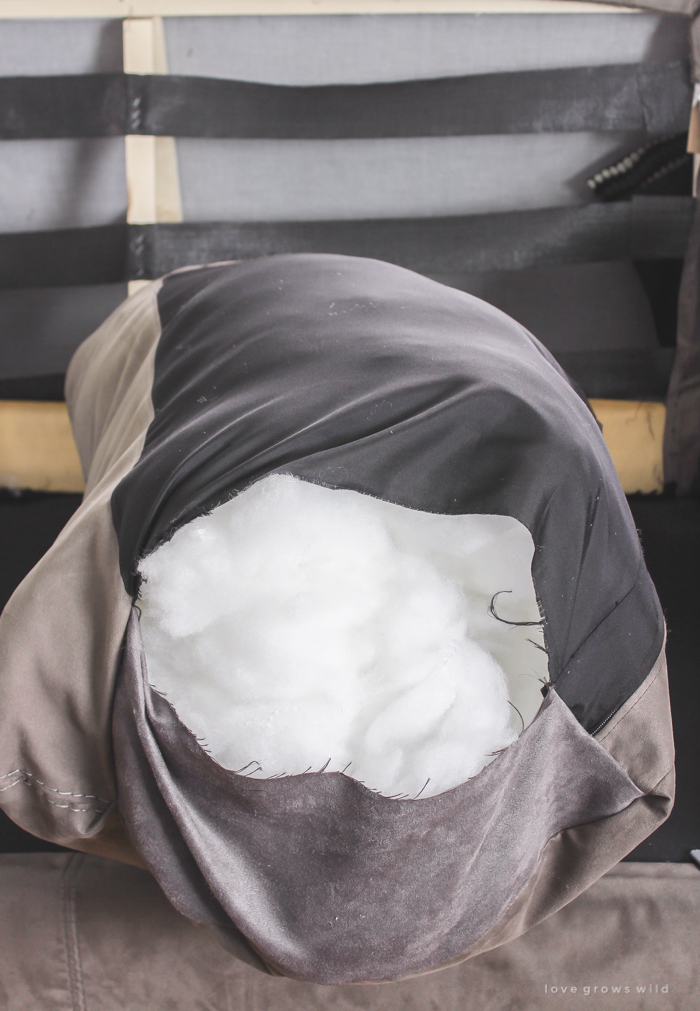 To finish the sofas, I took a big piece of sturdy fabric and stapled it to the frame to cover the open area. Again, not perfect or pretty, but once the slipcovers are on, no one will be able to see it anyway!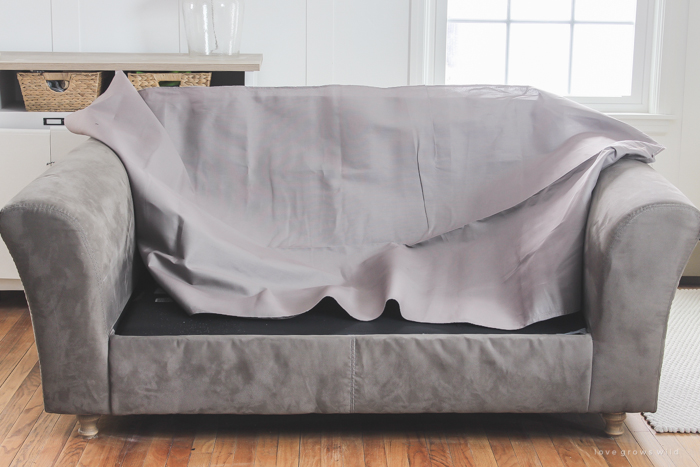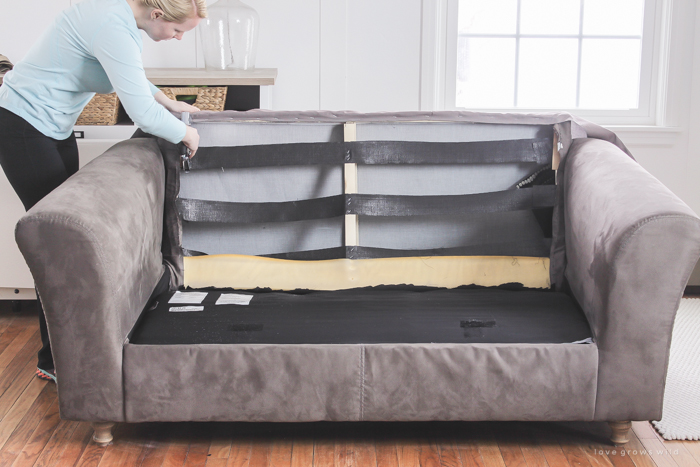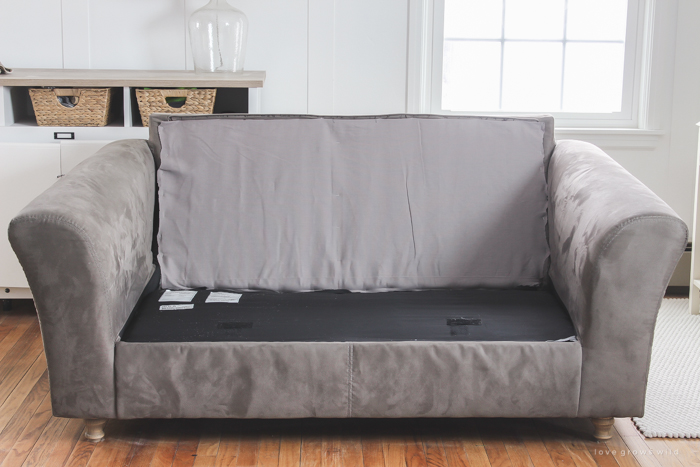 Now before you go cutting open your couch and totally freak out your sweet husband, I will say this little disclaimer: Every couch is built differently, and yours may not be exactly like mine. I just wanted to show you all the steps I used for detaching our back couch cushions as a guide in case you want to tackle yours as well. Here is what the couch looked like after surgery: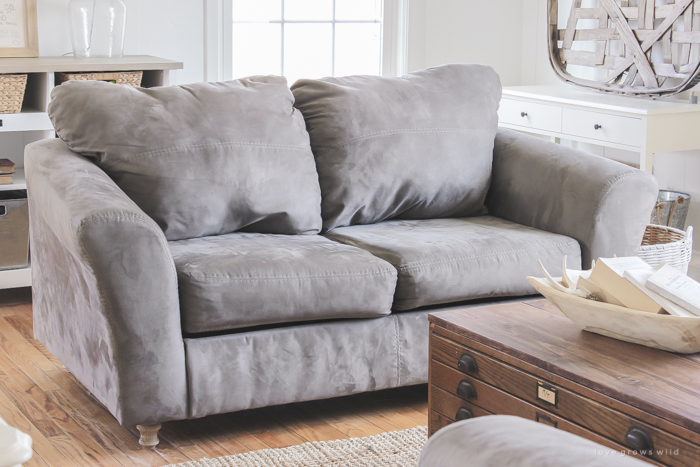 Comfort Works then walked me through how to measure our couches so that custom fit slipcovers could be made. After I sent all the measurements in, a few weeks later a beautiful package of slipcovers arrived at my door! Each piece has a handy tag sewn inside that says which part of the couch it belongs it, which made the "installation" process super easy.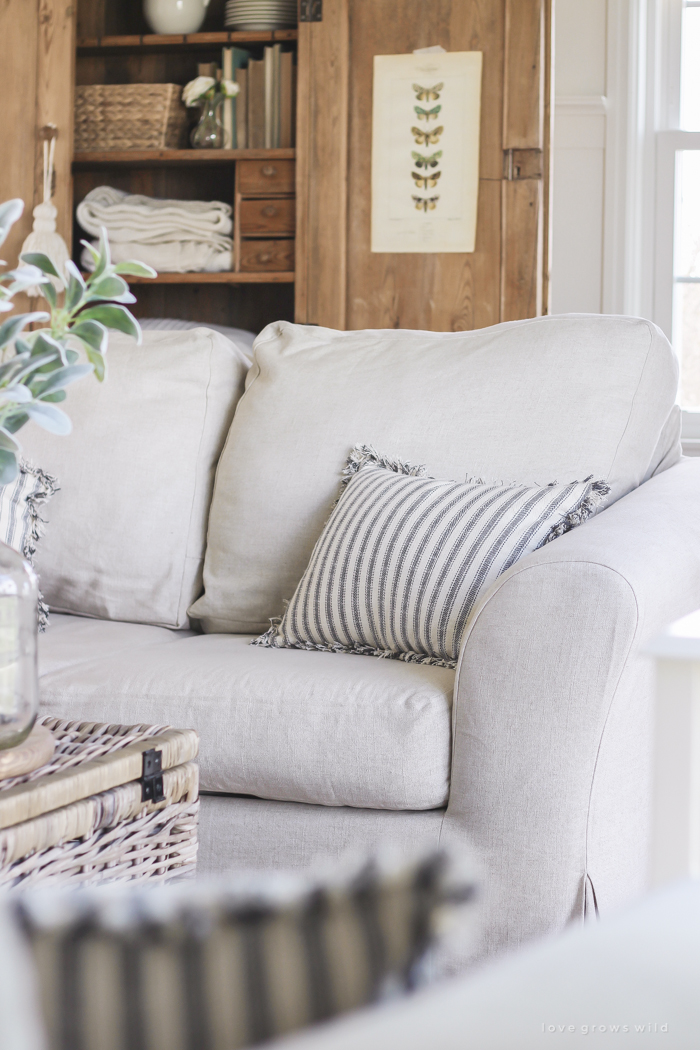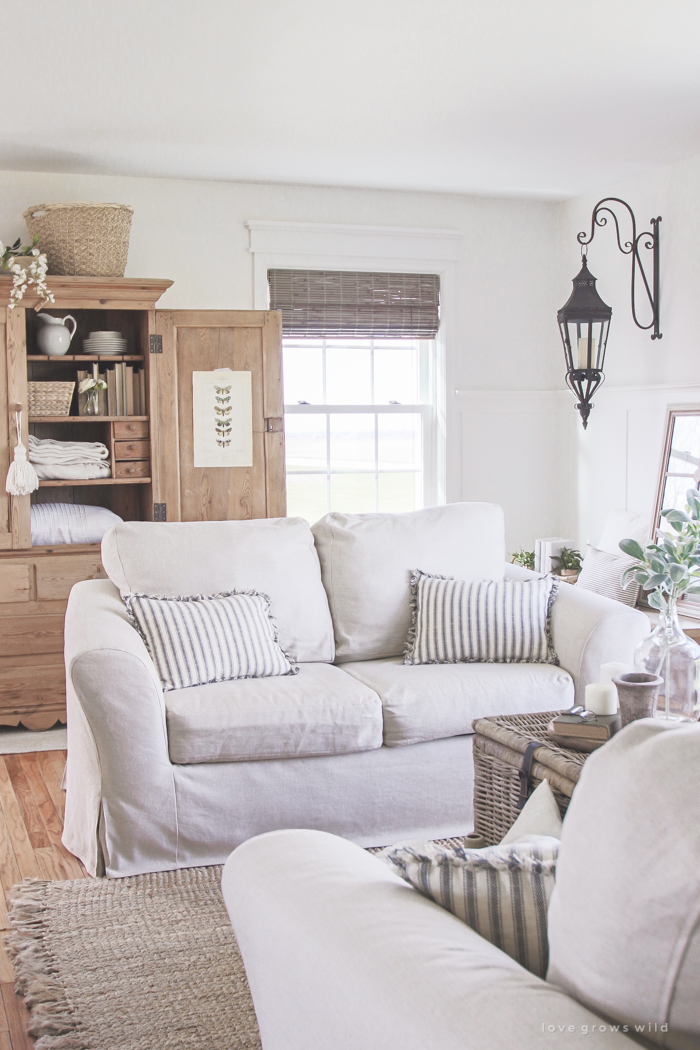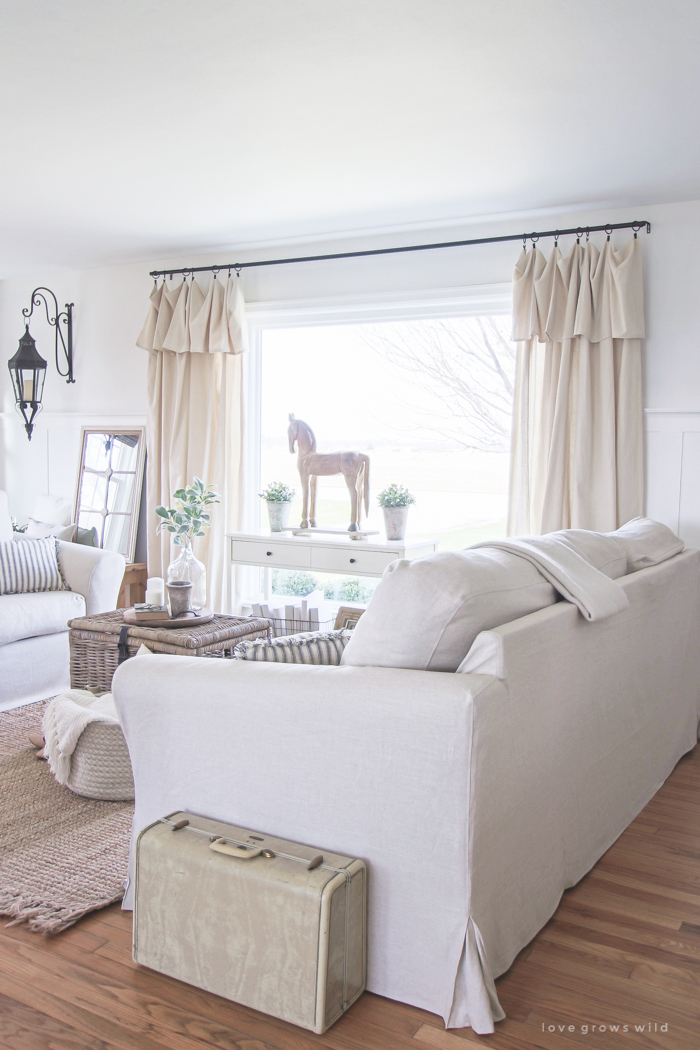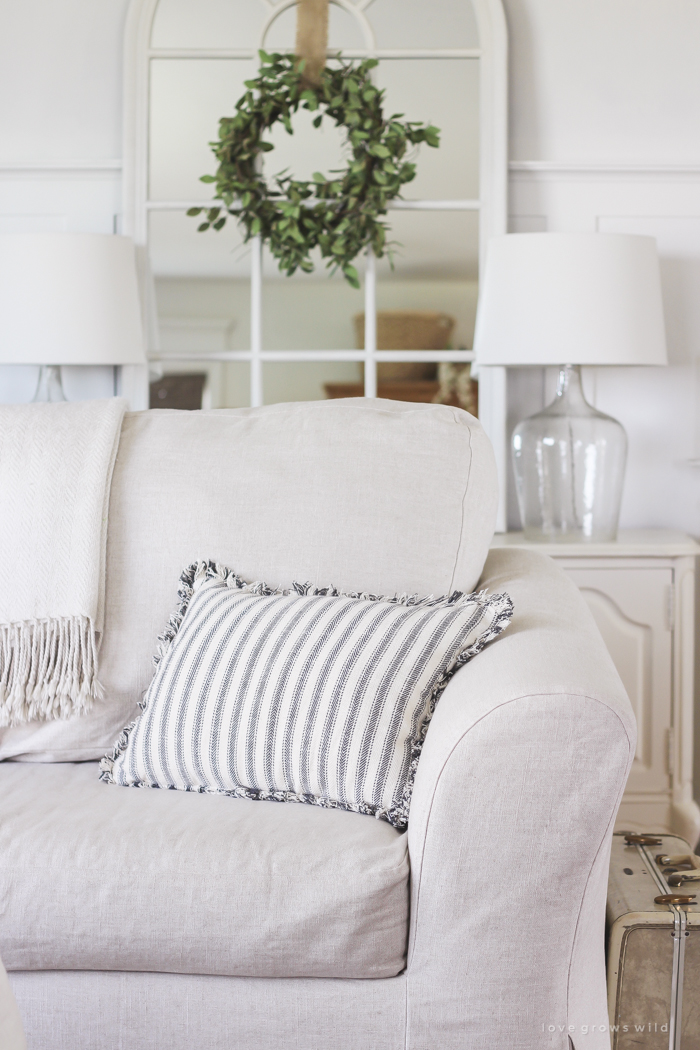 Because these covers are custom made, we were able to add pleats in the corners to dress them up a bit. And I just love the cozy, relaxed look of the linen fabric. When the slipcovers first came out of the package, they had some wrinkles due to being folded for shipping, but after a few weeks of being fitted on the couch, the wrinkles smoothed out nicely. I ironed some of the more stubborn wrinkles on a low heat setting, but this type of fabric is supposed to have that relaxed lived-in look. Fits in perfectly with our farmhouse full of boys, right?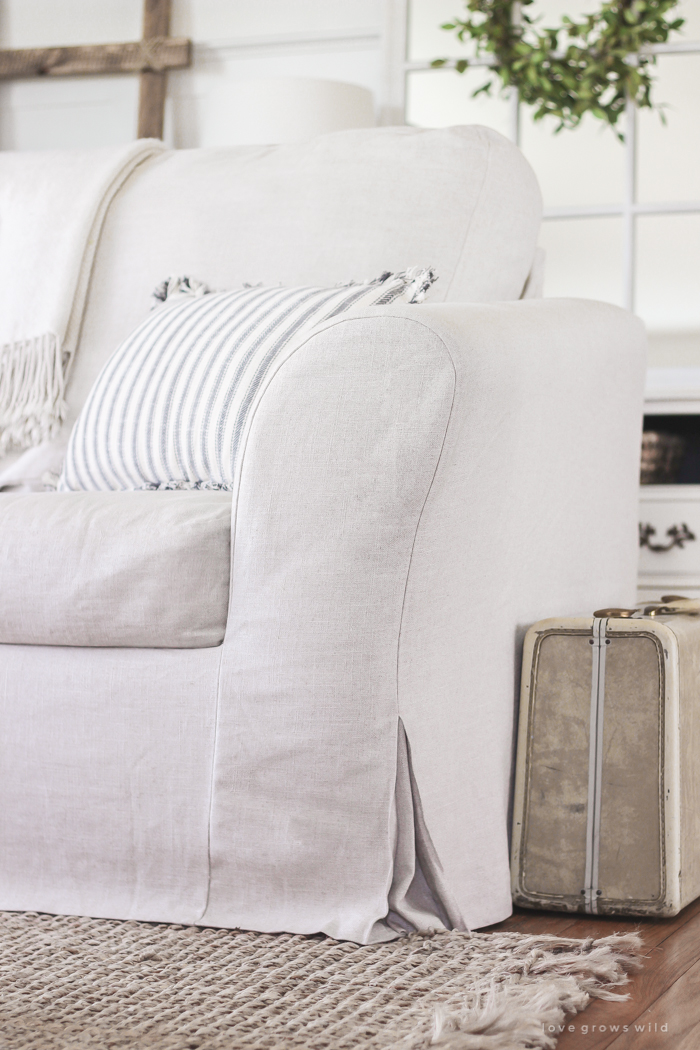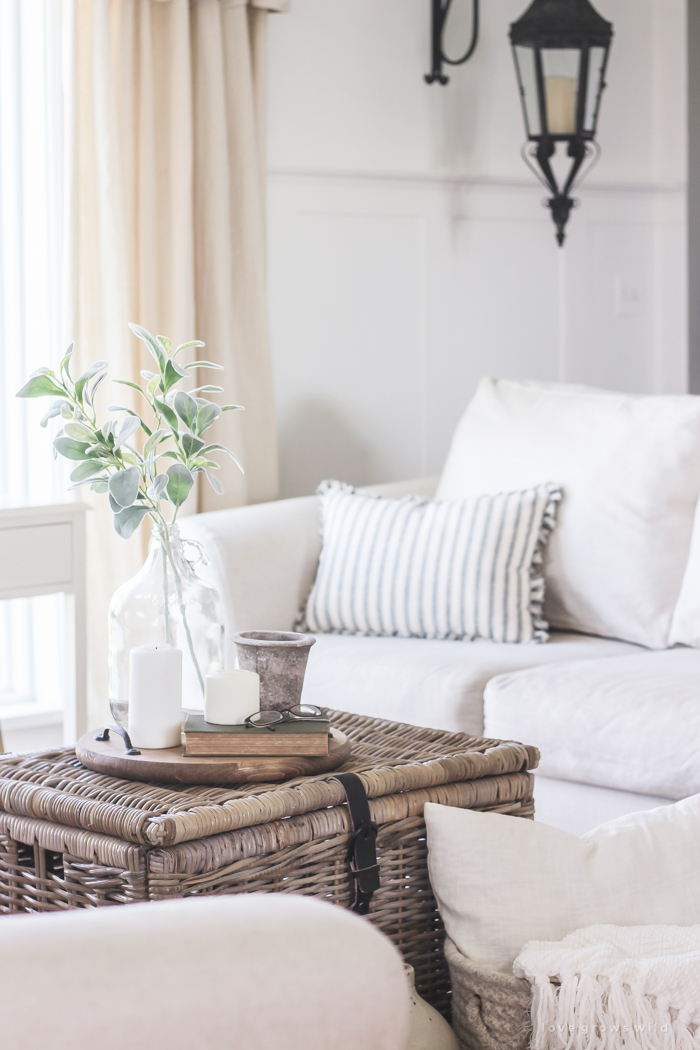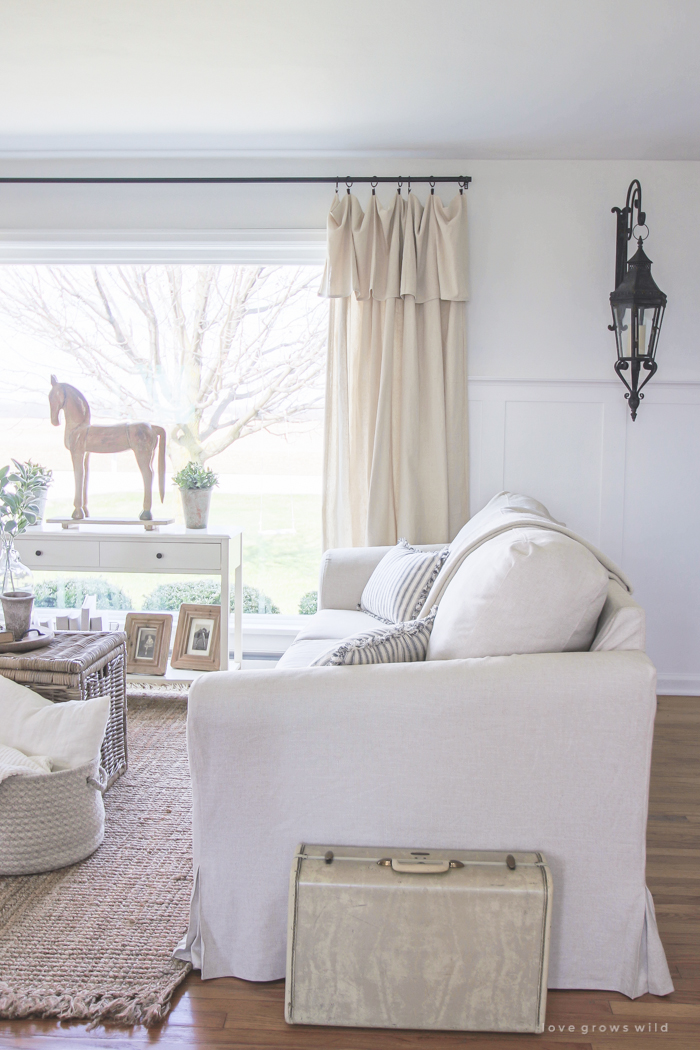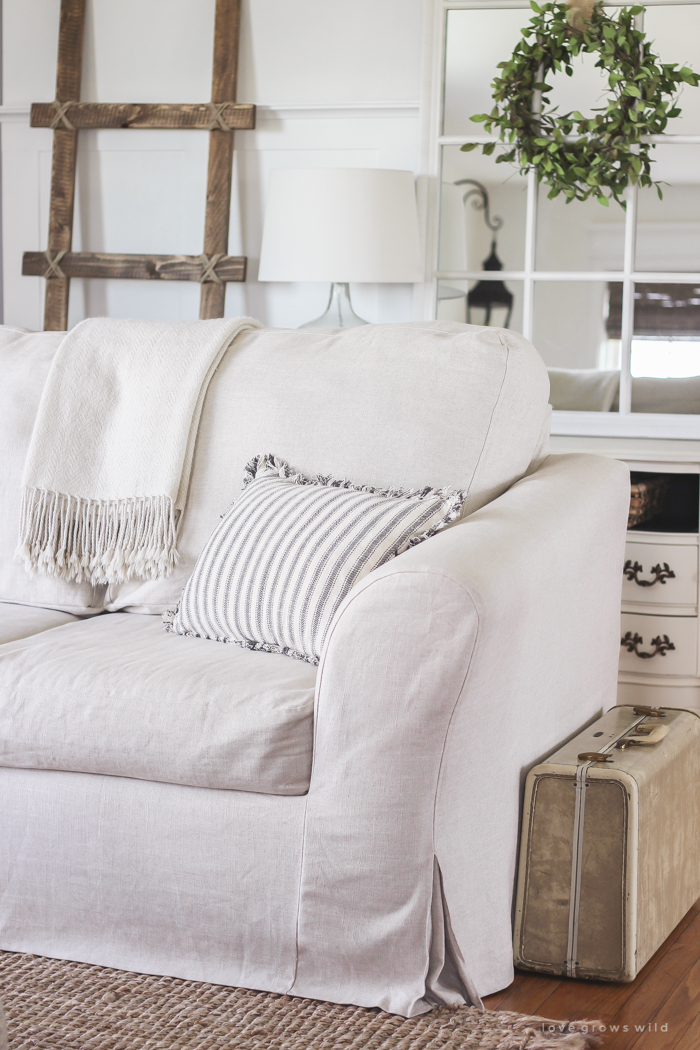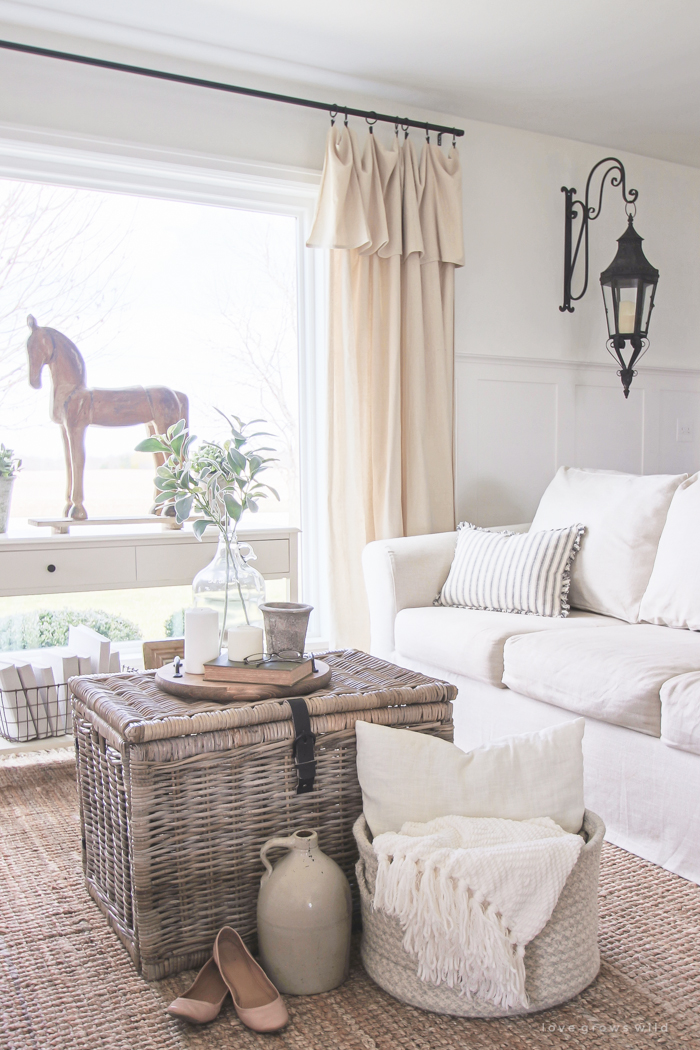 These slipcovers completely changed the look of our living room, and it is now the light, bright, airy space I've always dreamed of. And the best part is that I didn't have to get rid of perfectly good couches that we paid good money for. I still don't let the kids have food or drinks in the living room (I never have, even with the dark gray couches), but I worry so much less about spills and dirt knowing that I can just pull the slipcovers off and toss them into the wash whenever I need to.
So even though I had to perform extensive surgery on our couches during a massive kitchen renovation, I am so, so pleased with having these couches slipcovered now, and I would highly recommend anyone who is contemplating slipcovers to go for it! You can learn more about Comfort Works custom slipcovers on their website and also find them on Facebook!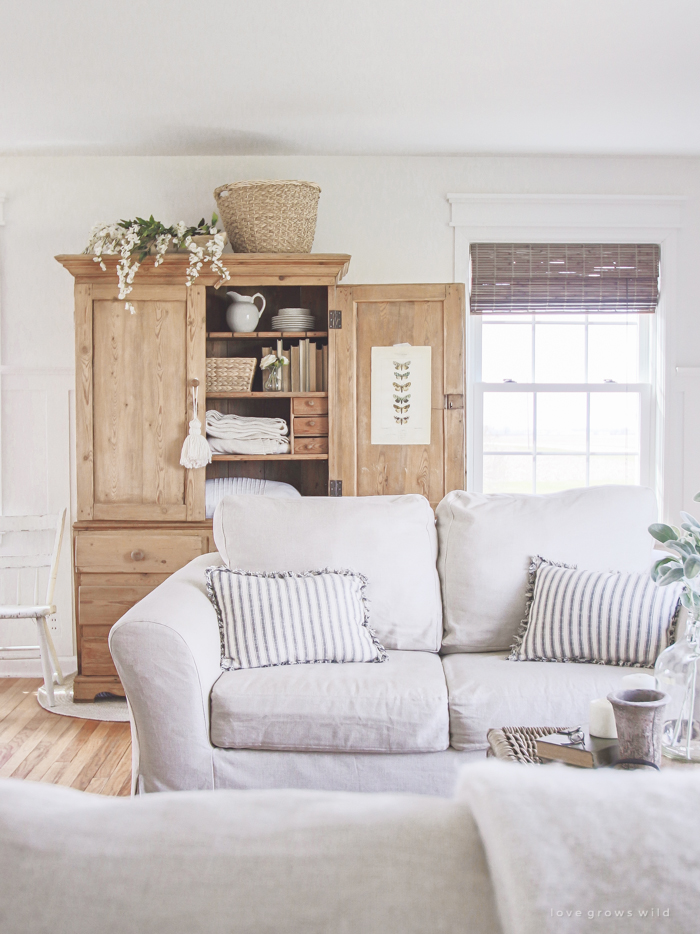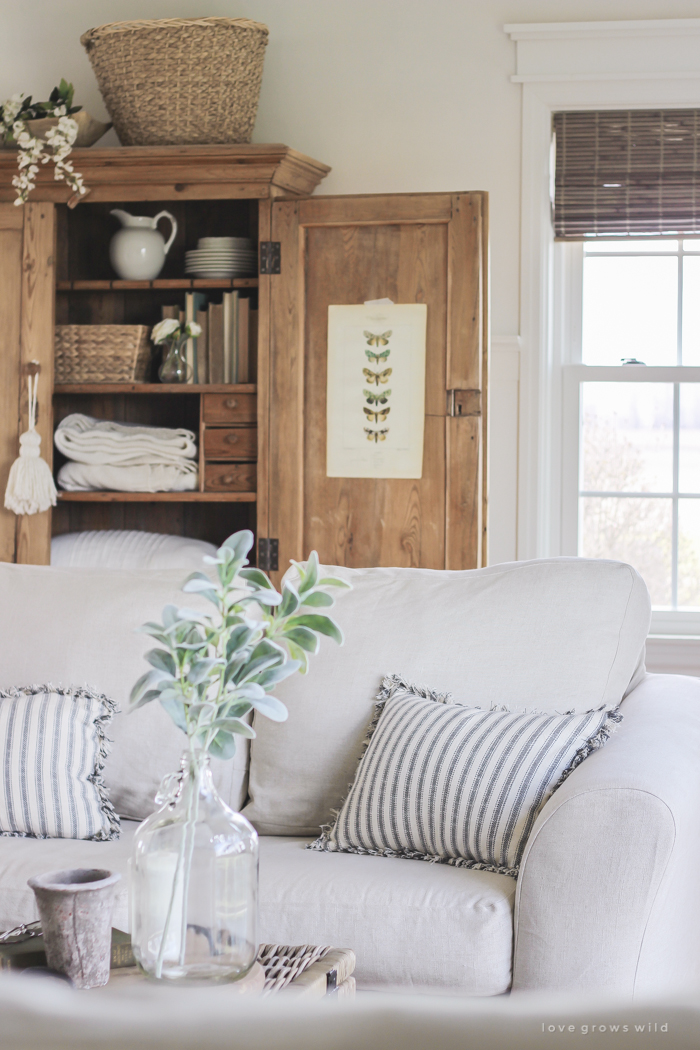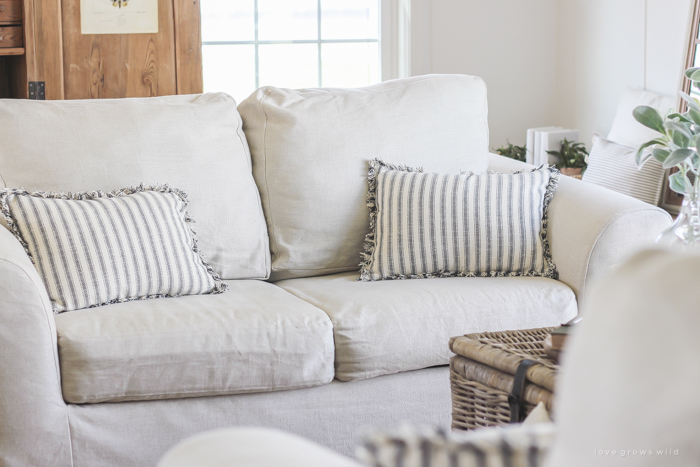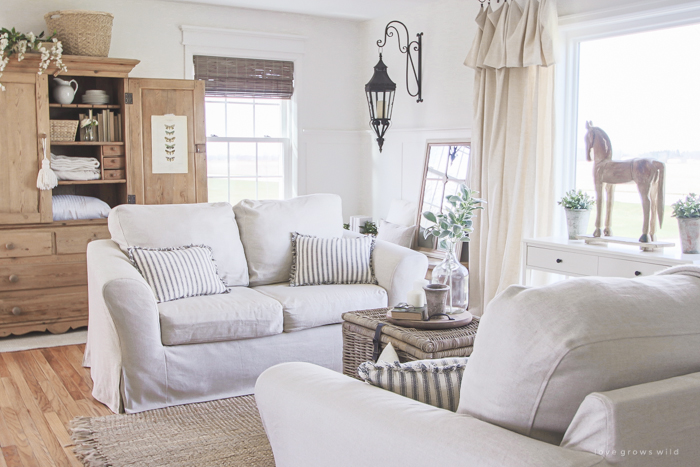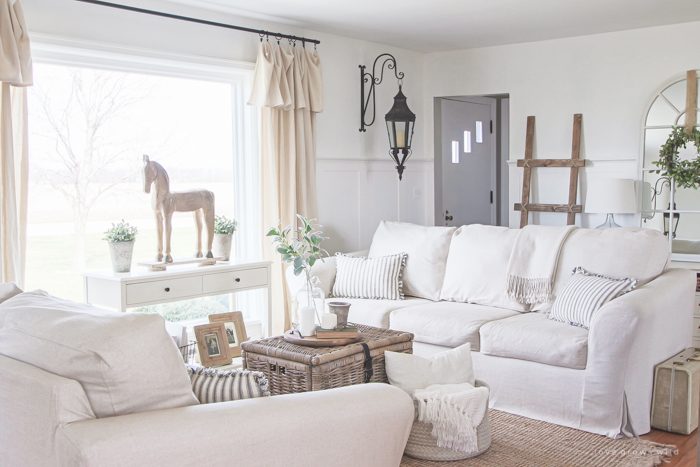 Okay guys, what do you think?? I know many of you have been dying to hear details since I posted this crazy photo on Instagram awhile back, and I'd love to hear your thoughts on slipcovers! If you have any questions, just let me know!

Living Room Source List:
Note: Some of the links in this post are affiliate links, which allows me to make a small commission from your purchase, but your purchase price stays the same. Thank you for helping support our blog!
linen slipcovers – Comfort Works
jute rug – Rugs USA
wicker trunk – Ikea
throw pillows – World Market
armoire – local antique store / on the blog
black lanterns – Hobby Lobby
bamboo roman shades – Home Depot
linen curtains – DIY (tutorial included in my book coming out in December 2016!)
white console table – Target
white cabinet – on the blog
clear glass lamps – Target
white linen lamp shades – Target
arched mirror – Hobby Lobby
---
LET'S KEEP IN TOUCH!
Subscribe to Blog | Browse my Shop | Follow on Facebook | Follow on Twitter
Follow on Google+ | Follow on Pinterest | Follow on Instagram
This post has been sponsored by Comfort Works, and although though I was provided with the slipcovers reviewed in this post, I only recommend products and services I personally use and believe will benefit my readers. Thank you for supporting the brands that make this blog possible!