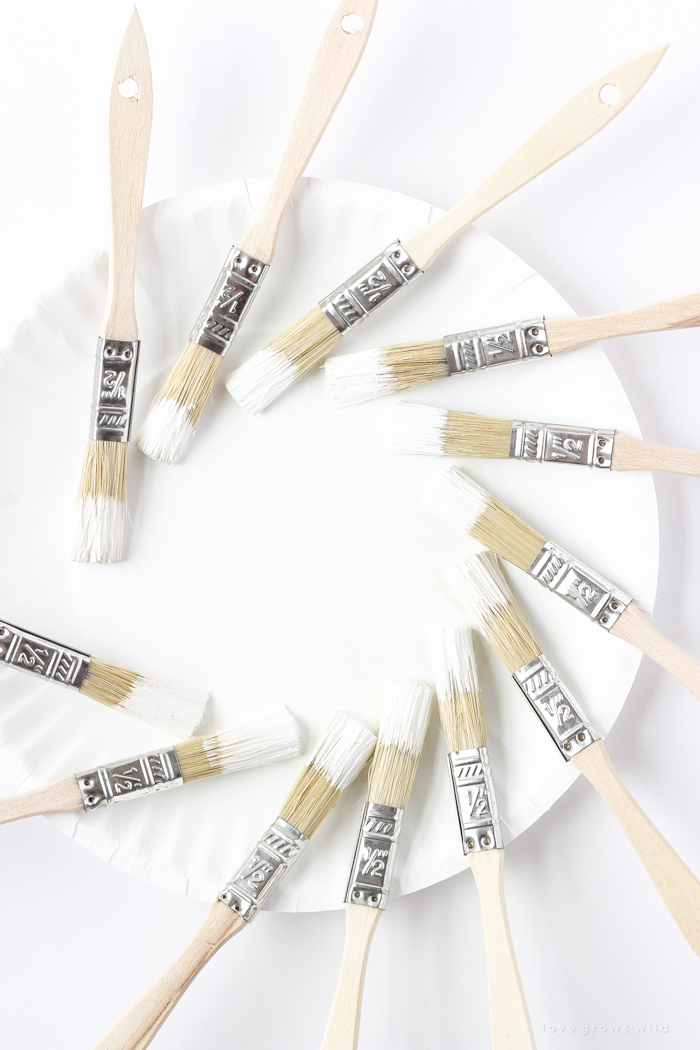 A few weeks ago I shared my favorite gray paint colors with you guys to make picking the perfect color for your home just a little bit easier. I got such a great response on that post that I'm continuing this paint series today with the next color I get asked most often about… white! I've slowly transitioned almost every room in our farmhouse to white walls because I love how bright, open, airy and light it makes the house feel. All the furniture and decor really stand out against the simple white backdrop, and our small farmhouse feels much larger than it really is because each room is kept light and bright.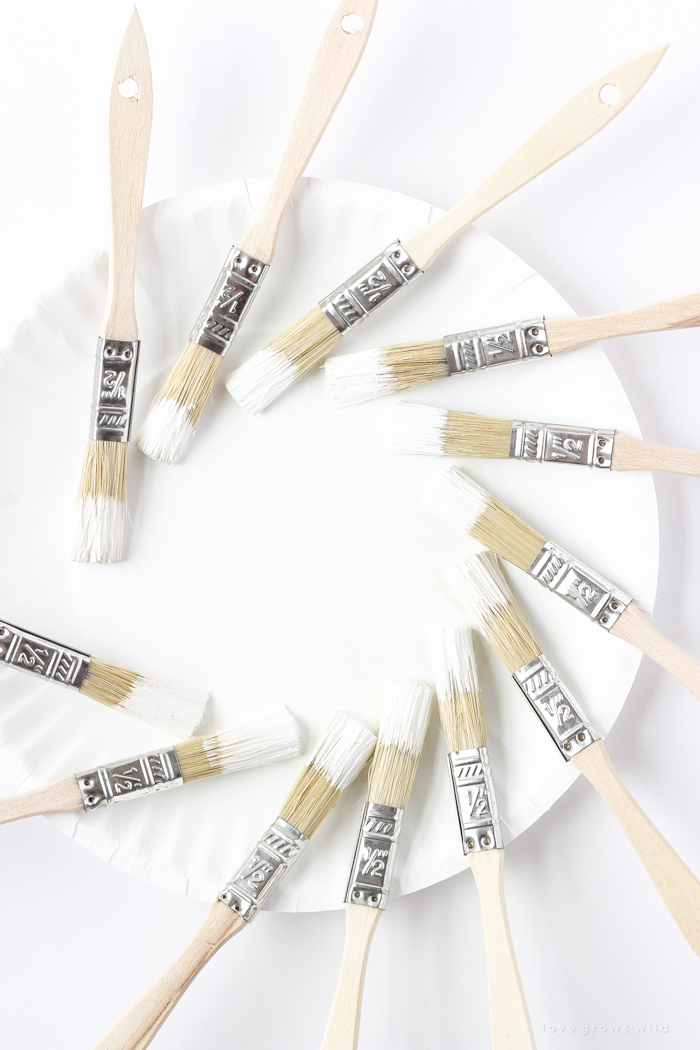 Many people probably think a white room would be stark and cold, but white can be warm, cozy, modern, country, minimalist, traditional, and so much more. I personally like to use more of a bright, pure white on my trim and doors and paint the walls with a creamy, softer, slightly darker shade of white.
In theory, you would assume going to pick out a white paint would be simple… how many shades of white can there really be? But if you've ever stood in front of paint swatches with dozens and dozens of white options, you know how overwhelming it can be. Some are too yellow, some are too green, and it's hard to find that "just right" shade. I tested out my top picks for white paint colors from various popular brands and painted a piece of paper with each color so you could see what the color looks like in real life next to the paint swatches from the store. So without further adieu, here are my favorite whites!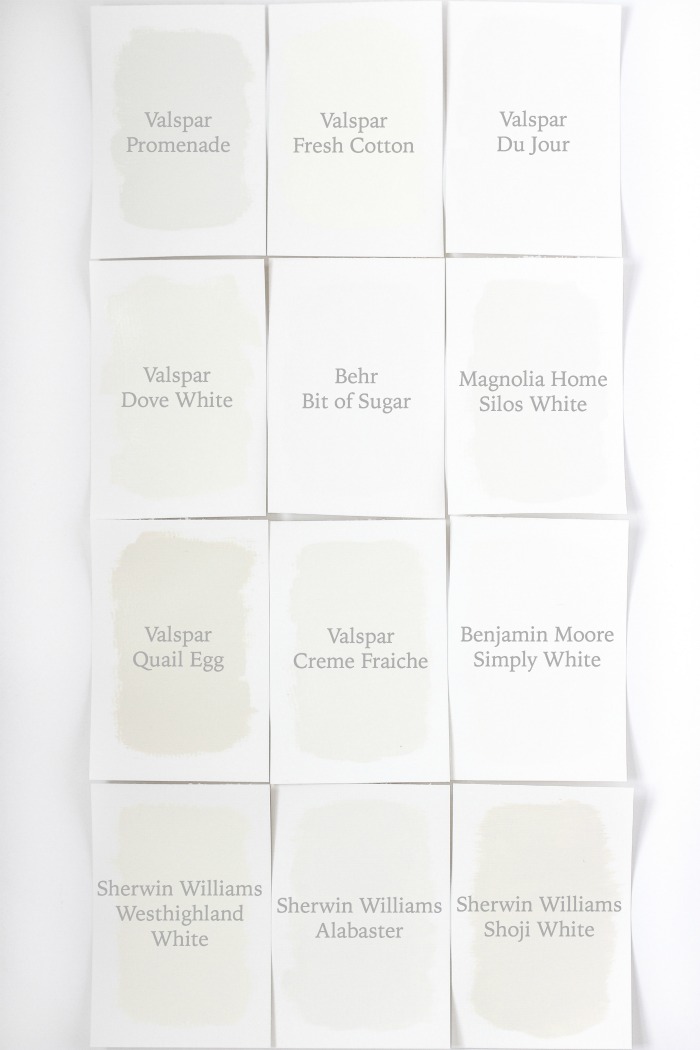 Disclaimer: It's a little hard to capture in a photograph the subtle variations of such light paint colors, but the above photo of all the paints together really showcases how each color compares to the next. I would use this as your guide instead of the individual photos below.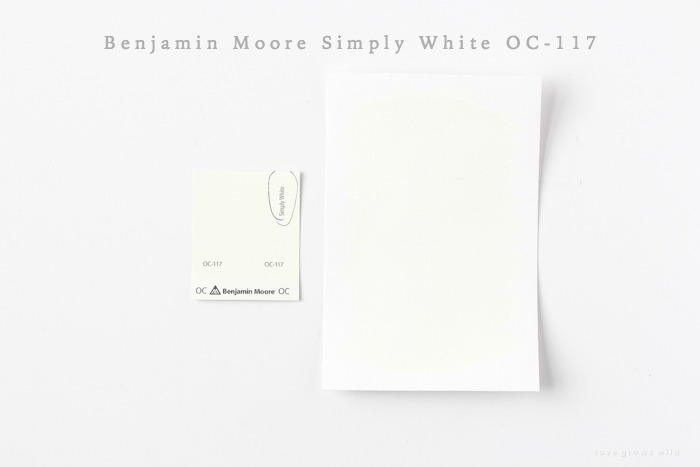 Simply White was named Benjamin Moore's color of the year in 2016 and for good reason. This appropriately named simple shade of white is warm without being too cream or yellow and is crisp without being too chalky or blue. If you're looking for a fail-proof shade of white, you can't go wrong with this popular choice.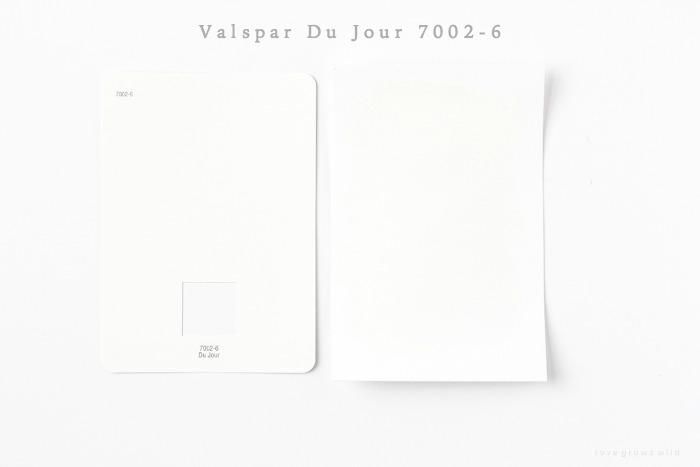 Du Jour is the first white paint color I used in our farmhouse and has been a favorite of mine ever since. A touch warmer than pure white but still has enough blue to keep it cool, crisp and clean. I love using this color on trim and doors and also painted my office and living room walls with it.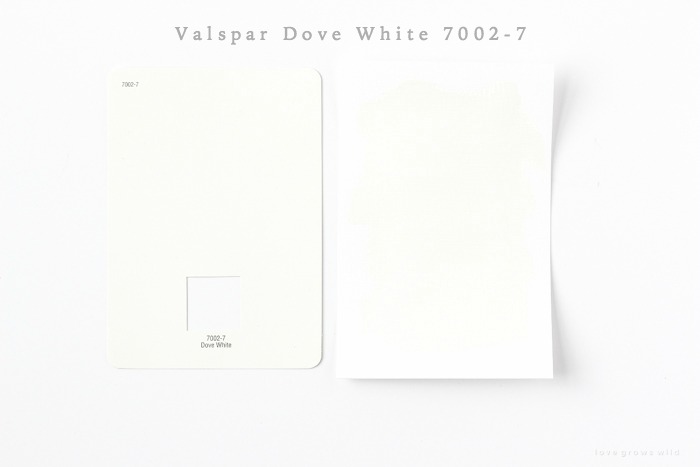 Dove White is my go-to when I want a softer, cozier, creamier white, and I used this shade in my bedroom when we added planks to the walls. It is warmer and a bit darker than Simply White, which reads softer on the eyes.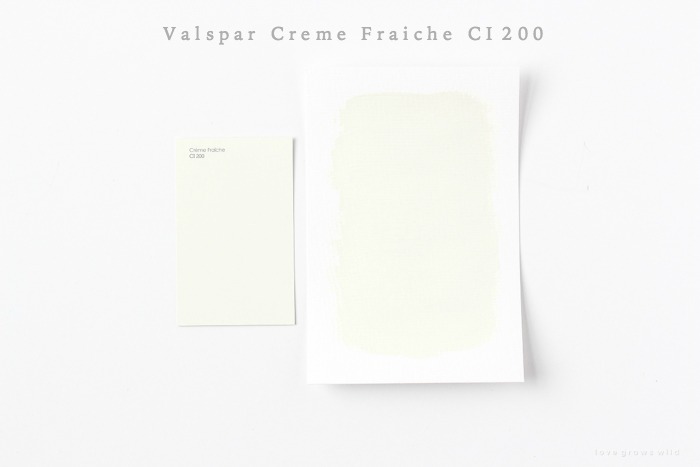 This soft white is right in between the lightest and darkest whites I chose and has just the slightest hint of green-gray. Perfect for someone wanting a more modern off-white that doesn't feel warm.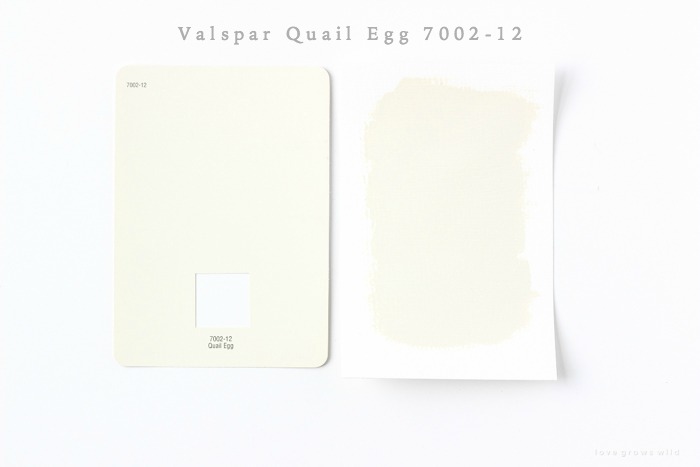 Quail Egg is a darker warm white that leans a little closer to tan. It is still very soft and pretty, but has more orange undertones that makes it feel extra cozy.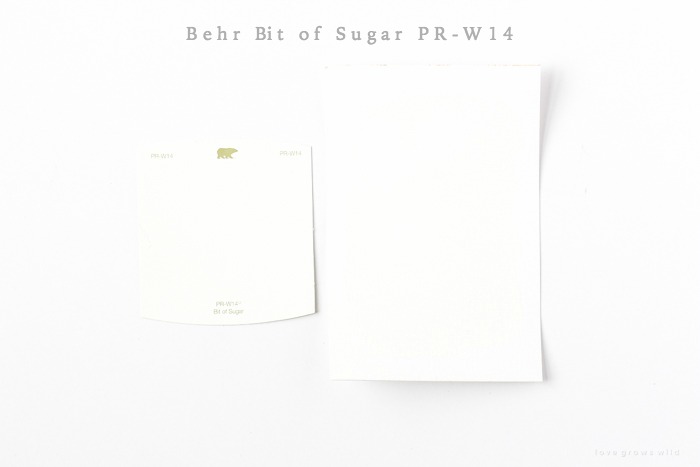 Bit of Sugar is a beautifully balanced bright white that is similar to Du Jour, but slightly lighter. Not too warm or cool, which makes it perfect for trim and doors.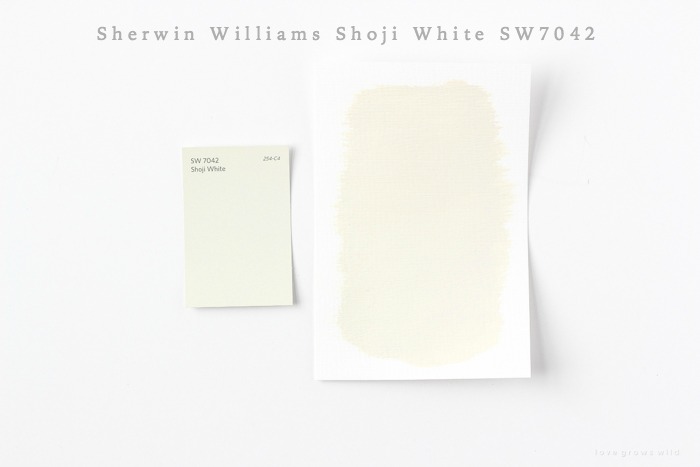 This is a gorgeous warm white with a subtle gray undertone. A little darker than Dove White but not quite as saturated as Quail Egg. Not too beige or too gray… just right.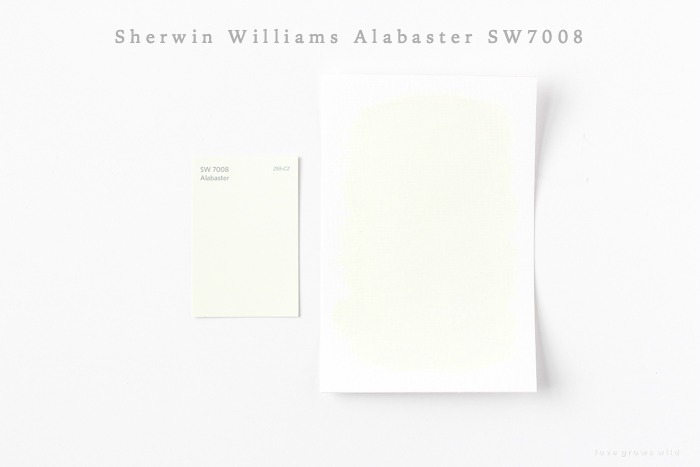 Named color of the year by Sherwin Williams in 2016, this natural white reads as a very very light gray. Perfect for adding just a whisper of color to a room, and would look beautiful next to bright white trim.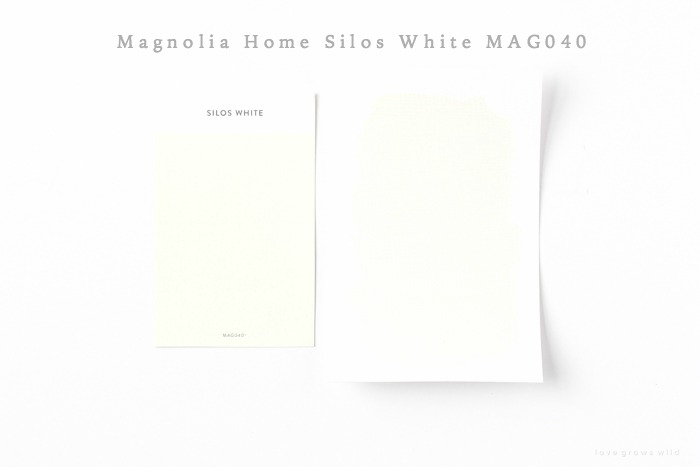 Very similar to Alabaster, but just a touch darker. This cool gray-white is perfect for keeping a room light and bright without feeling too stark.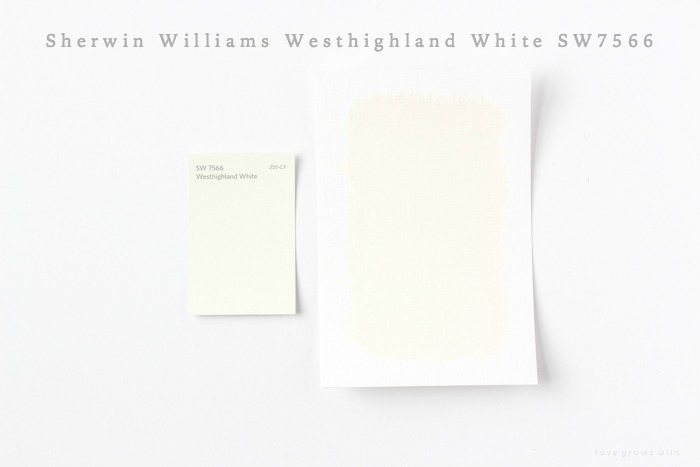 This warm white reminds me of Dove White and has just enough gray to keep from feeling overly tan. Light, creamy and very dreamy.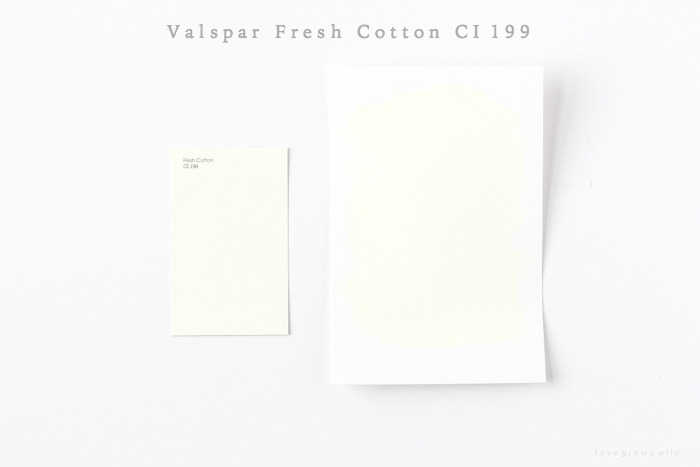 This light white is cheerful and sunny with green and yellow undertones. If you are looking for a really creamy ivory, this would be a great option.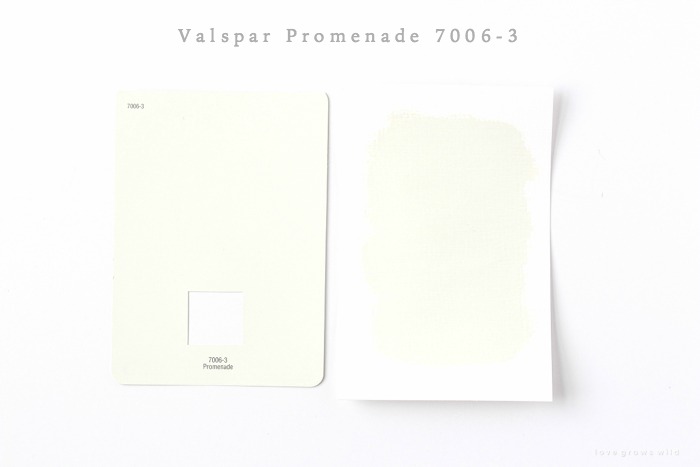 Similar to Alabaster and Silos White in keeping with the cooler neutral white-gray tones, but just a touch darker.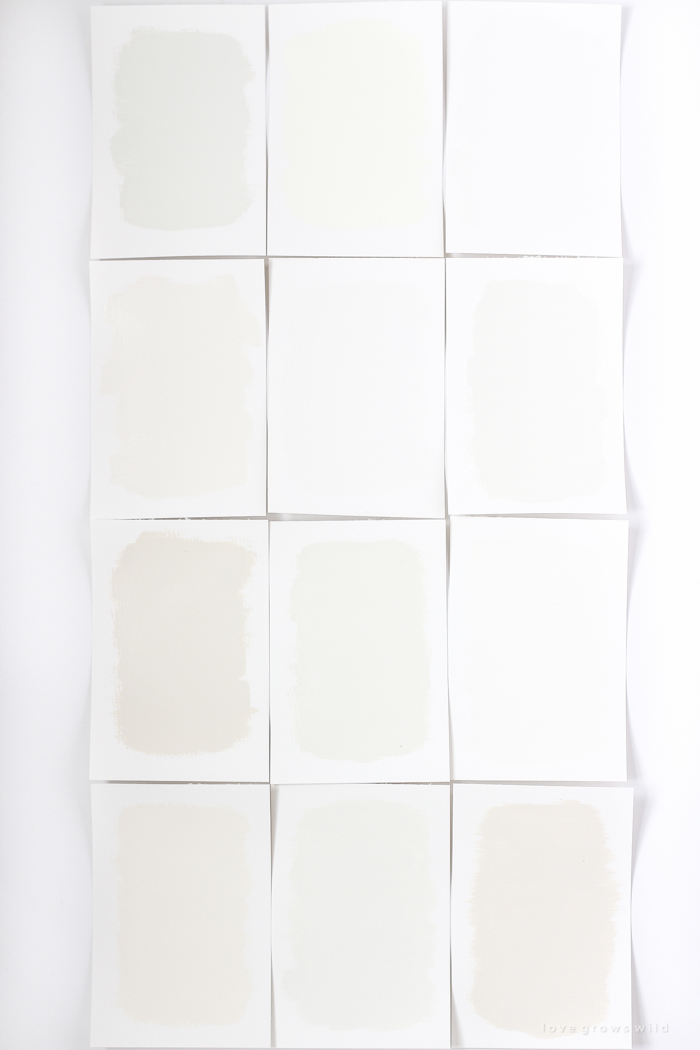 P.S. I would recommend always testing out paint samples in your own home before committing to a color because there are a lot of factors that can alter the way a color looks. I hope this guide gives you a starting point to pick out beautiful paint colors that will work well in your home, and I'd love to hear what your favorite white paints are! Now that we've covered gray and white, what colors would you like to see me test out next?
LET'S KEEP IN TOUCH!
---
Subscribe to Blog | Follow on Instagram
Follow on Pinterest | Follow on Facebook