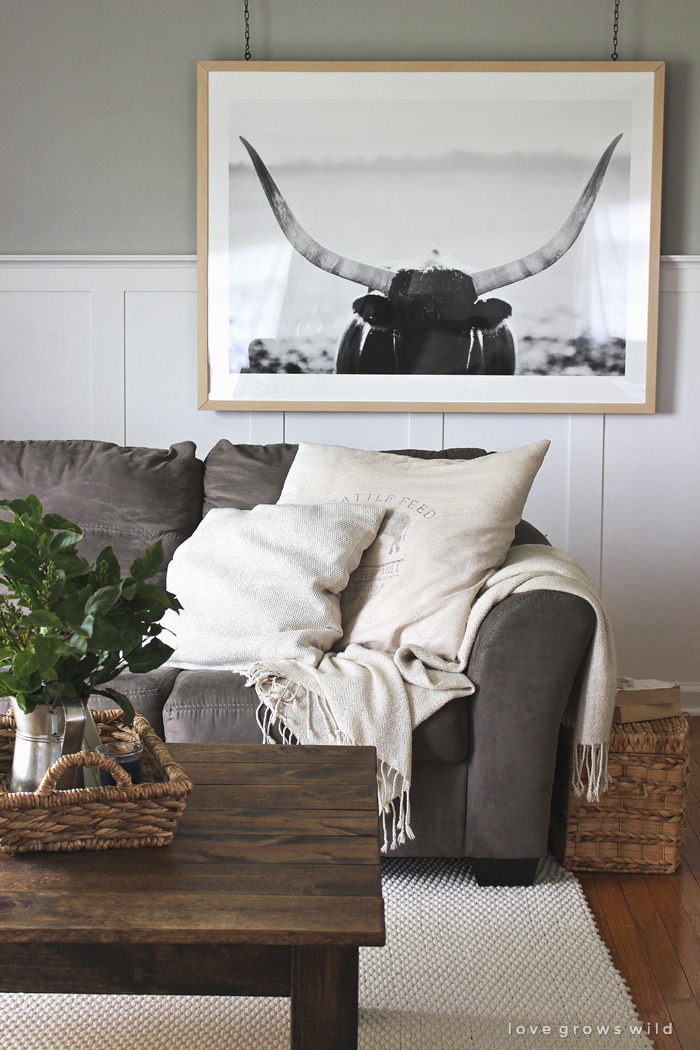 Gallery walls aren't the only way to fill up a big, blank space! Today I'm sharing the new large-scale artwork we picked out for our living room and how I hung it from the ceiling for an even bigger statement. This post is brought to you by our friends at Minted!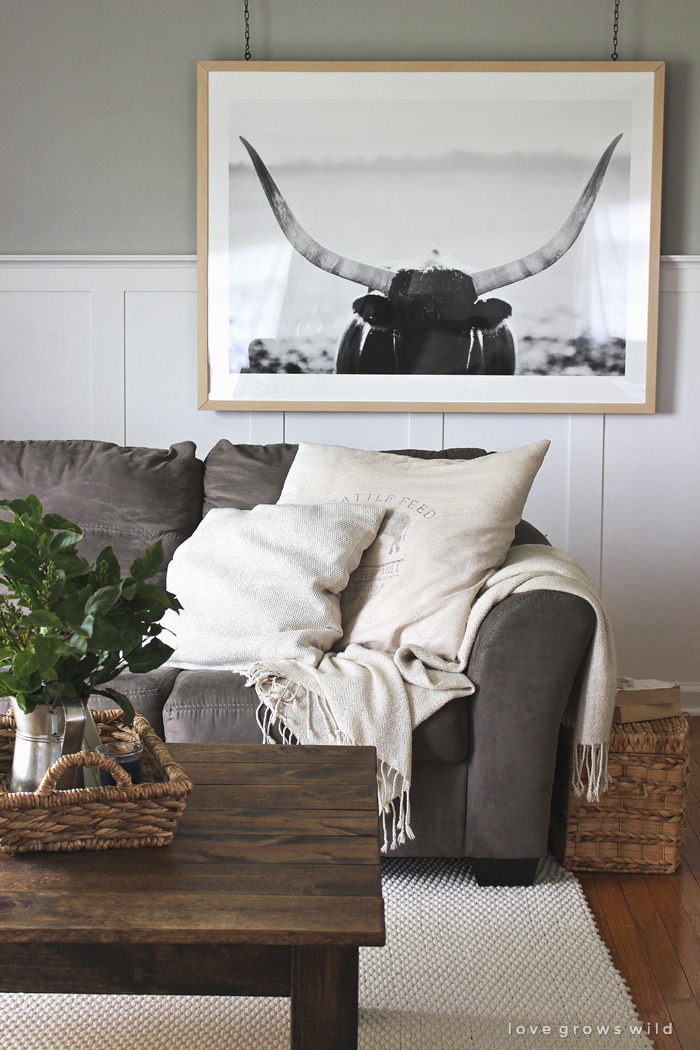 Okay, so we tackled the big makeover of our living room earlier this year, and I'd say it's about 85% finished. All the major things are checked off the list like board and batten walls, DIY farmhouse coffee table, feed sack-inspired pillows, and a big, chunky-framed floor mirror. I just haven't finalized all the little finishing touches just yet. Sometimes you need to live in a space for awhile and soak it all in before you can decide what needs to happen next, ya know?
Once we added the board and batten treatment to the walls, I knew I wanted to keep this space open and airy and not clutter every single wall up with something. So rather than put back up the gallery wall we had in here previously, I opted for a large-scale piece of art on the wall behind the big couch that would make a huge statement in the room, without adding the cluttered feeling of a gallery wall.
In keeping with our signature farmhouse style, I picked out a black and white bull with a gorgeous horn silhouette. This guy is HUGE… I'm talking 40″ x 54″ huge. It took a few days to get used to a giant bull sitting with us in the living room, but he's part of the family now, and we lovingly named him Beau. The first thing you see when you walk through our dining room into the living room is Beau the bull, and I love the big statement he makes in here. But once sweet Beau arrived on our doorstep, I had to figure out how I was going to hang him on the wall with about 2 inches of trim sticking out from the board and batten we added to our walls…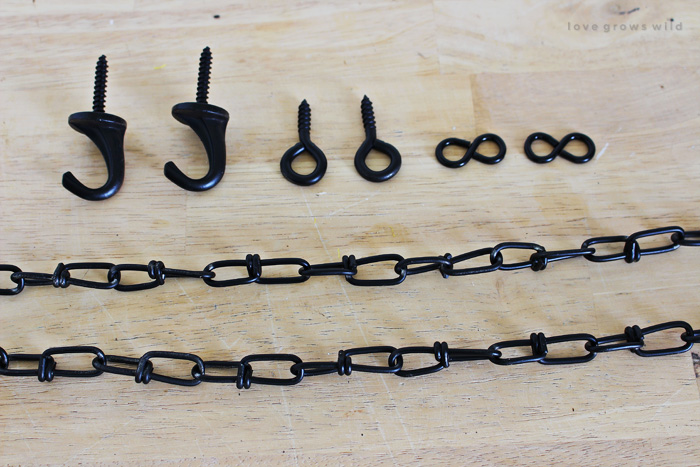 My solution: hang him from the ceiling! Beau could float just in front of the board and batten trim on chains, which would add a cool industrial look to the artwork. I used 2 ceiling hooks (with wall anchors), 2 eye hooks, 2 S hooks, and a couple feet of chain. All of them were originally bright, shiny silver, so I spray painted them all matte black before getting started.
I very slowly and very carefully pre-drilled 2 holes into the top of the frame (about 6″ from either end), just big enough to screw the eye hooks in. I put my hooks closer to the back of the frame just to make sure I wasn't going to disturb the glass or the artwork at all. Then I used the S hooks to attach the chain to the eye hooks, put the wall anchors and ceiling hooks into the ceiling about 3 inches from the wall, and hung the top of the chain on the ceiling hooks.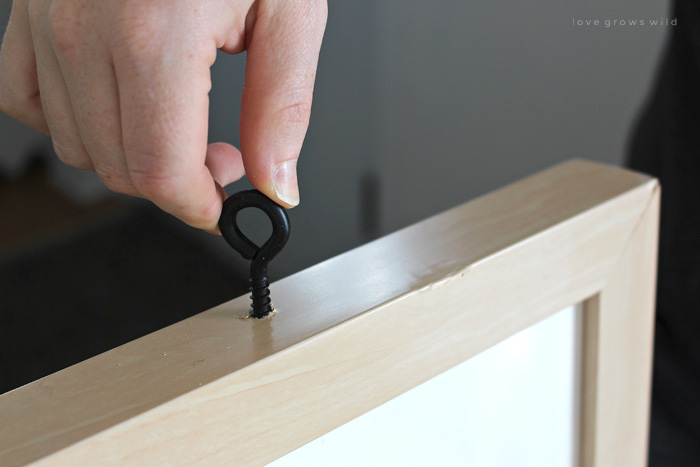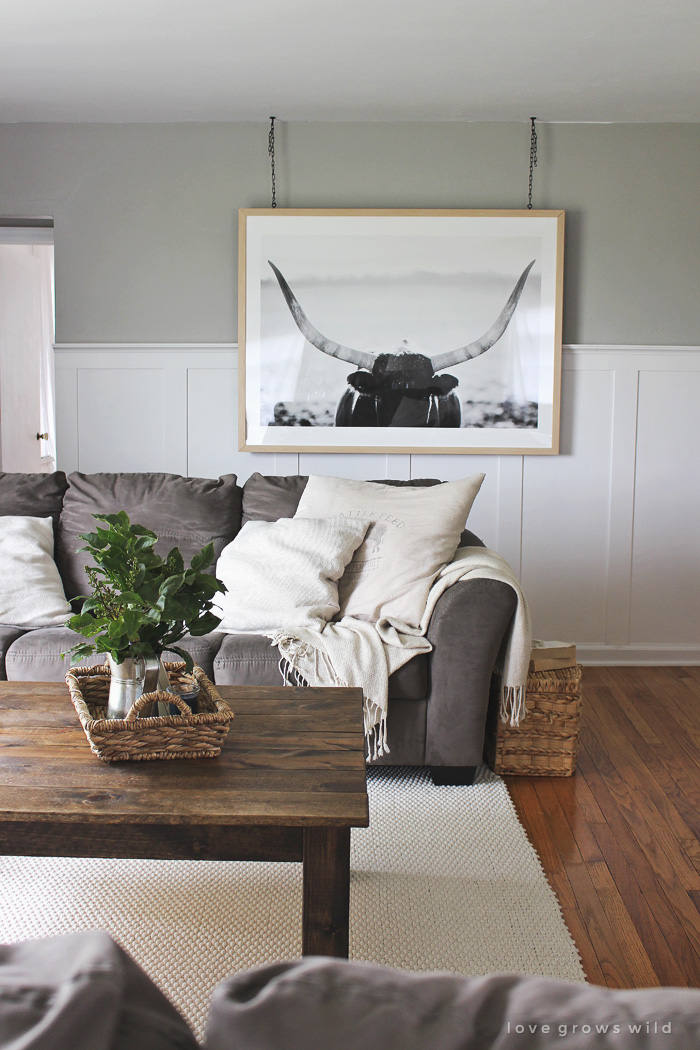 Jeremy is seriously itching to put a couple steers out in our big barn within the next year, so I figure I'd break myself in slowly to having livestock by adding Beau to our living room. At least Beau makes a lot less mess and eats a lot less food than the real thing. 🙂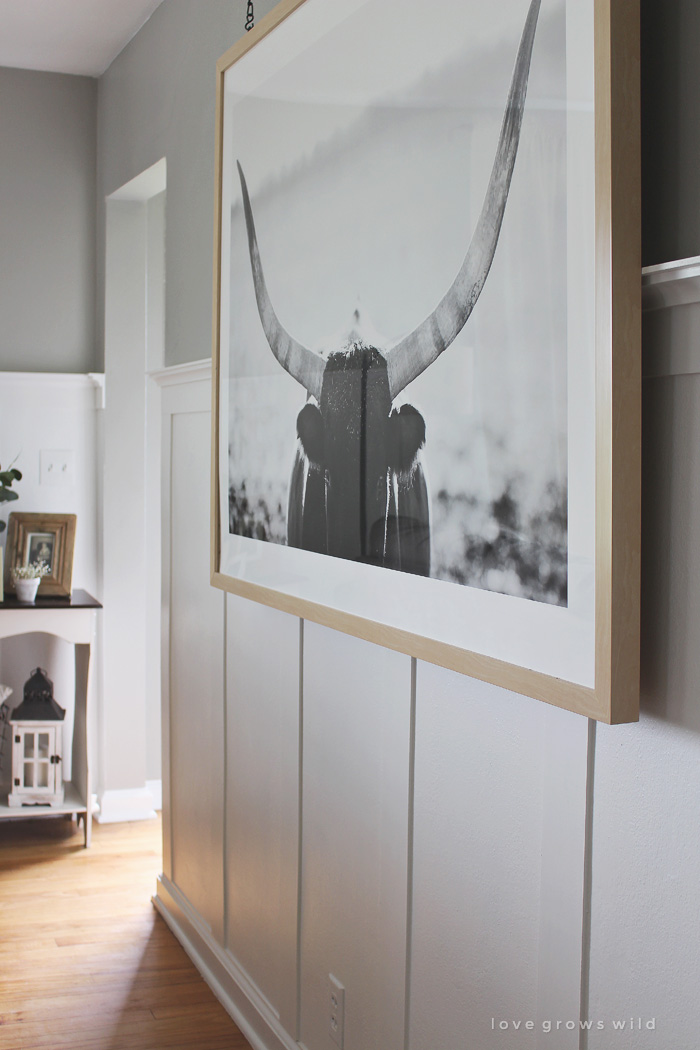 I've also switched up the decor on this little side table recently, adding some old photos of my Grandpa Bob that I found. I swear, my Grandpa and my youngest, Wyatt, could be twins!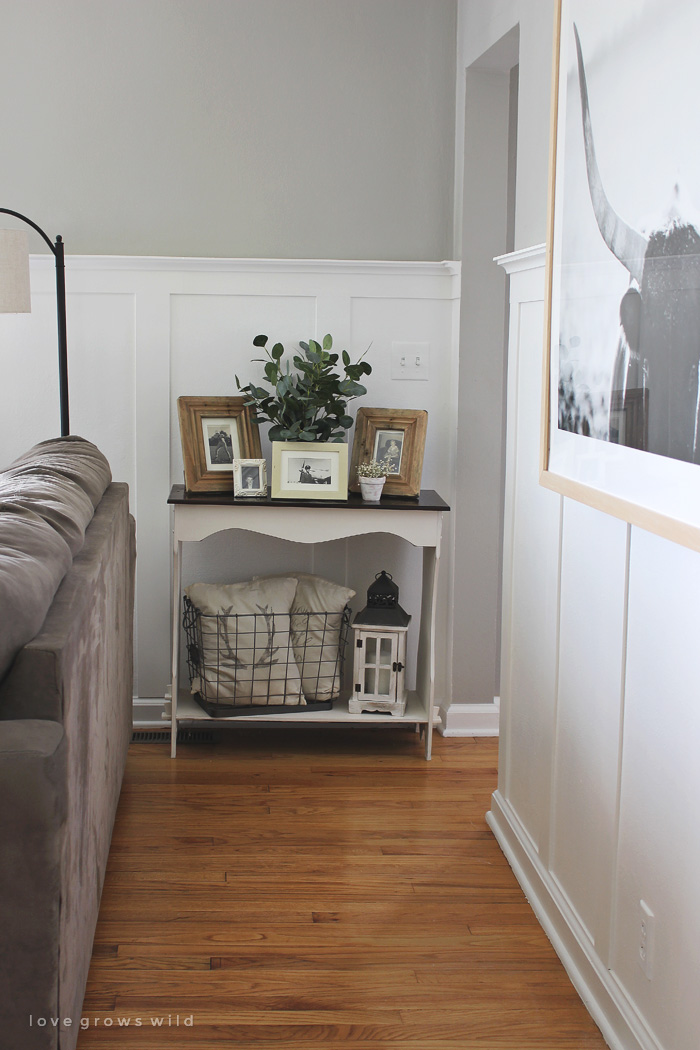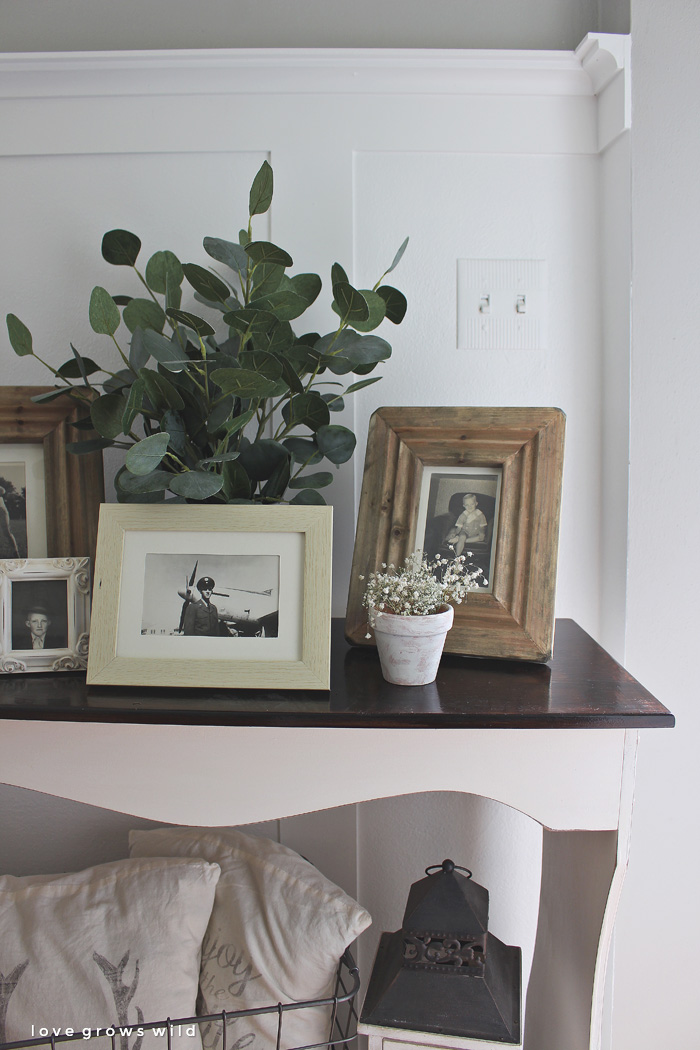 I'll be sharing the final reveal of my office makeover in the next few weeks, along with the kick-off of our master bedroom makeover… so stay tuned!
Now it's YOUR turn to share! What do you think of Beau? Do you have any large-scale art in your home? Tell me your thoughts in the comments below!
---
More projects from our living room:
---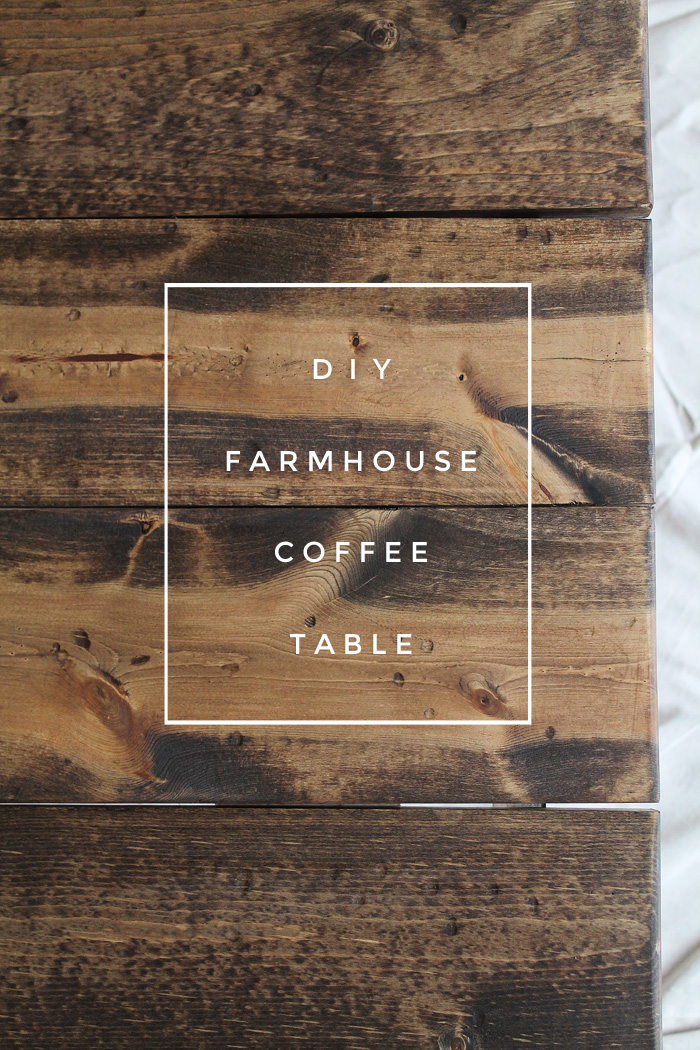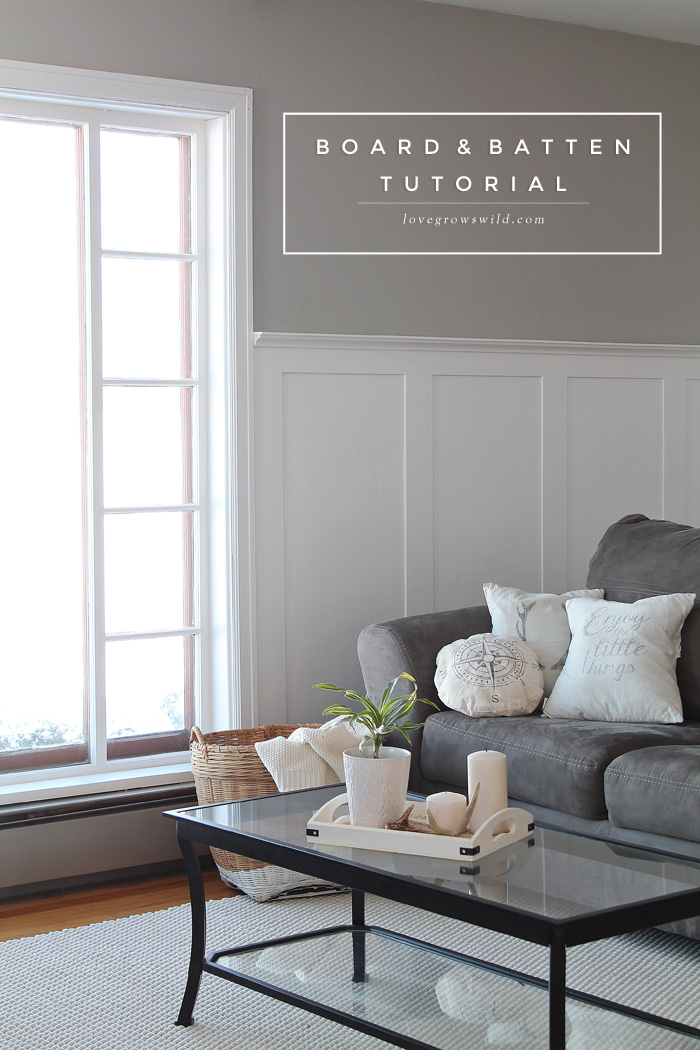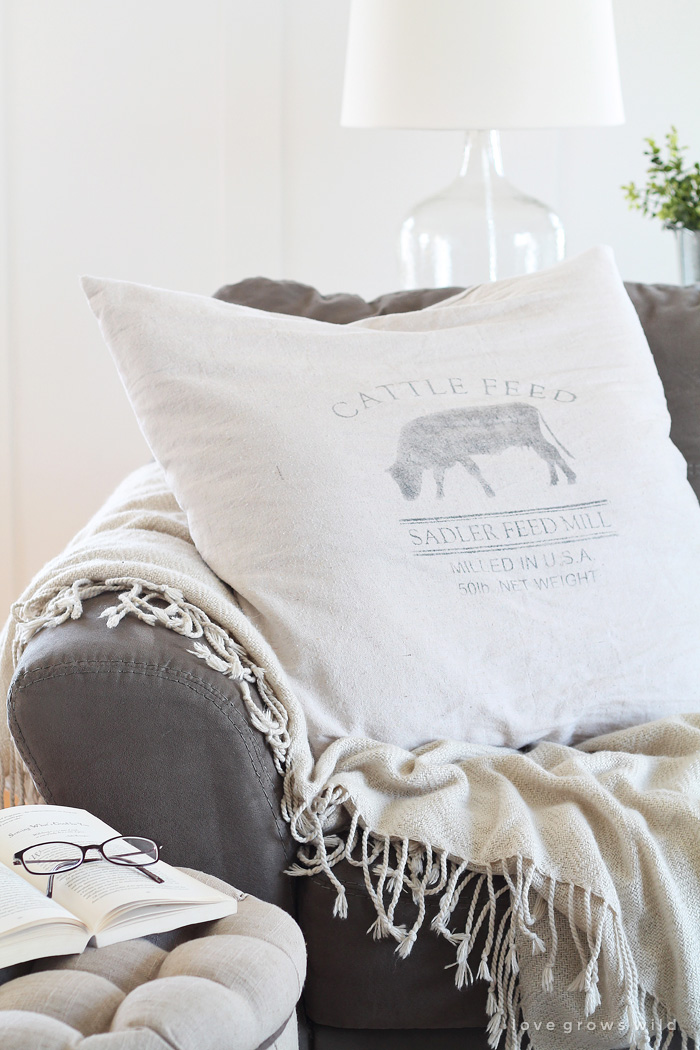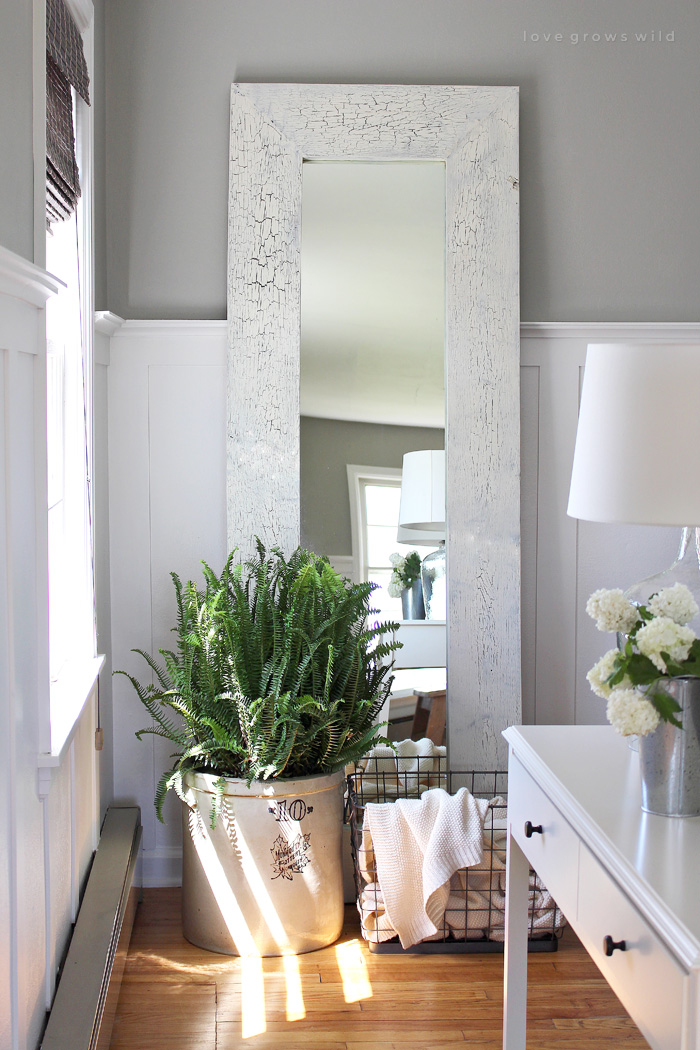 This post has been sponsored by our friends at Minted, but all thoughts and opinions are 100% my own. You can visit them on Facebook and Pinterest too! Thank you for supporting the brands that make this blog possible!
---
LET'S KEEP IN TOUCH!
---
Subscribe to Blog | Browse my Shop | Follow on Facebook | Follow on Twitter
Follow on Google+ | Follow on Pinterest | Follow on Instagram