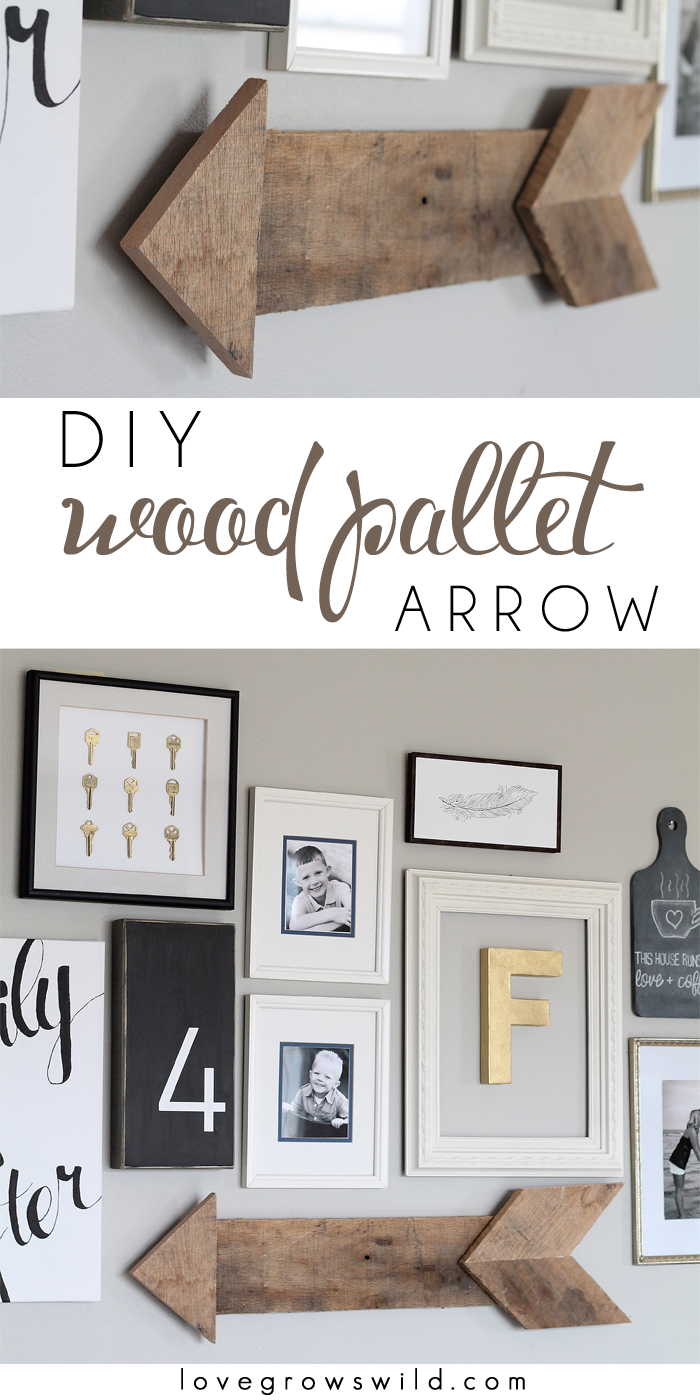 Can we just pause for a moment to celebrate this exciting occasion… It's my first pallet project!! Yes, it's true… years after the world discovered the rustic, salvaged beauty of old wood pallets and their incredible use for DIY fanatics like myself, I have finally jumped on board and embraced this awesome trend. Better late than never, right?
So today's project is a small part of a much bigger project I recently shared, my living room gallery wall! If you haven't checked that post out yet, I highly recommend you go see how it all came together! I am SO smitten with this gorgeous new display in my living room. I've been getting so many sweet comments from readers (you guys are the best!), and when I asked what the first piece you wanted to see a tutorial for was, this wood pallet arrow definitely got the most votes! You spoke, I listened, and here we go, folks! A tutorial for creating an awesome, rustic Wood Pallet Arrow!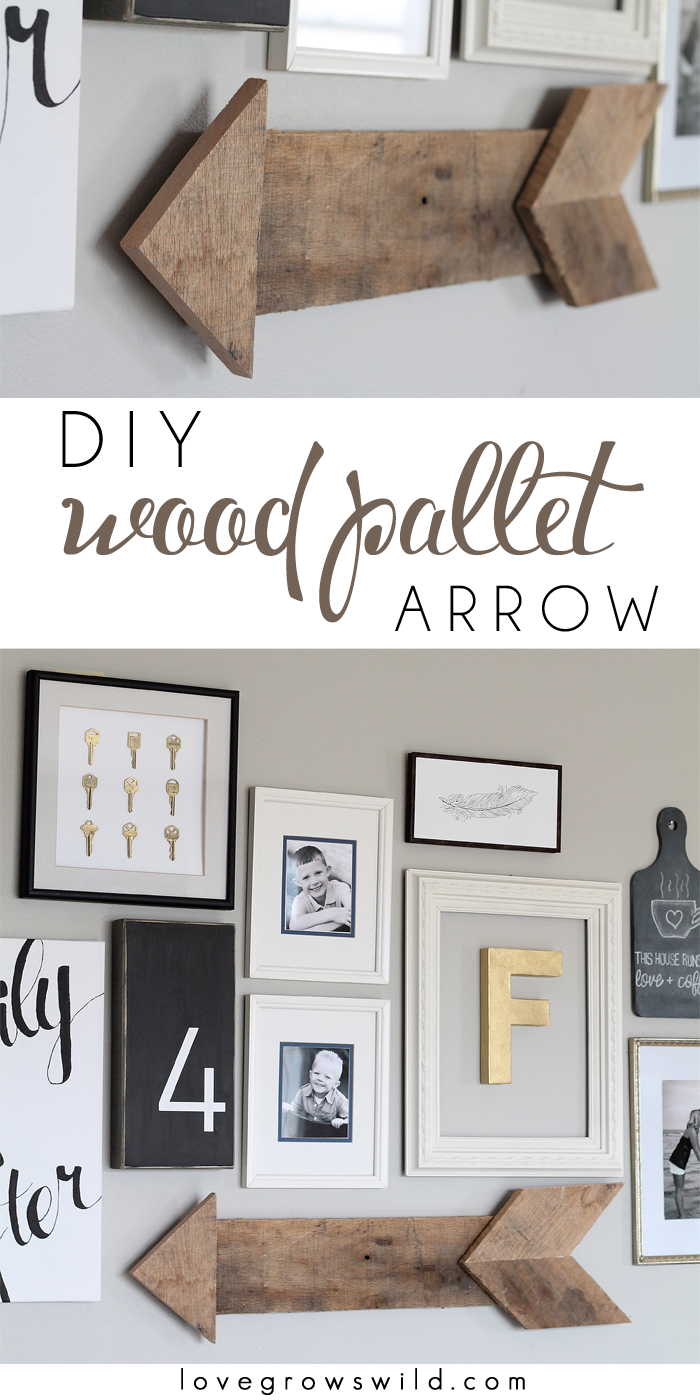 Before we get started, I want to give a big shout-out to the best little sister in the whole world for dragging this pallet along on a 6 hour car trip to visit me for my birthday. Spending time with her PLUS a fun pallet to play with = the best birthday ever. You rock, sis. You totally get me.
Another brief shout-out goes to my husband, who receives a suspicious text from his overzealous wife at 8 am asking if we own a reciprocating saw, and replies with "It's in the garage next to the back door. Don't cut your fingers off." Thank you for sharing your tools with me and caring for the safety of my extremities. I knew you were a keeper.
Supplies:
wood pallet
miter saw
wood glue
clamps
screws
drill
sawtooth hangers
The first thing you'll need to do is break down your pallet. I tried prying the boards apart as I've seen in some tutorials, but mine wouldn't budge. I learned real quick how to use our reciprocating saw and separated the boards by carefully cutting right through the nails. It made this process go SO much quicker. I only needed 2 boards for this project, so I still have some left over to save for a rainy day. If you don't have a pallet or easy access to one, you could certainly purchase wood boards from the hardware store as well.
Once I had the pallet boards I needed, I cut them into these 4 pieces with a miter saw: the tip, the body, and the two tail pieces.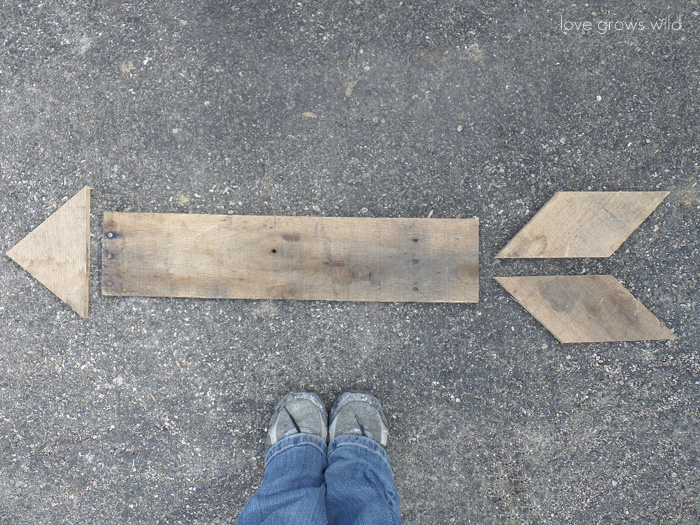 I'll do my best to describe the cut dimensions, but feel free to ask if you have any questions. The labeled photos below should help.
For the long body piece, I cut a 5 1/4″ wide pallet board to 24″ long.
For the tip or point of the arrow, I cut a 5 1/4″ wide board to 8 1/2″ long and formed the point with two 40° cuts toward the center.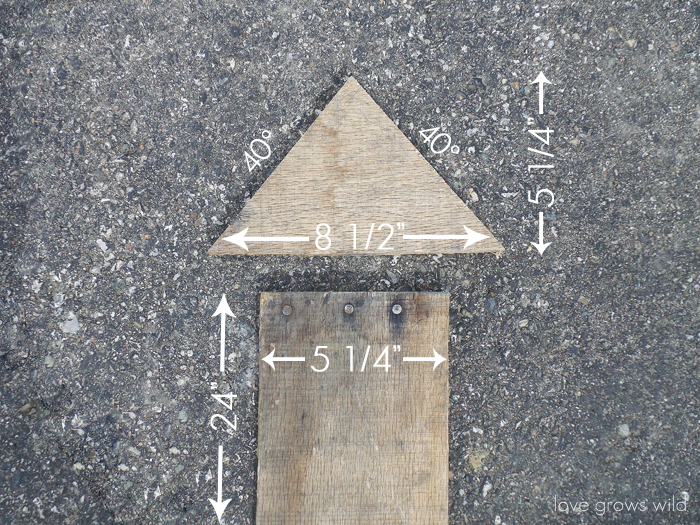 For the tail, I cut a 5 1/4″ board on a 45° angle to 7 1/2″ x 5 3/4″. Then I duplicated that for the other side of the tail.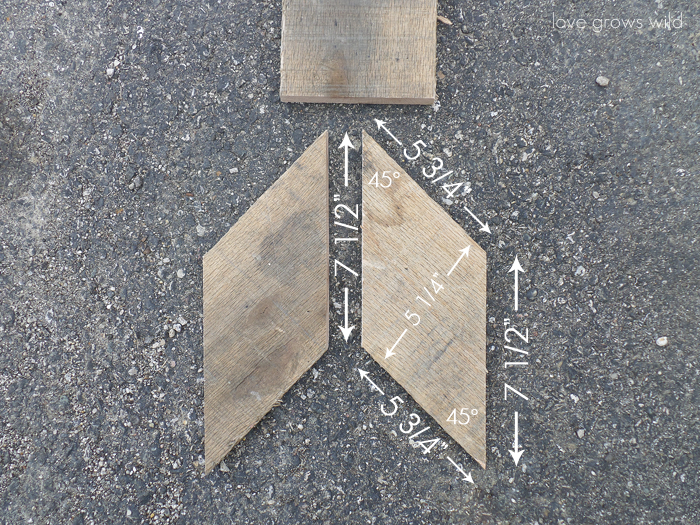 To assemble the arrow, I used wood glue to attach the two tail pieces together and the point of the arrow to one end of the body. I used some handy dandy clamps to hold the pieces together while they dried.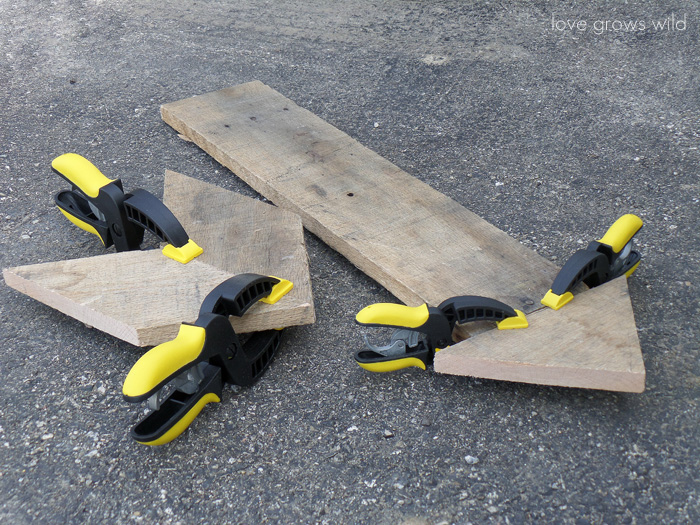 You'll see in the photo above that I first wanted to have the tip of the arrow flush with the body. It didn't seem very sturdy, so I ended up attaching it over the body piece instead of flush so I could secure it with a few screws from the back. Once the tail pieces were dry, I attached them to the other end of the arrow body with wood glue and clamped those pieces in place to dry. I drilled a few small screws into the tail end also to help hold everything in place. Then I added two sawtooth hangers (because of the arrow's length) to the back and hung it on my gallery wall! What do you think? Not too bad for my first pallet project, right?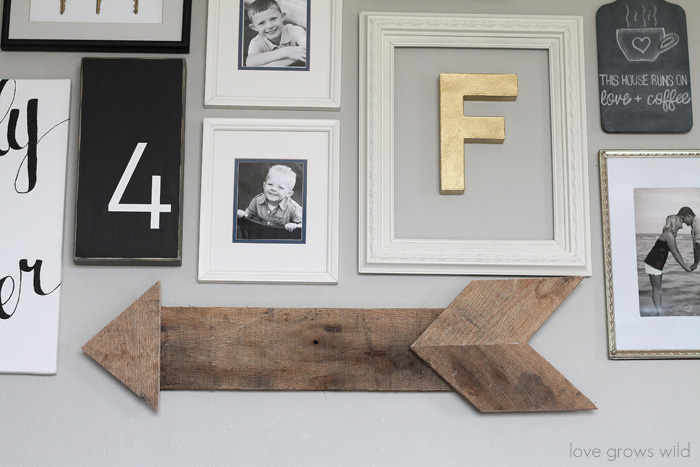 You could certainly paint or stain the arrow, but I just love the rugged, natural look with all the gorgeous imperfections of pallet wood. The wood grain, the weathered texture, the stains and dents… it was just too beautiful to cover up.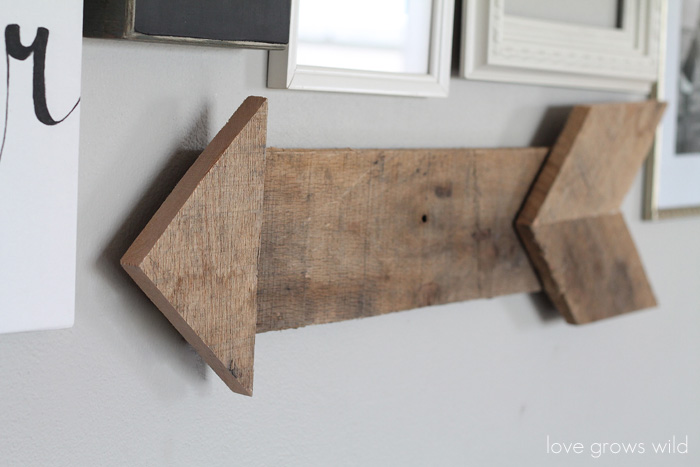 It's amazing to me how adding this one simple natural element to the gallery wall totally brought it to life. With all the straight, clean lines of the black and white picture frames, an imperfect, aged, beaten-up pallet wood arrow added the perfect balance my gallery wall needed.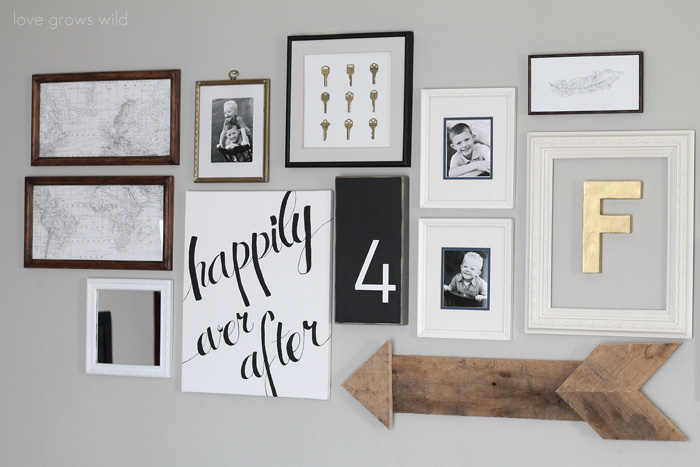 And although you can't see it in the picture above, when I put together all the pieces of this gallery wall puzzle, the wood arrow happened to be pointing from the picture of my husband and I on our honeymoon to the "happily ever after" canvas art I created. That was a pretty awesome coincidence, if you ask me. 🙂
So there it is! The next time you spy a pallet somewhere, be sure to snag it so you can make one of these gorgeous wood pallet arrows! Thanks for hanging out with me today!
To see all the project tutorials from our living room gallery wall, click the links below:
Living Room Gallery Wall
Fabric-Covered Frame Mats
DIY Canvas Script Art
Key Specimen Art
Like what you see? Subscribe to Love Grows Wild so you'll never miss a post!
Follow along on Pinterest, Google+, Instagram, and Facebook for more fun!
More DIY home decor projects: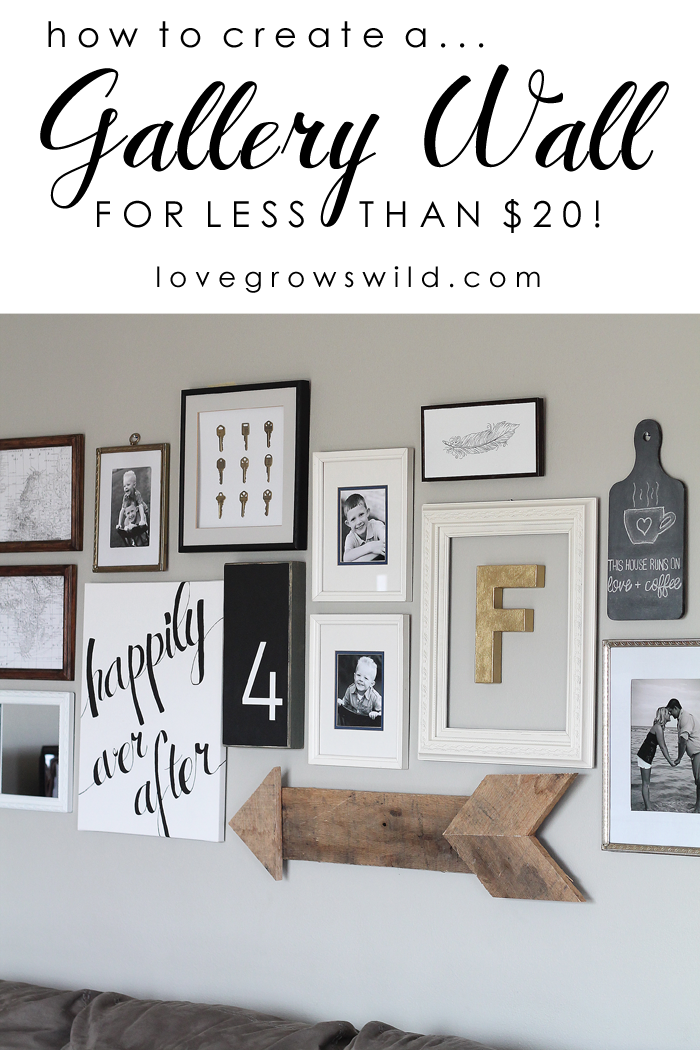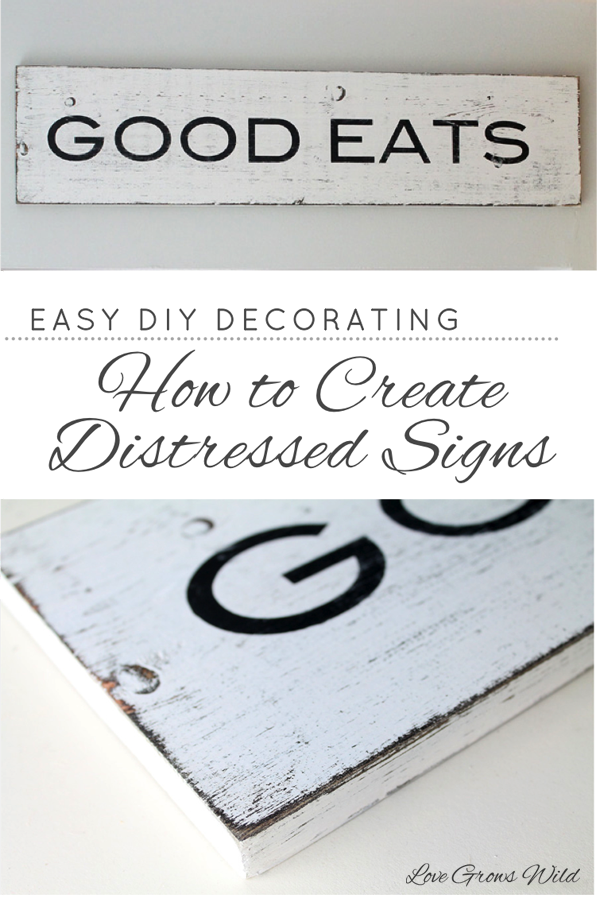 Easy Distressed Signs Tutorial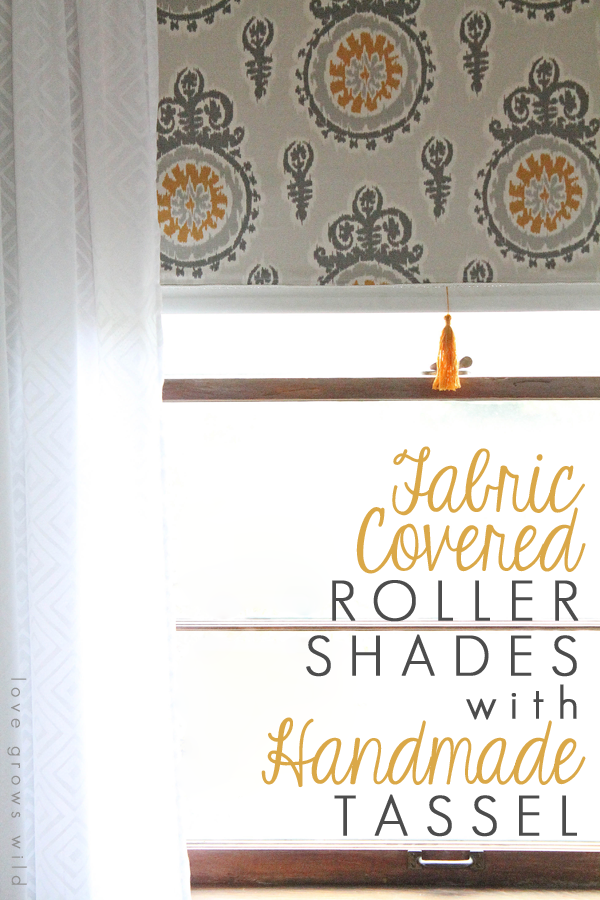 LET'S KEEP IN TOUCH!
Subscribe to Blog | Browse my Shop | Follow on Facebook | Follow on Twitter
Follow on Google+ | Follow on Pinterest | Follow on Instagram