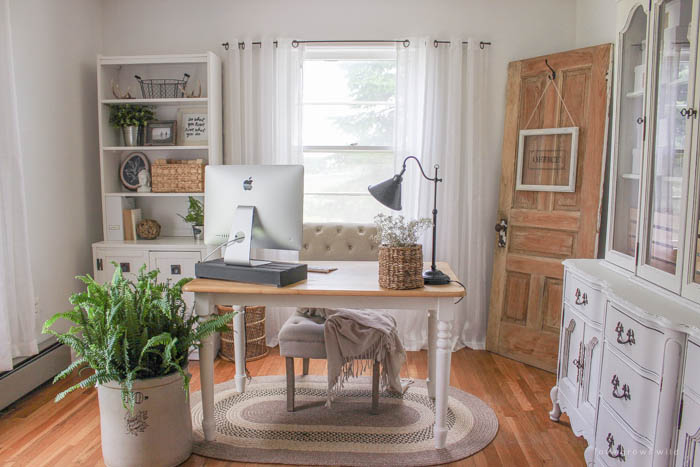 This day has been a full year in the making… the reveal of my office makeover!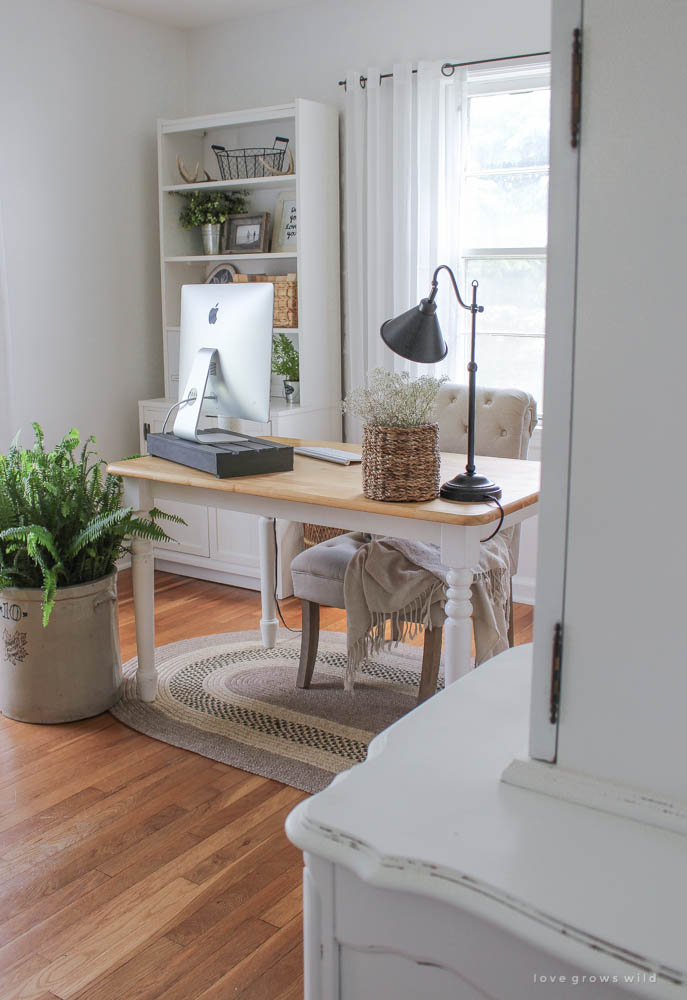 A whole year… yes, I know. What the heck took me so long, right? When I started this makeover last summer, I really wanted to challenge myself. I didn't want to just slap a couple pictures on the wall, maybe paint a piece of furniture, and call it a day. I wanted to design a room from top to bottom that was beautiful, functional, organized, and 100% me. The problem was, (as I would soon discover) that I didn't exactly know what "me" was. Let me explain…
This is how the office looked right before I started the makeover last summer. Boring gray walls, dated wood trim, ugly roller shades on the windows, and a slew of mismatched hand-me-down furniture. This room became the "I don't know where to put this, so I'll just shove it in here" room.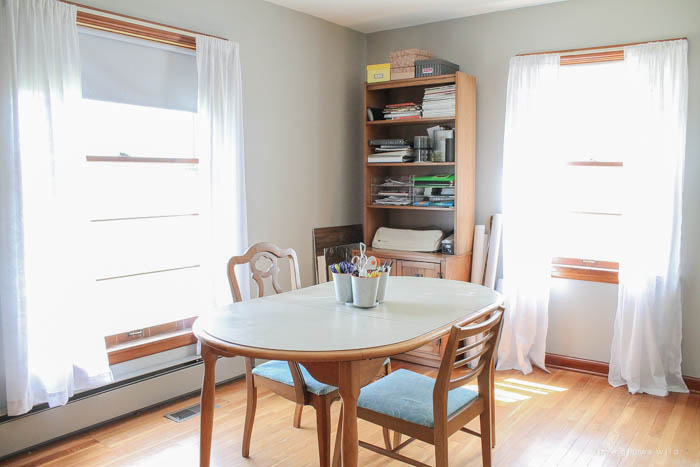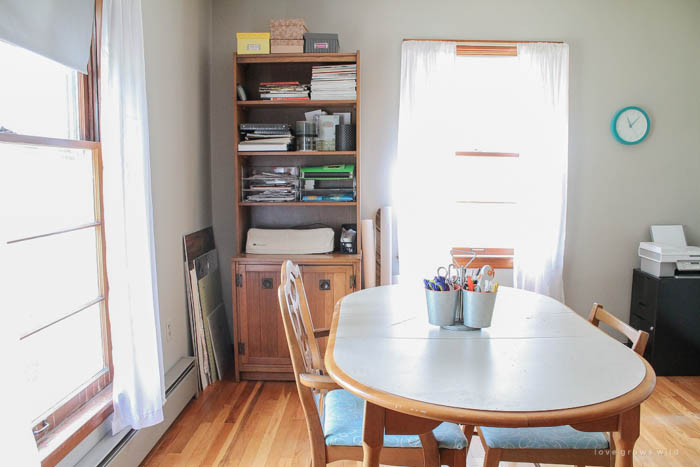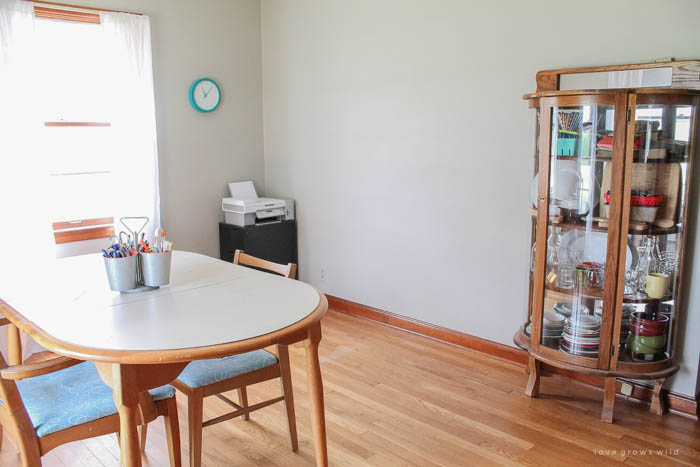 Even with two big windows, the office felt dark and dreary with all the wood flooring, trim, and furniture, and I dreamed of a space that was light, bright, and a happy place to work in everyday. To get the makeover started, I painted all the walls, trim, and doors white. A clean slate, lots of brightness, and a perfect backdrop for taking blog photos. Then I got to work creating my "dream office". I often look at photos from blogs like A Beautiful Mess (love Elsie and Emma!) and swoon over the mix of cheerful color with bold black and white design. I figured that if I like pinning those images on Pinterest, surely that must be "my style". So I started tackling project after project using a mix of mint, gold, black, and white.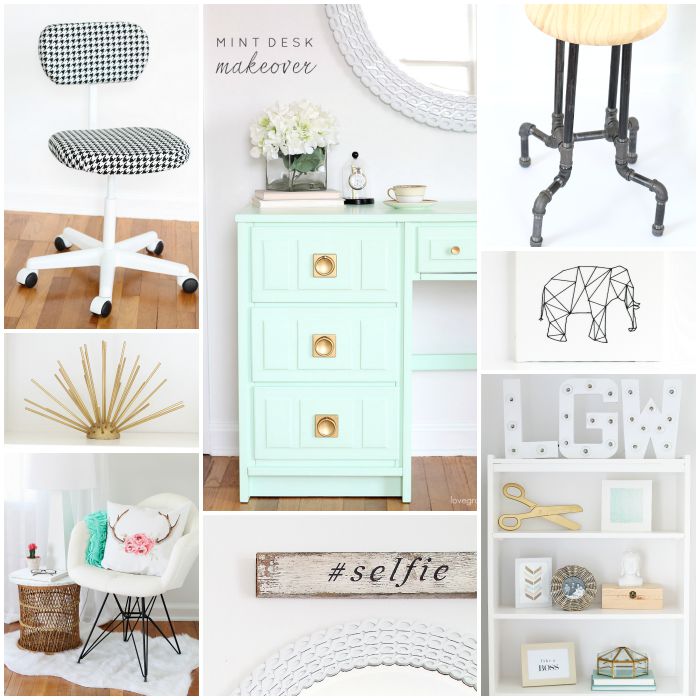 I absolutely loved each of the projects and the pop of color they added to my white office, but as I neared the end of the makeover, I found myself unable to finish the space. It looked like all the pretty inspiration pictures I pinned, but it just didn't feel like "me". Around Christmas time, I decided to put a pin in the makeover for a few months and figure out where to go next. That turned out to be the Best. Decision. EVER.
I looked at more photos on Pinterest… I stalked my favorite bloggers… I read more books and magazines and spent way too much time on Instagram.
Here's what I found: I'm drawn to the clean lines and symmetry you often see in modern design, but I fall head-over-heels for everything rustic, vintage, cottage, cozy, farmhouse. While I can appreciate bright colors, I feel more connected to the neutrals found in nature. And texture is EVERYTHING. I want my home to tell a story and feel collected over time, but it has to be clean, bright, and clutter-free.
The reason I'm taking you through this whole design journey is to show you that you're not alone. Finding "your style" is not easy. It doesn't always just come naturally. And guess what… that's okay! Your style will evolve and change over time, and I hope this blog can provide just a little bit of inspiration for you to make your house feel like a home. YOUR home.
After taking a couple months off, I finally found my inspiration to finish the office makeover in a style that feels perfectly "me". There are no words for how amazing this accomplishment feels! I'll share links to all the tutorials and products from our office at the end of the post, but I hope you enjoy taking a tour of this new space: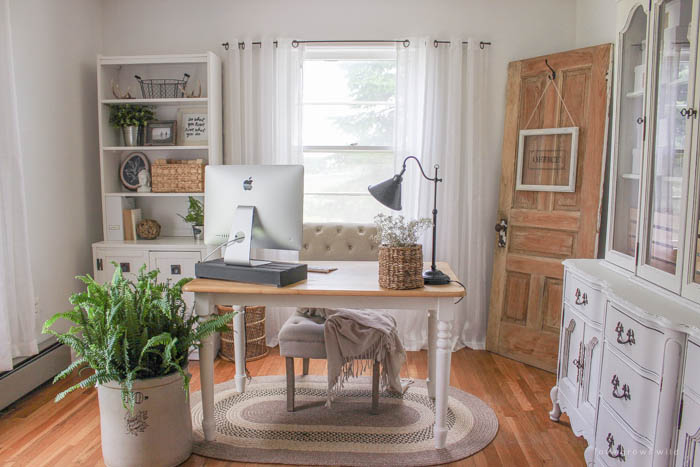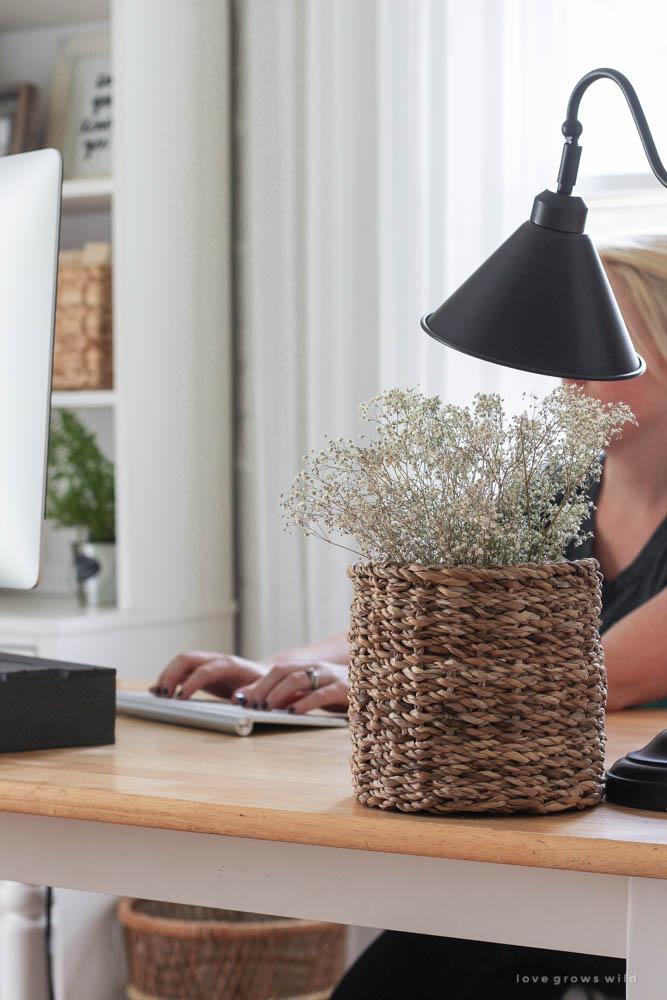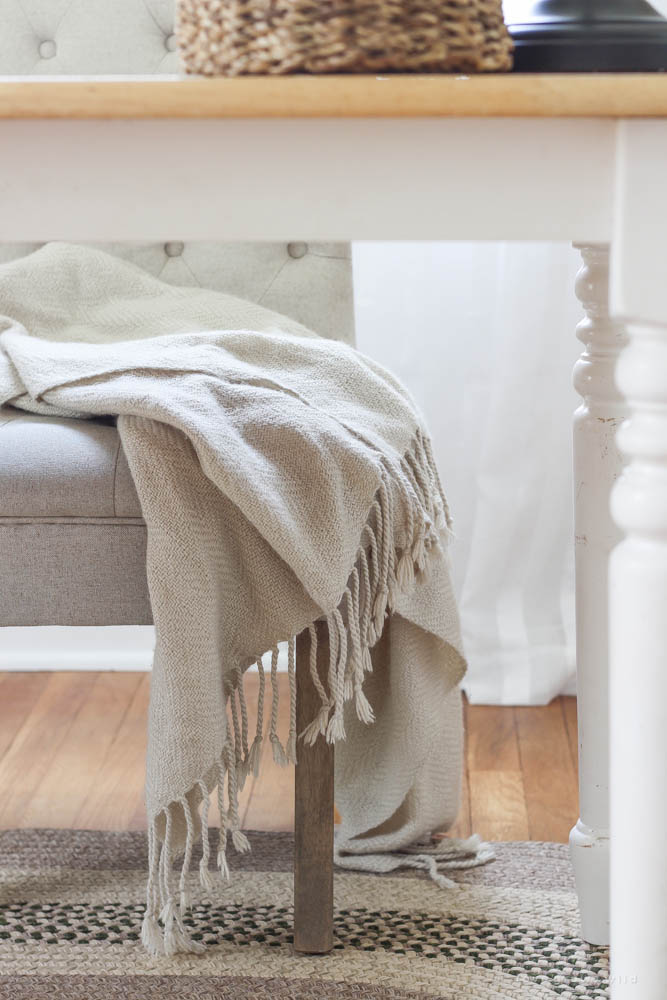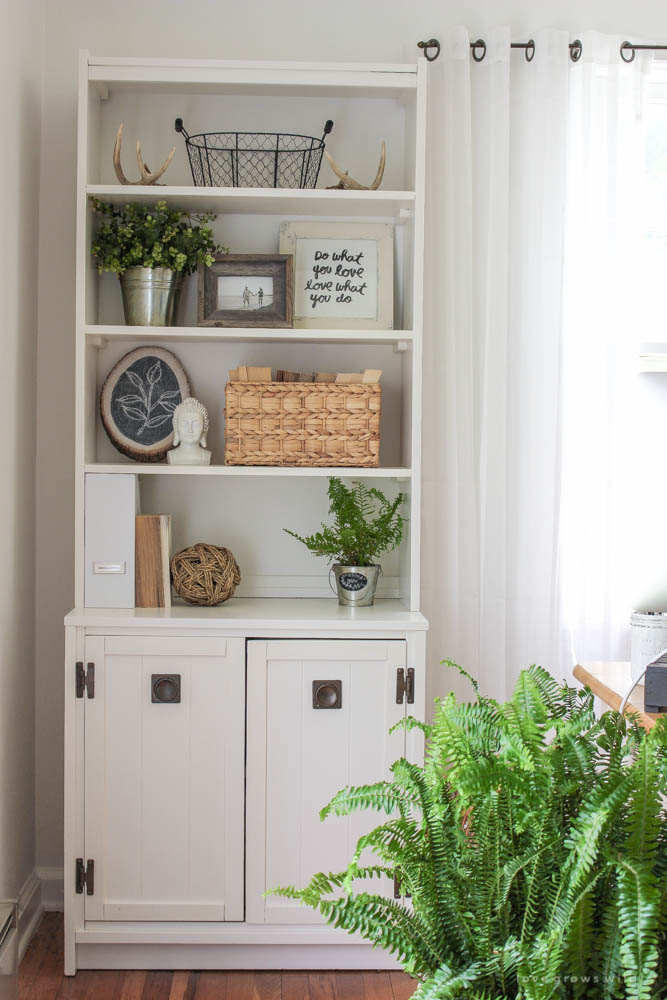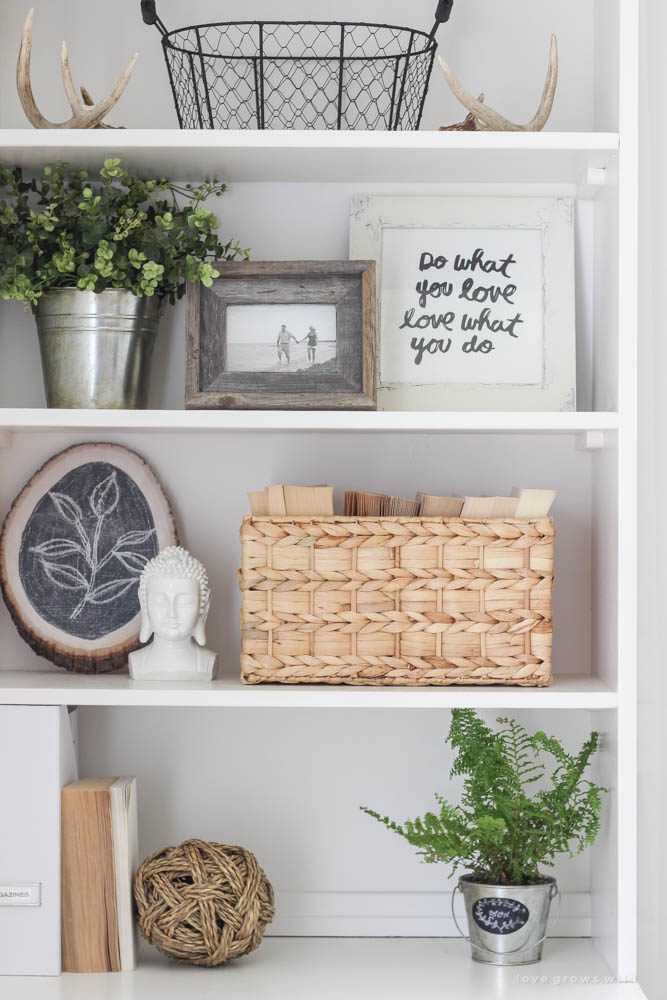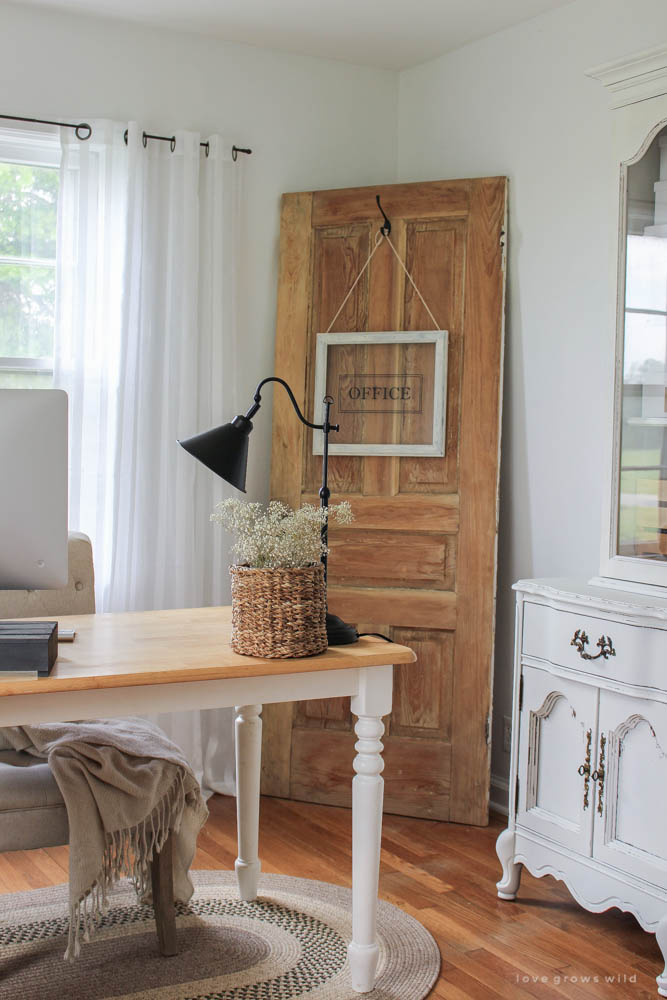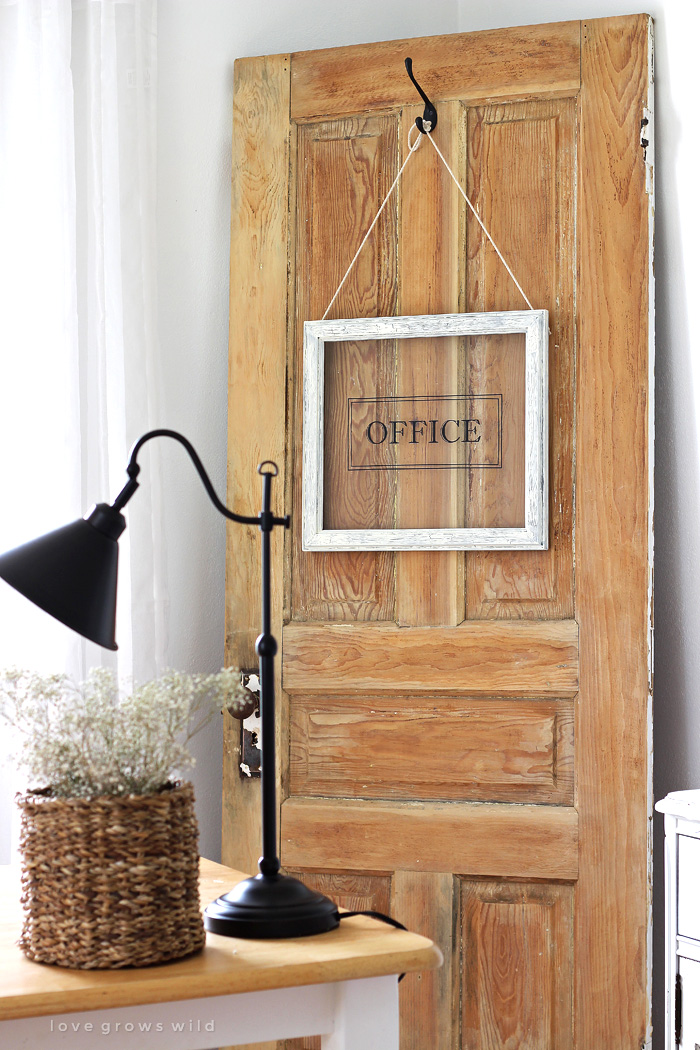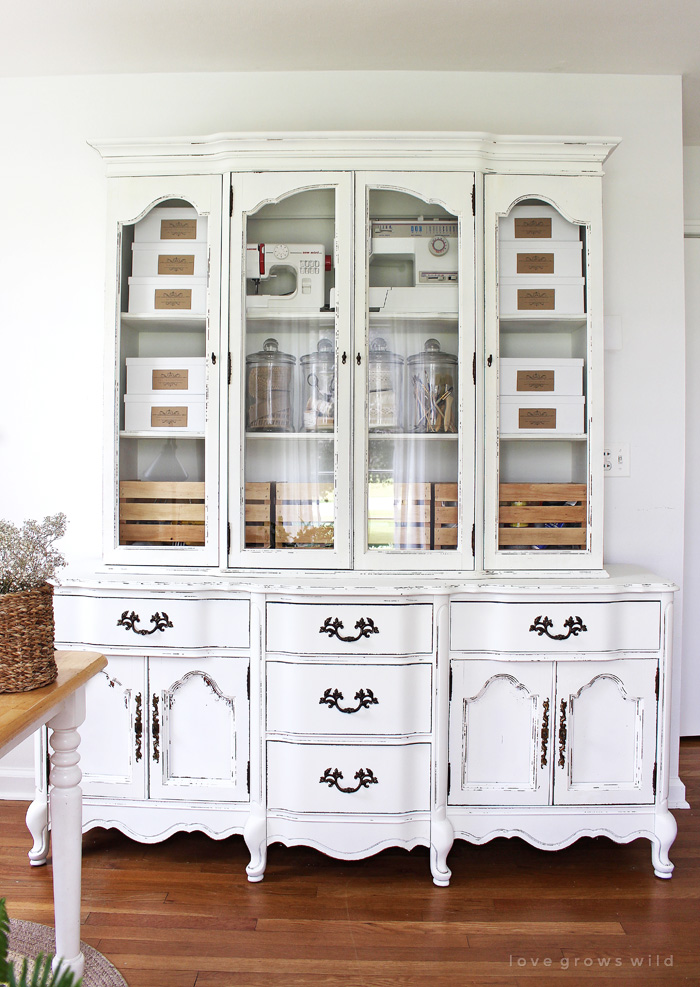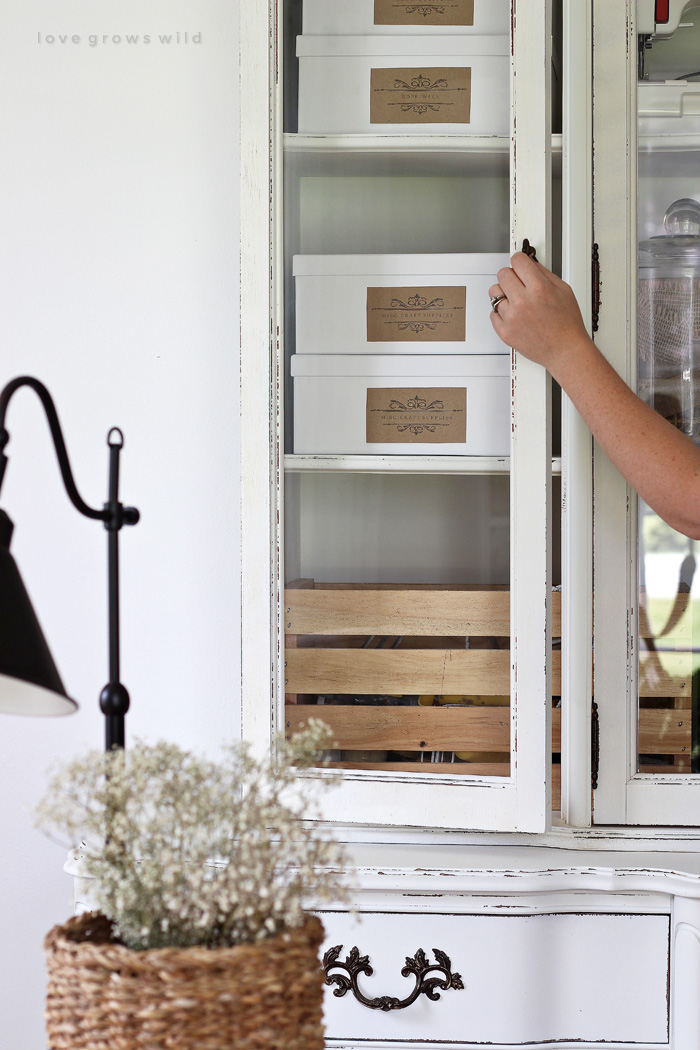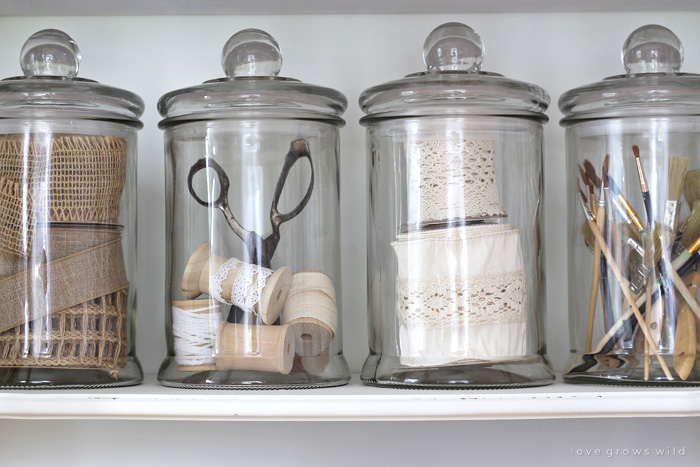 Now I have a confession… there is one side of the office that isn't 100% complete yet. My desk used to sit between the two doors seen below, but now that I've rearranged the layout, I haven't come up with a plan for this wall just yet. We're already elbow-deep in the next room makeover (coming soon!), so you'll just have to wait and see how this last wall in our office turns out. I'll keep you guys posted!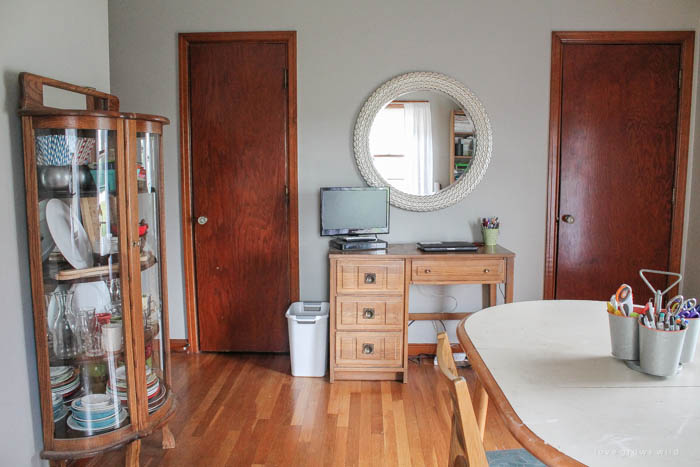 And to give you the full effect of this transformation, here's a little before and after action: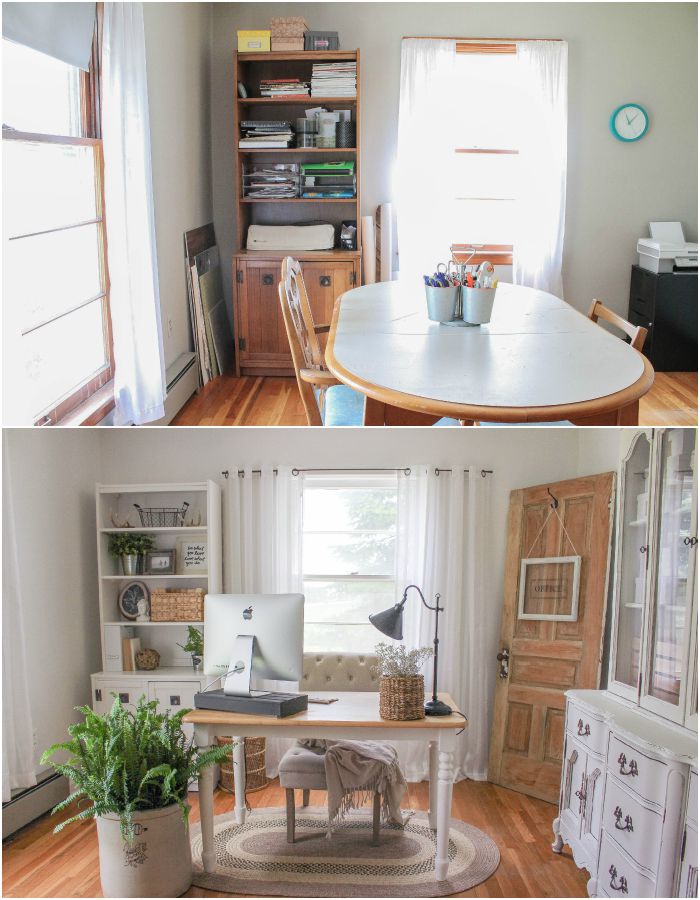 Now it's your turn! Tell me what YOU think of the makeover! Do you ever struggle with finding your own "signature style"? I'd love to hear your feedback in the comments below!
Here are the details from Office Makeover Take 1:
Mint Desk – tutorial
Black and White Office Chair – tutorial
Industrial Pipe Stools – tutorial
Geometric Stitched Animal Art – tutorial
Gold Burst – tutorial
White Cabinet and Bookcase – tutorial
Marquee Letters – tutorial
Hanging Macrame Fish Bowl – tutorial
Selfie Sign – tutorial
Office Reading Nook – tutorial
Painted Ikat Art – tutorial
White Tufted Faux Leather Arm Chair – Overstock
Floral Antler Pillow Cover – Society 6
Round Mirror – Kenroy Home
Here are the details from Office Makeover Take 2:
Framed Dry Erase Board – tutorial
Office Storage Hutch – tutorial
Old Door and Office Sign – tutorial
Task Lamp – World Market
Round Braided Rug – Rugs USA
Tufted Desk Chair – Kirkland's
Farmhouse Table (desk) – antique find
Cream Throw Blanket – Hayneedle
Wood Slice Chalkboard – tutorial
Wire Basket – Walmart
Woven Basket – TJMaxx
Curtains – Walmart (in arctic white)
See how I hid my desk cords! – tutorial
If I've forgotten anything or you have any other questions on the makeover, leave me a comment below! Thank you guys for being patient with me and giving me the time to get this room right. I hope it was worth the wait! 🙂
---
LET'S KEEP IN TOUCH!
---
Subscribe to Blog | Browse my Shop | Follow on Facebook | Follow on Twitter
Follow on Google+ | Follow on Pinterest | Follow on Instagram