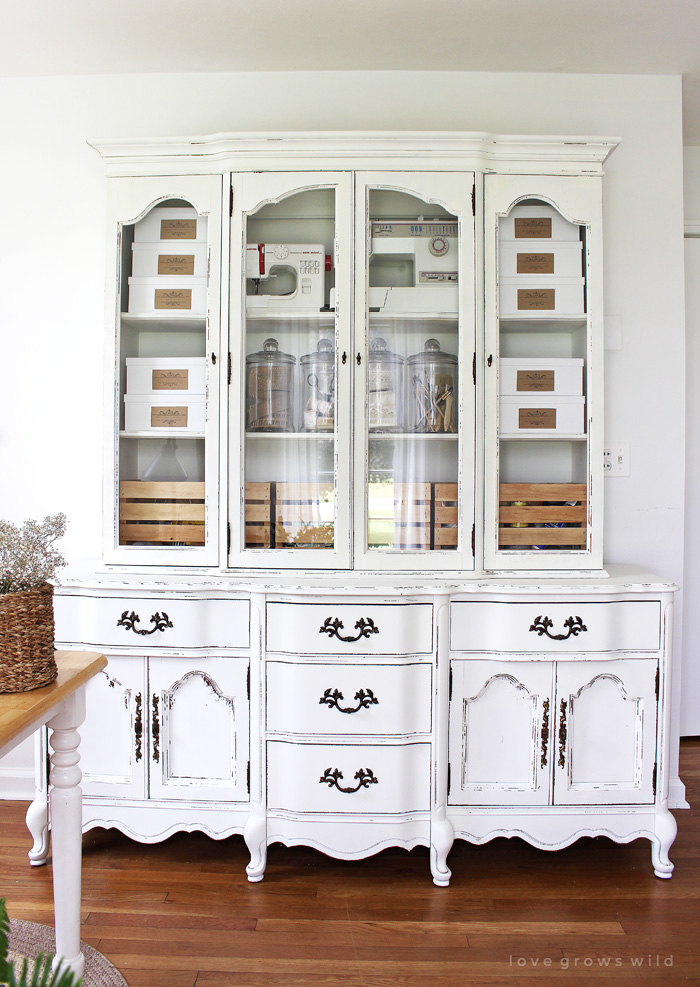 Re-purposing old furniture is a great way to save money and one of my favorite ways to decorate our home. This storage hutch is a classic example of that! Check out the transformation of this outdated piece and see its new home in my office!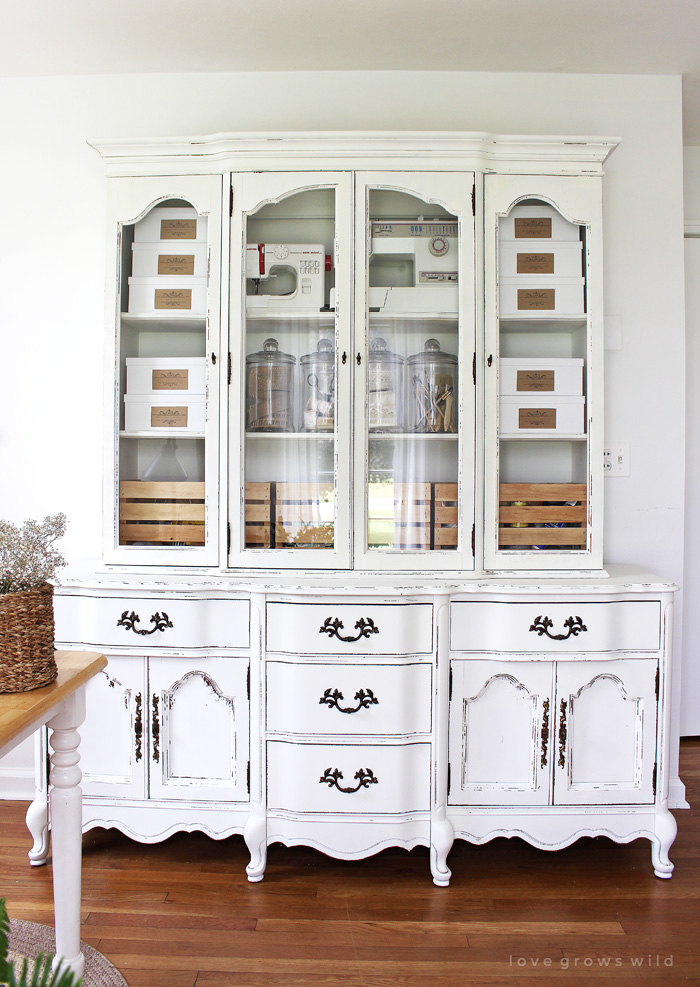 We're getting closer to the end of my office makeover!! You guys may recognize this storage piece from its former home in our dining room (check out the original video tour of the room here). This hand-me-down has beautiful detailing and provides a ton of storage, but the dark, outdated wood tends to completely take over the room, making it feel less like a bright, airy farmhouse and more like your grandma's dining room from the 70's. We certainly don't have a bunch of fancy china that needs to be displayed in here (um… have you met my family full of rowdy boys?), so why not re-purpose this beauty into much-needed storage for my office?
Here's the before…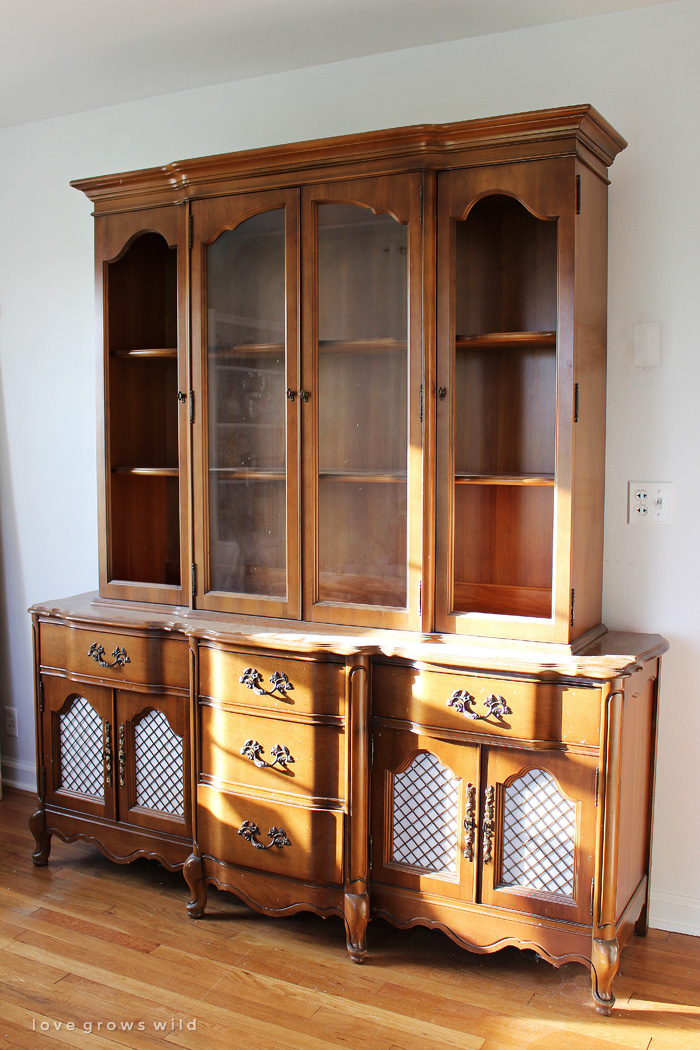 The "in-process"…
(our barn makes quite a nice paint studio in the summer!)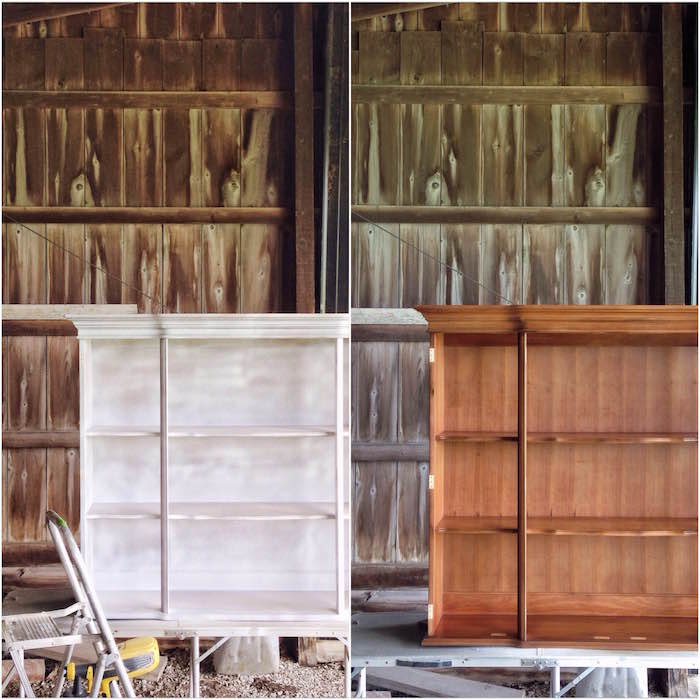 And the after…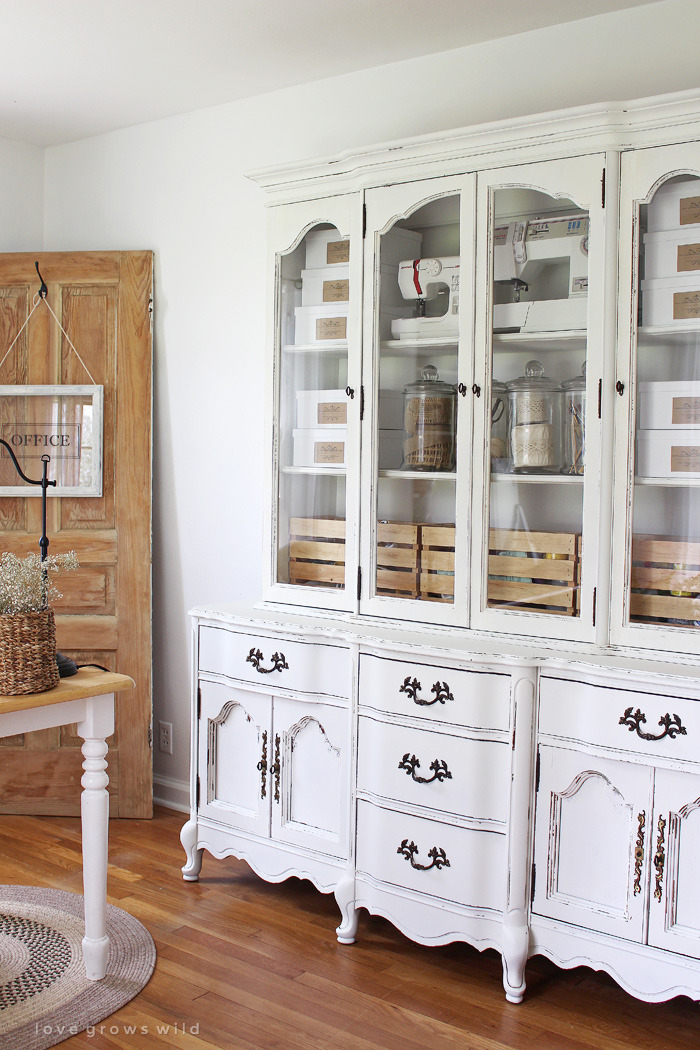 SUCH a big difference, right? Before I get into the rest of the beauty shots, I'll give you the rundown on how I painted this massive piece. I'm not going to lie, I was kind of intimidated by this makeover. I knew it needed to be painted, and I knew I could handle it, but the thought of doing it by hand with a paintbrush made my palms sweat and my right eye twitch uncontrollably. All the curves and grooves and details would take FOR-E-VER. Prepping, sanding, priming, painting, and sealing something this size… no way, man.
I purchased a paint sprayer to refinish some dining chairs a few years ago, and in an effort to get my eye to quit twitching, I decided that busting out the paint sprayer again would be the only way to tackle this beast. "But I want to use chalk paint to avoid sanding everything… but can you use chalk paint in a paint sprayer? …would I need to thin it down? …would it clog up the sprayer? …would it have a nice finish? …should I just give up and get rid of this stupid hutch?" All of these thoughts were running through my head, but I finally decided to bite the bullet and give it a try… CHALK PAINT in a PAINT SPRAYER.
And guess what… it worked!! It took a little trial and error, but here's my experience with using chalk paint in a paint sprayer:
There are some affiliate links located within this post… thank you for helping support our blog!
– The paint sprayer I have is the Wagoner Flexio 590, which comes with a regular sprayer and a detail sprayer. I HIGHLY recommend using the detail sprayer when painting furniture. The first sprayer I purchased didn't have a detail finisher, and I returned it immediately after seeing how uneven the finish was. Just spend the few extra dollars to get a nice sprayer that will tackle every project on your to-do list and last you a long time.
– Normally I use a high-end chalk paint like Annie Sloan or even DecoArt's Chalky Finish paint, but I was almost out of my chalk paint stash and needed quite a bit for this project. Last time I was in Lowe's, I noticed that Valspar came out with a chalky finish paint. The price wasn't too bad, so I picked up a couple cans in the color "Kid Gloves".
– I prepped the furniture by removing all the hardware and doors and wiping every surface with a wet rag to remove any dust.
– At first, I thought I would need to thin down the thick chalk paint, so I filled the sprayer container with paint and mixed in a small amount of water until it had a consistency closer to regular paint. As I painted more, I realized that the paint didn't actually need to be thinned at all! As long as the spray pressure was turned up, it sprayed like a dream. Every once in awhile, the tip of the sprayer would get a small glob of paint built up, but it just takes a second to wipe it off.
– I sprayed the top cabinet first with 3 coats of chalk paint and 2 coats of my favorite Varathane Matte Finish Polyurethane. Yes, the poly can go in the paint sprayer too! Now here's where things get a little tricky… After I finished the top cabinet, I noticed that some areas started chipping and flaking just a bit. Other areas (like the doors) looked like they needed a coat of primer to seal in the old finish before the chalk paint was applied. Bummer! Rather than stripping and repainting the entire piece, I decided to just go with it. Rustic, chippy white paint is not the worst thing in the world… am I right? Usually that's the look I'm going for anyway! I grabbed a putty knife and carefully scraped paint off in all the grooves and edges of the cabinet. Crisis adverted!
– Even though I decided to go with distressed look, I wanted to experiment with the bottom cabinet to see what might have gone wrong the first time. This time, I lightly sanded (and I mean BARELY sanded just to scuff the surface a little) and sprayed on a coat of primer first. Then I followed with the same 2 coats of chalk paint and 2 coats of matte polyurethane as the first cabinet. What a HUGE difference! It covered perfectly this time and didn't have any chipping at all. But of course, the bottom cabinet had to match the top, so I used the putty knife again scrape away layers of paint in the grooves and edges.
– Now it's hard to say exactly what went wrong with the first cabinet. I've never used the Valspar brand of chalk paint before, so it could just be a lower quality paint to begin with. Or maybe this chalk paint would work fine with with a brush, but not in a paint sprayer. Or maybe the coat of primer before the chalk paint is key to getting good finish. But either way, my recommendation is to start with a coat primer and then move on to the paint. Chalk paint can be quite expensive (depending on the brand) anyway, so it will save you money by using an inexpensive primer for the first coat.
In a nutshell, YES you can use chalk paint in a paint sprayer, but use a coat of PRIMER first. It is NOT NECESSARY to thin the chalk paint, but if you need to, you CAN use a small amount of water to get the desired consistency.
Phew… that sure was a long explanation, but I hope it was helpful!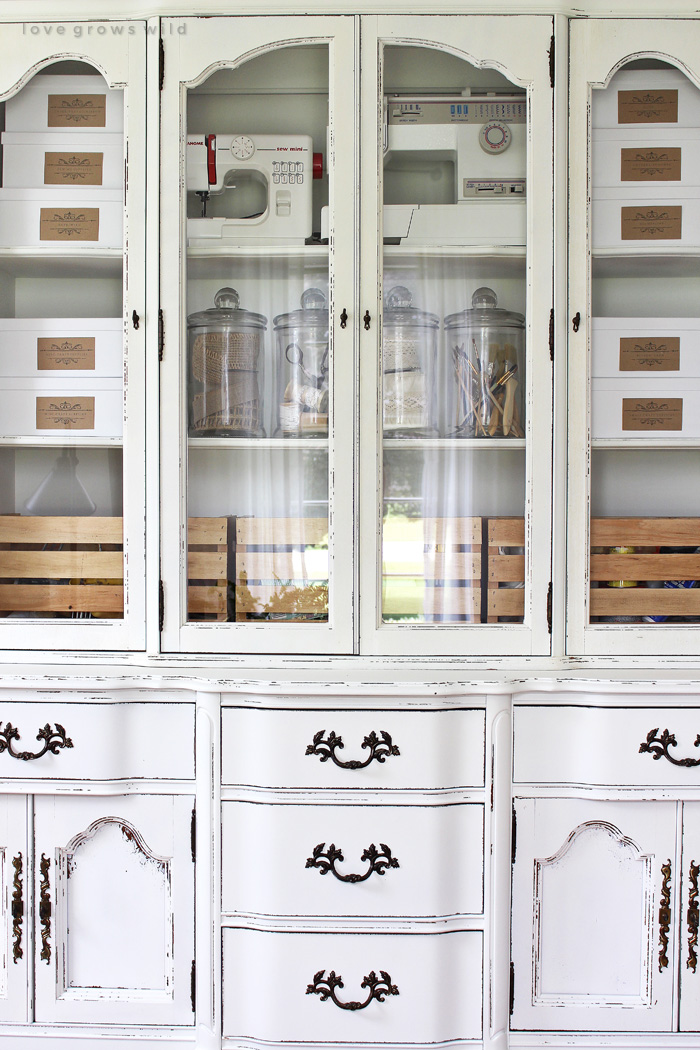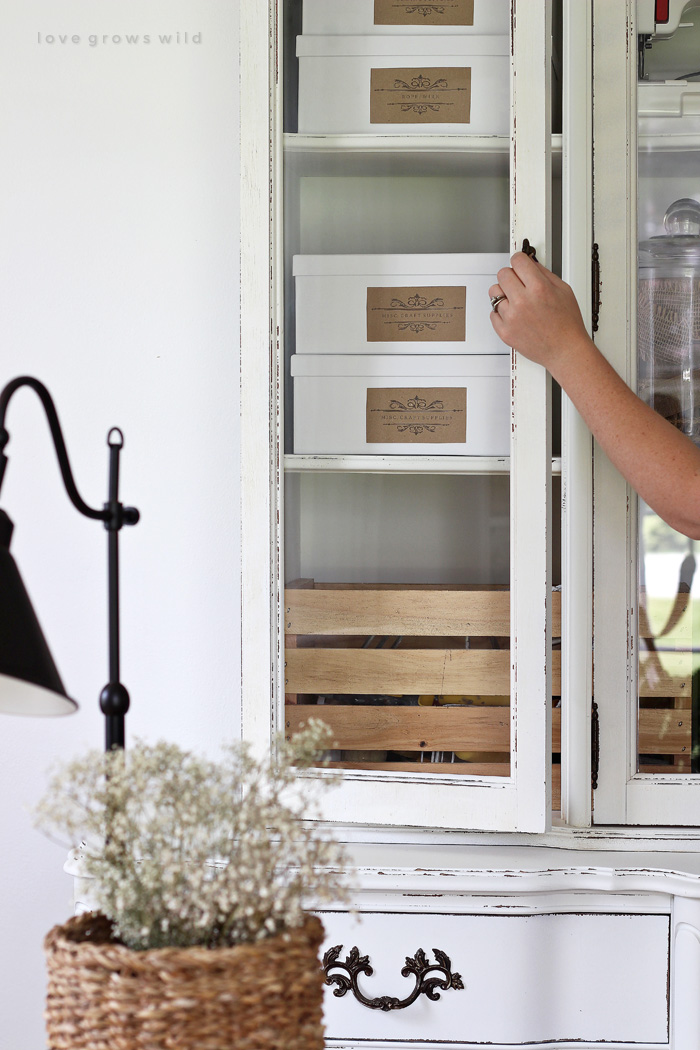 I didn't do a thing to the original hardware… a fresh coat of white paint against aged, antique hardware… be still my heart!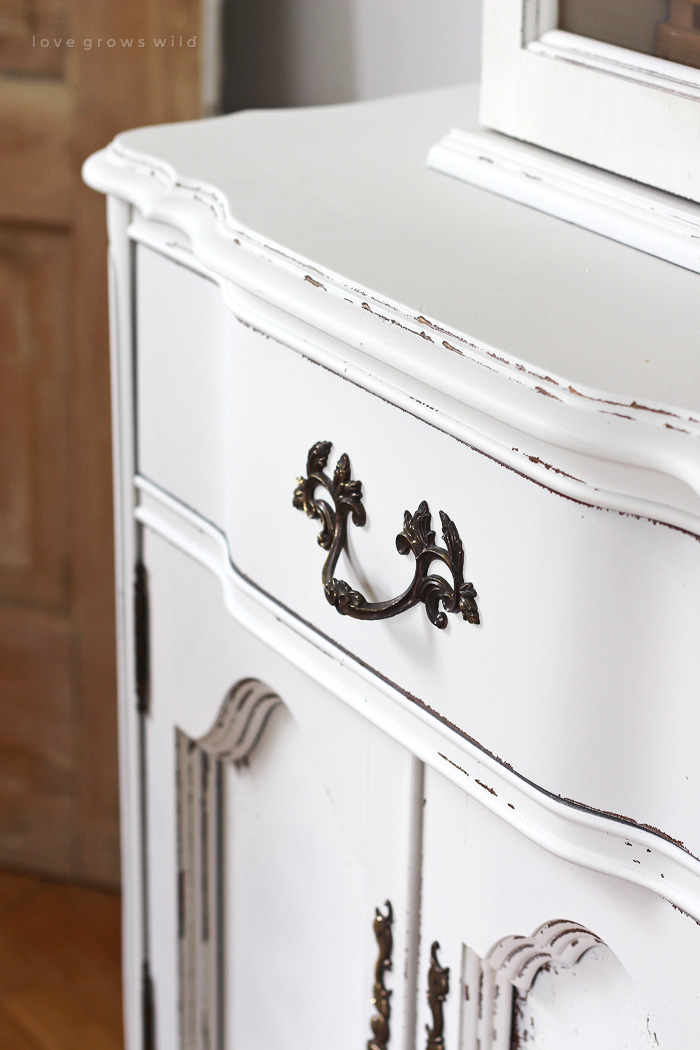 These cabinets hold ALL my craft/DIY supplies now… paint brushes, ribbon, glue, thread, stamps, and everything else in between. The glass jars and white photo boxes came from Hobby Lobby and the wood crates came from Joann's. I dry brushed some dark wax onto the crates to give them a more rustic look and made little paper labels with my computer and printer for the photo boxes. I've dreamed for YEARS about having all my supplies in one beautiful place… organized, labeled, and easily accessible. Man, does it feel good to finally have this task checked off my list!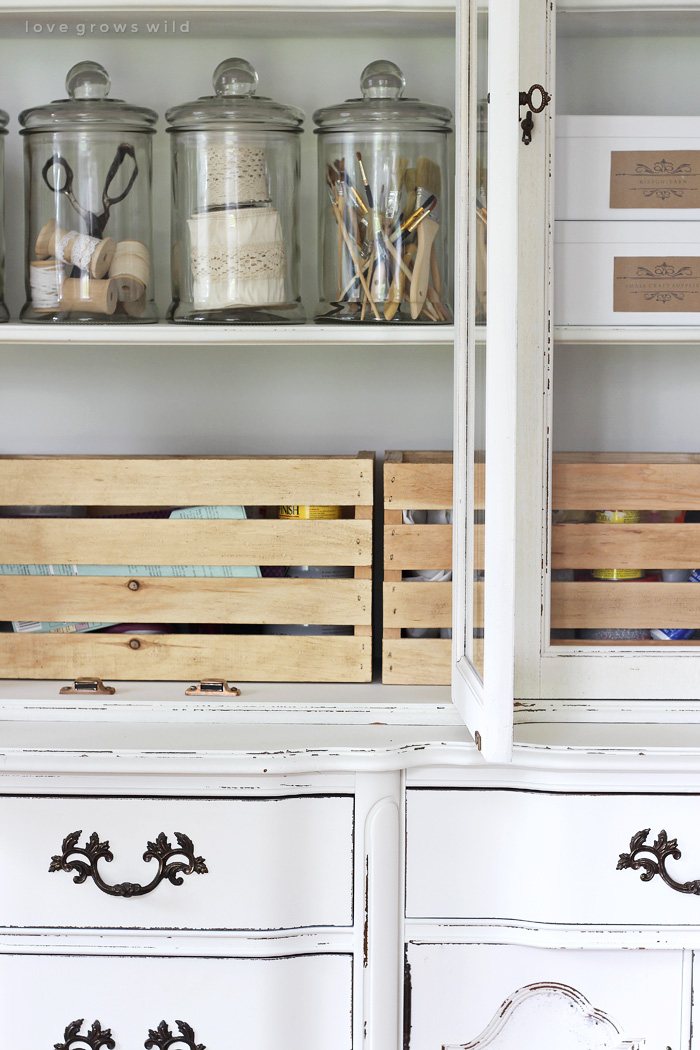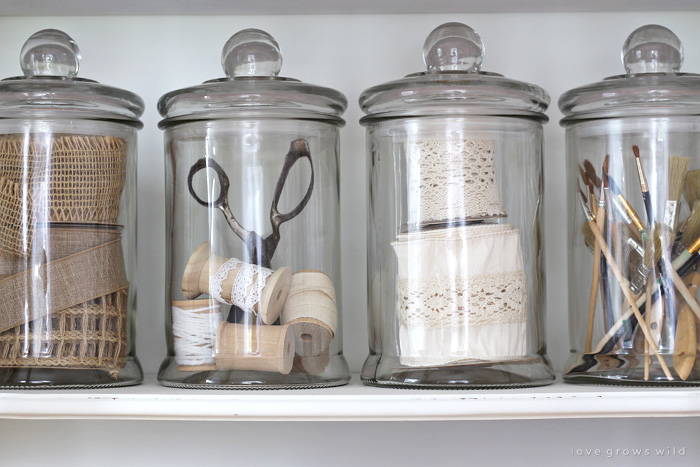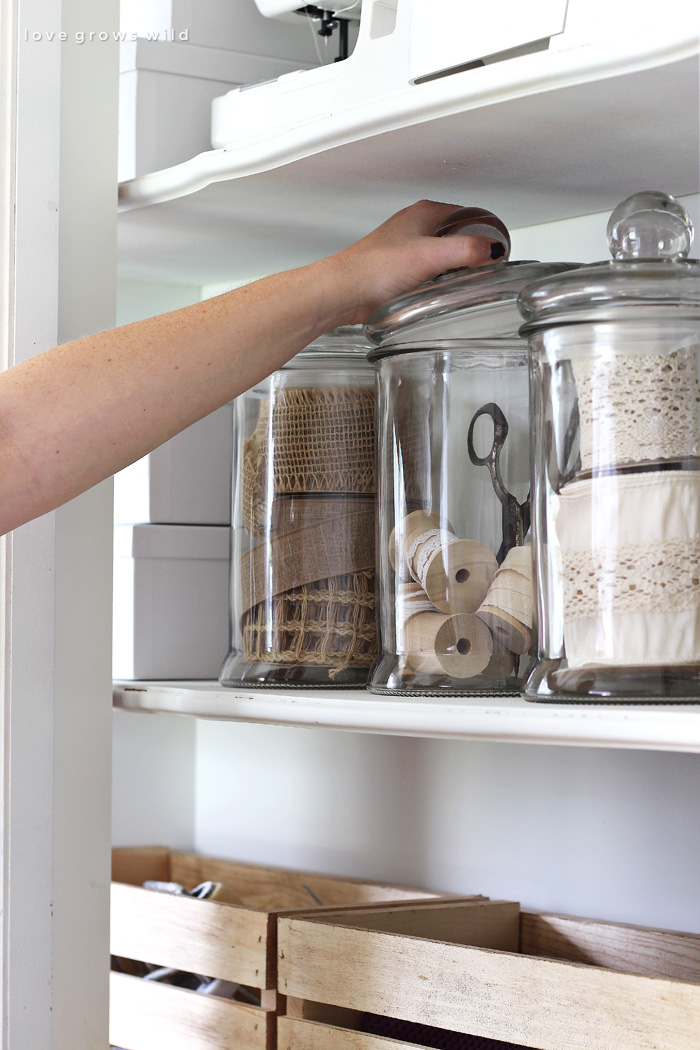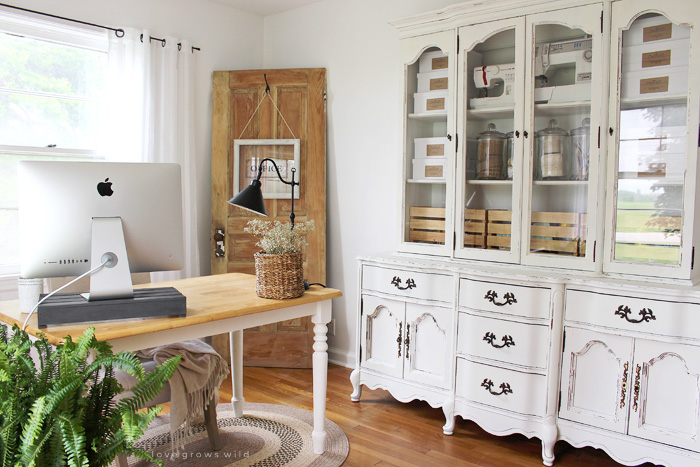 desk lamp / braided rug / antique door + office sign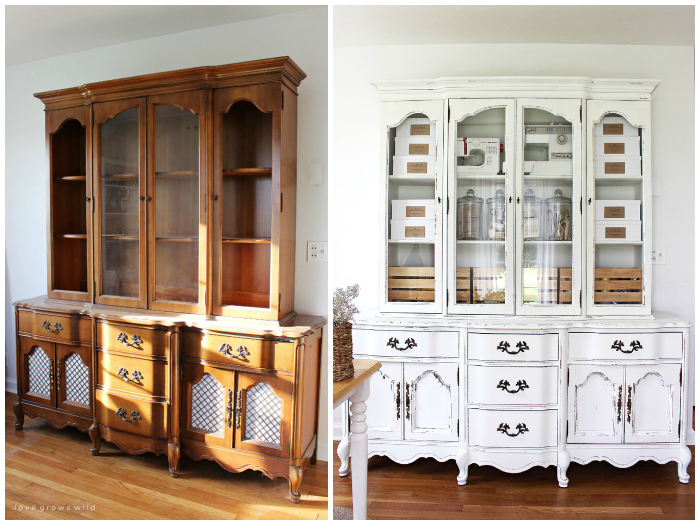 Now it's your turn! Tell me what YOU think of the makeover! Where do you store your craft supplies? Have you used chalk paint before? I'd love to hear your feedback in the comments below!
Check out more posts from our office makeover!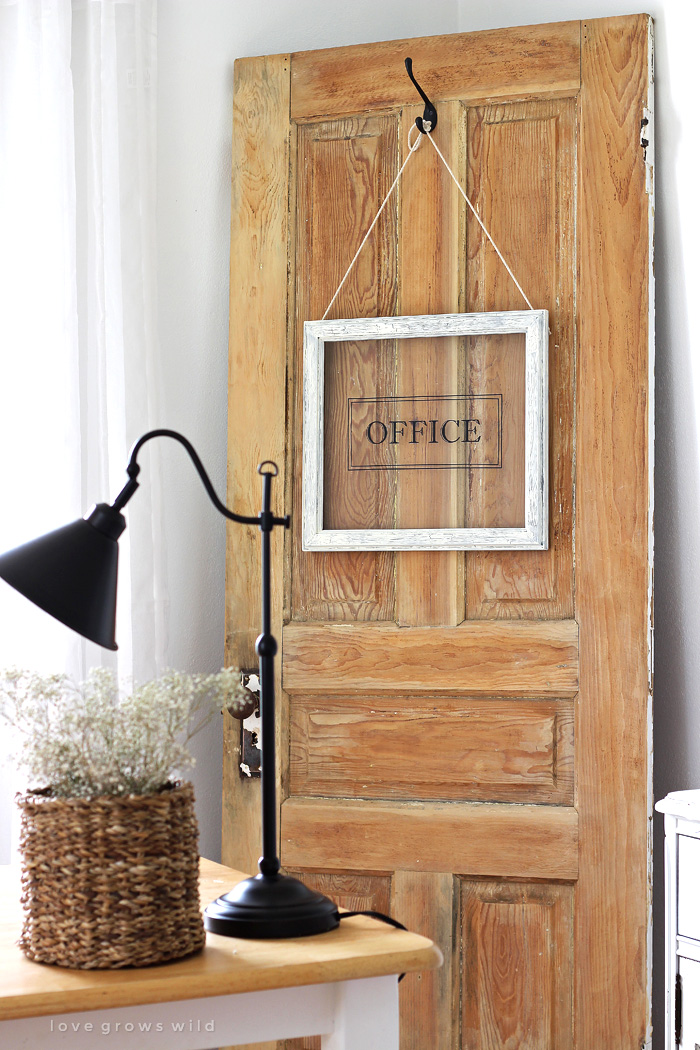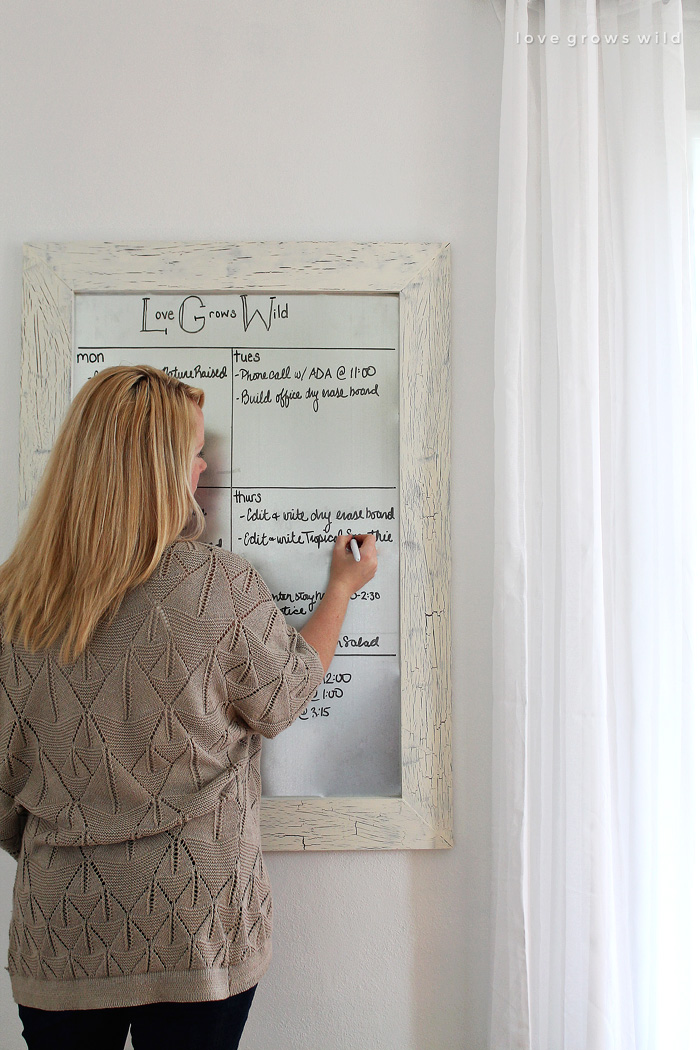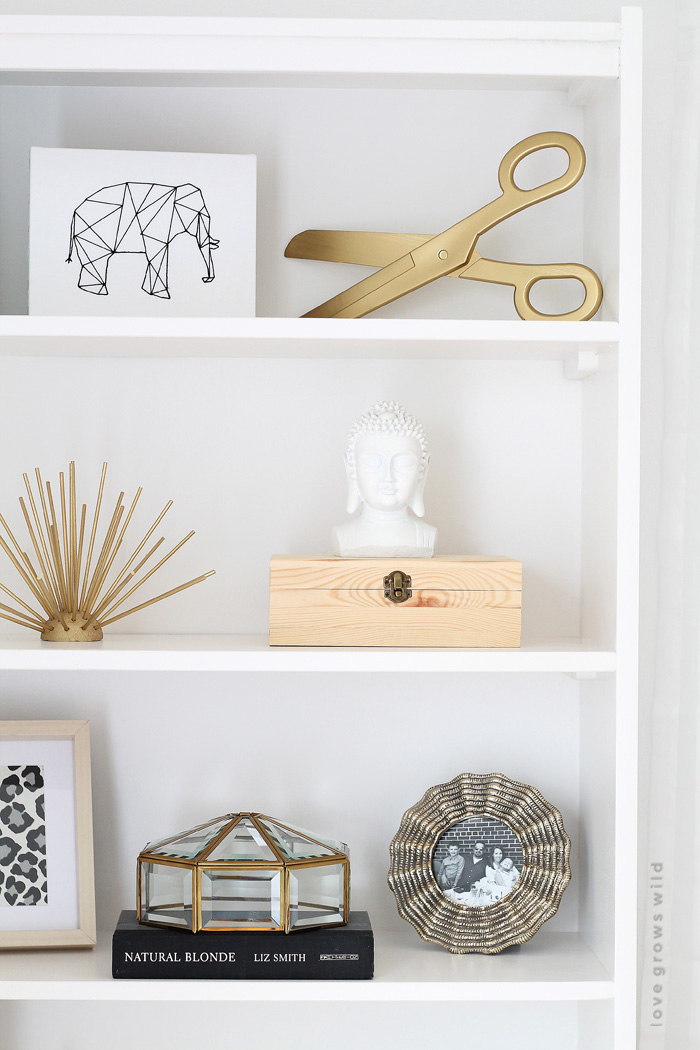 ---
LET'S KEEP IN TOUCH!
---
Subscribe to Blog | Browse my Shop | Follow on Facebook | Follow on Twitter
Follow on Google+ | Follow on Pinterest | Follow on Instagram