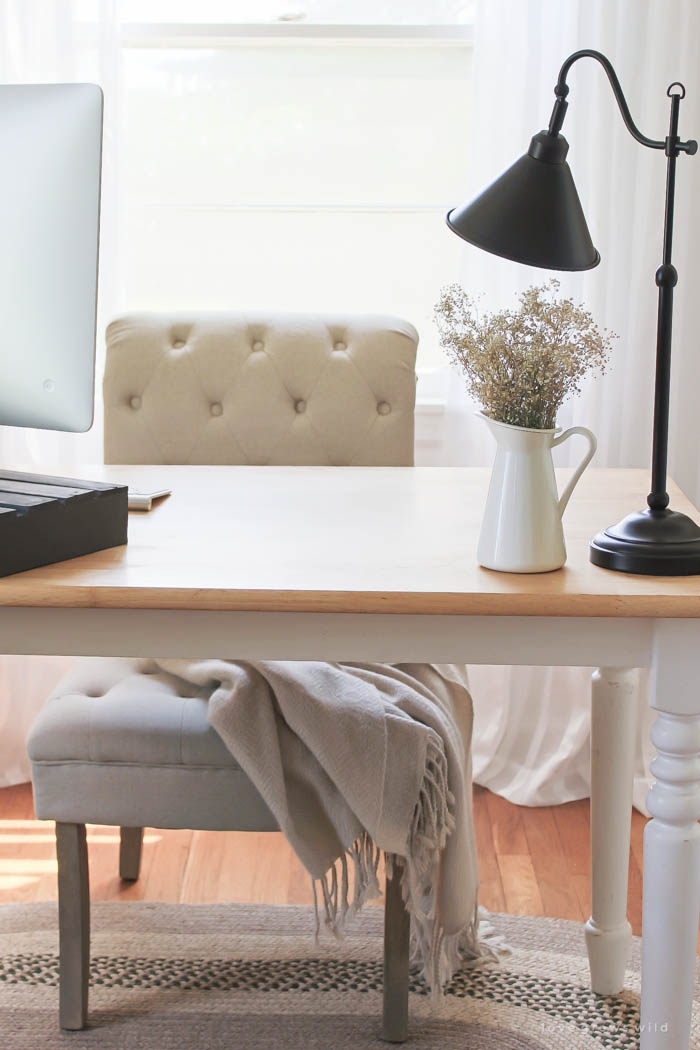 I think it's safe to say that the number one question we received from our office makeover reveal was, "Where did you hide all the cords at your desk??"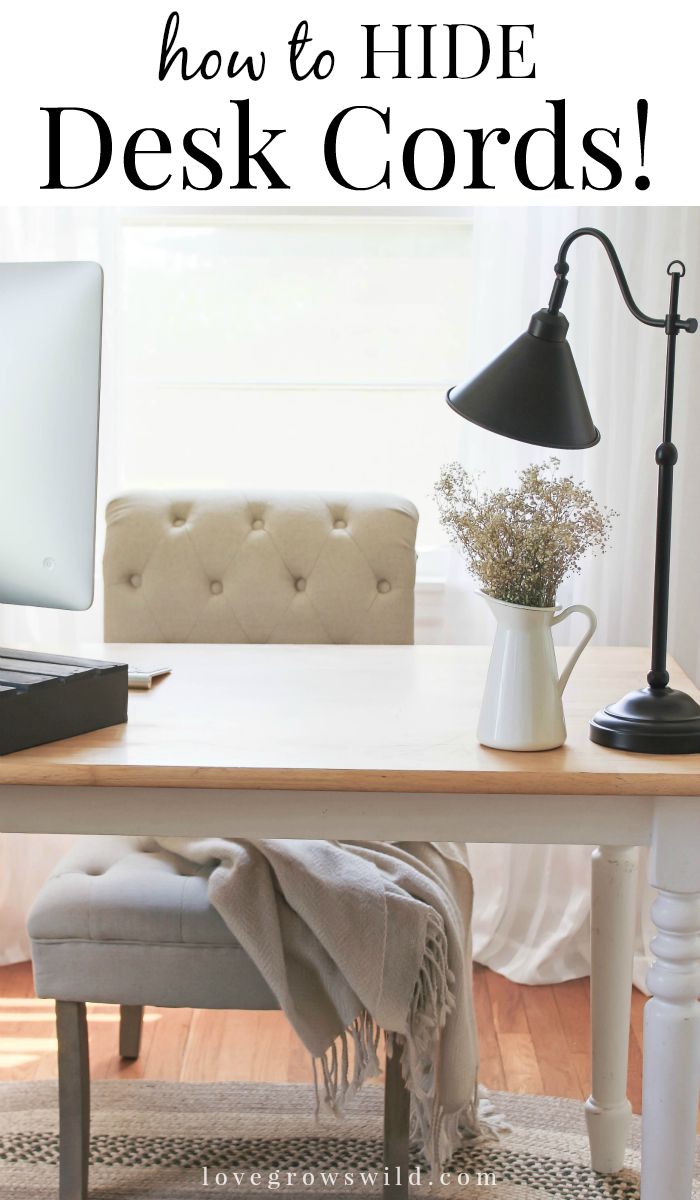 Were you thinking the same thing? I honestly hadn't even thought about including those details in the room reveal post, but you guys asked and I'm here to answer! I always try to be an open book here on the blog, so anytime you have a question or want to know more information about something, feel free to comment or shoot me an email. I do my best to answer!
I think part of the reason I didn't go into detail about my cord-hiding tactics is because there was no ground-breaking stroke of genius that went into it… I literally grabbed my staple gun and went to town! But more on that in a minute…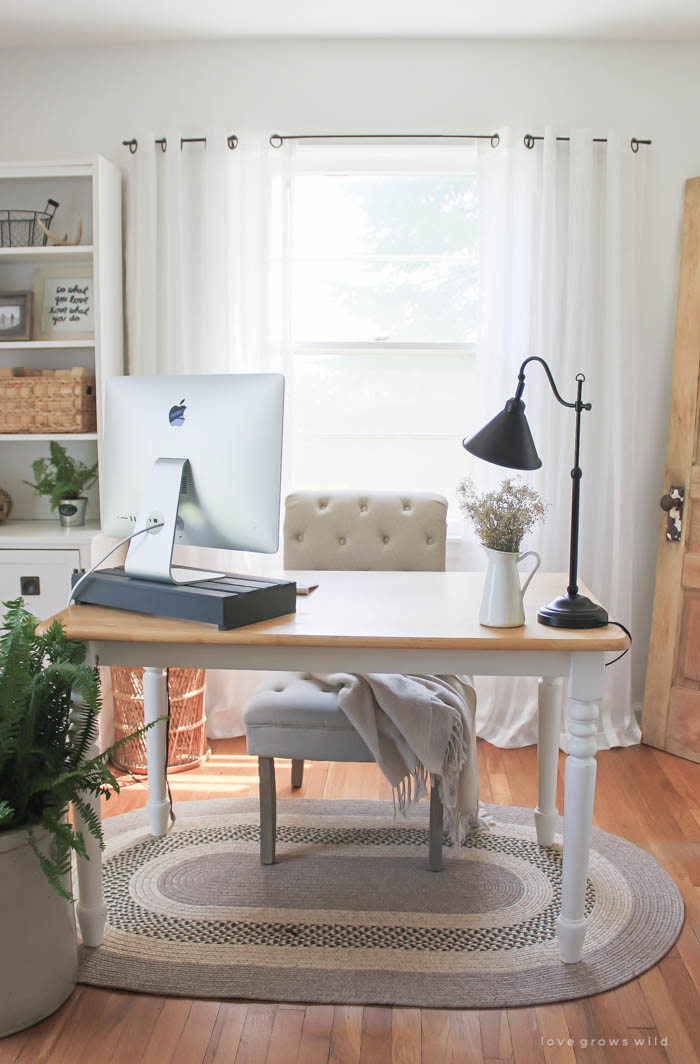 So a few months ago when I decided to float my desk in front of this window instead of having it shoved up against a wall, I obviously needed a plan for plugging in my computer and desk lamp, among other things. I basically ran an extension cord from the wall up to my desk and was able to disguise some of the cord with furniture placement.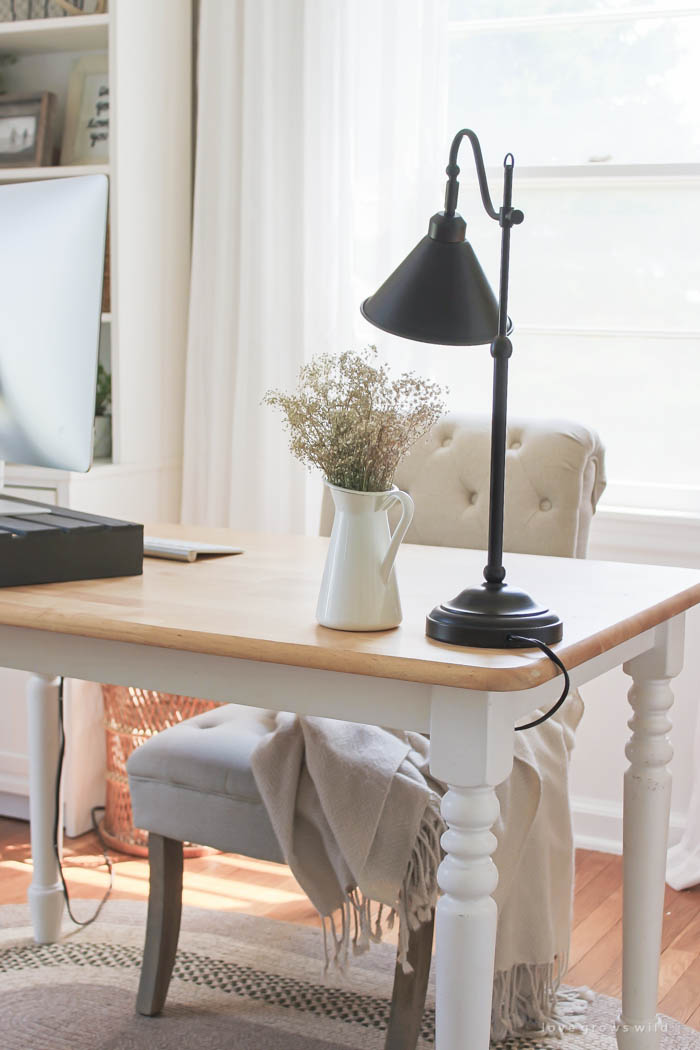 Now I realize your room is probably completely different from my office, but hopefully this will get some ideas rolling for you to make this setup work in your own space! I first plugged my extension cord into the wall on the side of my desk. Of course, there's no outlet right behind me, that would be too simple. Then I ran the cord behind my cabinet that sits in the corner, around the side, and up to the closest desk leg. I set a little garbage can next to the cabinet to help hide the cord a bit. Yes, using a white extension cord would probably blend in a lot better with the white walls, cabinet and desk legs, but this brown cord was the first one I found in the closet, and I haven't remembered to pick up a new one from the store yet. #someday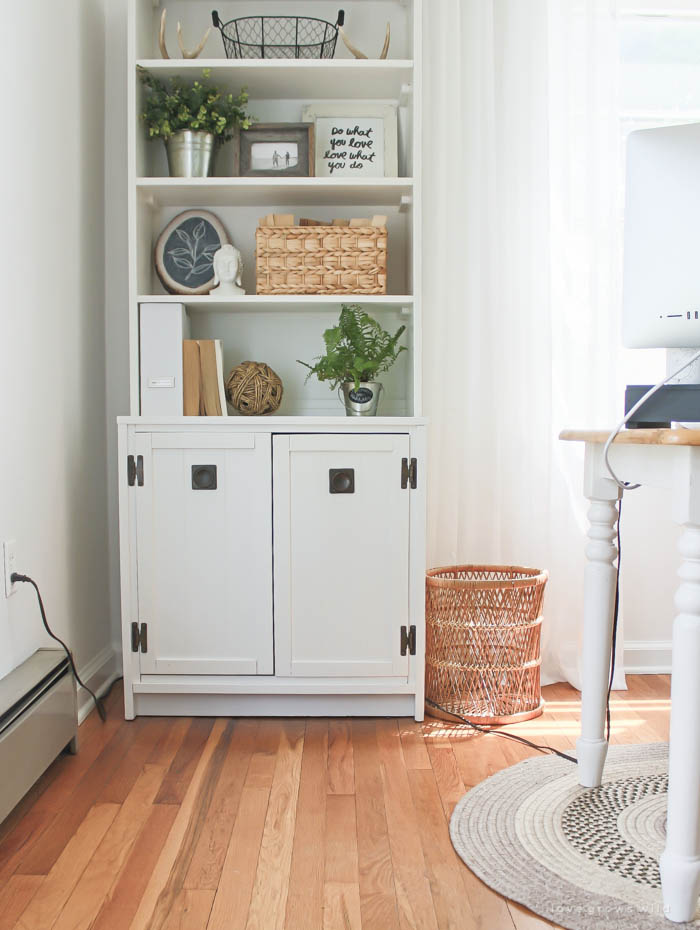 Once I had the cord running up to the desk, I held it against the desk leg and added a couple pieces of tape to hold it in place. Once I liked the placement of the cord, I used my staple gun to secure it to the desk leg. I made sure I had nice, long staples in the gun and was VERY careful not to puncture the cord with a staple… just take your time when lining up the staple gun! Again, a white cord would be 1000x better, but at least you get a good picture of where the cord is positioned.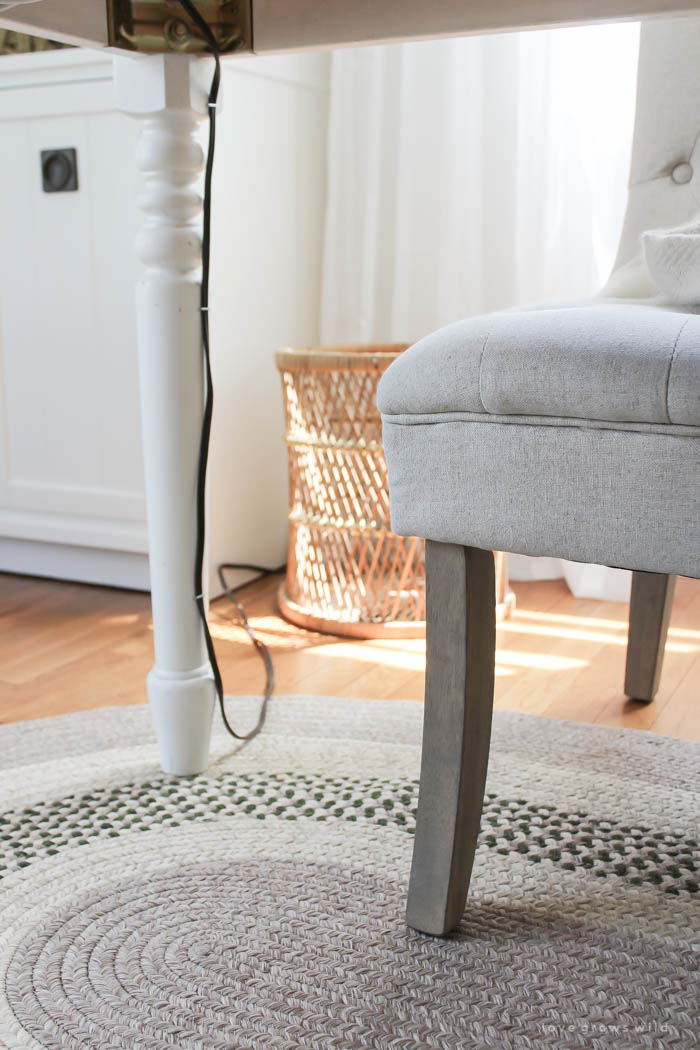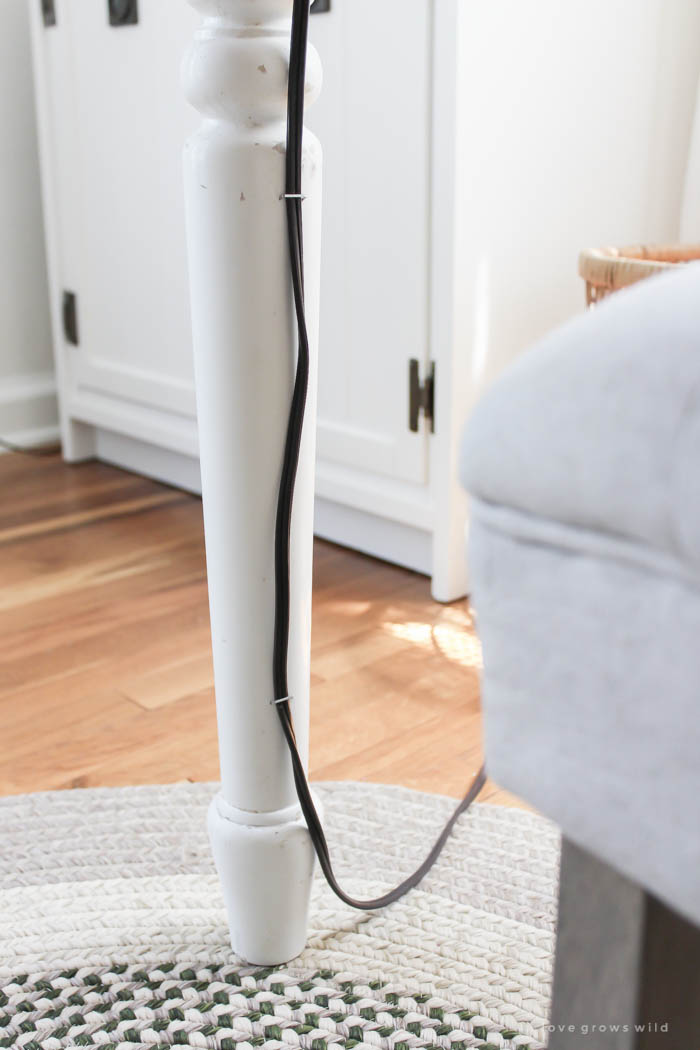 So here's what the underneath of my desk looks like: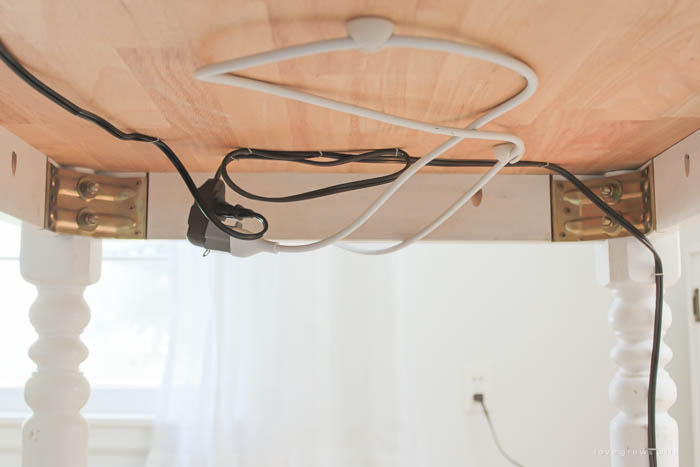 This setup is nothing fancy, and there are probably better-looking ways of doing this, but using a staple gun was quick and easy… and honestly, who is ever going to look underneath my desk? ; )
Again, I used tape to help get the cord in a good position and then added the staples. It's okay that the cords hang down a little bit because the skirt around the desk helps hide everything.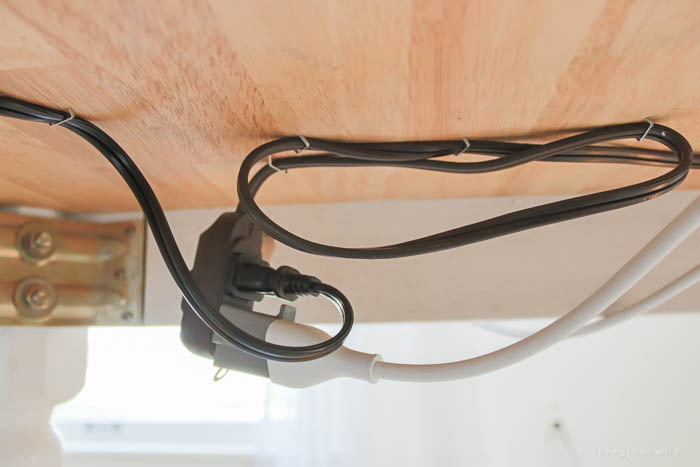 My lamp sits on the other side of the desk, so I stapled that cord under the desk over to the extension cord plugin as well. My iMac has a rounder, thicker cord, so I used some of these cord clips instead of the staples. They have an adhesive backing that sticks wherever you need them.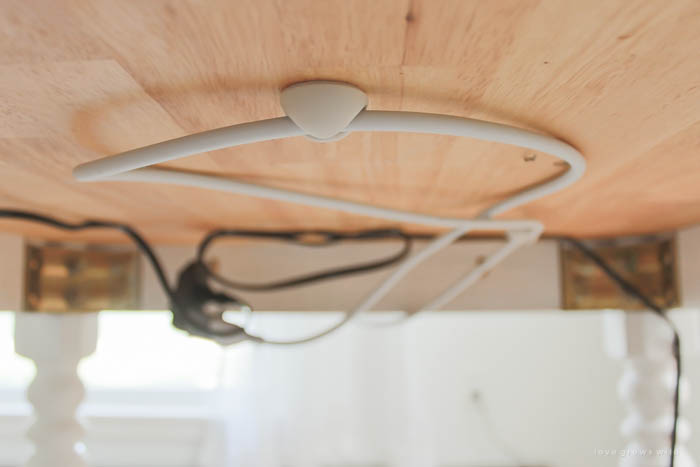 It may not be 100% perfect, but it works for me! I have a big crock with a fern that sits in front of the left side of my desk, which also helps hide the cord running across the floor. If I wanted to, I could probably get a larger rug and hide the cord underneath, but I just love the round braided rug I have now.
So did I answer all your questions? Is there anything else you're dying to know? How do you hide/organize YOUR computer and desk cords? Leave me a comment below… I'd love to hear from you!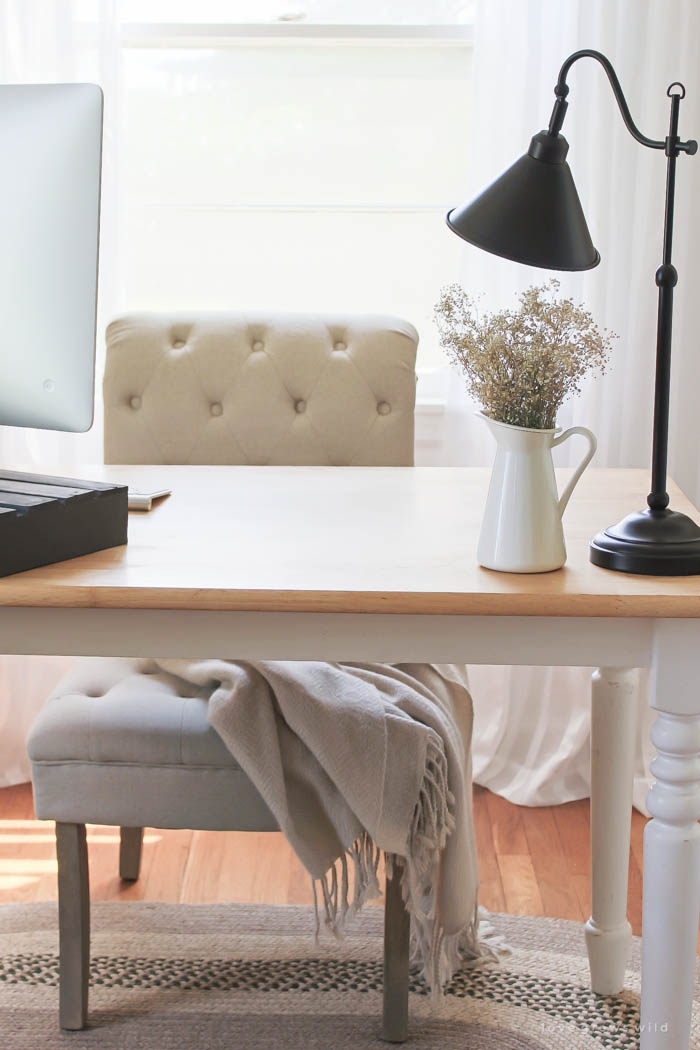 ---
More from our office makeover:
---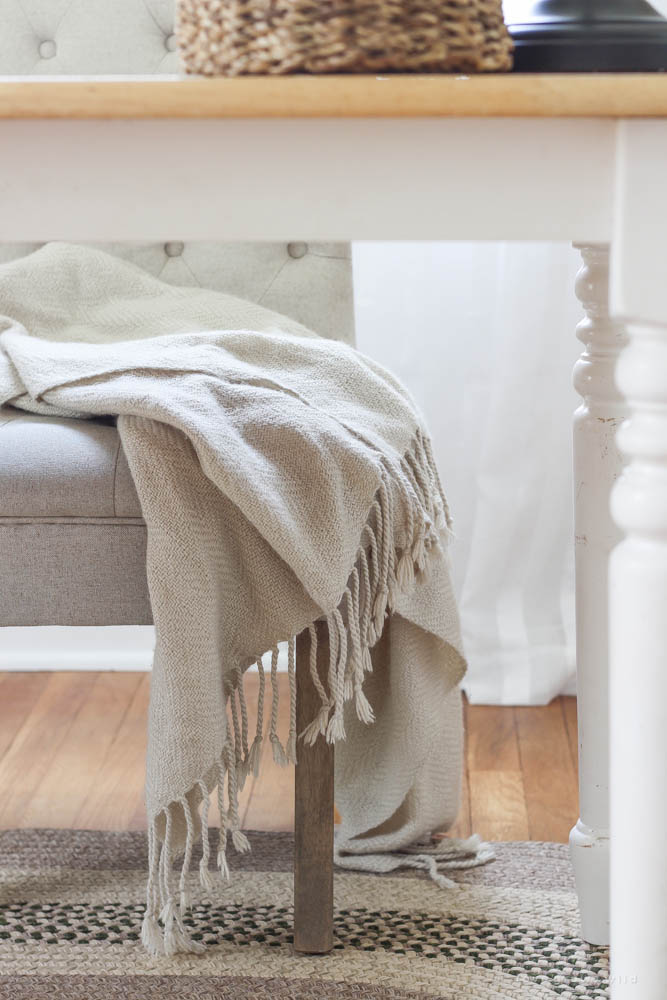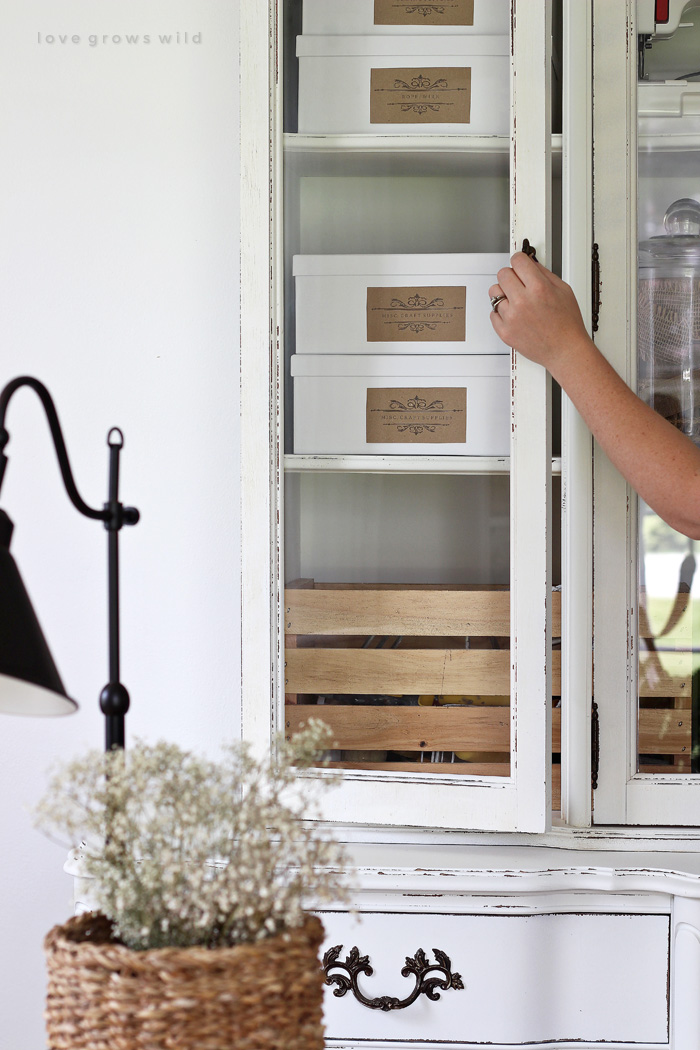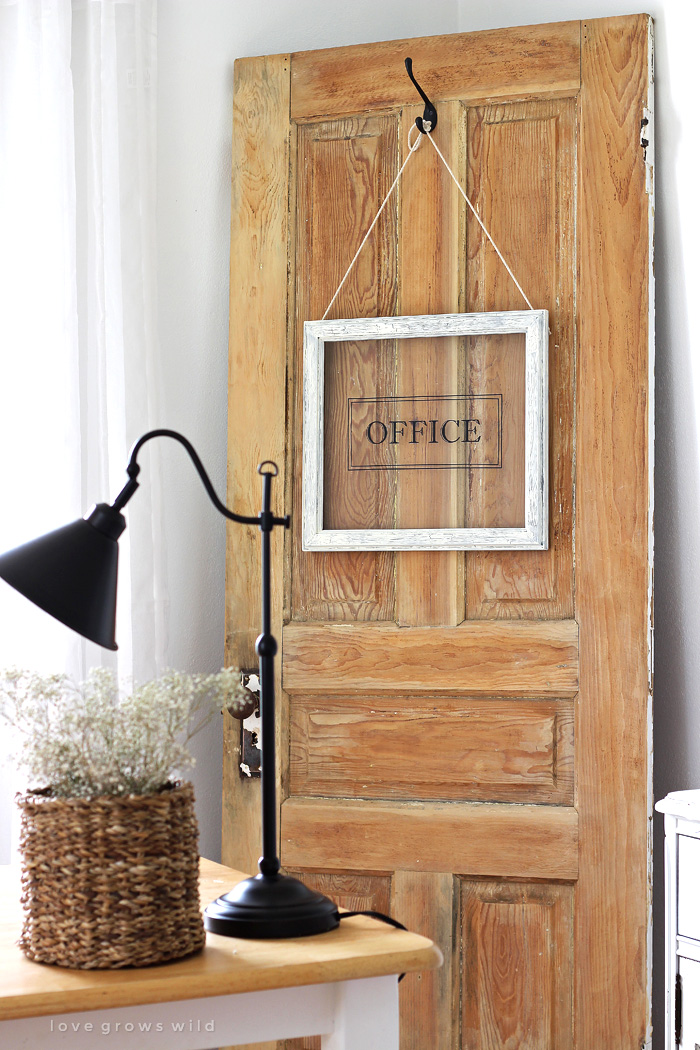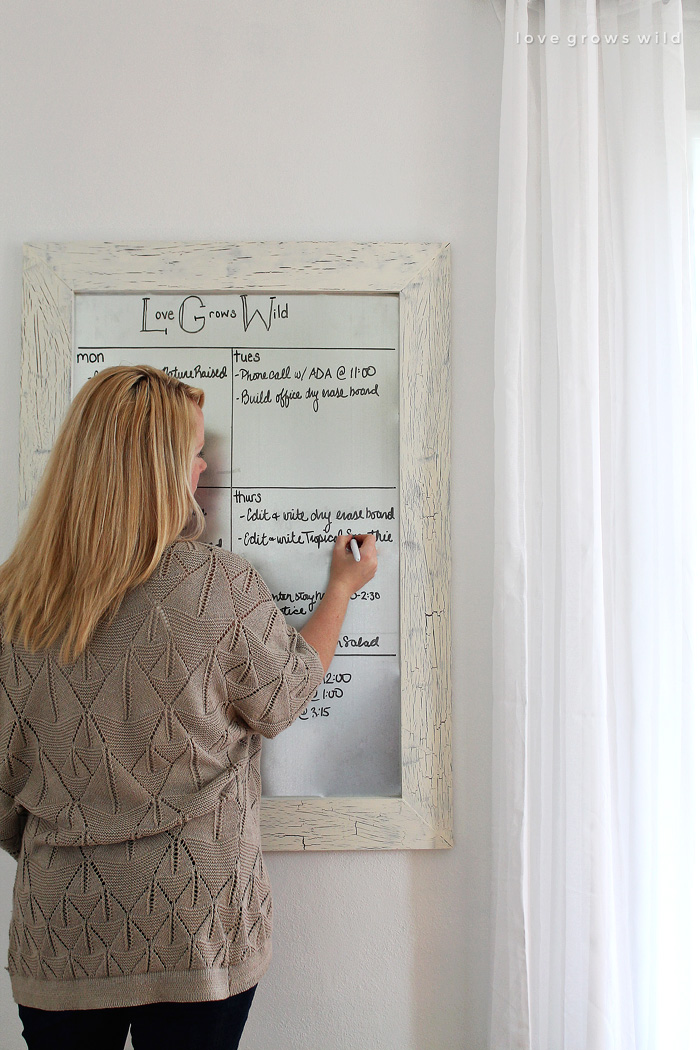 ---
LET'S KEEP IN TOUCH!
---
Subscribe to Blog | Browse my Shop | Follow on Facebook | Follow on Twitter
Follow on Google+ | Follow on Pinterest | Follow on Instagram