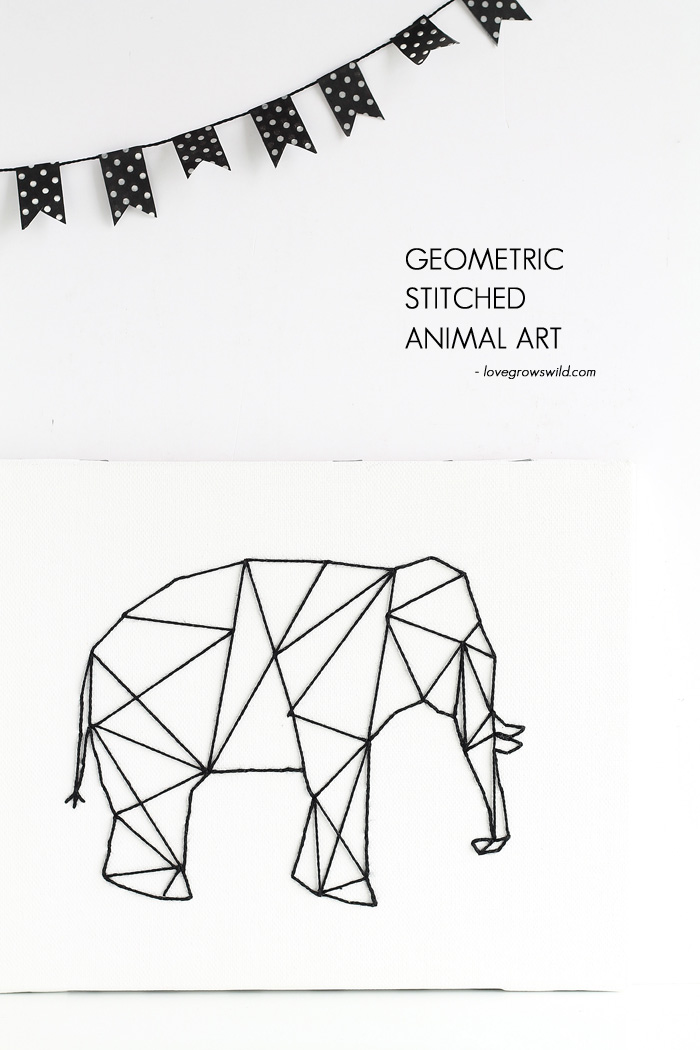 Lately I've been busy working behind the scenes on my office makeover and tackling a ton of big projects that I cannot wait to share with you guys. It's coming along beautifully! The problem with big, epic, awesome-sauce projects is that they usually take a good amount of time to complete. At least that's the way it seems to work for me anyway. So while I have my office torn apart with furniture paining, table building, and a few other surprise projects, I'm going to share a few smaller (but still awesome-sauce!) home decor ideas that I've had floating around in my brain for awhile. You may just see a few of them used in my office makeover as we go along!
This sweet little piece of art came from an idea I found on the HGTV Handmade YouTube Channel. I've worked with canvas stitching before on my embroidered canvas word art, so I already knew this would be a fun and simple project to tackle. It only took me about a half hour and cost under $7 in supplies to create this Geometric Stitched Animal Art that will add the perfect touch of whimsy to any room!
When it was time to choose an animal for this project, I had to go with an elephant. I can't really explain why, but ever since my son was born, I've had a strong connection to them. Maybe it's their quiet strength or protective nature, or maybe it's just because they are so darn cute. Either way, I love 'em! You can choose whatever animal happens to be your favorite (or any shape really), so have fun getting creative with this idea!
Supplies:
small canvas (mine was 7″ x 9″)
embroidery thread
sewing needle
picture of animal
pencil
tape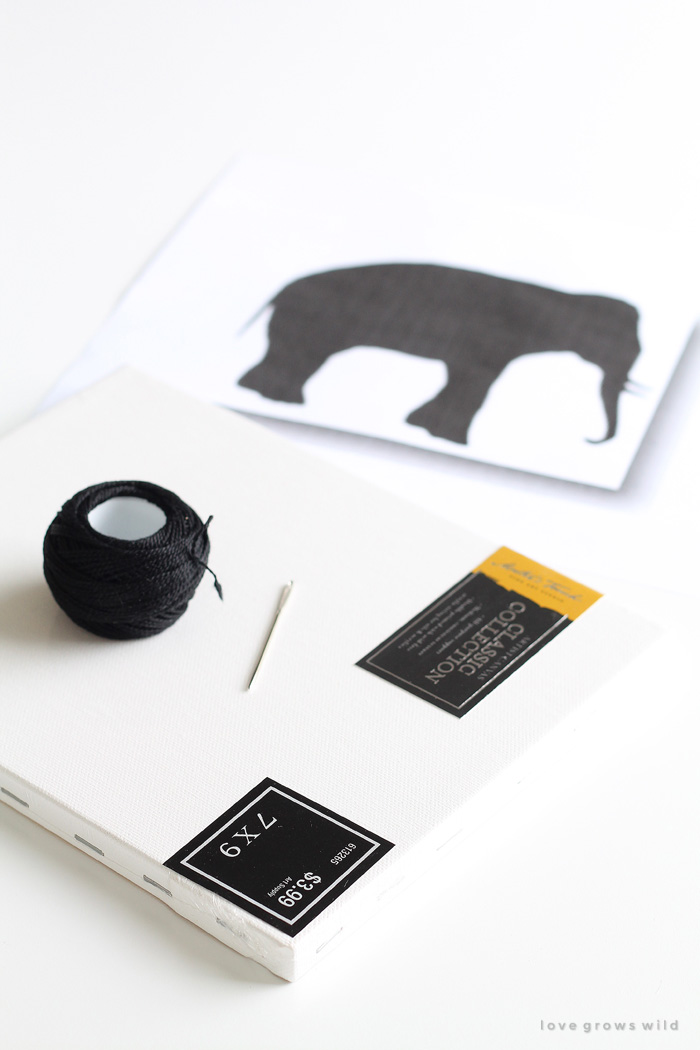 Step 1: Find a picture of your favorite animal from a book or magazine or print one from a computer. Place a piece of white computer paper over the animal print. Use a pencil to draw dots around the outline of the animal. Place a dot wherever the shape changes direction to help guide you.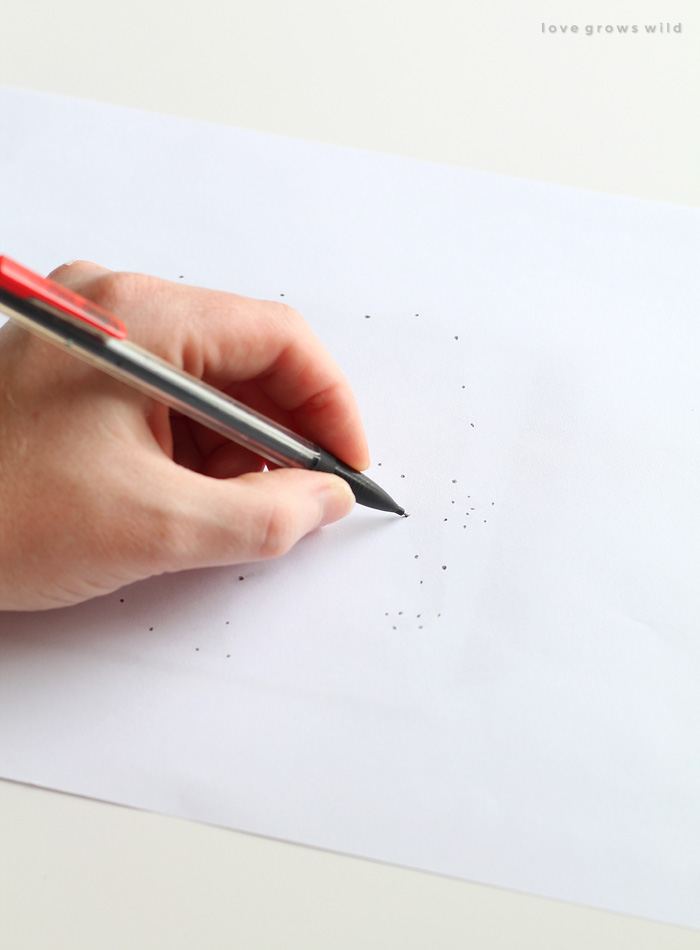 Step 2: Place the dotted outline paper on top of a blank white canvas and tape down the corners to hold the paper in place. Using a sewing needle, pierce through the paper and canvas at each dot on the paper. Then remove the paper and tape from the canvas.
Tip: you can connect the dots on your paper with a pencil to help guide you as you stitch the outline. This is especially helpful on detailed areas where there are many dots in a small space.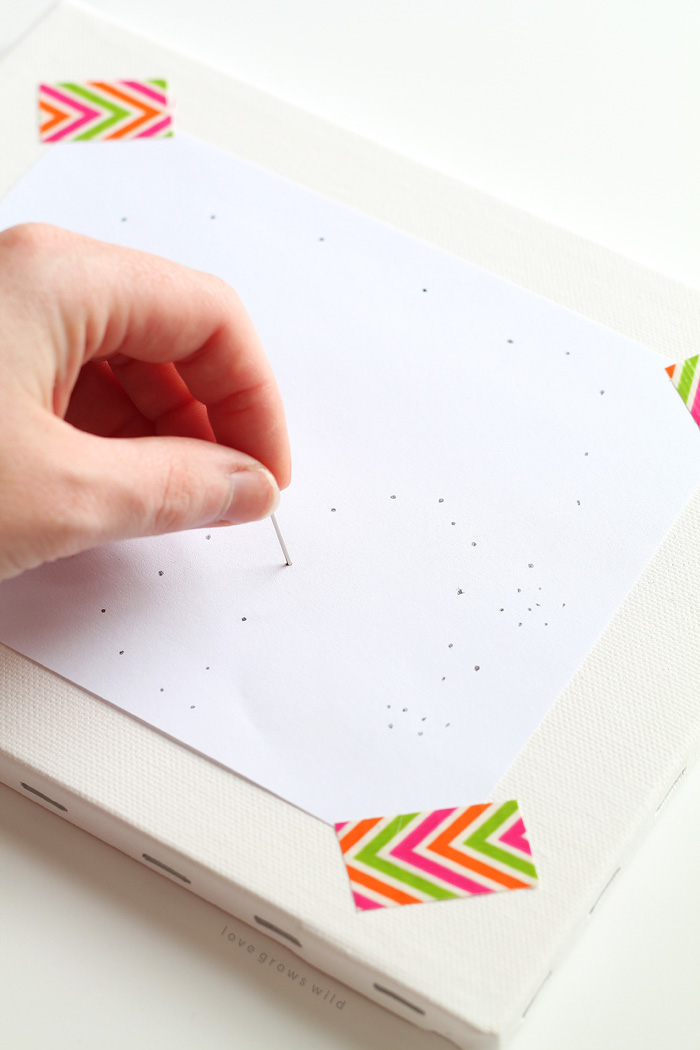 Step 3: Thread a needle with embroidery thread and tie a knot at the end. Use the holes you created in the canvas as a guide for sewing the outline of the animal.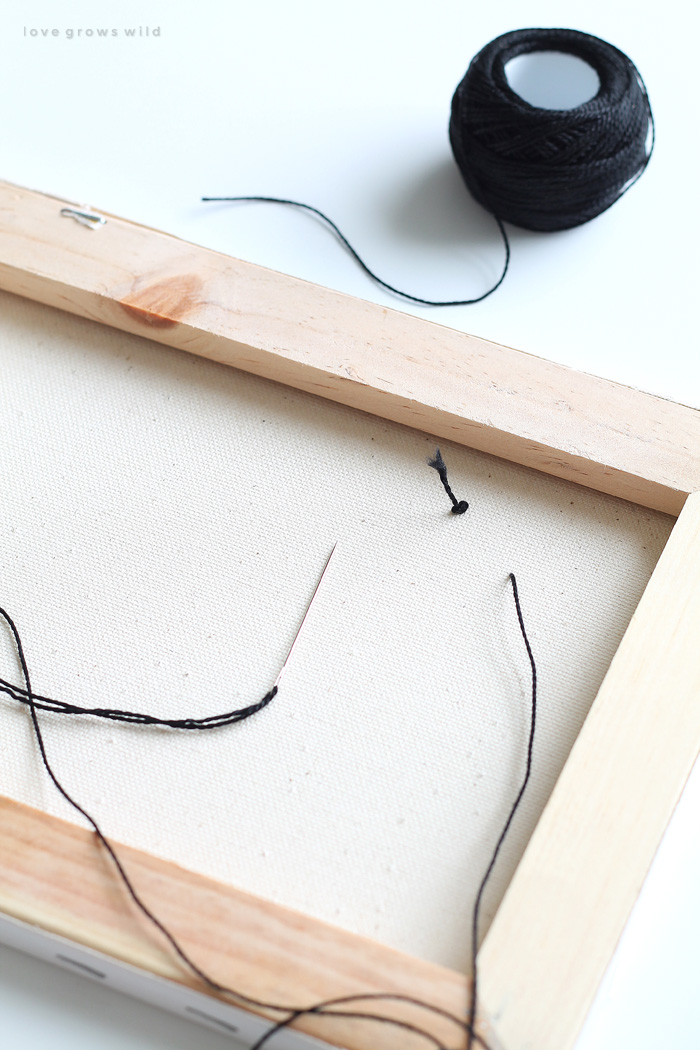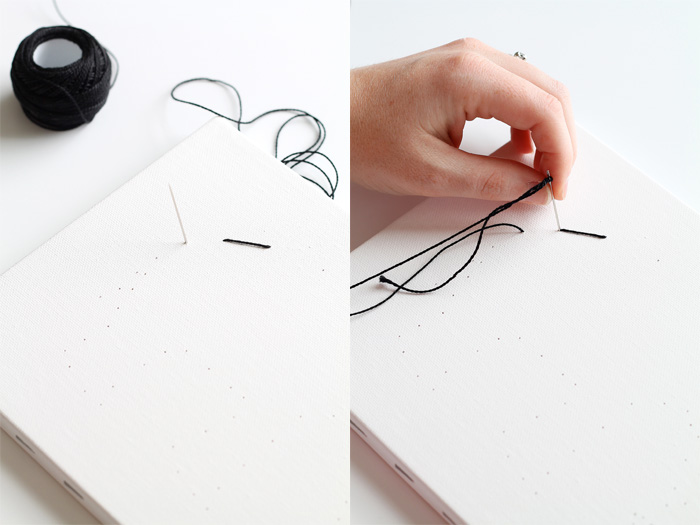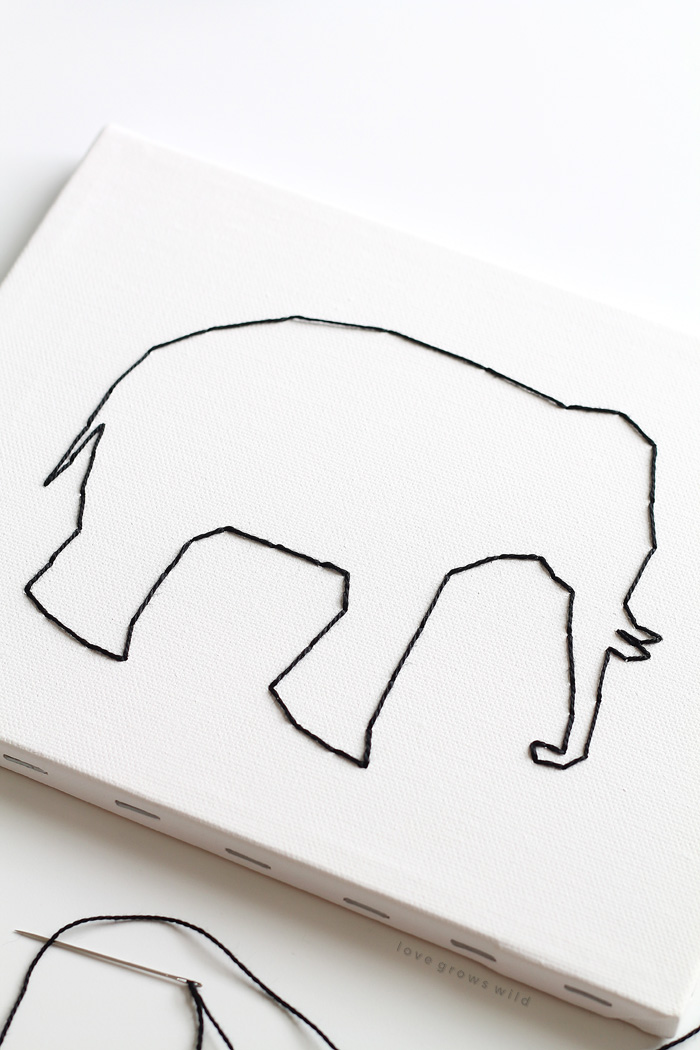 Step 4: Once you've completed the outline, stitch intersecting lines inside the animal, creating various geometric shapes. Use larger shapes on larger body parts and smaller shapes on smaller body parts. When finished, tie a knot in back of the canvas to secure the thread.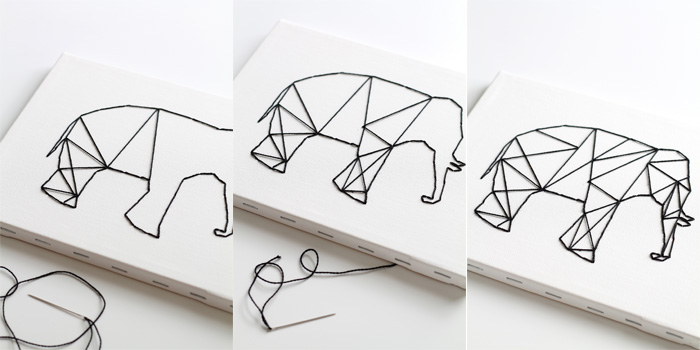 As if the elephant couldn't get any cuter than he already was, I added a little detail to his tail for extra cuteness!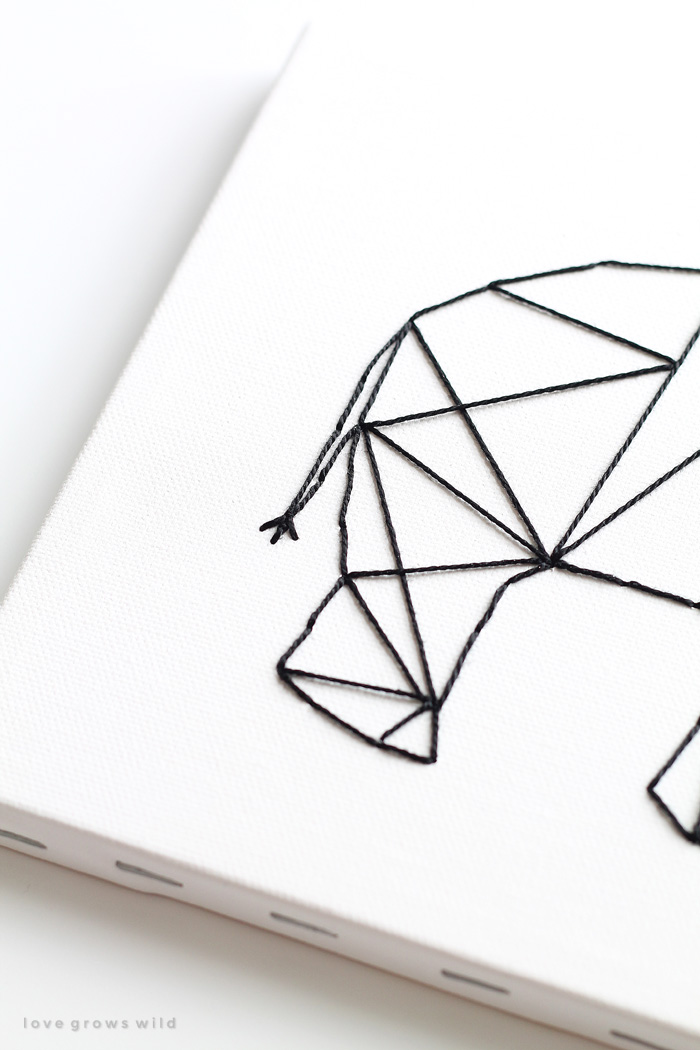 This canvas art would look great as part of a gallery wall, on a book shelf, or just about anywhere in your home. A collection of these animals in a kid's bedroom or playroom would be darling too!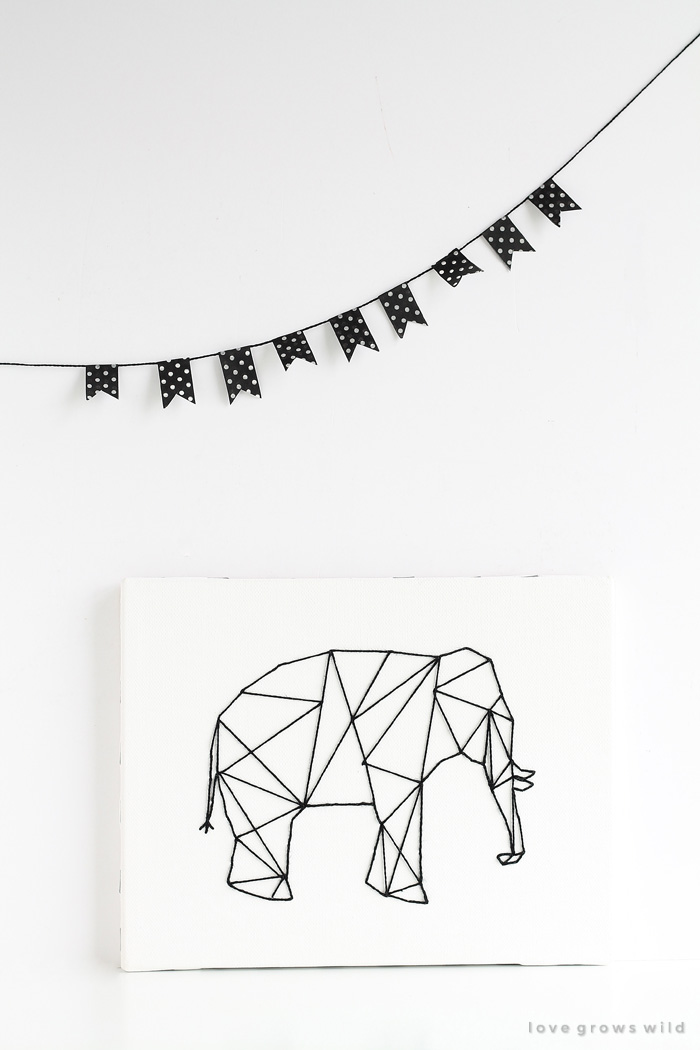 But this guy isn't going in my kids' room… Oh no, he's all mine! What shall I name my new little friend? 😉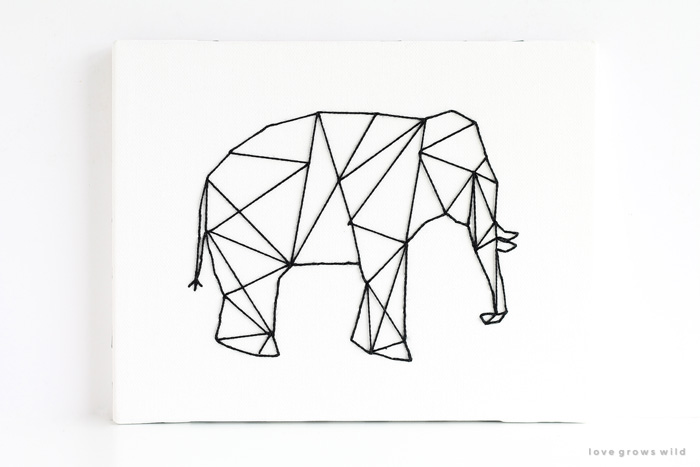 So what do YOU think? Do you like this whimsical, modern, black and white piece of art? What animal would you create? Would you stick to black and white or use a fun punch of colored thread? Leave me a comment and tell me your thoughts!
Are you making this project? I'd LOVE to see it! Post a photo of your creation on Instagram and use the hashtag #MyLGWProject. It may just get featured!
Like what you see? Subscribe to Love Grows Wild so you'll never miss a post!
Follow along on Pinterest, Google+, Instagram, and Facebook for more fun!
---
More Home Decor Projects: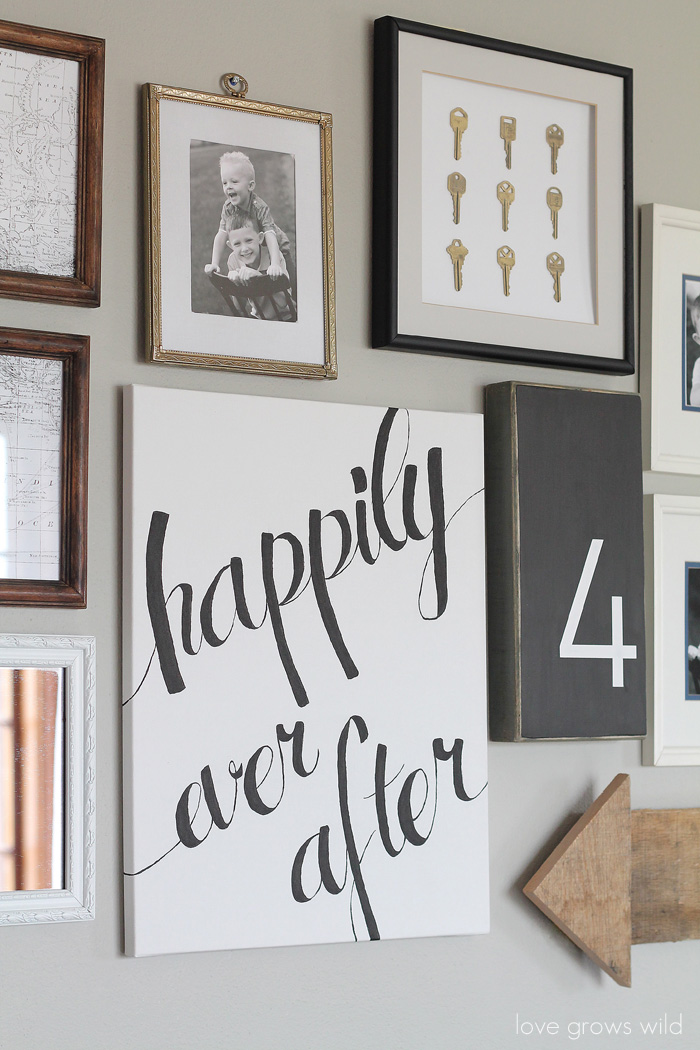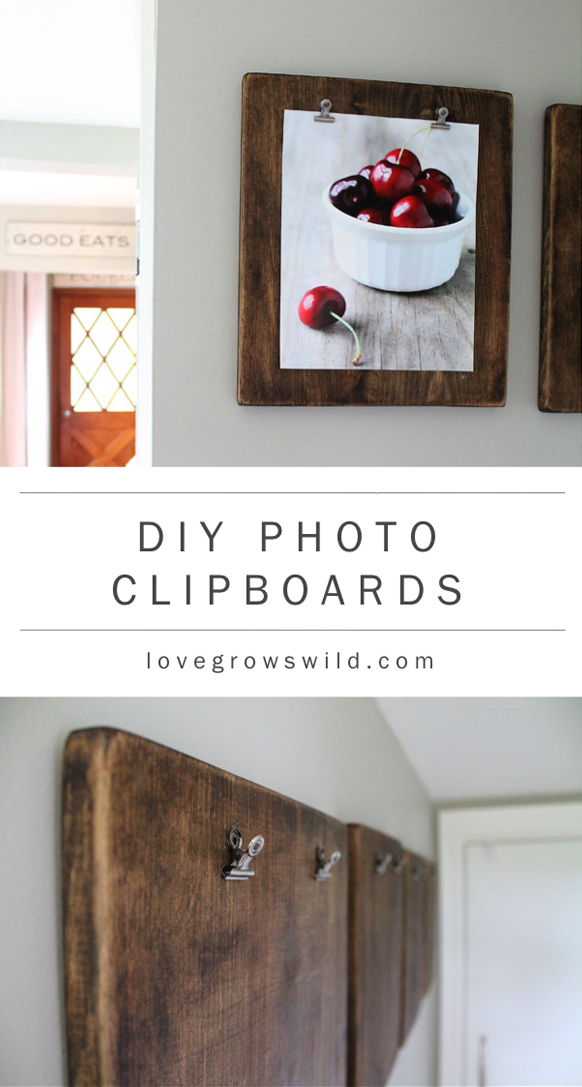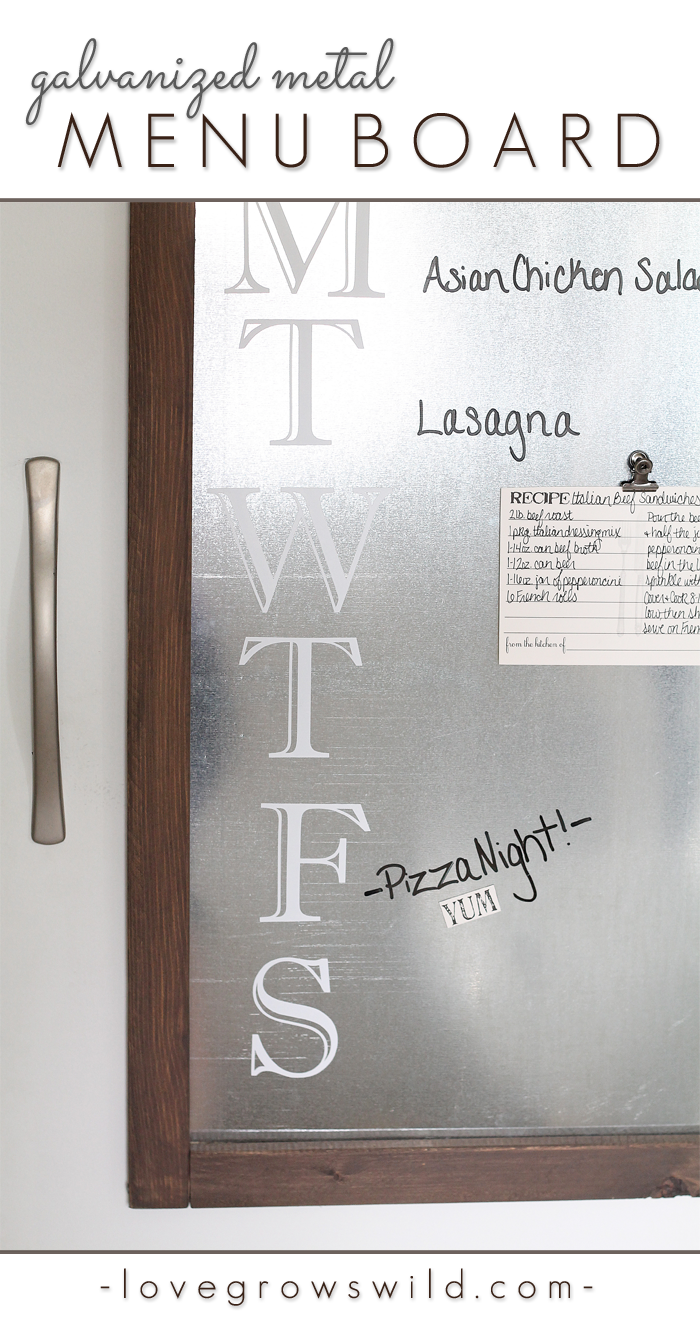 ---
LET'S KEEP IN TOUCH!
Subscribe to Blog | Browse my Shop | Follow on Facebook | Follow on Twitter
Follow on Google+ | Follow on Pinterest | Follow on Instagram