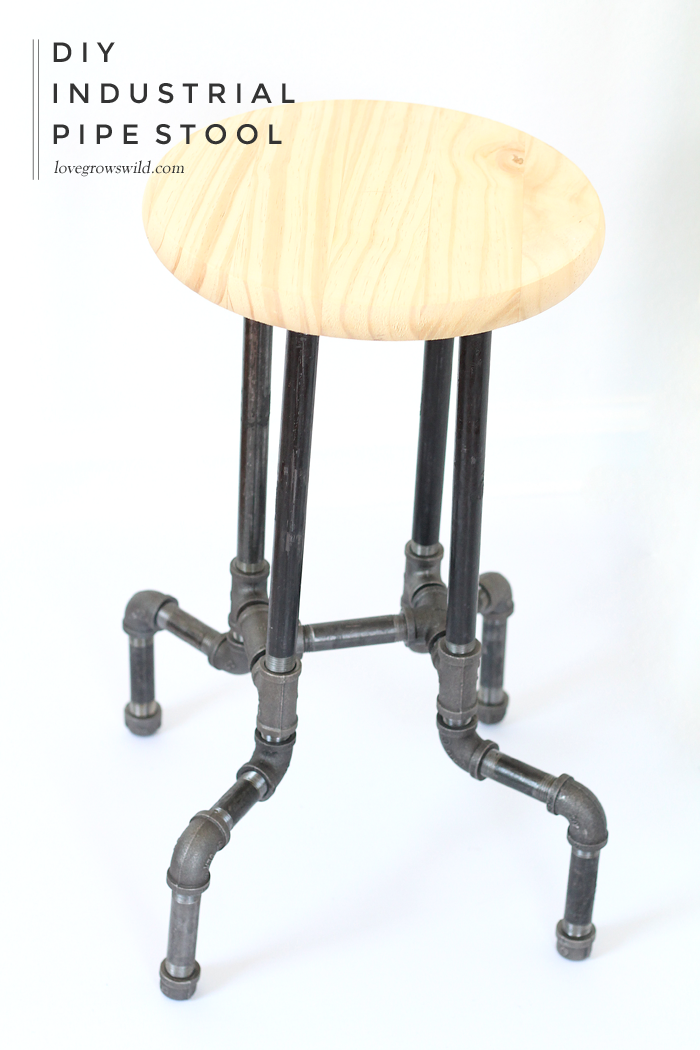 This post brought to you by Elmer's ProBond Advanced. All opinions are 100% mine.
Another project checked off the office makeover to-do list, and guys… this one is really fun! I'm sure you've seen all the industrial pipe projects that are trending right now, and I couldn't help but jump on the bandwagon. I don't have room in my office for a lot of the larger projects I've seen like shelving units or tables, but I found a way to add a bit of that cool industrial look in a smaller size, and I promise you this is a project that ANYONE can do! I created 4 DIY Industrial Pipe Stools for my work table using plumbing pipe and wood rounds, and I am so excited with how they turned out!
So one day I got this crazy idea to build pipe stools and showed my husband a chicken scratch drawing of how I thought they could be built. After playing around with the pipes for awhile, we came up with this design that flares out at the bottom, adding extra stability and support for the stools. They stand about 21-22″ tall and about 11 1/2 – 12″ wide at the bottom (sizes will vary depending on how tight pipes are fitted), and I have all the parts, building instructions, and tips and tricks you need to whip out a couple of these babies in no time! Don't you just love when the hard part is done for you? 🙂
Here is what you'll need to buy to make 1 stool:
1 – 12″ round wood seat (found near the lumber section in hardware stores)
4 – 1/2″ floor flanges
4 – 1/2″ x 12″ pipes
4 – 1/2″ x 3″ pipes
5 – 1/2″ x 4″ pipes
6 – 1/2″ tees
8 – 1/2″ 90° elbows
8 – 1/2″ close nipples
4 – 1/2″ caps
Elmer's ProBond Advanced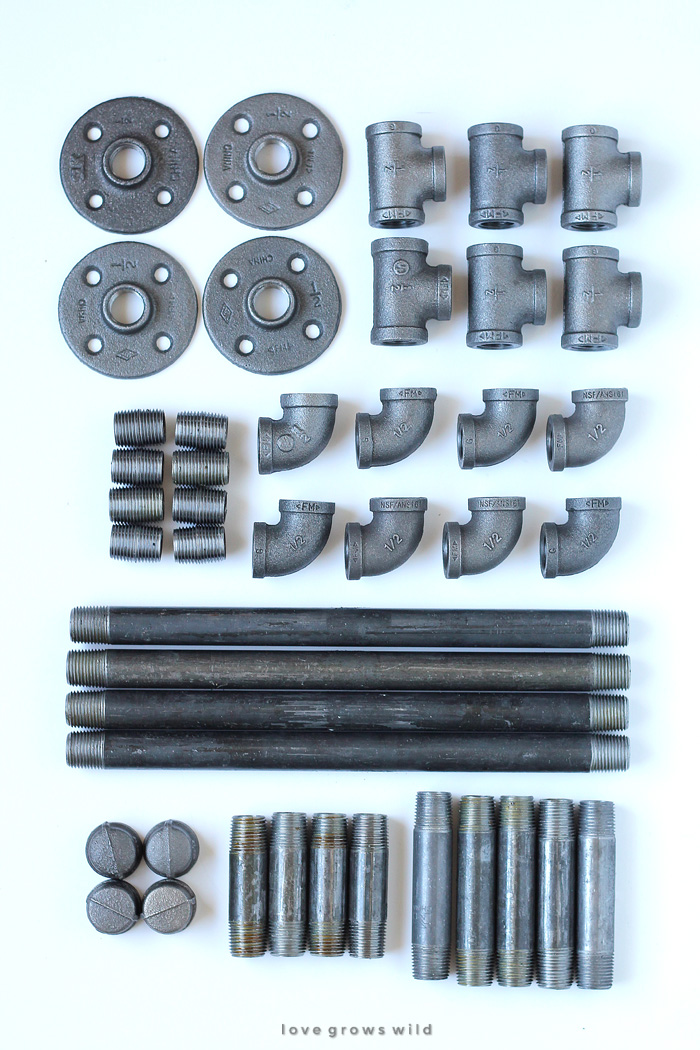 Before I show you how to build these super cool stools, I have a few tips that I learned along the way. These will help you with any kind of pipe project you'd like to tackle:
If your pipes have price stickers on them, I highly recommend removing them BEFORE you start building. It's much easier! Mine came off pretty easily by peeling off the top layer and using some adhesive remover for the sticky part. You can carefully use the edge of a blade to scrape the sticker off, if necessary.
It's a good idea to price out the pipes you need at a few different hardware stores before buying. I found one store to be almost double the price of another, so it definitely pays to do some research first! Also, the black steel pipes I picked are generally less expensive, so that's something to keep in mind when making your decision.
All you're doing to build these stools is screwing one pipe onto another. Some will go on easier than others, and leverage is important when tightening the pipes. These stools technically don't require any tools to build them, but we found that a pair of vice grips are helpful to give you better leverage.
We recommend waiting to tighten the caps on the bottom of the legs right away. You can loosen or tighten them at the end to help level the stool, if necessary.
Instructions:
Step 1: To build one leg: Attach a 12″ pipe to a tee. Add a close nipple to the end of the tee opposite the 12″ pipe. Add a 90° elbow to the close nipple. Add a 3″ pipe. Add another 90° elbow. Add a 4″ pipe. Add a cap.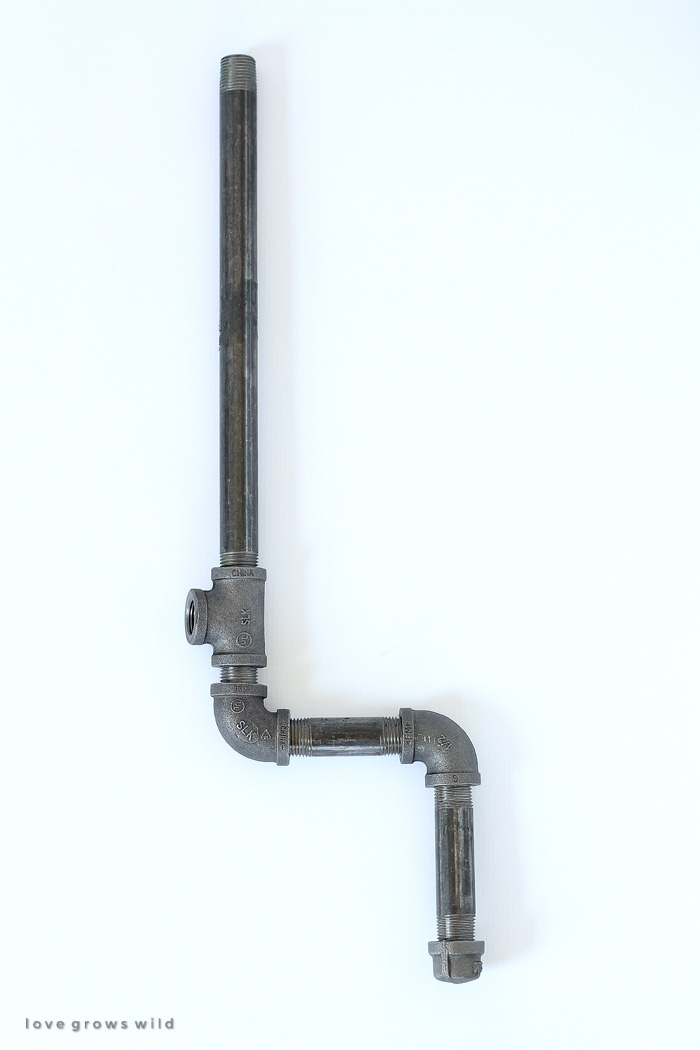 Step 2: Build a second leg using the same steps as the first.
Step 3: Add a close nipple to the open end of the tee in each leg. Connect both legs with a tee in the middle of the close nipples you just added.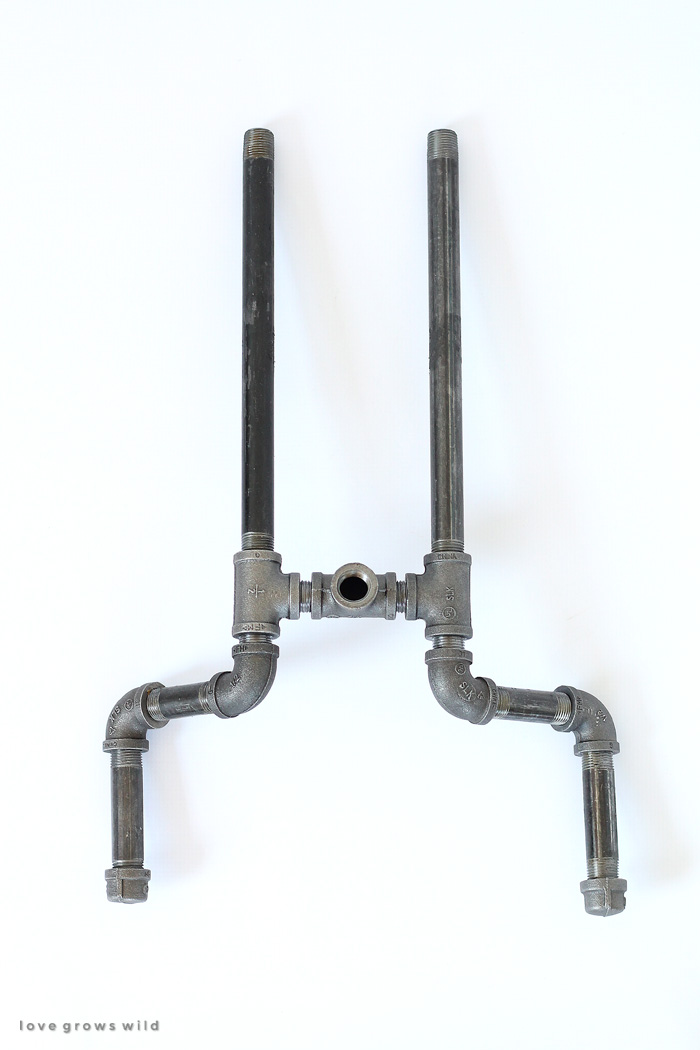 Step 4: Build a third and fourth leg (same as first and second).
Step 5: Connect the third and fourth legs using the same steps you did to connect legs one and two.
Step 6: Use a 4″ pipe to connect the open tee ends on legs 1,2 and 3,4.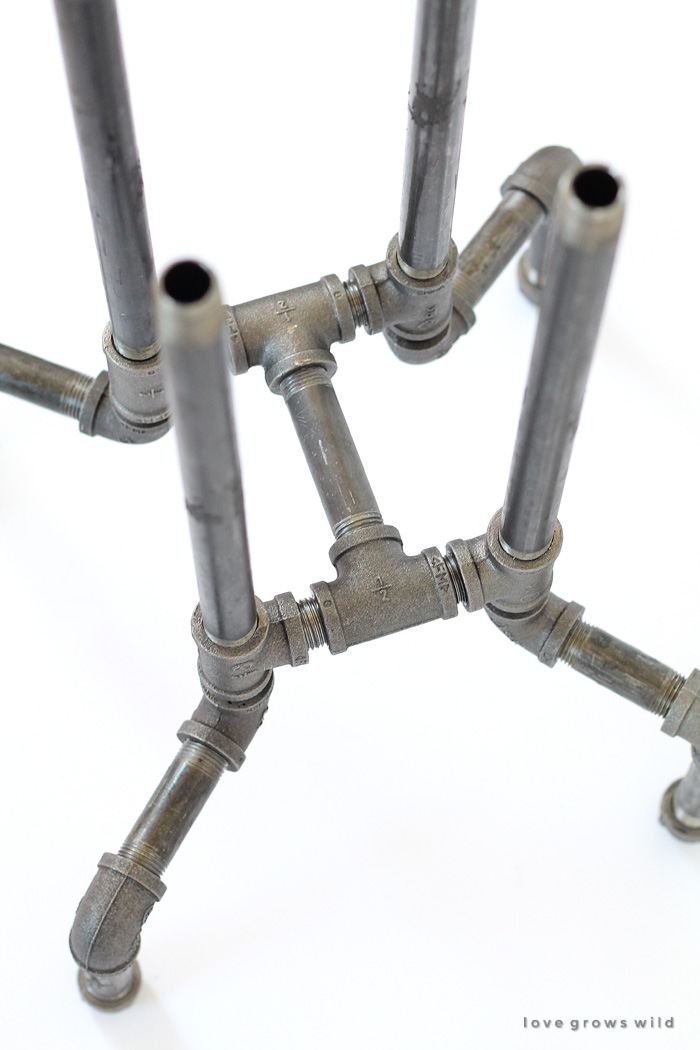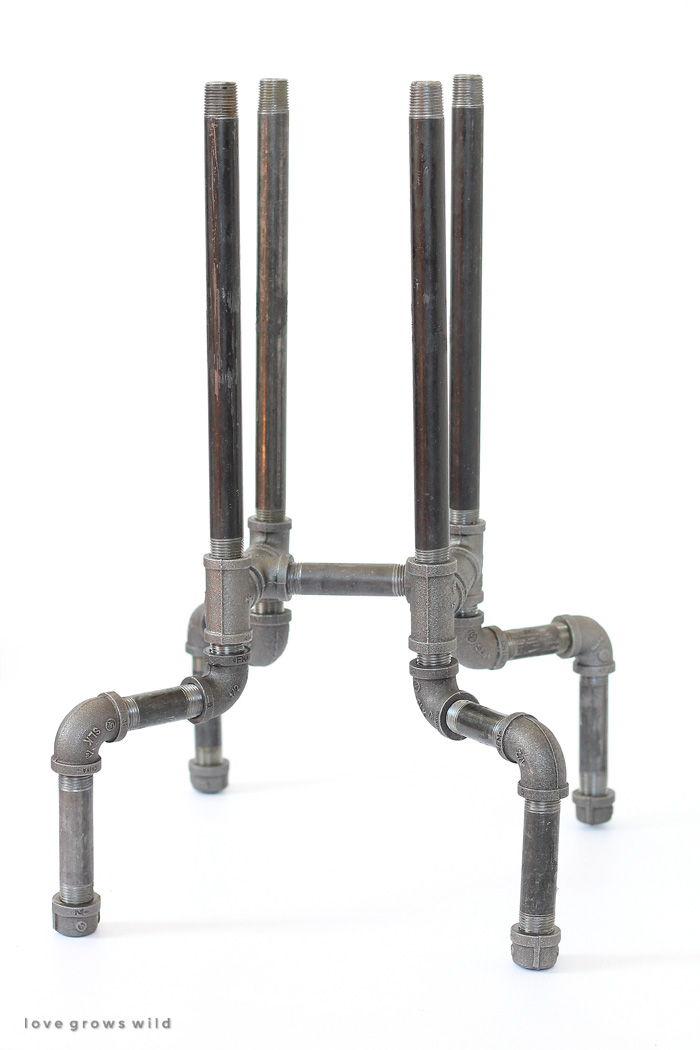 Step 7: Add a floor flange to the top of each leg.
After the pipe frame of the stool is built, all that's left is to add the wood round to the top. I used Elmer's ProBond Advanced, which is designed specifically for bonding Mixed Materials that can't be bonded with regular glue, such as wood to metal or ceramic to drywall. I seem to come across projects all the time that need this special type of glue, and I'm so excited to have finally found something that fits the bill! It was extremely easy to work with and didn't leave any kind of messy foam residue. ProBond also has a translucent, paintable finish and a 100% waterproof and performance guarantee.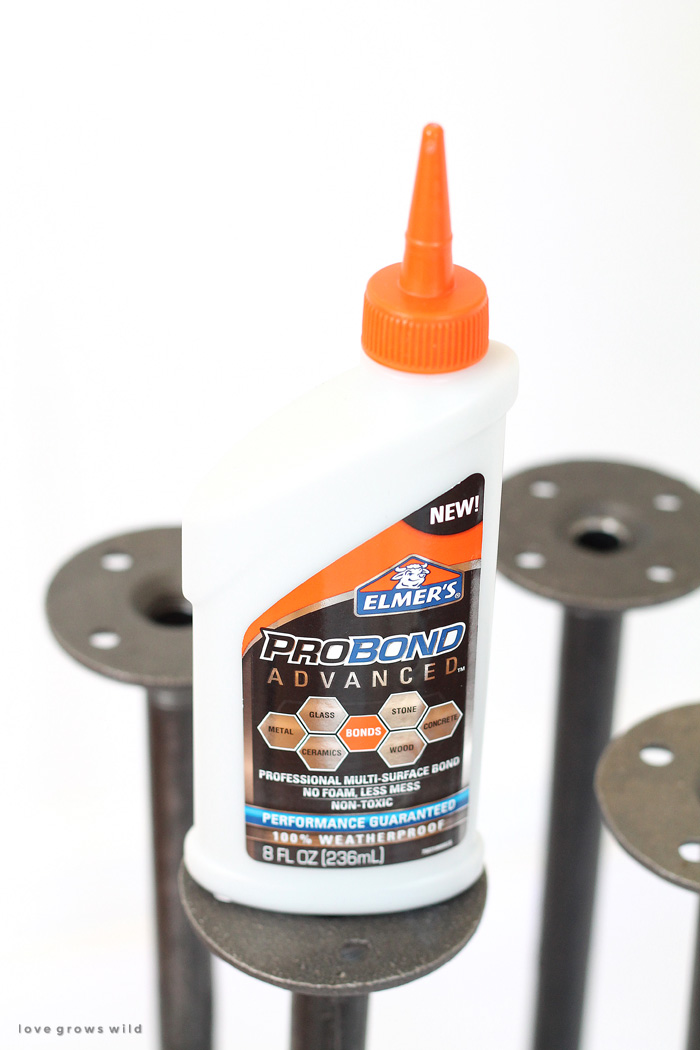 I just applied a good amount of glue to the top of the floor flanges (after making sure they were level first) and centered the wood round on top. I used a couple of heavy paint cans on top of the wood to clamp the stool together while drying, and after 12 hours the heavy-duty glue had a solid bond, and I had an awesome new stool!
Now I know some of you are probably saying… "Uh… why don't you just screw the floor flanges into the wood round?" You could definitely take that route as well, but I really wanted to show you this method because I get emails everyday from women (and some men!) who don't have a giant array of tools at their disposal, but want to be able to do some of these DIY projects too. Picking up a bottle of glue that you can use on all kinds of different projects and materials allows this to be a tool-free project that anyone can tackle!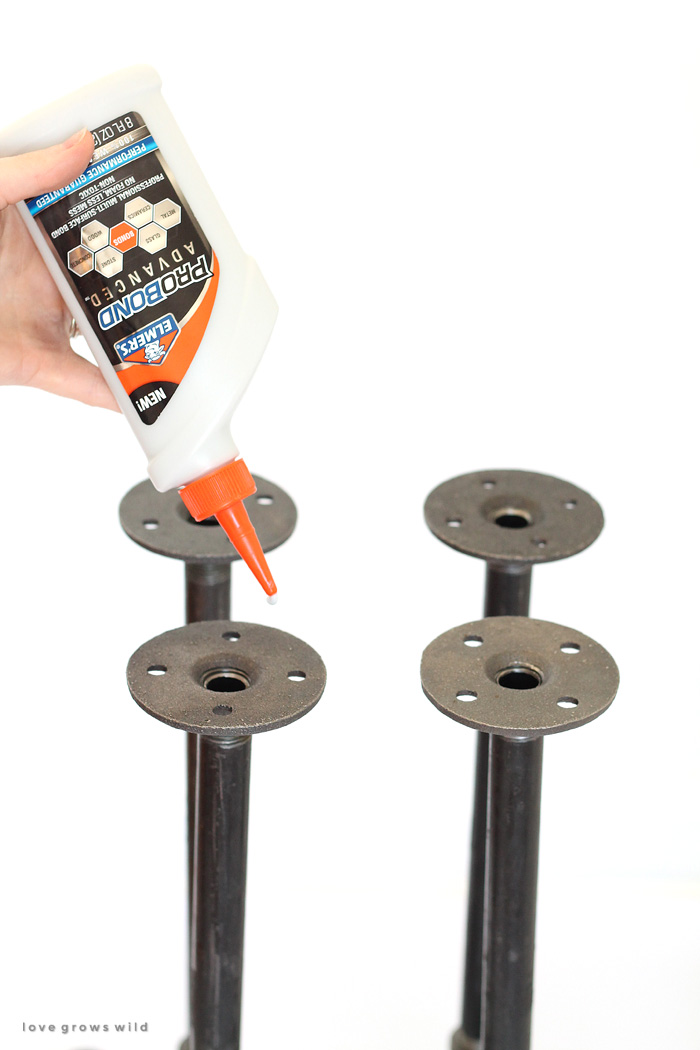 You can choose to paint or stain your wood round any color you like, but I kept mine the original pine to go with the color scheme in my office. Make any final adjustments needed to level the stool by tightening or loosening the caps at the bottom. Since I have hardwood floors, I purchased some adhesive felt pads to keep the caps from scratching the floors.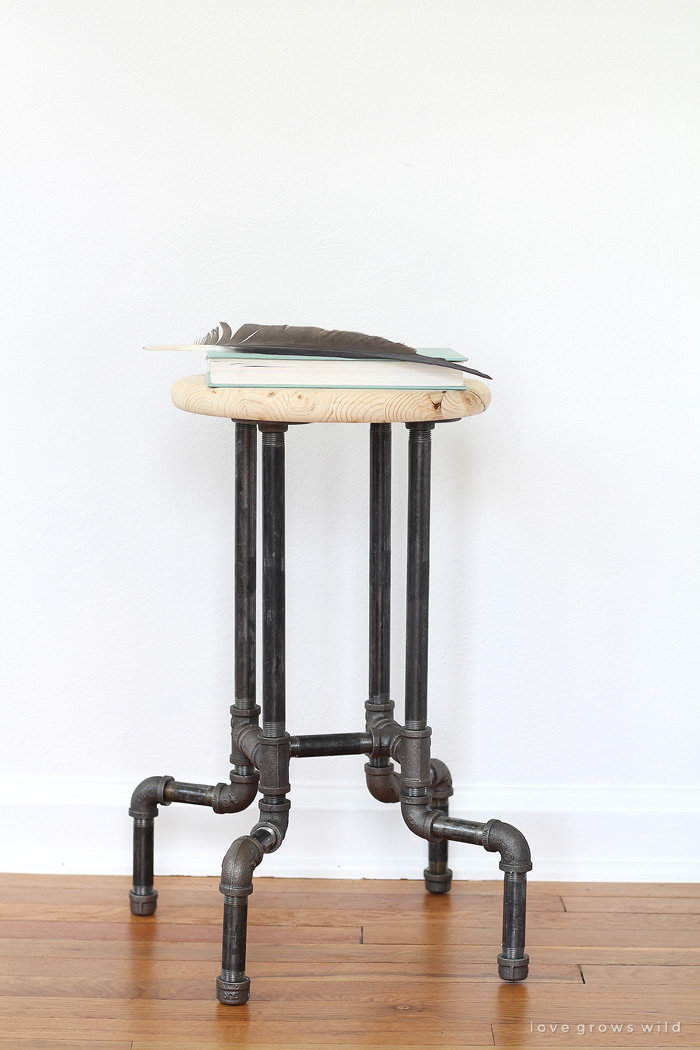 I still have a lot of projects left to go to finish up my office makeover, but I am so happy to have these cool industrial stools for my work table now!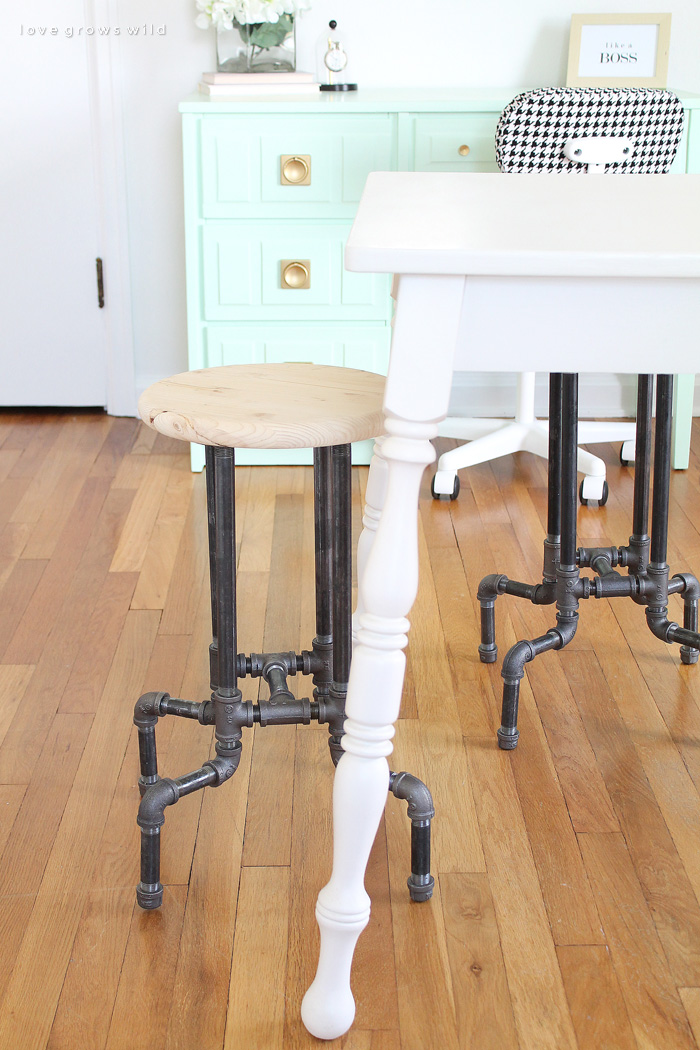 So the question you're all asking right now… How much do these awesome pipe stools cost? While they're not the cheapest project I've ever done, the total price of these stools was far less that what I was going to spend buying the ones I wanted from the store. The total for one stool came out to $53.96 for the wood round and all the pipes. How many unique stools do you see in stores like this though? I certainly haven't seen many!
Now it's your turn… tell me what YOU think! Do you like the industrial pipe trend? How would you use ProBond Advanced in your home?
LET'S KEEP IN TOUCH!
Subscribe to Blog | Browse my Shop | Follow on Facebook | Follow on Twitter
Follow on Google+ | Follow on Pinterest | Follow on Instagram