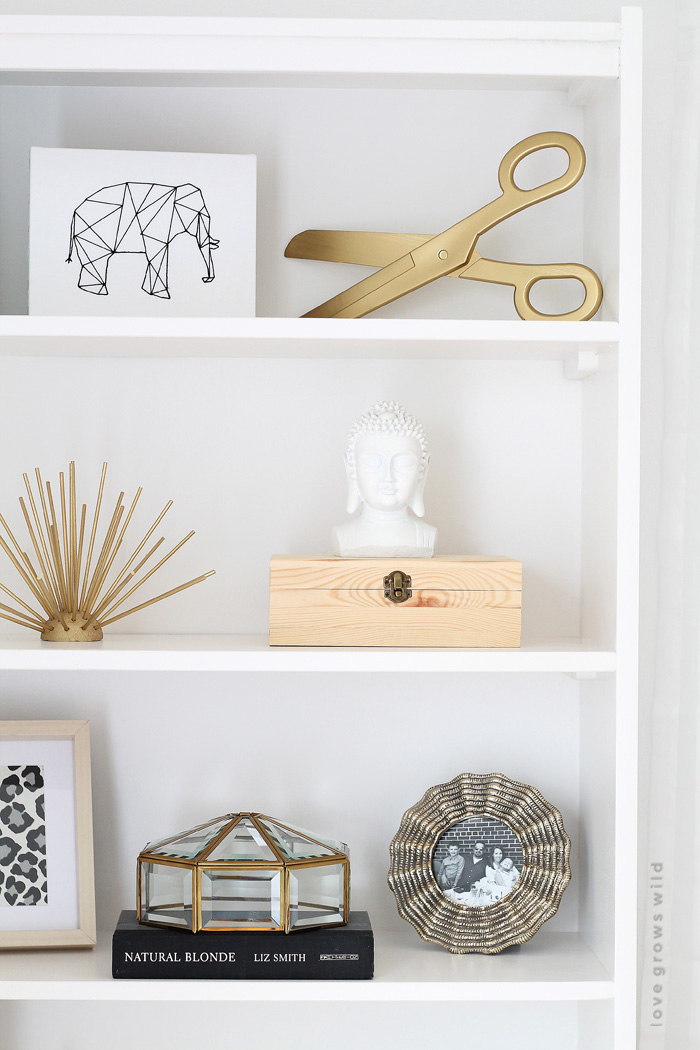 I can finally check another big project off my office to-do list and couldn't be more excited about the awesome furniture transformation I'm about to show you! Let's just say that if you were here in my office with me right now, you'd be wrapped up in a big bear hug with no chance of escape. Good thing you're on the other side of the computer for this post today. 🙂
This cabinet and bookcase set was another hand-me-down piece from my grandmother (just like my mint desk), and the dark wood was in desperate need of a face lift. A couple coats of white paint and some awesome black, white, and gold accessories, and you'd never believe this was the same piece of furniture!
Here's how the cabinet and bookcase looked pre-makeover: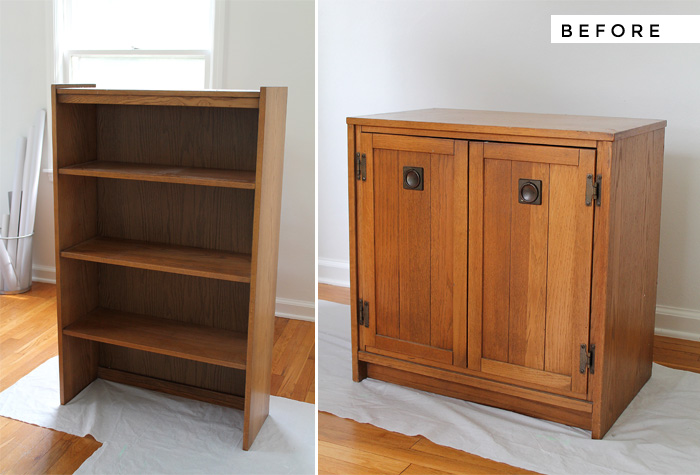 It had some pretty detailing on the cabinet doors, and I love the original hardware, but the dark wood just wasn't going to flow in my newly bright, white office. Since I went with a bold paint color on my desk, I wanted this piece to be neutral to allow the accessories a chance to shine. Would you believe this is one of the ONLY sets of decorative shelving in my house right now? Other than a few in my boys' playroom which are covered in Lego creations, this is all I have right now, so you better bet I was ready to do a little shelf styling magic!
Here's the process:
I didn't sand the whole piece, just the top of the cabinet where some of the original finish was peeling off.
2 coats of Kilz Latex Primer

applied with a foam roller on the large areas and a small paint brush for the fine details.

2 coats of Valspar Du Jour paint in Satin finish
2 coats of Rust-Oleum's Varathane Soft Touch Polyurethane in Matte

, applied with a brush

I kept the original hardware without refinishing it. I love the look of white furniture with vintage hardware!
I gave at least 4 hours of drying time in between each coat and waited 7 days for the polyurethane to fully cure before setting anything on the furniture. If you'd like a little more detail on the painting process, you can check out the desk makeover I did for the office. I basically used the same process for both projects!
And here's the finished product, complete with plenty of fun accessories: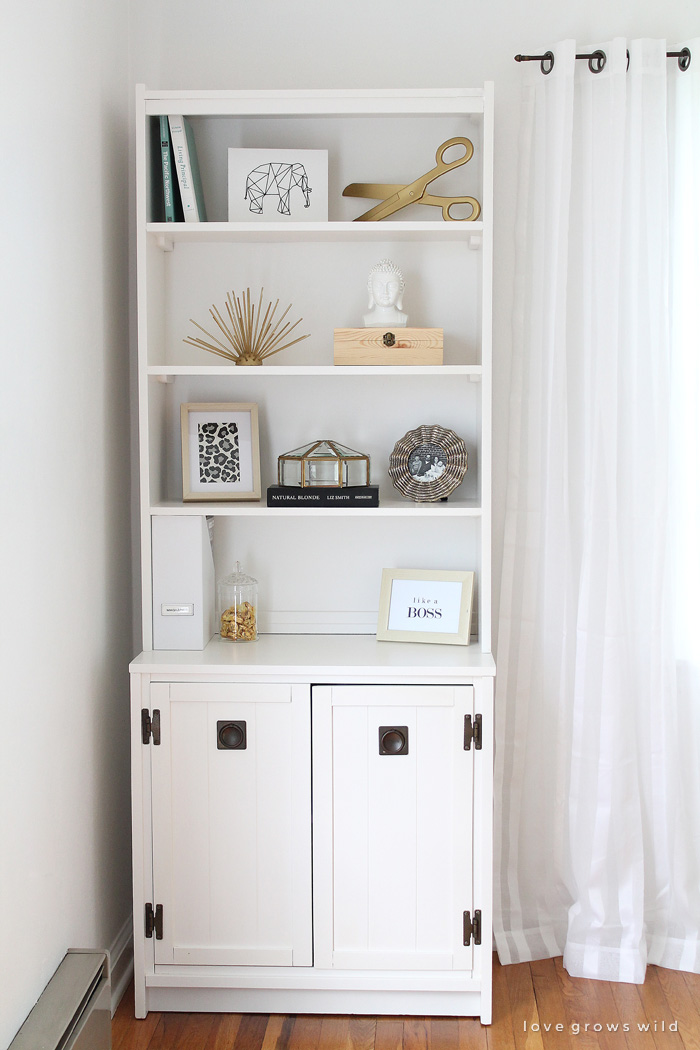 Since this piece is supposed to be used for office storage instead of just collecting pretty things, I added an inexpensive magazine file to corral all my mags until I have a chance to read them. Much better than a sloppy stack of magazines piled up somewhere! And since I spend approximately 50% of my day in here, I added a thrifted candy jar with some sweets to satisfy those late afternoon cravings. Every office needs a little candy, right?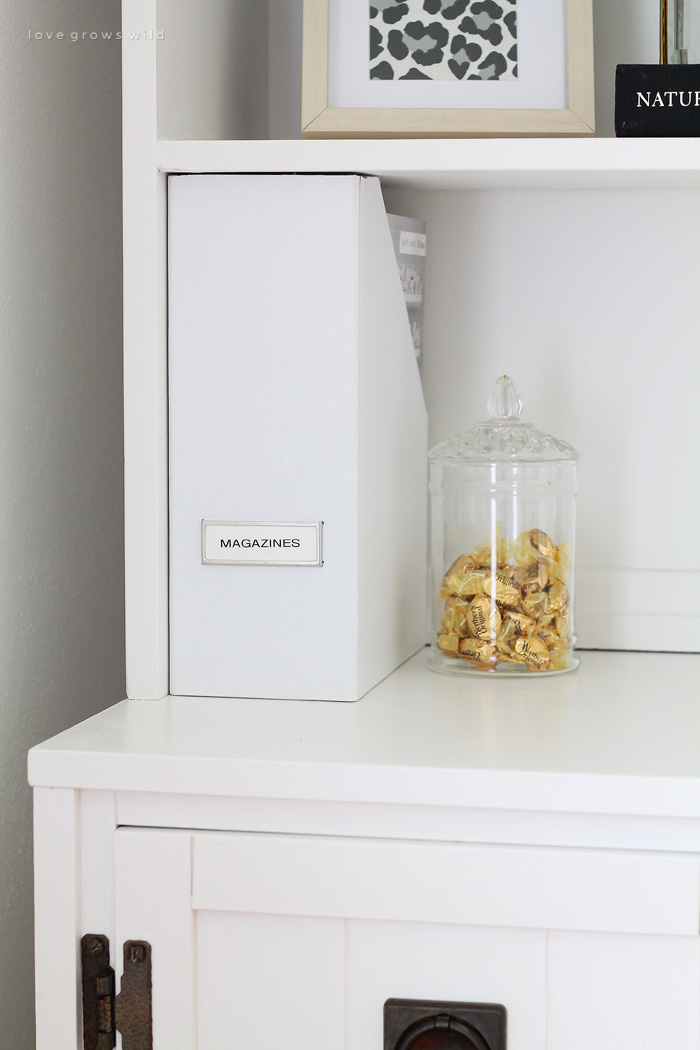 You may recognize my "like a boss" print from this post, and after a little re-arranging, it made its way over to my bookcase. I just love the pine accents next to all the black, white, and gold.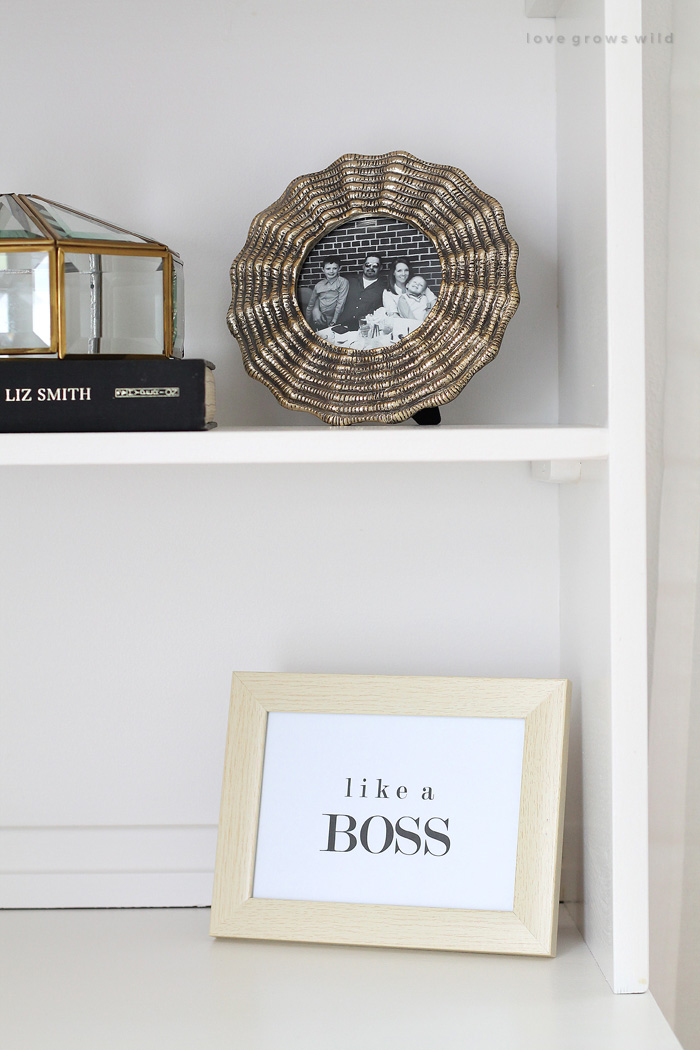 I printed one of my favorite Instagram photos of our family to fill this gorgeous gold circle frame. The texture and pattern… I can't get enough!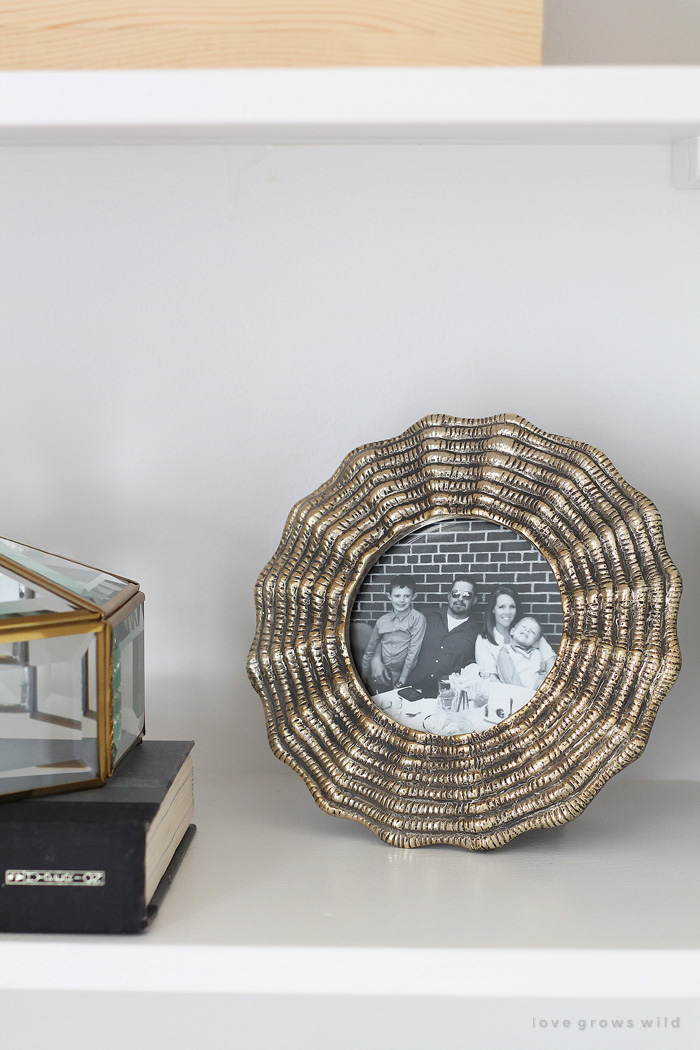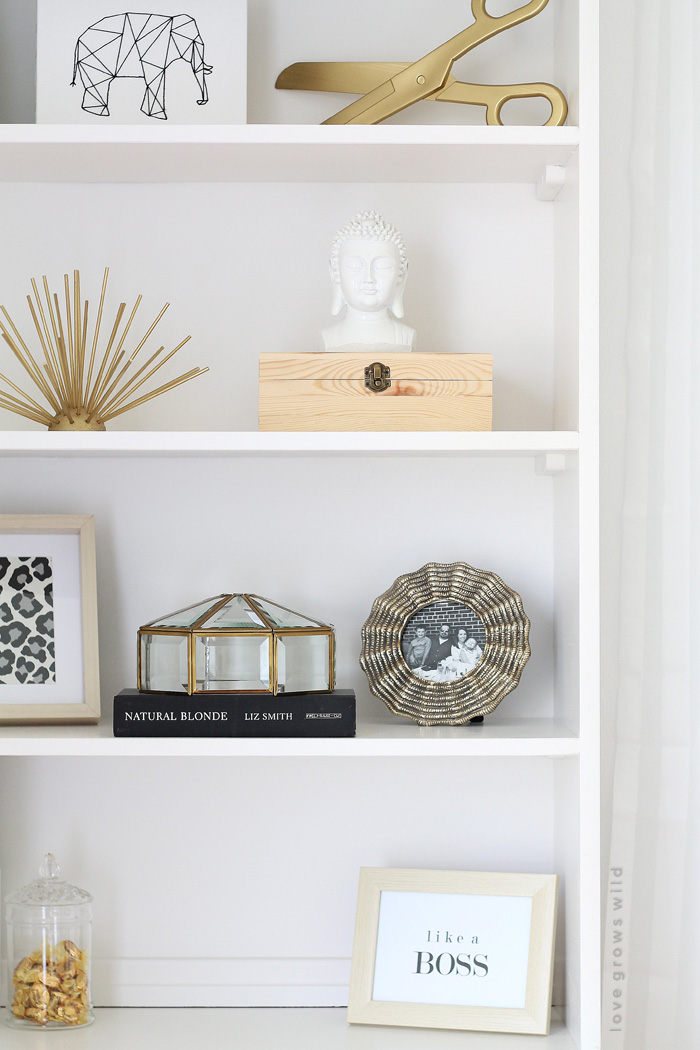 One day while digging through junk at a local thrift store, I found this old glass pendant lamp that had a $2 price sticker on it. It immediately went into my cart, and if I would have known how absolutely stunning it would look in my office, I would have grabbed the second one they had sitting there too! I still might go back and look for it… fingers crossed it's still there!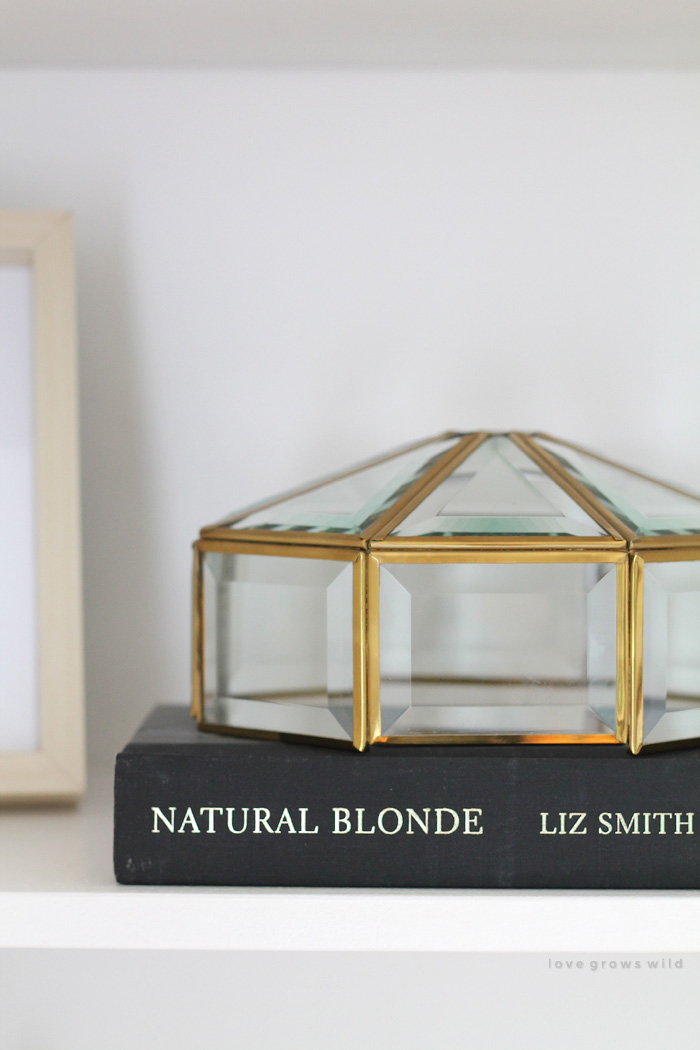 This gorgeous gold burst was a DIY Hobby Lobby knock-off that I shared last week, and it's so simple and inexpensive to make! I highly recommend checking out that tutorial!
I found a second pine frame on clearance the other day, and a scrap piece of leopard print fabric seemed like the perfect way to fill it. Even though the room is gender neutral in black and white, I love having a few girly touches like leopard print thrown in. It's just the right amount of femininity for me.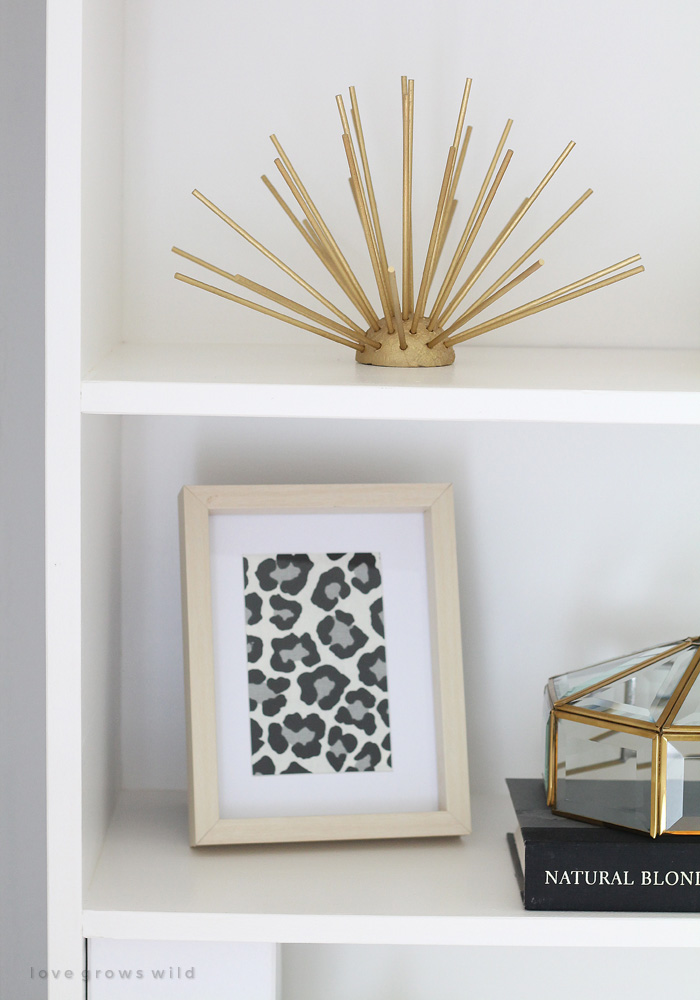 I don't know which I love more… my little Buddha sitting on top of a simple pine box or my giant pair of golden scissors. I thought both were very fitting for my office!
It probably took me about 4+ hours of styling and re-styling these shelves before I found a good fit, but I'm pretty pleased with how they turned out! I'm sure they'll evolve quite a bit over time, but for now… I'm happy. Happy to be creating such a personal, beautiful, creatively-inspiring space to work in every day. Stay tuned for more exciting office updates next week!
Like what you see? Subscribe to Love Grows Wild so you'll never miss a post!
Follow along on Pinterest, Google+, Instagram, and Facebook for more fun!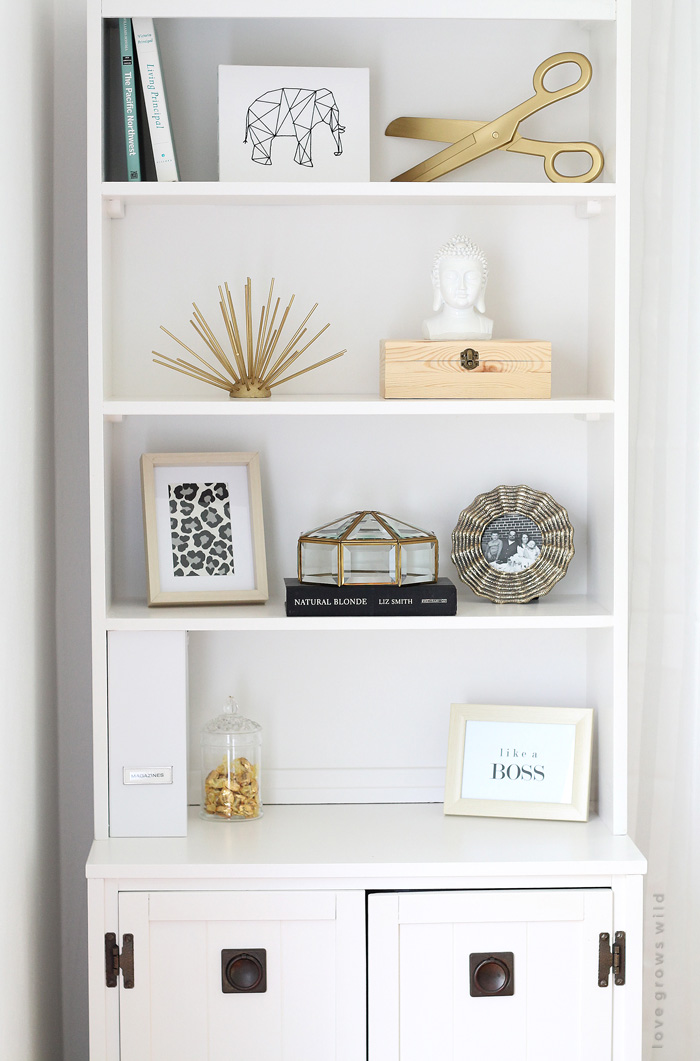 Source list:
---
More Decor Ideas: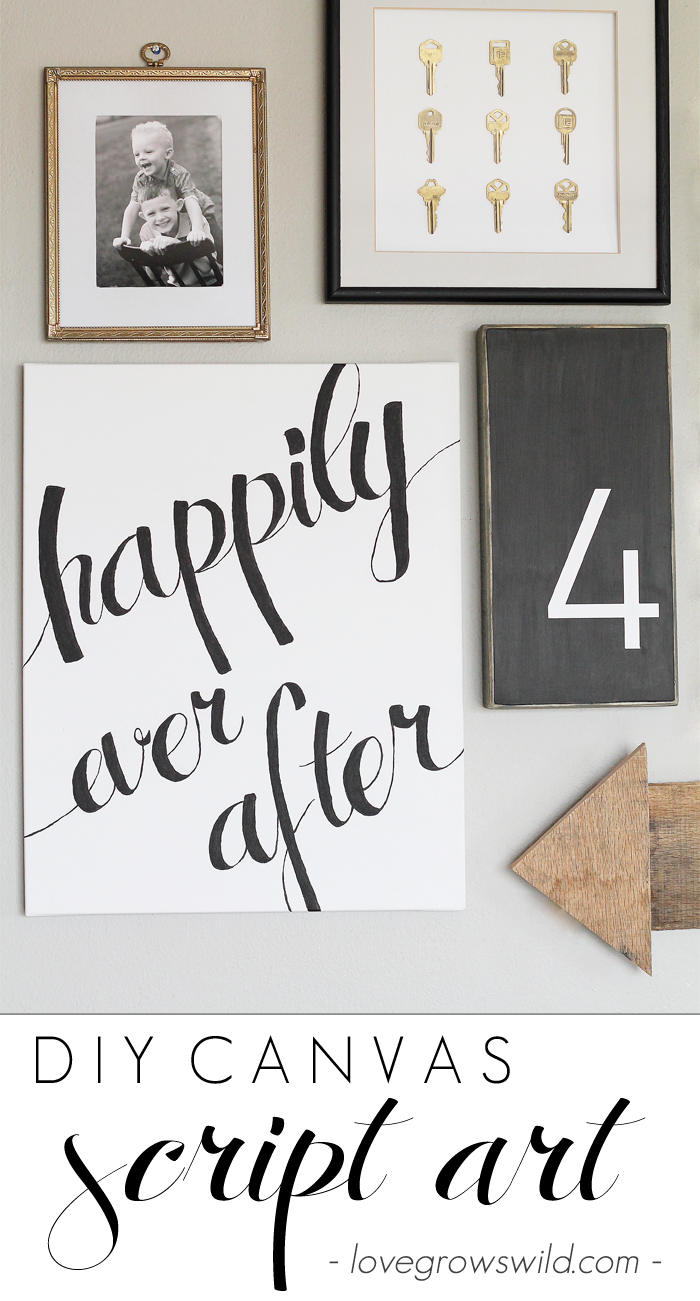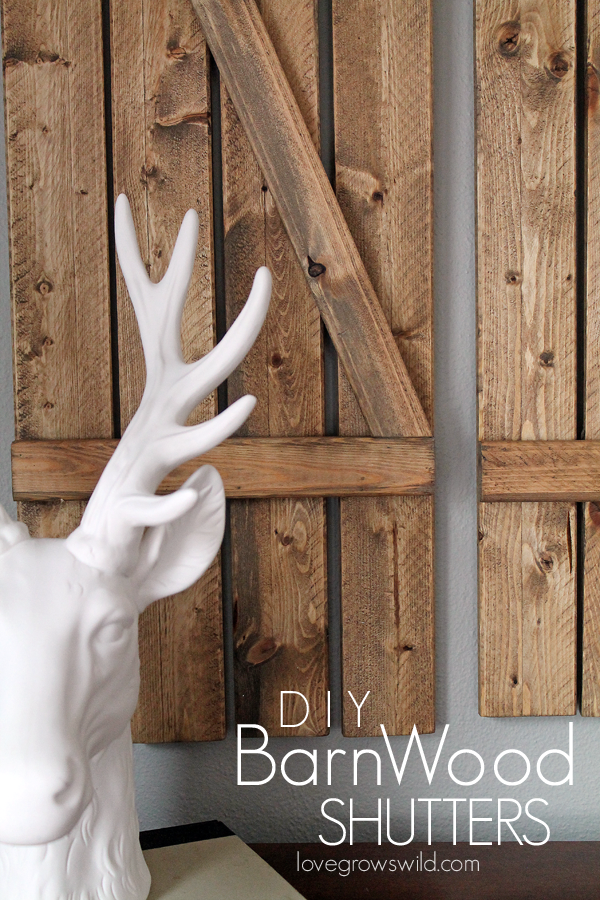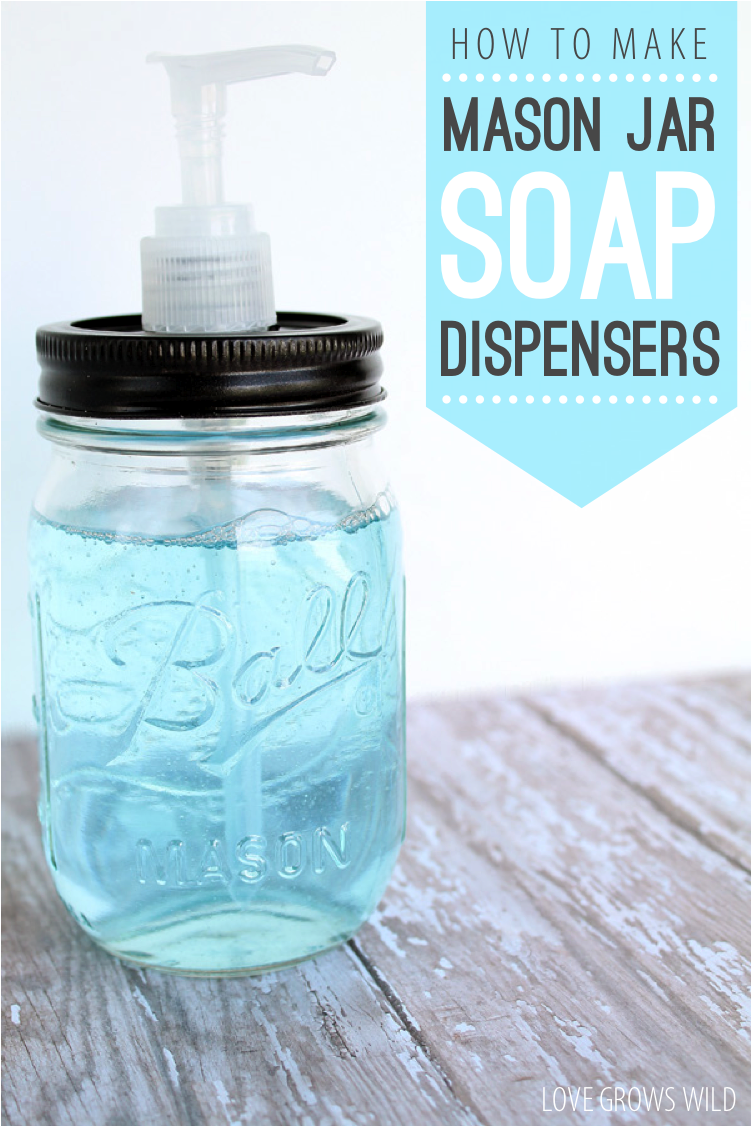 ---
LET'S KEEP IN TOUCH!
Subscribe to Blog | Browse my Shop | Follow on Facebook | Follow on Twitter
Follow on Google+ | Follow on Pinterest | Follow on Instagram