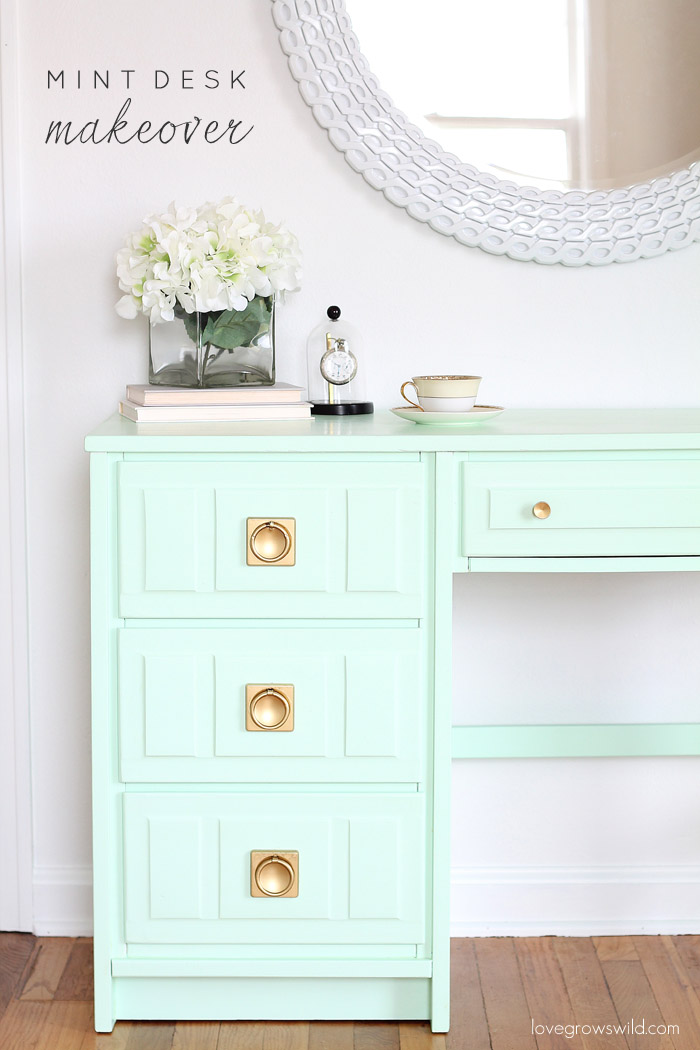 Holy bananas… another project finally checked off the to-do list in my office! Possibly the most important piece of furniture in any office is the desk, and mine has definitely seen better days. It was passed down from my grandmother and is still in great condition, but with my freshly-painted white office, this old desk was due for a makeover. I've been hinting around on Instagram that I decided to add a splash of color to my all-white office, and this desk turned out to be the perfect piece to try it out on…
Ladies and gents, meet my new mint-colored desk!
Before we go too far, let me remind you of where my sad, little office started just a few weeks ago.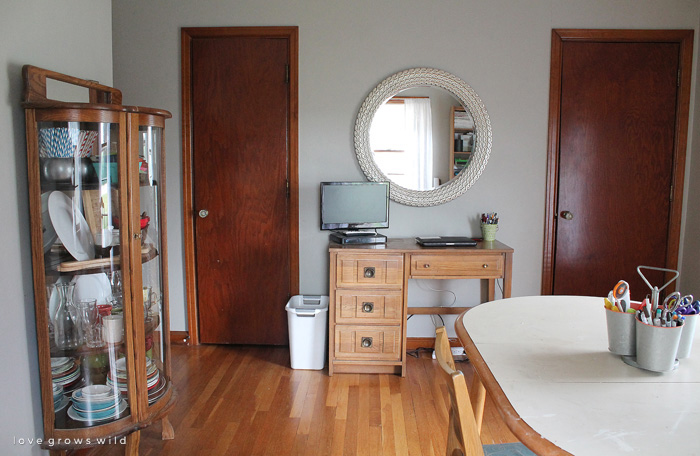 It was bad, ya'll. Lots of wood. Way too dark. And definitely not a space I want to spend everyday working in. So I dove right in and painted the trim and doors white, the walls white, and even a thrifted office chair white. Much lighter and brighter already!
For the desk, I started with 2 coats of Kilz Latex Primer
applied with a foam roller on the large areas and a small paint brush for the fine details.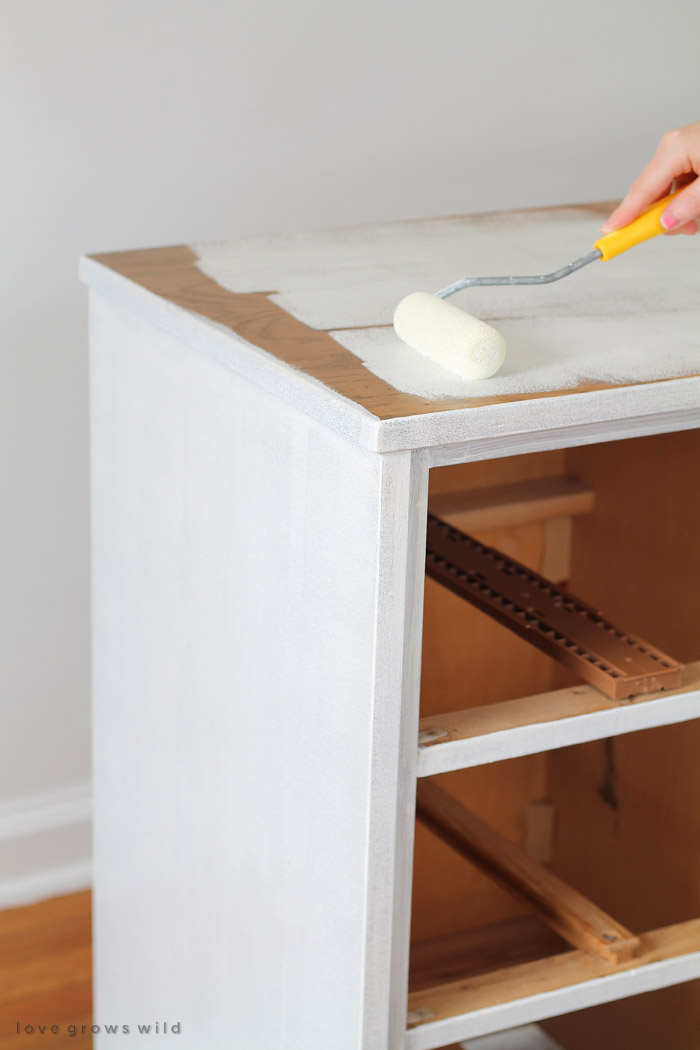 Then I went over the primer with 2 coats of Olympic "Sweet Pea" in a satin finish. I was so nervous about picking out the perfect mint color. I didn't want it to be too bold or too light, too green or too blue. But this color ending up being the winner, and I am absolutely smitten with it!
I finished the piece with 3 coats of Rust-Oleum's Varathane Soft Touch Polyurethane in Matte, applied with a brush. I absolutely love this matte poly for sealing furniture. It dries perfectly clear and is really smudge, fingerprint, and scratch resistant. I also prefer a matte finish vs. a glossy finish, so I use this stuff ALL the time! And no, I'm not getting paid to tell you that (I wish!)… I just really love the stuff!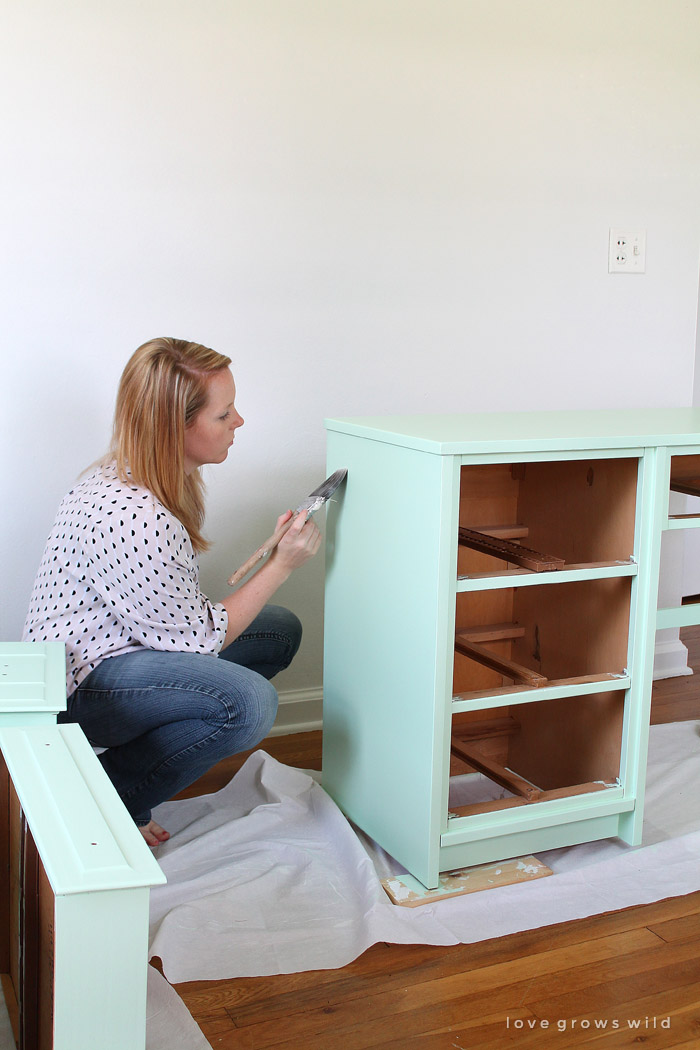 I painted the fronts and outside of the desk drawers, but didn't worry about the inside. I had a special idea in mind for that later!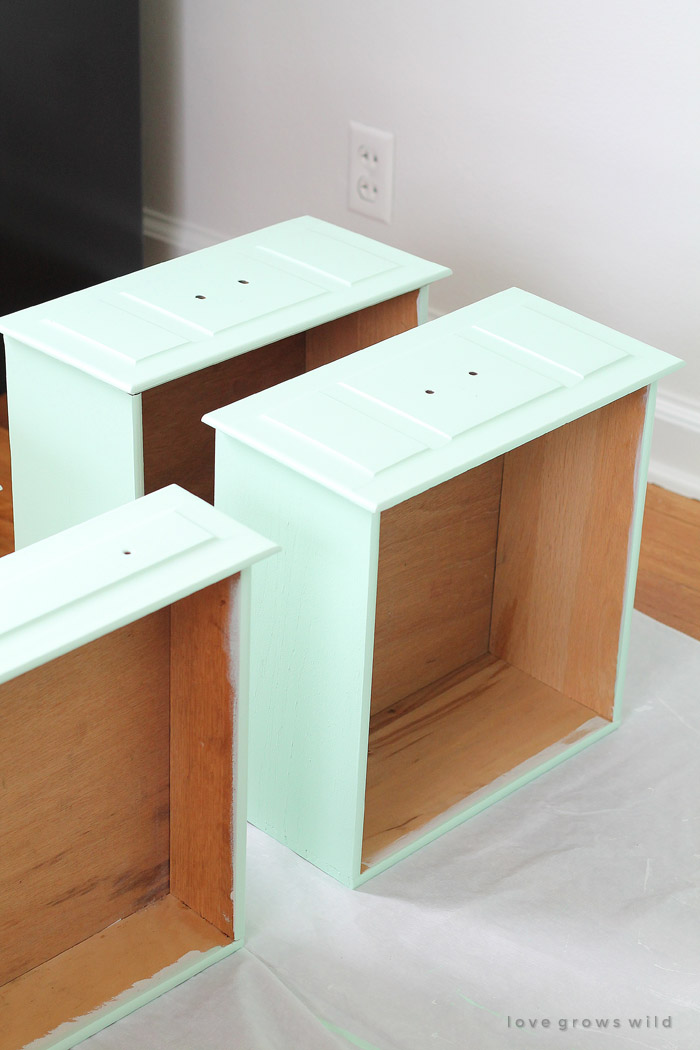 I waited just shy of a week for the paint and polyurethane to fully cure, which is SO hard to do but a very necessary step! I put the original hardware back on but didn't love the way they looked against the mint. So I grabbed my trusty can of Rust-Oleum Metallic Gold Spray Paint
and gave them a brighter, more modern look. What a difference paint can make!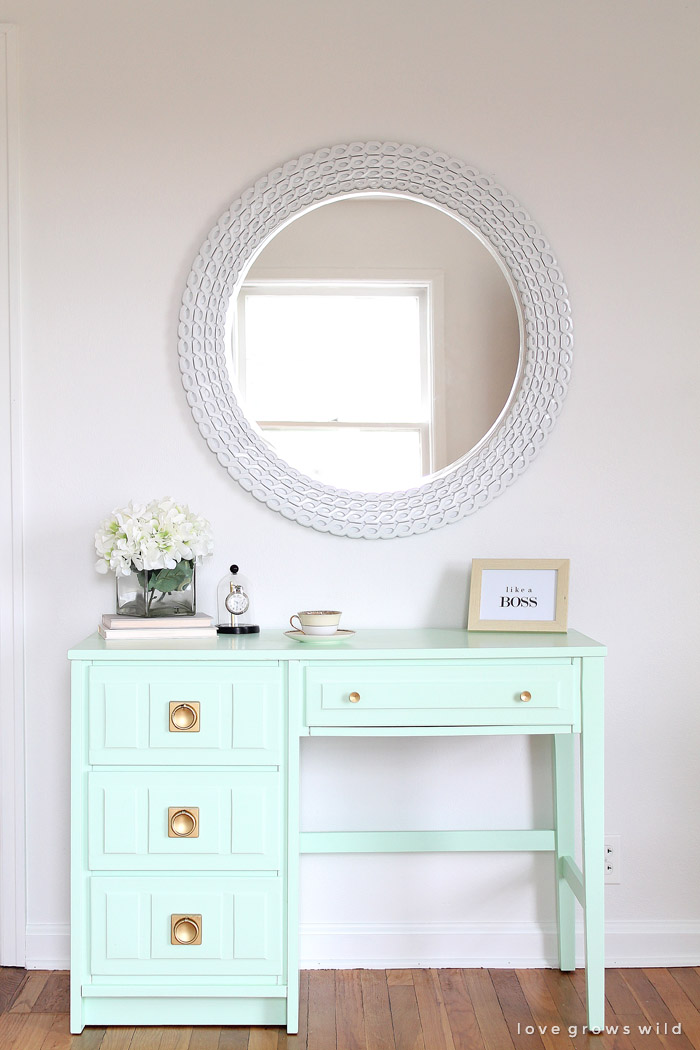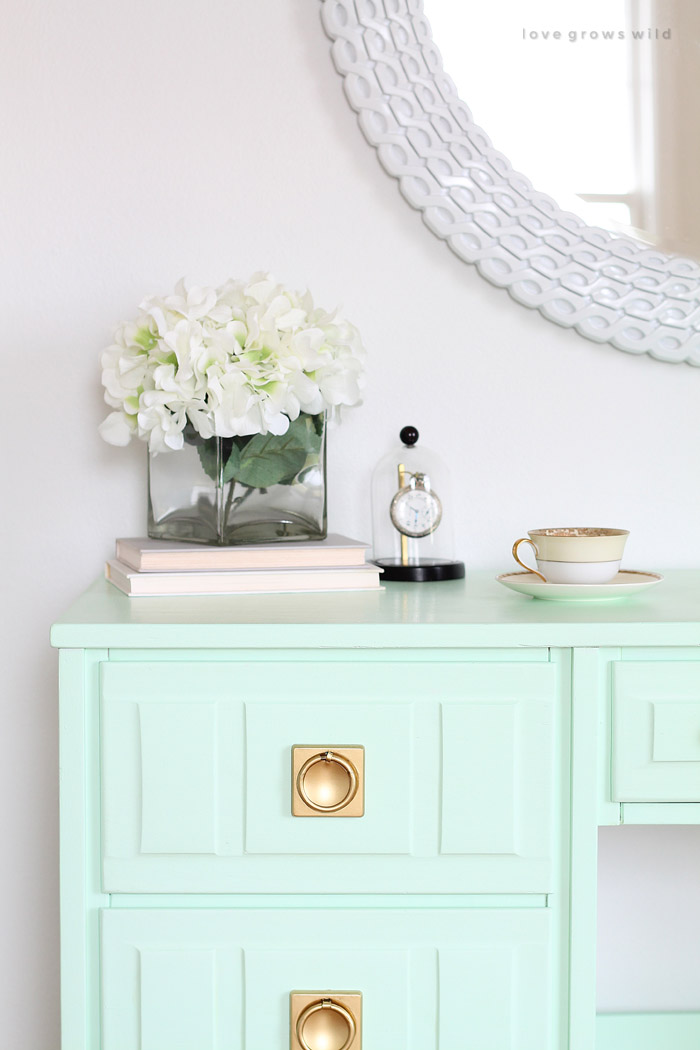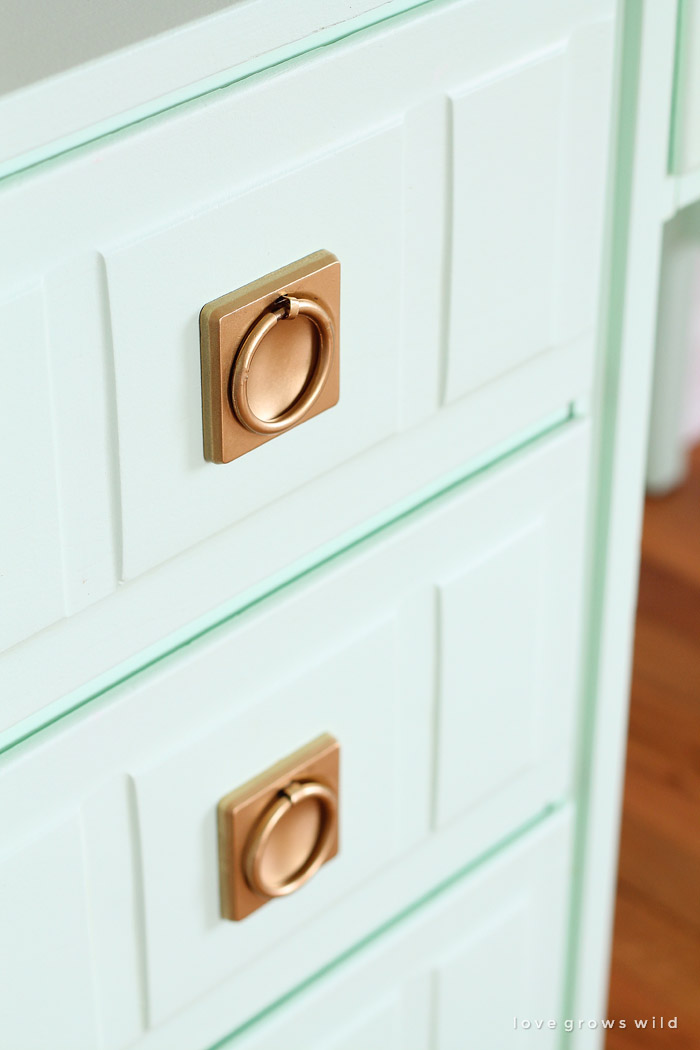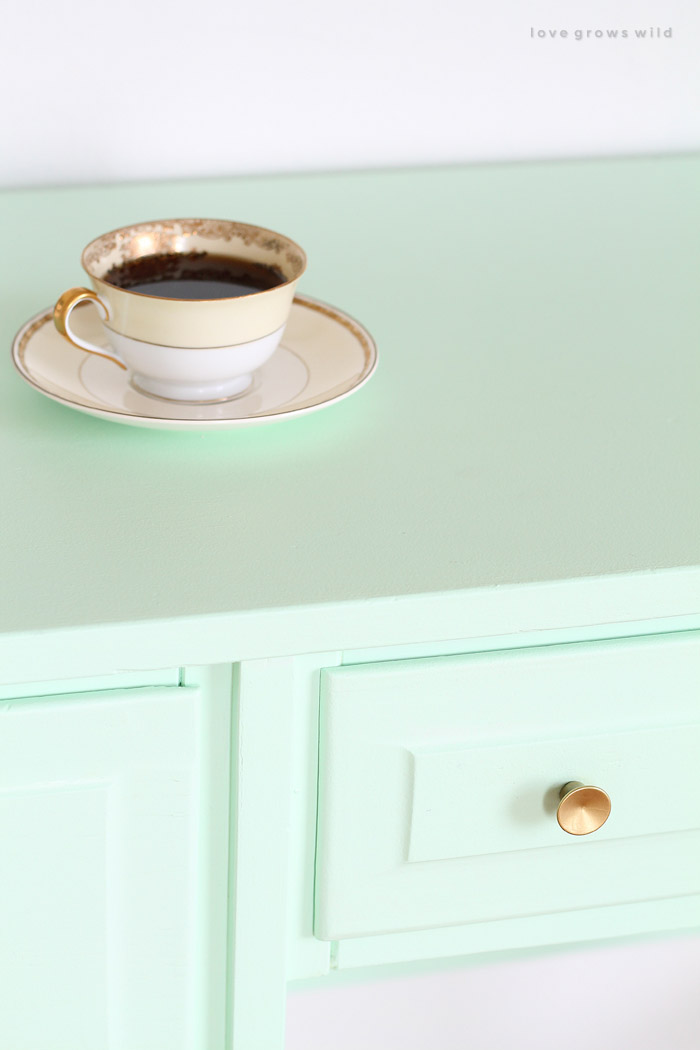 I've had some ideas for cute office artwork tucked away in my brain for a LONG time and couldn't wait to add this sassy little saying on my desk!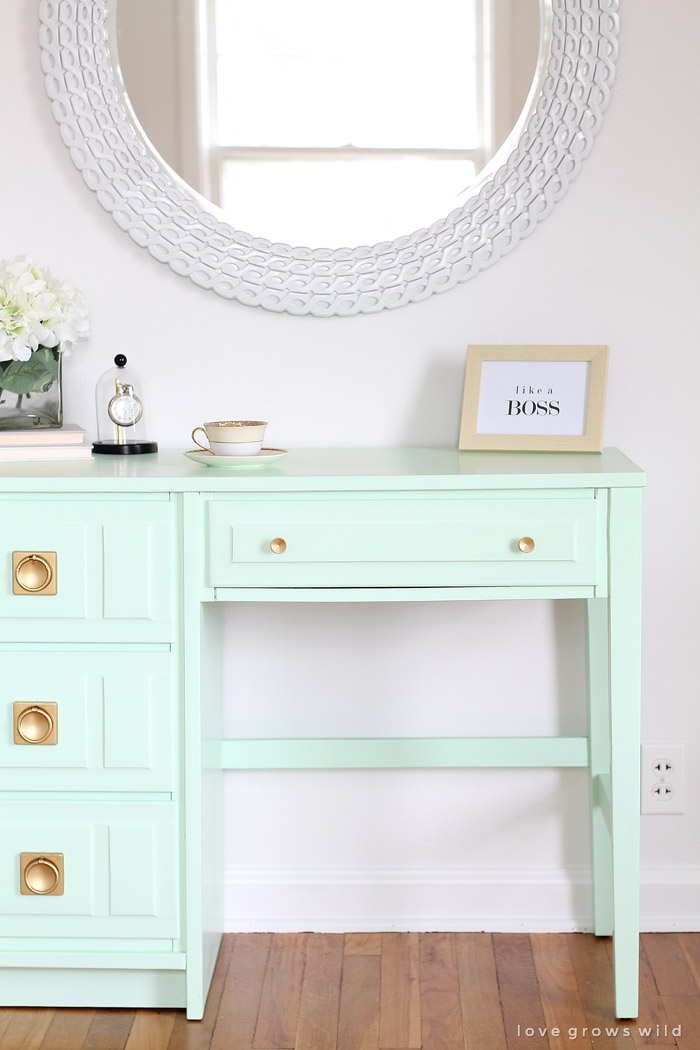 Tell me this framed "like a boss" print isn't perfect for an office?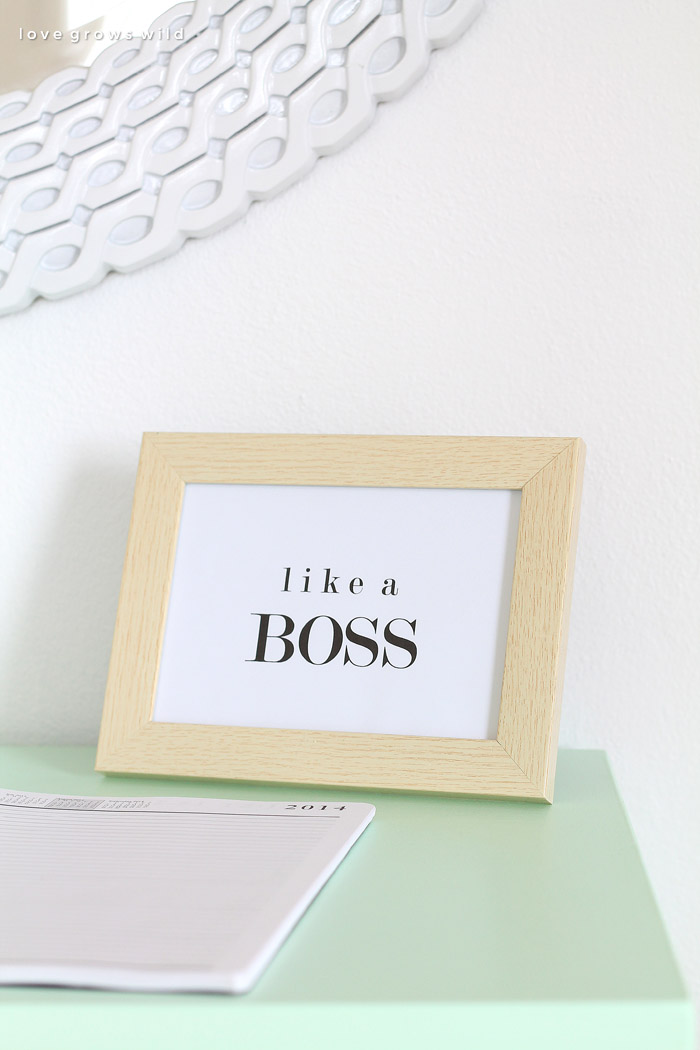 Remember when I said I didn't paint the insides of my drawers? That's because I lined them with this cute shelf liner! Such a fun little surprise every time I open the drawers!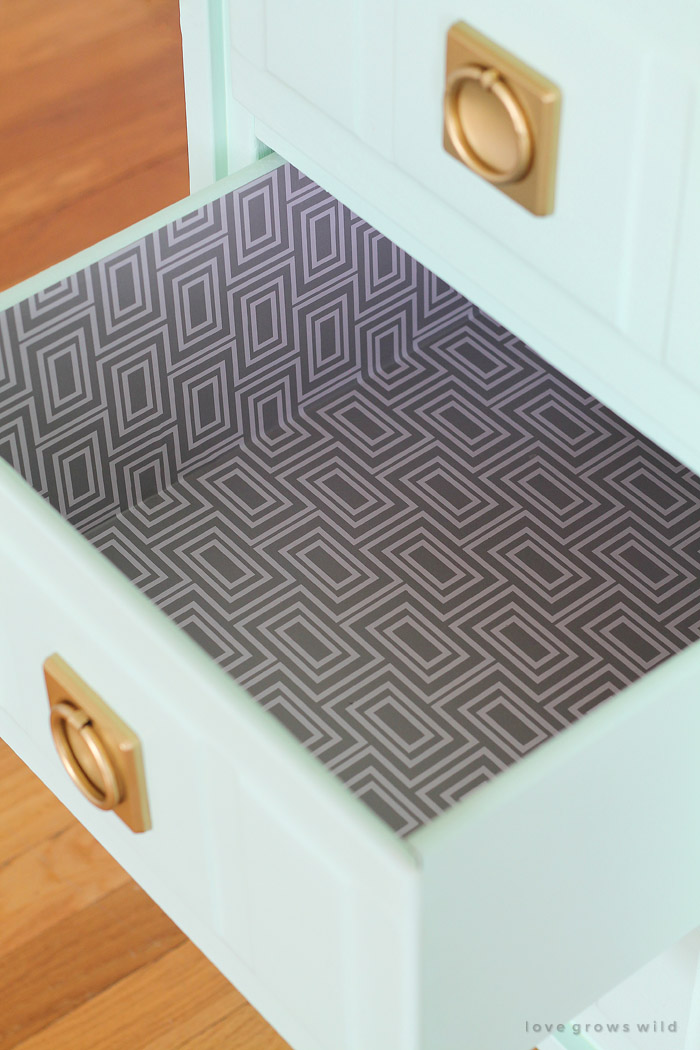 This office is finally starting to feel like "my" space. I love all the white, and I'm completely smitten with the new pop of color in the room. It's such a fun place to blog from everyday!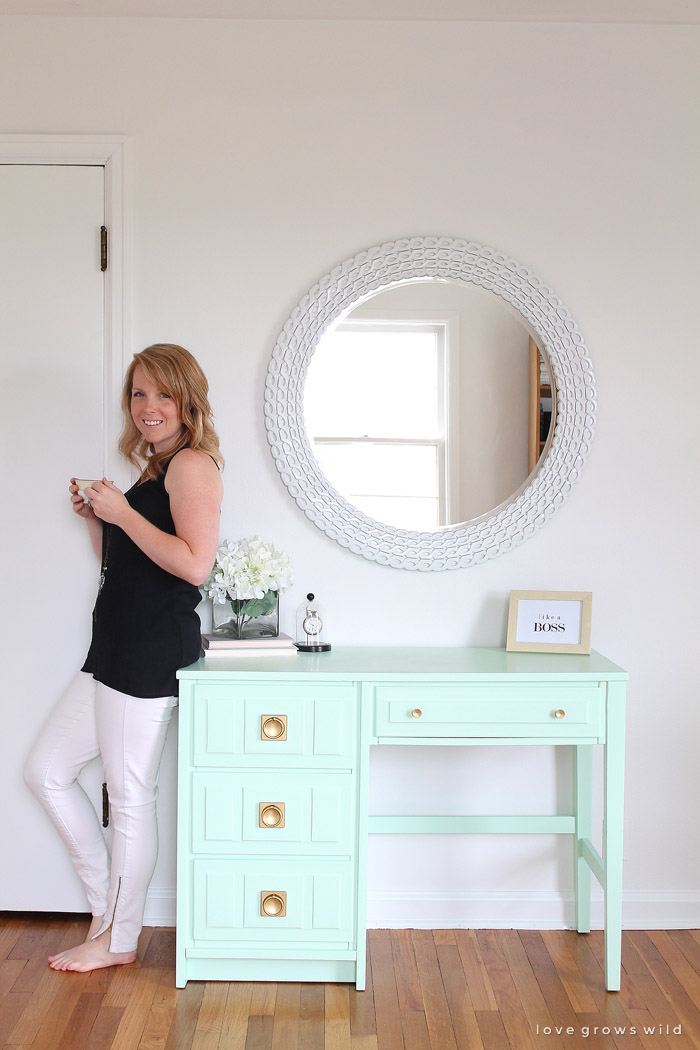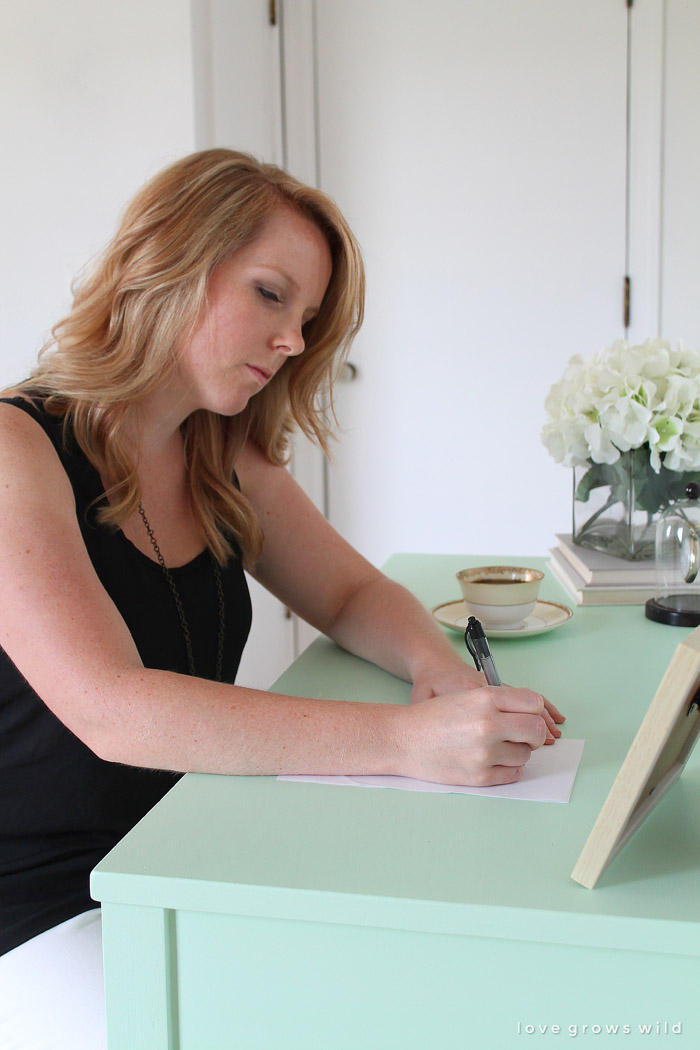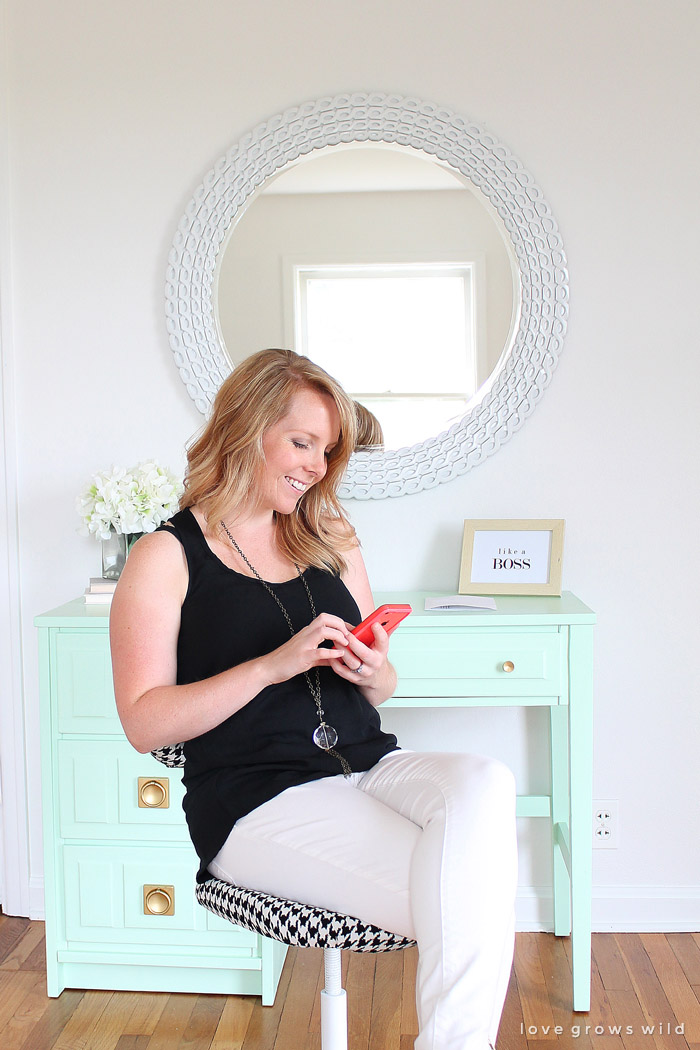 So from now on, you can picture me sitting right here, at my mint and gold desk and houndstooth chair typing up my blog posts for you! Moving on the the next project in my office makeover…. can you guess what it might be?
Tell Me: What do YOU think of my desk makeover? What color would you paint your office desk?
Like what you see? Subscribe to Love Grows Wild so you'll never miss a post!
Follow along on Pinterest, Google+, Instagram, and Facebook for more fun!
---
More Project Ideas: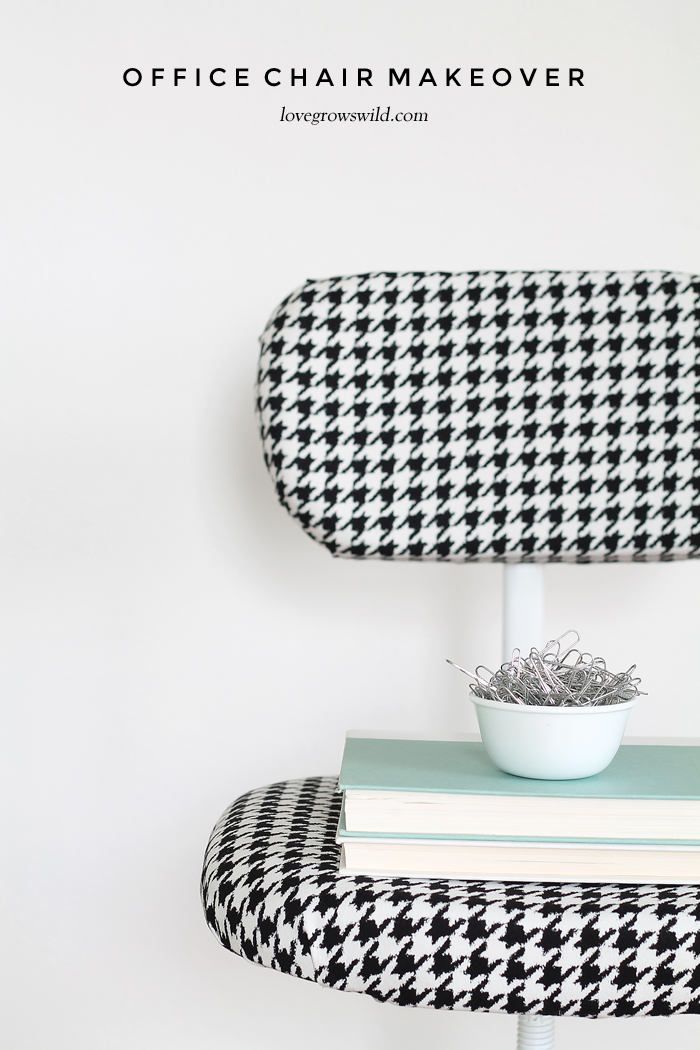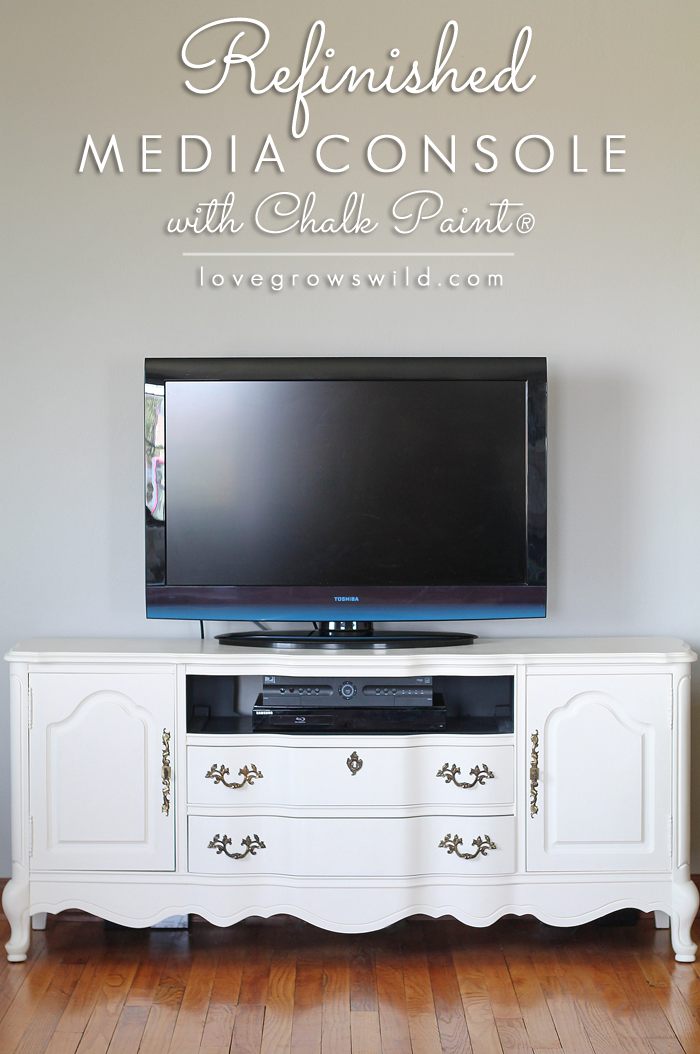 Refinished Chalk Paint Media Console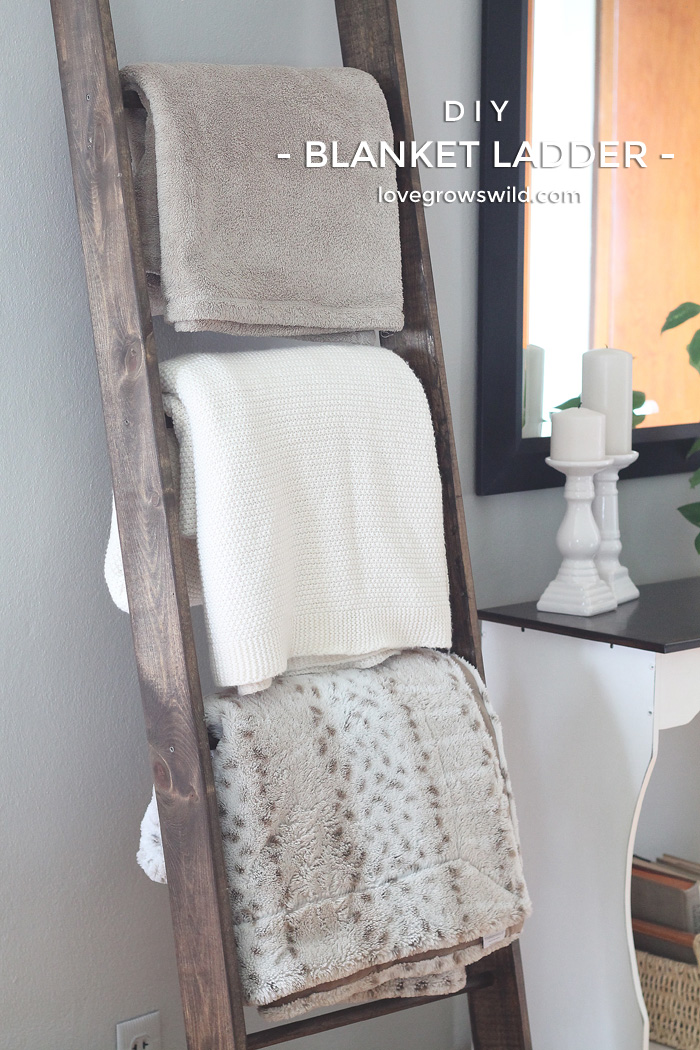 ---
LET'S KEEP IN TOUCH!
Subscribe to Blog | Browse my Shop | Follow on Facebook | Follow on Twitter
Follow on Google+ | Follow on Pinterest | Follow on Instagram