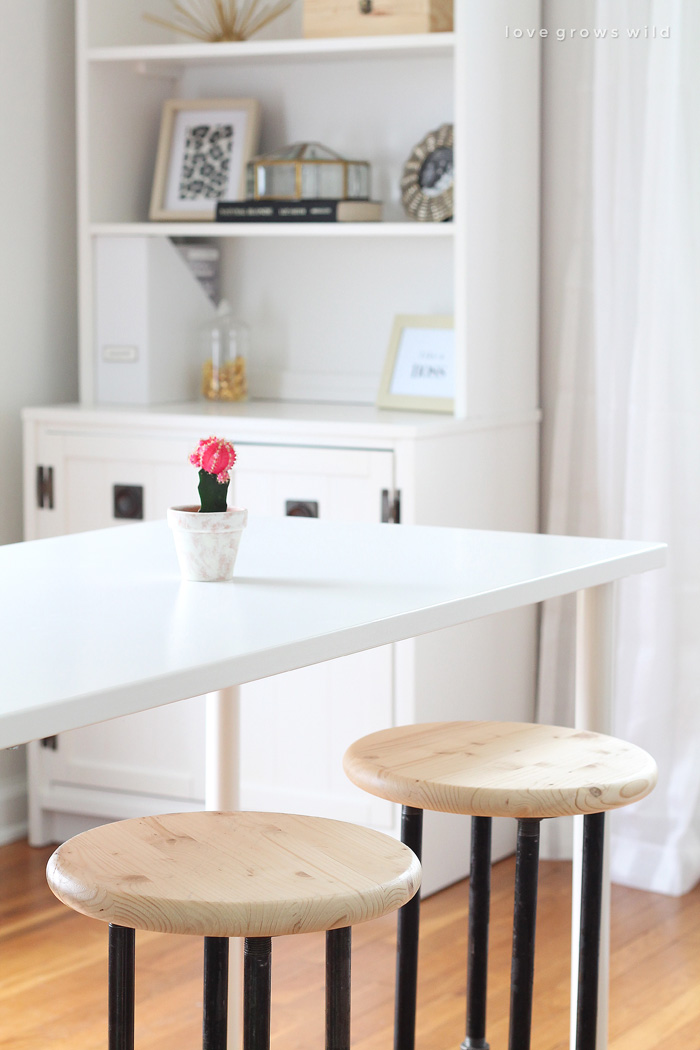 Let's kick this weekend off with a little office update!
I know it's been a hot minute since I've shared any new projects from the office makeover, but I promise there will be more to come soon! The last few weeks have been crazy with deadlines, a big project with Home Depot coming up, and my sweet little baby boy turning 5. I feel like I need a vacation! But that definitely won't be happening any time soon because I have an office to finish up and the holidays to start thinking about. When do you start your Christmas shopping? Do you already have a list made or do you not even think about it till the 1st of December? I'm just curious!
So anywho, back to my office. Even though I don't have any big, awesome projects ready to share with you yet, I have made a few big updates to the space that I wanted to share, starting with… a new work table! I originally had an old dining room table here (the one from my childhood, actually), but it was pretty beat up and needed some major refinishing. I had a few ideas giving the table a makeover, but in the end it would have cost the same or more than a brand new one from Ikea, so Momma did a little shopping! I spent $59.99 on the Hissmon/Adils table from Ikea in white. It's a great size for the space and was super easy to put together. Note: I did find the legs to be a little wobbly with the hardware they included, so I added a few washers to make it more sturdy. Worked like a charm!
Doesn't it look great with the industrial pipe stools I made? I'm so happy with my new work space! Now, this is a white table, and I'm a VERY messy, rough crafter/DIY'er, so I've been very careful to protect the table while I'm working. We'll see how long that lasts. 🙂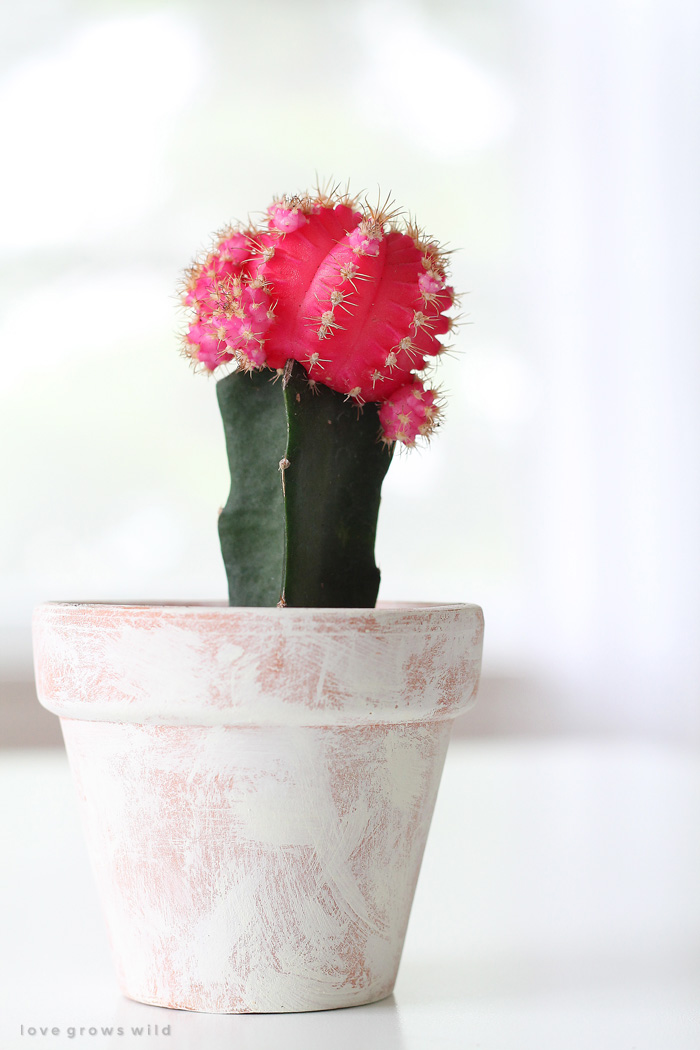 I found this hot pink little cactus at Home Depot while I was shopping for the Style Challenge coming up… freaking adorbs!
I've already revealed my mint-a-licious desk makeover, but I swapped out some of the accessories for a fancy new pencil cup (a.k.a. a Target dollar spot bucket spray painted gold) and a desk lamp for those nights I spend blogging till the wee hours of the morning. Do you spy those pretty new bookshelves in the mirror? You can get the scoop on those here!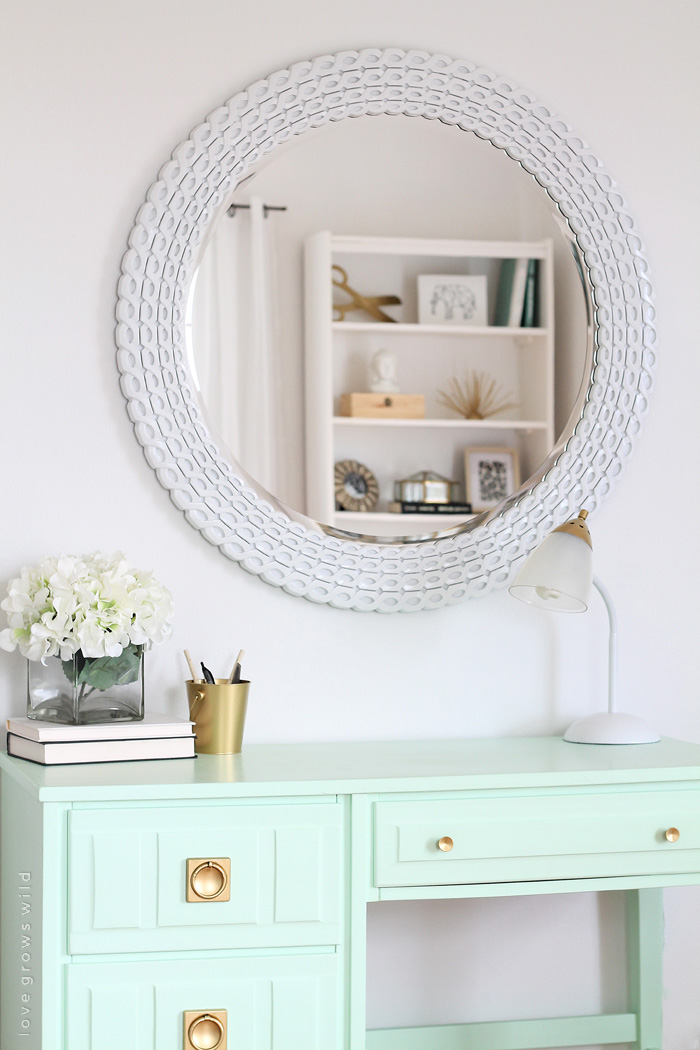 This lamp was actually my husband's from college. It was originally silver and has been sitting in a closet for the past 6 years, so I decided it was time to either make use of it or pitch it. After a little spray painting session in our barn, this lamp fits in perfectly with my office now!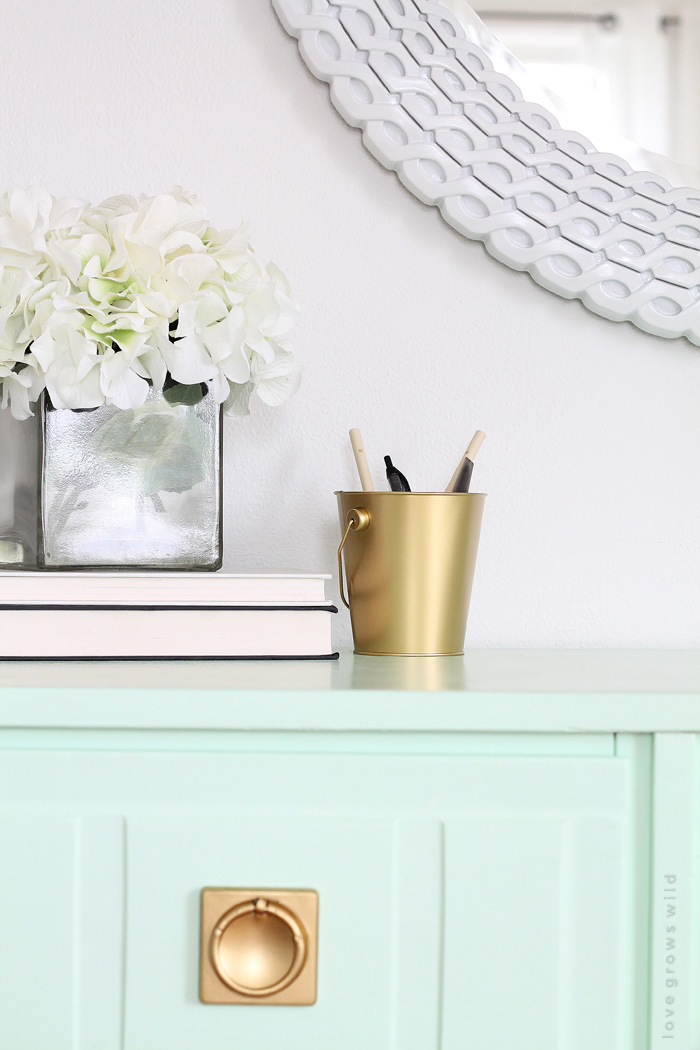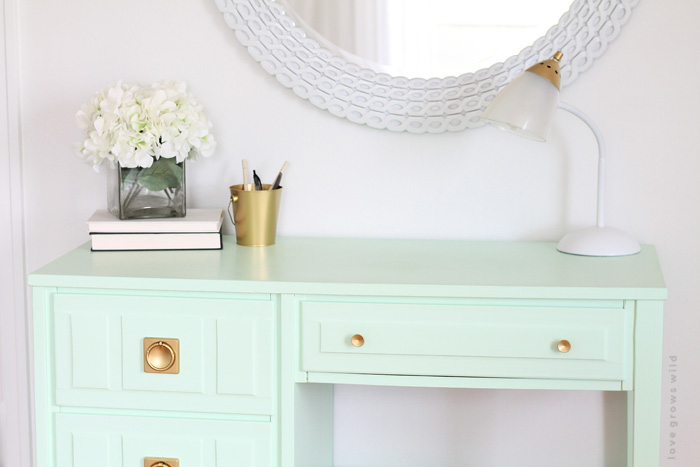 Okay, this is the last part of the office update: a new printer cart! I had a major dilemma with where to put my giant printer and Silhouette Cameo in the office. I don't really use either of them every single day, or even every week for that matter, so I hated the thought of cluttering up my desk or table space with them. That's where this inexpensive cart comes in. I ordered it from Walmart for $27.97, and rather than keeping it out in the open, I roll it into the large closet I have in my office, hiding it out of sight! It's just the right height to fit underneath some shelving I have in the closet, and when I need to use the printer, I just roll it out and plug it in!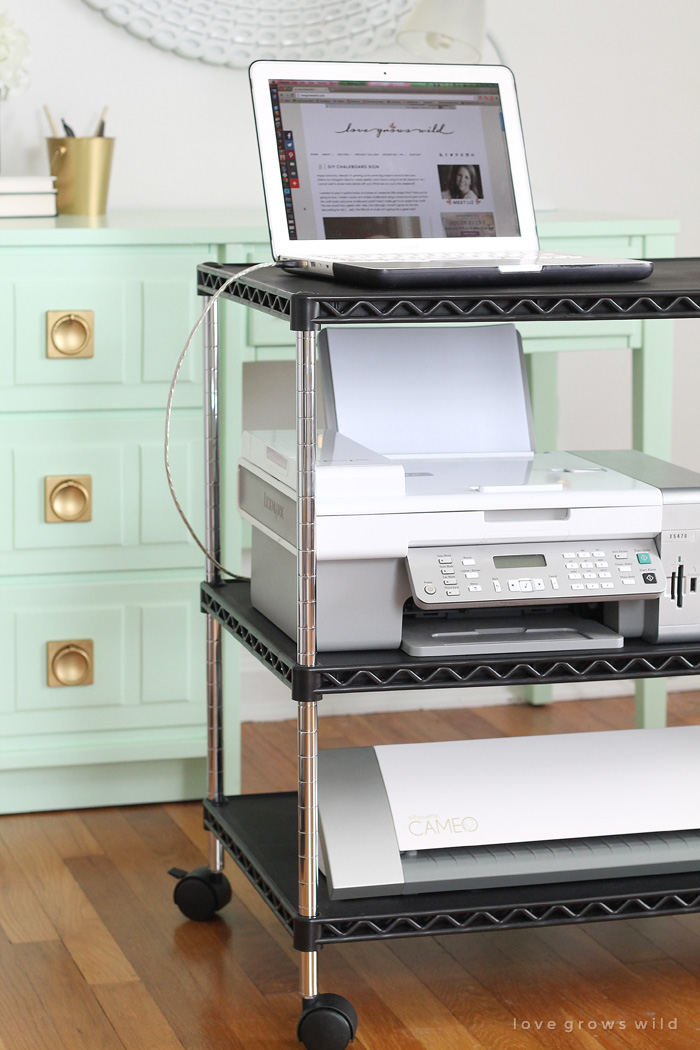 It may not be the prettiest thing in the world, but it was fairly cheap and keeps these bulky pieces from cluttering up my pretty work space. I finally had to come to a realization with this makeover that not EVERYTHING has to be built, thrifted, or recycled… it's okay to pick and choose which things are worth spending the time and effort on and which things are easier to purchase off the store shelves!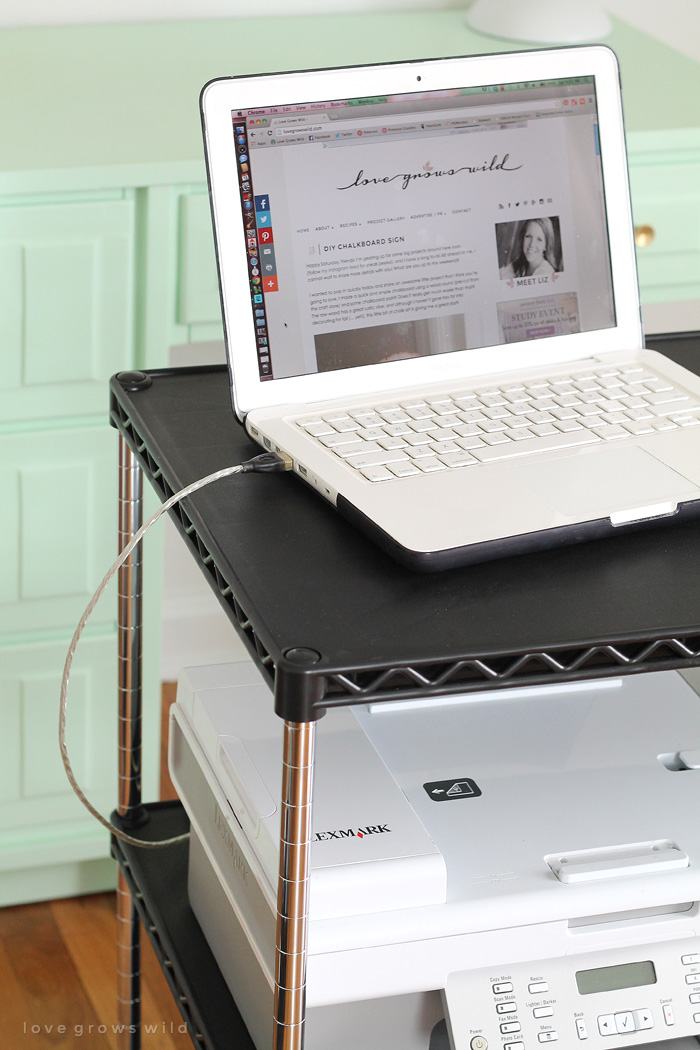 So that's all for now, folks! What do you think of the new office updates? I'll have some projects coming your way soon, after a short trip to Ohio next week for a fun, little adventure! Be sure you're following me on Instagram so you can see what I'm up to!
Like what you see? Subscribe to Love Grows Wild so you'll never miss a post!
Follow along on Pinterest, Google+, Instagram, and Facebook for more fun!
---
More projects from Love Grows Wild: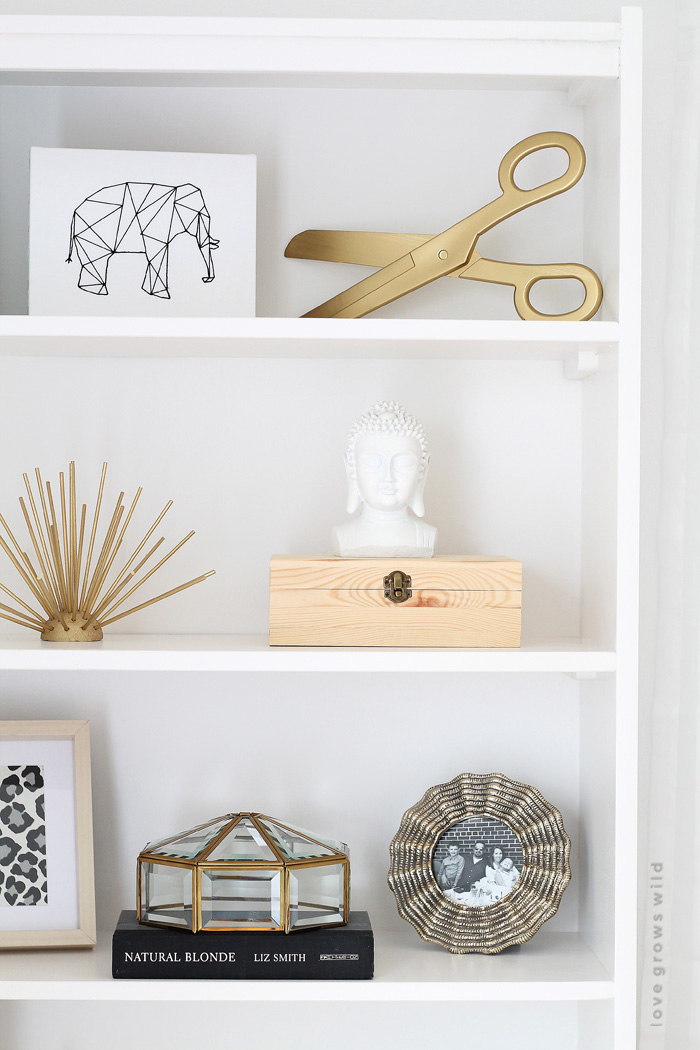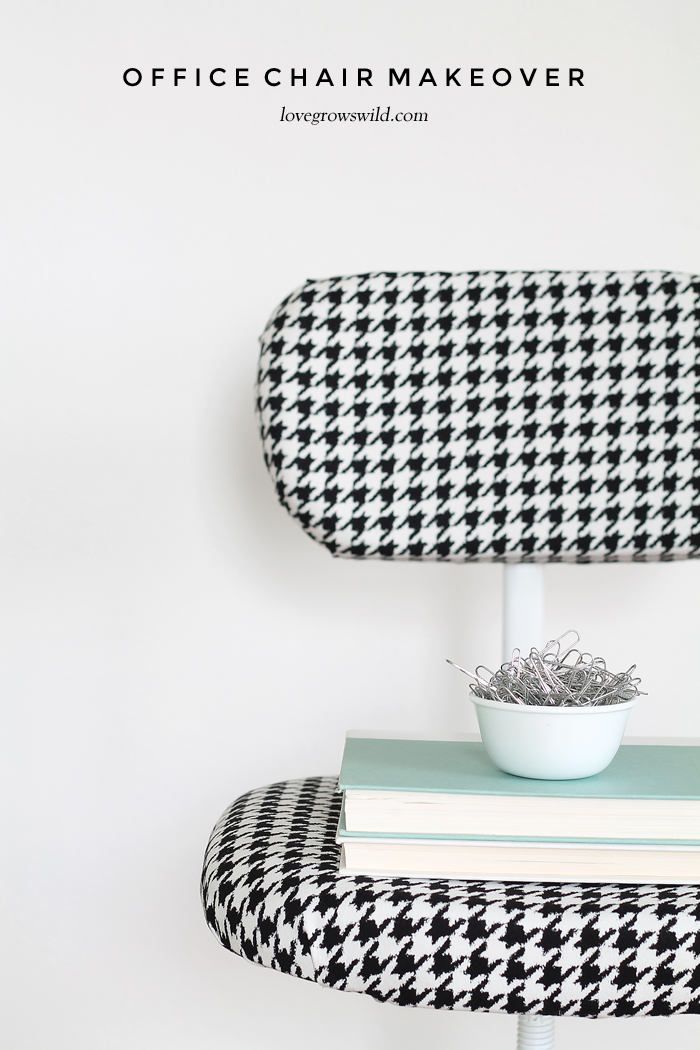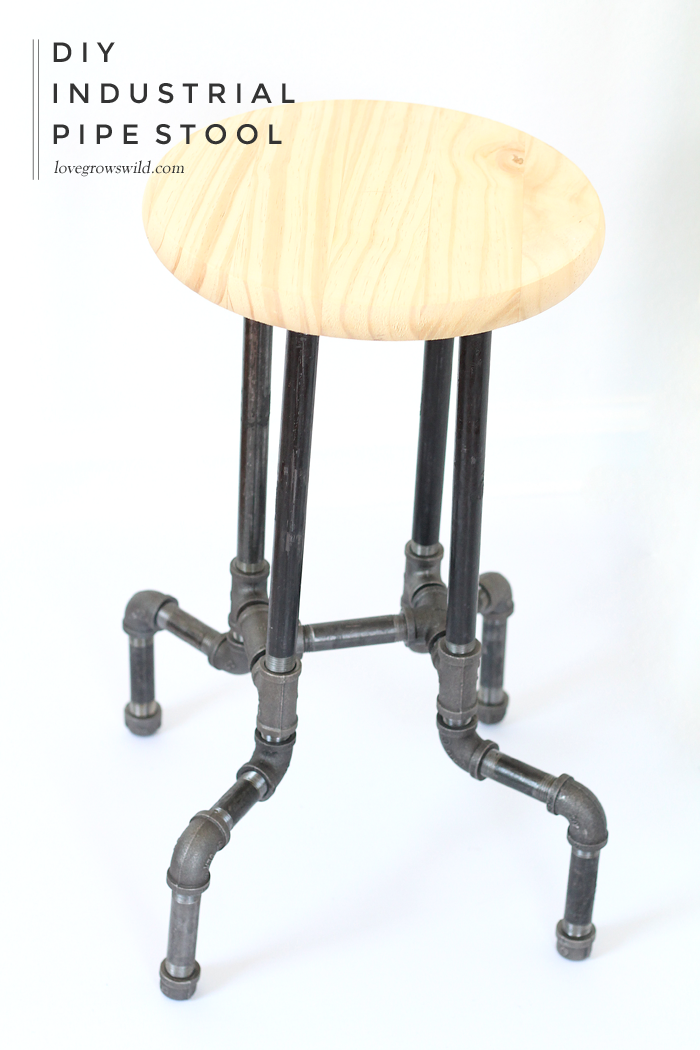 ---
LET'S KEEP IN TOUCH!
Subscribe to Blog | Browse my Shop | Follow on Facebook | Follow on Twitter
Follow on Google+ | Follow on Pinterest | Follow on Instagram