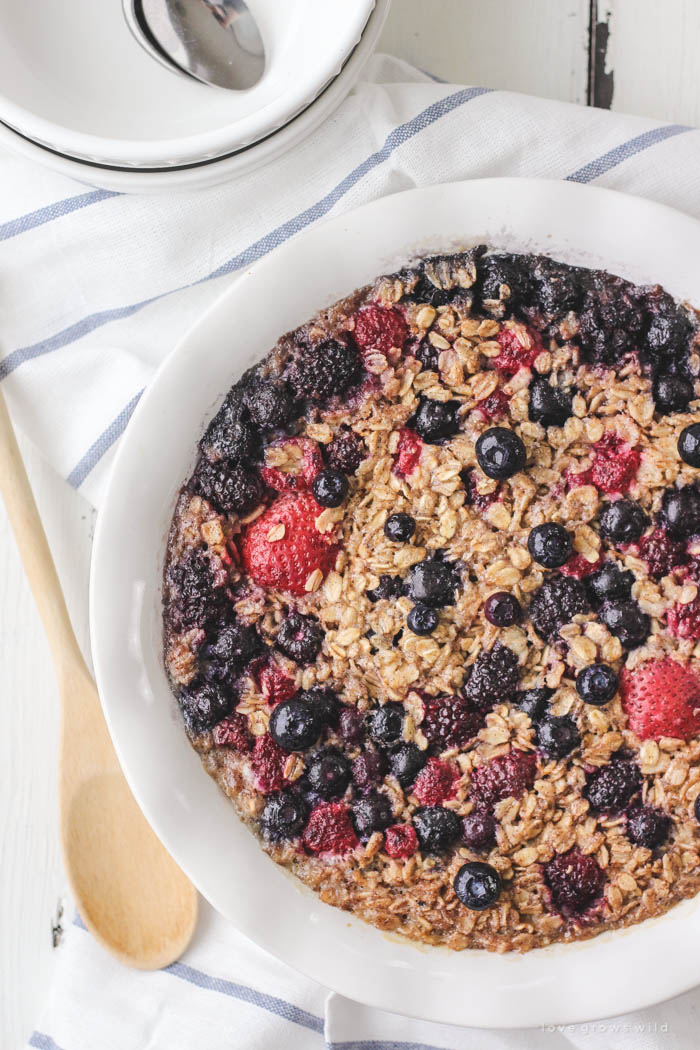 Wake up to a bowl of this warm and delicious Triple Berry Baked Oatmeal for breakfast! It is easy to put together, can serve a crowd, and reheats beautifully!
We are now on day 16 of our kitchen renovation, and as excited as I am to see all the changes happening to our little farmhouse kitchen, I am NOT so crazy about living without a kitchen for 3 or 4 weeks. We were able to put our refrigerator in the living room (which is actually highly convenient but pretty ugly to look at), but other than that, all we have is a tiny table in my office with a microwave and a coffee pot. I don't think I could survive this reno without my morning cup of caffeine, so the coffee pot heading down to the basement for a month was NOT happening.
We're all growing pretty tired of eating bowls of cereal for breakfast every morning, but luckily I was smart enough to make a big batch of this Triple Berry Baked Oatmeal before our kitchen demo started! This is why I love baked oatmeal so much… you can whip up a batch on the weekend and have a hearty, homemade breakfast all week long. Just store leftovers in the fridge and reheat when you need it! I've shared a few of my favorite baked oatmeals here on the blog before… apple cinnamon, banana bread, cinnamon roll, and blueberry lemon, to name a few. I think you guys are going to love this wholesome, fruit-filled, warm and satisfying oatmeal recipe!
P.S. You can use fresh or frozen berries for this recipe, but I like to pick up a bag of frozen mixed berries from the store to save a little time and money. Also, as the berries bake and release their juices, the oatmeal will still look a little runny at the end of the cook time, but it will set up more once it cools for a few minutes!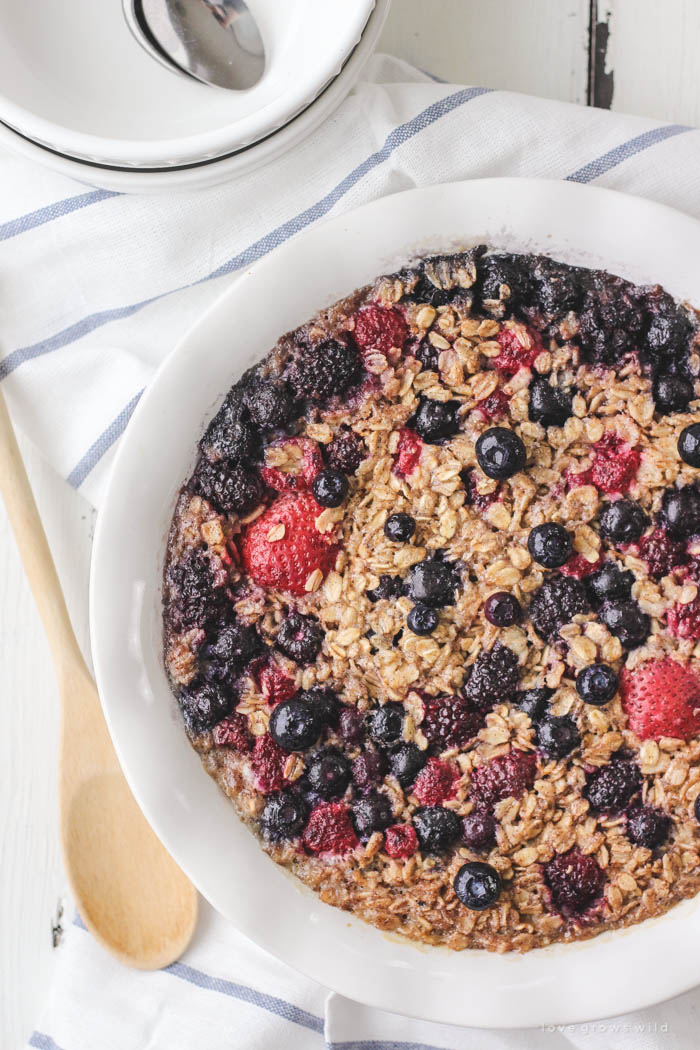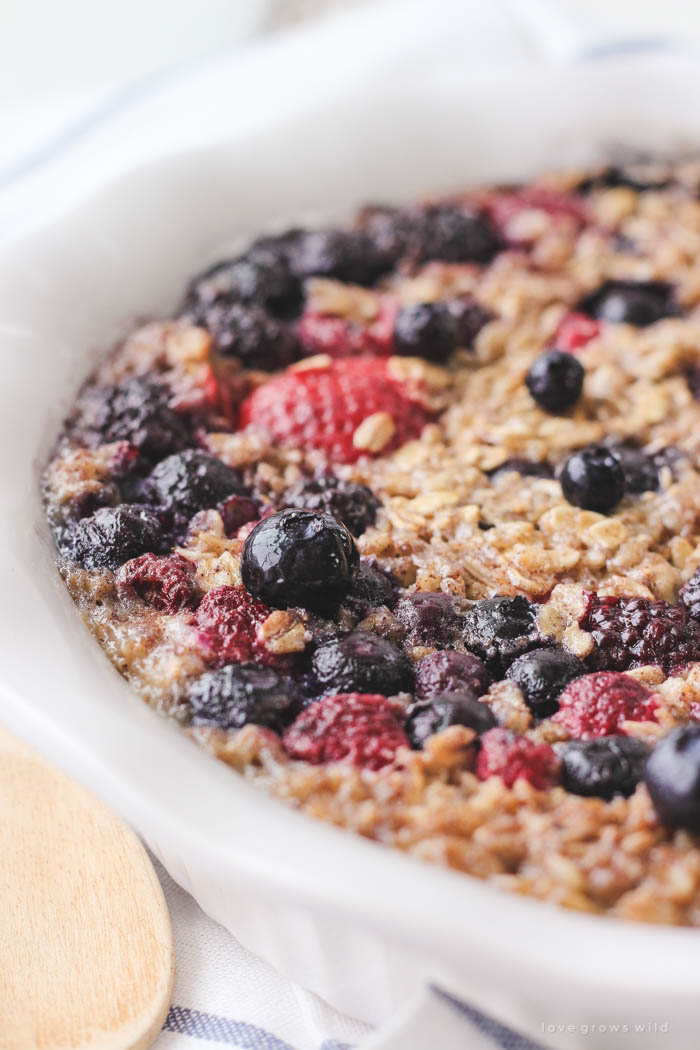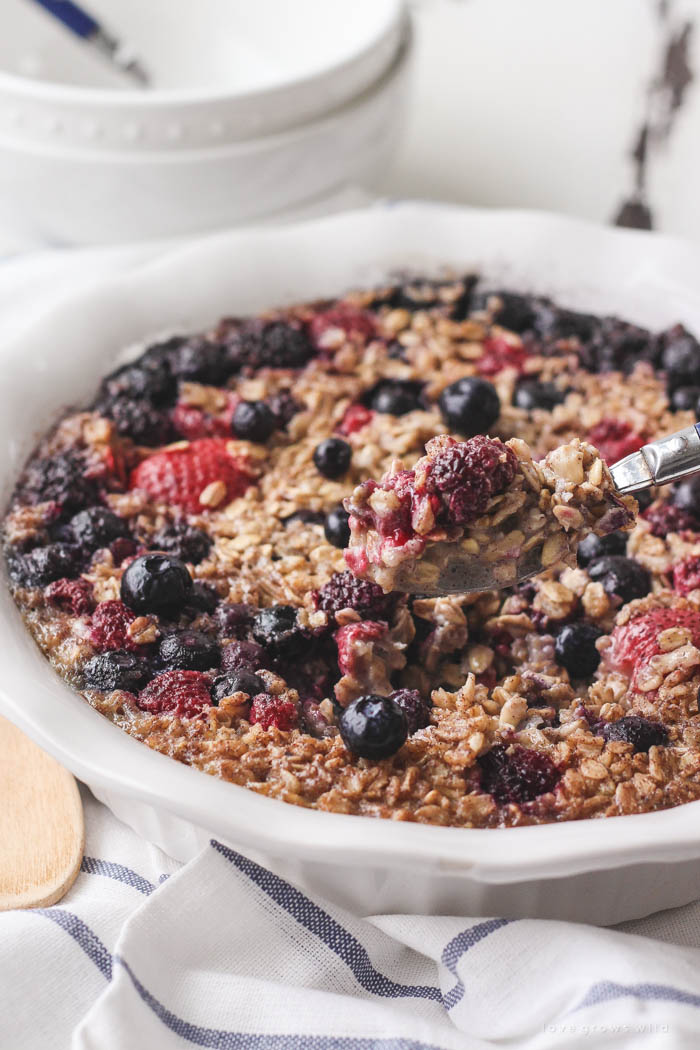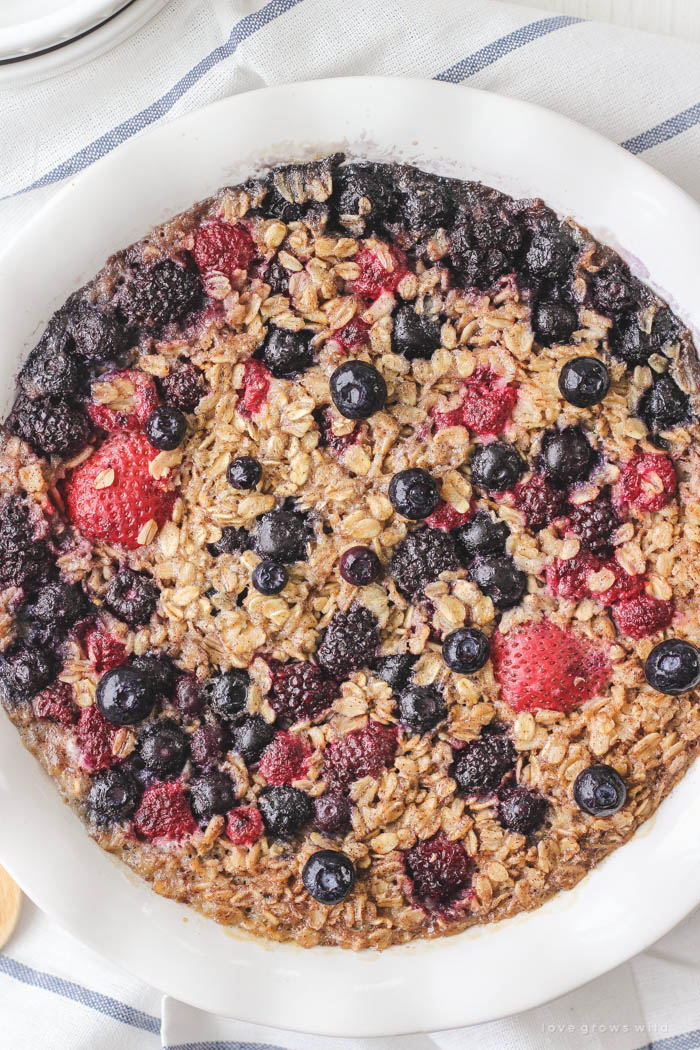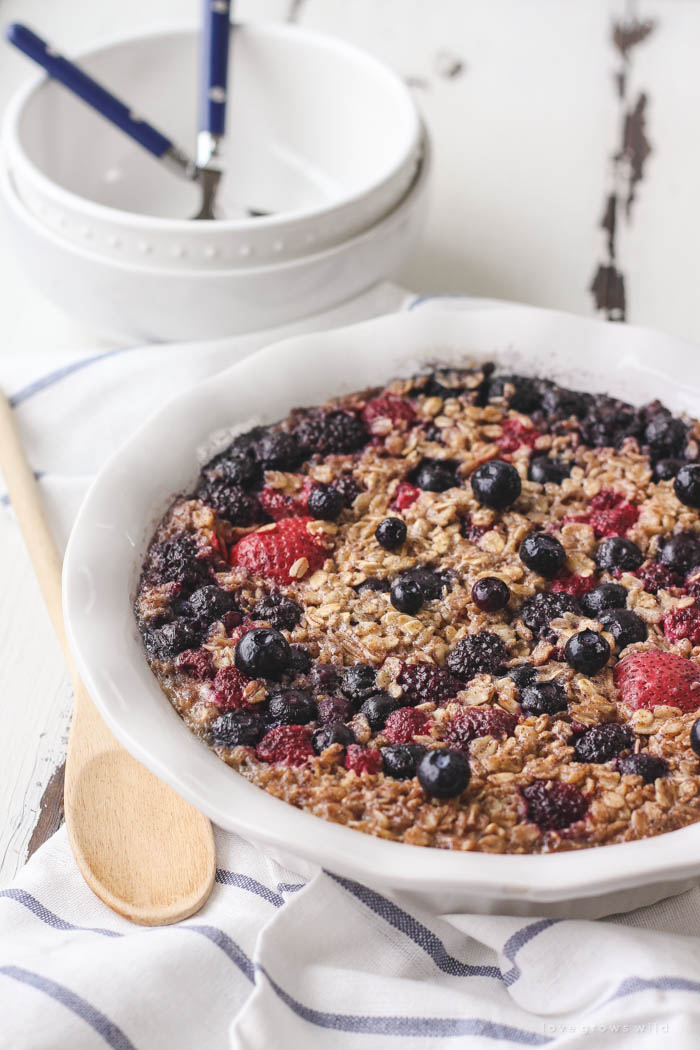 Triple Berry Baked Oatmeal
INGREDIENTS
2 cups old-fashioned oats
⅓ cup brown sugar
1 teaspoon baking powder
1 teaspoon cinnamon
½ teaspoon salt
2 cups milk
1 large egg
1 teaspoon vanilla
3 tablespoons unsalted butter, melted
½ cup blueberries
½ cup strawberries, quartered
½ cup raspberries
INSTRUCTIONS
Preheat oven to 350ºF and spray an 8" square baking dish or pie plate with nonstick cooking spray.
Add the oats, brown sugar, baking powder, cinnamon and salt in a medium bowl and stir to combine. In another large bowl, whisk together the milk, egg, and vanilla. Slowly pour in the melted butter, whisking constantly.
Add the oat mixture, blueberries, strawberries, and raspberries into the wet ingredients and stir to combine. Transfer to the greased baking dish and bake for 30-35 minutes. Cool slightly before serving.
NOTES
- Fresh or frozen berries will work in this recipe! I like to save a little time and money by picking up a bag of frozen mixed berries.
---
More from Liz's Kitchen:
---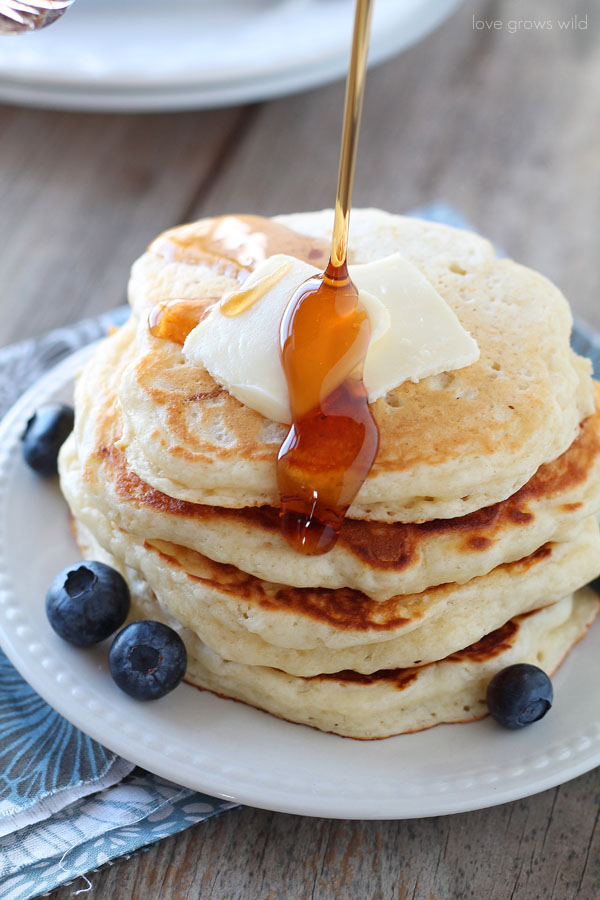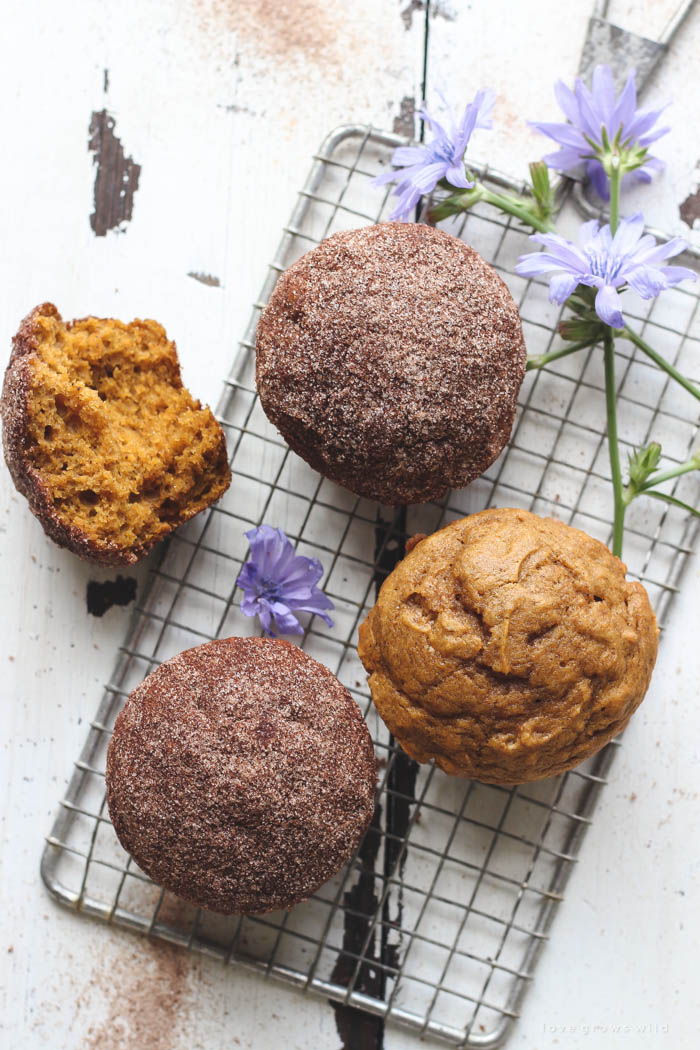 Cinnamon and Sugar Pumpkin Muffins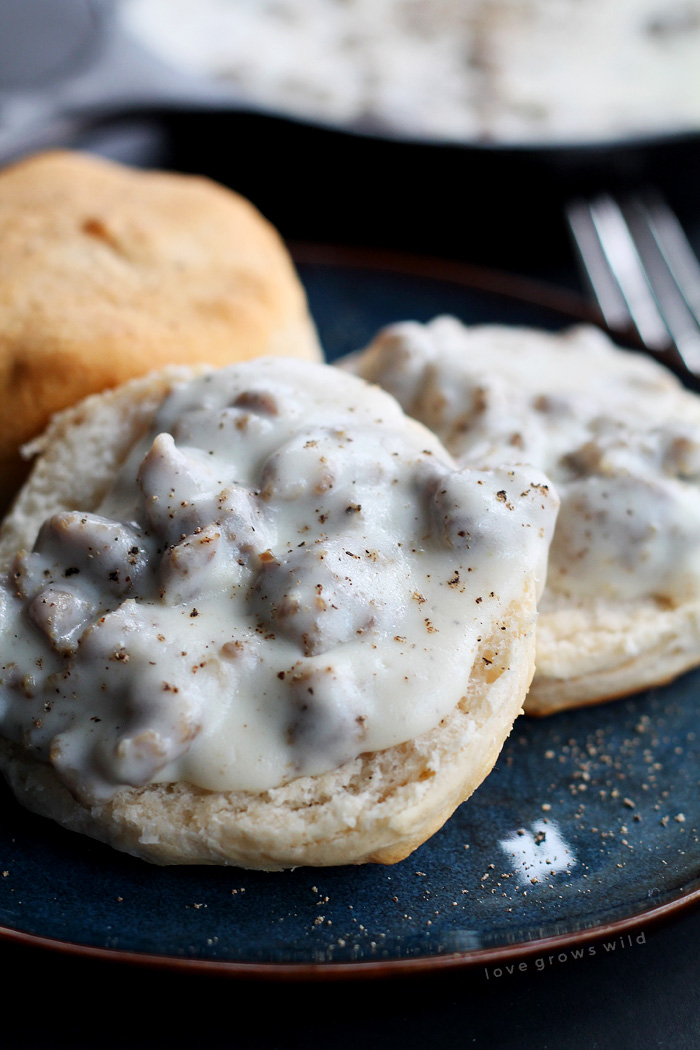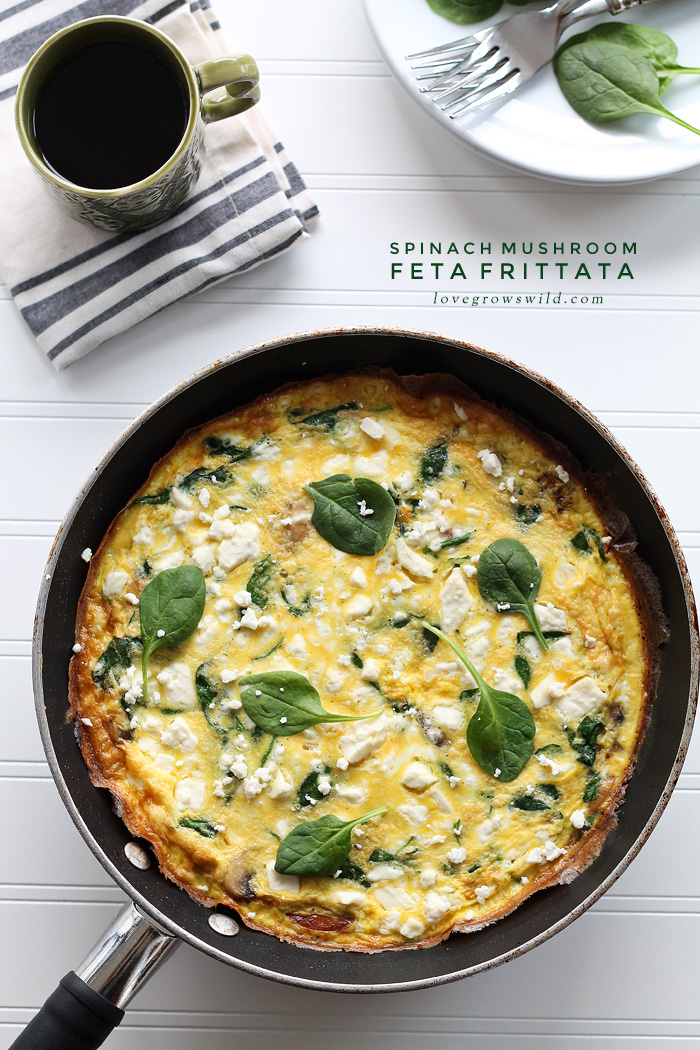 Spinach and Mushroom Feta Frittata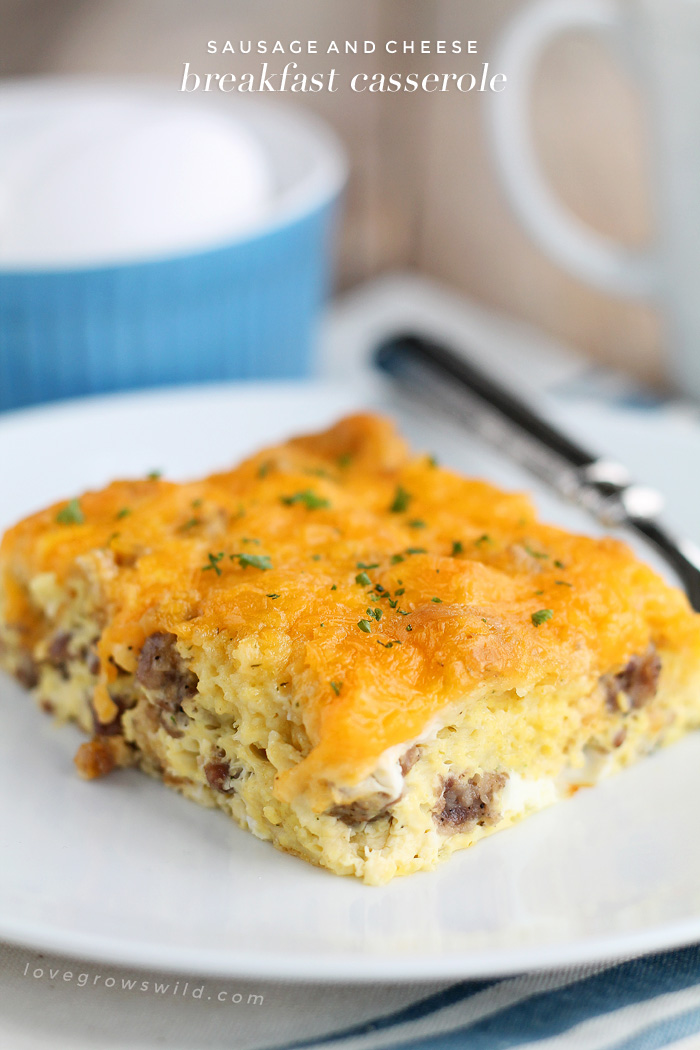 Sausage and Cheese Breakfast Casserole
---
LET'S KEEP IN TOUCH!
---
Subscribe to Blog | Browse my Shop | Follow on Facebook | Follow on Twitter
Follow on Google+ | Follow on Pinterest | Follow on Instagram