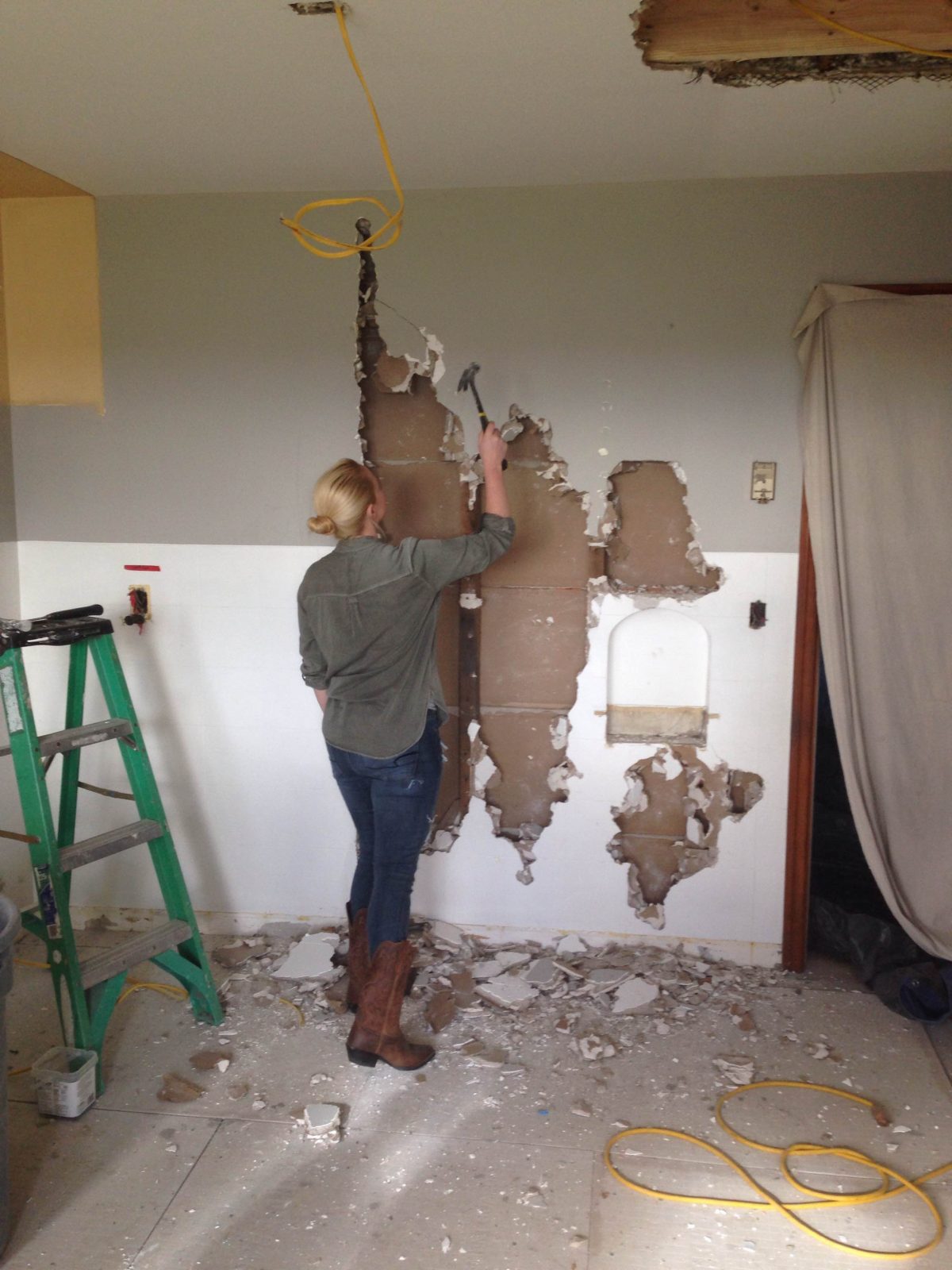 I know it's been quite awhile since my last Little Bits of Love post, but I feel like now is a good time to take a quick break from home renovation and projects to share a little bit of my heart with you guys. Let's grab a cup of coffee and catch up on life!
There's been so much going on over the last few months, and I've been so focused on keeping all the balls I'm juggling up in the air, that I haven't had a chance to tell you guys about all the exciting things that have been happening. First, we had Christmas here at the farmhouse, and it was one of the most wonderful, memorable, relaxing holidays I can remember. We didn't have to travel to a million different places or drive through slick, snow-covered roads to get anywhere. We took a day trip over to see Jeremy's family in Illinois and sang Christmas carols the whole way there. Then on Christmas Day, we had some of my family come to stay with us, and we just ate lots of food, played games, and enjoyed spending time together. It was pretty much perfect.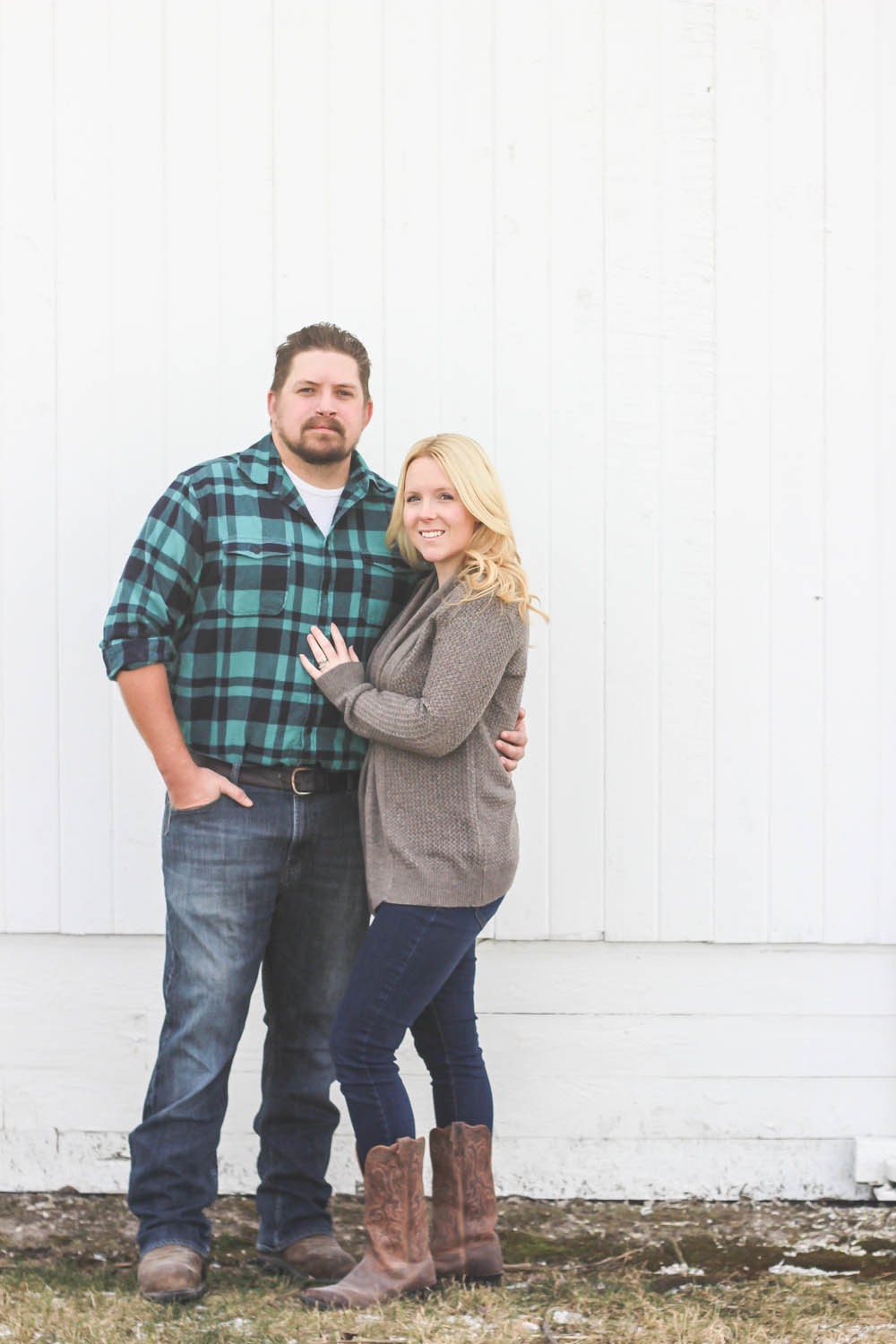 On the Monday after Christmas, I decided I better get all the Christmas decor put away while I had a chance. I knew things were going to get crazy around here quickly, and if I didn't get it all done then, it might end up staying until Christmas of 2016. As much as I hated to see all the greenery and lights get put away, it felt good to get a clean, uncluttered space to start off the new year with.
Then, I got the phone call.
We've been planning a kitchen renovation since earlier this fall and things are finally starting get rolling on the project. We decided to go through Lowe's for our renovation, and they hooked us up with a fantastic contractor. By the time we designed the whole kitchen, picked out products, paid for everything and got on the contractor's schedule, we were looking at BARELY finishing the kitchen in time for my book deadline. It would be kind of hard to decorate and photograph our kitchen for the book while it's still under construction, right? My awesome contractor was able to make his schedule work with my deadline, and on the Monday after Christmas at 4:30 in the evening (as I'm still putting away all that Christmas decor), he said, "Can we start Wednesday morning?"
I said, "of course!" and frantically started cramming the contents of our kitchen cabinets into as many cardboard boxes leftover from Christmas as I could find. Then it dawned on me that I wouldn't have a kitchen for the better part of a month and would need to have recipes ready to go for the blog while my kitchen was out of commission. So Tuesday morning, I woke up at the crack of dawn, headed to the grocery store and made 5 different recipes. Between cooking all that food in the kitchen and photographing it all in my office, I had parsley, peanut butter, and drips of smoothie all over the place. By about 2 o'clock that afternoon, I was ready for a hot shower and my bed, but we still had a big kitchen renovation to get ready for.
I tackled the kitchen cabinets and pantry, and Jeremy tackled cleaning the garage so our contractor had a place to set his tools and supplies up. We also had to move some vehicles over to the big farmhouse to make room for the tool trailer, dump trailer, and numerous trucks that would show up the next day. AND I had to clean up the basement where the crew would need to access pipes and electrical stuff. It was after midnight before we finally made it to bed, and I vowed to never wait so long to clean clutter out of our house again. You should have seen the bags of garbage and donation piles we had! So by Wednesday morning, we had the kitchen cleaned out, a refrigerator in our living room, a mini kitchen (a.k.a. coffee pot and microwave) set up in my office, a basement full of kitchen stuff, and the boys' playroom stacked floor to ceiling with boxes of kitchen cabinets. So much for my clean, uncluttered house to kick of the new year, right? Lol!
Our contractor, Heath, showed up at 8 am on Wednesday morning, and they've been working on the kitchen ever since. I'll post about all the details of the kitchen renovation coming up in the next few weeks, but I just had to share the laughable chaos this reno has brought into our lives this month. I'm sure a few of you who have done this before can relate! We're trying to be troopers about the whole thing, but I've had about enough microwaveable frozen meals as I can stand for awhile.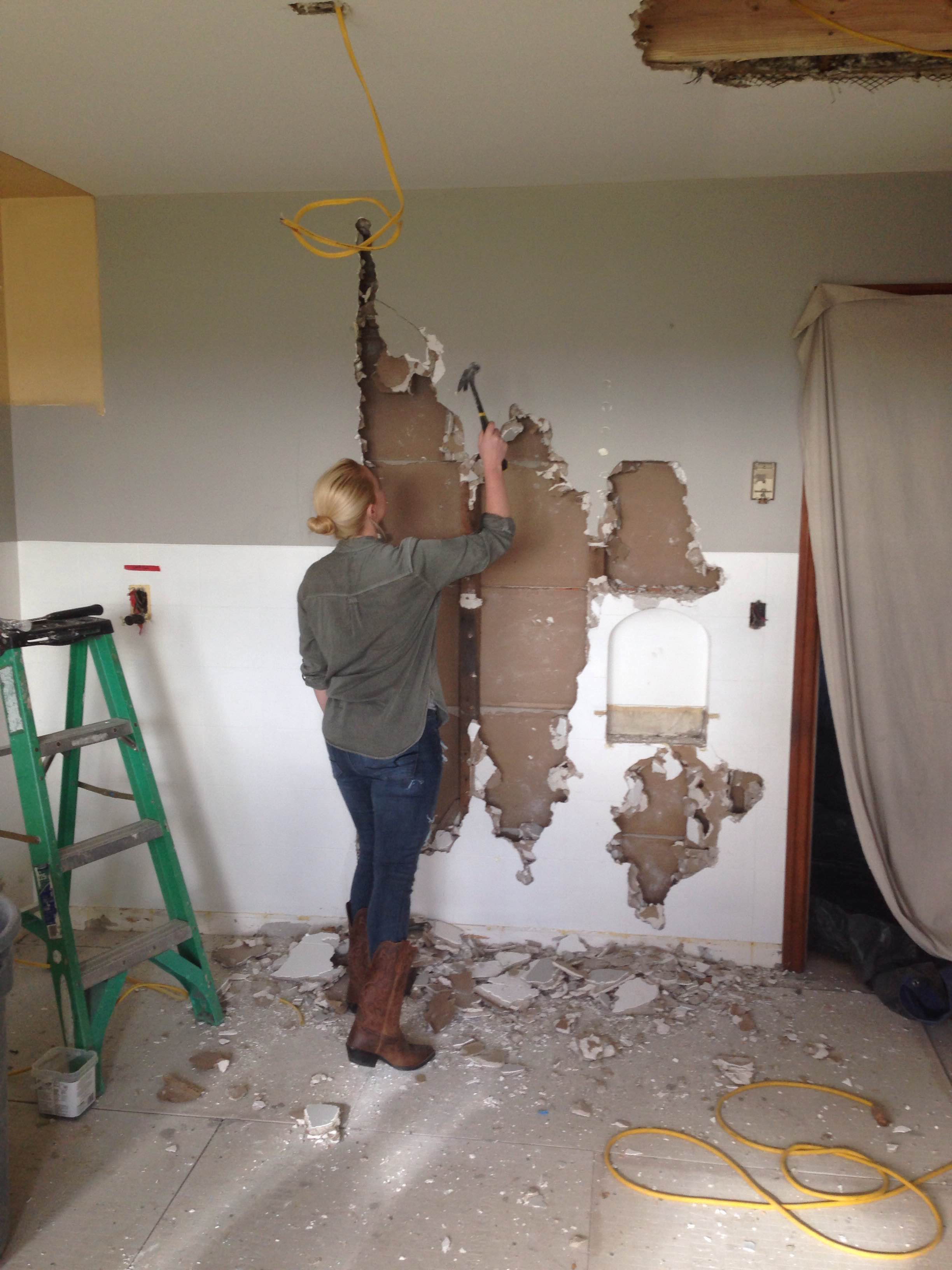 So I'm sure some of you are wondering how this whole kitchen renovation came about, right? We've been dreaming of a new kitchen ever since we moved into the farmhouse, but with the high price tag that kitchens come with, this project has sat pretty far at the bottom of our list. When the call came in about the possibility of me writing a book, I discussed book topics with the publisher, and we decided a book all about how we decorated our farmhouse would be the perfect fit. Each chapter would showcase a different room in our house, which would mean that the kitchen would HAVE to be renovated.
Jeremy and I discussed it for a long time before deciding to say yes, but ultimately the opportunity to write a book like this made it easier to spend the money on a renovation. I basically won't make a penny for writing the book once I pay for the kitchen, if you look at it that way, but sometimes you just have to take a leap of faith that this is the right business decision that will lead me to bigger and better things. Fingers crossed, guys!
Speaking of the book…
We're getting pretty close to my deadline, and I've been a project-making machine ever since Christmas. I knew that the holidays would put me behind a little bit, so now I'm working overtime trying to get all caught up. Have you ever heard about when singers are writing an album or when an actor is getting into character for a role, and they kind of go into this "creative underground" where they are totally immersed in their work, focusing entirely on the upcoming project? I know I'm no Beyonce or Jennifer Lawrence, but that's kind of how I'm feeling at the moment. All day, every day I'm thinking about projects for the book and what I want the end result to be. In just a few months, the book will be finished, and I can get back to some sort of normalcy. But right now, I'm working almost around the clock to make this book something I'm proud of and something you all would want to buy.
I was talking to a friend the other day and described my situation like this: You know when you're unhappy with the way a room looks, and you start pinning a bunch of ideas for how to decorate the space? What colors you'll use and how you'll place the furniture? And then you can't decide which way you want to go, so you let the room sit for a couple months. And then after enough procrastinating, you finally decide what you want to do, so you go to the store and pick up some paint. But then you dread the idea of having to move all the furniture and tape all the trim, so you let the paint cans sit for a few more weeks before you finally get the motivation to paint. Then you have to figure out all the decorative elements… back to the pin boards for inspiration. You shop around different stores for a few weeks, checking out prices and deciding on finishes. You buy a few pieces of artwork, but the thought of dragging out your tools and measuring out where each piece should go on the wall is just too much effort after all the painting and shopping. So everything sits in a pile on the floor for another week until you finally drink enough coffee to hang everything up and finish the room! Yay! It only took six short months to get everything done!
Well, that's how I normally operate when I'm not under strict time constraints, but taking on this book project has forced me to redecorate every single room in our house (8, to be exact) in under 5 months. I've literally had just a few weeks to design, shop for, paint, and decorate each space, and I've had to learn to make split-second decisions that would normally take me months of debating. And in all honesty, I'm tired. Really tired. I can't wait for the day when I hand over my book baby and can relax my poor brain for a little while. But there has not been one second that I've regretted taking on this massive project, and it has taught me so much about myself and my capabilities. I've learned to trust my instincts and also take risks. I've become more efficient with how I spend my work day and have pushed myself beyond every limit I once thought I had.
Right now our house is completely turned upside down, with a million projects going on all at once. It's hard to imagine that in just about one month, I'll be staging my entire house to photograph for the book, but one way or another, I'll get it there. I have to say a quick thank you to my amazing family who have put up with this chaos and helped in so many ways. Jeremy has stayed up late painting with me, installed more light fixtures than I care to count, and listened to my endless design ramblings. The boys have really stepped up with chores around the house and get so excited when they come home from school to see something new I made. And when I'm exhausted and frustrated and on the verge of tears, they always know the perfect way to make me laugh and keep me going. Let's keep this our little secret, but I think I'm going to surprise them and take us all somewhere special over spring break to show them my appreciation for all they put up with. Any suggestions on places we could go are welcome!
So to wrap up this VERY long post (thank you for reading!), I wanted to share a few goals of mine for 2016. Through March, I'll be busy finishing up the book, but the rest of the year I'd like to work on some outdoor projects. I'd love to build a deck on the back of our house and fix up the adorable, little white barn we have in the backyard. So that's what has been going on in my life lately! What about you? What are your plans and goals for 2016?