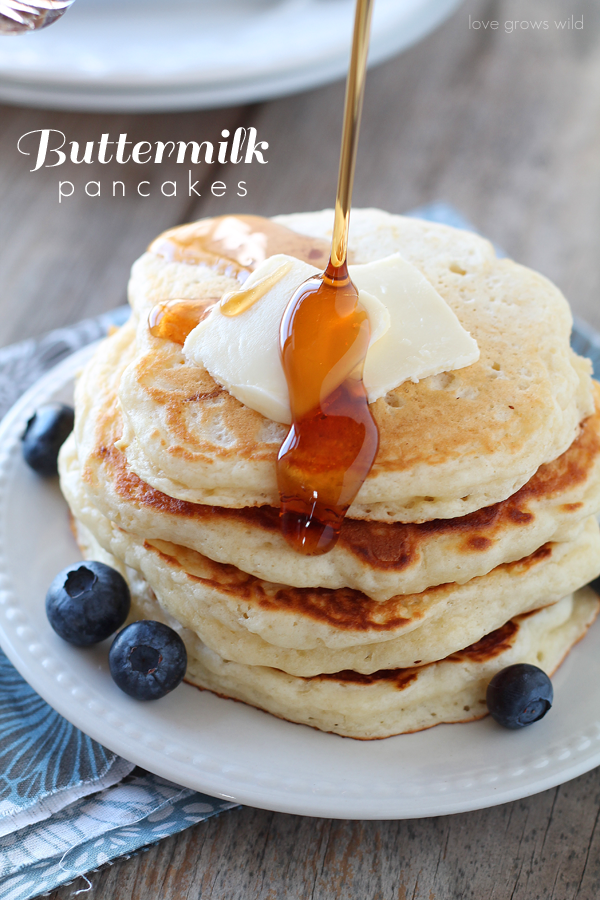 Is there anything more beautiful than a giant stack of pancakes fresh off the griddle on a Saturday morning? Add a glass of orange juice (pulp-free, please), a strong cup of hazelnut coffee (I double fist in the morning), and a healthy amount of maple syrup, and you have the perfect way to start a weekend. Don't you agree?
I'm going to be honest with you… I'm a person that keeps a box of pancake mix in her pantry at all times. You never know when you'll run out of groceries and have nothing left to make but pancakes, which probably happens more than I'm willing to admit! Haven't you heard that Wednesdays are supposed to be pancake dinner night? No? Oh, maybe that's just my house. Either way, we love pancakes and always have that convenient box mix in the pantry, but you really just cannot beat the flavor and texture of homemade pancakes. Not from a box mix, from scratch. Which is not as hard as it sounds at all! I promise!
If I'm going to roll myself out of bed on a Saturday morning and flip some flapjacks, I'd much rather make some amazing homemade buttermilk pancakes and enjoy their perfect, fluffy goodness. This recipe creates a light, airy batter that makes those tall and fluffy pancakes that are super tender. Don't you just love that moment when you flip a pancake over and watch it rise up super tall right before your eyes? I love that!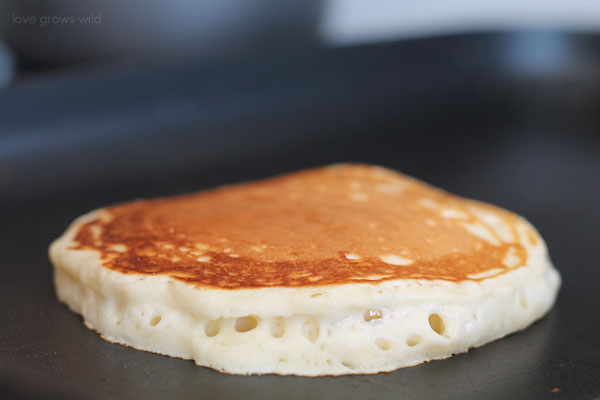 I made these pancakes a few weekends ago when my sister and her boyfriend came to visit us, and my children decided these would be the only pancakes I make from now on. They're that good. I guess that box in the pantry is going to be sitting for quite awhile! I paired the pancakes with a to-die-for raspberry butter that I'm planning to share here soon, and oh my garsh (as my 4 year old now suddenly says) was it good!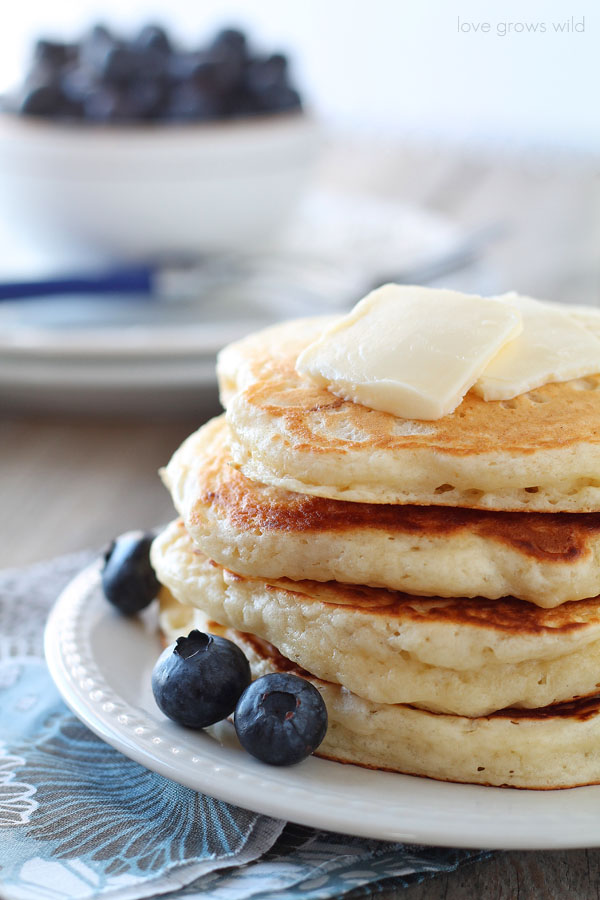 If I tell you something, will you promise not to judge me? I mean, we're besties, right? When my sister was here, I was all excited to play the Cards Against Humanity game I got for my birthday and have a few drinks, relax, laugh, and just have fun on Saturday night. My sister and her beau are quite the wine and diners, and they decided they had a thing or two to teach me about beer and whiskey. Beer and whiskey… those two words are not in this old maid's vocabulary anymore! I might have a glass of wine or a margarita every once in a great while, but I definitely don't sling back shots of whiskey. And now I remember why… It's a good thing I made these pancakes for them on Saturday morning, because after Saturday night I was darn near comatose for two full days. TWO days. Who gets a hangover like that? Needless to say, I've had my fill of trying to drink like I'm still 21 for awhile, and that won't be happening again any time soon. I'll gladly go back to being a boring, old maid!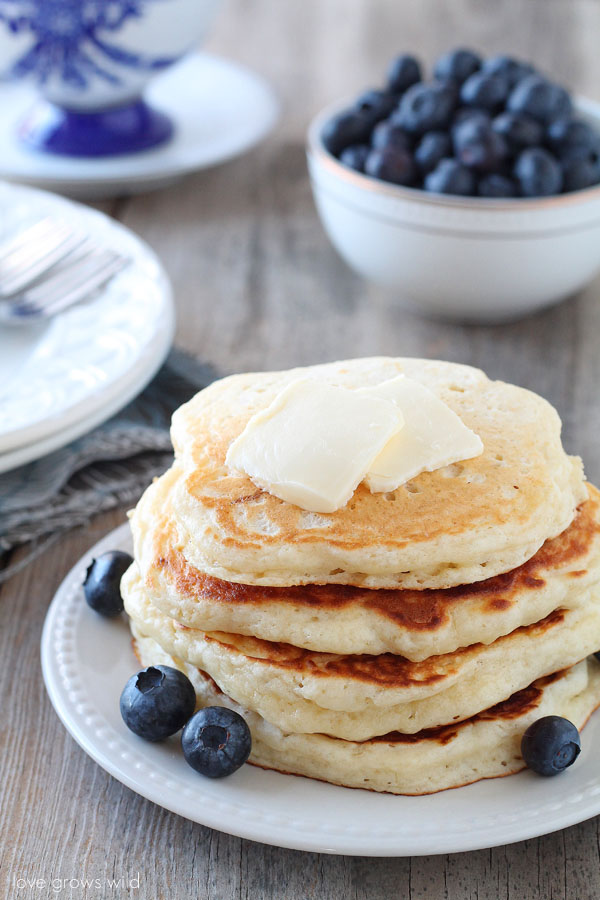 Okay, back to the pancakes! This recipe is pretty simple and straight forward, but I do have a few pancake-making tips that I've learned in all my old maid years…
#1 – Don't over-mix the batter. You want to gently fold the wet and dry ingredients together until you have a lumpy, just-moist batter. Lumps are good in pancakes, trust me! If you beat the batter until it is perfectly smooth, you'll have a very dense, flat pancake instead of a light and fluffy one.
And #2 – Only flip those flapjacks once. Flipping the pancakes back and forth causes them to deflate and become dense, so when it's time to check if they're done on bottom, just barely lift them to take a peek. You have to treat them with a little tender loving care!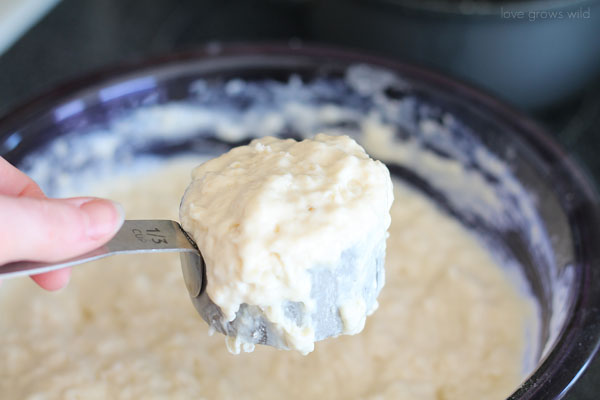 I'm confident that once you try these buttermilk pancakes, it will become your go-to recipe too. Feel free to jazz the pancakes up however you like, with blueberries, chocolate chips, whipped cream on top, or just plain old butter and syrup! They're all delicious!
Oh, and one other side note…
When you go to pour maple syrup all over your glorious stack of pancakes…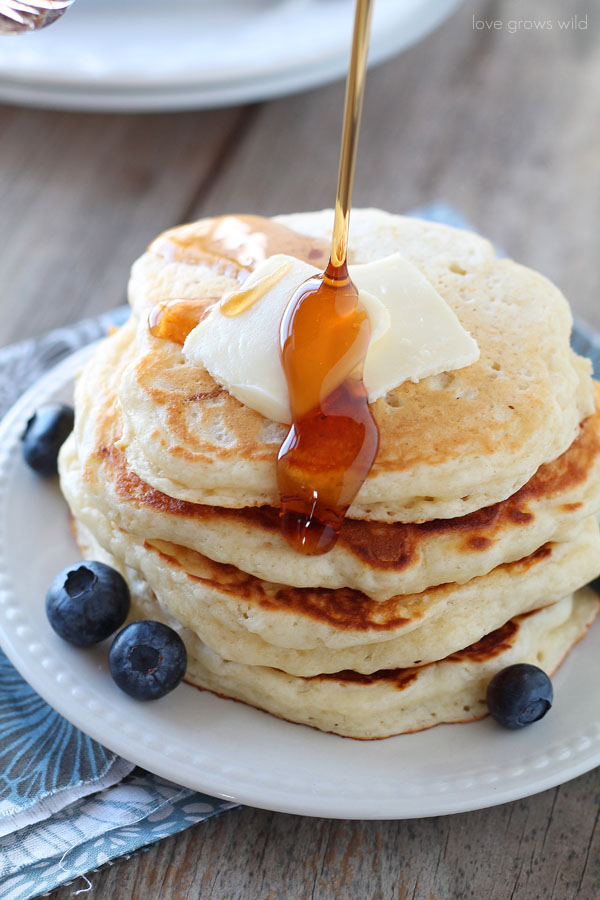 … don't be like me and pour until your table, linens, and everything else is covered in syrup.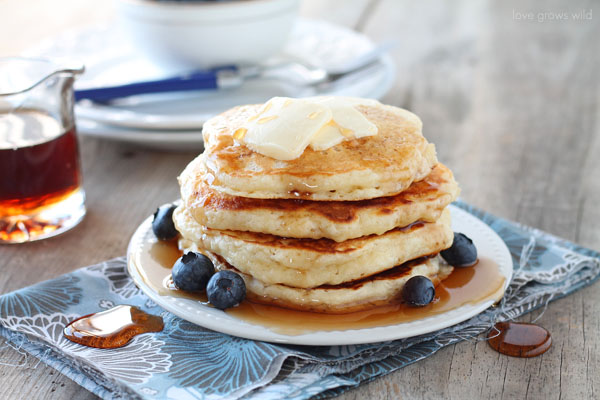 In my defense, pouring syrup strategically over pancakes while holding and shooting a camera isn't the easiest thing in the world. I still have sticky syrup to clean off my camera. You can check out more funny bloopers like this on my Instagram feed! It's a fantastic place to see what my life's like behind the blog. 🙂
Like what you see? Subscribe to Love Grows Wild so you'll never miss a new recipe!
Follow along on Pinterest, Google+, Instagram, and Facebook for more fun!
Buttermilk Pancakes
INGREDIENTS
2 cups all-purpose flour
¼ cup sugar
2¼ teaspoons baking powder
½ teaspoon baking soda
½ teaspoon salt
2 eggs
2 cups buttermilk
¼ cup unsalted butter, melted
INSTRUCTIONS
Add the flour, sugar, baking powder, baking soda, and salt to a large bowl and mix well to combine.
In a small bowl, beat the eggs and buttermilk together with a whisk. Very slowly pour in the melted butter, whisking constantly to avoid cooking the eggs.
Pour the wet ingredients into the dry and mix gently with a spoon until just moistened. Do not over mix! The batter should still have lumps.
Heat a griddle or skillet over medium-low heat and add ⅓ cup batter. Cook pancake 2-3 minutes on first side, until edges look slightly dry and bubbles begin to form on top. Flip the pancake and cook another 1-2 minutes. Serve with butter and syrup.
NOTES
- Jazz up the pancake batter by adding chocolate chips, blueberries, or other fruit.
More breakfast recipes: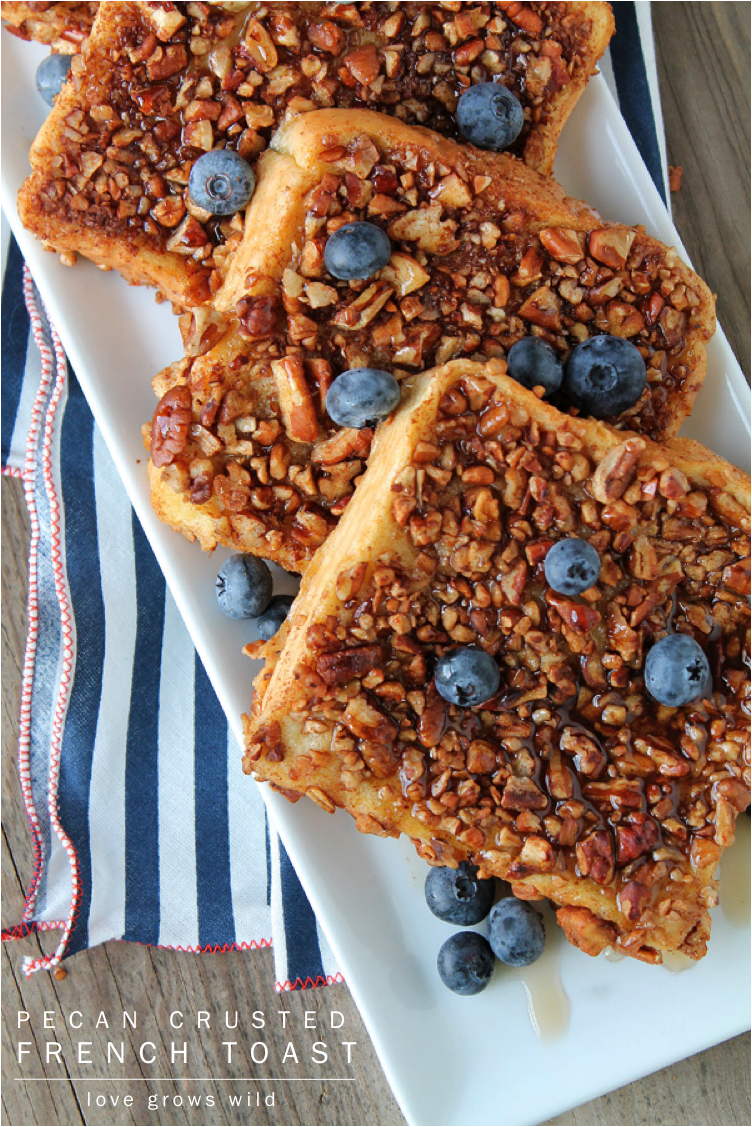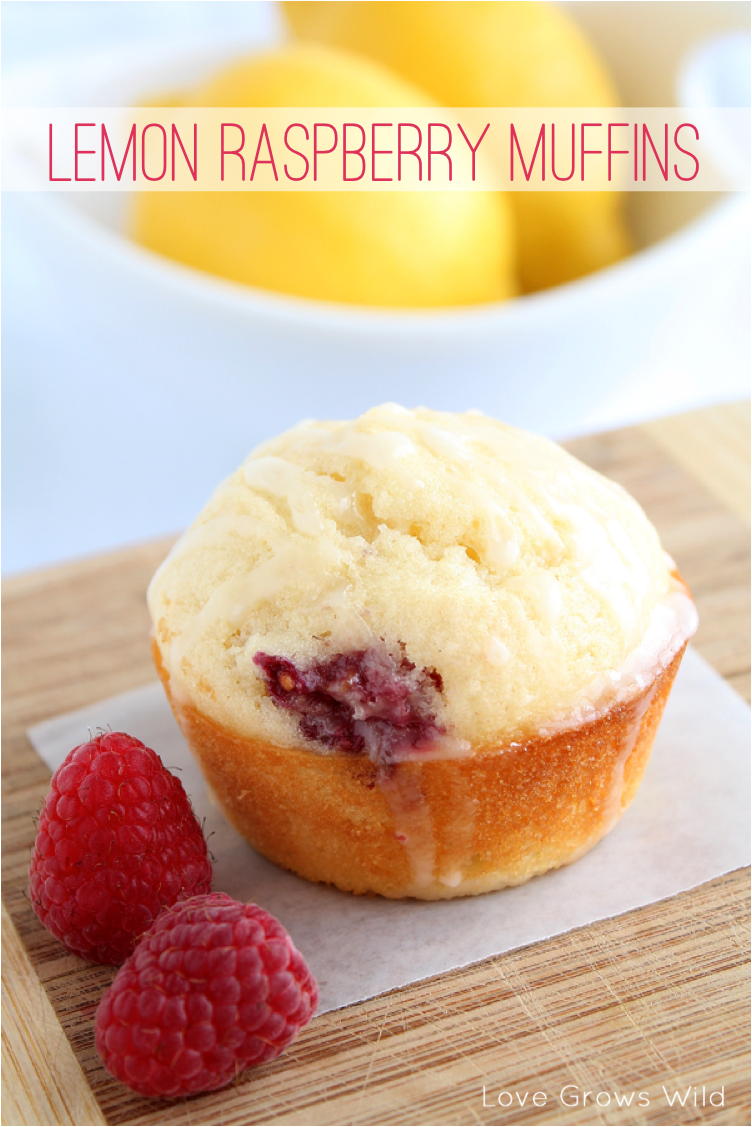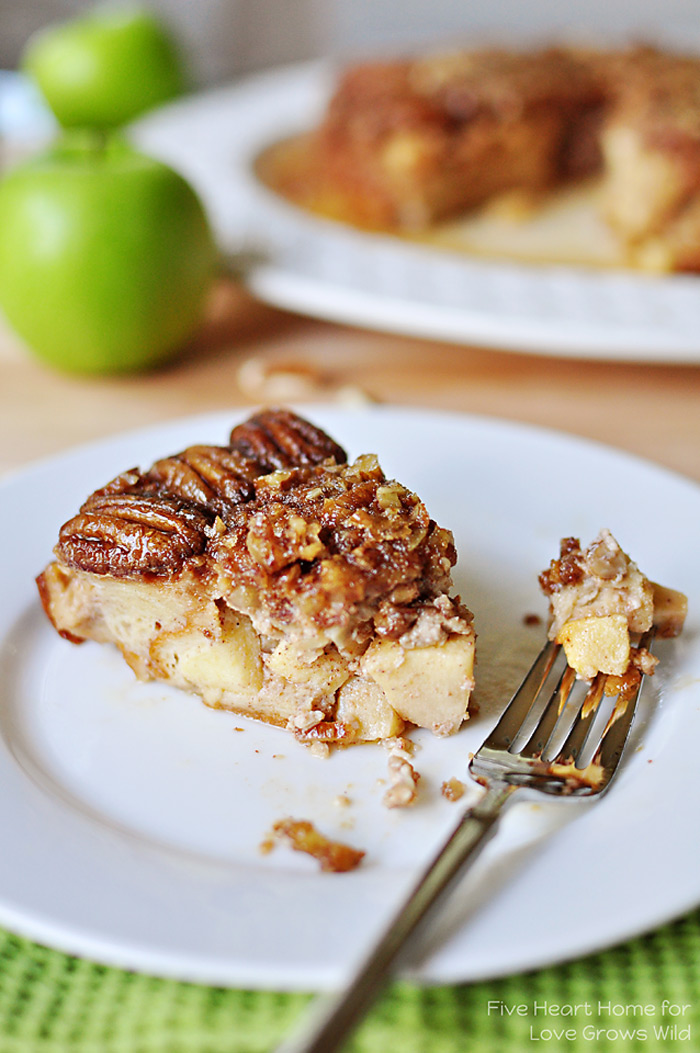 Apple Praline Baked French Toast
LET'S KEEP IN TOUCH!
Subscribe to Blog | Browse my Shop | Follow on Facebook | Follow on Twitter
Follow on Google+ | Follow on Pinterest | Follow on Instagram