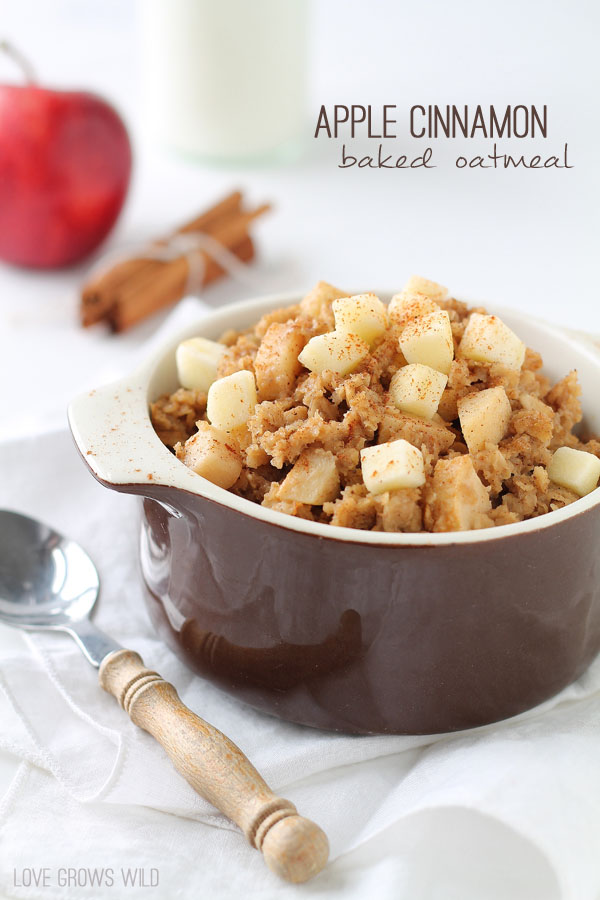 This is a sponsored conversation written by me on behalf of Silk. The opinions and text are all mine.
Guys, I seriously think I could start an entire blog dedicated to breakfast. I just love breakfast foods. Every time I decide to share one of my favorite chicken recipes with you, I think… nah, I have a muffin recipe that I'm dying to post! Who needs a meat and potatoes dinner when you can have buttermilk pancakes or french toast? It's true… I'm hopelessly in love with breakfast, and so naturally, I have another delicious new breakfast recipe to start your morning!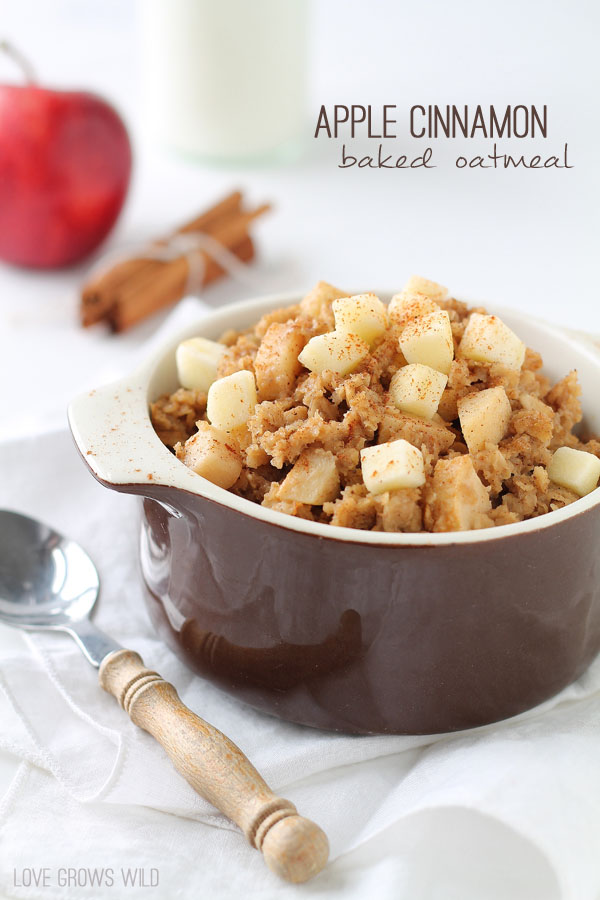 I love a good oatmeal, especially when it's filled with lots of yummy things! On busy mornings, I'll throw together some instant oats with blueberries and almonds, and I know that I'm getting a good, healthy breakfast that won't leave me feeling hungry in an hour. Quick oats are great, but have you ever tried baked oatmeal? Yumm-o. This is definitely my favorite way to make it!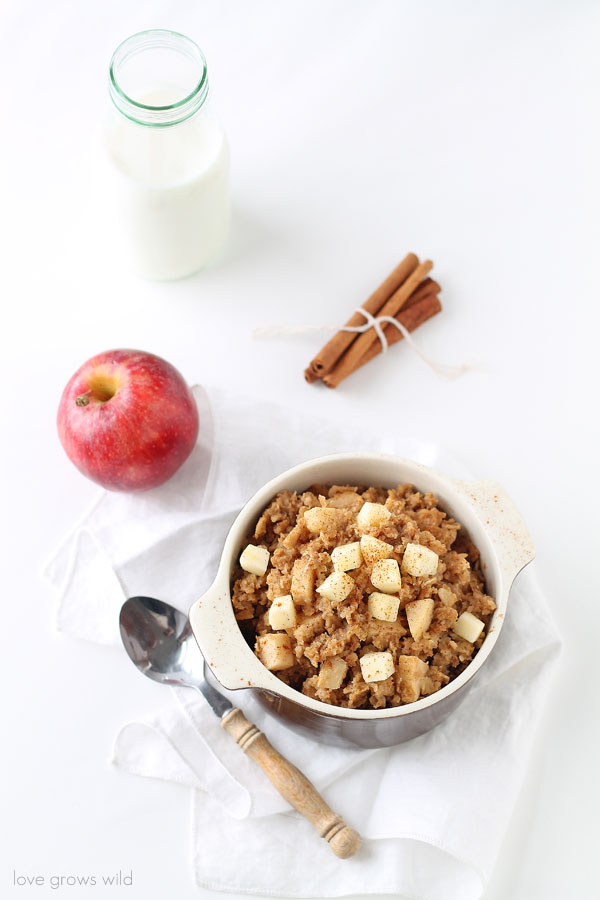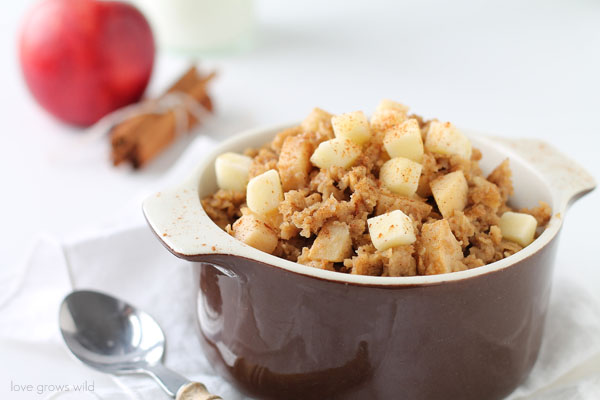 Apple cinnamon oatmeal is unanimously my kids' favorite flavor, so we make that quite often. Soft, sweet apples baked into creamy, cinnamon-infused oatmeal is a delicious way to start the morning! Let me tell you, once you put this oatmeal in the oven, the sweet cinnamon aroma that will fill your kitchen is definitely something worth getting out of bed for!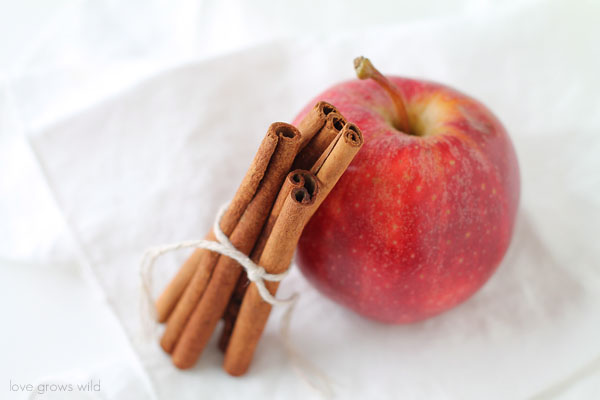 To make the oatmeal, I like to use almond milk, which typically has 50% more calcium than dairy milk, and no cholesterol or saturated fat. I switched to using almond milk a few years ago, as a healthier alternative for my smoothies and cereal, and now I use it in all kinds of recipes.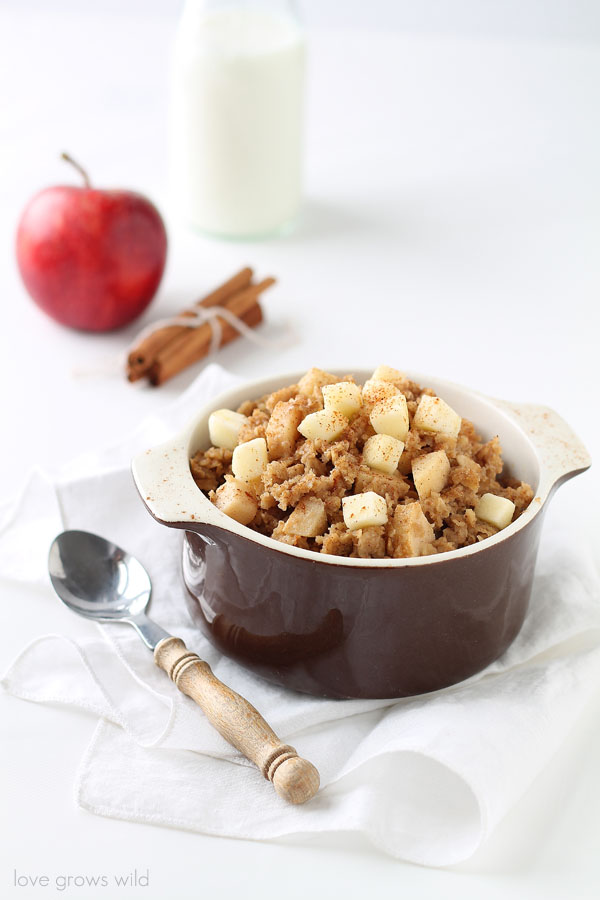 Fun fact: I am a HUGE cereal lover. Someday I dream of having an entire pantry stocked with every type of cereal imaginable. Is that normal?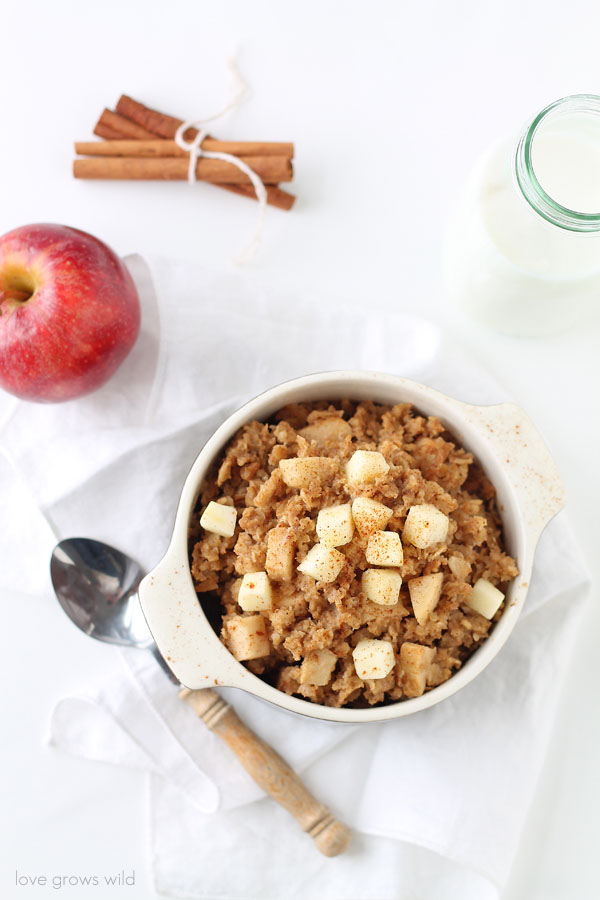 For my smoothie recipes, I like to use Silk Unsweetened Almondmilk, which has only 30 calories per serving. It helps cut calories and fills my body with good, plant-based nutrition, and I actually prefer the flavor of almond milk. Try my Strawberry Banana Oatmeal Smoothie or Blueberry Pomegranate Smoothie and see! Drinking one of these spinach smoothies everyday keeps me feeling healthy, energized, and ready to take on the world! Or at least ready for a day full of blog work, kids' homework, laundry, dinner, dishes, and the rest of my daily chore list. 😉
For this oatmeal recipe, I used Silk's new Almondmilk Protein + Fiber, which has a whopping 5 grams of protein and 5 grams of fiber. All good stuff! Try this sweet and creamy Apple Cinnamon Baked Oatmeal for breakfast soon!
What's your favorite way to eat oatmeal?

Apple Cinnamon Baked Oatmeal
Soft, sweet apples baked into creamy, cinnamon-infused oatmeal is a delicious way to start the day!
INGREDIENTS
2 cups old-fashioned oats
⅓ cup light brown sugar
1 teaspoon baking powder
1 teaspoon ground cinnamon
½ teaspoon salt
2 cups almond milk (I used Silk Almondmilk Protein + Fiber)
1 large egg
3 tablespoons unsalted butter, melted
1½ teaspoons vanilla extract
1½ cups chopped apples (I used Gala)
INSTRUCTIONS
Preheat oven to 350°F and grease an 8 x 8 inch baking dish.
In a large bowl, stir together the oats, brown sugar, baking powder, cinnamon, and salt.
In a separate bowl, whisk together the almond milk, egg, and vanilla. Slowly add melted butter, whisking constantly.
Pour milk mixture over the oat mixture and add apples. Stir until combined.
Pour oats into the prepared baking dish and bake uncovered for 35-40 minutes, until top is golden brown and oats have set. Remove from the oven and cool 5 minutes. Serve warm.
Are you ready to try Silk? Sign up for a coupon! All new registrants will receive $0.75 off any Silk half gallon!
When you register, you can also look forward to:
– Additional coupons sent straight to your inbox, plus a special birthday offer
– New of Silk sweepstakes and promotions
– Monthly chances to win a year's supply of Silk!
You can also follow Silk on Facebook!
This is a sponsored conversation written by me on behalf of Silk. The opinions and text are all mine.