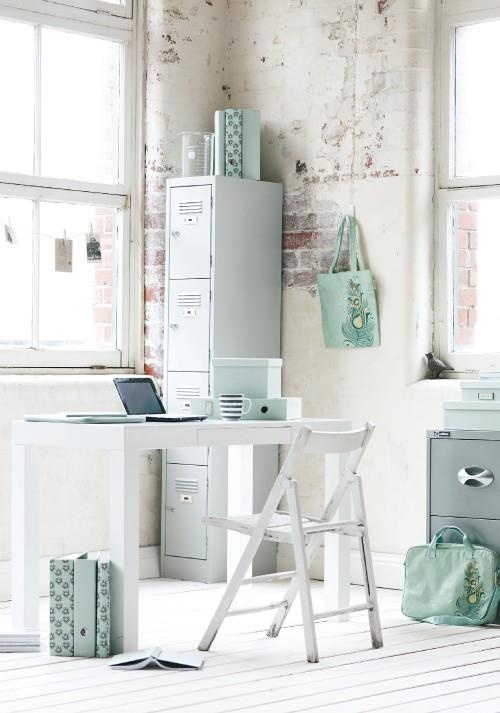 First, I just want to say a million thank you's for all the love you've shown on my living room makeover! That room challenged me in so many ways, and hearing your sweet compliments made all the late nights, million trips to Home Depot, and extra holes in my walls worth it. You guys rock!
But after a few nights of good sleep and playing catch-up on all the laundry and dishes that were waiting for me (sorry, family), it's a new day and time to get rockin' on a brand new room makeover… drum roll please… I'm FINALLY starting on my OFFICE MAKEOVER! Can I get an amen?
I've never shown you much of my office because frankly, it's a hot mess. This is the room I blog in, craft in, sew in, diy in, and if I'm being totally honest, I also eat, get ready, and sometimes sleep in here. I'm not sure if that's a perk or downfall of working from home, but either way, this room gets A LOT of use! It needs to store all my craft supplies and all my photo props, as well as function as an office for my husband and I. Actually my husband usually doesn't step foot in here (probably so he doesn't get sucked into helping with one of my crazy project ideas), but it would be nice to have a proper space for us to sit down and work when we need to. Since this is our first year farming, we're going to have a lot of number crunching to do come harvest time!
When we moved into this house, the office became the catch-all for any unwanted furniture and clutter that didn't fit anywhere else in the house. And 3 years later, I have finally decided that I'm tired of staring at mismatched hand-me-down furniture, outdated wood trim, and bare, undecorated walls that do nothing to spark my creativity! I'm beyond excited to dip my paint brush into that first can of paint and get started transforming this room into a light, bright, inspiring space!
Ready to take the tour? Here's what the room looks like "before" operation office makeover: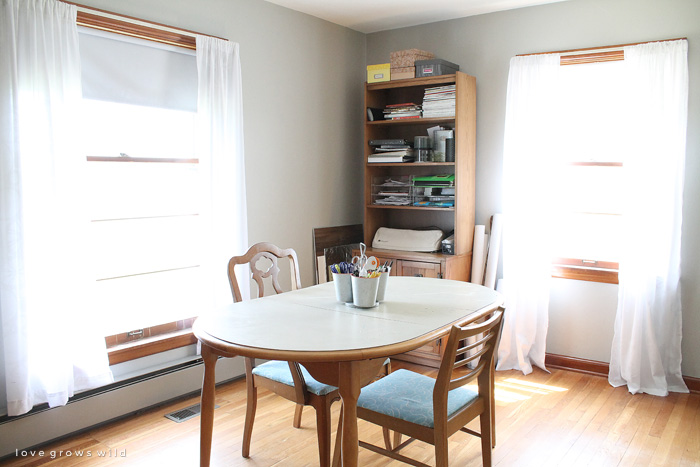 Two big windows let in a ton of natural light, which makes this room perfect for photography. My "craft table" is actually the dining room table from my childhood. Many burnt rolls and crazy crock pot creations were served at this table while I was growing up! (Sorry, Mom)
The cabinet and bookshelves were given to me by my grandmother, and I can't wait to get a coat of paint on them and better utilize them for storage in the room.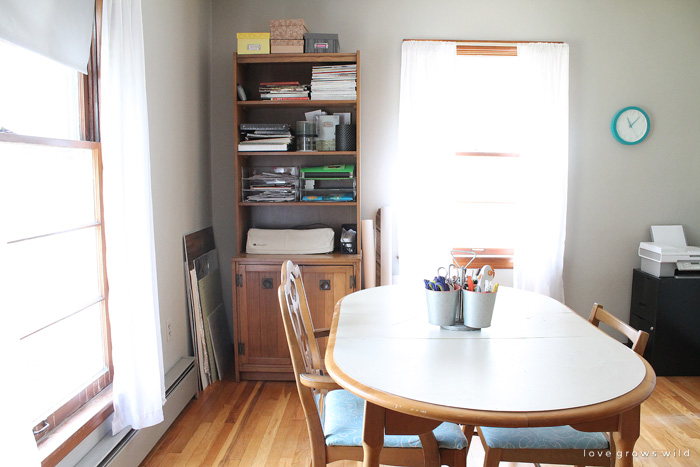 We've already started moving a few pieces of furniture out of the room, which is the reason for this big, empty space on the wall. The tiny file cabinet in the corner isn't big enough for us anymore, so we'll be getting rid of it and bringing in a larger one that we currently have out in the garage. I'm hoping to find or build a little cart for the printer and Silhouette machine as well.
I have plans for a massive storage unit on this big wall, and hopefully I'll be able to fit all my craft supplies and food props here. Hopefully…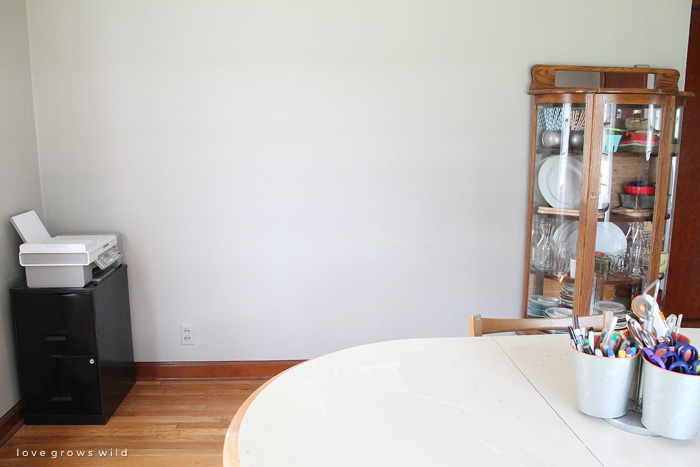 Right now my food photography props are all shoved in a glass cabinet. It works, but I'd like to have something much prettier to look at. #ihateclutter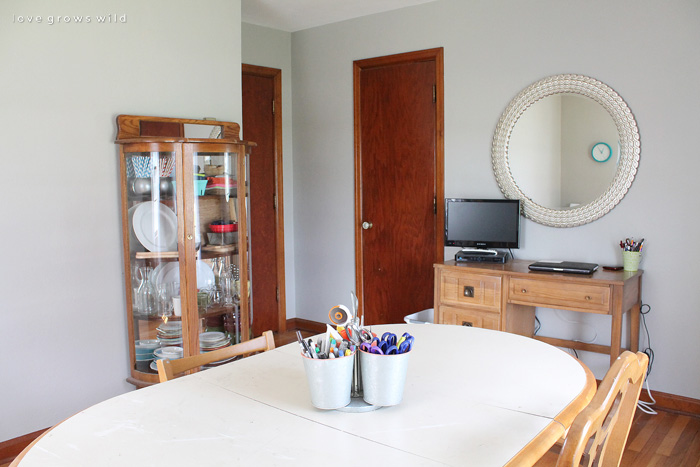 I have a small desk that came with the cabinet and bookshelf from my grandmother, and let's just say that I have big plans for this baby! Awesome, mint-colored plans. (squeal!!)
Oh yeah, and are you ready for the most ridiculous part of this room? There are 4 doors in here. FOUR doors in this small room! In the photo below, the door on the right goes into our living room and the door on the left is a walk-in closet. Around the corner to the left is a third door that opens into a hallway and a fourth door for a small linen closet! It's craziness!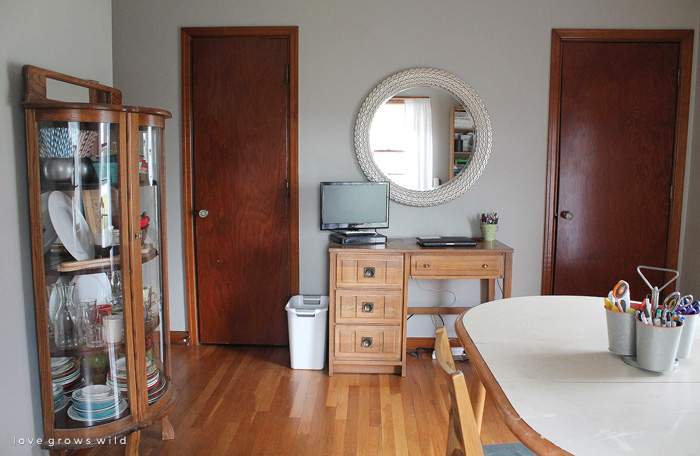 There's a whole lot of wood going on in this room right now. Dark wood doors, dark wood trim, wood floors, and lots of wood furniture. Now do you see why I'm so ready for a change? I've thought long and hard about what I want for this space, and all the inspiration photos I've gathered have one thing in common… white. All white. Lots of white. White trim, white walls, and even white furniture. Call me crazy… but I love it.
My husband thinks it will look like a mental institution, but I think it will be the perfect blank slate to add pops of color and things that inspire me. Things that make me happy. It will be clean, uncluttered, organized, light, bright, and beautiful. What more could a girl ask for in an office… a.k.a. Love Grows Wild Headquarters?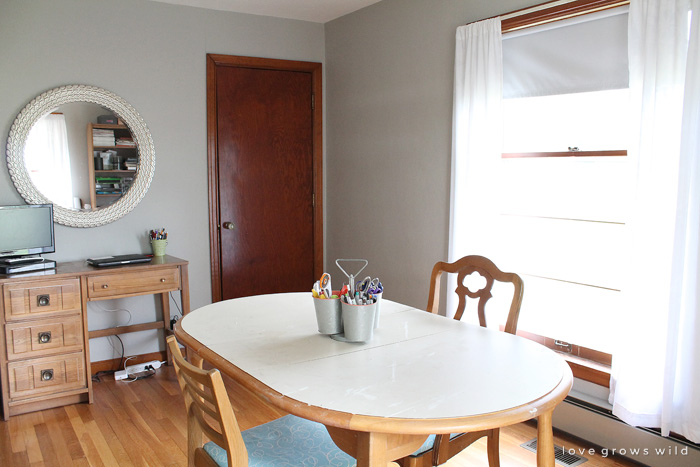 I'm excited to see the journey this makeover takes, and I promise to keep you updated along the way! Here are some of the inspiration photos I've gathered for the room…
Wish me luck, guys! I'm cracking open the can of white paint as we speak!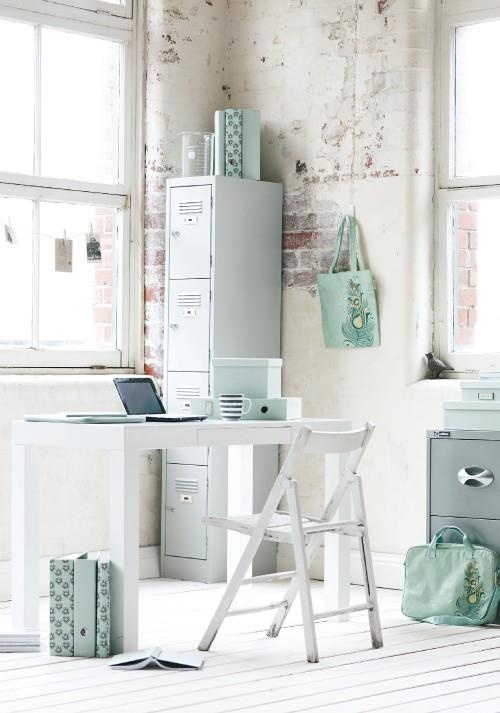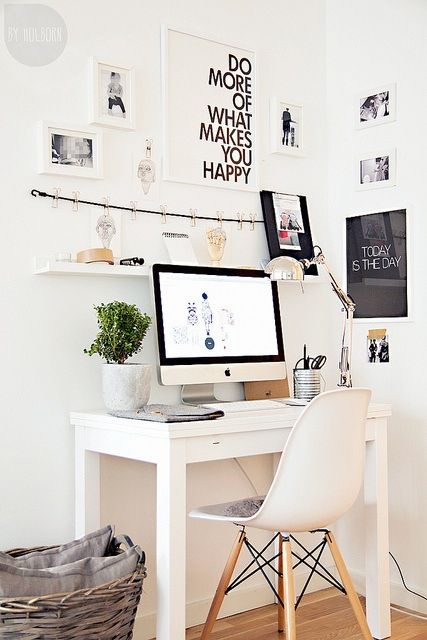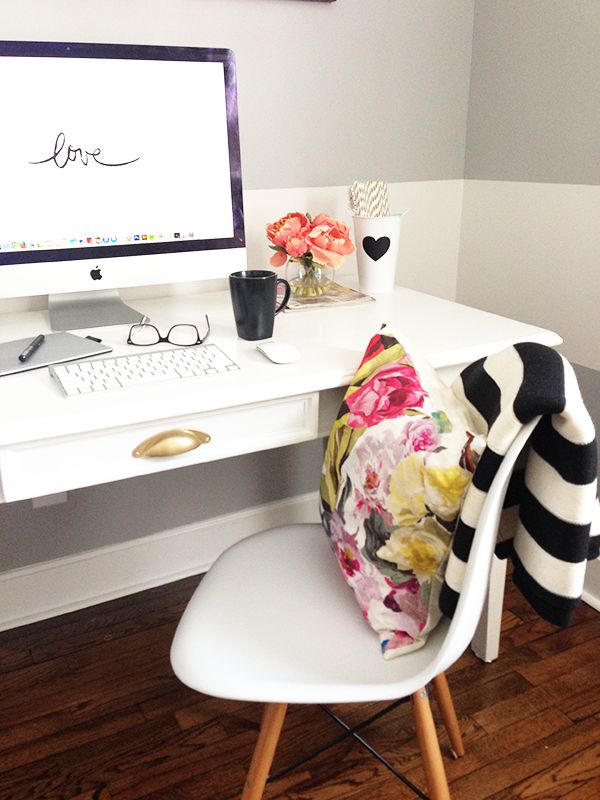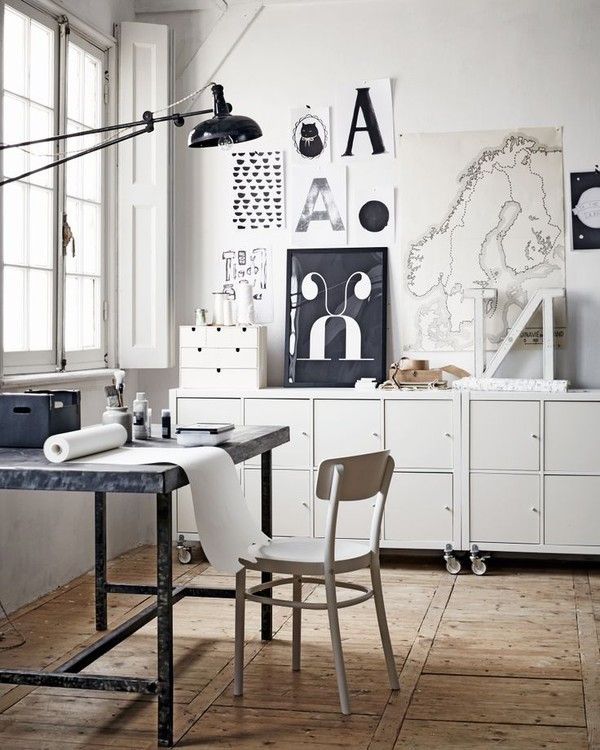 ---
LET'S KEEP IN TOUCH!
Subscribe to Blog | Browse my Shop | Follow on Facebook | Follow on Twitter
Follow on Google+ | Follow on Pinterest | Follow on Instagram