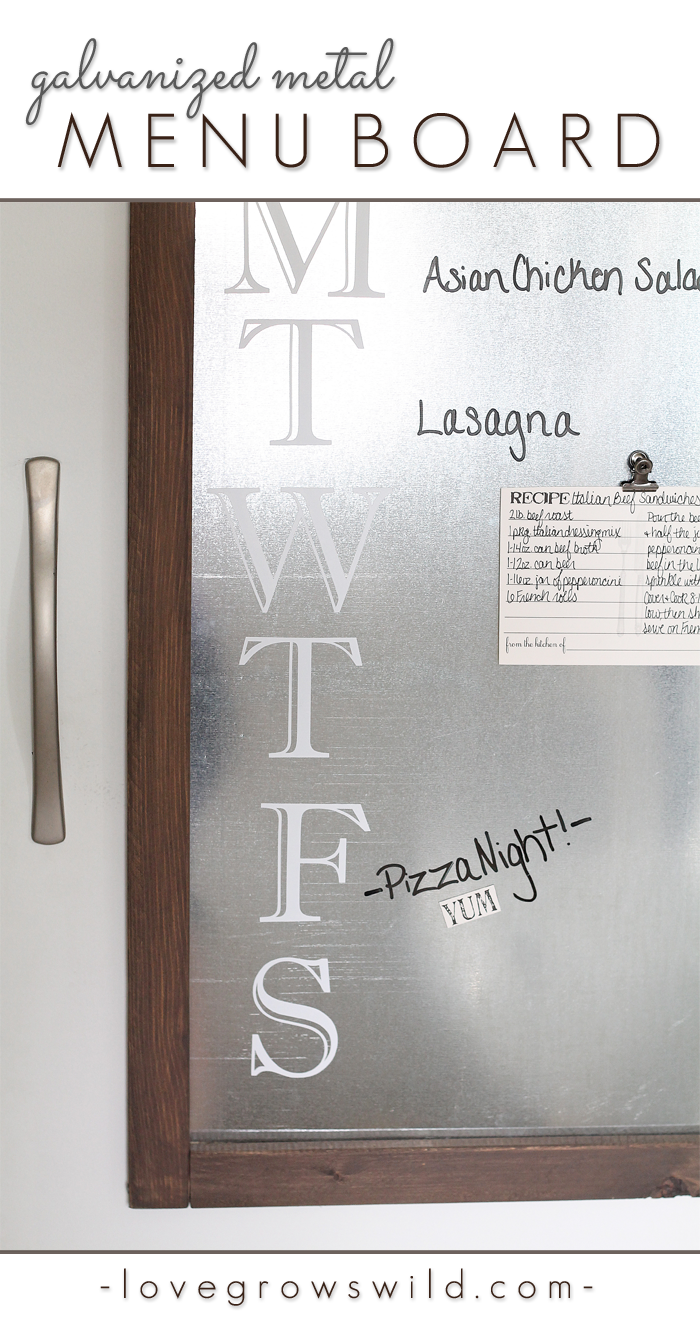 So remember that one time when I made a big, beautiful, rustic chalkboard for my kitchen? (If not, you should totally go check it out after this!) It was one of my first big DIY projects, and is still probably one of my favorites to date. You just can't go wrong with a big kitchen chalkboard framed in old, weathered wood. Or faux weathered wood, in my case!
I thought adding that chalkboard would give me a space to plan my meals out for the week, but truth be told, I usually end up doodling chalk art all over it and can't stand the thought of erasing all my hard work! Perfectly formed typography drawn in chalk is NOT something you let go to waste! 😉
I needed to find another solution for organizing my meal plan for the week, so I came up with this idea for a Galvanized Metal Menu Board. Guys… it turned out even better than I imagined! It's super easy to put together, I didn't have to make any nail holes to hang it, and it's both magnetic AND works as a dry erase board! You are going to love this easy DIY project! Grab your tools, and I'll show you how it's done!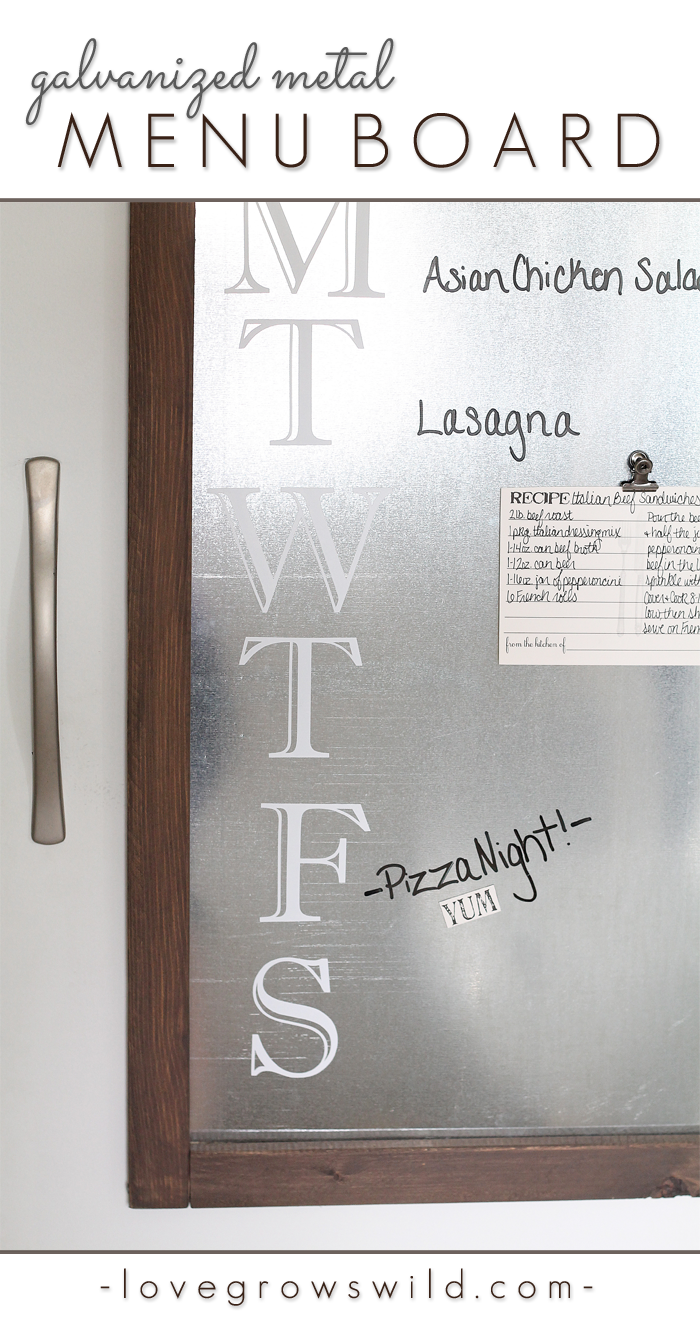 Supplies:
wood furring strips ($1.56 for 2 – 1 x 2 x 8″ pieces)
galvanized sheet metal ($6.78 for a 16 1/2″ x 30″ piece)
4 pack Command Picture-Hanging Strips

paint or stain and paint brush
drill and screws
Here's what you need to know:
– I found sheets of galvanized metal at the hardware store where they keep supplies for duct work. They had a 16″ x 30″ piece, which was the perfect size for my pantry door where I wanted to hang the menu board. Depending on the size board you want to make, you may need to get a larger piece of sheet metal and cut it down with tin snips, which you can also find in that section of the hardware store.
– I originally hadn't planned on creating a frame around the board, but the edges of the sheet metal are pretty sharp, and I didn't want to have to worry about my kids being around it. Nobody is allowed to bleed on Mommy's new project! Just kidding, of course. 🙂 But be careful when you're working with it!
– To create a frame around the metal, I used wood furring strips. They are small, cheap pieces of wood that are perfect for framing and can be found in the hardware store's lumber section. You might have to dig through the pile a little bit to find one that is good and straight, but it's a great source for small, cheap wood! You can either make straight cuts for your wood or miter the corners, but for this project I chose to keep it simple and use straight cuts!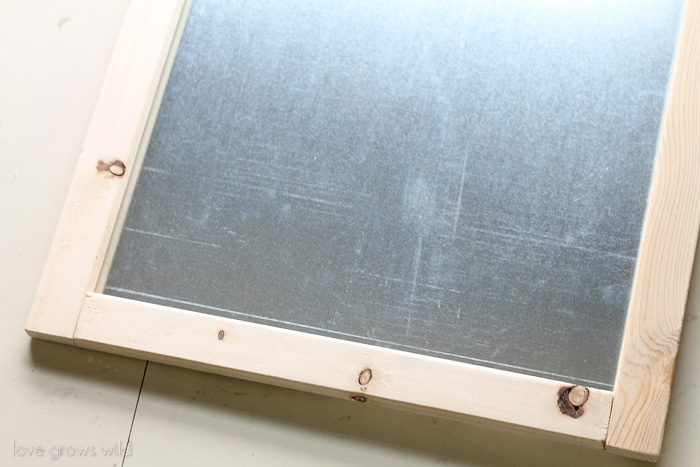 Step 1: Cut 4 pieces of wood to fit around your sheet metal. You want the metal to be hidden behind the frame, but make sure you leave enough room to drill a screw into the back.
– My sheet metal was 16 1/2″ x 30″, and I cut my wood to 30 3/4″ (sides) and 14 1/4″ (top and bottom).
Step 2: Sand down any rough edges on the wood and paint or stain in your color of choice.
Step 3: Create the frame by using 2″ screws on the sides to attach all four pieces.
Step 4: Flip the frame over and place the sheet metal on top. Secure the metal to the wood frame with your drill and some screws. You'll need to use short screws so they don't go through the front of the frame.
– I used about 16-20 screws evenly spaced around the frame.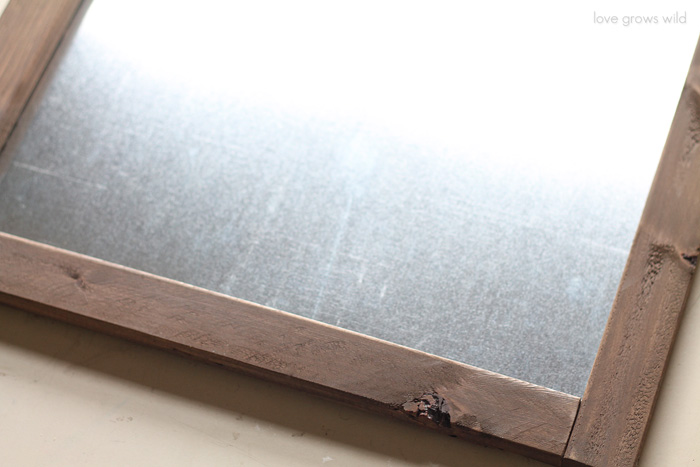 Step 5: To hang the menu board without adding any holes or nails, follow the directions on your package of Command strips. They're really easy to use and hold perfectly!
To finish my menu board, I added the days of the week using some white vinyl letters cut from my Silhouette Cameo
using the font Imprint MT Shadow. If you don't have a vinyl cutter, some letter stickers from the craft store would work too! The sheet metal makes a PERFECT dry erase board, so keeping track of our meals is super easy.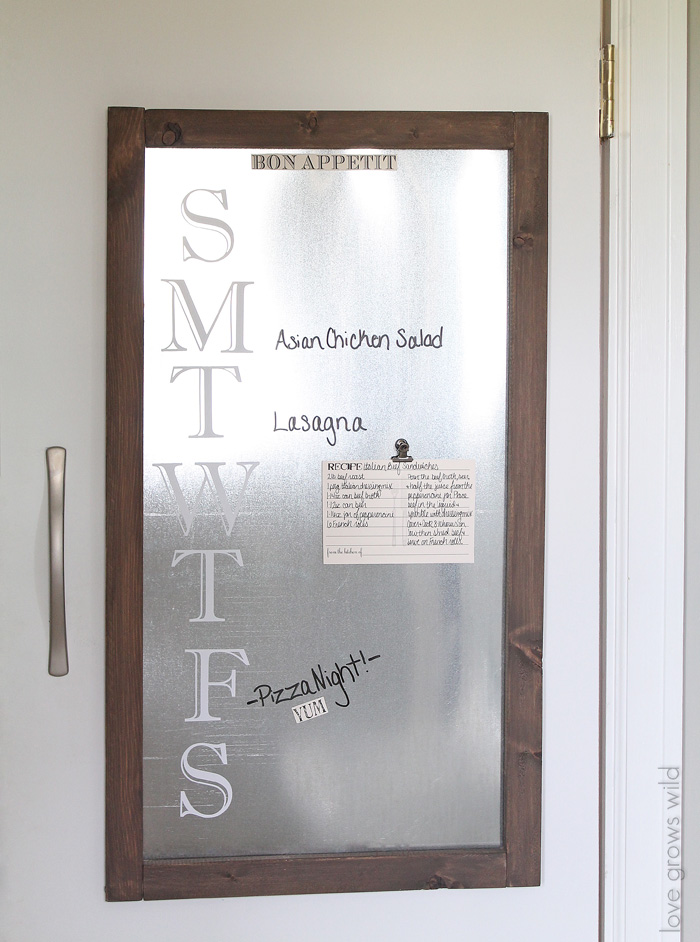 Using sheet metal also makes the menu board magnetic, so I created a few fun magnets to hold our recipe cards. That way I don't have to go searching everywhere for recipes when it's time to get dinner started! I glued a small, round magnet to the back of a clip to hold recipe cards, like this one for our favorite Italian beef sandwiches. Yum… those things are the bomb.com!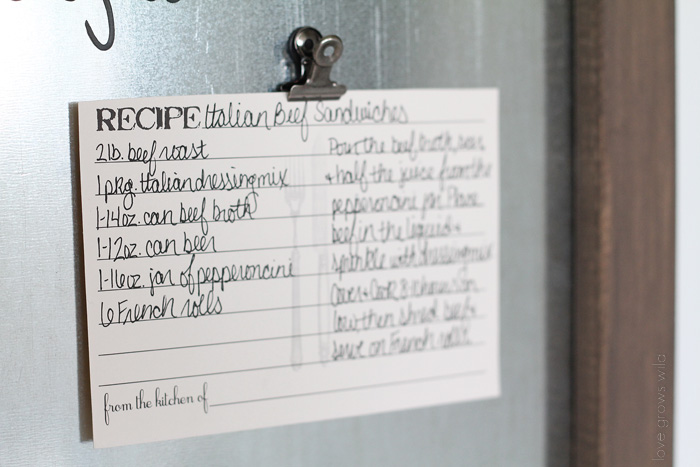 I also had some fun recipe-themed scrapbook paper, so I made magnets with that too. Using adhesive magnet sheets
makes it really simple! Just stick the paper on the magnet and cut it into whatever shapes you want.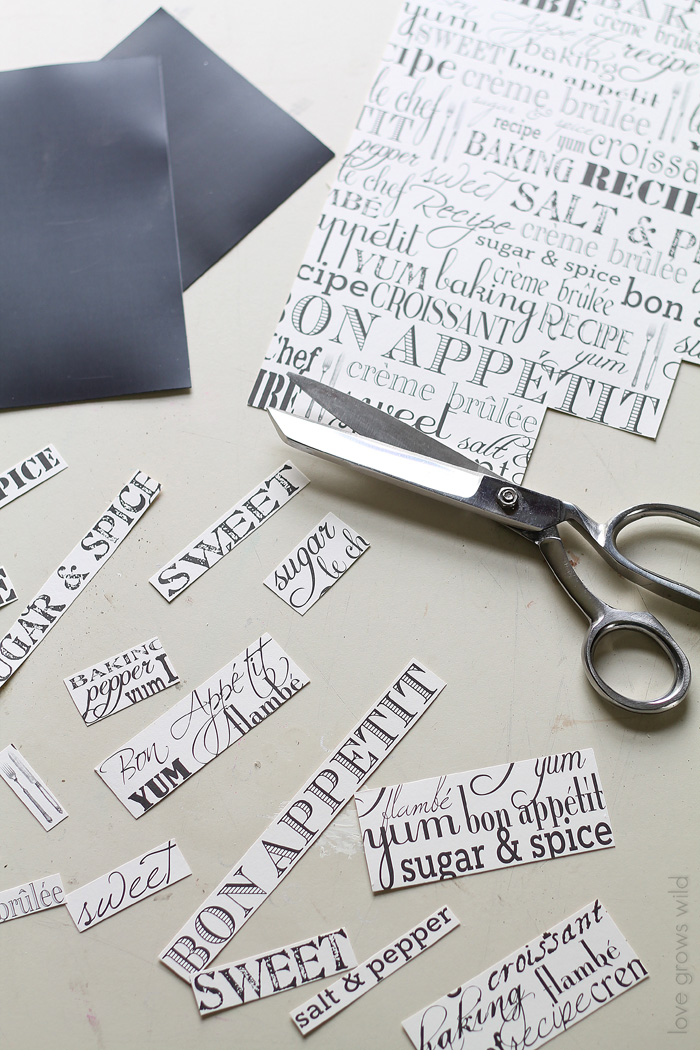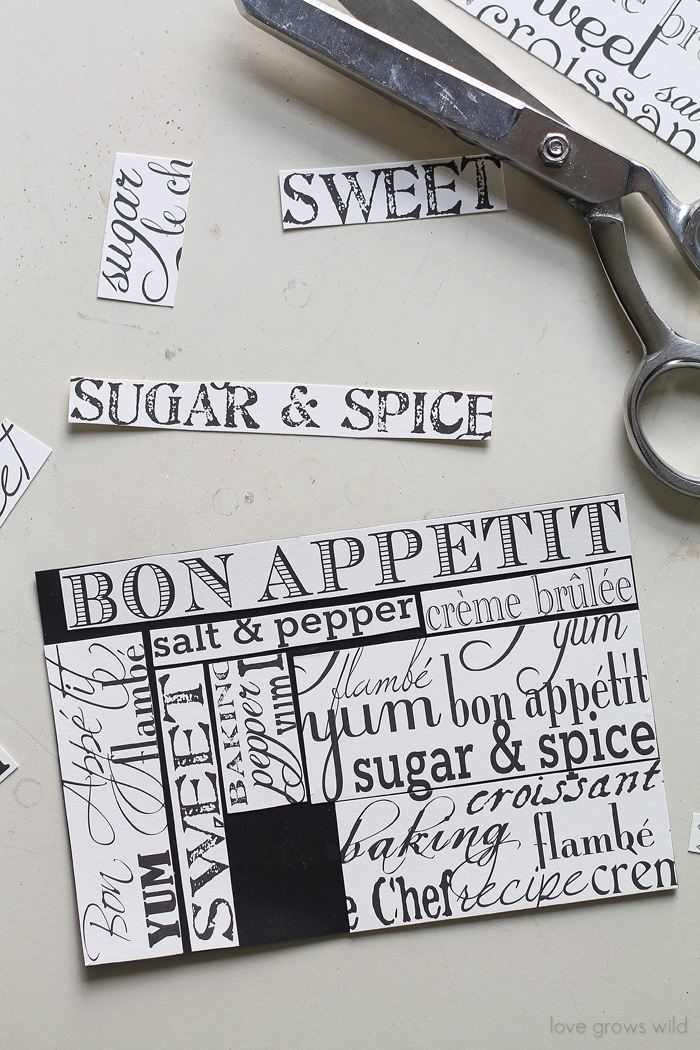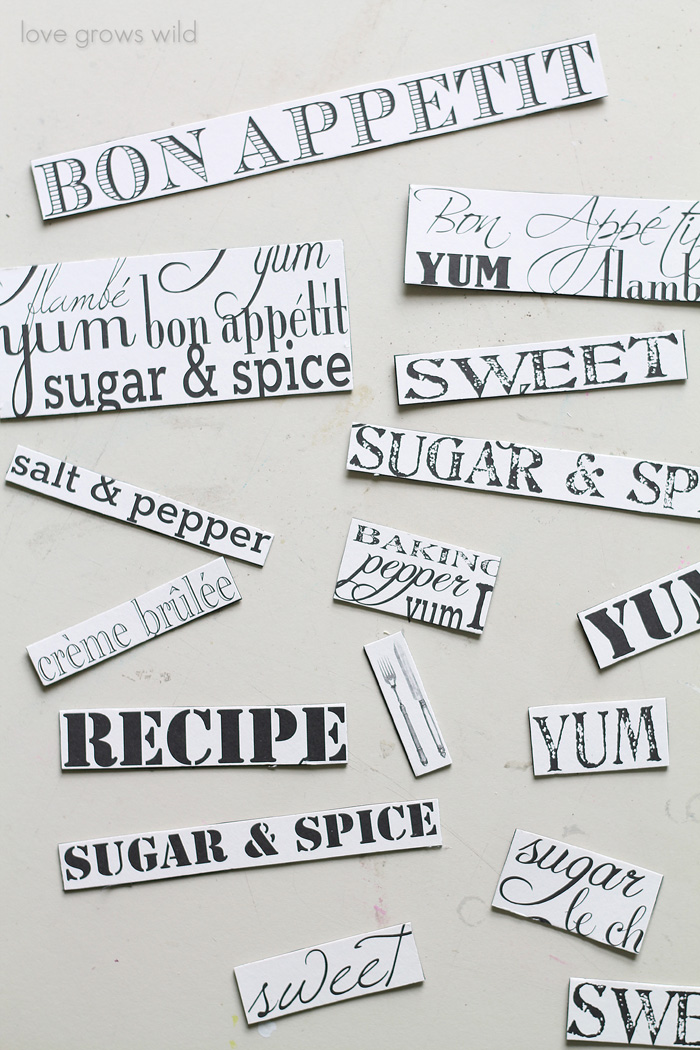 My family likes to leave little notes by my dinner choices… apparently someone thought Friday pizza night was a good idea!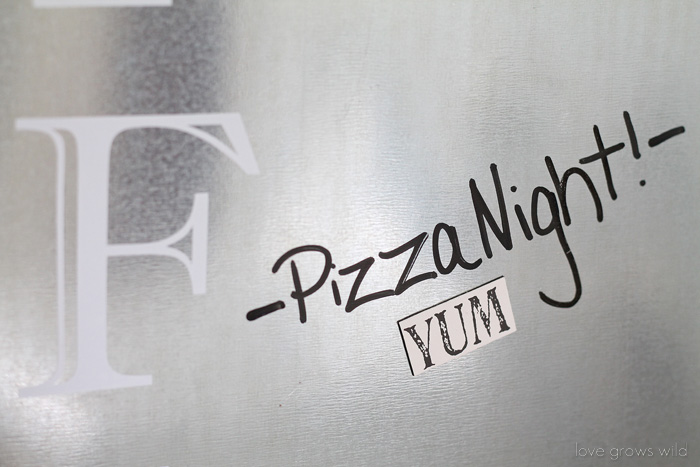 So what do you think about this galvanized metal menu board? Would you use one in your kitchen? What about an office for keeping track of important dates or notes? I'd love to hear your thoughts!
Like what you see? Subscribe to Love Grows Wild so you'll never miss a post!
Follow along on Pinterest, Google+, Instagram, and Facebook for more fun!
---
More DIY Project Ideas: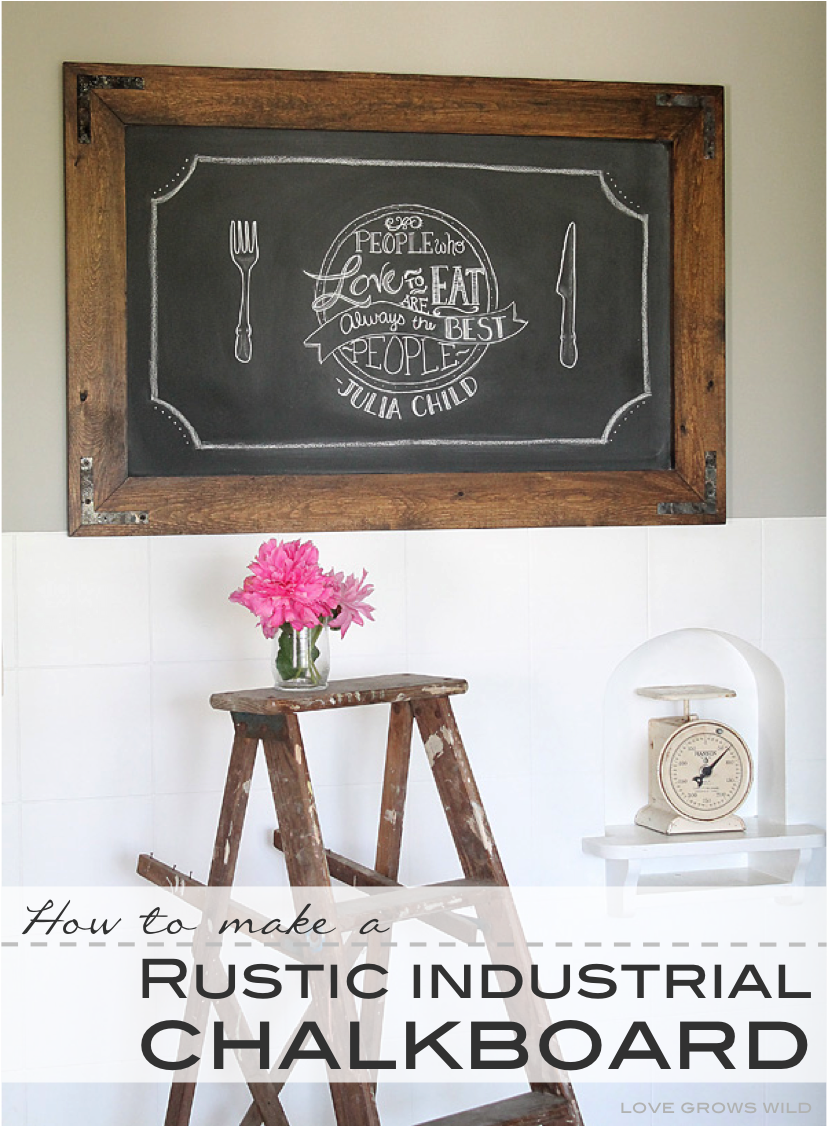 DIY Rustic Industrial Chalkboard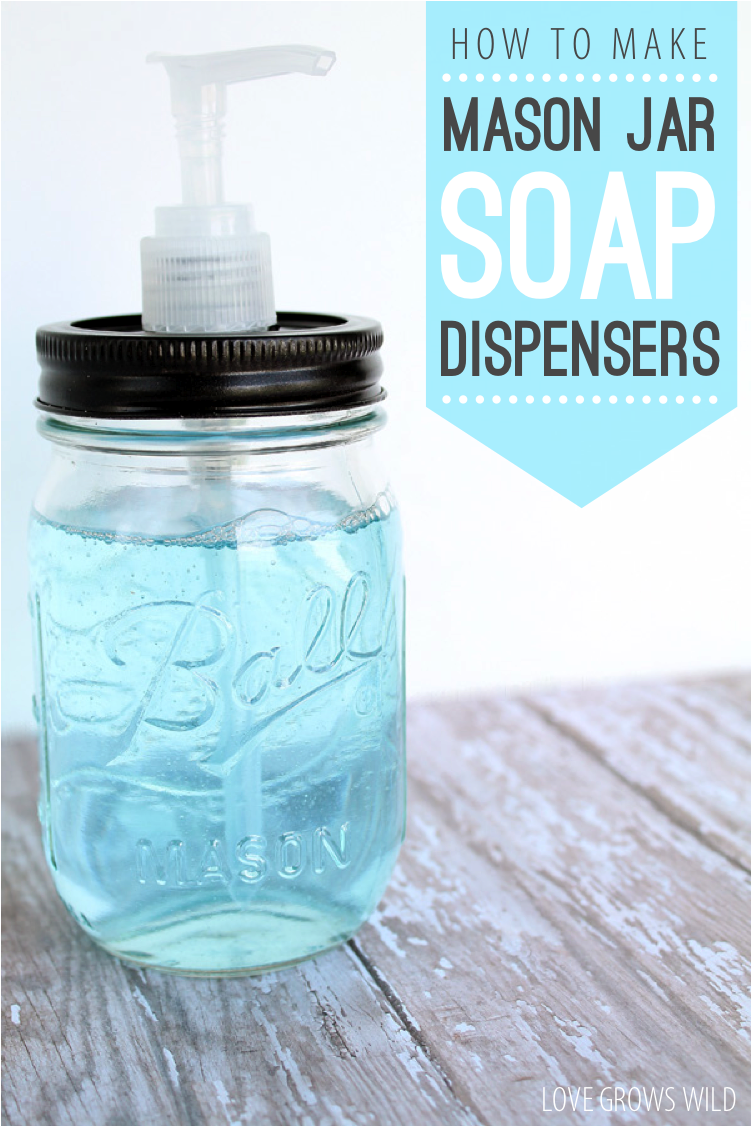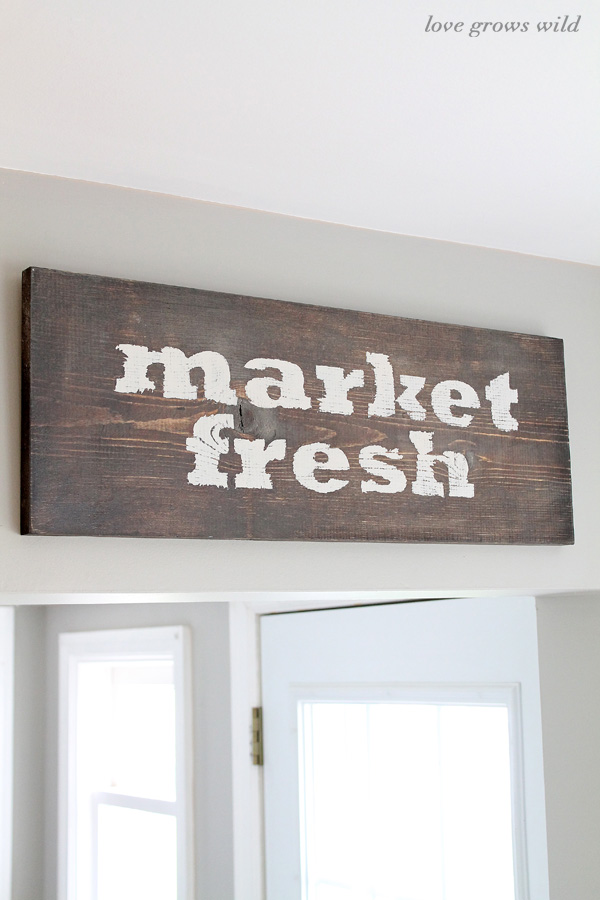 Distressed Market Fresh Kitchen Sign
Thanks to Craftistas and Canvas Corp for the fun scrapbook papers!
LET'S KEEP IN TOUCH!
Subscribe to Blog | Browse my Shop | Follow on Facebook | Follow on Twitter
Follow on Google+ | Follow on Pinterest | Follow on Instagram