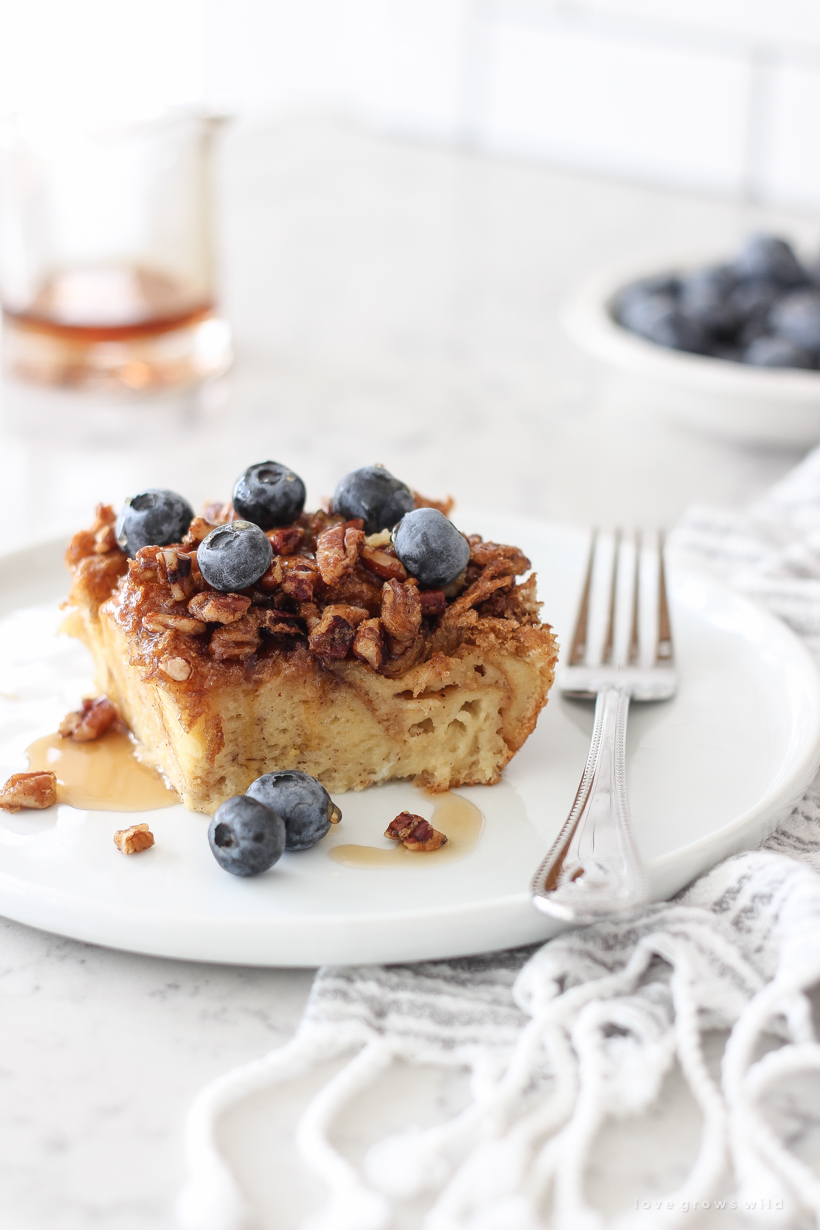 Get ready to pin this post because I promise you are going to want to make my Overnight Baked French Toast on a very regular basis! I love breakfast food, and there is nothing better than a piece of sweet, delicious French toast when you wake up in the morning. French toast has always been a special weekend treat in our house because it does take some time to get everything ready and cook all the bread, but this overnight version allows you to make everything ahead of time and have an amazing French toast breakfast fresh out of the oven whenever you like! I especially love serving this for brunch during the holidays because it's such an easy recipe to feed a crowd with, and it even reheats beautifully for a quick, hot breakfast on busy mornings.
Instead of slicing the bread into individual pieces of toast, I like to tear the bread into bite size chunks and throw it all in a big baking dish. This way the bread pieces soak up all that delicious liquid and bake up into one scrumptious dish that you can cut into any size portion you like. I use a loaf of sourdough, but French bread will work too! You want to let the bread soak in the liquid for at least 2 hours, so plan ahead if you're wanting to make it the same day. But you can also make it the night before and let the French toast refrigerate overnight, which is the beauty of this easy breakfast! The inside of the French toast is soft and egg-y and melts in your mouth, and the top is sweet and buttery with a little crunch from chopped pecans. I think this recipe is delicious all on its own or with just a little sprinkle of powdered sugar, but adding a drizzle of maple syrup and a few strawberries or blueberries really takes this breakfast over the top! This French toast has become a staple in our house, and I hope you enjoy it just as much as we do!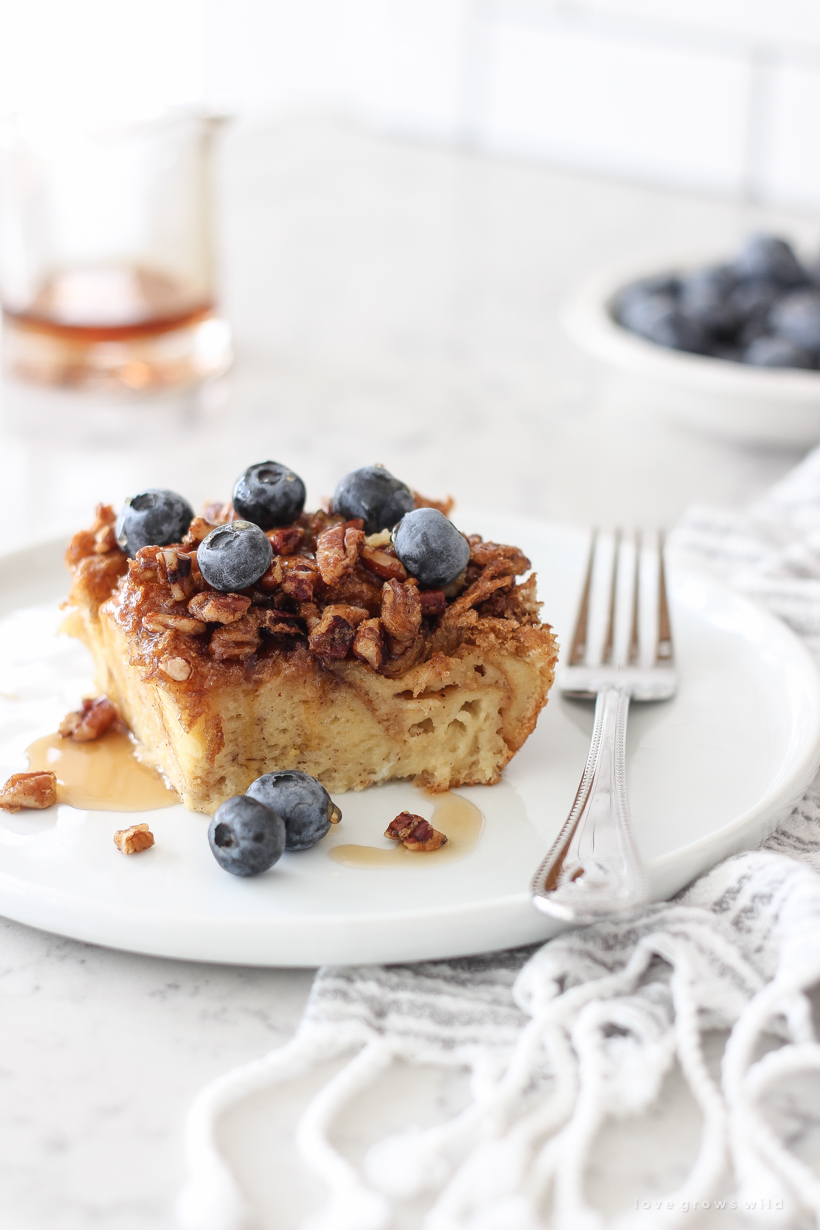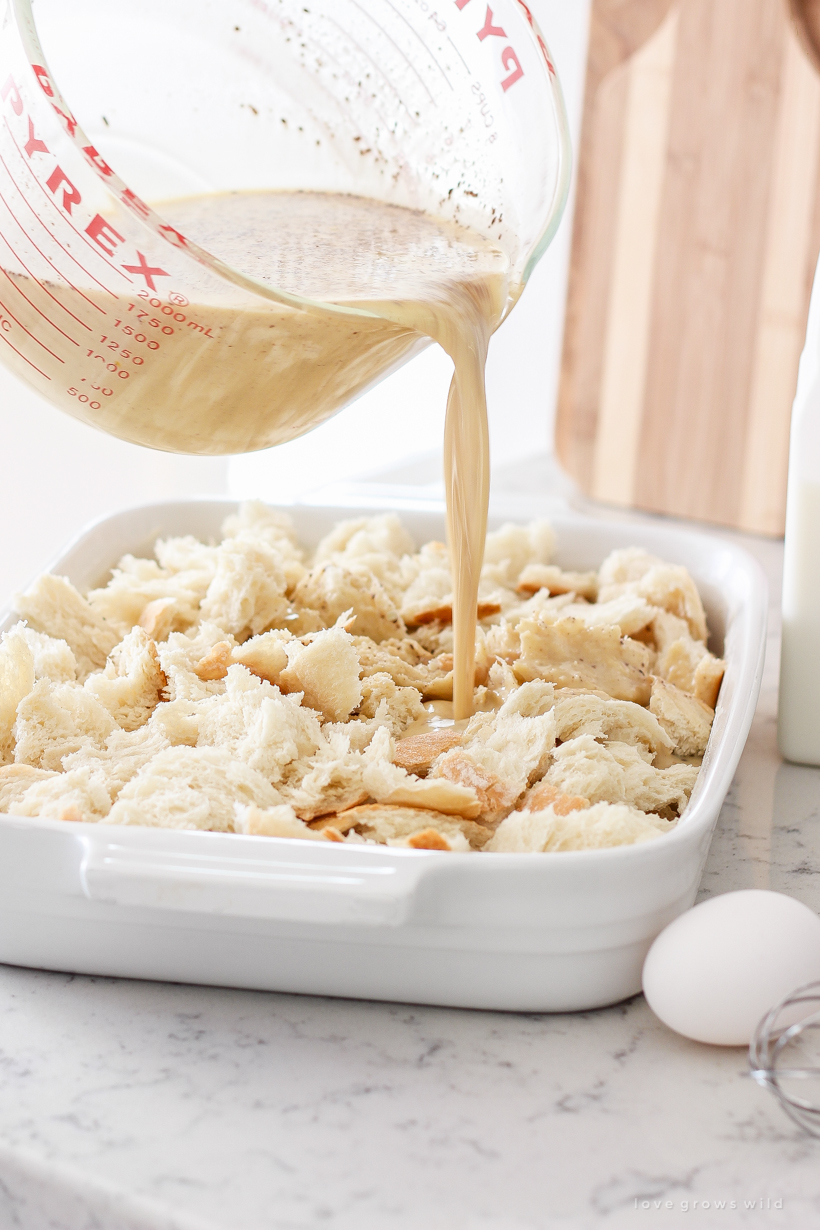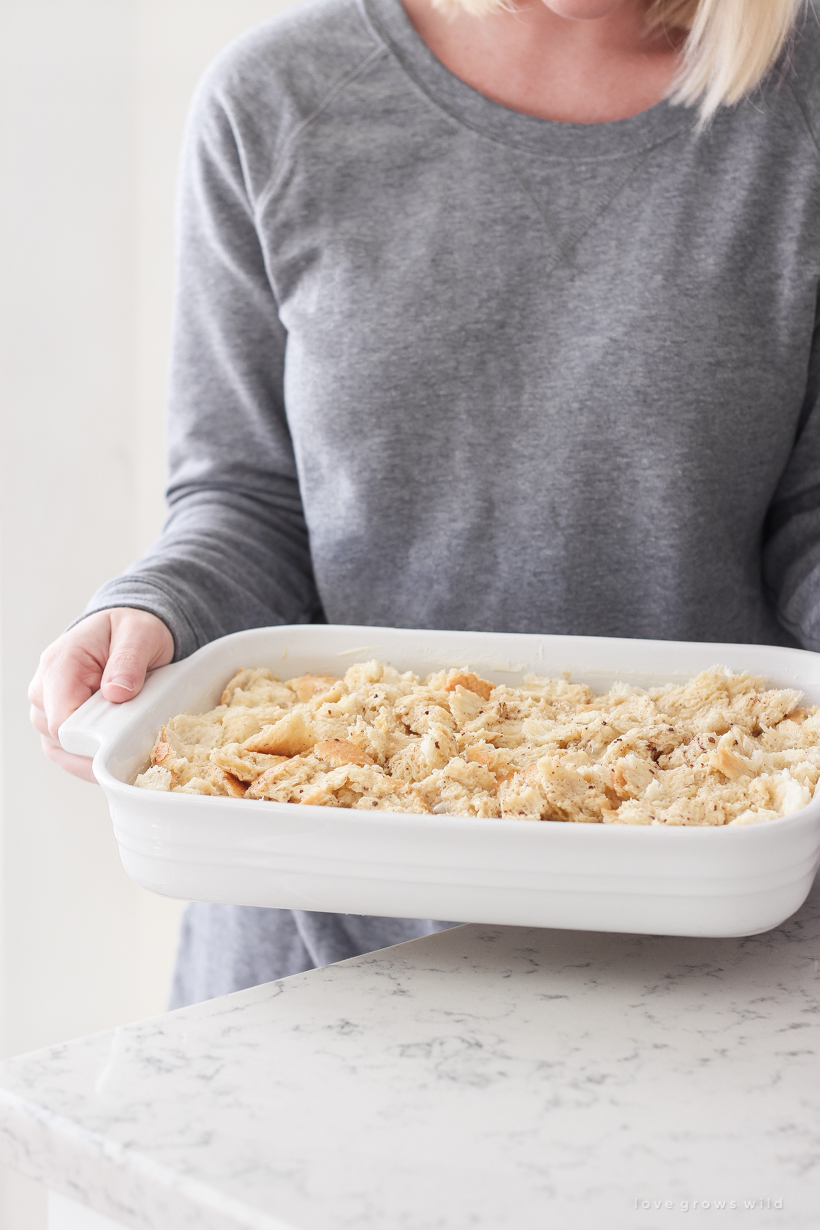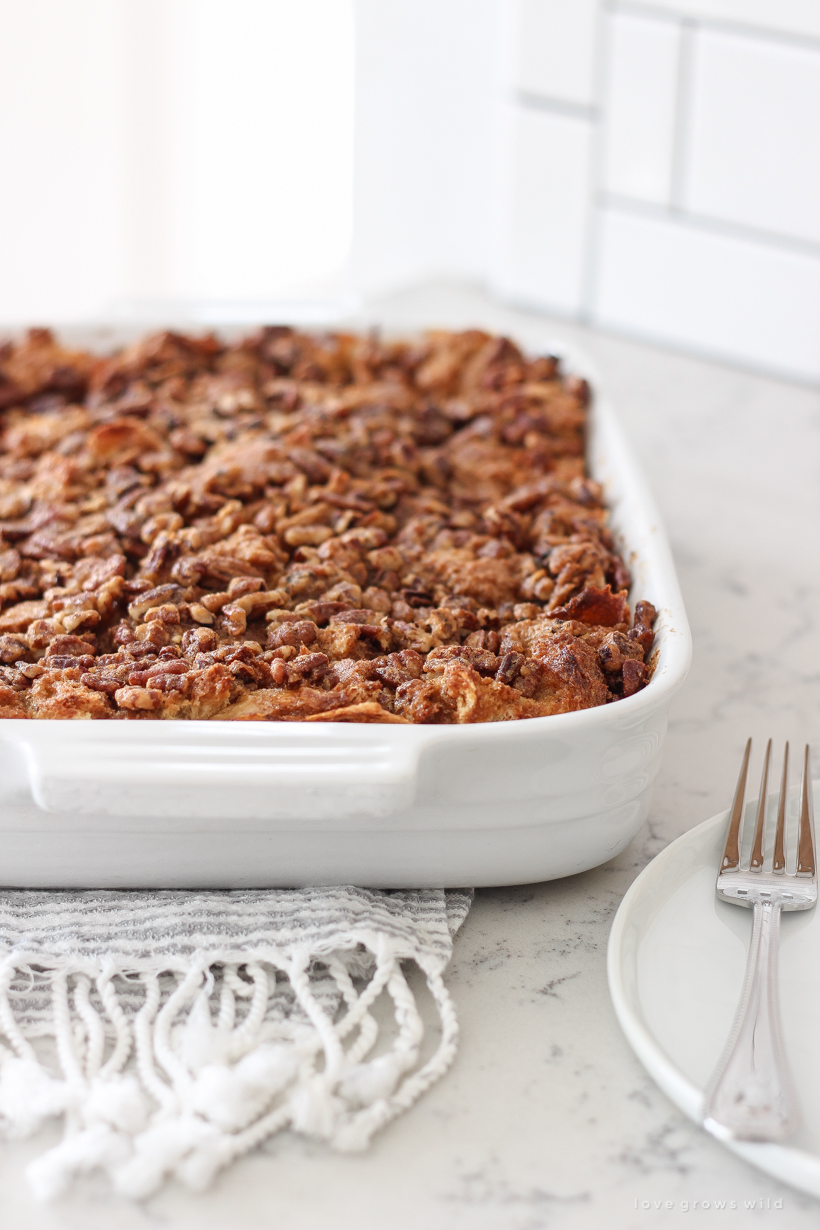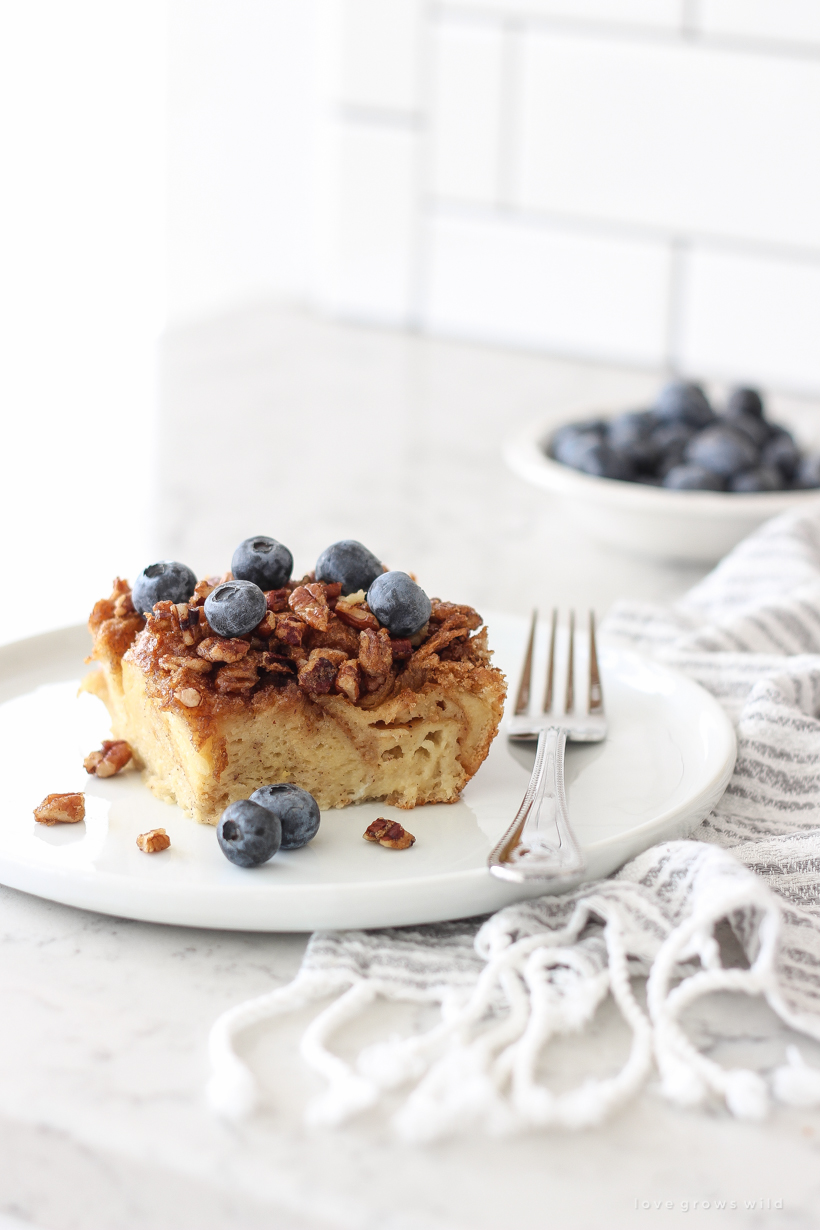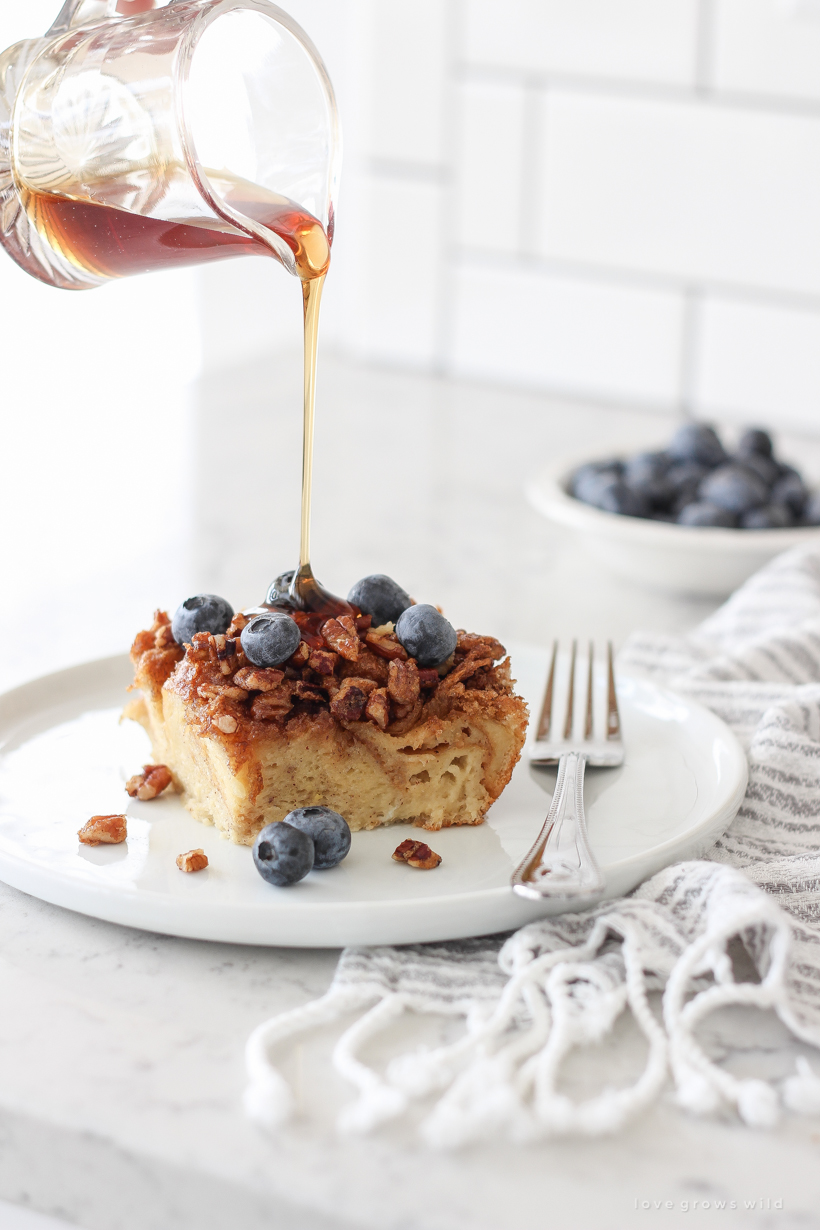 OVERNIGHT BAKED FRENCH TOAST
INGREDIENTS:
1 loaf sourdough or French bread
8 eggs
2 cups whole milk
1/2 cup heavy whipping cream
1 cup brown sugar, packed
1 teaspoon vanilla extract
1/2 teaspoon ground cinnamon
1/4 teaspoon ground nutmeg
pinch of salt
butter, for greasing
for the topping:
1/2 cup brown sugar, packed
1/2 cup butter, melted
1 cup pecans, roughly chopped
2 tablespoons maple syrup
pinch of salt
for serving:
maple syrup
fresh blueberries or strawberries (if desired)
INSTRUCTIONS:
Grease a 9×13-inch baking dish with butter. Tear the loaf of bread into bite-size chunks and distribute them evenly in the dish. In a large bowl, whisk together the eggs, milk, cream, brown sugar, vanilla, cinnamon, nutmeg and salt until well combined. Pour the mixture evenly over the bread and press the bread down gently to make sure all the pieces are able to soak up the liquid.
For the topping, mix together the butter, brown sugar, pecans, maple syrup and salt in a medium bowl and spread the mixture evenly over the bread. Cover and refrigerate for at least 2 hours or up to overnight.
Preheat the oven to 350°F, and remove French toast from the refrigerator while the oven heats. Bake, uncovered, for 45-55 minutes or until a knife inserted into the center comes out clean. 45 minutes will give you a softer bread pudding texture, and 55-60 minutes will give you a firmer, more crisp texture. Let the French toast rest 10 minutes before serving with maple syrup and fruit, if desired.
______________
Enjoy, sweet friends! If you try any of my recipes, I'd love to see your creations by tagging me in your photos! IG: @lizlovegrowswild + #lovegrowswild
---
More of My Favorite Breakfast Recipes:
---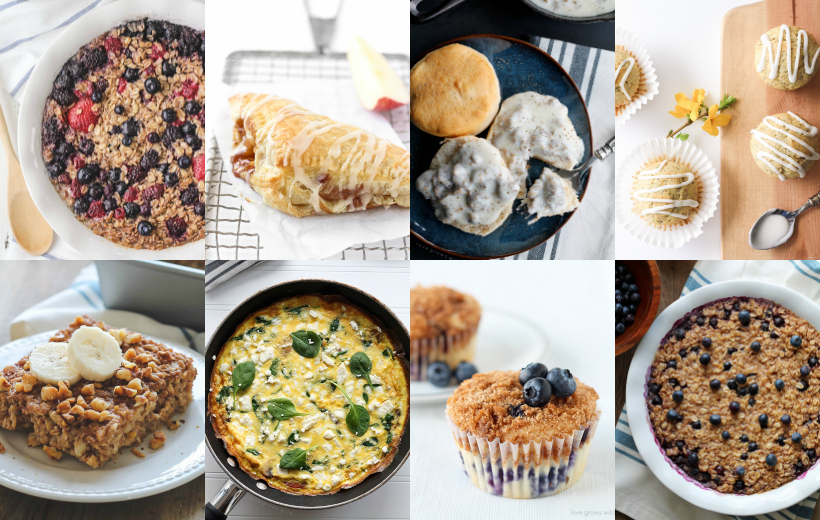 Triple Berry Baked Oatmeal | Apple Turnovers | Biscuits and Gravy | Lemon Poppyseed Muffins
Banana Bread Baked Oatmeal | Spinach Mushroom Feta Frittata | Blueberry Muffins | Blueberry Lemon Baked Oatmeal
---
Subscribe to Blog | Follow on Instagram
Follow on Pinterest | Follow on Facebook