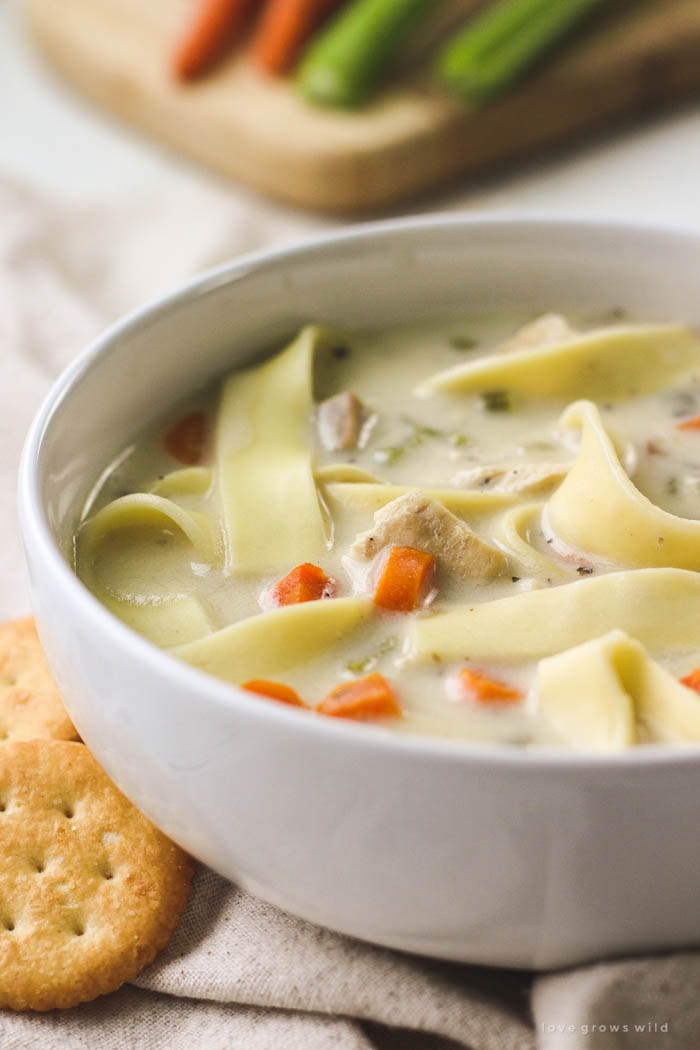 It's winter. It's cold. It's comfort food season, folks! And to me, there is just about nothing more comforting than a big bowl of steaming hot soup to warm the body and soul. My family loves when they smell a big pot of my chicken noodle soup cooking away on the stove, and as much as I adore that quick and easy classic recipe, this winter I've turned things up a notch. Instead of a BROTHY chicken noodle soup, this version is THICK and CREAMY and even more comforting than the original!
For those of you who have tried my first chicken noodle soup, I think you're really going to love this recipe. It still has all the same delicious flavor, but now the chicken and noodles get to swim in a thick, creamy broth that will keep your belly full and your winter blues at bay.
Fresh, colorful veggies…
thick, tender noodles…
delicious, little bites of chicken…
the perfect blend of herbs and seasonings…
and a super creamy, super flavorful broth…
What's not to love?
I hope this recipe brings you as much warmth and comfort as it has to our family this winter. It makes a pretty big pot of soup, so there's plenty to go around! Enjoy!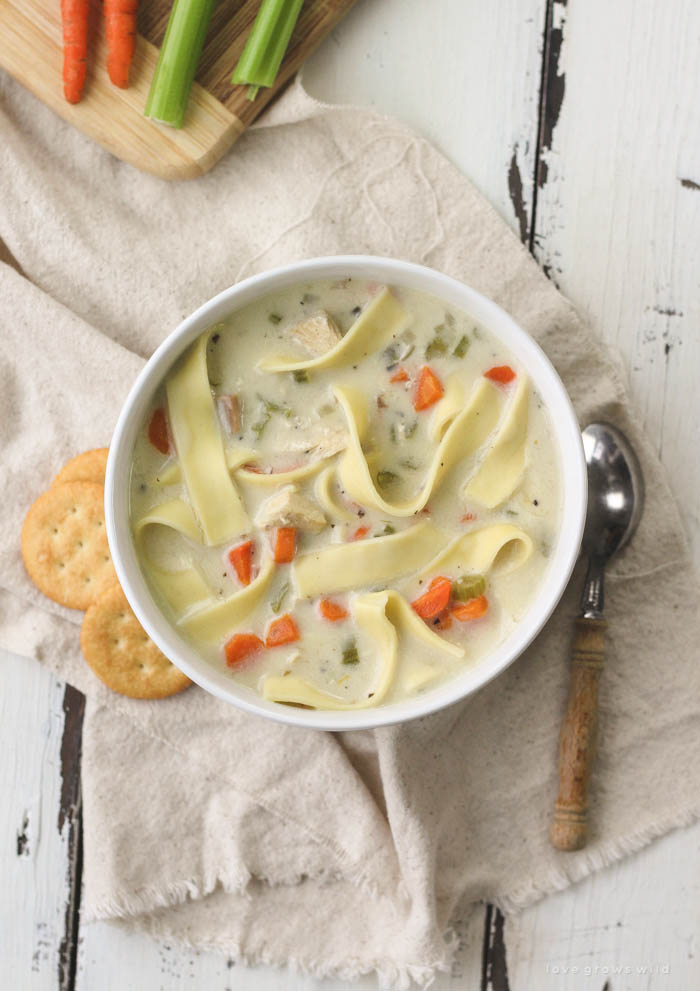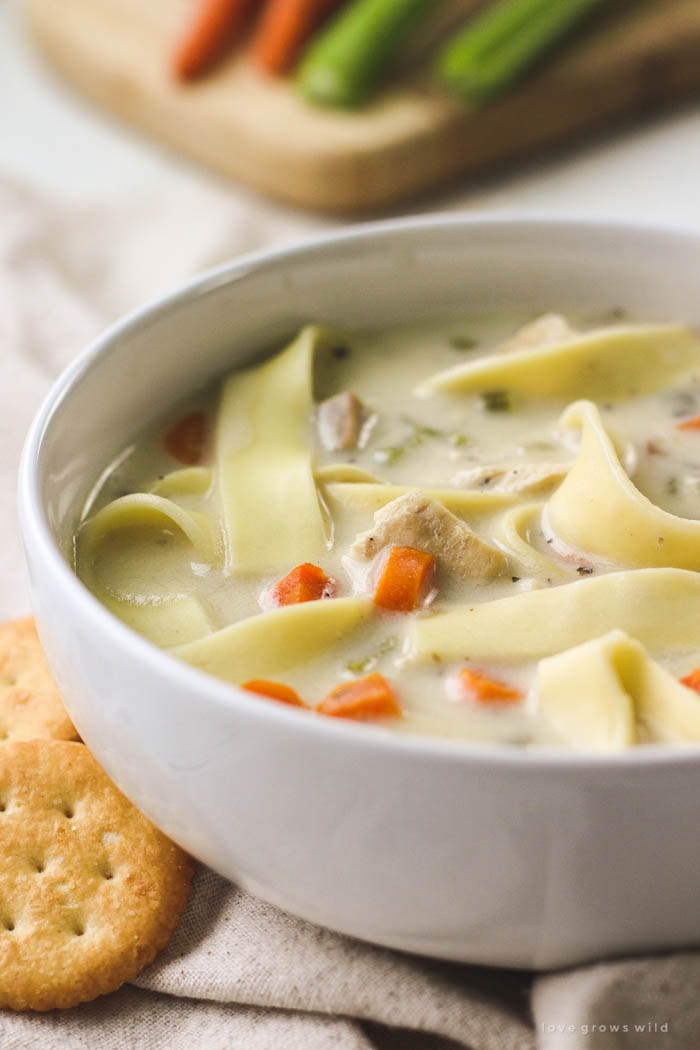 Creamy Chicken Noodle Soup
This homemade Creamy Chicken Noodle Soup is easy to make and so comforting!
INGREDIENTS
2 tablespoons unsalted butter
1 cup sliced carrots
½ cup diced celery
½ cup diced onion
2 garlic cloves, minced
⅓ cup all-purpose flour
½ teaspoon dry basil
½ teaspoon dry oregano
½ teaspoon salt
¼ teaspoon black pepper
8 cups chicken broth
3 cups dry egg noodles
2 chicken breasts, cooked and shredded (I use this recipe)
1 cup skim half and half
INSTRUCTIONS
Melt butter in a large pot over medium heat. Add the carrots, celery and onion and cook until just tender, about 5 minutes. Add the garlic and cook, stirring, for an additional minute. Sprinkle the flour over the vegetables and add the basil, oregano, salt and pepper. Stir and cook for 2 minutes. Pour in the broth and bring to a boil. Reduce heat and simmer, partially covered, for 10-15 minutes. Add the cooked chicken, egg noodles and half and half and continue cooking for another 10 minutes, until the noodles are tender and the soup is heated through. Serve warm and store leftovers in an airtight container in the refrigerator.
adapted from
Gimme Some Oven
---
More from Liz's Kitchen:
---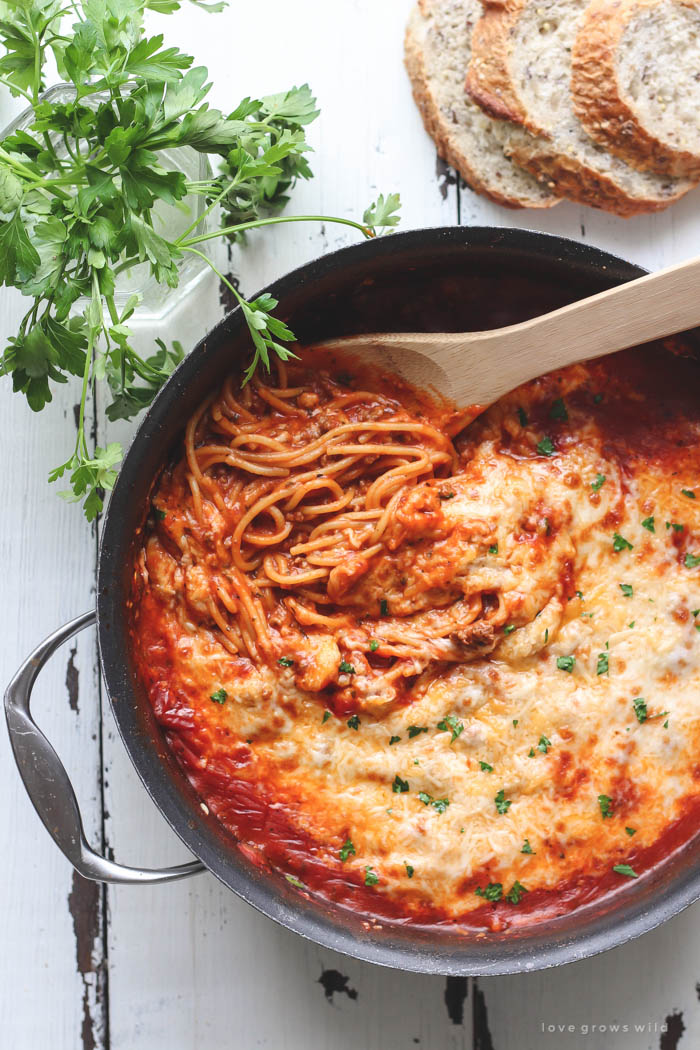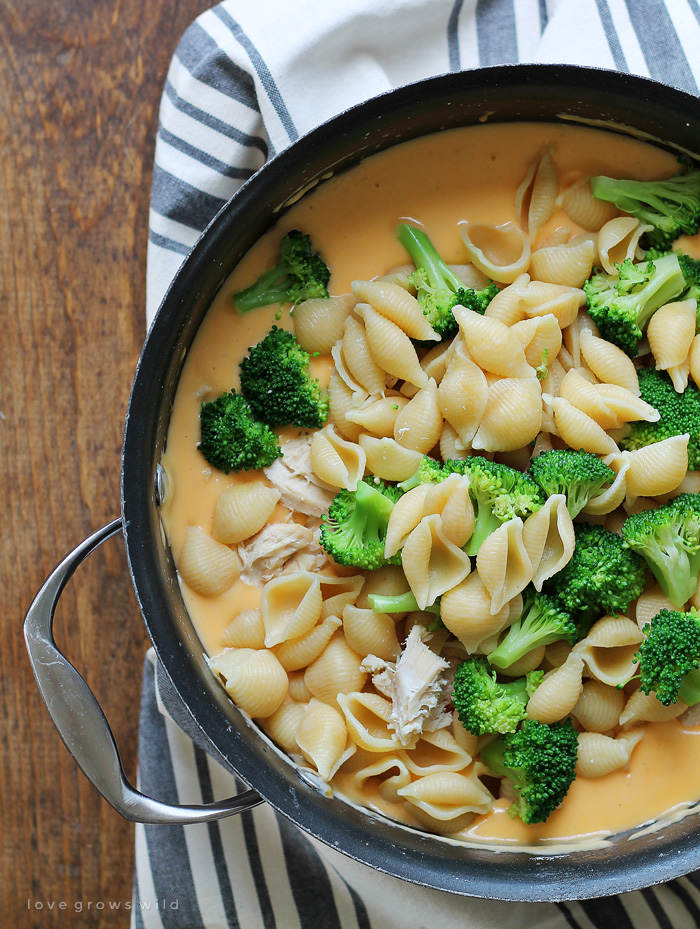 Chicken and Broccoli Shells and Cheese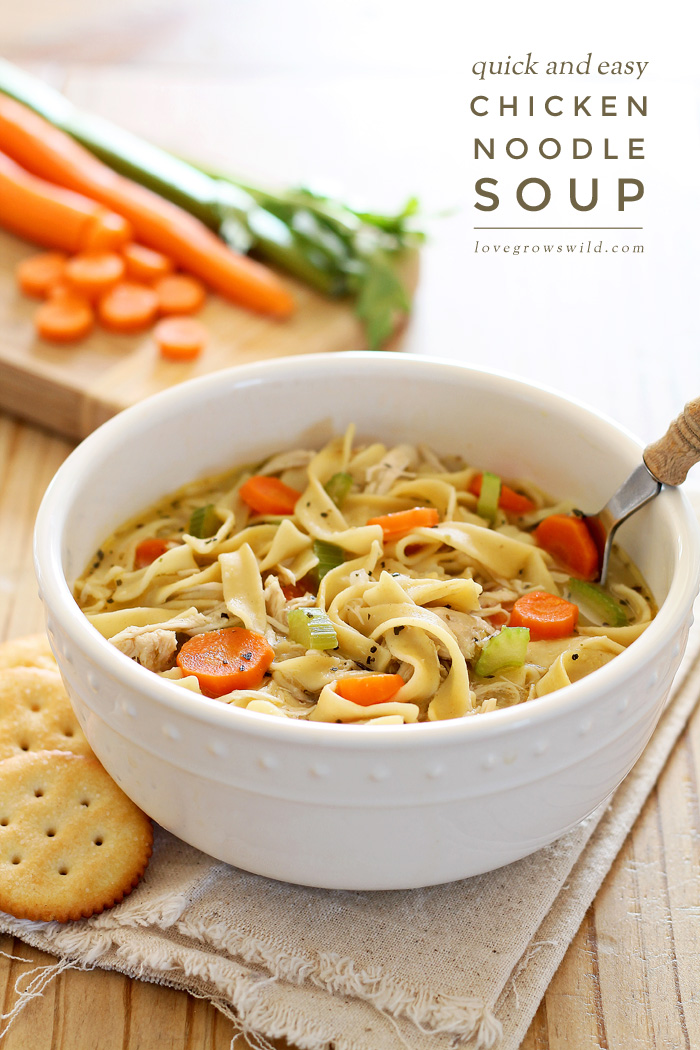 Quick and Easy Chicken Noodle Soup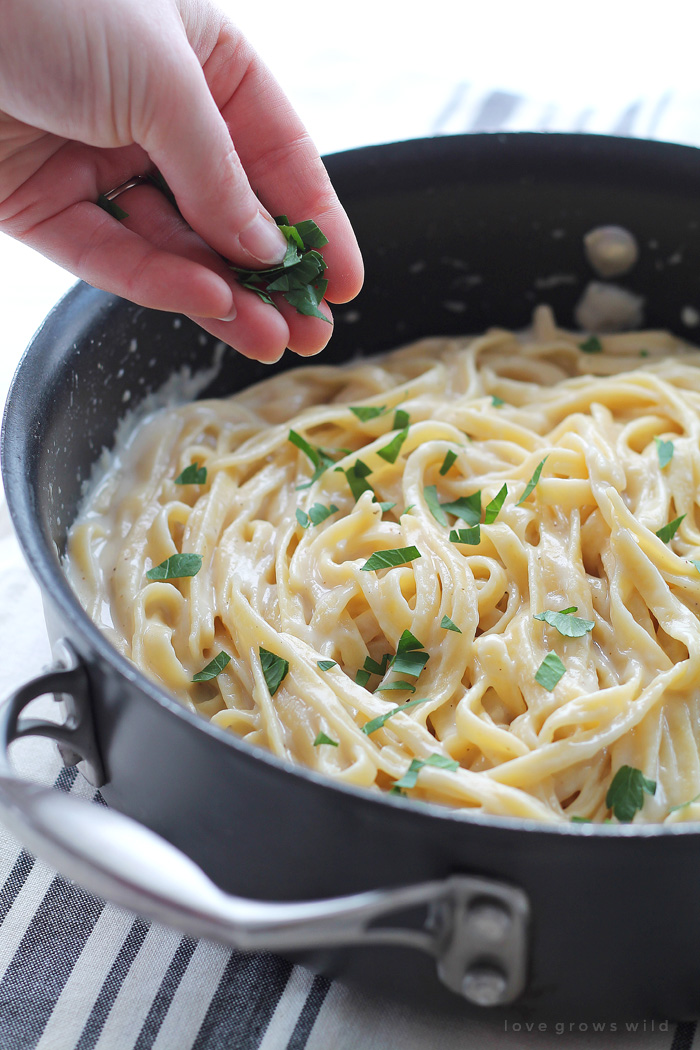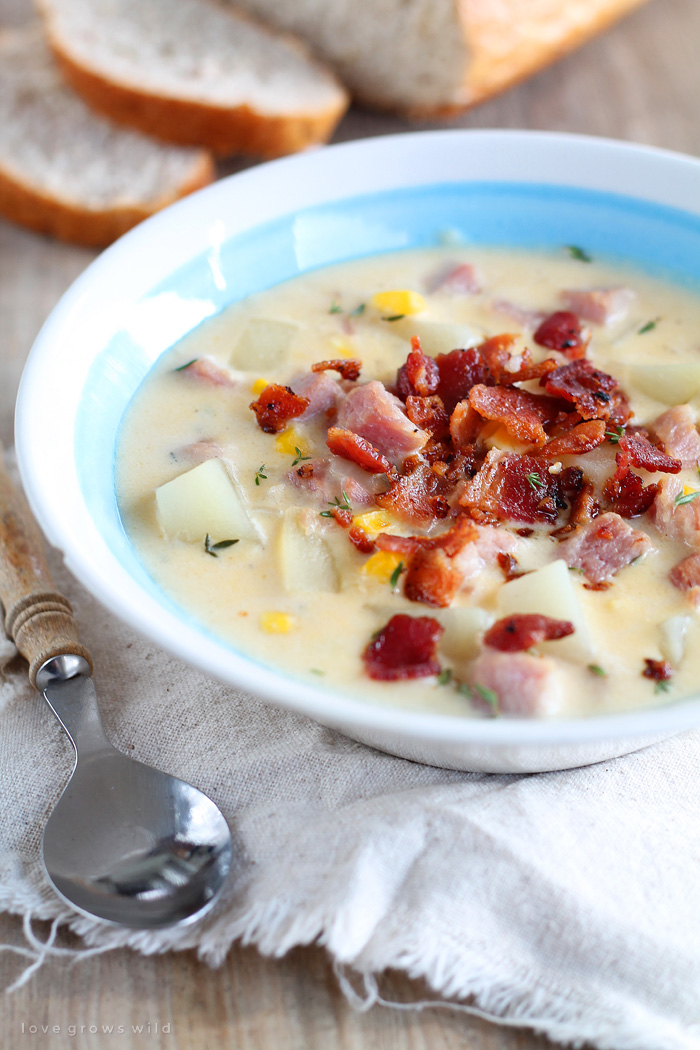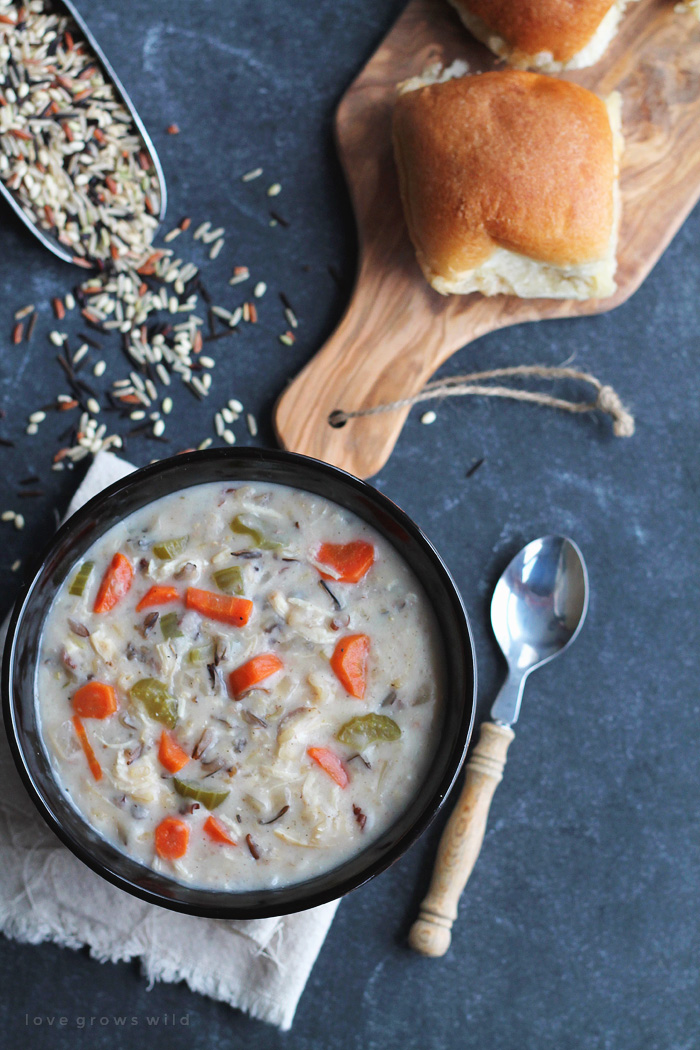 Slow Cooker Chicken and Wild Rice Soup
---
LET'S KEEP IN TOUCH!
---
Subscribe to Blog | Browse my Shop | Follow on Facebook | Follow on Twitter
Follow on Google+ | Follow on Pinterest | Follow on Instagram