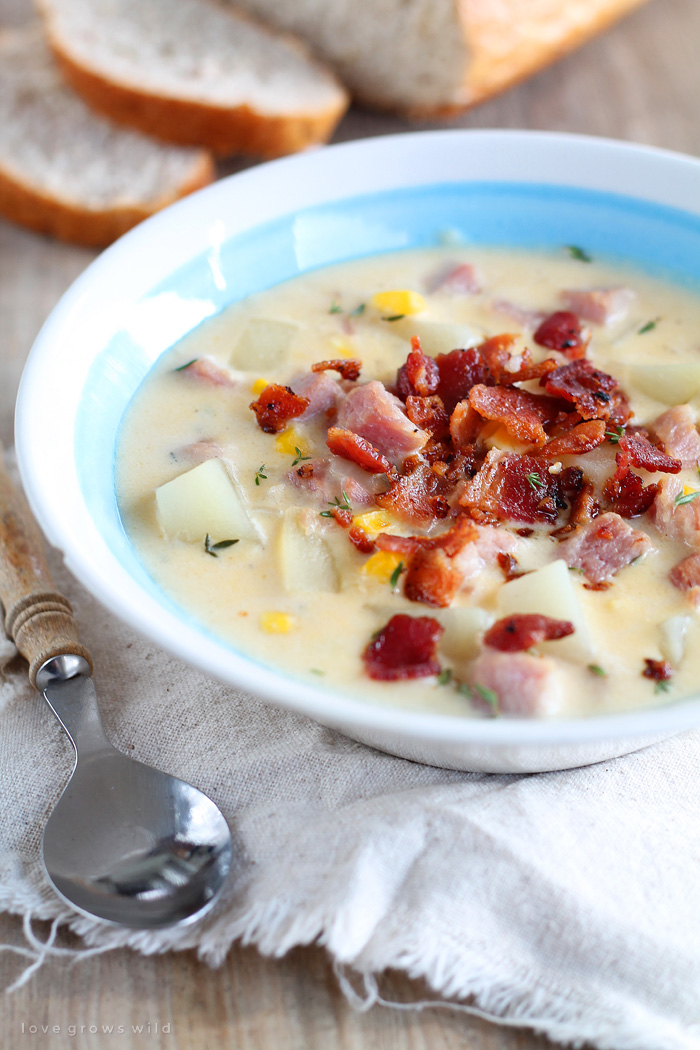 Normally when I tell Jeremy, "Hey, I'm making soup for dinner!", I get a fake smile and a slight eye roll. Pff… like I didn't notice that eye roll, buddy! In his mind, soup consists of way too many vegetables and not nearly enough meat. Like my cauliflower soup, for example. I LOVE every bit of that cheesy, creamy, so-good-for-you deliciousness, but all he sees is a pile of mashed vegetables thrown in a bowl. He's such a buzzkill in my soup-loving world.
But because I love my husband so dearly, despite his soup-loathing ways, I do find it in my heart to compromise every now and again. I know, wife of the year material, right? This compromise comes in the form of chowder… thick, creamy delicious chowder bursting at the seams with chunks of ham and potatoes and garnished with crispy, salty bacon. How amazing and manly does that sound?
Don't tell my husband, but this chowder recipe isn't actually a compromise at all. I mean, it's not like I'm sacrificing anything here.
Do you really think I'd say, "Okay, Jeremy, fine… if you MUST have bacon in this soup, I guess I'll choke it down." I don't think so.
Or, "Whatever, Jeremy… I absolutely hate creamy potato soup with bits of ham and melted cheddar cheese, but I guess if it will save our marriage…" Yeah, not a chance.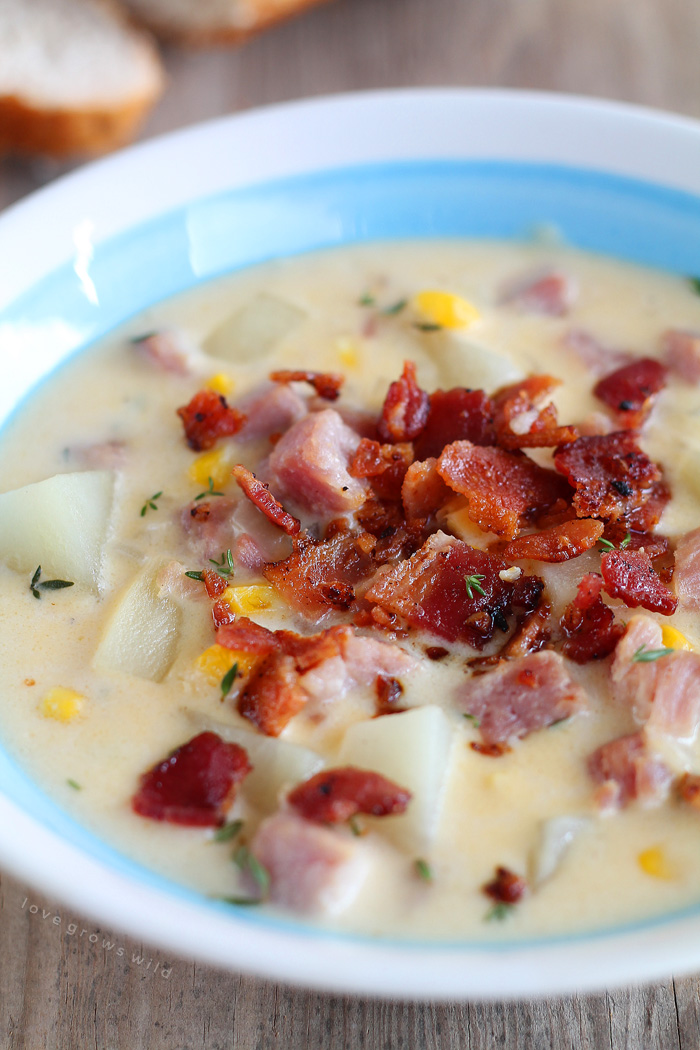 There isn't a soul on Earth (except maybe you vegetarian ones) that wouldn't love this hearty, comforting soup, and I've been dying to share it here with you so you can go impress your husband with this giant "soup compromise" too. Don't worry, your secret is safe with me.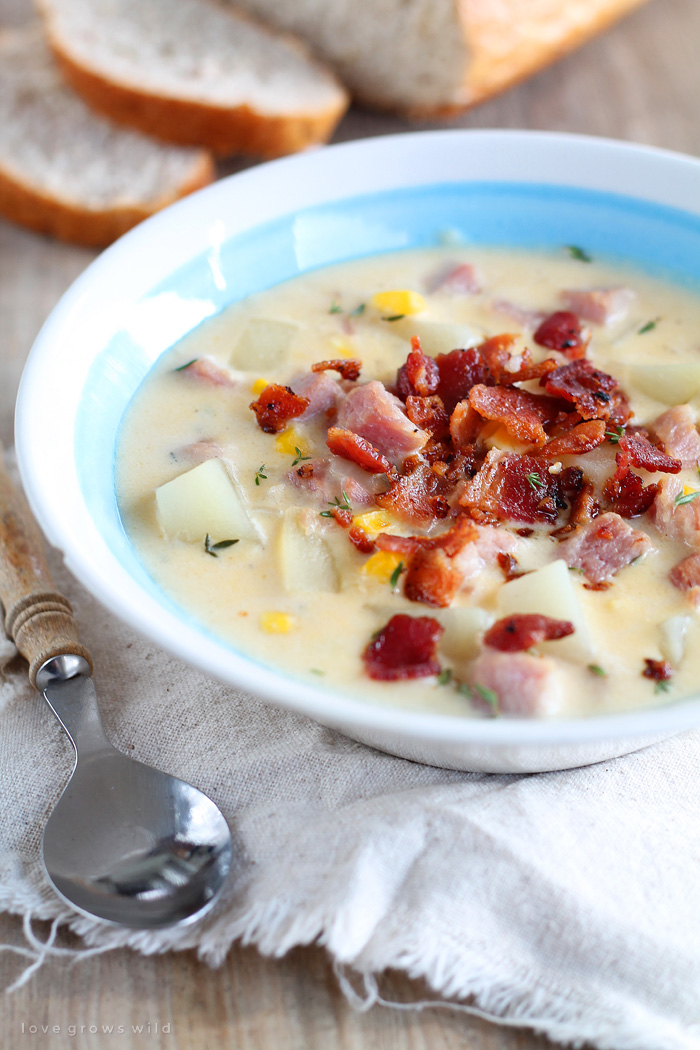 Okay, let's get down to specifics.
Oh wait! Before I forget, you need to pencil this meal into your dinner menu around holiday time. Why, you ask? Well #1 it's going to start getting mighty chilly heading into November, and this chowder is sure to keep you nice and warm during the next few months. And #2… holiday ham leftovers! Now you know exactly what to do with all that leftover ham from Thanksgiving and/or Christmas. Make THIS chowder!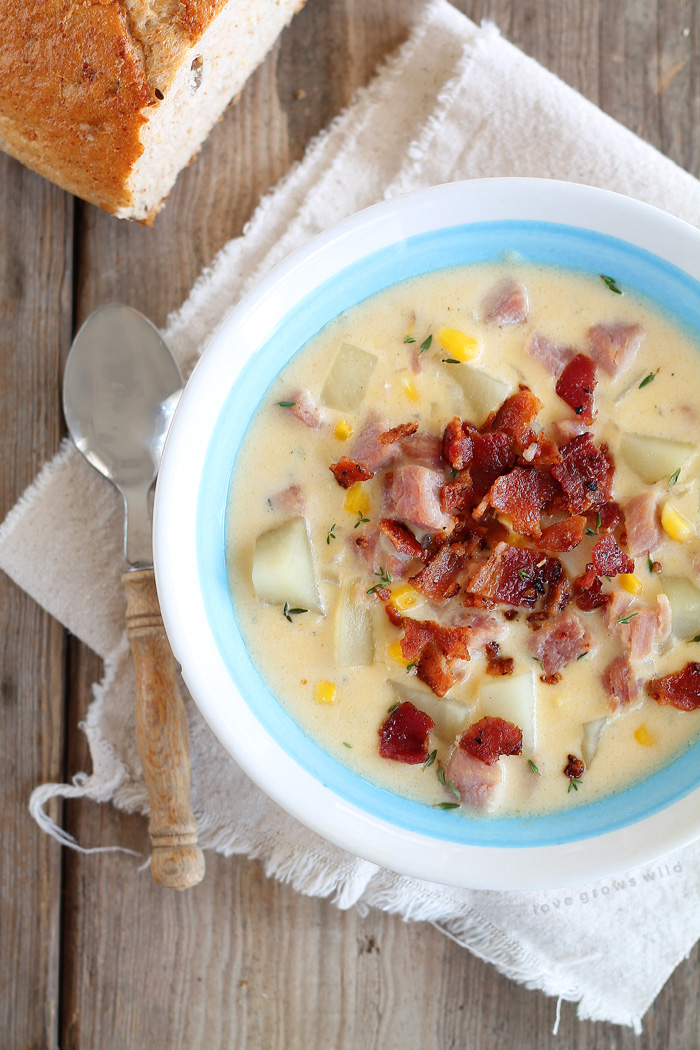 So here's a few tips for when you make this recipe:
Dice your ham and potatoes into nice, small pieces. You want them to be bite-size, and smaller potatoes will cook quicker. Trust me, when you get to experience the smell of this chowder cooking in your kitchen, you won't want to be waiting around all day for huge chunks of potatoes to finish cooking!
You'll notice I say the word STIR pretty frequently in this recipe. It's not because I want to give you a good arm workout (although, you're welcome for that), but because chowders like this can burn on the bottom of the pan if you don't stir them often enough. Don't turn up the heat too high and keep stirring, and you shouldn't run into any problems!
Also, after you add the flour and milk, you'll notice that the liquid doesn't thicken much right away. That's okay. Don't start adding a million things to try and thicken it up just yet! After you add the starchy potatoes and cook them in the liquid, the chowder will thicken up beautifully. Sometimes mine gets a little too thick, but a couple extra splashes of milk bring it back to the perfect consistency.
Serve this with a loaf of crusty bread. Carb city, baby!
Next time you crave a hearty comfort food dish, I promise this chowder will not disappoint! And remember, if my husband asks, I totally gag at the thought of delicious bacon. 😉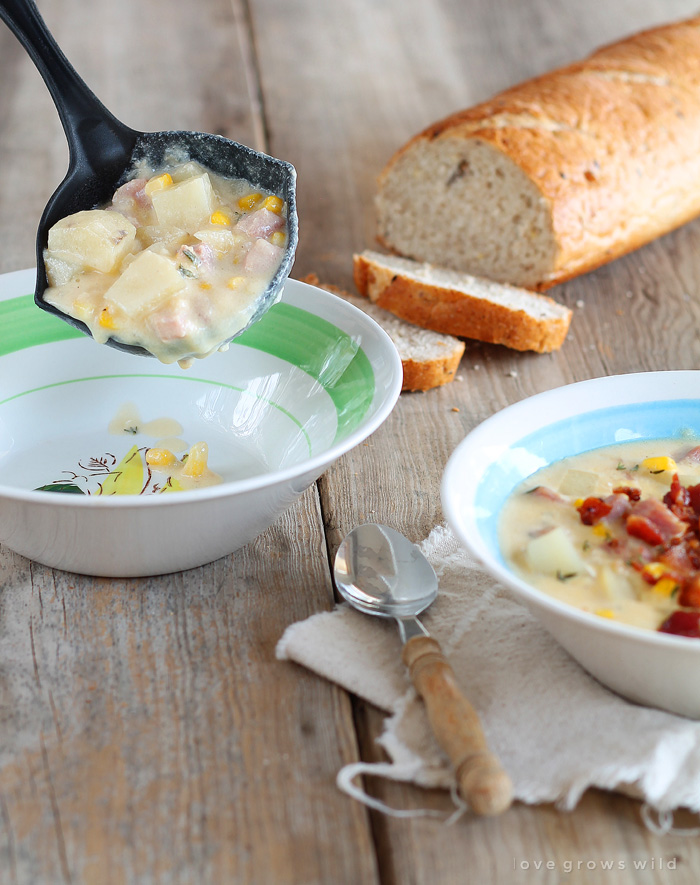 Like what you see? Subscribe to Love Grows Wild so you'll never miss a post!
Follow along on Pinterest, Google+, Instagram, and Facebook for more fun!
Ham and Potato Chowder
This Ham and Potato Chowder is the perfect comfort food meal! It's warm, hearty, and so satisfying!
INGREDIENTS
¼ cup unsalted butter
1 cup onion, dicd
2 cloves garlic, minced
1½ cups frozen corn kernels
2 tablespoons all-purpose flour
3½ cups 2% milk
2 russet potatoes, peeled and diced
2 teaspoons fresh thyme leaves
1 pound ham steak, diced
1 cup sharp cheddar cheese, shredded
1 pound bacon, cooked and crumbled
salt and pepper, to taste
INSTRUCTIONS
Melt butter in a large stockpot or Dutch oven over medium heat. Add the onion and garlic and cook, stirring frequently, until tender, about 2-3 minutes. Add the corn and the flour and cook, stirring frequently, about 1 minute. Pour in the milk and cook, stirring constantly, until slightly thickened, about 3-5 minutes. (It won't be super thick yet at this point) Stir in the potatoes and thyme. Bring to a boil and reduce heat to a simmer. Continue to cook about 15-18 minutes until the potatoes are tender. Stir in the ham and cheese and season with salt and pepper to taste. Serve immediately and garnish with bacon.
NOTES
- Dice your potatoes small to give them a quick, even cooking time, and test them with a fork to make sure they're tender before finishing the chowder. Mine normally take about 15-18 minutes to cook, but that will vary depending on the size of your potatoes.

- Make sure to stir the chowder frequently during cooking. The bottom of the pot can burn if you're not careful, but frequently stirring will prevent the issue.

- The chowder will thicken once the potatoes are added, but if it gets too thick after cooking, add a little milk to get your desired consistency.
– adapted from Damn Delicious
Are you making this recipe? I'd LOVE to see it! Post a photo of your creation on Instagram and use the hashtag #MyLGWRecipe. It may just get featured!
---
Still hungry? Try these tasty recipes: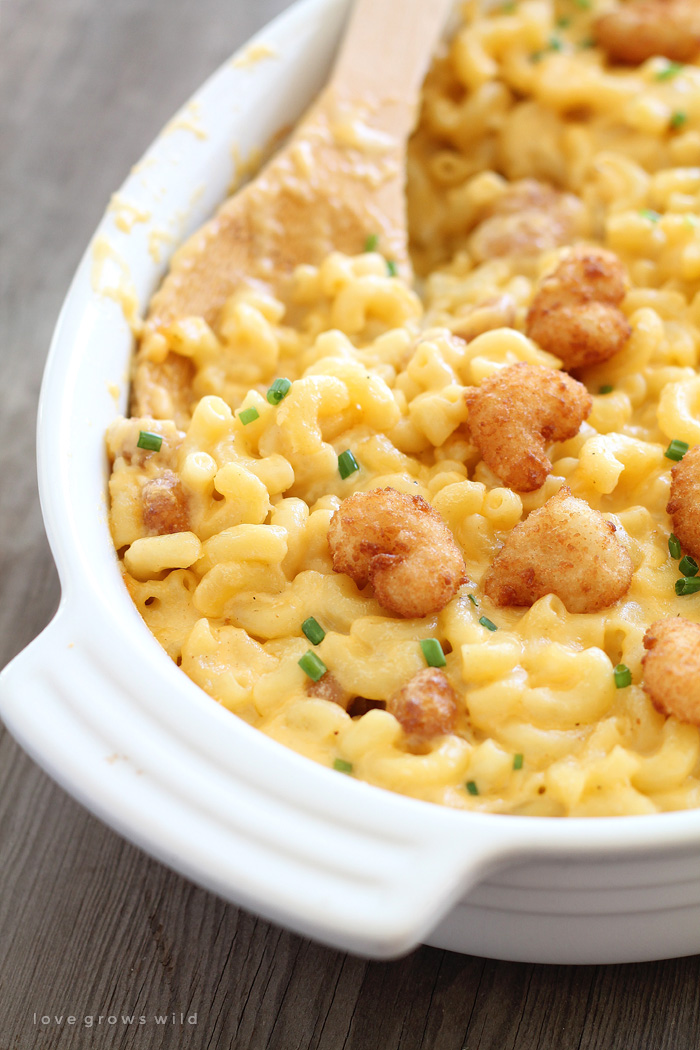 Three Cheese Shrimp Mac and Cheese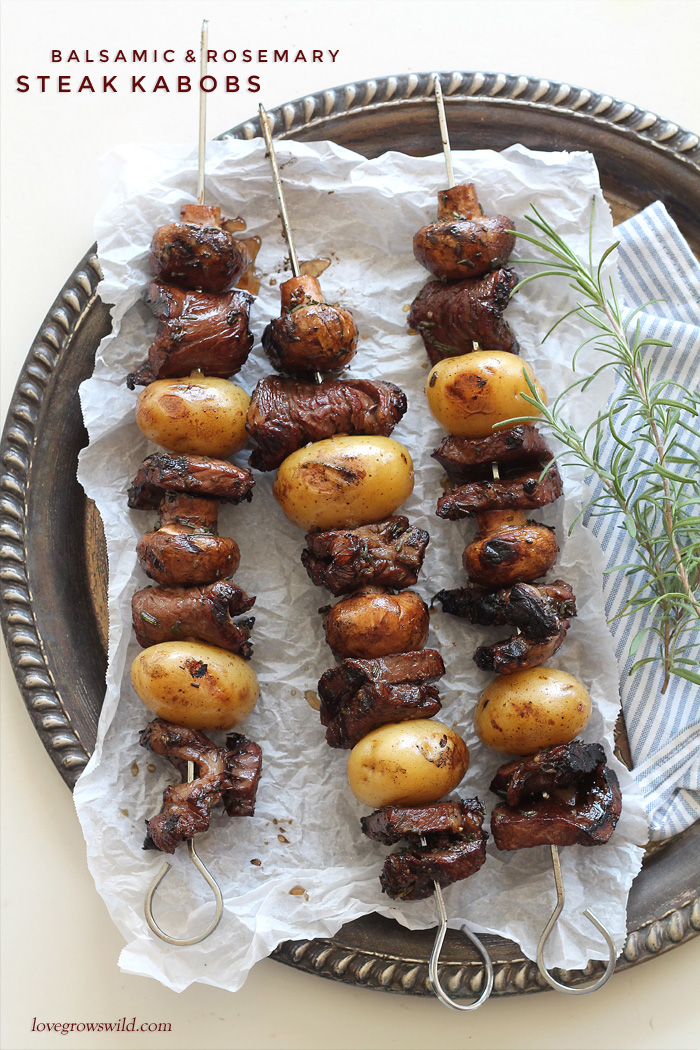 Balsamic and Rosemary Steak Kabobs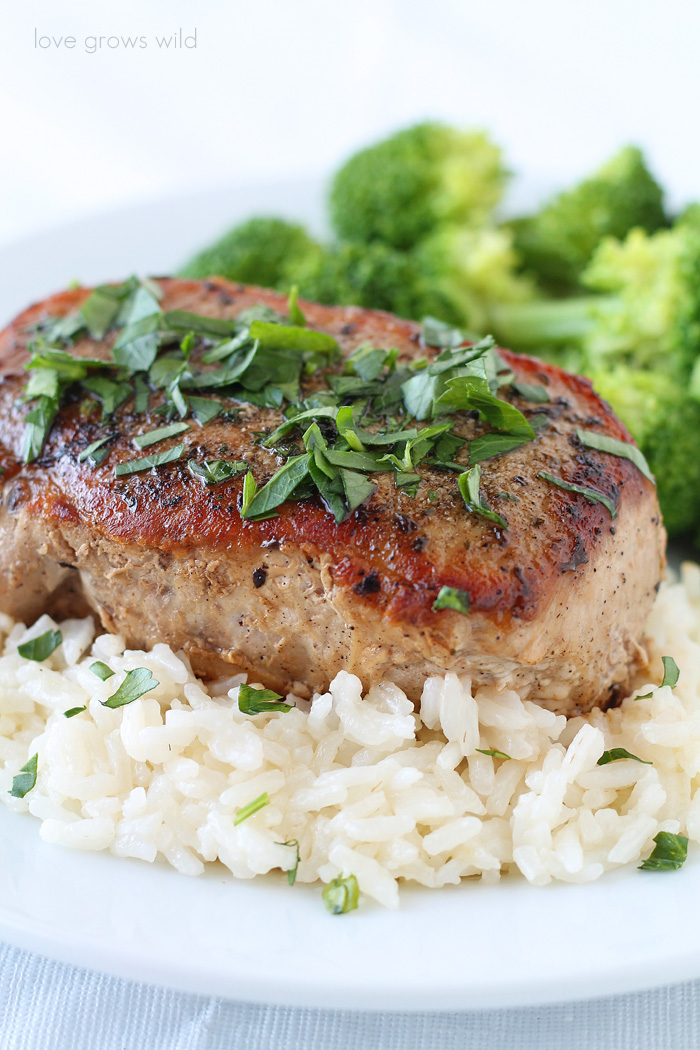 ---
LET'S KEEP IN TOUCH!
Subscribe to Blog | Browse my Shop | Follow on Facebook | Follow on Twitter
Follow on Google+ | Follow on Pinterest | Follow on Instagram