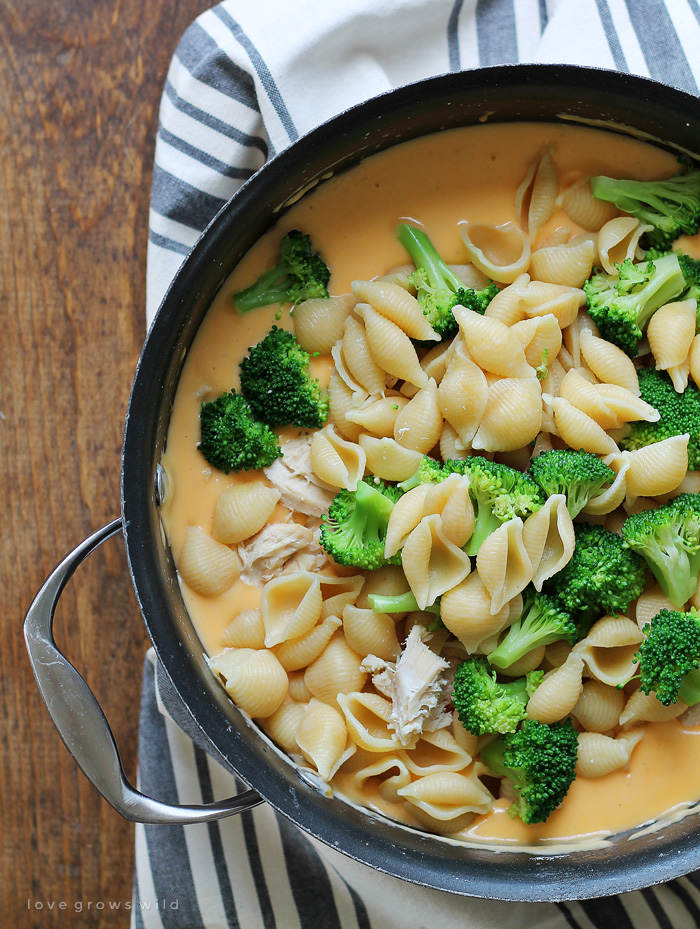 Perfectly creamy homemade shells and cheese made with chicken and broccoli. Everyone loves this easy weeknight meal!



We're serving up some good, 'ol mac and cheese today! Only this version feels a little more grown up than the Spongebob-shaped stuff my kids try to sneak in the shopping cart. I've rounded out the dish with a helping of tender chicken and fresh broccoli to make it a full-blown meal vs. just a side item, and I promise you… there won't be any leftovers!
Start by boiling your pasta… I like to use classic shells for mine, but go crazy with whatever shape you like! During the last few minutes of cooking time, toss the chopped broccoli into the boiling water.
While the pasta and veg are doing their thing, whip up a quick and easy cheese sauce. Good grief, is there anything more beautiful than a bright yellow, super melty, cheddar cheesy sauce? Mmm Mmmmm. This may look like the processed cheese-in-a-box stuff you get from the store, but it's not! This cheesy goodness is homemade and about 1000x tastier too. Butter, flour, milk, chicken broth, cheddar cheese, and a little bit of seasoning turns into liquid gold right before your eyes.
Once the pasta is done cooking and drained and the cheese sauce is finished, it's time to mix everything together. Wait… where does the chicken come into play?? I don't know about you, but on busy nights when I can barely get a meal on the table before it's time to fly out the door to baseball games or football practice, I don't have time to mess around with raw chicken. Maybe I'm a total weirdo, but it just seems like dirtying a cutting board with raw meat and cooking it is just too much effort every single night. #lazy
A few months ago, I shared my recipe for making perfect shredded chicken in the slow cooker, and I like to make big batches of it to keep in the freezer for meals just like this. I pull a bag of the pre-cooked chicken out of the freezer the night before to thaw and toss it into the cheese sauce to let it warm through. It saves a ton of time and effort, which is something I'm sure all of you can appreciate!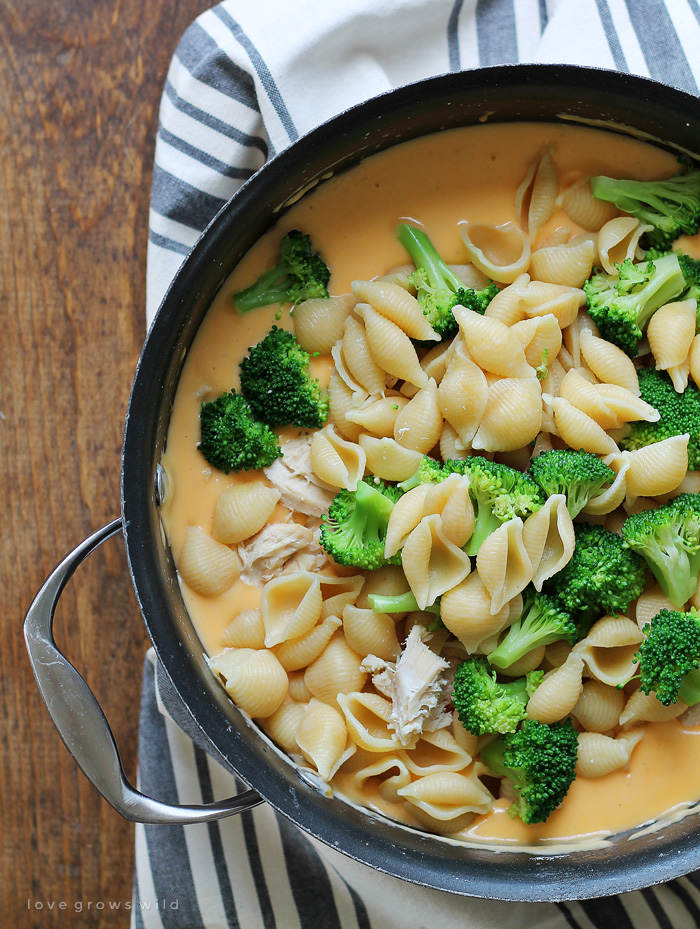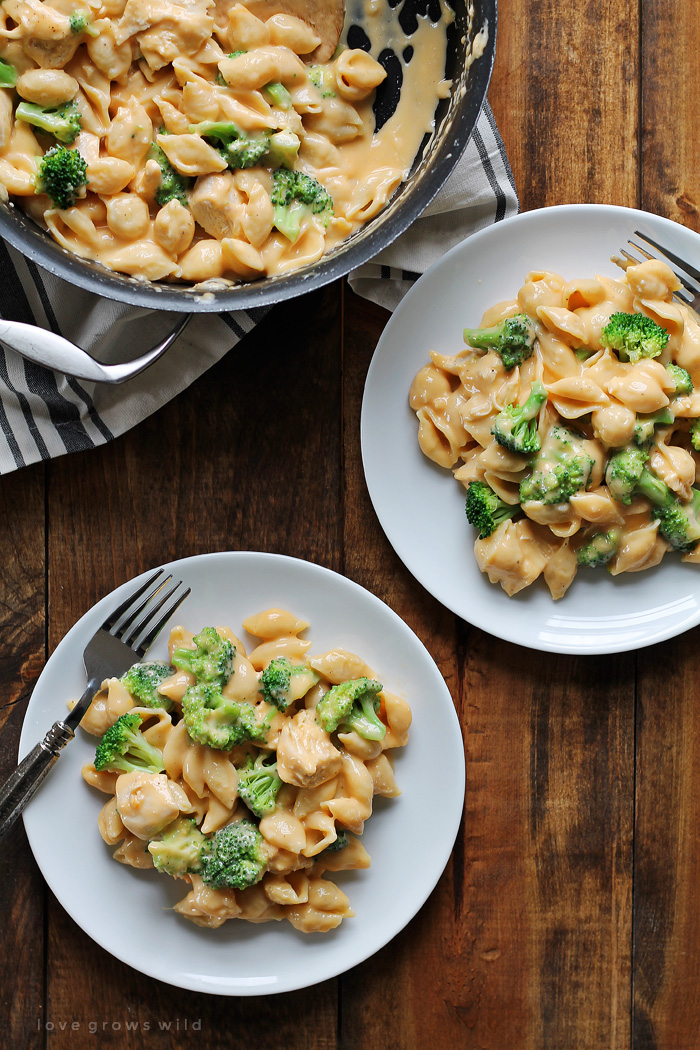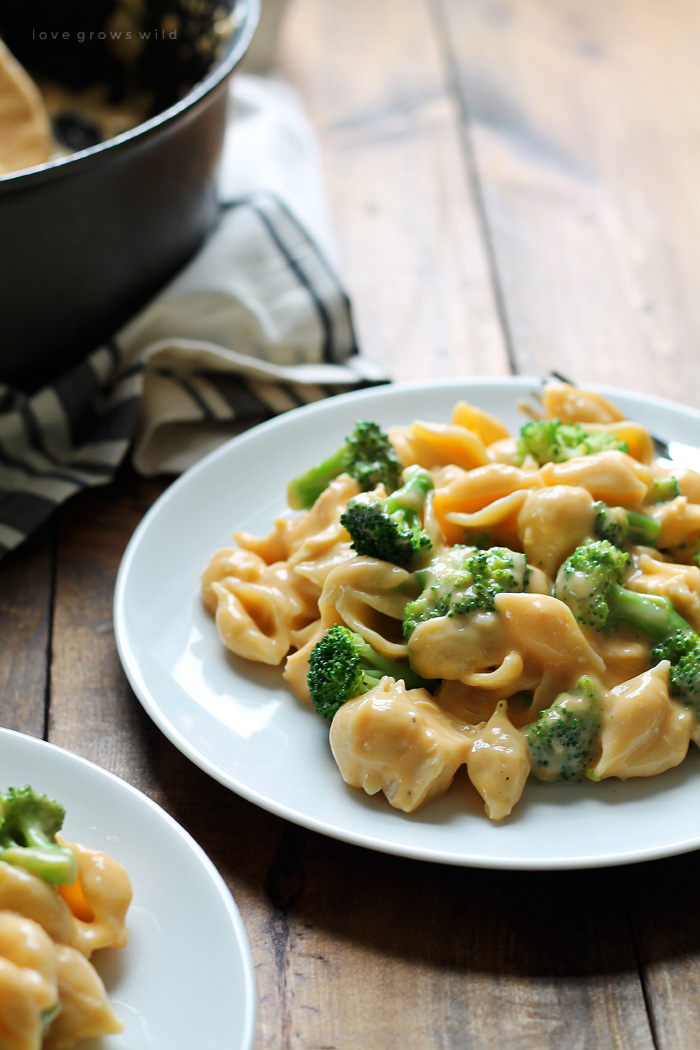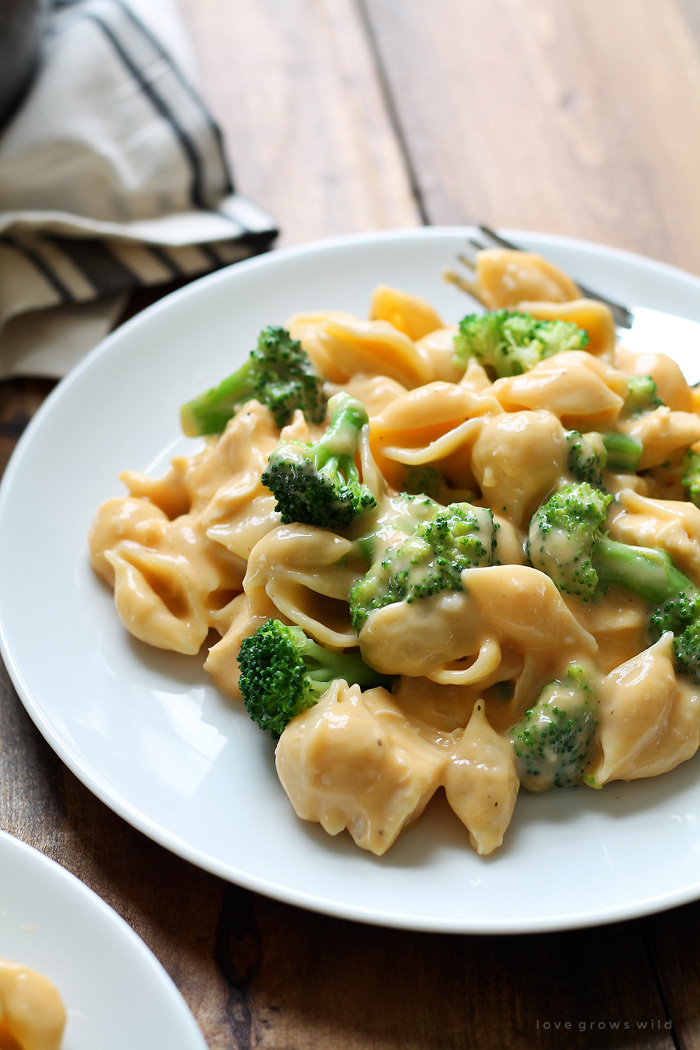 Like what you see? Subscribe to Love Grows Wild so you'll never miss a post!
Follow along on Pinterest, Google+, Instagram, and Facebook for more fun!
Chicken and Broccoli Shells and Cheese
Perfectly creamy homemade shells and cheese made with chicken and broccoli. Everyone loves this easy weeknight meal!
INGREDIENTS
8 ounces medium shell pasta
3 cups broccoli, chopped into florets
2 chicken breasts, cooked and diced (see recipe here)
2 tablespoons unsalted butter
¼ cup all-purpose flour
1 cup milk
1 cup chicken broth
¼ teaspoon garlic powder
¼ teaspoon pepper
⅛ teaspoon salt
2 cups sharp cheddar cheese, shredded
INSTRUCTIONS
In a large pot of boiling salted water, cook pasta according to package directions. Add broccoli during last 2-3 minutes of cook time. Drain and set aside.
Melt butter in a large skillet over medium heat. Add flour and cooking, stirring, for 1 minute. Slowly whisk in milk and chicken broth and season with garlic powder, salt, and pepper. Cook, stirring constantly, until mixture is bubbling and thickened. Remove from heat and add cheddar cheese. Stir until melted.
Add the drained pasta, broccoli, and chicken and stir to combine. If sauce becomes too thick, add milk as needed to thin.
– adapted from Diethood and Cooking Classy
---
More easy dinner ideas:
---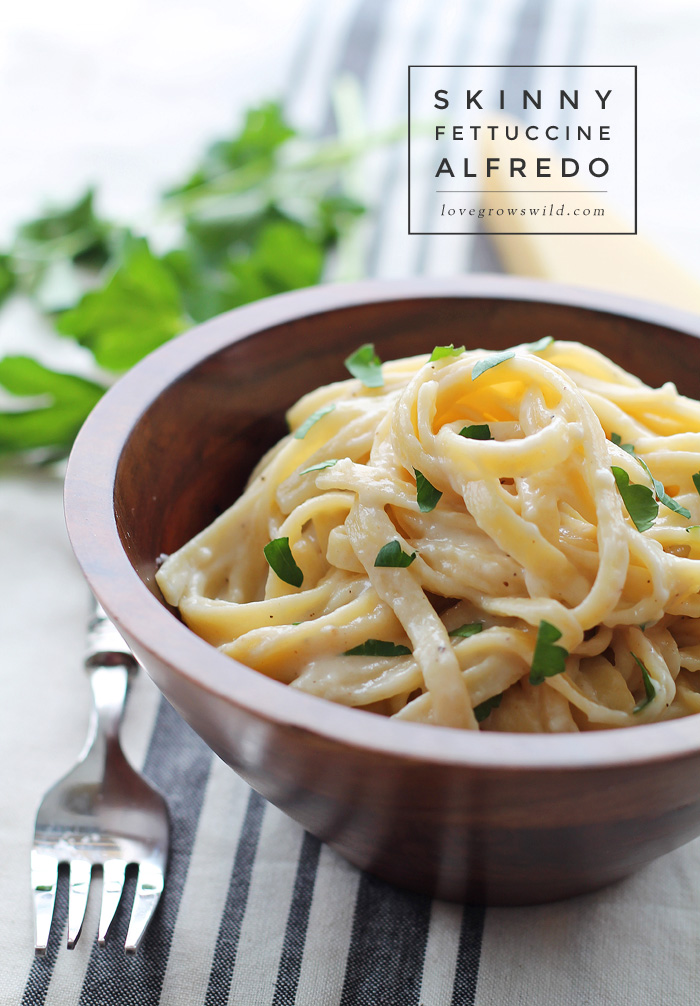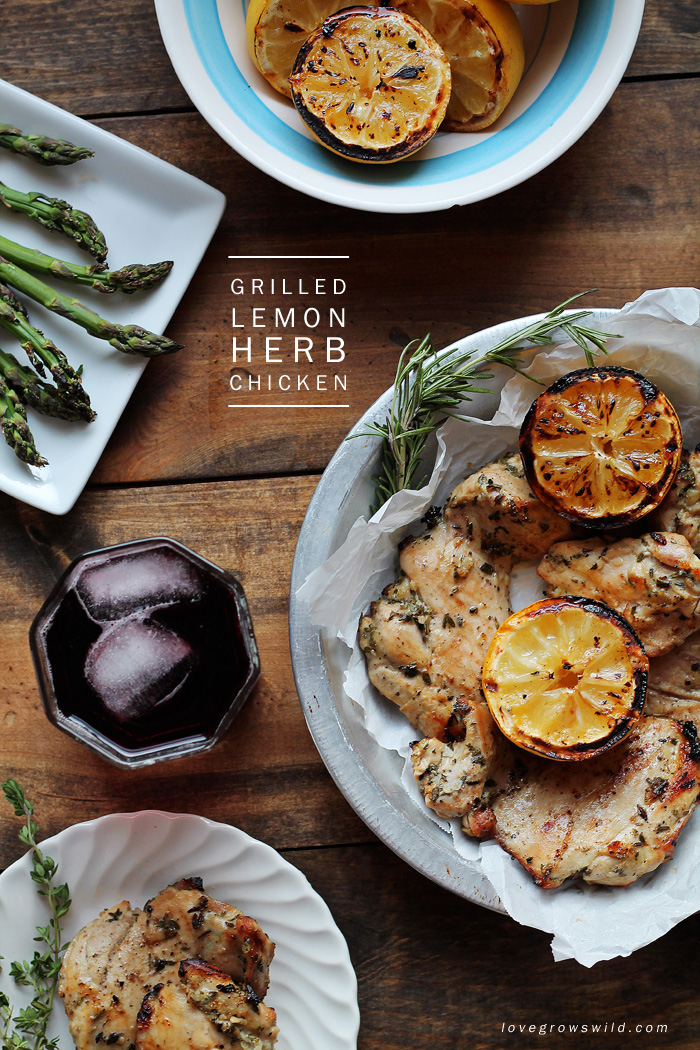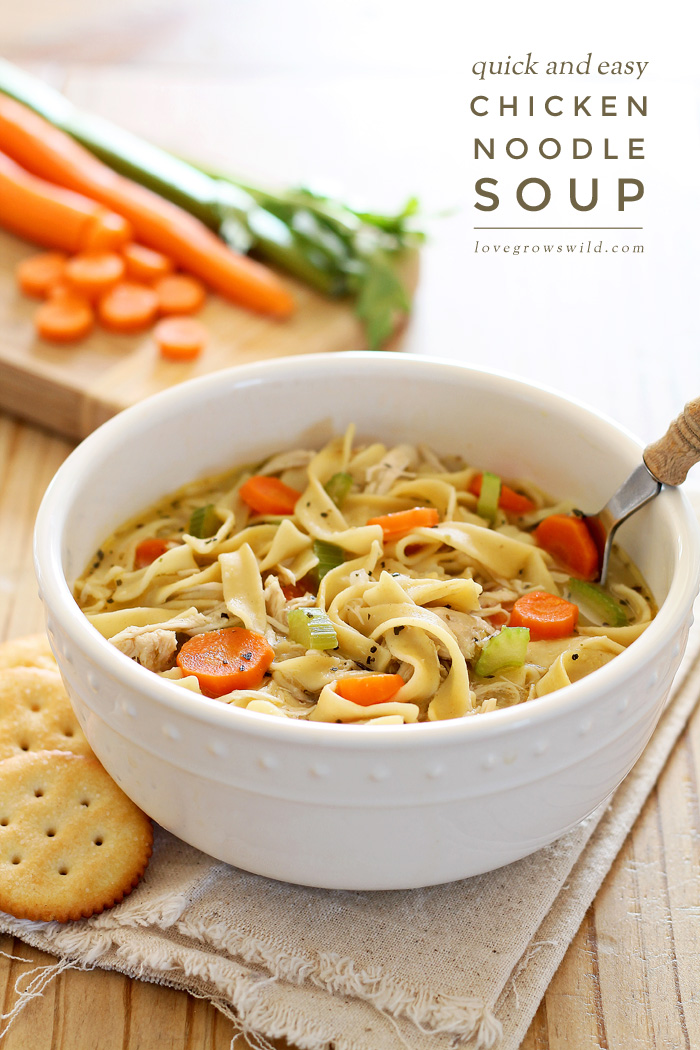 Quick and Easy Chicken Noodle Soup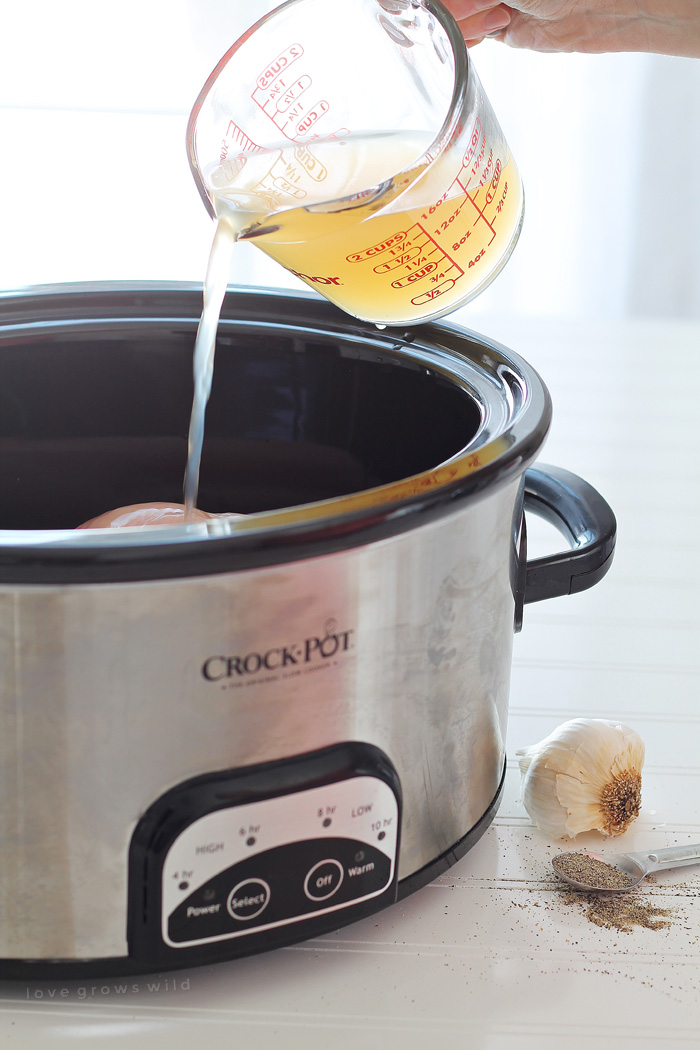 ---
LET'S KEEP IN TOUCH!
---
Subscribe to Blog | Browse my Shop | Follow on Facebook | Follow on Twitter
Follow on Google+ | Follow on Pinterest | Follow on Instagram